In support of UTAR's aim towards excellence in teaching and research, the University encourages and recognises achievements in the University through its annual excellence awards and this year's awards to four academics were presented on 8 April 2014 at the Petaling Jaya campus.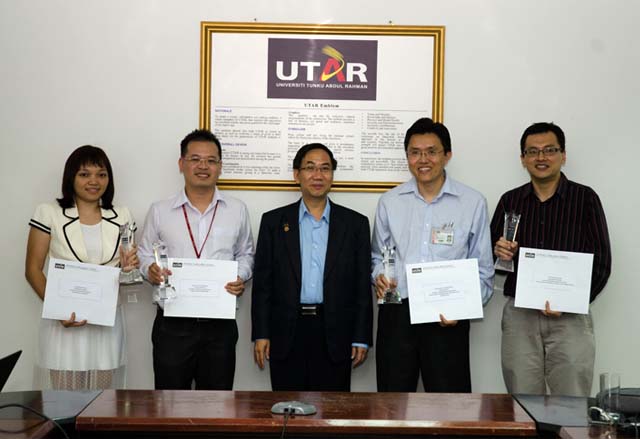 Prof Chuah (middle) and the recipients of the awards in a group photo. (from left) Ngai, Tan, Prof Goi, and Dr Lim
The excellence awards, each with a cash prize of RM1,000, a trophy and a certificate were presented by UTAR President Ir Prof Academician Dato' Dr Chuah Hean Teik. The Research Excellence Award 2013 was awarded to Faculty of Engineering and Science (FES) Deputy Dean Prof Dr Goi Bok Min while the Innovation Excellence Award 2013 was awarded to FES lecturer and researcher Ir Asst Prof Dr Lim Yun Seng. There were two recipients for the Teaching Excellence Awards 2013. Centre for Foundation Studies Assistant Lecturer Ngai Suet Loo (Foundation Studies) and Faculty of Business and Finance Senior Lecturer Garry Tan Wei Han (Undergraduate Programme) were the recipients of the Teaching Excellence Awards 2013.
Prof Goi thanked the University and Prof Chuah who was also his postgraduate study supervisor. Prof Goi highlighted the motivating culture in the faculty which led to FES' double win of the Excellence Award. "It is not a coincidence that the Excellence Award has gone to FES for the past few years. I can say that we have cultivated research as part of our teaching environment which is very important," added Prof Goi whose current research is on cryptography, an information security - related field. Sharing Prof Goi's view was Dr Lim who added that, "It is important to be ethical while conducting research to ensure credibility. Building good networking with colleagues and the industry are very important to get new ideas and to keep one well-informed." He also enthused that this award would spur him to work harder on his energy management system project which has reached the commercialisation stage.
On teaching excellence, Ngai attributed the success of her initiatives through positive reinforcements and techniques that included reading and memorising biological terms on a daily basis instead of having to cope with all at once just before assessments. She teaches science subjects to Foundation level students at UTAR.
Tan who is also the Chairperson of Centre for Business and Management, teaches marketing-related undergraduate subjects and he took an effective approach to incorporate research into the teaching and learning process. A beaming Tan said, "Researches done in real life are different from what is told in the textbooks. I share research information with students and integrate the information into my teaching curriculum so that students understand the applications and they learn more to know the subject better."

The UTAR Excellence Award is an internal award to encourage teaching excellence among UTAR academic staff in their respective field of expertise. The award is given out annually to encourage performance among UTAR academic staff. A panel of judges preside over the selection of the recipients based on a set of criteria and a rigorous process.