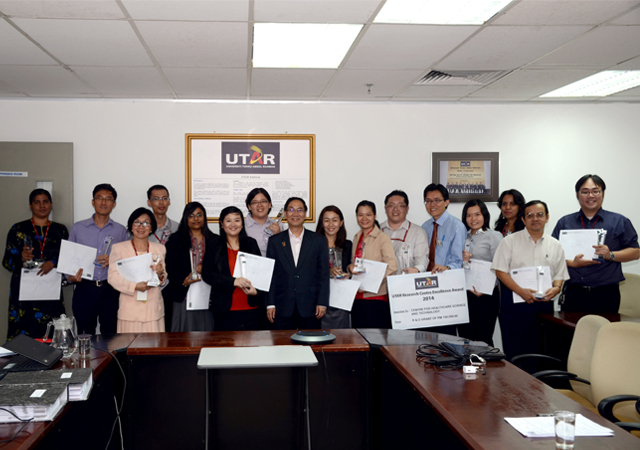 Award recipients with Prof Chuah (front row, 4th from left)
In line with UTAR's aim towards excellence in teaching and research, the University encourages and recognises achievements in the University through its annual excellence awards.
The presentation of the UTAR Excellence Awards 2014 was held at PJ campus on 7 April 2015. UTAR President Ir Prof Academician Dato' Dr Chuah Hean Teik presented the excellence awards to the recipients. Each excellence award has a cash prize of RM1,000, a trophy and a certificate of acknowledgement.
The Excellence Awards are given out annually to promote the culture of excellence among UTAR staff in their respective field of expertise. The awards are given in current year based on previous year's performance. An internal panel of judges presides over the selection of recipients through a rigorous process and a set of criteria based.
The award session also saw the presentation of the inaugural UTAR Research Centre Excellence Award to the Centre for Healthcare Science and Technology (CHST). This award was based on the research centre's achievements in publications, research funding, research collaboration, postgraduate training as well as the conferences, seminars & workshops conducted. Prof Ir Dr Goi Bok Min who is the Chairperson of CHST received the award which has a research grant of RM100, 000.
A total of eleven lecturers received the Teaching Excellence Award. All of them shared the common thread of thought that the Award was very meaningful and would further fuel their passion towards teaching and improving their "delivery, style and methodology" as aptly said by CFS PJ campus lecturer, Ong Kiah Ju.


The following are the recipients of the UTAR Excellence Awards 2014:
Innovation Excellence Award
Prof Dr Chong Kok Keong
Head of Programme
Lee Kong Chian Faculty of Engineering and Science (LKC FES)
Research Excellence Award
Associate Prof Ir Dr Khoo Hooi Ling
Department of Civil Engineering, LKC FES
Service Excellence Award
Wong Ling Fong
Manager
LKC FES General Services
Teaching Excellence Award
Ong Kiah Ju
Centre for Foundation Studies, PJ campus
Remie Lee Ren Yi
Centre for Foundation Studies, Perak campus
Lew Yoke Lian
LKC FES
Tan Teik Boon,
Faculty of Information Communication Technology

Ng Yen Hong
Faculty of Business and Finance

Sangeetha a/p Arullappan
Faculty of Science

Jayamalathi a/p Jayapalan
Faculty of Accountancy and Management

Jamela Begam Oli Muhamad
Faculty of Creative Industries

Assistant Prof Dr Lee Mah Ngee
Faculty of Arts and Social Science
Assistant Prof Dr Lee Soo Chee
Institute of Chinese Studies

Assistant Prof Engr Dr Soh Chit Siang
Faculty of Engineering & Green Technology

Link to comments from award recipients: http://www.utar.edu.my/media/UTAR_News/UTAR Excellence Awards 2014 - Comments from Award Recipients.pdf