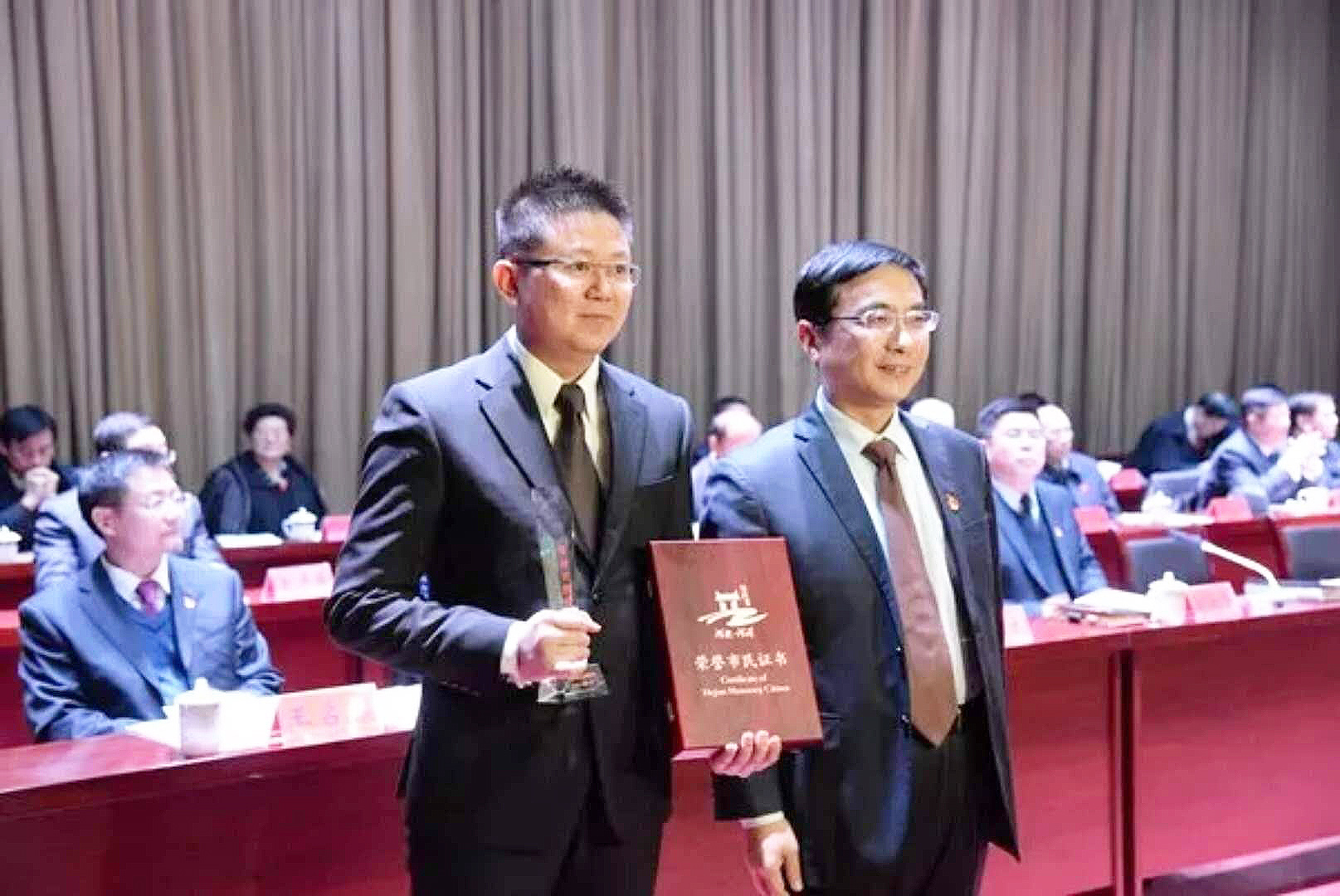 Kang (left) displaying his certificate and trophy
UTAR alumnus Lawrence Kang Kee Chuan was honoured as a Hejian Honorary Citizen (河间市荣誉市民) by the Municipal Government of Hejian (河间市人民政府), Hebei, China in early January this year.
A Bachelor of Commerce (Hons) Accounting graduate, Kang first started his career with Deloitte Malaysia as an auditor and subsequently climbed the career ladder which brought him overseas including Singapore, Indonesia, Vietnam and China.
Currently the Supervisory Board Chairman of He Bei Ming Shang De Glassware Company Limited (河北明尚德玻璃科技股份有限公司), a listed company in China and also biggest heat-resistant glass manufacturer, Kang was pleasantly surprised by the honour. "From my understanding, this is the first time a non-national citizen is awarded the Hebei Honorary Citizen award. This makes me delighted and honoured," Kang mentioned.
When asked why he was given such prestigious accolade, Kang explained, "It could have been my initiatives in introducing latest manufacturing technology which boosted the industry's efficiency and productivity. Besides that I have also been actively expanding the businesses and promoting Hejian City's glassware and glass art globally, thus receiving global recognition."
Also dedicating his success to his alma mater UTAR, the alumnus who hails from Penang said, "UTAR has also played an instrumental role in my life. Its quality education has acted as a solid foundation for me to progress in my career."
"A skilled and capable person creates opportunities; a wise person grabs hold of opportunities; a weak-willed person lets go of opportunities," said Kang when asked to give advice to fellow alumni, current and future students in chasing their dreams. Also likening a skill or qualification to a potent weapon, Kang added, "A skill or qualification is like a weapon, you don't know when you will need it or what type of weapon you will need until you face the enemy. The more weapons and the sharper they are, the better chance you will win the war. Or at the very least, it will save your life in dire circumstances."
An honorary citizen award is bestowed by a country on a foreign individual deemed especially admirable and worthy of the distinction.