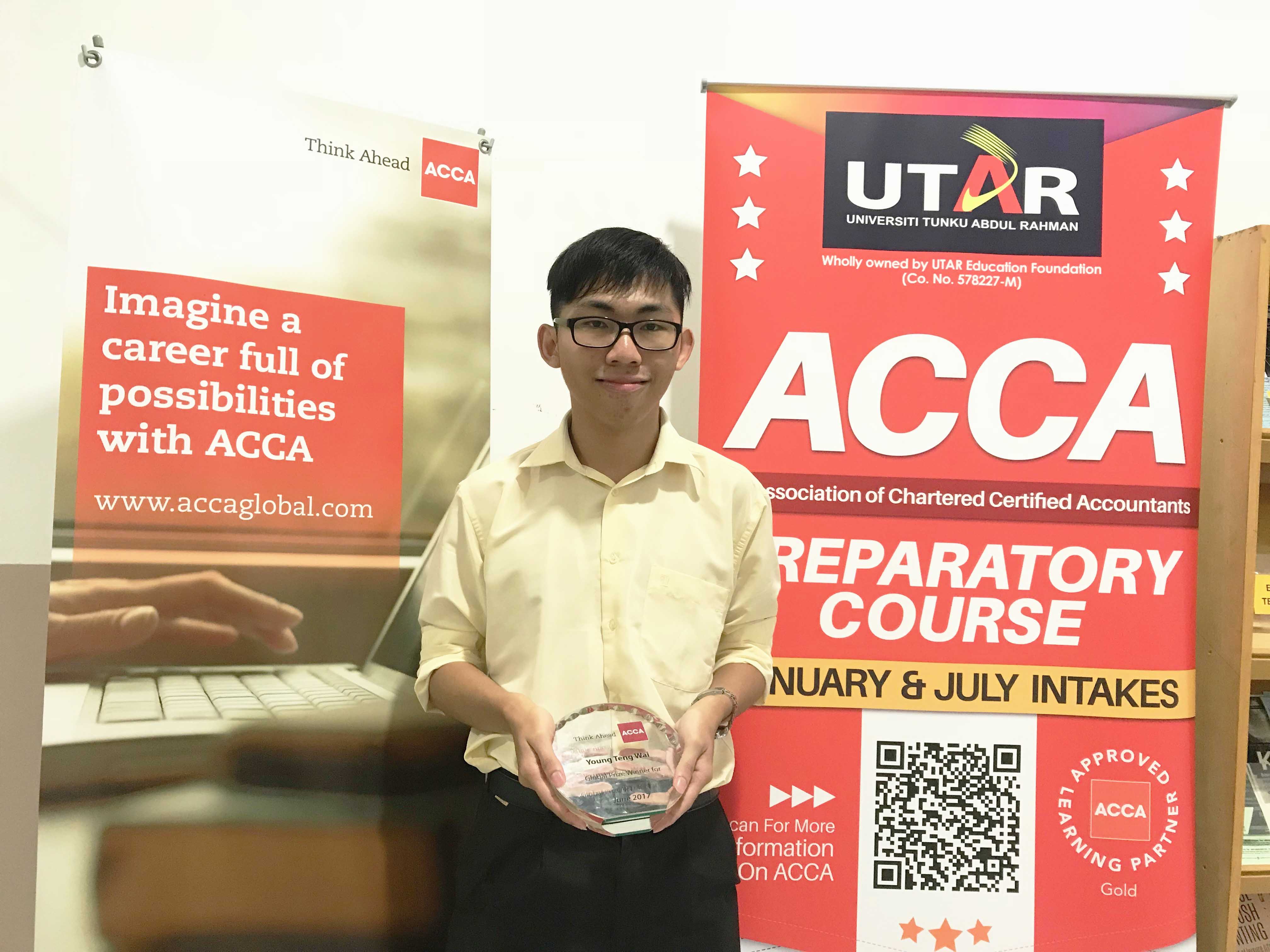 Young posing with his award
Faculty of Accountancy and Management (FAM) Bachelor of Accounting student Young Teng Wai was awarded the Association of Chartered Certified Accountants (ACCA) Global World Prize Winner P1 award for scoring 91% out of 100%. He brought back the award along with 200 pound sterling. Young is also shortlisted for the Malaysian Institute of Accountants (MIA) Best Accounting Student Award.
Young said, "In ACCA exam, they don't expect you to behave like a student, but you're expected to act like some company's accountant or advisor as you will be thinking of the company's interest and ways to help the stakeholders. The exams are more towards case basis, so the questions are simulated, which would require one to apply knowledge and a good sense of logic."
When asked about the preparation before the examination, he said, "Before taking any paper, I would try to understand the concept and basic knowledge before I prepare myself for the possible questions and try to view the situation from the perspective of an accountant, not a student. You need to think of a plan that is beneficial to the stakeholders and how to execute it."
"In facing the challenges ahead, I think time management is important as well as leading a well-balanced life along with the intake of healthy food. Apart from that, I believe that having a strong sense of responsibility and self-discipline will enable you to overcome any hurdles you encounter along your way. Whenever faced with stress, try to exercise as it helps to release endorphins and maintain good metabolism rate," said Young.
Young took UTAR's Accounting programme in the year 2014. He enrolled in that programme because he had a strong basic knowledge of mathematics and economics. He believes that the six months internship opportunity required by UTAR has provided him with real-world exposure in the field of accounting which involves auditing and taxation. He said, "I find the advisory role interesting as we are able to deal directly with the clients apart from the administrative work. From there, I learnt to study on clients' body language, types of human personality and how to deal with the different clients professionally. The subject Corporate Governance, taught in the Accounting programme, was very useful as it provided me with extensive knowledge when undertaking the ACCA examination."
He added, "My current plan is to join the Ernst and Young Finalist Competition while I apply for jobs in prospective companies. As an accountant, we need to put ourselves in the organisation's shoe to think further and we have to take into consideration the aspects of client management, stakeholders, employees and organisation."
He advised the young students, "You should believe what you believe. God's help would only make a total of 50%, the rest relies on your utmost effort in achieving the things that you want in life. When you are young, try to learn as much as you can. All this knowledge is for yourself because nobody else can take it away from you. However, remember to apply what you have learnt in real life and contribute back to the society. I also strongly encourage more students to enrol themselves in ACCA while undergoing their bachelor's degree in UTAR as well as gain more industrial exposure as it prepares you for the next chapter of life after graduation."
FAM Department of Accountancy Head K. Shamini said, "Having a good attitude will drive one to success. Being meticulous and inquisitive in the things you do will bring you further and closer to success. Great qualities, experienced lecturers and subjects taught in programme complement each other in producing employable talents."