Two teams, involving five researchers from UTAR Lee Kong Chian Faculty of Engineering and Science (LKC FES) and Faculty of Engineering and Green Technology (FEGT) won one gold and one silver medal at the 30th International Invention, Innovation & Technology Exhibition (ITEX) 2019. The event was held from 2 to 4 May 2019 at the Kuala Lumpur Convention Centre (KLCC). It was organised by the Malaysian Invention and Design Society (MINDS).
ITEX aimed to attract investors, venture capitalists, manufacturers, entrepreneurs, distributors and corporate sectors to explore new business ventures as well as to allow fellow inventors and researchers to discuss and debate their research works. It also aimed to provide a platform to commercialise new products and inventions and provide the best audience for the prototype inventions.
2019 poised to celebrate the three decades of ITEX being the region's professional marketplace for ideas and inventions. The exhibition reflects the latest changes in technology invention.In advent with Industry 4.0, digital technology has slowly converged together with the manufacturing and industrial practices.
From left: Dr Bernard Saw, Dr Yew, Dr Tan and FEGT master's student-cum-assistant Yvonne Oon Li Voon ITEX 2019
The three-day exhibition showcased the region's best inventions from Asia and Europe. It also saw participation from more than 20 countries. The exhibition was one of the largest invention exhibitions in the world and it featured 23 invention categories related to innovation and technology. One of the most prominent features at ITEX is the invention and design.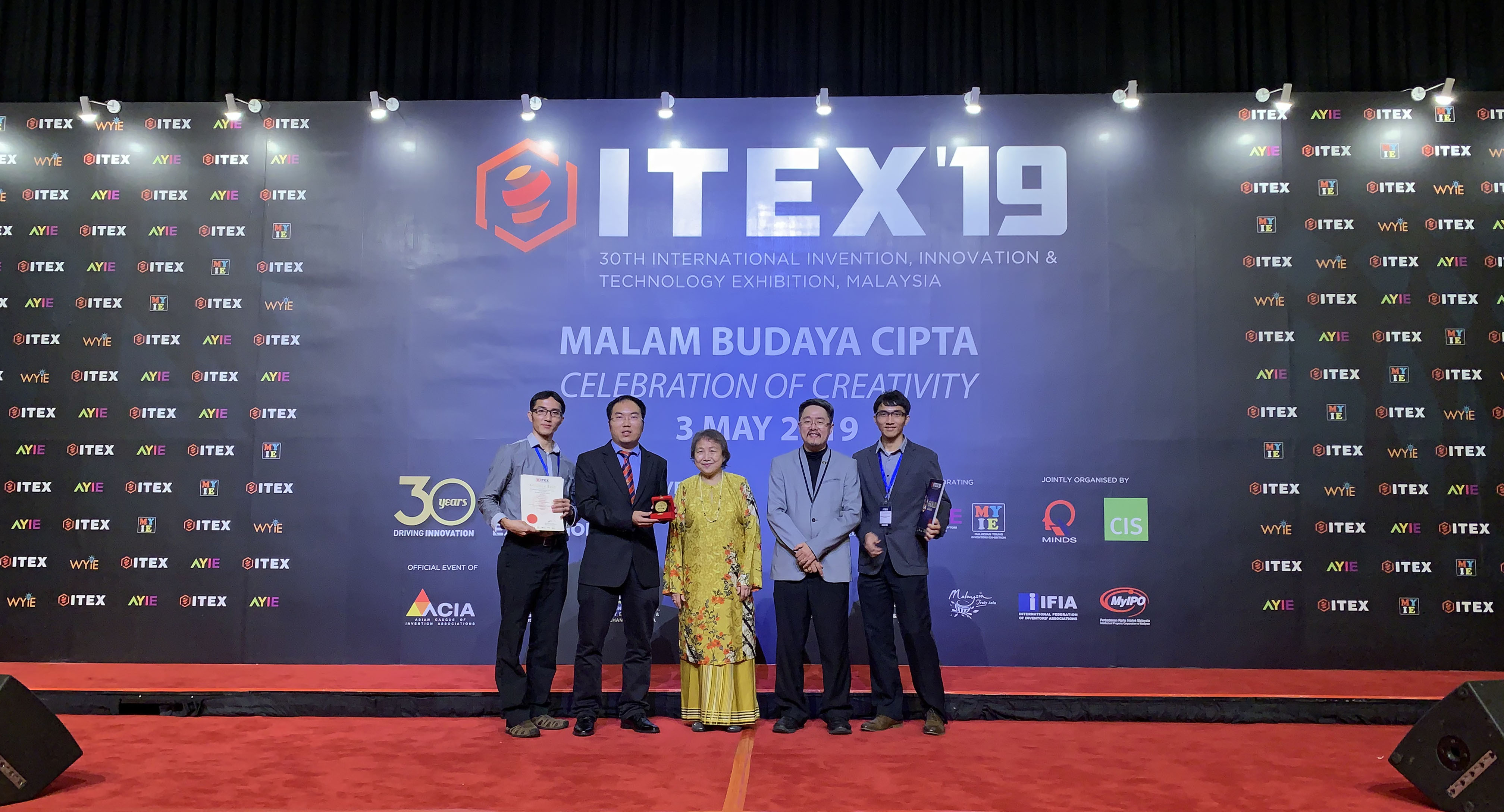 From left: Dr Yew Ming Chian, Dr Bernard Saw, MINDS Vice President Datuk Dr Choo Yuen May, Honorary Secretary Myocho Kan and Dr Yew Ming Kun during the award presentation ceremony
The first winning team consists of LKC FES Centre for Vehicular Technology Chairperson-cum-Principal Researcher Dr Bernard Saw Lip Huat, Department of Mechanical and Material Engineering Dr Yew Ming Chian and Department of Civil Engineering Dr Yew Ming Kun. The team won a gold medal for their invention called the "Novel Tear-shaped Cooling Fin". It provides an improvement in heat transfer performance and reduced the non-uniformity of downstream temperature which is commonly found in the conventional long cooling fin.
When asked about their feelings after receiving the award, they enthused, "We are very glad and proud to have won the Gold Medal for our invention in this exhibition. We gratefully acknowledge UTAR for its support in the development and patent filing of this invention. We look forward to the potential commercialisation and application of our invention in the next phase."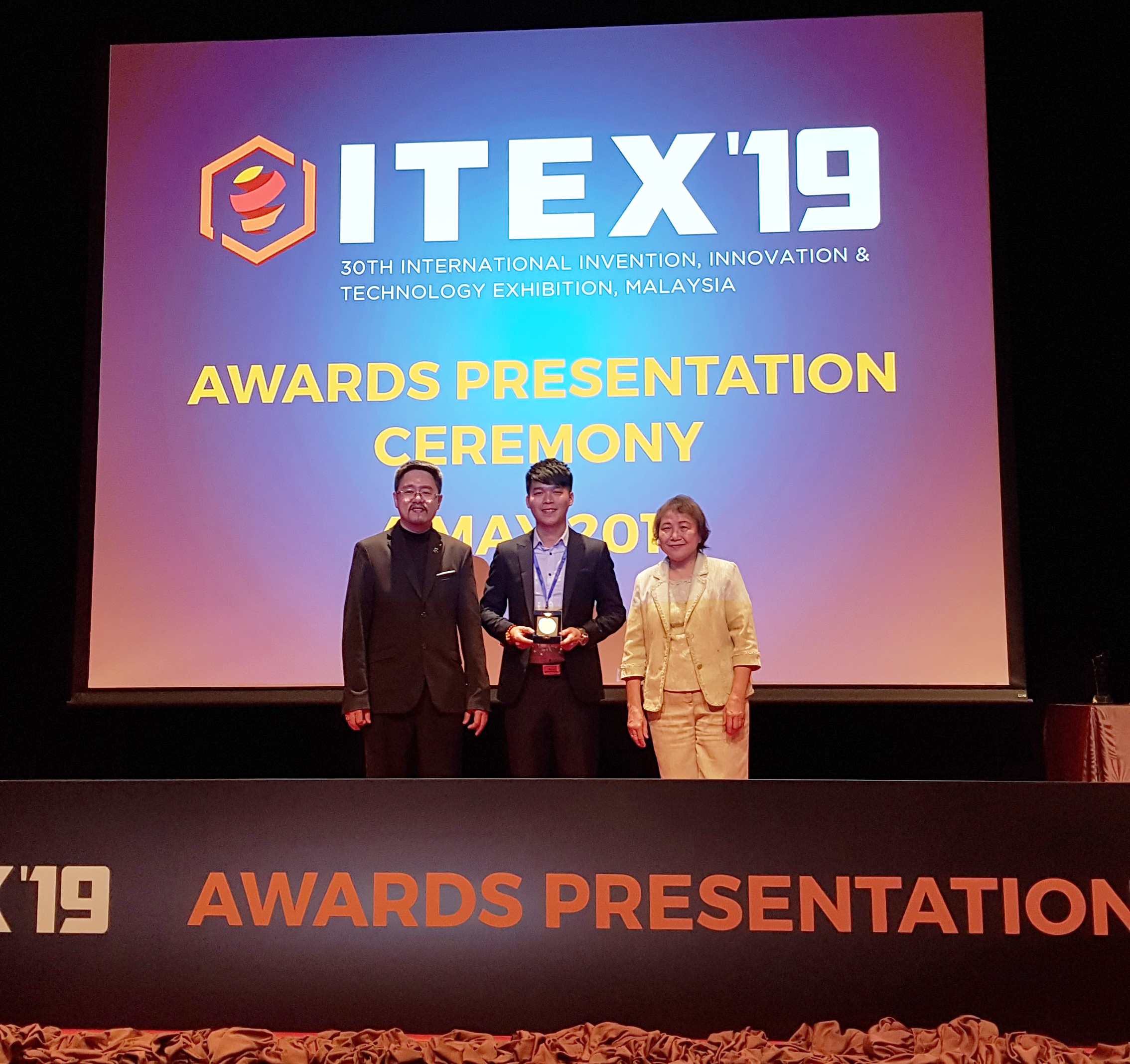 From left: Myocho Kan, Dr Tan and Dr Choo during the award presentation ceremony
Meanwhile, FEGT Department of Industrial Engineering-cum-Principal Researcher Dr Tan Ming Hui and his student Fon Chun Yin won a silver medal for their invention called the "Multi-Facet Trough Concentrator". The invention was related to the field of harnessing solar energy, specifically the collection of solar energy to be used in a solar thermal system such as solar water heating system and solar desalination system.
"We are very happy and proud to have won the Silver Medal for our invention. We thank UTAR for their support in the development and patent filing of our invention. We are looking forward to having our invention commercialised in the next phase," said the winners of the silver medal.