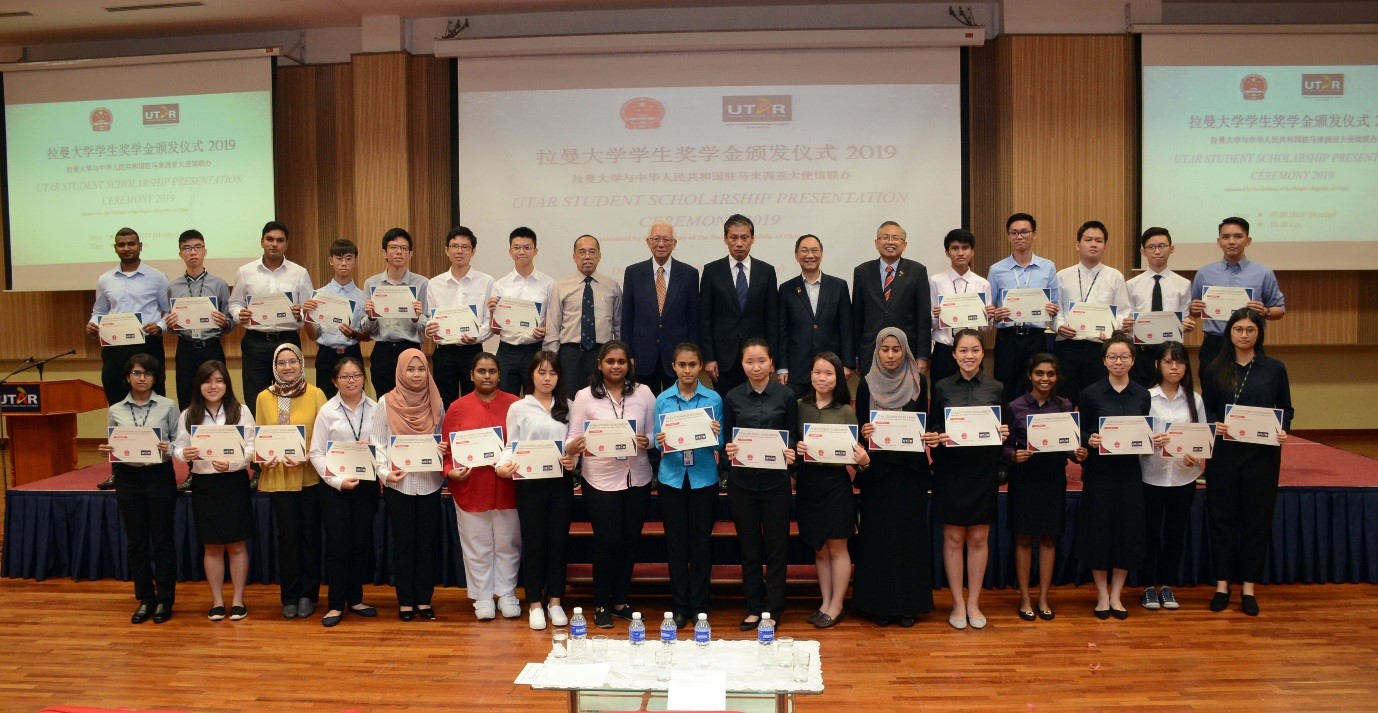 Back row, eighth from left: Tham, Tan Sri Dato' Dr Sak, Chen Chen, Prof Chuah, Prof Ewe and the recipients after the presentation ceremony
The Embassy of the People's Republic of China in Malaysia provided financial assistance to 30 UTAR students. Embassy of the People's Republic of China in Malaysia Deputy Chief of Mission Chen Chen presented the financial assistance to the student recipients at a presentation ceremony, held at UTARSungai Long Campus on 5 August 2019.
The scholarship recipients were 30 UTAR Foundation and Undergraduate students consisting of Malays, Chinese and Indians. A total of RM120,000 was disbursed by the China Embassy for this scholarship with each deserving UTAR student receiving RM4,000 in recognition of their contributions and achievements in the University. The scholarship is a one-off amount given to deserving students.
Previously, the Embassy of China in Malaysia presented financial aid to 20 Malay UTAR students in 2016 with a total of RM60,000. The second financial aid presentation ceremony took place on July 2018 where 24 deserving students received RM3,000 each while in November 2018, the Embassy of the People's Republic of China in Malaysia presented scholarships to 30 UTAR students where each student received RM4,000.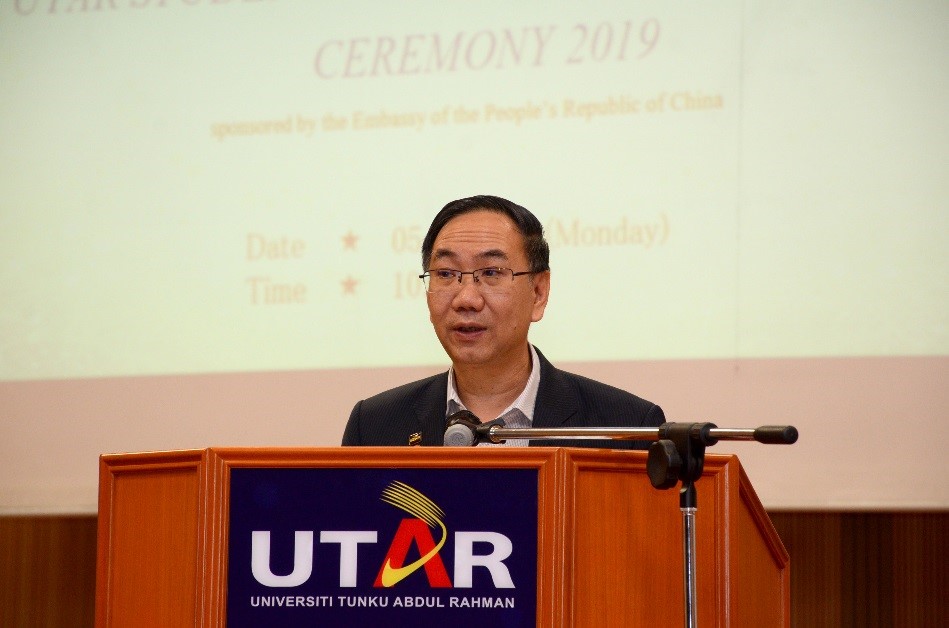 Prof Chuah delivering his speech
Prof Chuah welcomed the distinguished guests and said, "I would like to extend my sincere gratitude to the Embassy of the People's Republic of China in Malaysia for presenting financial assistance to our students for the fourth time since August 2016. I am pleased to know that this year's scholarship will not only benefit undergraduate students but also students in the foundation studies programmes as well. I hope that the recipients will treasure this generosity of the Embassy of China in Malaysia and will one day return this generosity to others who may also need such financial assistance."
He added, "UTAR has also been very positive and supportive of China's initiatives and has been promoting collaborative knowledge exchange as well as staff and student exchanges between the two nations along with the signing of agreements and study tours. I always believe such exchange activities could enhance communication and deepen relationships between our nations."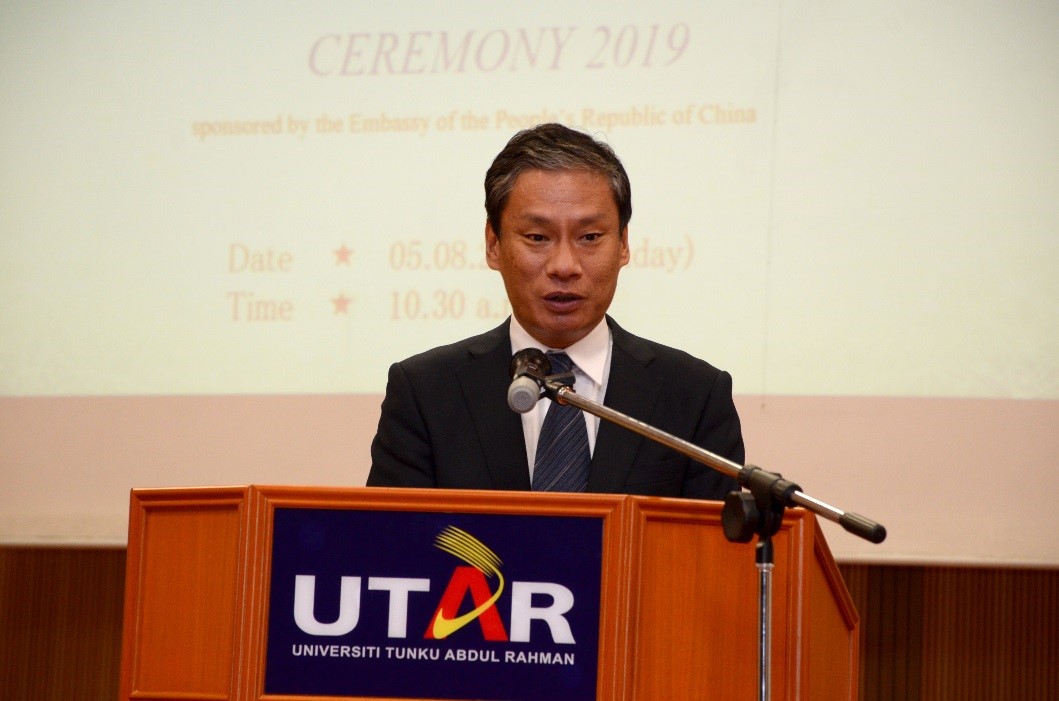 Chen speaking about China-Malaysia relationship
Chen in his speech said, "I would like to congratulate the selected recipients and extend my best wishes to all of you on behalf of the China Embassy in Malaysia. This is my second time here in this beautiful campus. I witnessed the amazing performance by 24 Festive Drums, Calligraphy and Traditional Chinese Music using GuZheng. UTAR has made a tremendous contribution to the Chinese language, culture and education progress. I am looking forward to seeing UTAR students participate, practice and promote the relationship between China and Malaysia. Malaysia and China are close neighbours. Malaysia is among the first country to support and join the Belt and Road Initiatives and also to share the fruits of Belt and Road Initiatives. I believe all students are prepared for future challenges."
Also present to witness the ceremony were UTAR Education Foundation Board of Trustee Chairman Tan Sri Dato' Dr Sak Cheng Lum, UTAR President Ir Prof Academician Dato' Dr Chuah Hean Teik, Vice President for Internationalisation and Academic Development Prof Ir Dr Ewe Hong Tat, Division of Finance Director Tham Kam Seng, South China Agricultural University students, UTAR students and staff.
Twin brothers Chan Jia Bin and Chan Jia Jie said, "Hearing impairment did not stop us from studying. Our lecturers always encourage and care for us. We are very fortunate to have this financial assistance as we believe that this would alleviate the family's burden and we would be able to concentrate on our studies. We intend to pursue engineering programmes upon completing our foundation studies."
Meanwhile, V. T. Vishani Thevar who is currently studying Bachelor of Computer Science (Hons) said, "Besides tuition fees, there are other expenditures such as rentals and meal allowance which I have to consider in my financial planning. I am very thankful for being selected as the recipient of this financial assistance. This allows me to solely focus on my studies as it lessens the financial burden. I will continue to strive to achieve better grades so I can secure a good job in the future."
Another recipient, Muhammad Ridzuan bin Kamaruddin said, "This financial assistance is indeed very helpful for me as I come from a family with financial difficulty. I would like to thank the China Embassy in Malaysia and UTAR for helping me with my financial problem."
For further reading, click the links below:
https://www.utar.edu.my/econtent_sub.jsp?fcatid=16&fcontentid=73770
https://www.utar.edu.my/econtent_sub.jsp?fcatid=16&fcontentid=120756
https://www.utar.edu.my/econtent_sub.jsp?fcatid=25&fcontentid=122093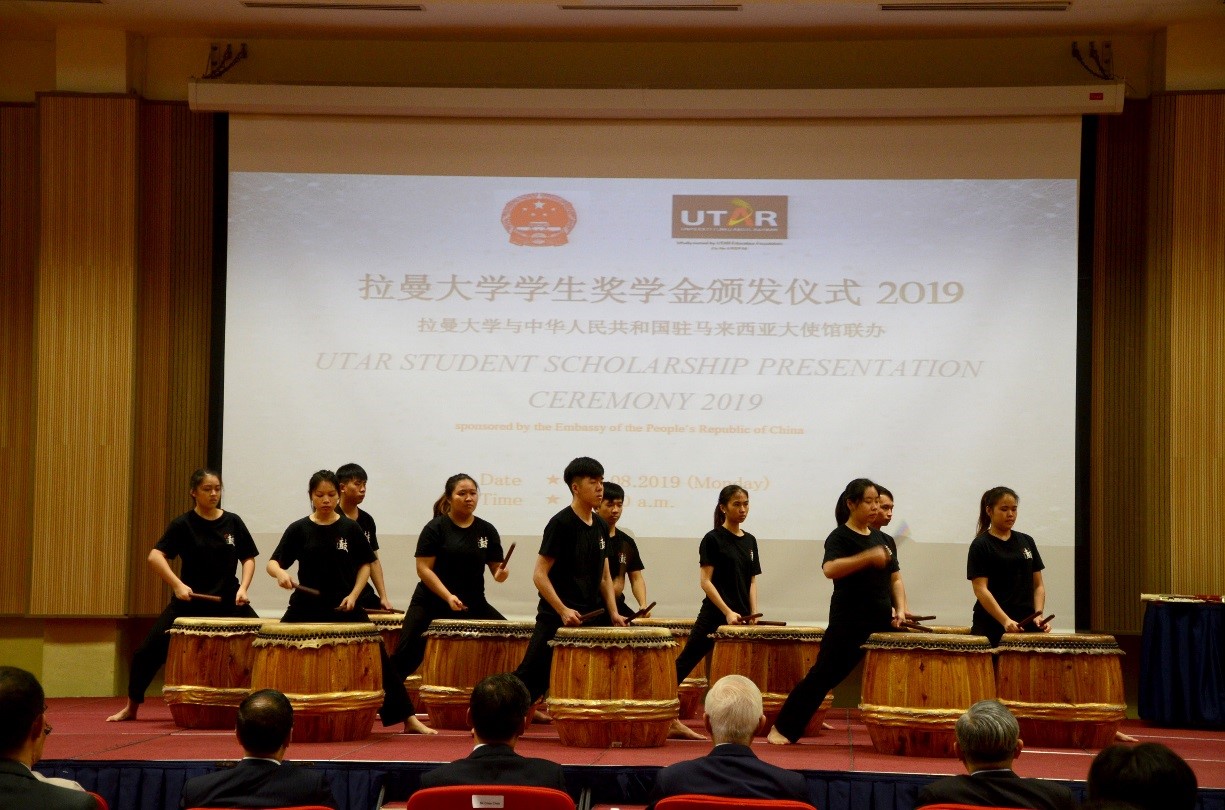 24 Festive Drums performance during the opening ceremony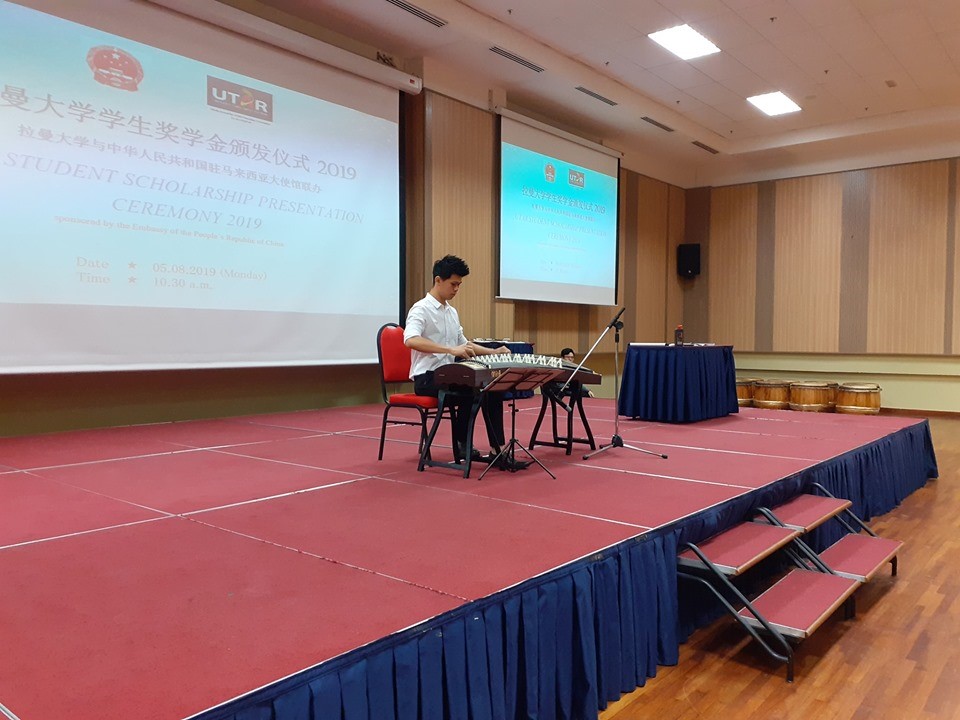 Mok Wang Quan plucks the strings of GuZheng and plays the song "高山流水"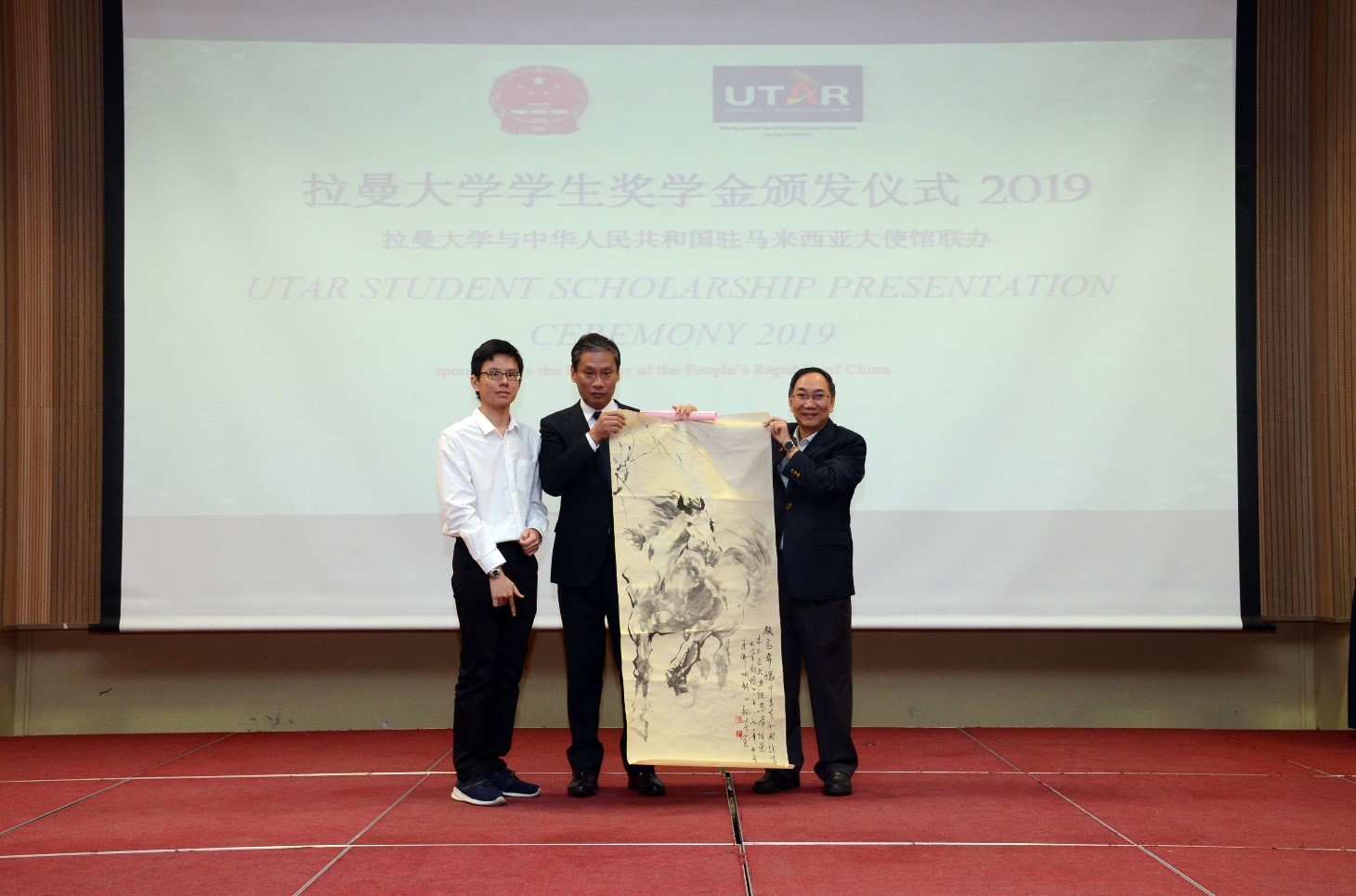 Chan Jia Jie (left) presented the token of appreciation to Chen Chen on behalf of all recipients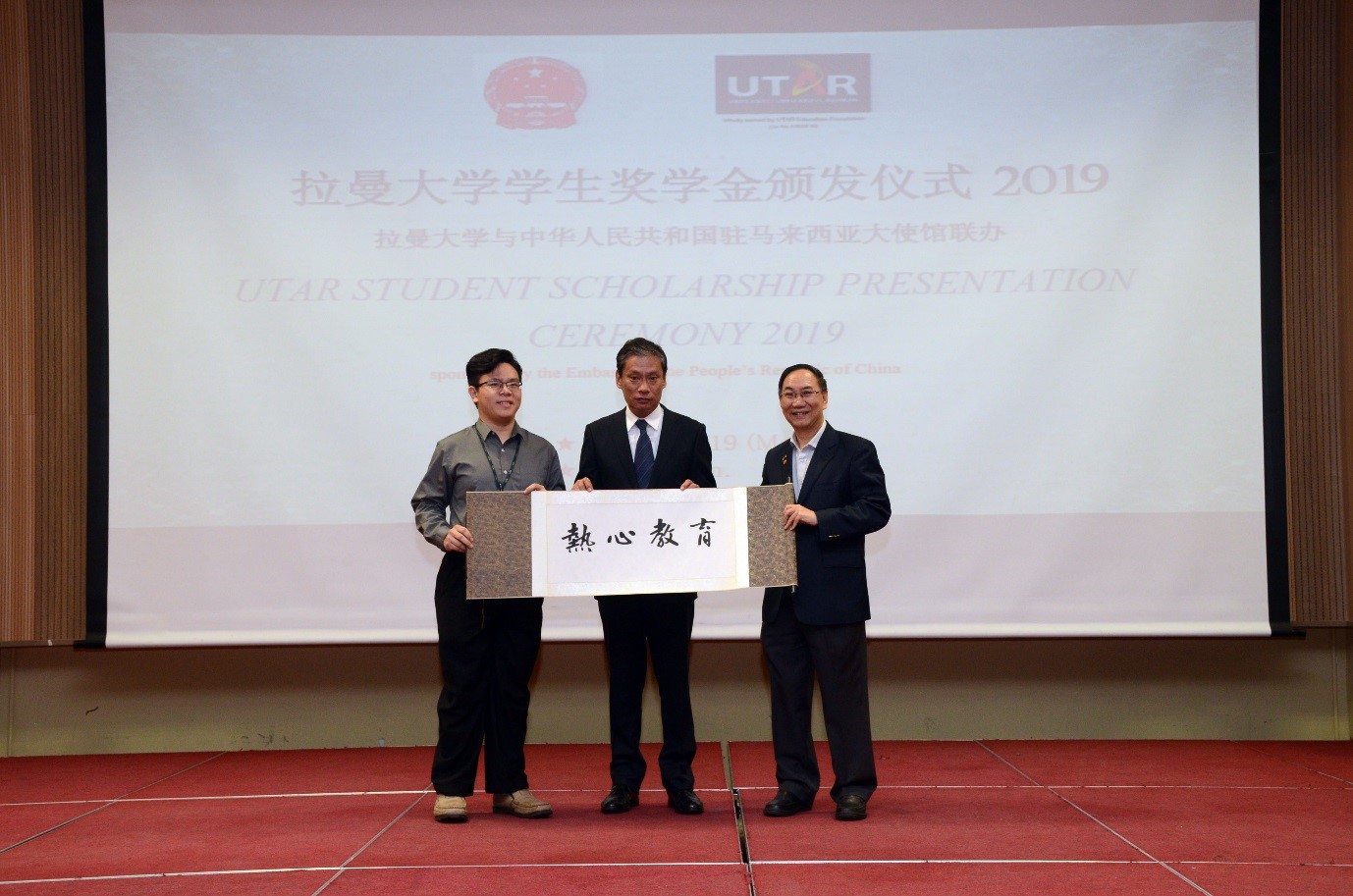 Yuen Yau Tien (left) presenting the Chinese Calligraphy painting to Chen Chen as Prof Chuah (right) looks on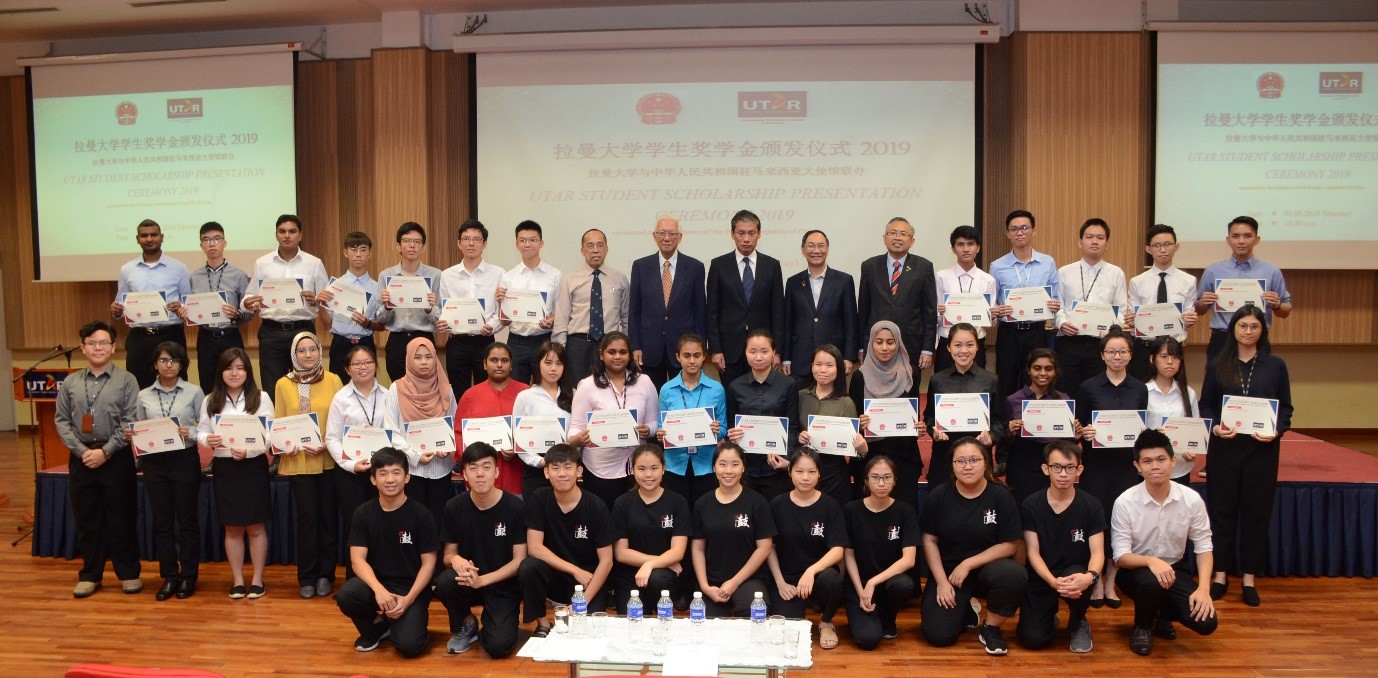 Chen Chen (back row, eighth from right) with recipients and performers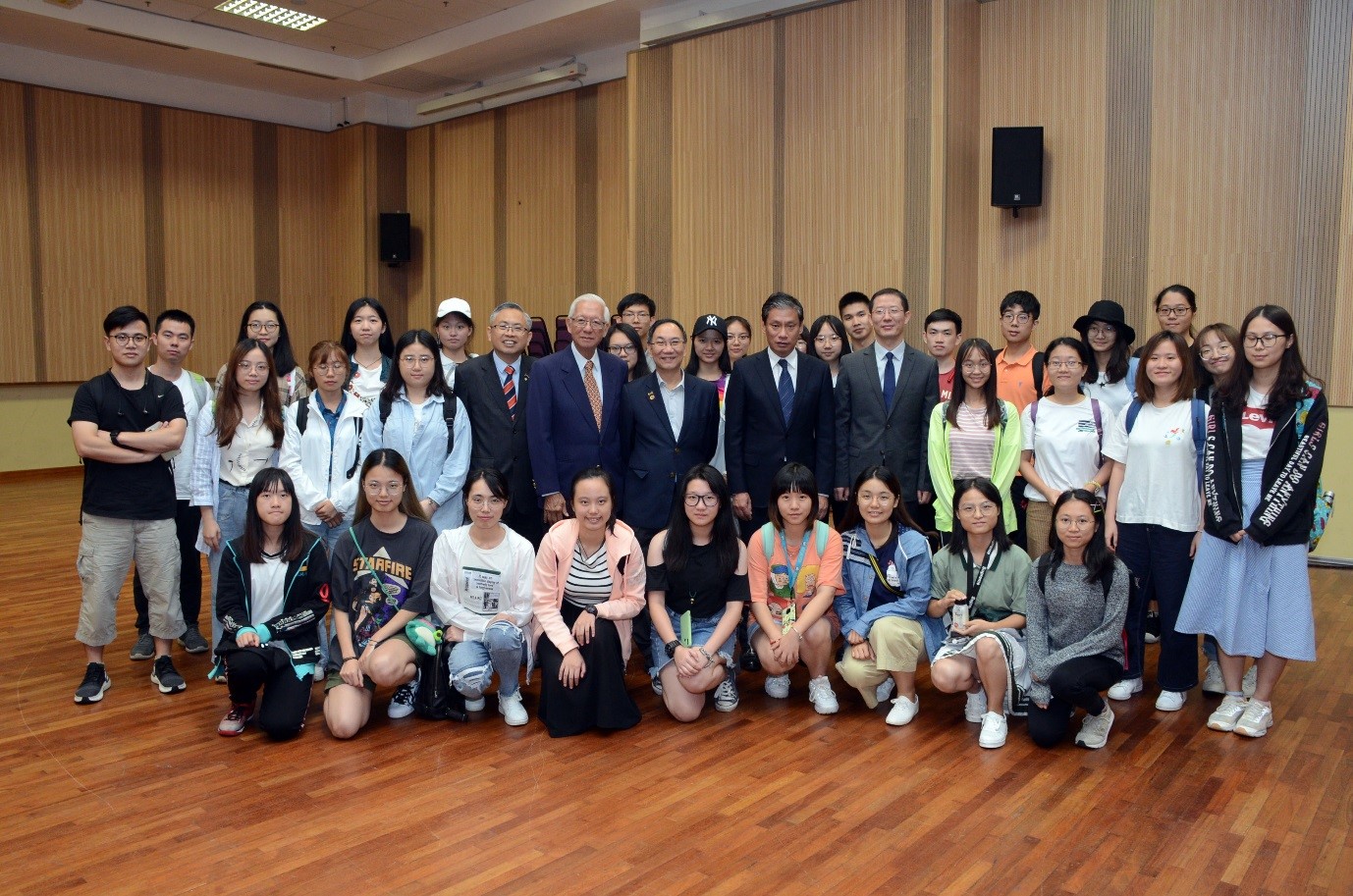 South China Agricultural University students with Chen Chen during the "Meet and greet" session