Remarkable win at
Intel Industry-University Challenge 2019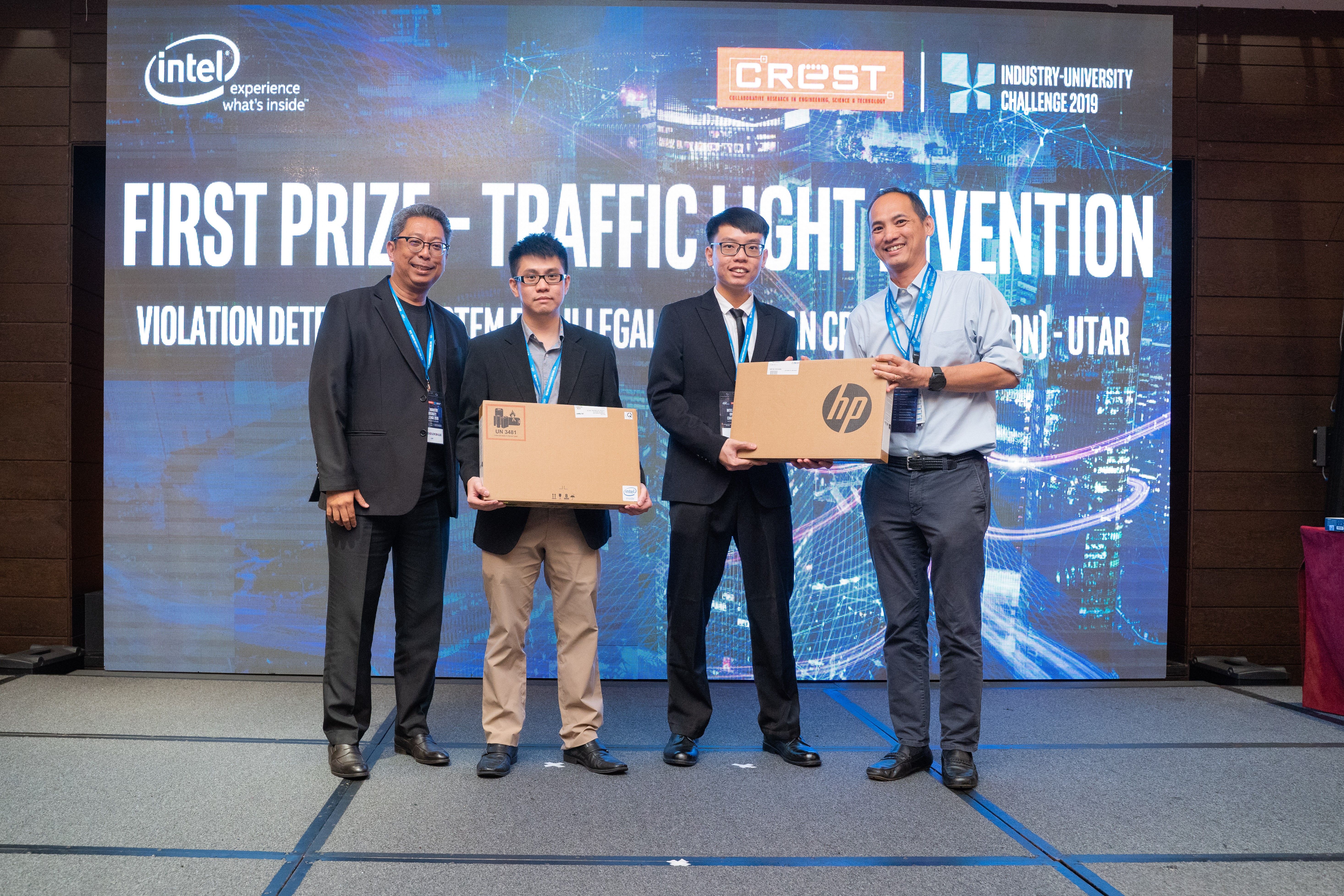 UTAR Lee Kong Chian Faculty of Engineering and Science (LKC FES) student Teoh Han Wei wrapped up a remarkable victory by winning the first place at the Intel Industry-University Challenge 2019. The challenge was held on 23 September 2019 at G Hotel Gurney, Penang. Teoh took home two laptops with backpacks. He also received an invitation to participate in the "CREST The Great Lab (TGL) Design Challenge 2019" with project seed fund of RM1,500, sponsored by Collaborative Research in Engineering, Science and Technology (CREST).
Themed 'Smart Transportation— Aspiring to smarter and safer traffic', the challenge was organised by Intel and CREST. The challenge had two categories, namely Smart Traffic Light and Smart Street Light. It was open to all Malaysian-based university students and staff, and Intel Malaysia employees.
The challenge required the participants to first select a category. Upon selecting the category, they have to come up with an AI-based solution for the existing infrastructure that would solve the current transportation issues. They were also required to deliver a workable solution and a relevant prototype to showcase the whole solution. Marks were given based on the complexity of the solution and the number of problems it can solve.
With the continuous efforts by the government, research communities and private sectors to drive the use of Internet of Things (IoT) technology in improving the transportation system, the challenge aimed to focus on AI technology and use it to solve problems that human face by making the environment and surroundings become intelligent and standalone rather than depending solely on the human action and thinking.
Teoh's winning entry was titled "Violation Detection System for Illegal Pedestrian Crossing (ViSion)". The solution was to develop video analytics with machine learning capability that performs human recognition and tracking of individual pedestrian in real time. It is able to detect the status of the traffic light signal and create a cloud-based system for the visualisation of real-time violation evidence.
According to Teoh, the solution was inspired by SkyEye (天眼) from China and the hot topic from current technology trends which are IoT and crime detection using machine vision. "I came up with the problem statement after reading an article from the Malaysian Institute of Road Safety Research (MIROS). I found out that almost half of the road accidents involved pedestrians and 80% of it was caused by human behaviour," Teoh said.
One of the challenge's criteria required the participants to integrate Intel platform or Intel technology into the solution. Hence, a workshop was held for all the semi-finalists prior to the Grand Finale on 27 July 2019 at Intel Penang. They were taught to use Movidius Neural Compute Stick and Up Squared Board.
Teoh said, "I would like to especially thank Dr Tham Mau Luen for helping and guiding me throughout the competition. Besides sharing his wonderful experience, he also suggested ways I could improve my workpiece."
Dr Tham said, "As his competition advisor, I was happy to see him demonstrating excellent technical and presentation skills in the finale. Teoh was able to come up with a complete end-to-end solution with real-time demonstration and eye-catching hardware prototype. Furthermore, he was able to present his idea well especially during the debate session. I hope that he can improve the solution based on the panels' feedback. Besides that, Department of Electrical and Electronic Engineering would like to acknowledge the contribution of Mr Kenneth Gan Zhen Ming to this project."