Sixteen students received bursary amounting RM400,000 from BMMB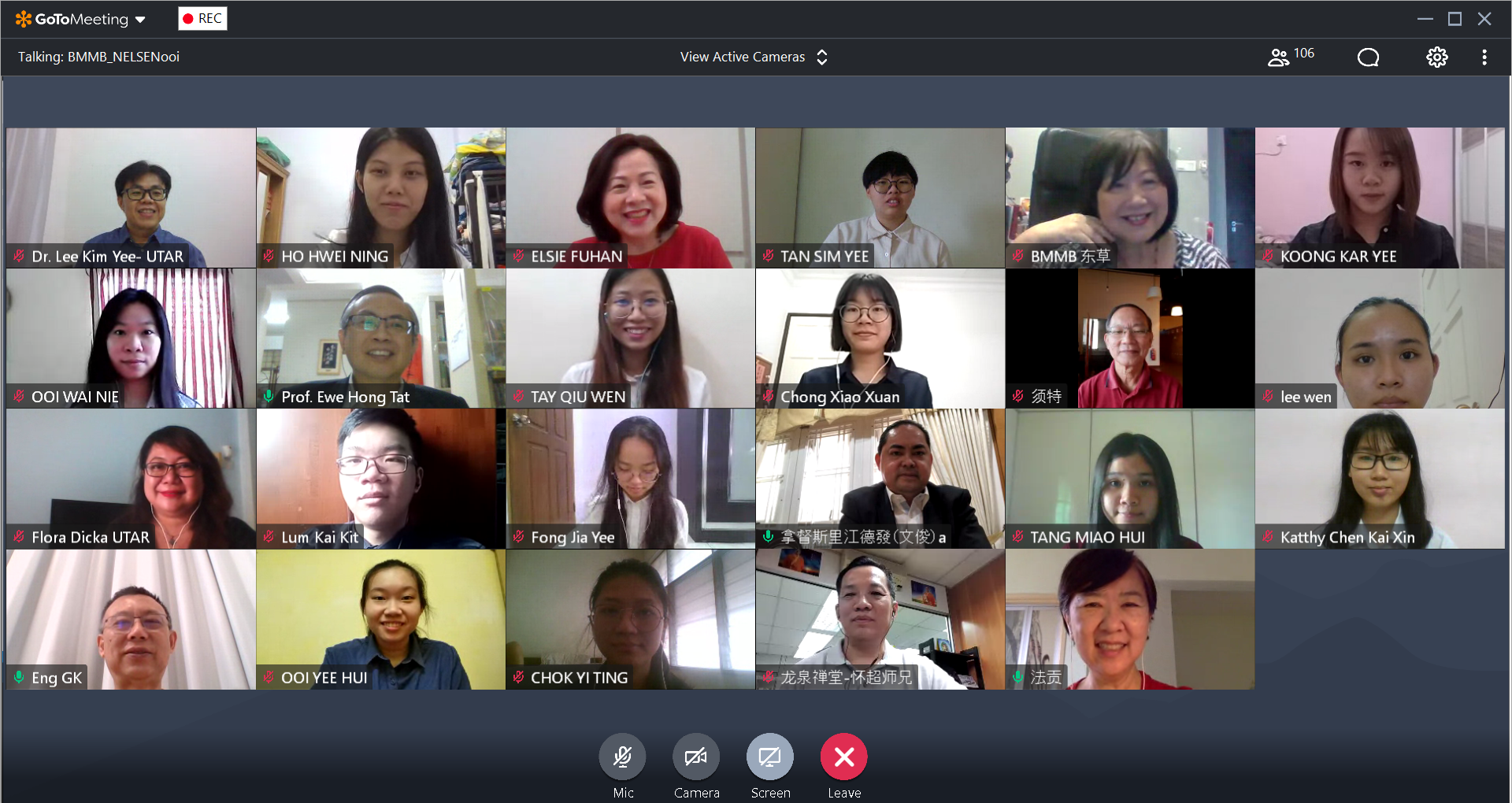 Prof Ewe (second row, second from left) and Teacher Ling Shan (fourth row, most left) with UTAR staff, BMMB members and 16 UTAR JinBodhi Bursary Award recipients
UTAR JinBodhi Bursary Online Award Presentation Ceremony 2020 was held virtually on 28 November 2020 via GoToMeeting. The ceremony saw a total of 146 attendees. Among the attendees were 16 UTAR students who received the bursary award from Bodhi Meditation Malaysia Berhad (BMMB).
Also present were Chairman of BMMB Teacher Ling Shan and Vice Chairman of BMMB Brother Xu Te. They were welcomed by UTAR President Ir Prof Dr Ewe Hong Tat, Lee Kong Chian Faculty of Engineering and Science Deputy Dean for Student Development and Industrial Training Ts Dr Lee Kim Yee, Registrar's Office Manager Flora Dicka, BMMB committee members, bursary award recipients and UTAR staff.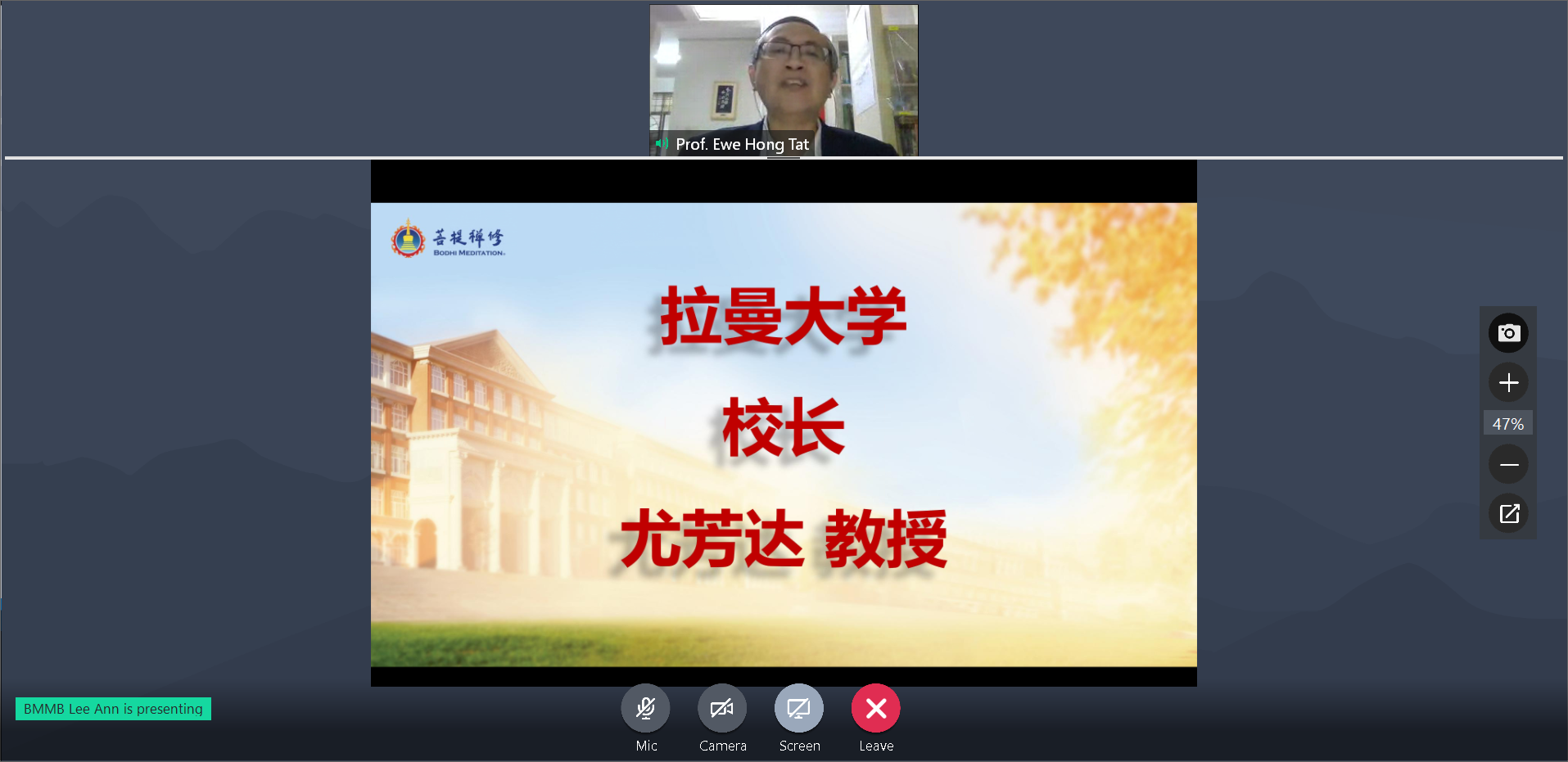 Prof Ewe expressing his gratitude to BMMB
UTAR President Ir Prof Dr Ewe Hong Tat expressed his gratitude during the opening speech, "Previously, in 2018, 54 students received a total amount of more than a million ringgit in financial assistance; and in 2019, more than RM800,000 was given to 46 students. I also witnessed eight students from the October 2019 batch receiving the 2019 JinBodhi Subsidy Award amounting to RM126,870. Today, I am honoured to witness another 16 recipients who will be awarded the 2020 May Trimester under the disbursement of RM400,000 for the year 2020. For all the contributions, UTAR truly appreciates your generosity towards our students."
"I hope you understand that getting the financial assistance allow you to attain the gift of time which you can use to focus on your studies and acquire soft skills to pursue professional opportunities in the future because of the financial relief it provides. Keep in mind about this generosity and in the future, try to return this favour to those who may need such similar assistance in life. I wish all recipients and other students all the very best in their studies," Prof Ewe added as he advised the recipients.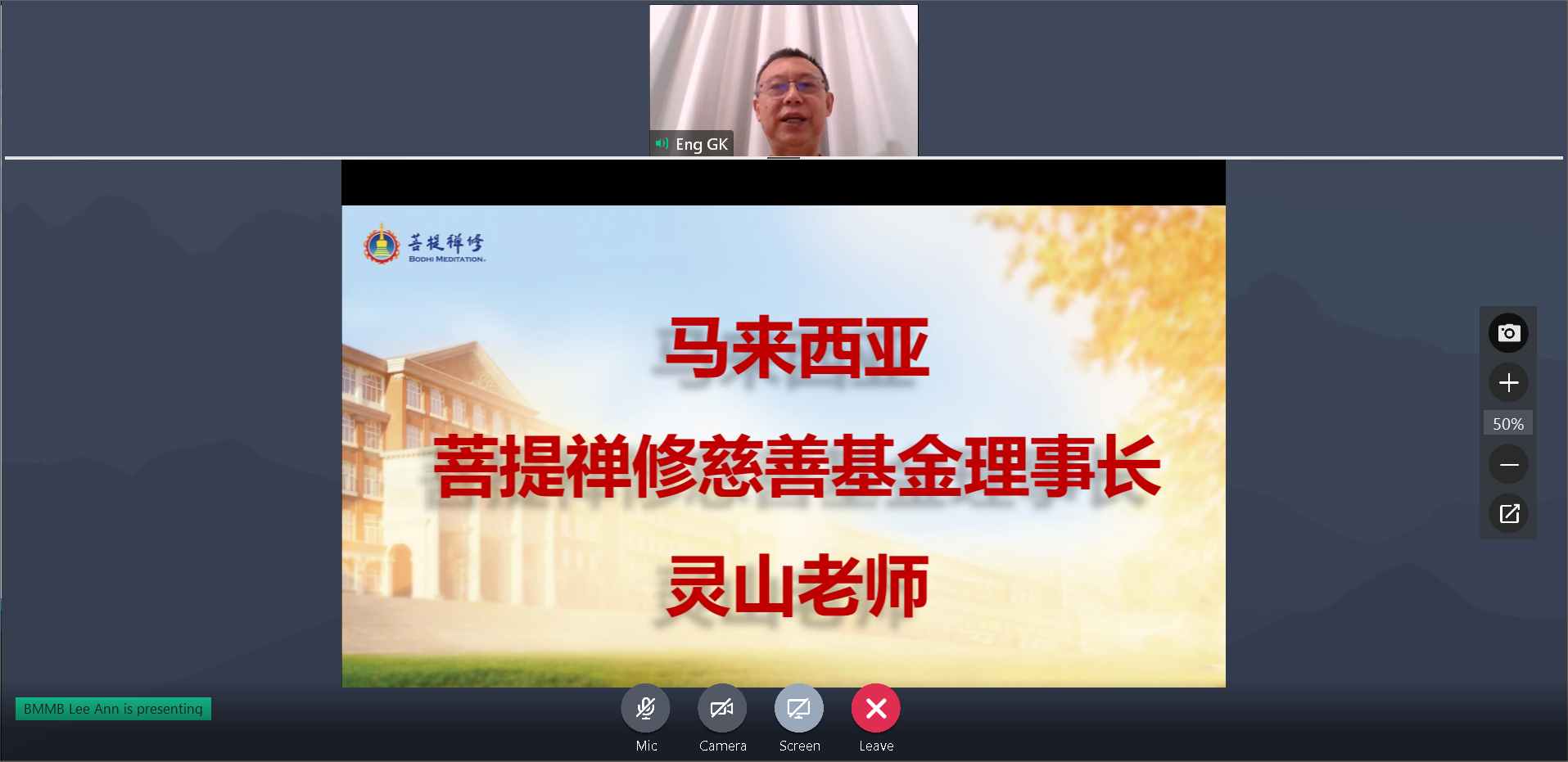 Teacher Ling Shan emphasising that education is the key to unlock the golden door of freedom
BMMB Chairman Teacher Ling Shan highlighted the advice of Master JinBodhi, "After knowing that the Malaysian government had imposed the MCO, the Founder of Bodhi Meditation, Master JinBodhi led Bodhi Meditation Malaysia Charity Fund to help those who were affected by the pandemic." Quoting Master JinBodhi, he said, "Master JinBodhi always tells us that helping others has immeasurable merits. If everyone has a compassionate, kind and helpful heart, our society will definitely become auspicious and beautiful."
"Congratulations to all the 16 students! UTAR JinBodhi Education Bursary was set up by the Founder of Bodhi Meditation, Master JinBodhi in 2017 with the aim to help students complete their studies by providing them financial support. Education is the key to unlock the golden door of freedom; it is one of the most important factors in life. You all must strive hard in your study and learn to contribute to the community in every moment. I wish all the recipients all the best of success in the future. Congratulations once again," Teacher Ling Shan said.
The list of recipients is as follows:
1. Ooi Yee Hui

2. Katthy Chen Kai Xin
3. Fong Jia Yee
4. Gan Jie Min
5. Koong Kar Yee
6. Ho Hwei Ning
7. Lai Yin Sheng
8. Lim Ling Chie
9. Tan Sim Yee
10. Tay Qiu Wen
11. Lum Kai Kit
12. Chong Xiao Xuan
13. Ooi Wai Nie
14. Tang Miao Hui
15. Chok Yi Ting
16. Chai Lee Wen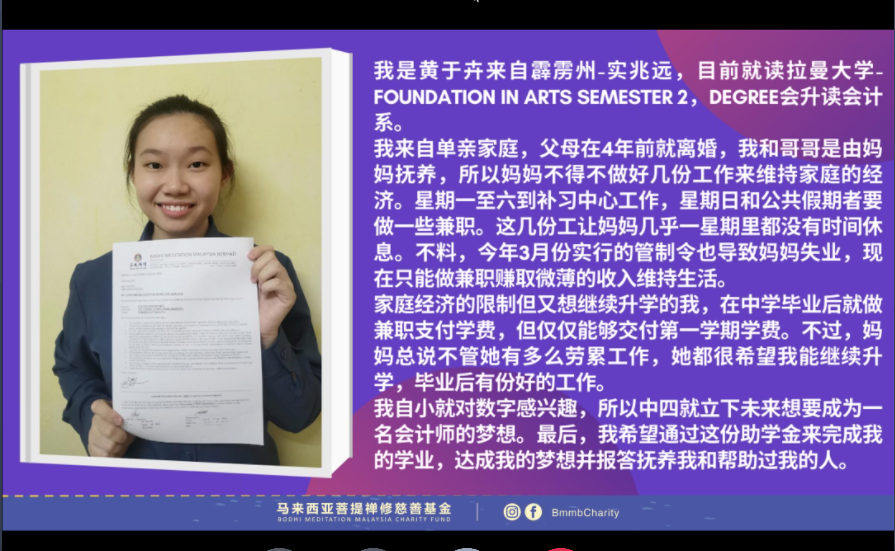 Ooi Yee Hui
Foundation in Arts student Ooi Yee Hui said that the bursary helped to relieve the burden of her mother who is single. She will remember this good deed and pass it on to people in need in the future.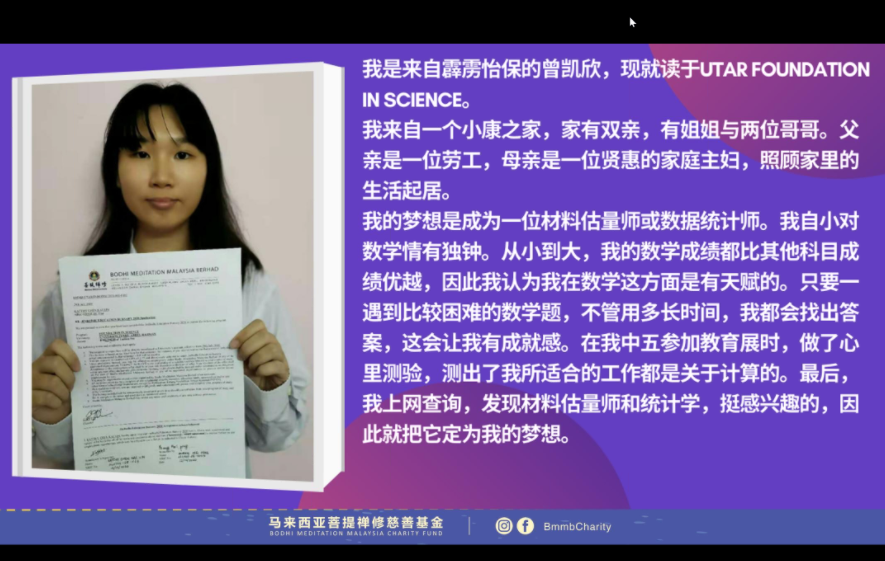 Katthy Chen Kai Xin
Foundation in Science student Katthy Chen Kai Xin is determined to become a quantity surveyor or a data statistician upon graduating. She will try all her best to achieve her dream.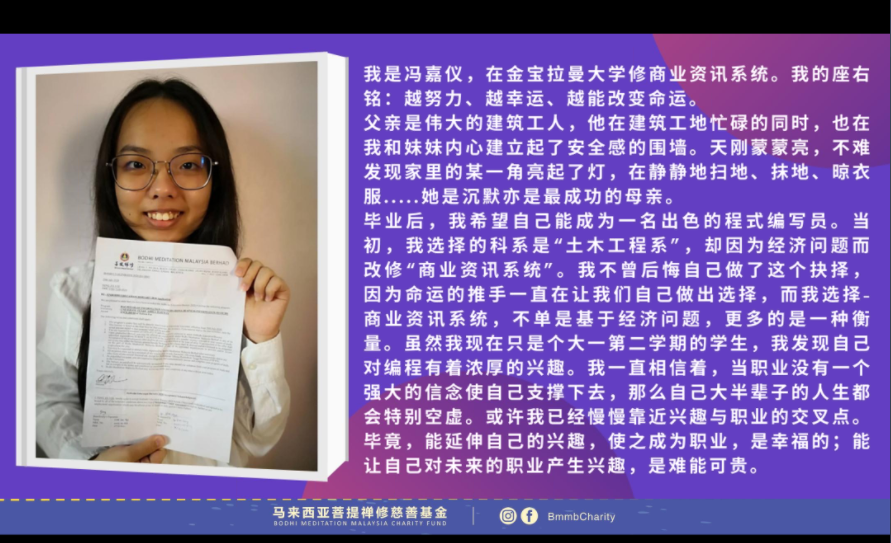 Fong Jia Yee
Bachelor of Information Systems (Honours) Business Information Systems student Fong Jia Yee believes that one can control their destiny and that destiny is always in their hands. So, she urged everyone to not lose faith and continuously try to achieve their goals.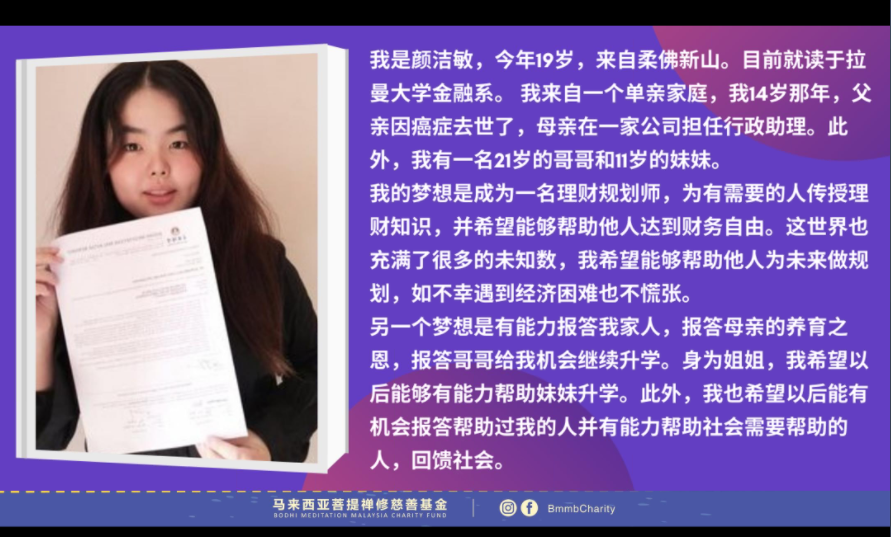 Gan Jie Min
Bachelor of Finance (Honours) student Gan Jie Min is determined to become a financial planner. She planned to help more people in the future by using her finance knowledge as a way of expressing her gratitude to BMMB.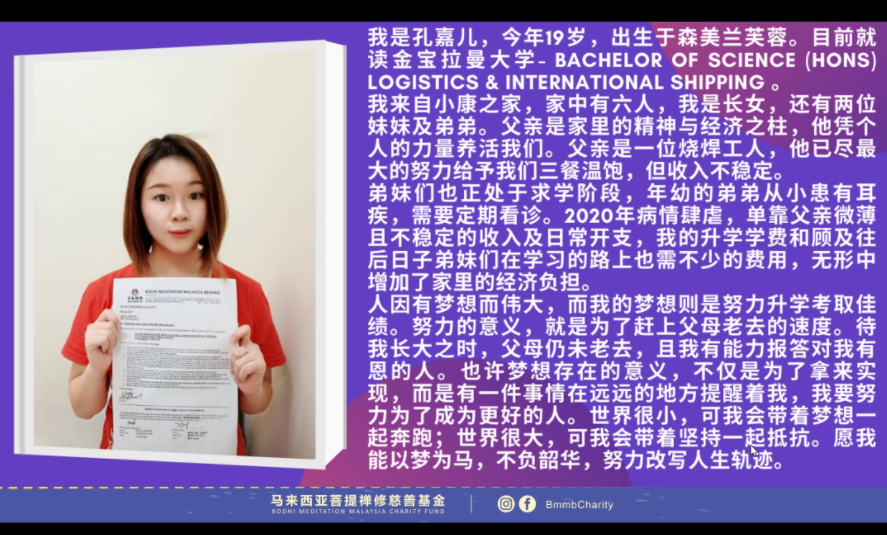 Koong Kar Yee
Bachelor of Science (Honours) Logistics and International Shipping student Koong Kar Yee always puts her grandfather's advise to heart - "贫者因书而富 富者因书而贵". This Chinese proverb tells that gaining education through hard work will earn you a fortune. She promised to study hard to repay her parents' kindness.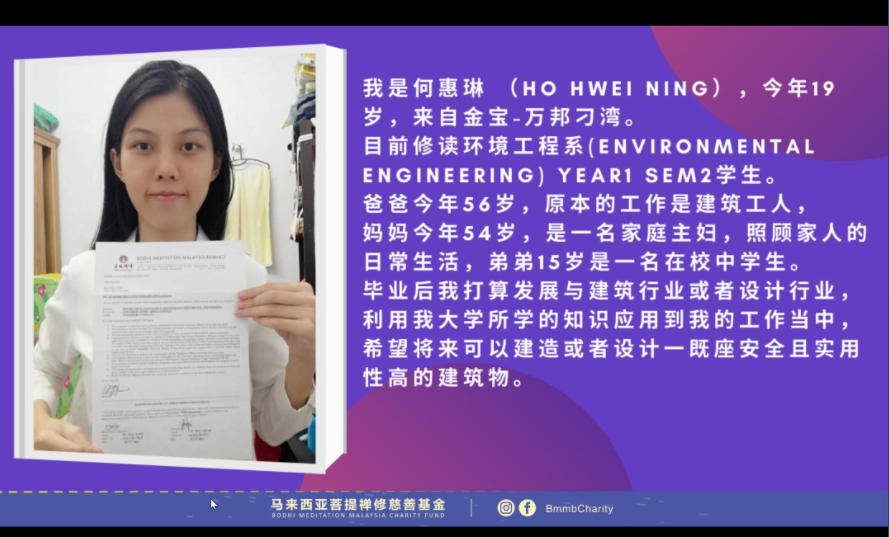 Ho Hwei Ning
Bachelor of Engineering (Honours) Environmental Engineering student Ho Hwei Ning expressed her hope to use the knowledge she learnt at the University to design and build strong and stable buildings for the society.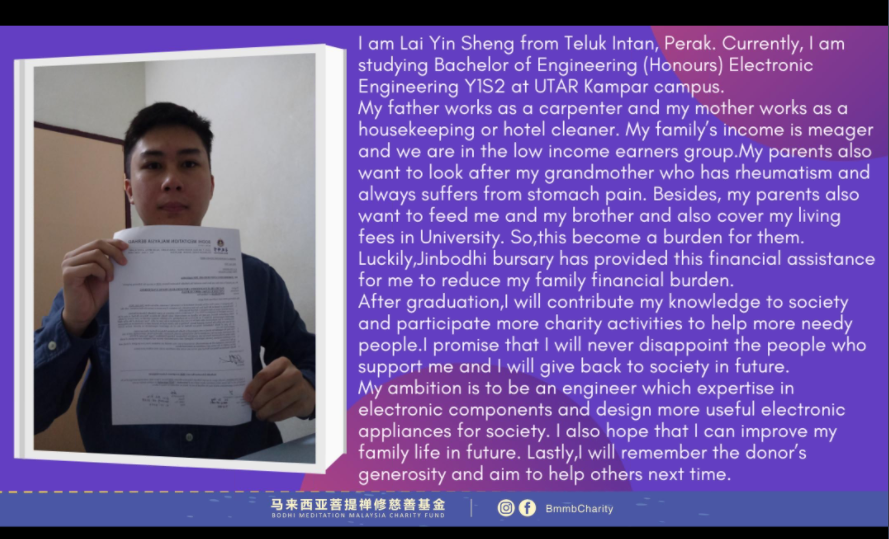 Lai Yin Sheng
Bachelor of Engineering (Honours) Electronic Engineering student Lai Yin Sheng feels grateful towards BMMB. According to him, BMMB has helped to reduce his family's financial burden. He promised to actively participate in charity activities to help other needy people.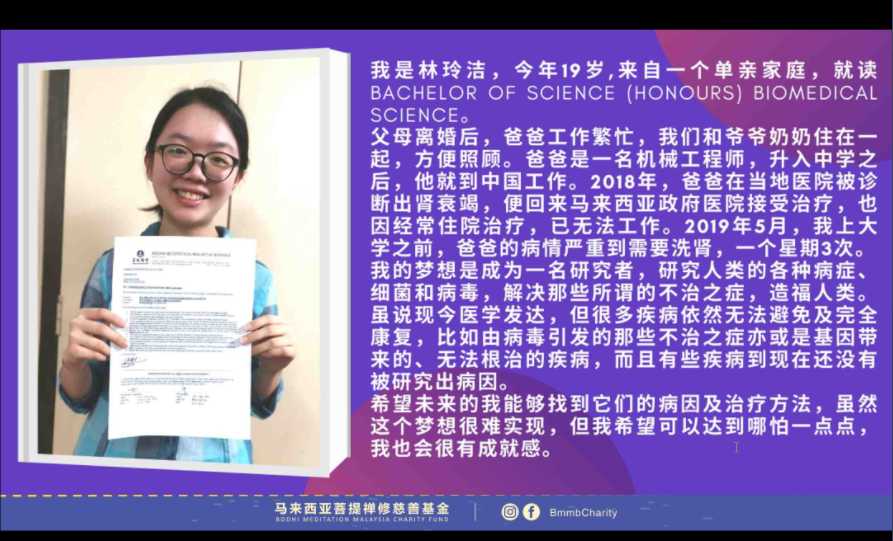 Lim Ling Chie
Bachelor of Science (Honours) Biomedical Science student Lim Ling Chie is determined to become a researcher who would do research on illness, bacteria and virus. She decided this after her father suffered from kidney failure. She hopes one day she will successfully find out the source of the illness and help those who are in need of medical attention.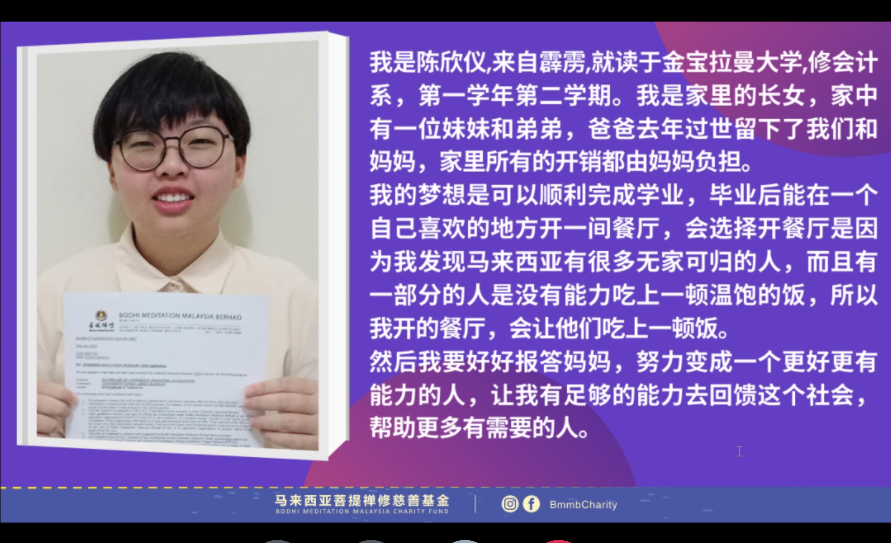 Tan Sim Yee
Bachelor of Commerce (Honours) Accounting student Tan Sim Yee hopes to open a café that would provide food for the homeless after she graduates. Tan also praised her single mother for her perseverance and promised to repay her mother by studying hard and becoming a better person.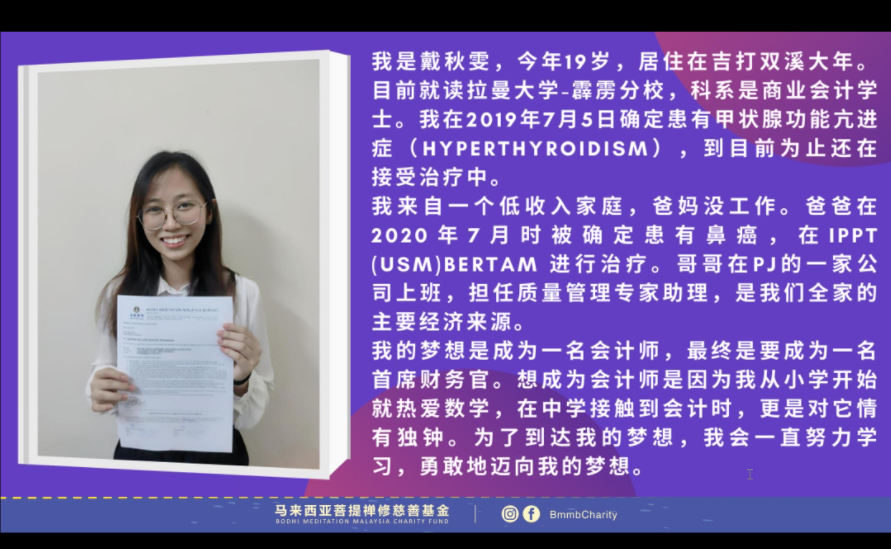 Tay Qiu Wen
Bachelor of Commerce (Honours) Accounting student Tay Qiu Wen expressed her heartfelt gratitude to BMMB for giving her the chance to continue her studies and relieving her from her financial burden since her brother was the sole breadwinner in the family. Tay was diagnosed with hyperthyroidism in 2019 and her father was diagnosed with nose cancer in July 2020. The bursary provided was a relief for her and her family.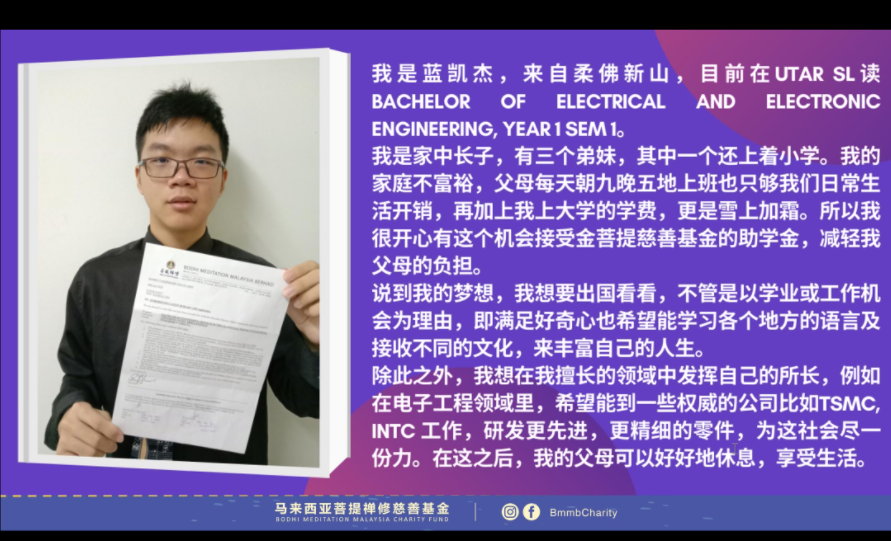 Lum Kai Kit
Bachelor of Engineering (Honours) Electrical and Electronic Engineering student Lum Kai Kit feels happy to be one of the recipients of the bursary. Lum is the eldest in the family and he has three siblings that are still studying, therefore the bursary helped to reduce his family's financial burden.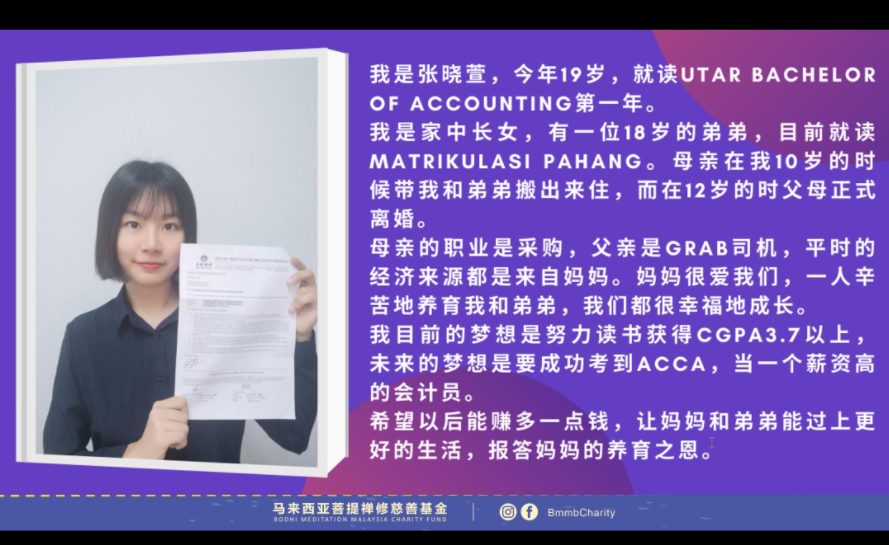 Chong Xiao Xuan
Bachelor of Accounting (Honours) student Chong Xiao Xuan wishes to maintain her CGPA above 3.70 and obtain ACCA certificate. Chong believes with strong determination, she will be able to secure a high-paying job in the Accounting industry and this will provide a comfortable life for her mother and brother.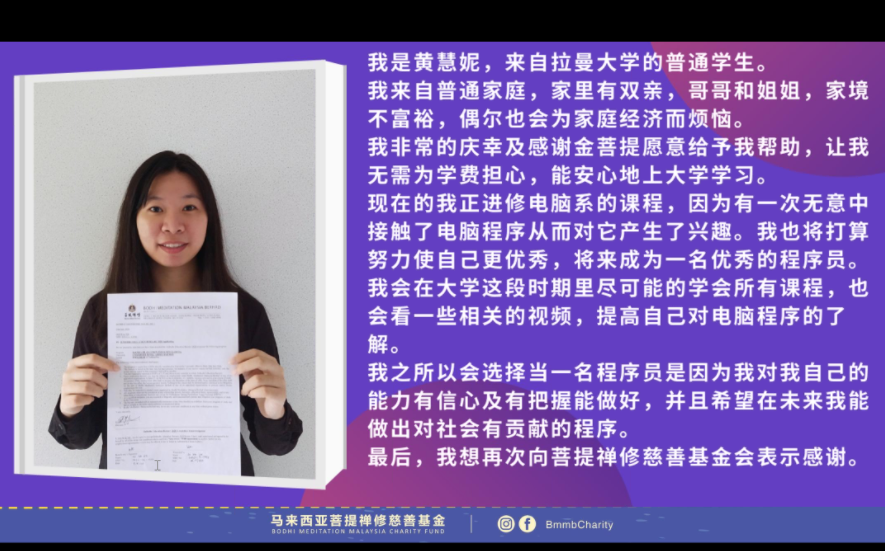 Ooi Wai Nie
Bachelor of Computer Science (Honours) student Ooi Wai Nie thanked BMMB for the generous bursary. She promised to use her time wisely and upgrade her knowledge on Computer Science. She hopes to become a successful programmer in the future.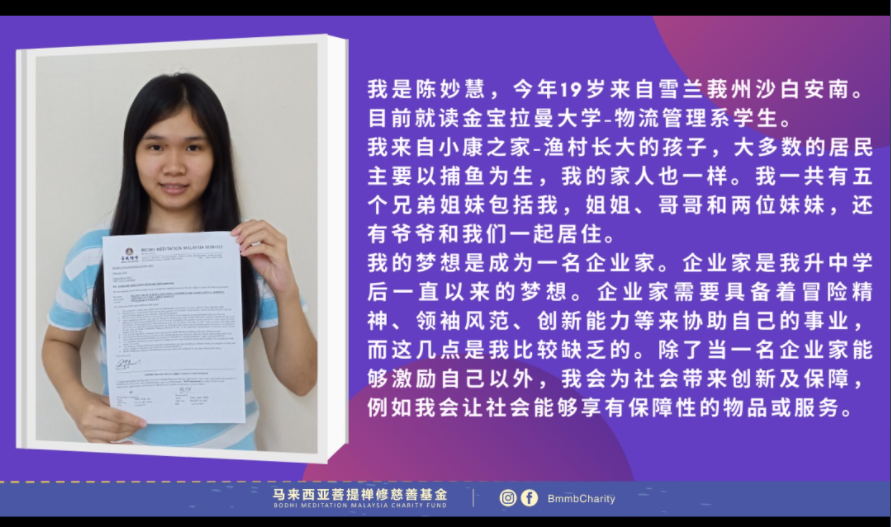 Tang Miao Hui
Bachelor of Science (Honours) Logistics and International Shipping student Tang Miao Hui was born in a fishing village in Sabak Bernam with four siblings. Tang has always dreamt of becoming an entrepreneur ever since she was in secondary school. She said becoming an entrepreneur required one to possess leadership skills, adventurous attitude and innovative skills. Therefore, she will train herself and become successful in the future.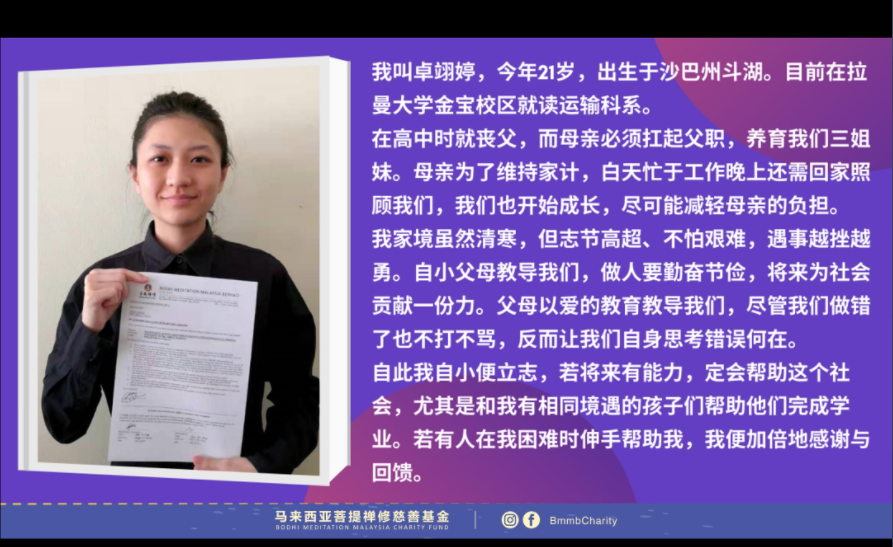 Chok Yi Ting
Bachelor of Science (Honours) Logistics and International Shipping student Chok Yi Ting is from East Malaysia – Tawau. She lost her dad when she was in secondary school and her mother is the only one who is currently working to raise three children. Chok said that she is not afraid of hardship as she believed hardship prepares ordinary people for an extraordinary destiny.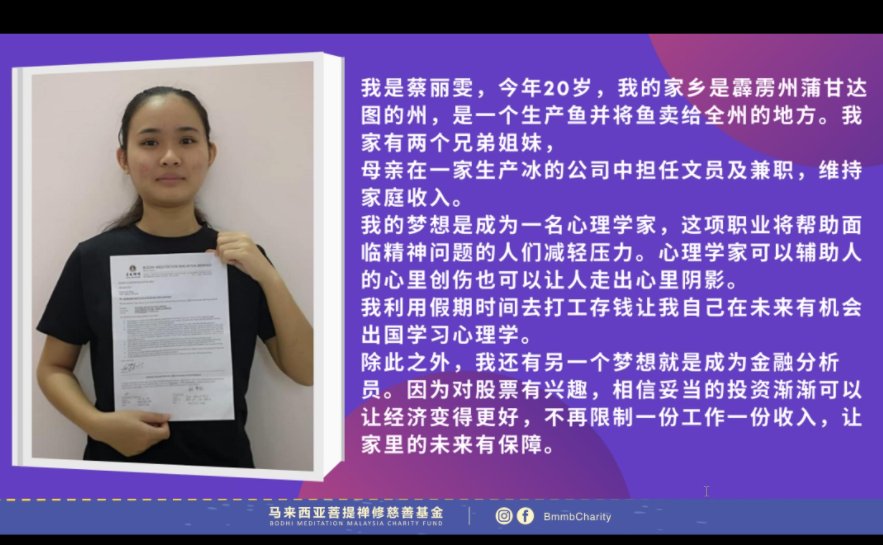 Chai Lee Wen
Bachelor of Finance (Honours) student Chai Lee Wen promised to work hard to become a chartered financial analyst as she believed that "the more you learn from the finance industry, the more you earn".