UTAR wins ACA Championship to represent Malaysia in USA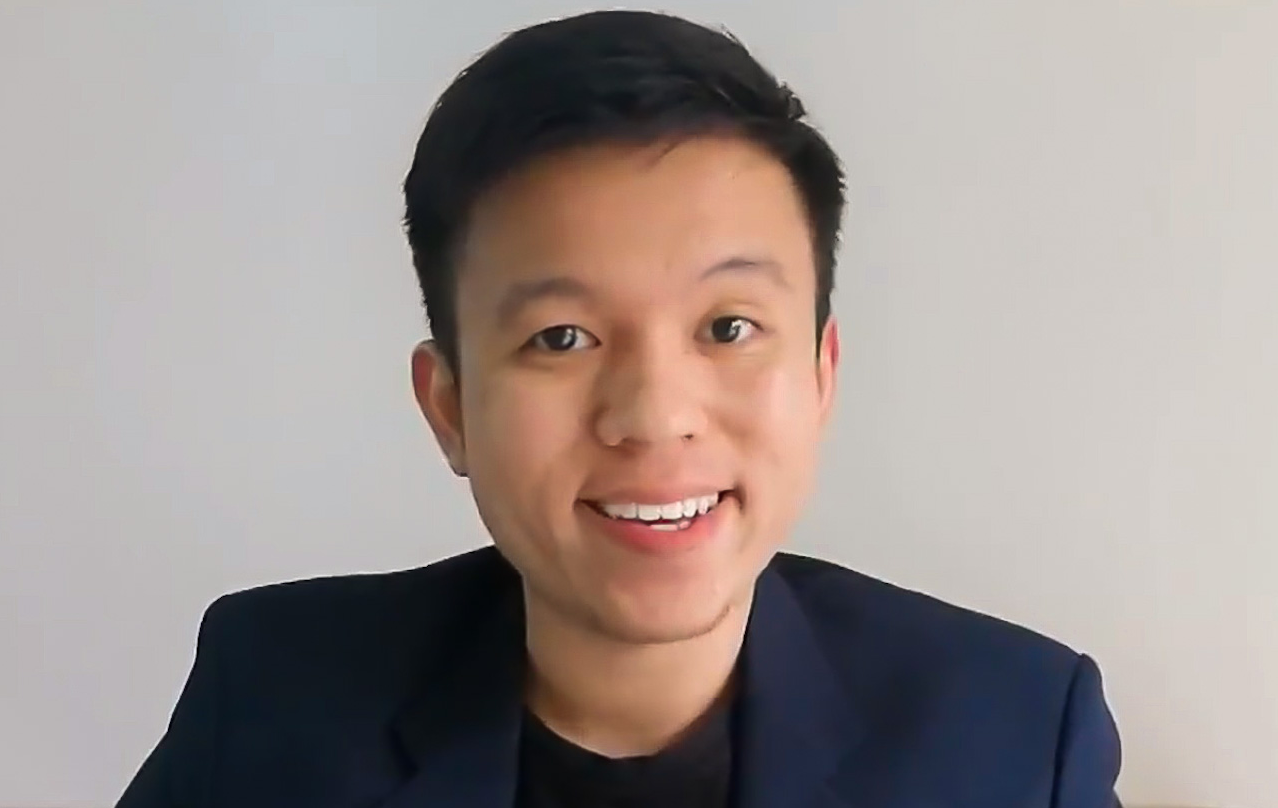 ACA Championship 2020 Malaysia winner Danny Tse Wei Chun
Danny Tse Wei Chun will represent Malaysia in the Adobe Certified Associate (ACA) World Championship 2021 in Orlando, Florida in August 2021. Danny Tse is the proud Champion at the grand finals of the ACA Championship Malaysia 2020 beating other participants from about a total of 70 schools, colleges and educational institutions across the country.
The ACA Championship Malaysia 2020 was organised by Acestar Sdn Bhd and it was held in conjunction with the SEA Connect Creative Conference 2020 which was a virtual event held on 16 December 2020. The Championship sets a platform for students whose major is in Art and Design to showcase their work on a broader scale and it is open to all institutions of higher learning, secondary schools, colleges and polytechnics in the country. Participants must be within the age of 13 years and 22 years old.
The Adobe Certified Associate (ACA) World Championship is a global competition that tests students' design skills using Adobe Photoshop, Illustrator and InDesign. The top winner of each country will represent their respective countries at the World Championship where they will create a designated design project for a chosen non-profit client of Certiport, the presenter of the World Championship 2021 in the USA.
Danny Tse is a Digital Animation undergraduate student in the Department of Multimedia and Digital Animation of the UTAR Faculty of Creative Industries in UTAR Sungai Long Campus. He shares his personal experience (below) leading to the ultimate win.
"This ACA Championship Malaysia 2020 was a long adventurous journey for me. I came to know about this competition from the former Head of Department of Multimedia and Digital Animation in the Faculty, Ms Yuen May Chan. This competition fascinated me because I am very passionate about the creative arts using Adobe Photoshop and I registered for the challenge doing something I love and I am passionate about, with no purposeful aim to win. Other students also enrolled for the competition.
After I registered for the competition in February 2020, I waited till March 2020 for their first briefing about the competition. That was the starting point of the first round of this ACA Championship Malaysia 2020. We were required to create a poster for the Breast Cancer Foundation as our client within two weeks with or without using the materials provided. As I was aware that I should complete the artwork in less than one day in the next round, I challenged myself and completed the work within two days before submission for the first round.
I waited patiently and finally received the announcement of the top 30 winners from the first round. That was when things started to get more interesting. I was proud to be selected as one of the top 30 winners from more than 1000 participants from the first round. The next thing I remembered was how I started to make new friends from the other top 30 winners. We were placed in a WhatsApp group created by the organizers for the top 30 winners.
I saw how good the other participants' works were and I was quite intimidated at first but I knew then that I had to put my creative skills to greater use and to do better. From that moment onwards, my first goal was to improve my illustration skills. I did my research and practiced hard to improve my visual design skills using Adobe Photoshop. I learned a lot and saw myself improving. I learned how to make my illustrations look more realistic, and create different visual effects using Adobe Photoshop. I was ready for the next round, but the competition was delayed from May 2020 to September 2020 and I continued practising to improve my skills while waiting.
What I liked most about this competition was that they provided us a 2-day Adobe Photoshop workshop from which I picked up more knowledge and applications on the use of the software. I finally got certified in Adobe Photoshop and I saw improvements in my technical skills.
The second and final round of the ACA Championship Malaysia 2020 was in September 2020, held at UniKL from 9 am to 6 pm. We were encouraged to travel to the venue a day before the competition to check out the equipment. I was so nervous about the competition that I could not sleep properly the night before.
On competition day, there was a meaningful and motivating briefing in the morning, making me feel less nervous. This briefing also reminded me of something important, which is to remember the audience of my artwork. Hence, I kept reminding myself about the audience, who are the breast cancer patients and survivors who will be viewing my artwork. That put me into focus on my designs.
During the competition, my lecturers, Mr Azri and Ms Yuen came and gave me a lot of emotional support and motivation, especially Mr Azri whose calming words made me relieve my stress. I managed to finish my artwork earlier than expected and did all my checks and touch-ups before I submitted. I put all my passion and efforts into this competition to showcase what I love to do. I submitted my artwork in the last 20 minutes. Then, I had dinner with my lecturers, and we went back together. It was a deeply memorable day.
When they announced the winners eventually, it was surreal that I was the champion but I knew I did what I was passionate about. I am very thankful to ACA, the organisers, fellow competitors, my lecturers, UTAR, my friends and family for making this whole experience possible and I share this success with all of them. I look forward to next year's world championship. For now, I am still learning to be better and to showcase more of my passion in using Adobe Photoshop."
UTAR congratulates Danny Tse and thanks him for his passionate efforts in the competition. The University wishes him the best in the international competition next year in the USA.
The ACA Championship Malaysia 2020 is organised by Acestar with HP Malaysia as the main sponsor and the championship is supported by MoE, KBS, JPT, and MDEC. The other sponsors were Adobe and Certiport with Saleslive and Wacom as technology partners. The NGO partner is Breast Cancer Foundation.
The Adobe Certified Associate (ACA) certification is a global industry-recognized credential that can be used to effectively validate one's skills in Adobe digital-media software. It certifies that individuals have the entry-level skills to plan, design, build, and maintain effective communications using different forms of digital media.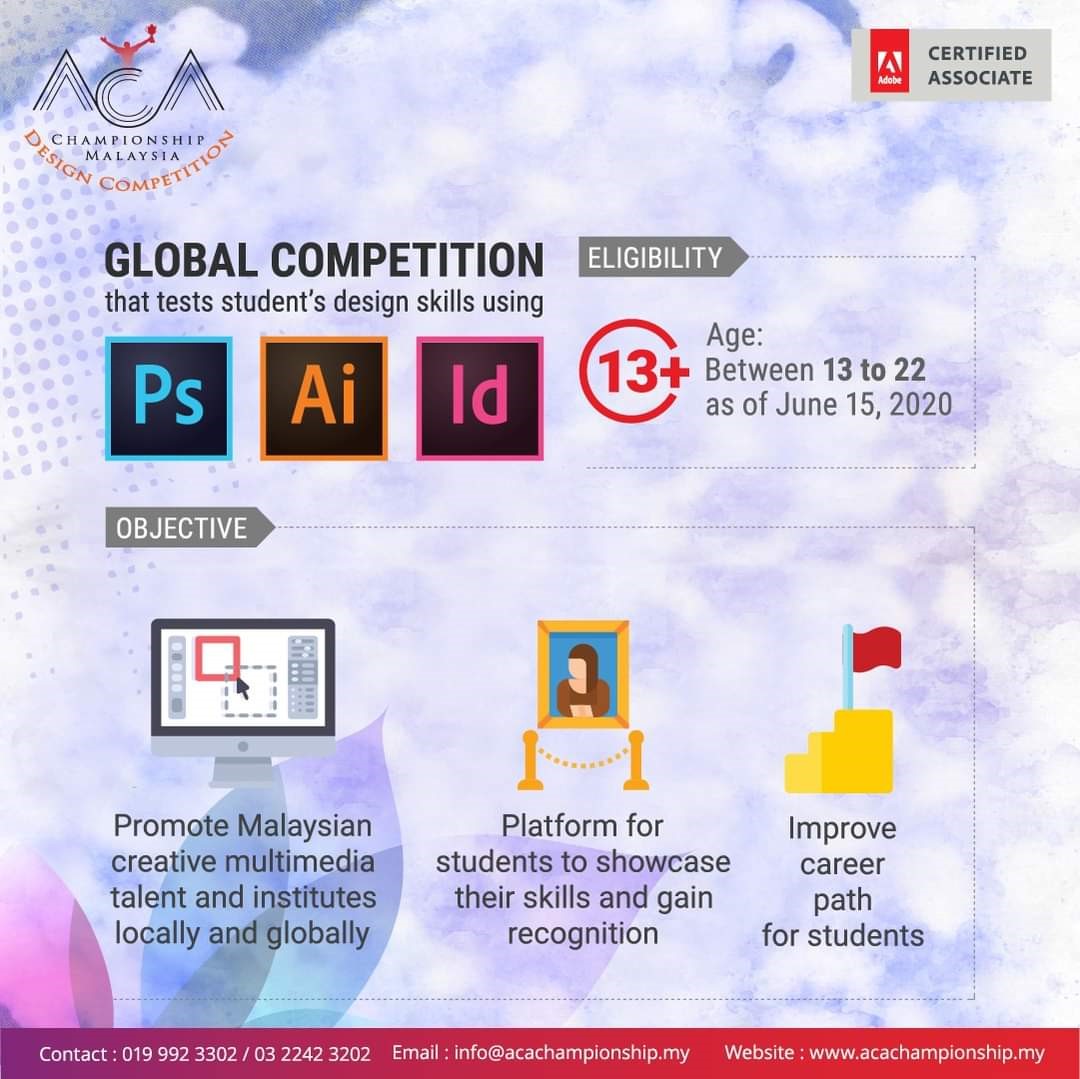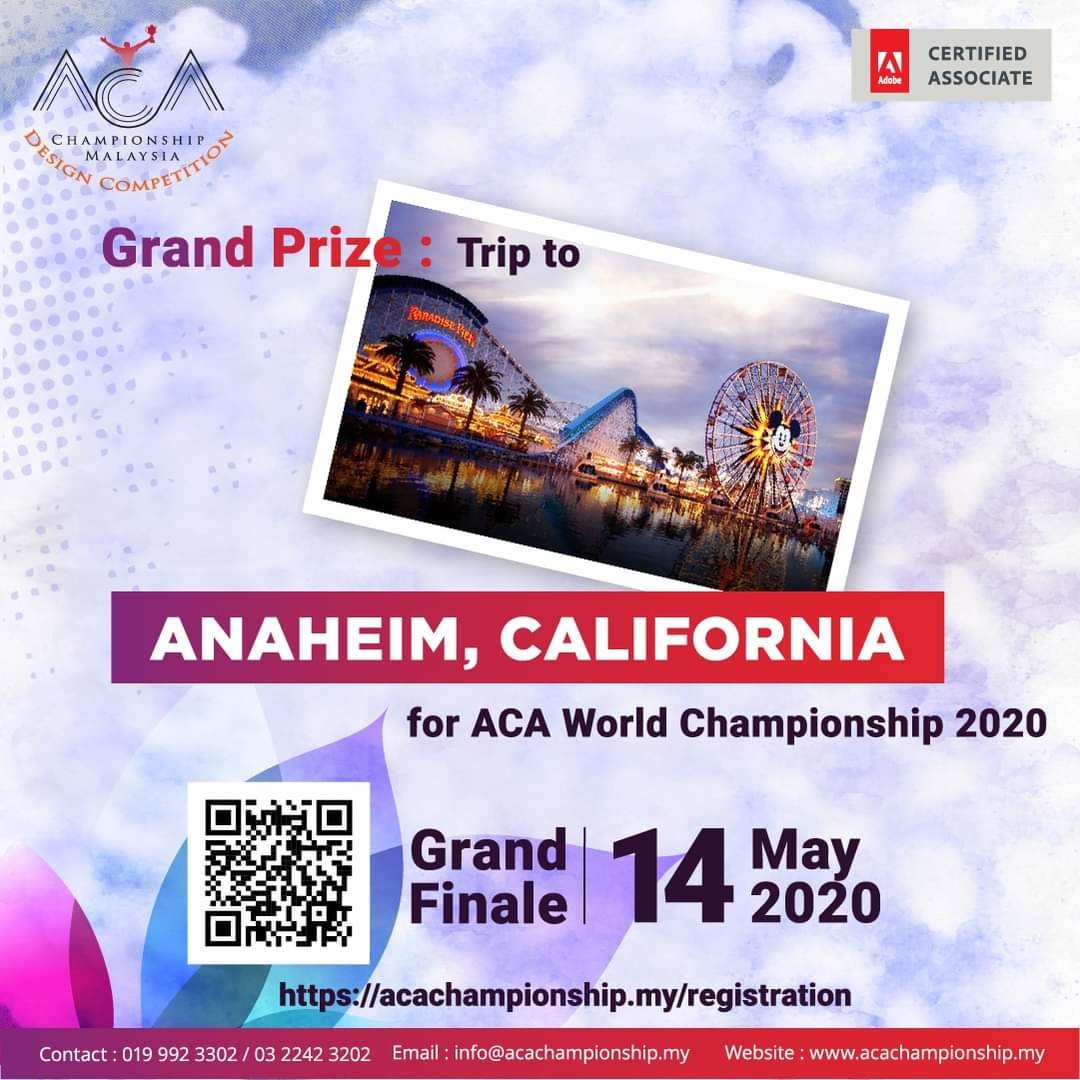 Posters for the ACA World Championship 2020