Master of Architecture student receives PAM Inovar Scholarship Award 2020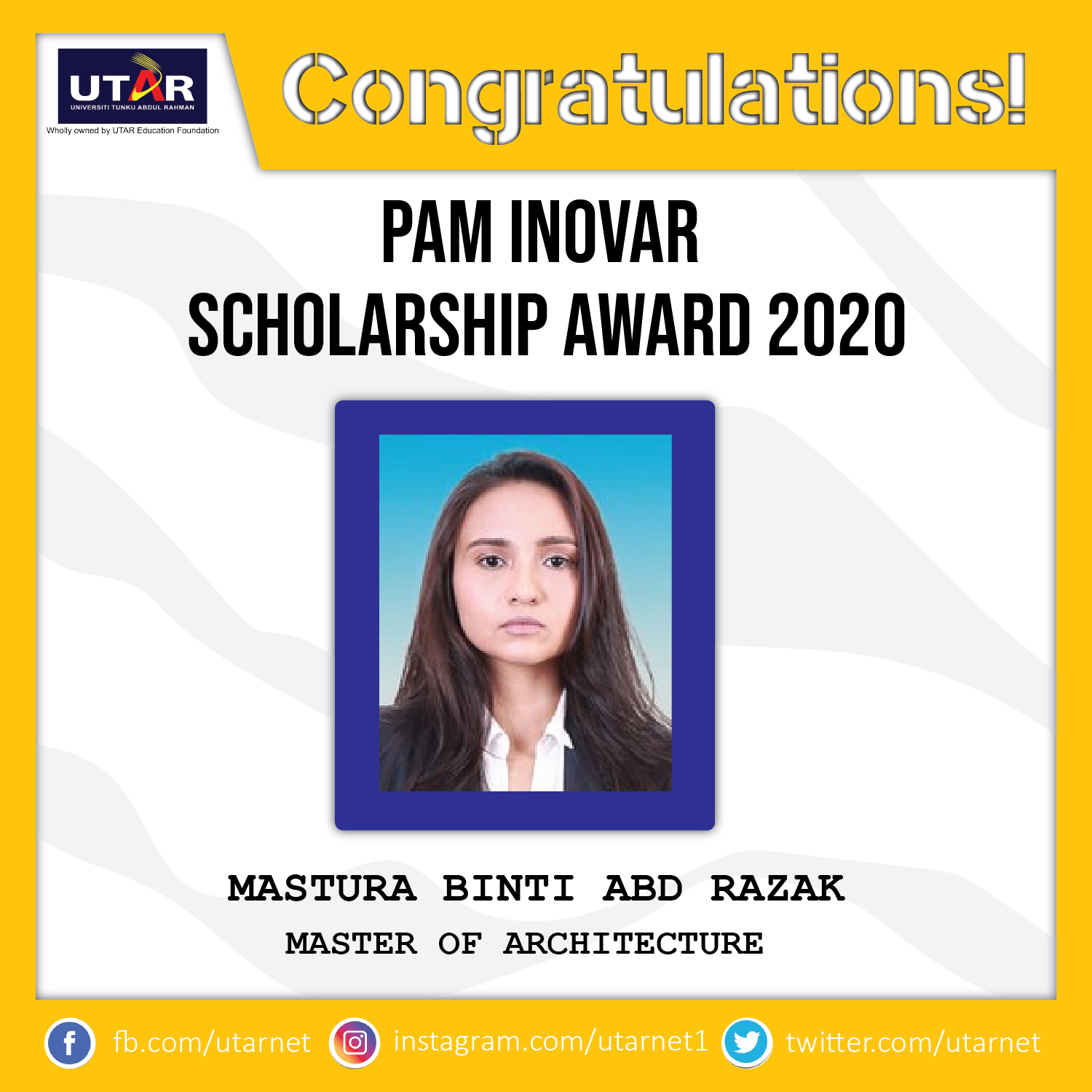 UTAR Lee Kong Chian Faculty of Engineering and Science's (LKC FES) Master of Architecture student Mastura binti Abd Razak beamed with joy when she received PAM Inovar Scholarship Award 2020.
The PAM Inovar Scholarship Award 2020 is a collaboration between Pertubuhan Akitek Malaysia (PAM), also known as the Malaysian Institute of Architects, and Inovar Contracts Sdn Bhd. Three awards are given to Master of Architecture students from all over Malaysia this year and Mastura from UTAR declared as one of the winners for the PAM Inovar Scholarship Award 2020.
The scholarship is opened to PAM students' members pursuing Part 2 architecture programs from Lembaga Arkitek Malaysia (LAM) accredited schools in Malaysia. The participating universities were Universiti Teknologi Malaysia, Skudai (UTM), Universiti Teknologi MARA, Puncak Alam (UiTM), Universiti Sains Malaysia (USM), Universiti Malaya (UM), Universiti Islam Antarabangsa Malaysia (UIAM), Universiti Putra Malaysia (UPM), Universiti Kebangsaan Malaysia (UKM), Taylors University (Taylors) and Universiti Tunku Abdul Rahman (UTAR).
The applicants not only needed to perform well in academics with a high score in CGPA, but they are also required to attend an interview session organised by PAM. The vigorous selection process included a presentation of the students' design portfolio and an interview process reviewing their entire design portfolio in Architecture study and curriculum activity related to the scholarship. Besides, household income is also another assessment criterion on top of other criteria.
Mastura expressed her feeling after knowing herself won the award, "I was so elated after the results announced as it was not something I was expecting. I was grateful to have been picked to be part of some very talented and eligible candidates during the nomination process and I certainly did my best for the interview. PAM Inovar Scholarship Award is indeed a very prestigious award and I am truly honoured and humbled to know that my efforts had been recognised by the panel."
She shared, "The first step for anyone aiming to pursue their dreams, be it architecture or any other field is to set yourself up in an eligible position be in academic, interests, activities, or accomplishments. I would also advise setting aside adequate time to research, prepare and make a list of likely questions and plan how you would like to answer each question. It would be best to avoid repeating yourself in different parts of the questionnaires which are why preparation is the key. Don't be shy in explaining your strengths because it is important for the panel to know who you are and your future goals."