UTAR Scholarship Presentation e-Ceremony
The UTAR Scholarships Presentation Virtual Ceremony for the January 2021 intake was held on 27 March 2021 via Microsoft Teams. A total of 44 scholarship recipients attended the virtual scholarship presentation ceremony. These students are from the January 2021 intake who are currently enrolled in the UTAR Foundation and Bachelor's degree (except Faculty of Medicine and Health Sciences) programmes.
Present at the ceremony were UTAR President Ir Prof Dr Ewe Hong Tat, Student Development and Alumni Relations Vice President Prof Dr Choong Chee Keong, Division of Examinations, Awards and Scholarships Director Nik Zaitun binti Nik Salleh, scholarship recipients and UTAR staff.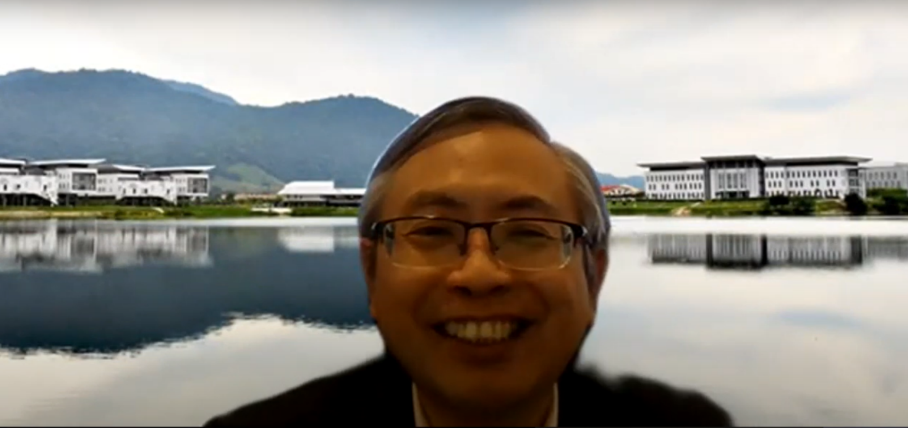 Prof Ewe congratulating the recipients
Prof Ewe congratulated the recipients and said, "As a University by the people for the people, UTAR has been receiving support and contributions from the community. In return, since our inception, the University has been providing scholarships and loans to students in need. As of 2020, more than 180 million ringgit for internal loans and scholarships has been awarded to students. UTAR will continue to provide the financial assistance to students who are in need to enable them to further their studies in the University and to obtain a valuable degree for a brighter career."
He added, "We hope that with these scholarships, you will be motivated to excel further in your studies and to stay focused on achieving good results and putting in your best for good university education and experience. After you have completed your studies and graduate, we hope that you will contribute positively to society and the workplace and give back to the community with a charitable heart especially to those who are in need."
Also invited to talk about their own educational experience and advice to the scholarship recipients were UTAR alumnus Sam Mun Kit and alumna Koh Kien Yi. They graduated in December 2020 and were also UTAR Scholarship recipients previously.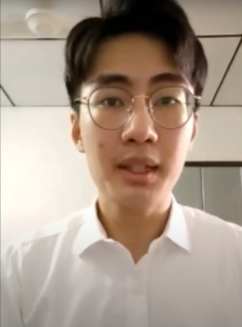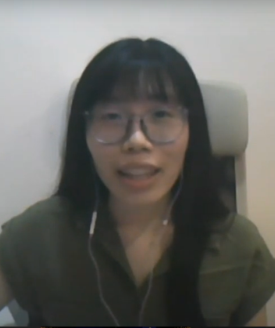 Sam (left) and Koh sharing their experience and advice to the new scholarship recipients
Sam, who is a former student of Faculty of Engineering and Green Technology (FEGT), said, "I come from a middle-class family; my father is a government staff and my mother is a housewife. My sister is three years younger than me and she just started her bachelor's degree. This scholarship means a lot to me; it was a big relief when I obtained the full scholarship provided by UTAR. I am the kind of boy who wishes to be independent from the family in terms of financial support. With the scholarship, I had no worries of burdening my family or finding a part-time job. I was able to fully focus on my studies."
He added, "We have to obtain a CGPA of 3.9 and above to get this scholarship and the CGPA has to be maintained every semester. The borderline to retain the scholarship was 3.5, therefore, I had to push and drive myself to achieve satisfactory results. Hence, there was always a target for me to strive for and that preserved my passion and hard work. Here's a piece of advice from me: never question your ability as you will never know the full potential of yourself unless you give yourself a try and explore."
Koh, a former student of Faculty of Accountancy and Management (FAM), shared, "I entered UTAR Foundation with 8A's and 1B+ in my SPM and I was happy to be awarded scholarship during that time. That scholarship made me work hard during my Foundation year and I managed to obtain a full scholarship when I moved on to do my degree programme. I was honoured to receive the scholarship for my Bachelor's degree; it helped me to get closer to my dream and it relieved some of my family's financial burden. I was able to focus on my study without being worried about finding a part-time job to pay my tuition fees."
She added, "Remember to study hard; do not waste the scholarship that you have received and maintain it until you graduate. Other than that, I would advise the juniors to work hard, play hard and enjoy the moments of their university life. Of course, time management and self-motivation are very important for you to achieve what you aim for.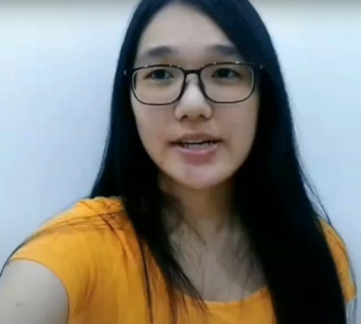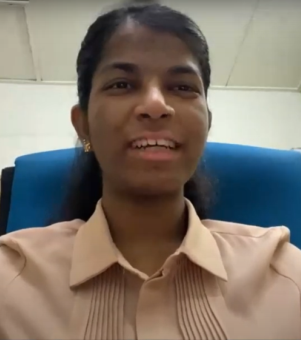 Foundation students Hon and Nisha expressing their gratitude
Year 1 Foundation student Hon Bao Xuan said, "I come from an ordinary family that earns an average salary. This full scholarship is indeed very helpful for me, especially for my studies. I no longer need to worry about my tuition fees. Also, I don't have to do a part-time job to cover my tuition fees. So, thank you UTAR for providing me with an affordable yet quality education, environment as well as qualified lecturers. Thank you for your kind help."
Another Foundation student Nisha Vickneswaran said, "My father is a Quality Manager and my mother is a housewife. I have a sister who is 17. Since my father is the only one working and providing for my whole family, the scholarship was very helpful as it lessened my father's burden. I can study peacefully knowing that my father isn't too burdened. So, I am very grateful to receive this scholarship and I would like to thank UTAR from the bottom of my heart. Thank you very much."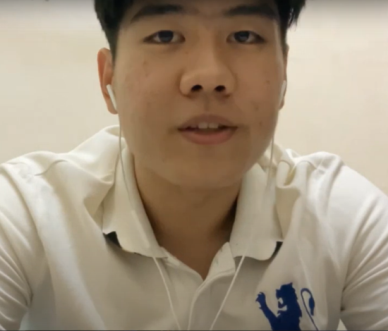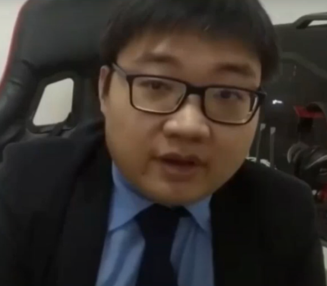 Chong and Albert Pan from Undergraduate Category sharing their words
Lee Kong Chian Faculty of Engineering and Science (LKC FES) Chemical Engineering student Chong Boon Hong said, "I was awarded full scholarship. With this financial assistance, my financial burden has definitely reduced tremendously. This allows me to focus more on my learning. I am looking forward to starting my learning journey at UTAR. Thank you UTAR for your generosity and support. Your kindness has enabled me to receive an excellent education."
Faculty of Arts and Social Science (FAS) Journalism student Albert Pan Kit Kee shared, "I am not from a very well-doing family and I am not financially stable as my parents work as hawkers. It has always been my desire to be a successful professional because I have seen how hard my parents work and I want to give them a better life; a life that they deserve. Thank you UTAR for the scholarship. I am literally grateful for everything that UTAR has done for me. It has made an impact on my family especially during this COVID-19 pandemic."
The virtual ceremony ended with a group photo-taking session.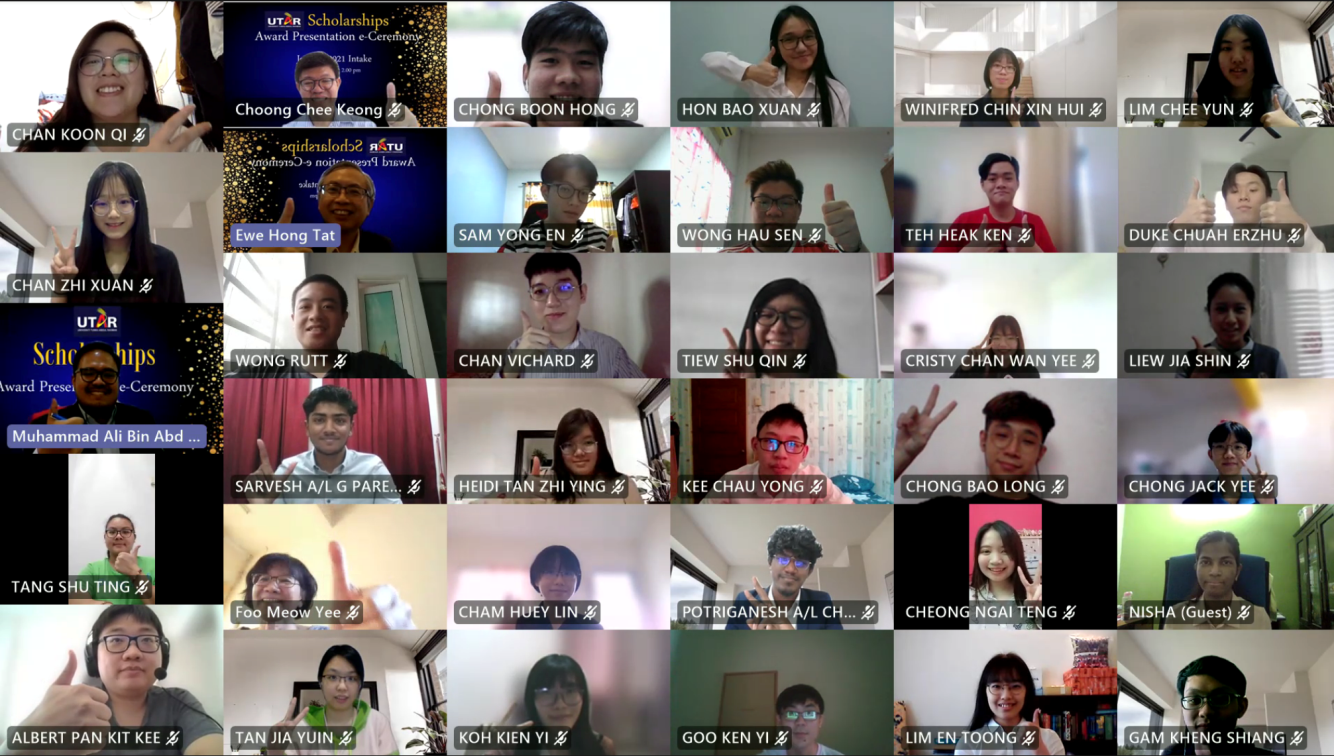 Prof Ewe (second row, second from left) and Prof Choong (top row, second from left) with UTAR staff and scholarship recipients