FMHS graduate receives Professor Dr Jenny P. Deva UTAR Soft Skills Development Award 2020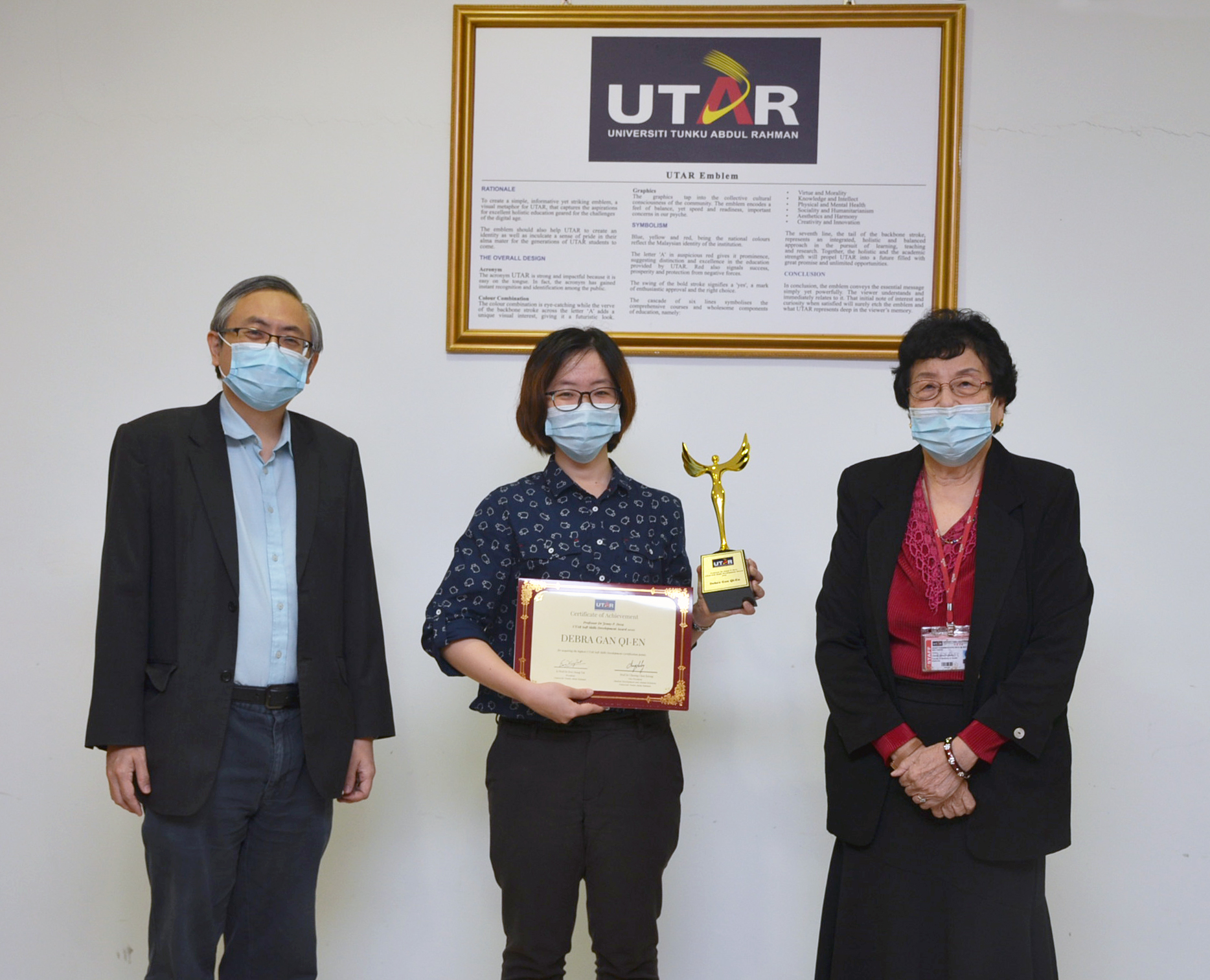 From left: Prof Ewe, Dr Debra Gan and Prof Jenny Deva
"Professor Dr Jenny P. Deva UTAR Soft Skills Development Award Ceremony 2020" was held on 19 March 2021 at UTAR Sungai Long Campus. Faculty of Medicine and Health Sciences (FMHS) graduate Dr Debra Gan Qi-En was selected as the award recipient of Professor Dr Jenny P. Deva UTAR Soft Skills Development Award 2020. The award recipient was selected based on the grade of USSDC with 'Platinum' score and the recipient was required to obtain the highest USSDC points within the year of the convocation. Dr Debra Gan was selected because she scored the highest USSDC points in 2020 which was 792 points. She walked away with a trophy and a certificate.
Present at the award ceremony were UTAR President Ir Prof Dr Ewe Hong Tat, UTAR Student Development and Alumni Relations Vice President Prof Dr Choong Chee Keong, Registrar Yim Lin Heng, FMHS lecturer Prof Dr Jenny Parameshvara Deva @ nee Ng Gek Pheng, FMHS Student Development and Industrial Training Deputy Dean Assoc Prof Dr Leong Pooi Pooi, Department of Soft Skills Competency (DSSC) Head of Sungai Long Campus Fook Oi Yee, DSSC Head of Kampar Campus Hee Chwen Yee, award recipient-cum-FMHS graduate Dr Debra Gan and UTAR staff.
The sponsors for the award were Prof Jenny Deva, Division of Corporate Communication and Public Relations Director Ong Soo Weon and former UTAR Alumni Association President Koh Fook Huat.
UTAR Soft Skills Development Certificate (USSDC) was introduced in 2009 with the objectives to recognise students' achievements and efforts in excellent student-development and produce graduates with high calibre and skills. This certification also encourages students to pursue holistic self-development, cultivate self-discipline and integrity, nurture creativity and entrepreneurial spirit and develop themselves into broad-minded leaders.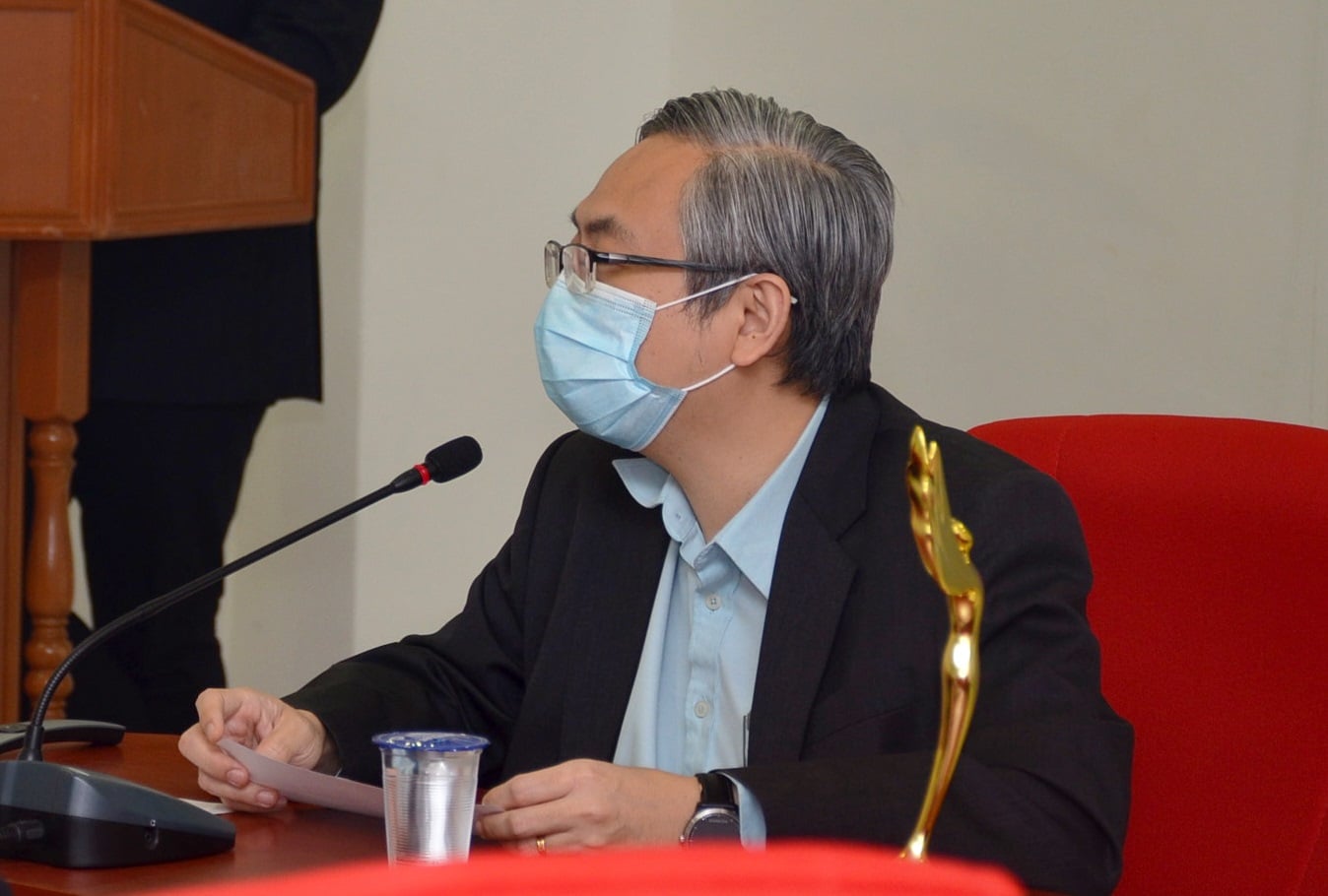 Prof Ewe thanking the sponsors for their generosity
Prof Ewe expressed his appreciation to the sponsors of Professor Dr Jenny P. Deva UTAR Soft Skills Development Award 2020 in his opening remark, "Thank you everyone for coming to this very meaningful event because this is the first time we have this USSDC award ceremony. I would like to express my sincere gratitude to the sponsors of this event Prof Jenny Deva, Ong Soo Weon and Koh Fook Huat for the generosity."
Prof emphasised, "As you all know, soft skills development is something that the university is currently focusing on. I believe that holistic education is a comprehensive approach to address the emotional, social, ethical and academic needs of students in an integrated learning format. Soft skills happen all the time, not just in the classroom but in daily life as well as when students deal with others and involve in projects. Education must also provide students with the capability; the right attitude with a growth mindset and empathy. With all these soft skills, they will manage to overcome it."
On the other hand, Prof Jenny Deva said, "Soft skills are a combination of people skills, social skills, communication skills, character or personality traits, attitudes, mindsets, career attributes, social intelligence and emotional intelligence quotients; among others that enable people to navigate their environment, work well with others, perform well and achieve their goals with complementing hard skills. It is the expansion of the person's inner abilities."
She shared, "In the competitive society nowadays, a solid academic degree is necessary to gain the access to the job interview as organisations need employees that are equipped with knowledge and experience but it is also important for the students to equip themselves with soft skills. It will increase their chances of getting the job and they will gain a competitive edge."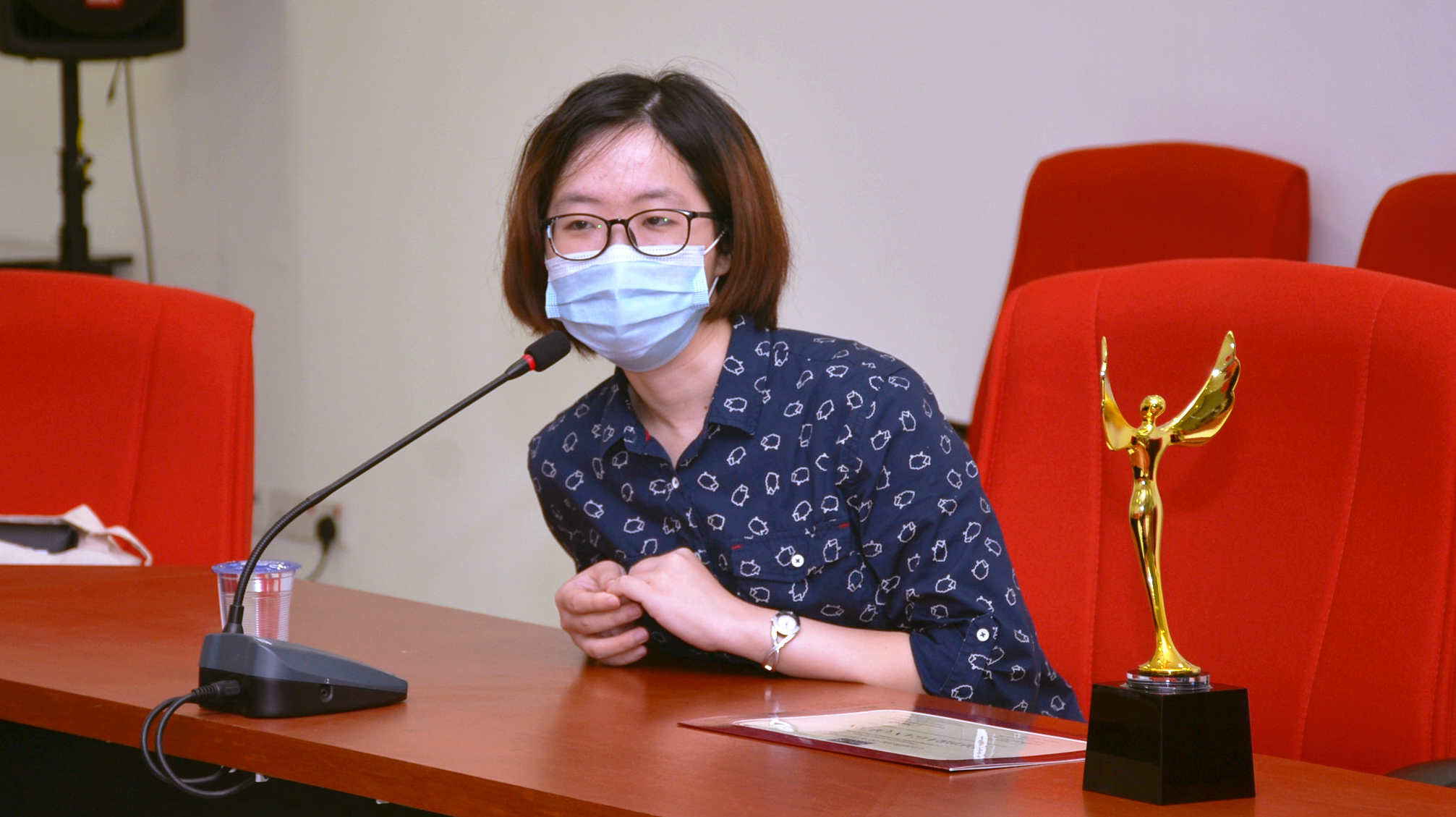 Dr Debra Gan expressing her appreciation
"I would like to express my appreciation to Prof Ewe, Prof Jenny Deva, Dr Leong and DSSC staff for taking this time to organise the award ceremony and also accommodating my schedule before I start my journey to East Malaysia for my housemanship in Hospital Umum Sarawak. I feel blessed to score the highest USSDC point and I would like to give the credit to my lecturer Prof Jenny Deva for always encouraging us to participate in the soft skills programme and also thanks to DSSC for accommodating the requests from FMHS's students to organise the soft skills programme over the weekend. The COVID-19 pandemic was not a bad timing for me. In fact, it was a great opportunity for me and my classmates to learn about the soft skills programme and not just focus on our own academic courses," said the FMHS award recipient Dr Debra Gan.
The award ceremony continued with the award presentation and ended with a group photography session.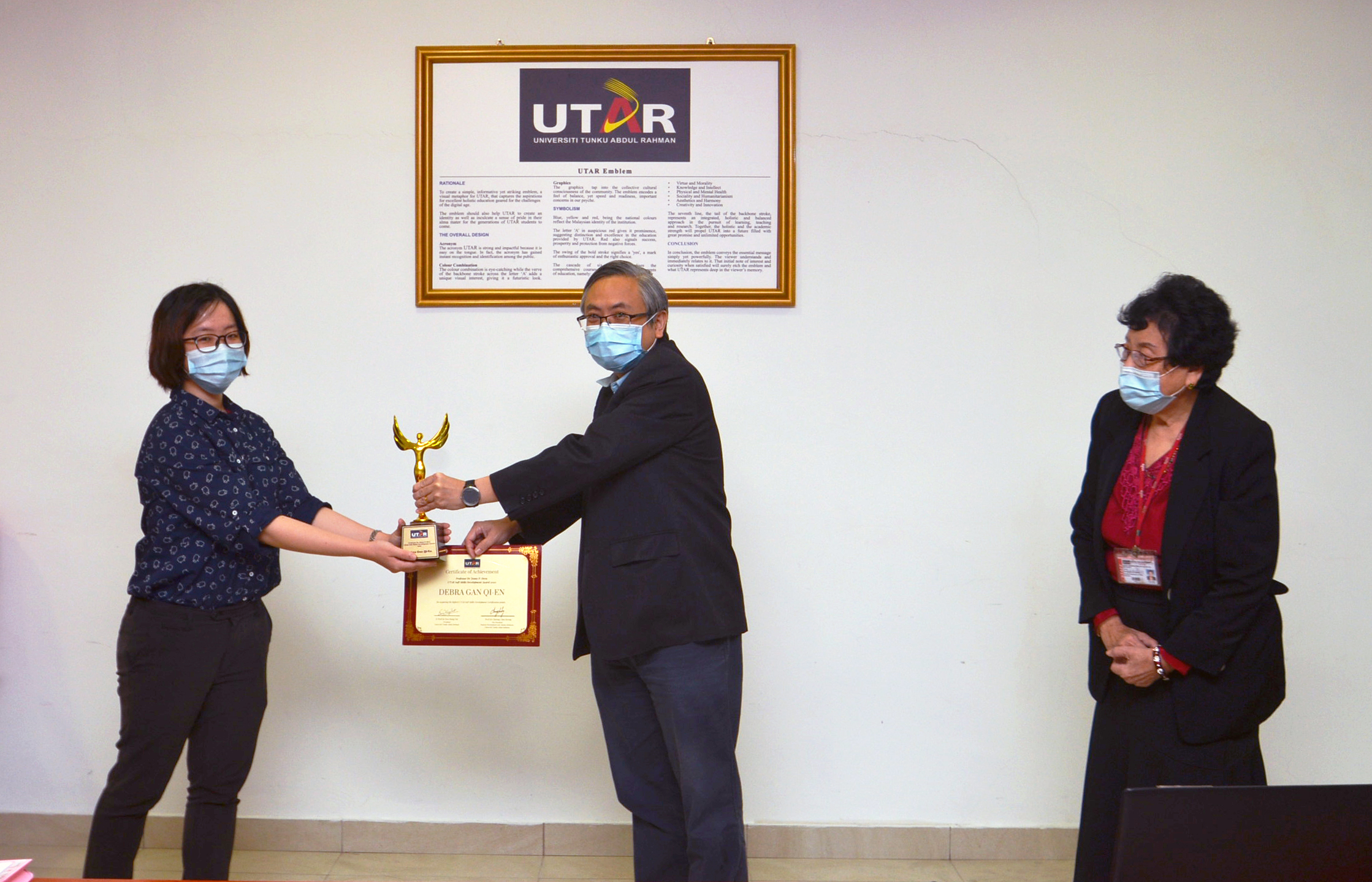 Prof Ewe (middle) presenting the trophy and certificate to Dr Debra Gan while Prof Jenny Deva looks on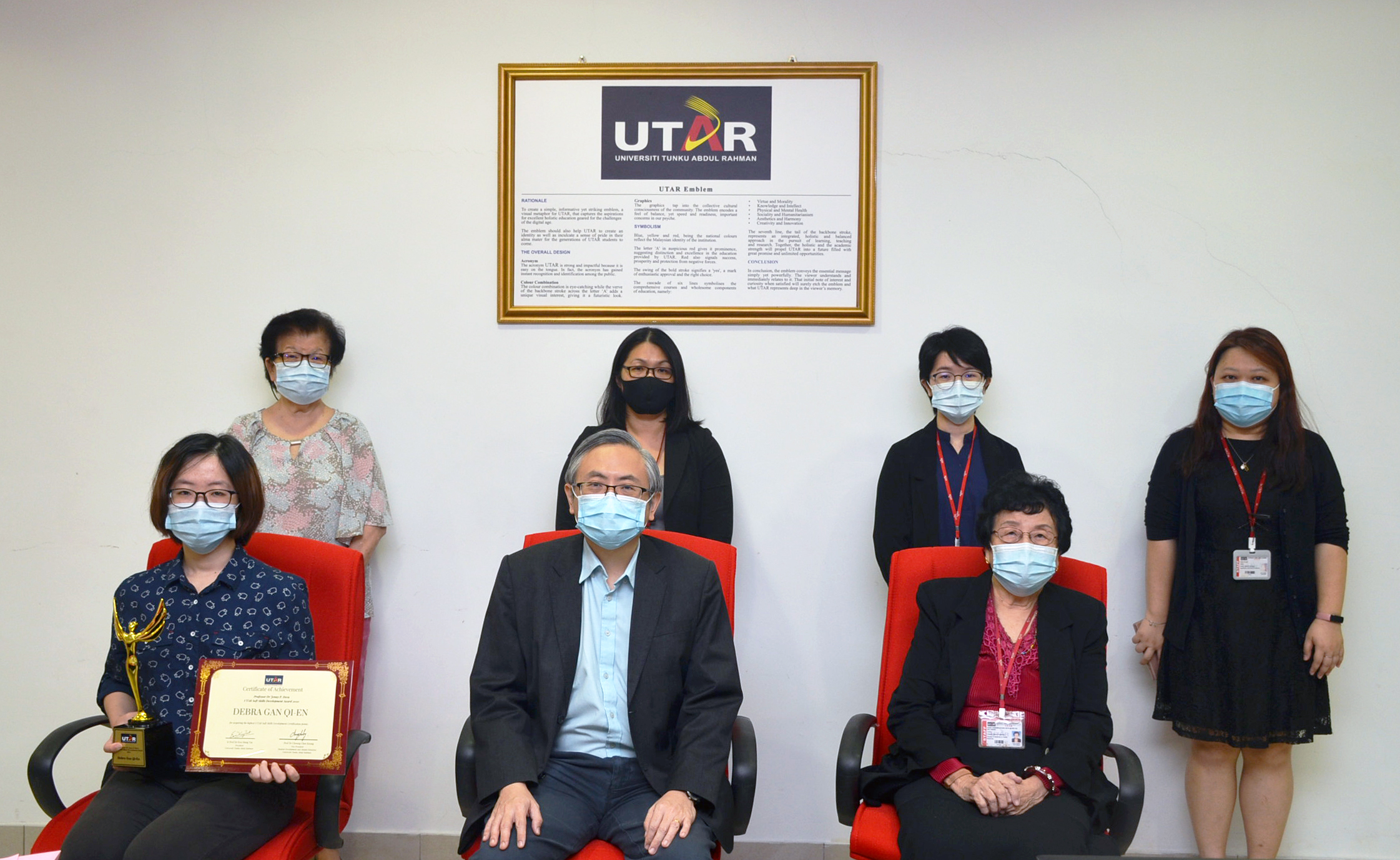 Front row, from left: Dr Debra Gan, Prof Ewe and Prof Jenny Deva
Back row, from left: Yim, Dr Leong, Leow and Fook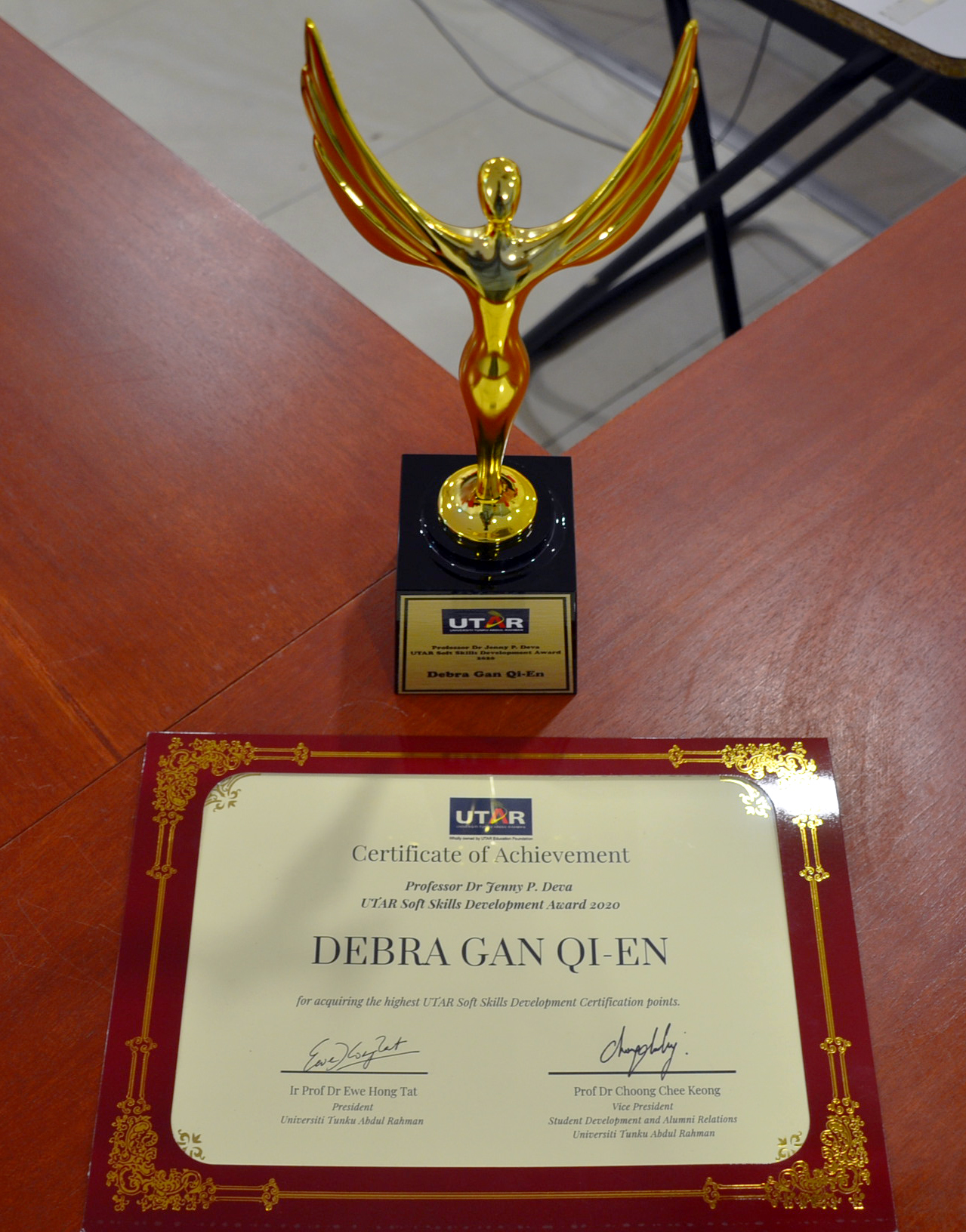 The trophy and the certificate
A short interview was conducted with Dr Debra Gan after the award ceremony. According to her, she has completed around 120 Coursera certification during the pandemic period. Coursera is an online education provider that offers online courses, popularly known as MOOCs or Massive Open Online Courses, from top universities and companies around the world.
Dr Debra Gan shared, "I personally think that time management is very important if we want to strike a balance between academic and soft skills development. I will revise after classes and focus on my studies from Monday to Friday, while during the weekend I will sign up for soft skills courses on Coursera to relax. I have learnt Korean languages, explored Beethoven's Piano pieces, etc. It is a platform for me to distress and to learn new knowledge."
She added, "Joining the online soft skills classes at Coursera benefited me by making me see things in different perceptions. I can apply what I have learnt during the online classes during my housemanship year and also in the future workplace. Medical students need to develop soft skills as I feel that we are too focused on our academic lessons; one of the reasons why people call us nerd. By having the soft skills ability, we will have the capabilities to know how to communicate with people, exercise our Emotional quotient (EQ) and it will help us to grow our mindset. Besides, I also actively participate in club and society to improve my soft skills."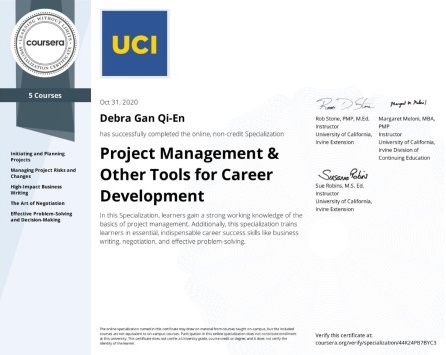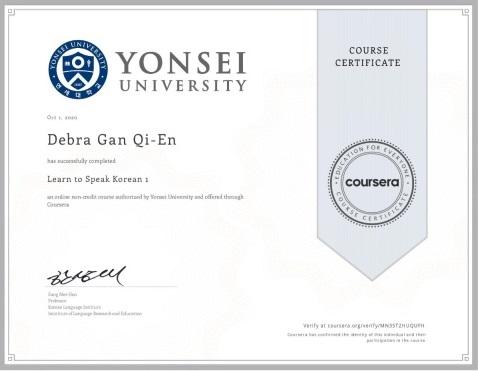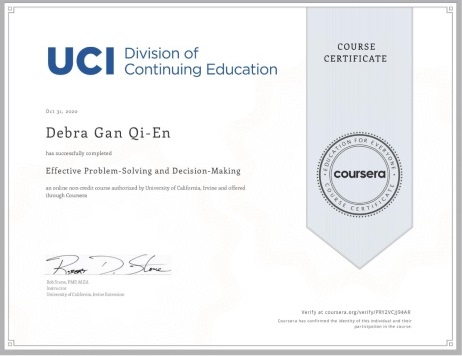 Some of the online certificates obtained by Dr Debra Gan