UTAR graduate excels in ACCA examination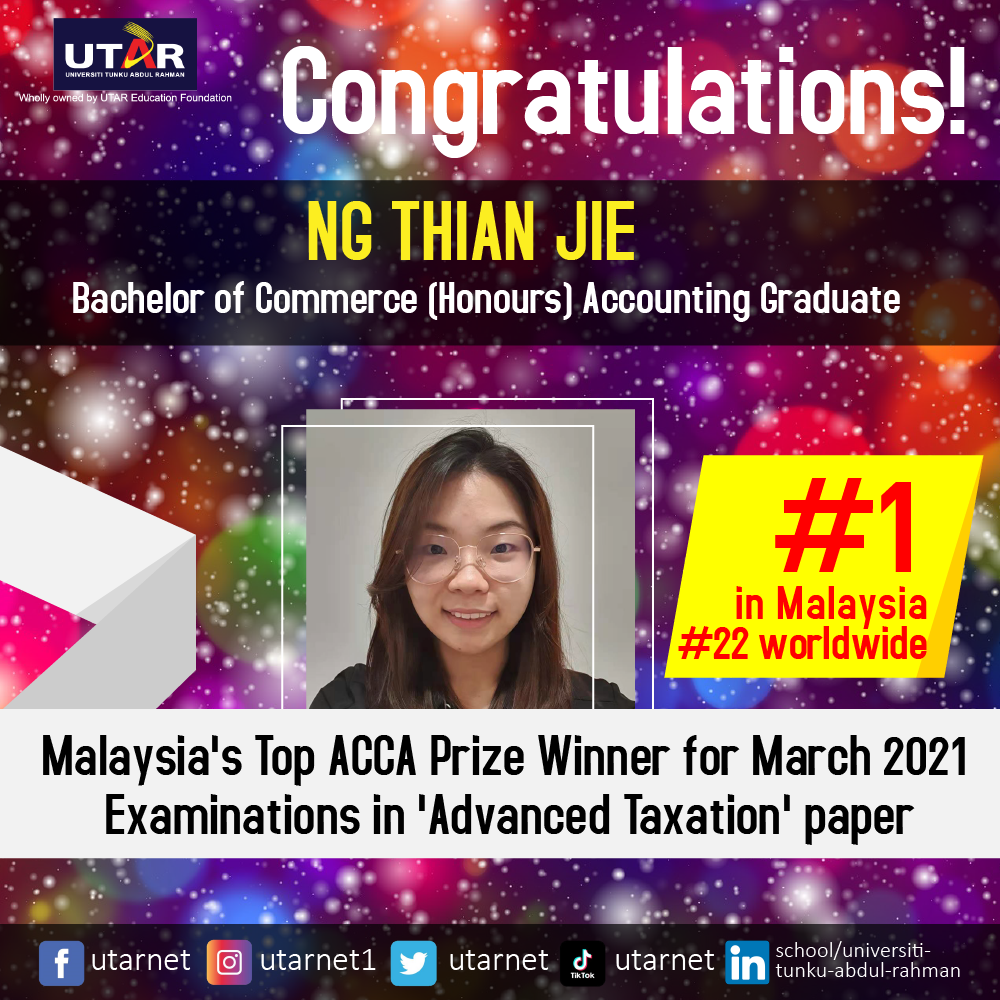 Bachelor of Commerce (Honours) Accounting alumna Ng Thian Jie was awarded one of Malaysia's Top ACCA Prize Winners for March 2021 Examinations in 'Advanced Taxation' paper. Ng is one of the two Malaysians who obtained first place in Malaysia and 22nd place worldwide for the Advanced Taxation (ATX) paper.
Ng believes in preparing ahead before working on any task. "I always made sure that I was prepared and avoided last minute preparations. Aside from that, practising past year papers is very crucial as you are not only revising the syllabus, but also working on mastering the exam-answering techniques. Hands-on learning experience from my current job in the taxation field and knowledge acquired during my tertiary studies at the Faculty of Business and Finance, Kampar Campus definitely helped me a lot in the ATX paper," said Ng.
When asked about Ng's challenging times, she recalled, "The most challenging aspect I have encountered would be staying motivated. I have received various opinions from my peers, and I noticed some of them gave up halfway while some of them strived to achieve their dreams of obtaining a professional qualification through the Association of Chartered Certified Accountants (ACCA). There were times when I doubted my decision on pursuing this journey, however, I braved through the doubts and stayed focused on what I wanted to achieve in life."
Ng advised, "Trying to balance between study and work is one of the biggest challenges I faced. I had to study even after a tiring day at work. However, I made sure to use the free time to study, especially during the weekends to increase my productivity. Thus, having good time management is equally important as being determined and persistent to achieve one's goal."
Ng still has three more papers before she completes her ACCA Qualification. "Do what you love, love what you do", said Ng.
UTAR is privileged to be a partner of ACCA to enable accounting students to join ACCA accelerate programme during their studies in the university.