UTAR wins second place at ACGSA Design Competition 2021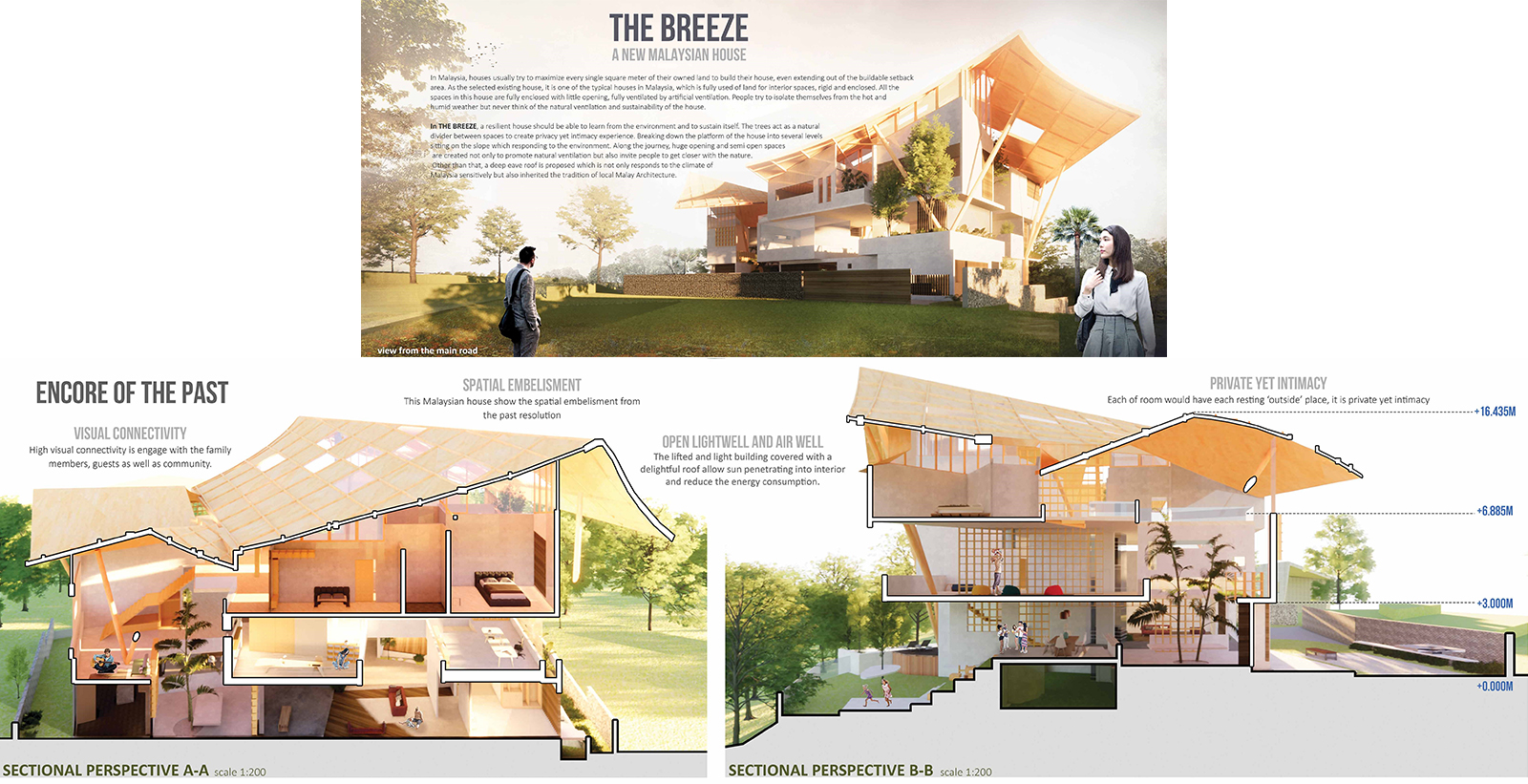 The team's award-winning project - "The Breeze: A New Malaysia House"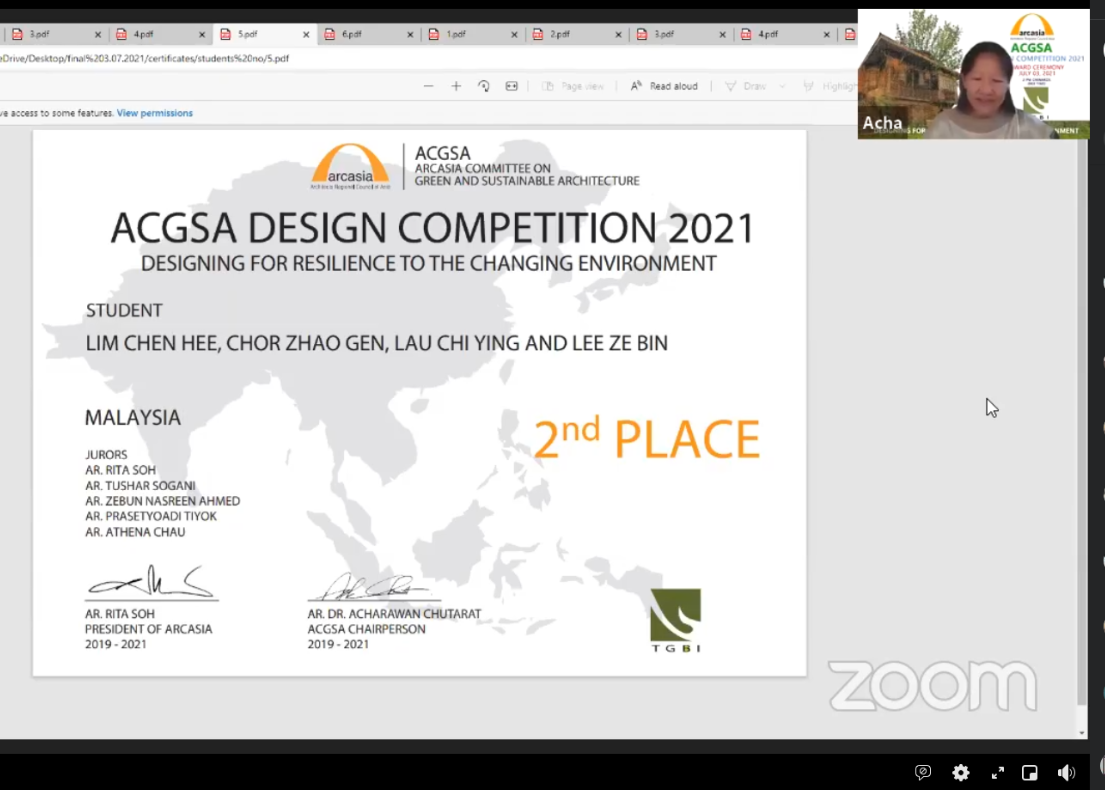 The certificate
A team of four Bachelor of Science (Honours) Architecture students from UTAR Lee Kong Chian Faculty of Engineering and Science (LKC FES) won second place at the ACGSA Design Competition 2021 under the student category. The competition was held virtually via Zoom on 3 July 2021.
With a total of 73 submissions from four countries, including Thailand, Malaysia, Bangladesh and Nepal for the student category, the UTAR team was placed second among nine selected finalists. The team's award-winning project, titled "The Breeze: A New Malaysia House", won the judges' hearts with its green and sustainable architectural design.
The winning team consisted of four members, namely Lim Chen Hee, Chor Zhao Gen, Lau Chi Ying and Lee Ze Bin. The team was supervised by LKC FES Department of Architecture and Sustainable Design (DASD) Specialist I Abd Muluk bin Abd Manan. They walked away with a cash prize worth 17,500 Baht and certificates.
Hosted by Architects Regional Council Asia (ARCASIA) Committee on Green and Sustainable Architecture (ACGSA), sponsored by Thai Green Building Foundation and Society of Nepalese Architects (SONA) as the organiser, the ACGSA Design Competition 2021 aimed to create awareness, educate, promote and reach out towards design community in sharing knowledge across nations on ARCASIA platform in sustainability.
Themed 'Designing for Resilience to the Changing Environment', this year the competition focused on passive green design measures, use of local resources and use of simple renewable energy technologies. It involved a design for urban context of the region with the cited climatic data.
The jurors of the competition were President of ARCASIA Ar Rita Soh, Deputy Chair of ACGSA Ar Tushar Sogani, Professor of Architecture, Bangladesh University of Engineering Technology (BUET) Ar Zebun Nasreen Ahmed, Director of Green Building Council Indonesia Ar Prasetyoadi Tiyok and Associate at Thomas Chow Architects, Board Member Hong Kong Institute of Architects (HKIA) Ar Athena Chau.
When asked about the team's inspiration, they said, "The story began with a visit to our friend's house at Bandar Baru Selayang, Selangor. It was situated on a hilltop surrounded by mountains and it had a clear view of the KLCC skyline. Being Architecture students, we found that every single square meter of his house was fully utilised, even extending out to the buildable setback area. His house looked rigid and all the spaces in the house were fully enclosed with little openings. It was also fully run by artificial ventilation. It looked like they were trying to isolate themselves from the hot and humid weather. Natural ventilation and sustainability were not part of the design consideration. Therefore, we decided to redesign the house by implementing the Malay Vernacular House features, giving a new reinterpretation about a resilient house that should be able to learn from the environment and sustain itself."
They said, "The sustainable solution is promoted by applying a self eco-farming system; smart roof with solar panel; long eave roof for collecting rainwater and using it for agriculture; and implementation of several vernacular Malay architecture values in the design. Firstly, the open-plan layout of the vernacular Malay house is implemented to improve the flexibility of space and interaction between spaces. The concept of space arrangement in vernacular Malay houses is referred to in The Breeze but a new way of space arrangement concept is also introduced in our scheme."
They added, "In The Breeze, dining and multi-purpose areas are spaces that meant to increase family and community intimacy, which is similar to the concept of the living room in Malay traditional houses. In terms of privacy, Malay traditional houses have their own private zone and are separated from the guests' space. The Breeze, therefore, is designed to provide privacy between each generation which also suits the pandemic situation where most of the people are working or studying from home. For Spatial Flexibility, the majority of spaces in Malay traditional houses are multi-functional. For instance, living rooms can be used for family gathering, sleeping, praying and others. Therefore, The Breeze implemented the design concept by providing the entertainment area with multi-function activities such as exercise, wellness and others."
For those who are interested to know more, you may watch the ACGSA Design Competition 2021 Award and Winner Announcement here.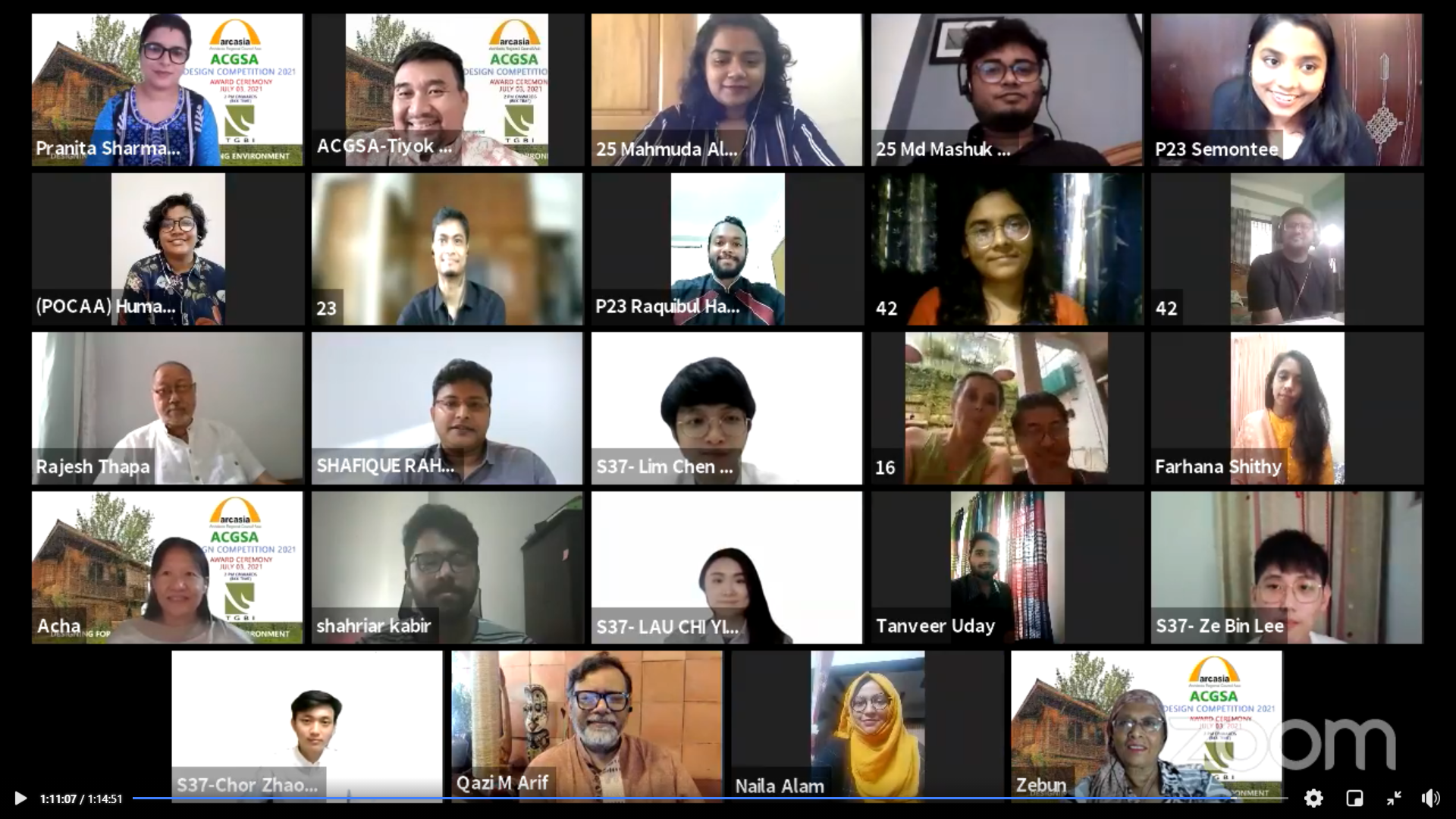 Some of the finalists and jurors during the ACGSA Design Competition 2021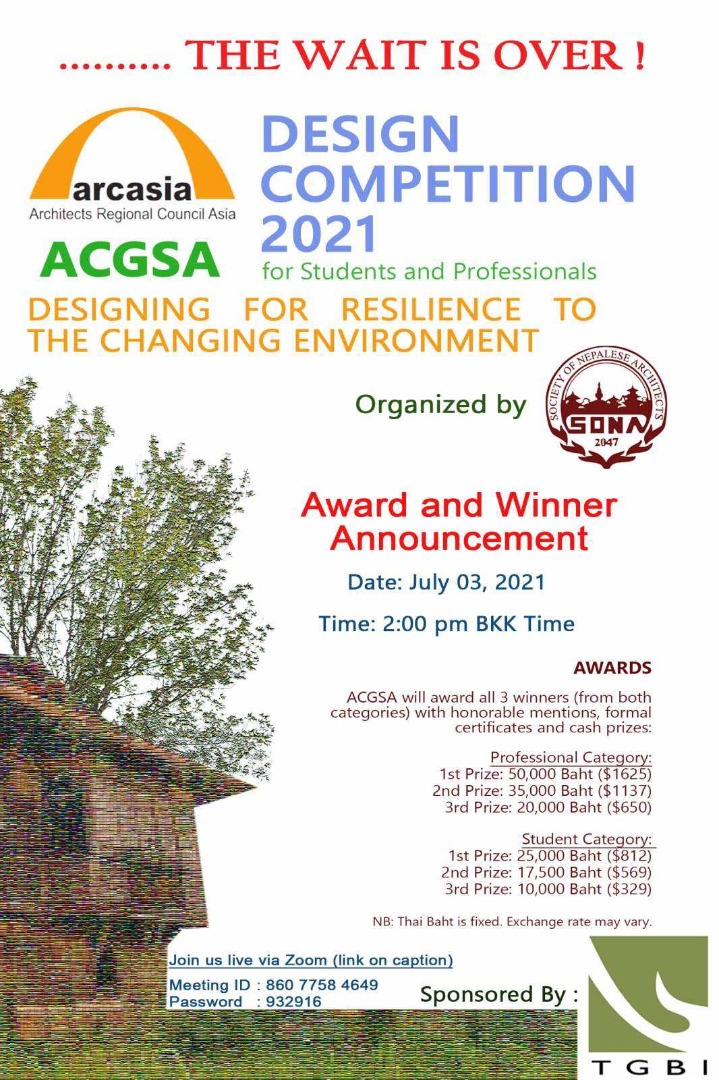 The poster