UTAR Scholarship Presentation e-Ceremony for May 2021 intake
The UTAR Scholarship Presentation e-Ceremony for May 2021 intake was held on 10 July 2021. The e-ceremony, which was hosted on Microsoft Teams, saw more than 450 student participation.
The scholarship recipients were students from May 2021 intake and currently enrolled in UTAR Foundation and bachelor's degree programmes. A total of 760 students received the scholarship.
Present at the ceremony were UTAR President Ir Prof Dr Ewe Hong Tat, UTAR Vice President for R&D and Commercialisation Prof Ts Dr Faidz bin Abd Rahman, UTAR Vice President for Student Development and Alumni Relations Prof Dr Choong Chee Keong, scholarship recipients and UTAR staff.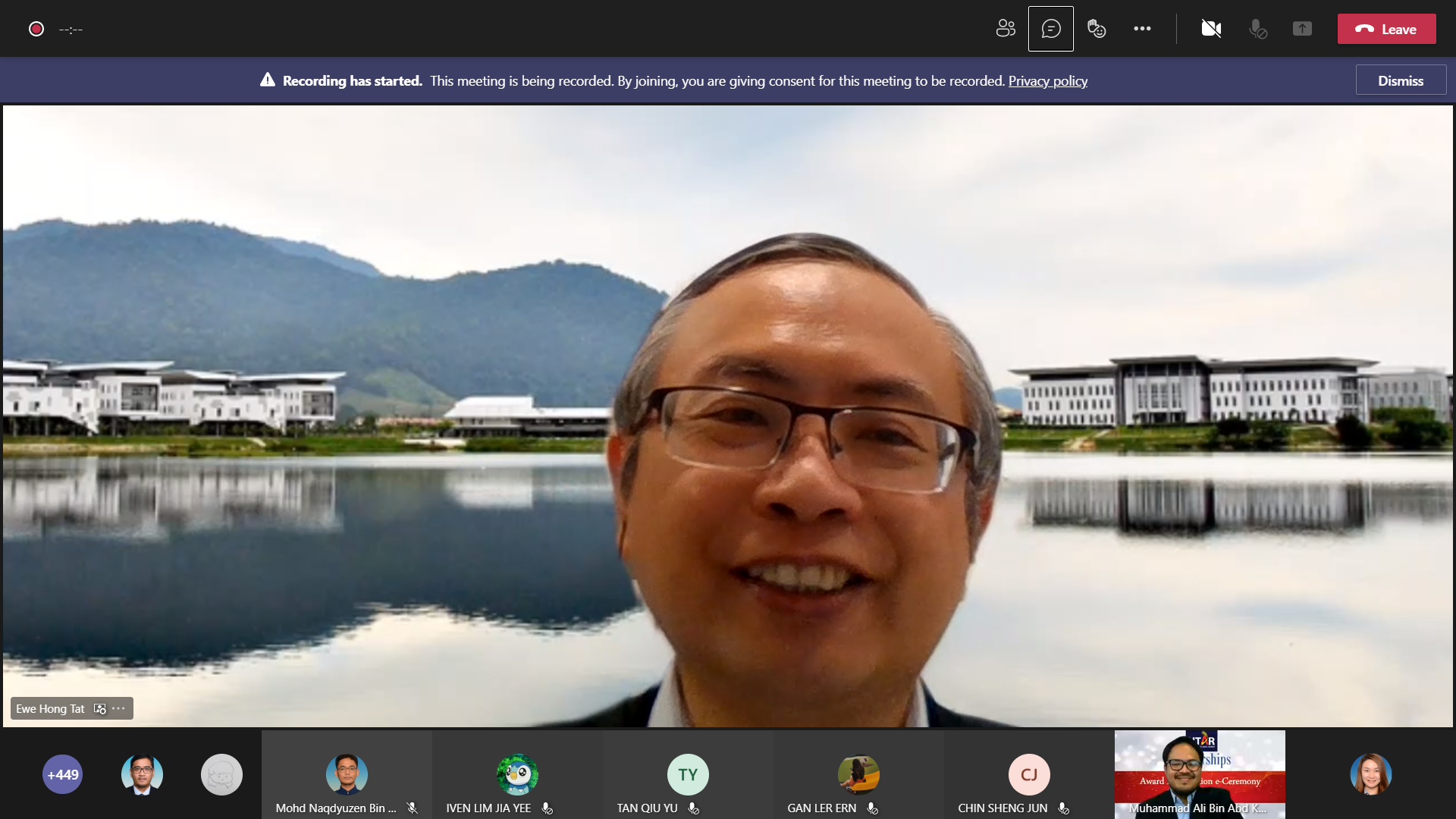 Prof Ewe congratulating the recipients
Prof Ewe congratulated the recipients and said, "As a University by the people and for the people, UTAR has been receiving support and contributions from the community. In return, since our inception, the University has been providing scholarships and loans to students in need. As of 2021, over RM100million internal scholarships and over RM9million internal loans have been awarded to students."
He added, "UTAR will continue to provide the financial assistance to students who are in need to enable them to further their studies at the university and obtain a valuable degree for a brighter career. It is also through the financial assistance provided that the University is able to continue its sustainability initiative of ensuring deserving students obtain quality education and lifelong learning opportunities. So stay focused on achieving good results and putting in your best for a good University education and experience. After you have completed your studies and graduate, we hope that you will contribute positively to society and the workplace and give back to the community with a charitable heart especially to those who are in need."
Also invited to talk about their own educational experience and advise the scholarship recipients were UTAR alumni Tan Wei Ren and Catherine Ann Mariadass, previous scholarship recipients.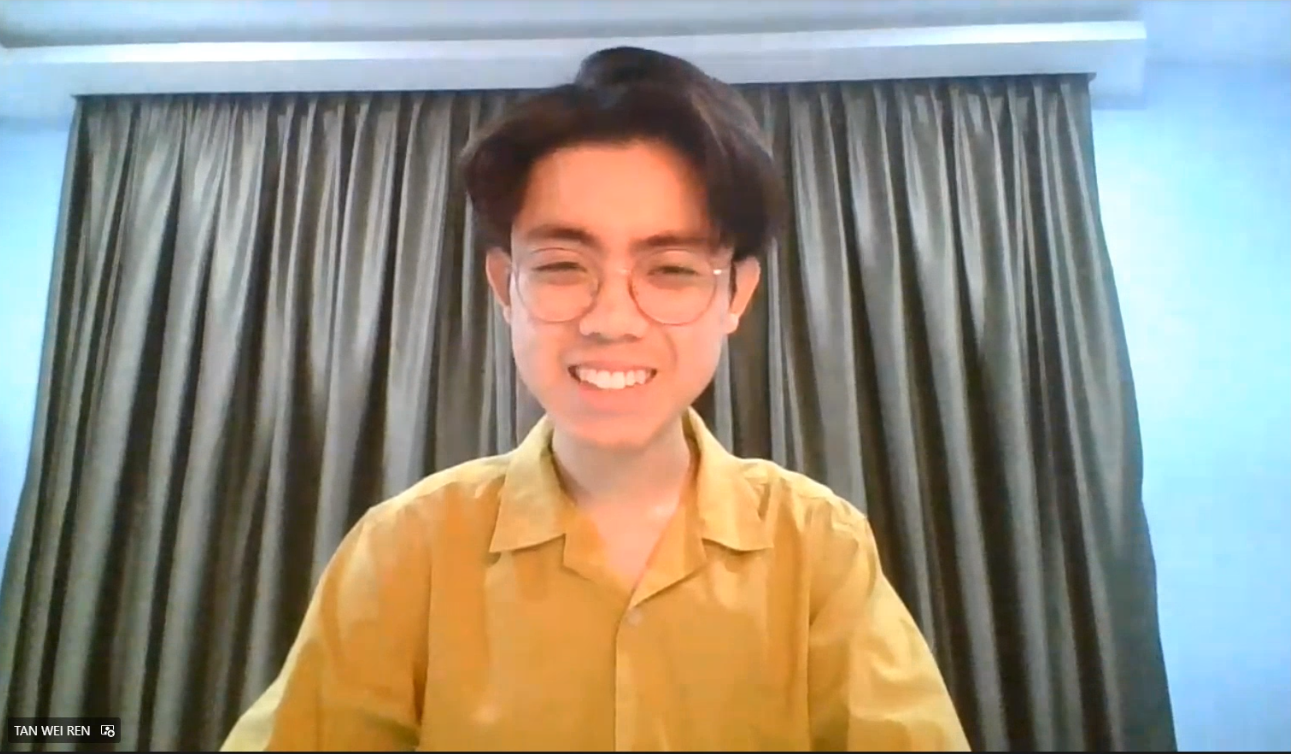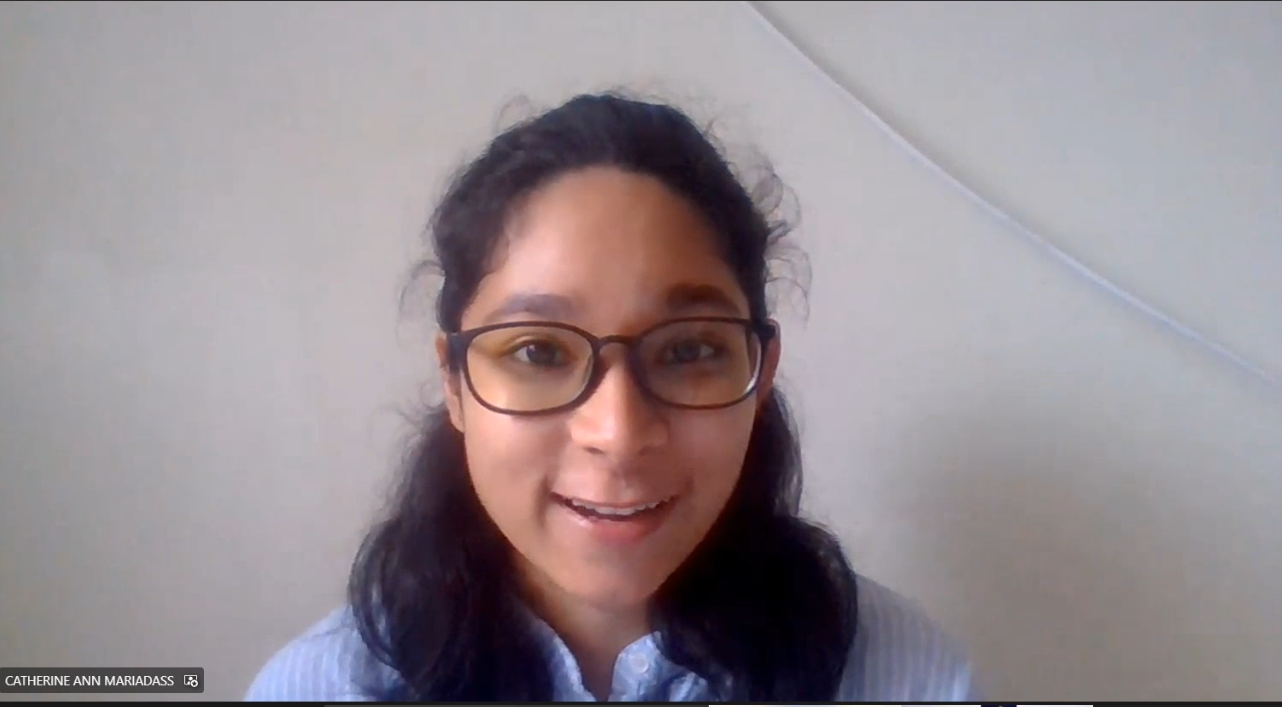 Tan (left) and Catherine sharing their experience and advice to the new scholarship recipients
Tan, who is a former student of the Faculty of Creative Industries (FCI), said, "Being the youngest in the household, my siblings became my role models throughout my academic pathway. I was taught the importance of widening my knowledge and expanding my social network by enrolling at a university. After completing SPM in 2017, I decided to pursue my studies at UTAR which offered quality tertiary education at an affordable price. My family members were very supportive of my decision and thanks to that, I was able to score good credit in my foundation programme."
He added, "I was awarded a 100% Tuition Fee Scholarship by UTAR. Words cannot describe how grateful and overwhelmed I felt to be able to lift the burden off my parents' shoulders. Apart from that, the scholarship offered by UTAR had always reminded me to give my best throughout the three years journey. Be it hands-on subjects or academic-based papers, I was motivated to excel in all of them, not only to maintain the eligibility of the scholarship but to also be a person where others can look up to. I would like to sincerely thank UTAR for granting me the platform to strive for success in life."
Catherine, a former student of the Faculty of Business and Finance (FBF), shared, "I come from a middle-class family consisting of four members including myself. I am grateful for my parents and my brother as they are very supportive of my studies. They have often encouraged me to do my best in everything without giving me too much pressure. Thus, this enabled me to strive for the best at my own pace without having to compete with my peers."
She added, "I was blessed to be awarded the UTAR Scholarship. It has helped with relieving the burden of paying the tuition fees, therefore, enabling me to direct utmost focus on my studies. I felt honoured and grateful to be one of the recipients of the scholarship which has aided me throughout my tertiary education journey at UTAR as I strived to maintain good grades in my studies. This scholarship has played an important role in my life as a source of motivation since it kept me on track as I worked hard to achieve my best academically and it drove me to obtain remarkable results persistently. Besides, this scholarship also played a pivotal role in shaping my future and hopefully, one day, I will also be able to contribute to society."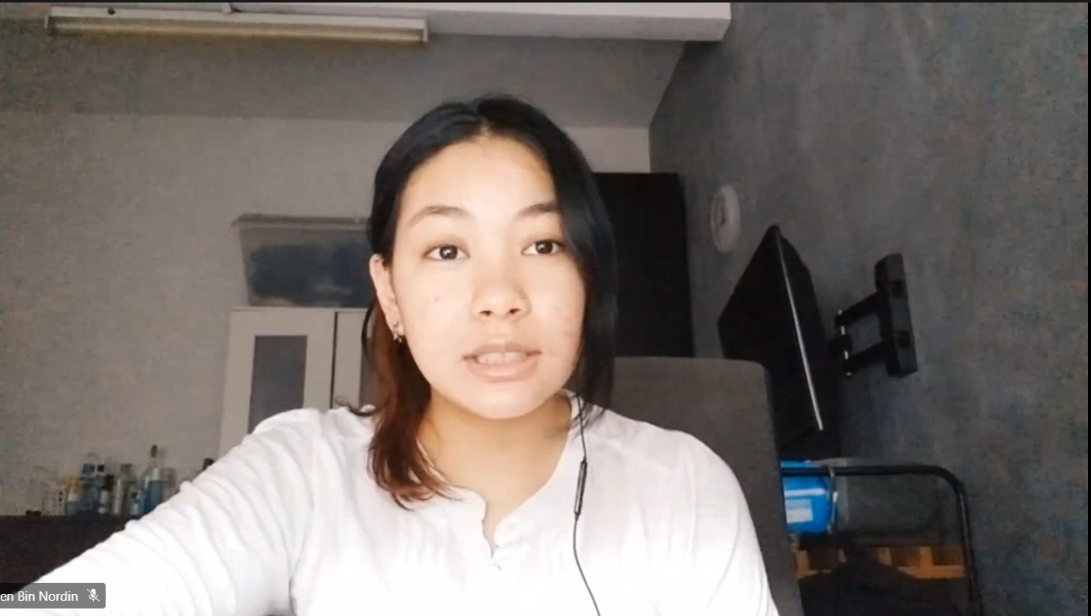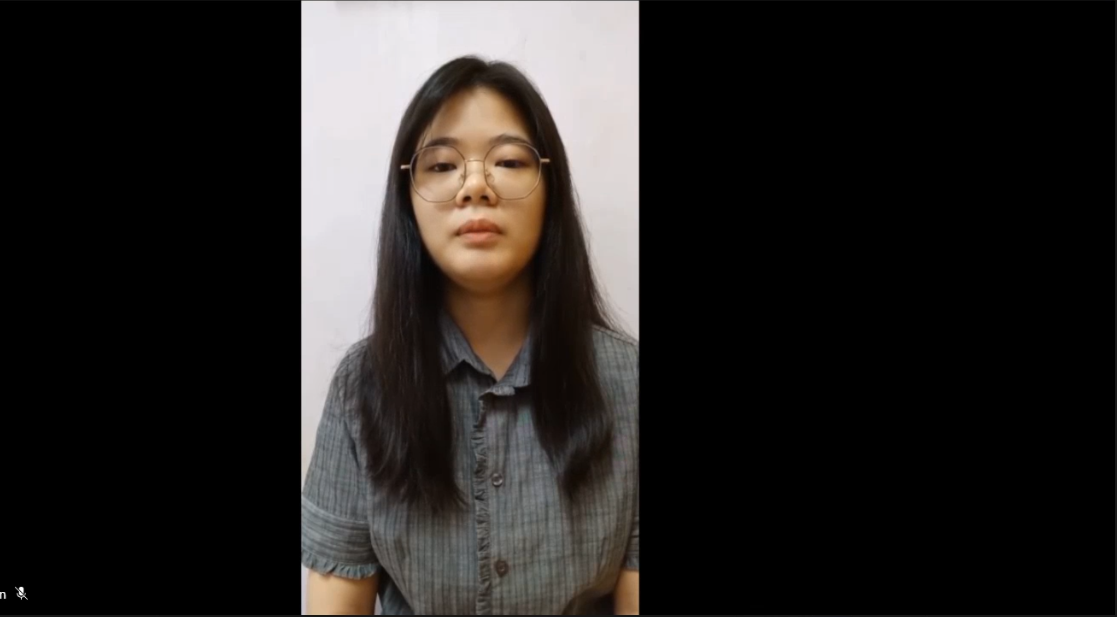 Foundation students Serimah and Ee expressing their gratitude
Foundation student Serimah Taliea said, "The scholarship was a great help because the pandemic caused great financial distress to my father, who was the sole breadwinner in my family. Special thanks to UTAR and the President for granting me this scholarship. I will do my best to maintain the integrity and hard work throughout the year."
Another foundation student Ee Yan Qing said, "I am from a middle-class family; my father is a hawker whereas my mother works as a business administrator. I also have three siblings; two brothers and one sister. They are still studying at secondary school except for my eldest brother, who recently graduated from university. This scholarship is quite significant for me because it will help me to relieve my parents' burden. I don't need to worry about my family's financial burden and I can focus more on my studies."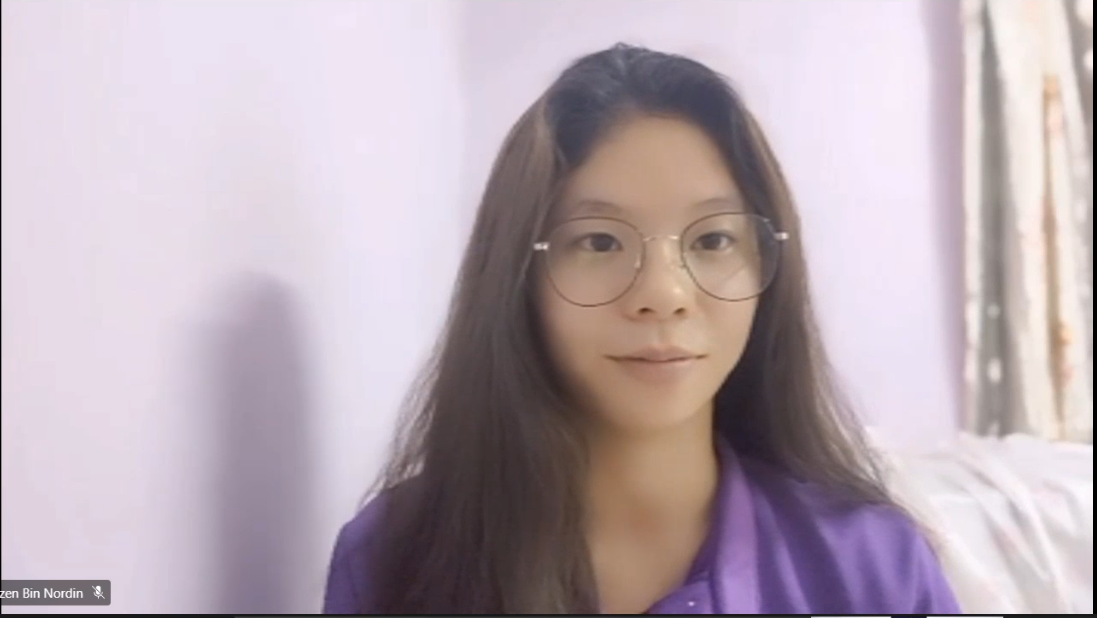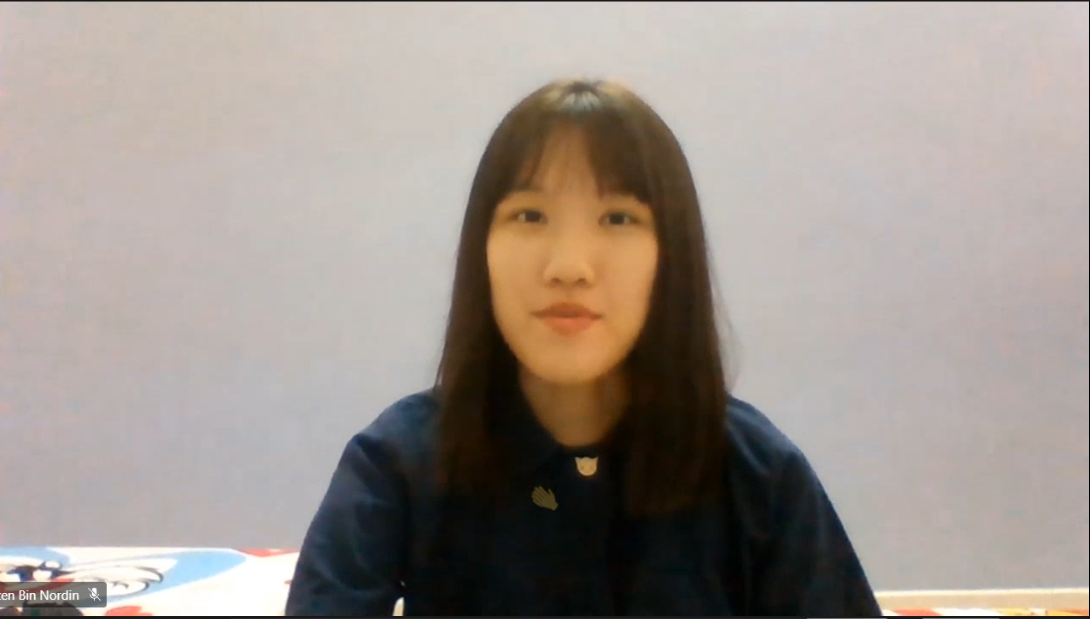 Tan and Lim from the undergraduate category sharing their words
Faculty of Creative Industries (FCI) Early Childhood Education student Tan Jie Lin said, "I was awarded a full scholarship. This financial assistance enables me to pursue my studies and not become a burden to my father. It allows me to focus more on learning. Thank you UTAR for providing me with the opportunity to start my university life without any financial problems."
Faculty of Medicine and Health Sciences (FMHS) student Lim Eujane shared, "I told myself to give my best shot in every test, presentation and final assessment. It is also a good opportunity to challenge myself. The scholarship helps me to be more disciplined and responsible. In addition, the scholarship also lent a helping hand by lightening the financial problem in my family."
The virtual ceremony ended with a group photo session.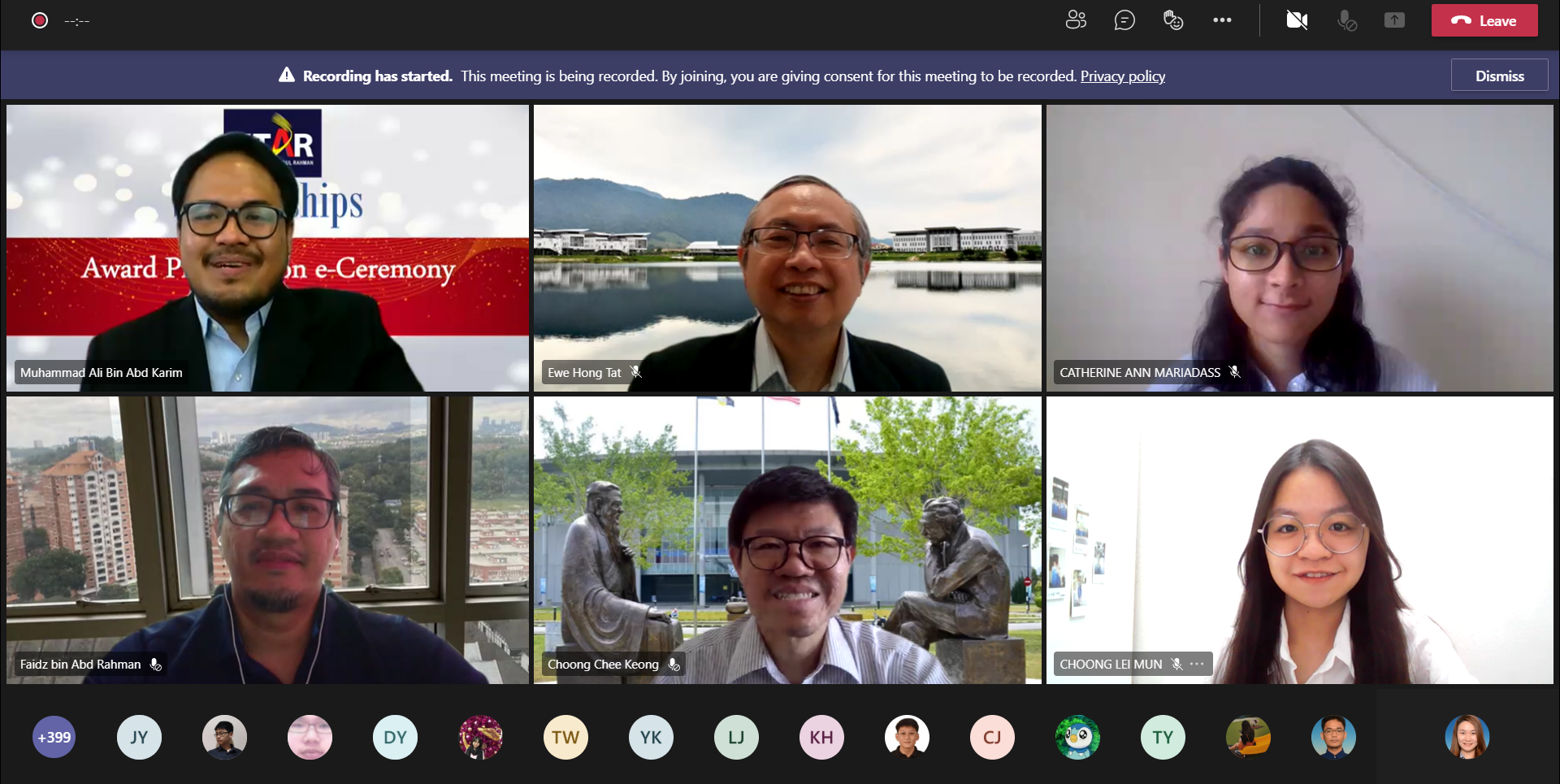 Prof Ewe (top row, middle), Prof Faidz (second row, most left) and Prof Choong (second row, middle) with graduated scholarship recipients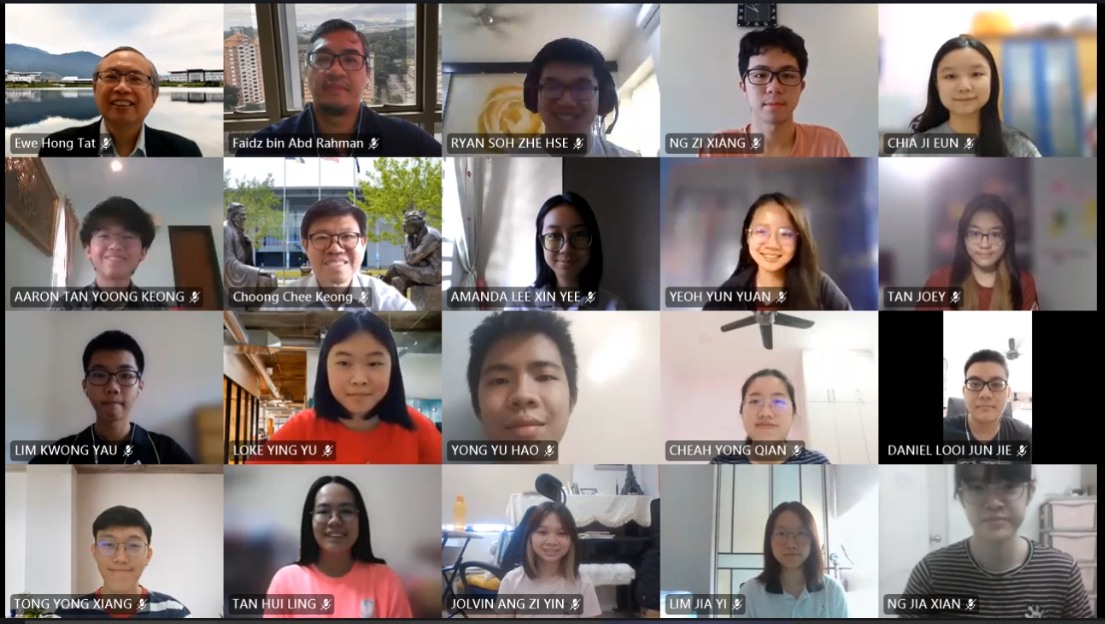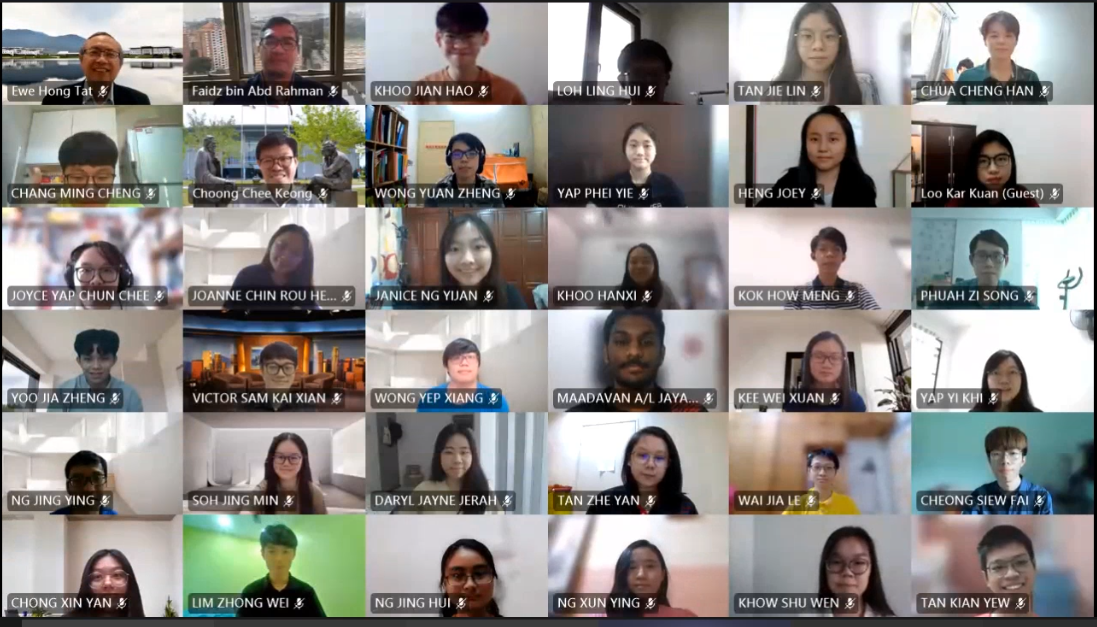 Prof Ewe (top row, most left), Prof Faidz (top row, second from left) and Prof Choong (second row, second from left) with some of the new recipients from the Foundation programme (left) and bachelor's degree programme (right) that received 100% scholarship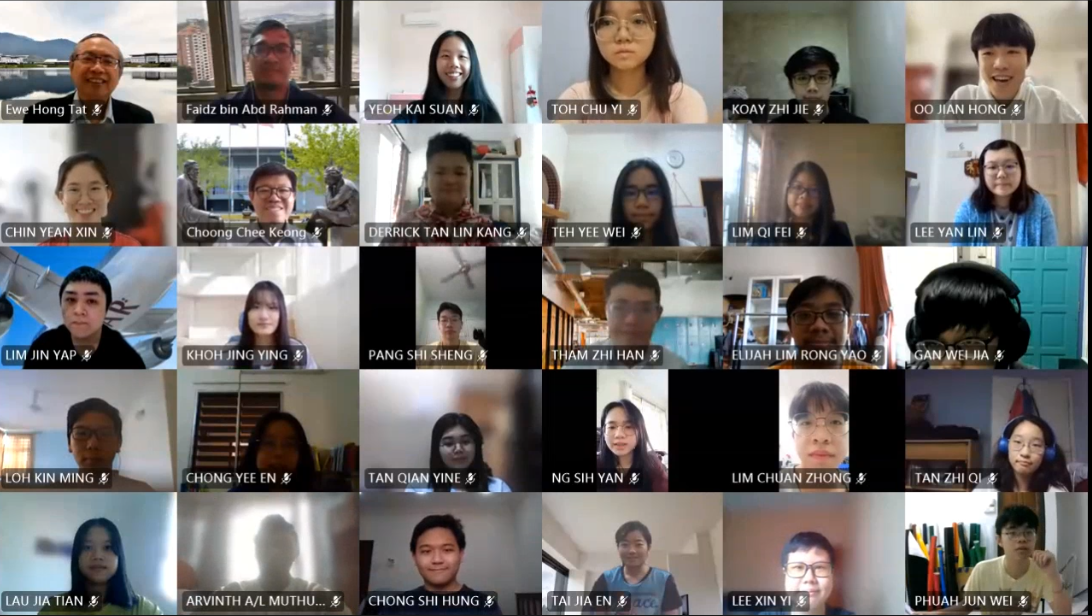 Prof Ewe (top row, most left), Prof Faidz (top row, second from left) and Prof Choong (second row, second from left) with some of the new recipients from the Foundation programme that received 50% scholarship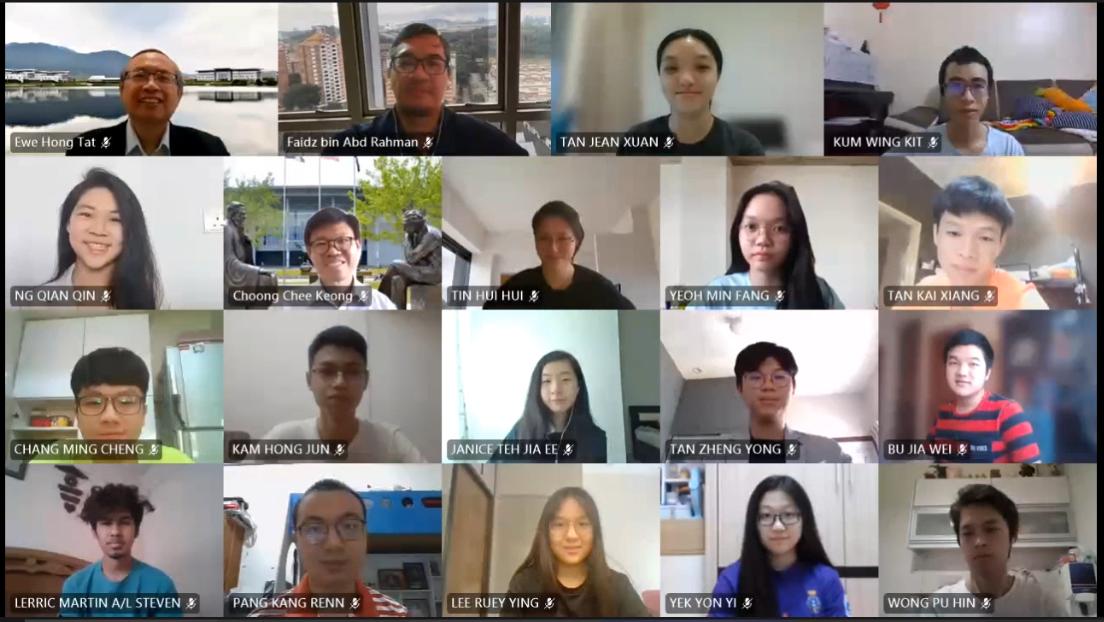 Prof Ewe (top row, most left), Prof Faidz (top row, second from left) and Prof Choong (second row, second from left) with some of the new recipients from the Foundation programme that received 25%, 20% and 15% scholarship
<![if !vml]>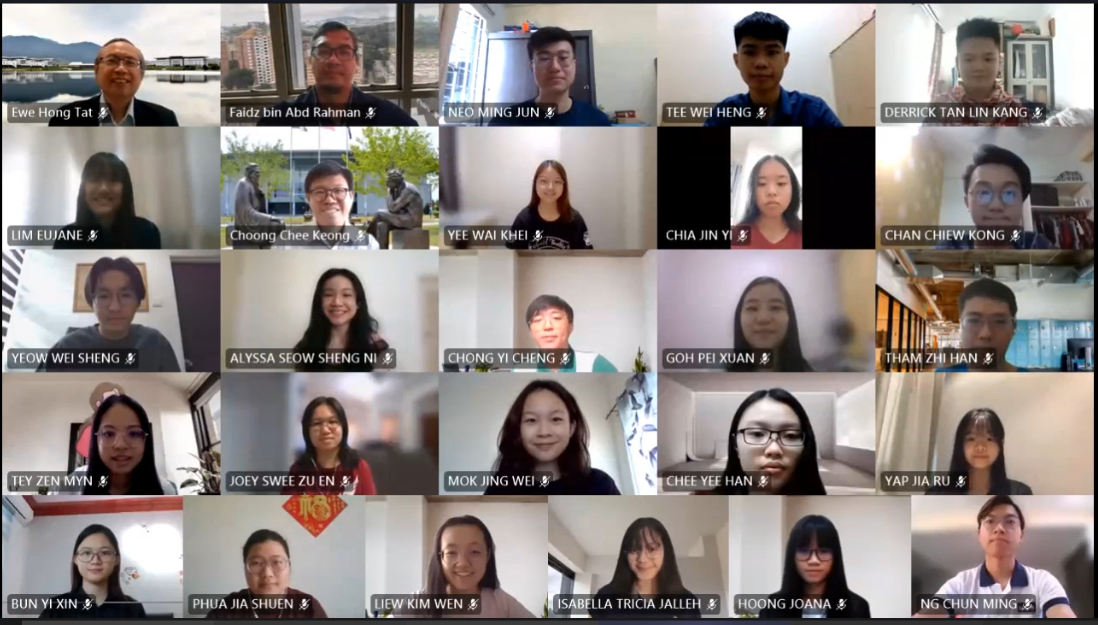 <![endif]>
Prof Ewe (top row, most left), Prof Faidz (top row, second from left) and Prof Choong (second row, second from left) with some of the new recipients from the bachelor's degree programme that received 50% and 25% scholarship
<![if !vml]>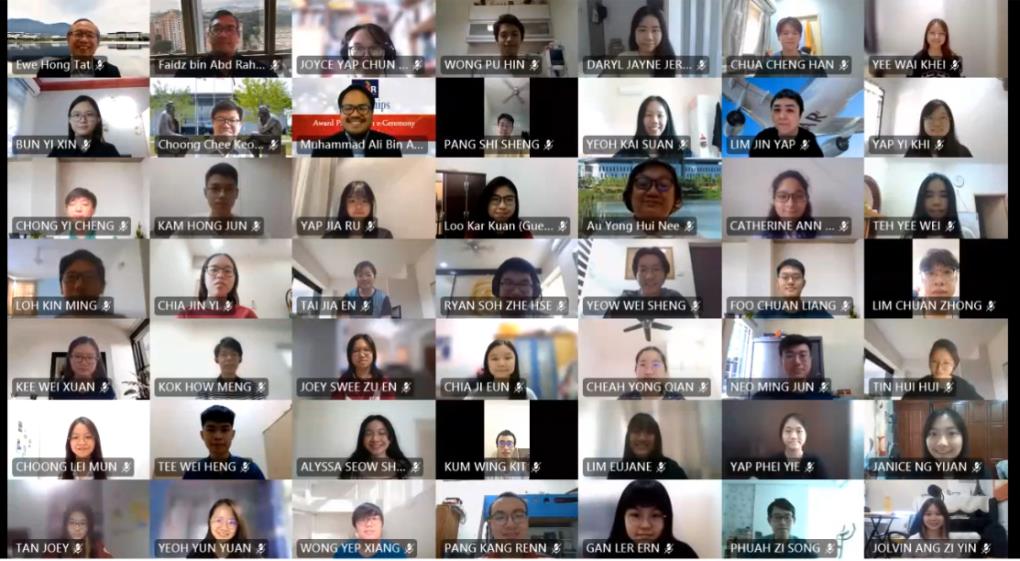 <![endif]>
A group photo at the end of the UTAR Scholarship Presentation e-Ceremony