IEEE Malaysia AP/MTT/EMC Joint Chapter 2020 Publication Best Paper Award for omnidirectional RFID tag design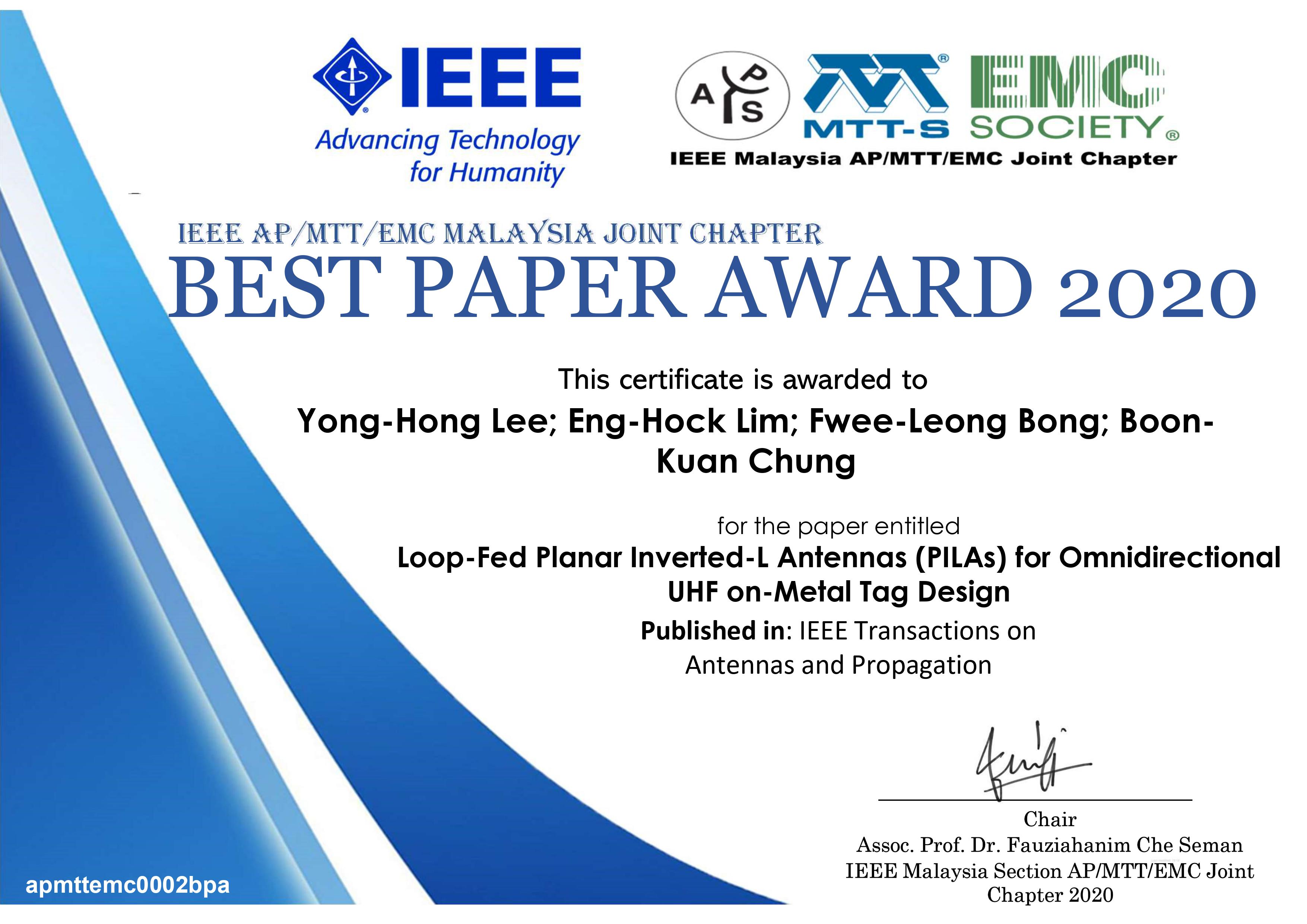 The certificate received by Prof Lim and his members
UTAR Lee Kong Chian Faculty of Engineering and Science (LKC FES) academics added another award to their growing list of accolades when they received the "IEEE Malaysia AP/MTT/EMC Joint Chapter 2020 Publication Best Paper Award" in the 2021 Annual Grand Meeting (AGM) of IEEE Malaysia Antenna & Propagation (AP) / Microwave Theory & Technique (MTT) / Electromagnetic Compatibility (EMC) Joint Chapter on 13 February 2021.
The winning team consisted of LKC FES lecturers, namely Dr Lee Yong Hong, Ir Prof Dr Chung Boon Kuan and Tunku Abdul Rahman University College Penang Campus (TAR UC Penang) Department of Engineering and Built Environment academic Dr Bong Fwee Leong. They were led by UTAR Centre for Communication Systems and Networks (CCSN) Chairperson Prof Ts Dr Lim Eng Hock, who is also the corresponding author and principal investigator for the winning paper.
The paper was titled "Loop-Fed Planar Inverted-L Antennas (PILAs) for Omnidirectional UHF on-Metal Tag Design". The aim of the project was to design an omnidirectional RFID tag for on-metal applications. An omnidirectional RFID tag has an antenna that can be read well from all locations around it. The proposed tag is compact in size and low in profile. The tag can be easily read from all directions when it is attached to a metallic object.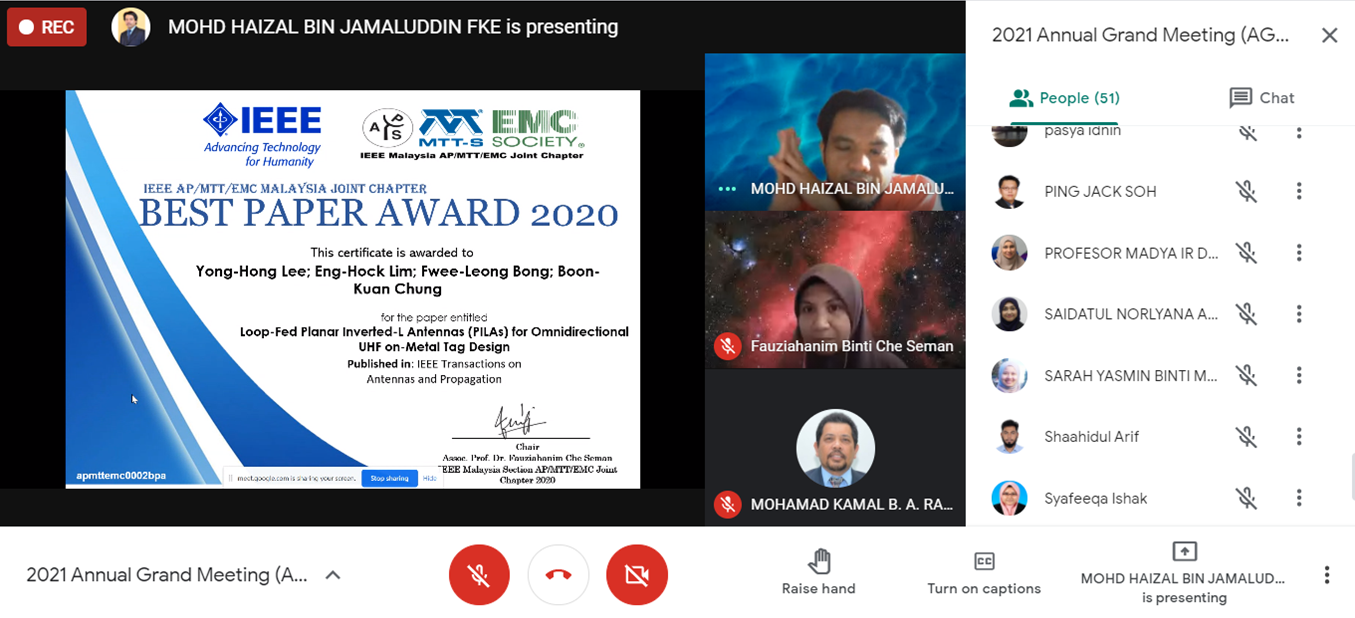 The 2021 Annual Grand Meeting (AGM) of IEEE Malaysia AP/MTT/EMC presentation ceremony
Prof Lim explained, "Although there are a lot of metal-mountable tags in the market, most of them are directional and they are only readable in a certain direction. Making a tag omnidirectional, obviously, is very useful as it enables the tagged item to be tracked by the reader at any location around it. Despite its usefulness, there have only been less than a handful of omnidirectional tags found for mounting on metal surfaces in the past 30 years. This is because it is technically very challenging to design a planar tag with an antenna that exhibits omnidirectional radiation pattern on a metal surface."
He also emphasised, "In this paper, we are the first in the world to have successfully combined four directive antennas for designing a good-performing compact omnidirectional RFID tag for on-metal applications. It should be mentioned that UTAR has the best design facilities for RFID in Malaysia, almost reaching the industry standards. My research team has been working with the key RFID industry players in Malaysia and overseas. Since 2017, we have successfully published more than 20 papers on RFID in the IEEE Transactions on Antennas and Propagation, which is the best journal in Electromagnetism internationally."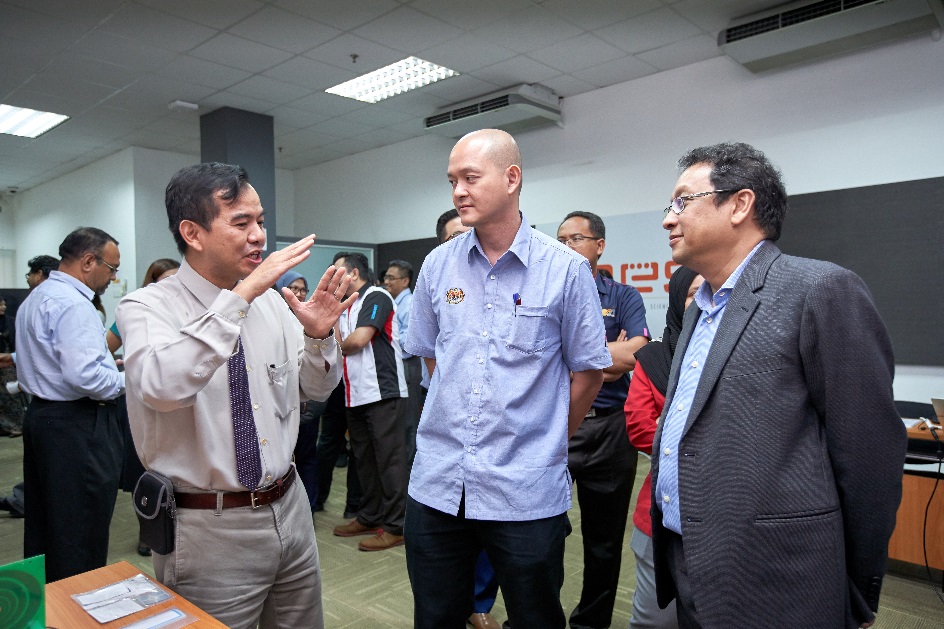 Prof Lim (front row, most left) showcasing the RFID project to former Deputy Minister of International Trade and Industry (MITI) YB Dr Ong Kian Ming during CREST Showcase 2019 (photo was taken in September 2019)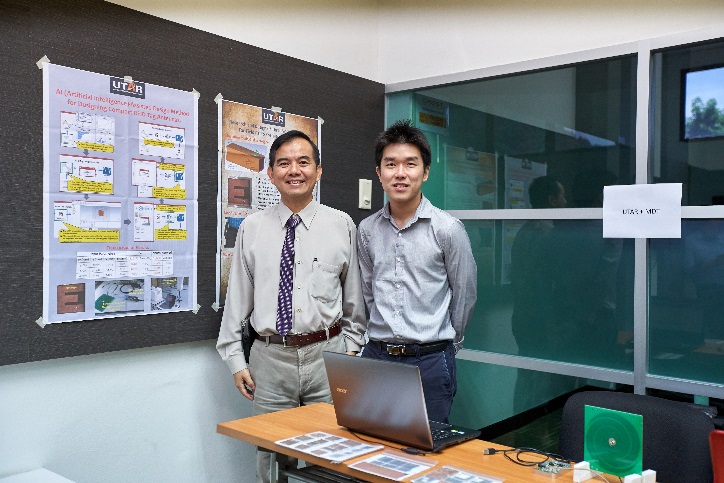 Prof Lim (left) and Dr Lee (right) during CREST Showcase 2019 (photo was taken in September 2019)
To view the winning paper click here.
About IEEE
IEEE is the world's largest professional association dedicated to advancing technological innovation and excellence for the benefit of humanity. IEEE and its members inspire a global community through IEEE's highly cited publications, conferences, technology standards and professional and educational activities. IEEE, pronounced "Eye-triple-E," stands for the Institute of Electrical and Electronics Engineers.