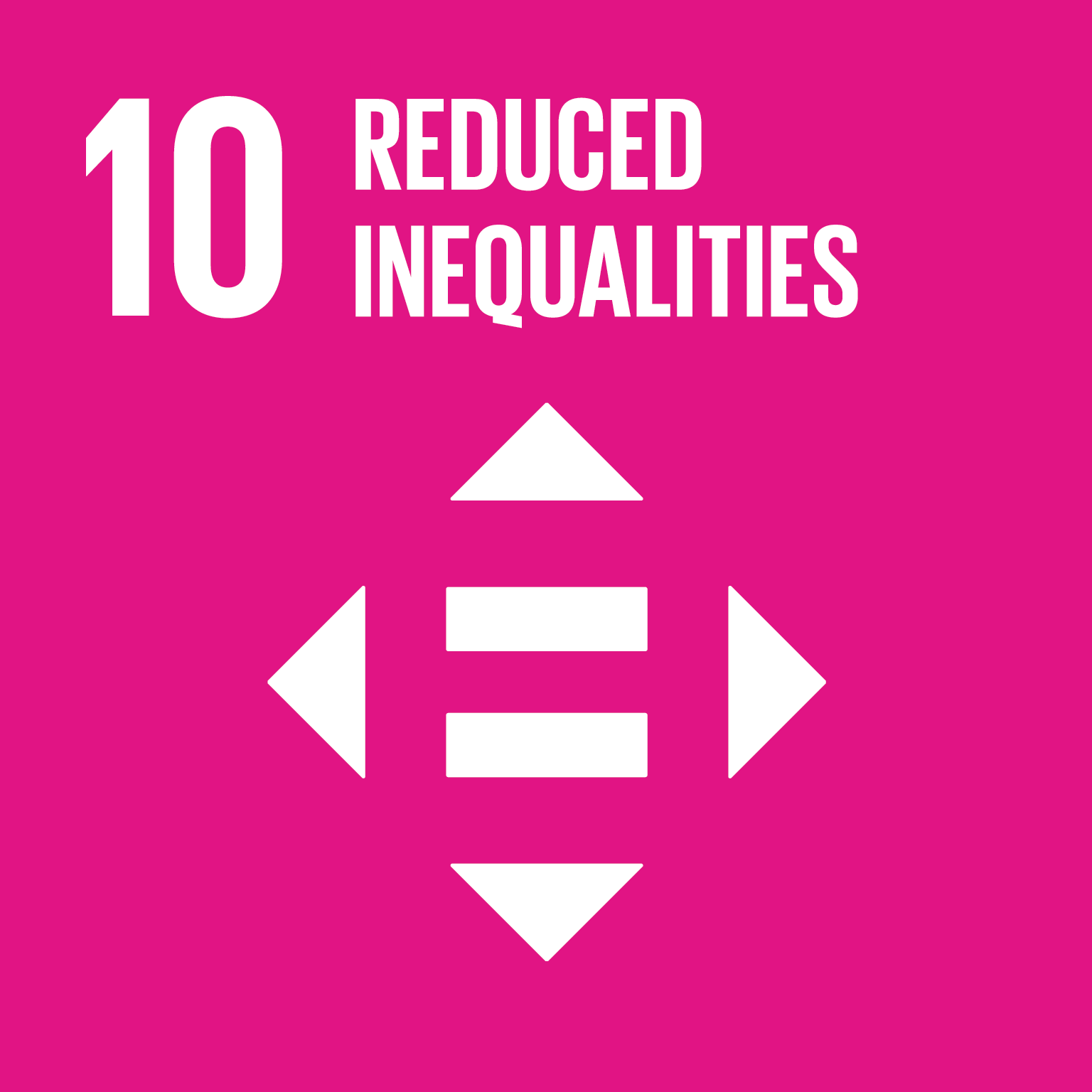 Ten students get financial aid from UTAR-JinBodhi Bursary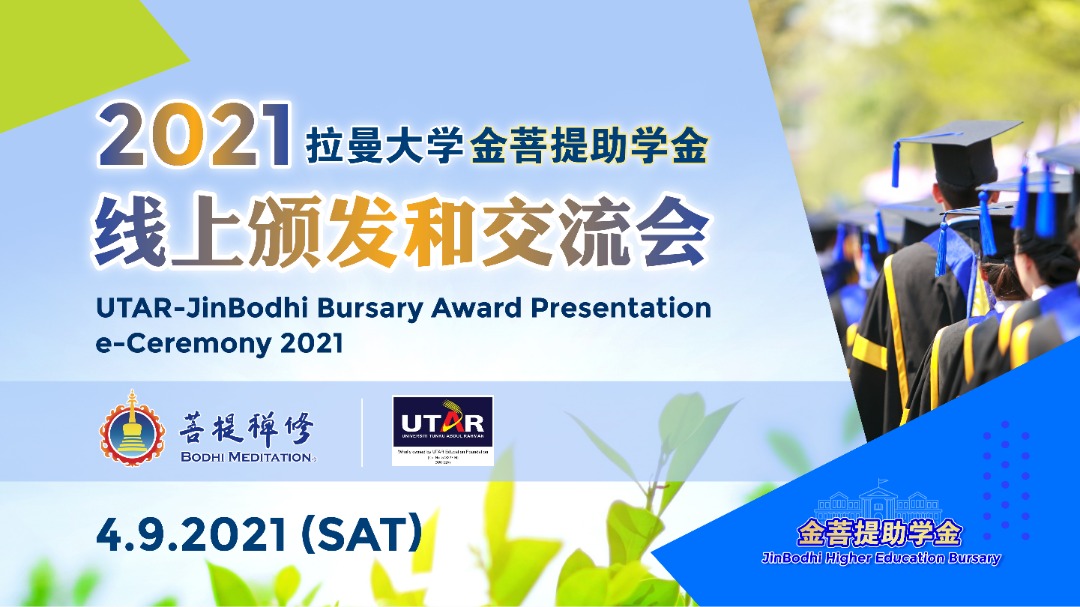 UTAR-Jinbodhi Bursary is a joint effort of both UTAR and BMMB to provide financial aid and support for needy students on their educational journey
Ten students were awarded UTAR-JinBodhi Bursary during the award presentation e-ceremony held on 4 September 2021 via Gotomeeting. They expressed their words of gratitude at the ceremony and shared what the bursary has meant for them and their families.
Loh Kai Bin, a UTAR Foundation student, expressed his appreciation for being chosen as one of the bursary recipients. "I am grateful to be given a chance to obtain this bursary. This could really help to reduce the burden of my mother and my sister, and also help me to pursue my dreams." His mother works in a grocery store while his elder sister works as a film editor.
Loh's father was suffering from terminal cancer which took place in 2019. "The cancer was initially discovered in 2010, and the second recurrence took place in 2017," said Loh. Presently, his father is weak as the cancer cells have spread to his spine and he is subjected to milk feed using the nasogastric tube. His father's hearing has also been affected due to the sequelae of electrotherapy.
Another bursary recipient, Phang Sin Wai who is a Foundation student said, "My aspiration is to acquire a bachelor's degree in Computer Science to assist me in pursuing information technology career. My career vision is to be able to build technology that would ease our daily lives. I am certain that if I do not complete my degree, I will never have the opportunity to achieve my career goals."
Phang has always had the passion to assists others with the hope to improve their quality of life. This was one of the reasons why he wanted to pursue his career in the field of information technology in the future. He is committed to working hard in his studies and he is looking for opportunities that could help him make his goals a reality.
"My parents were divorced so I lived with my mother, but unfortunately, she passed away in 2012 due to cancer. I am now living with my grandmother who is a housewife. She does not have any income. My grandfather passed away due to cancer in 2007. My living expenses and tuition fees are paid by my relatives. I am thankful for their support from 2012 until now," said Ng Zi Qi, one of the student recipients who is currently enrolled in Foundation in Arts.
She mentioned that her relatives are currently unemployed due to the MCO. "They also have their family to take care of. My expenses may put them under pressure," she said. She expressed her gratitude and said that the bursary can help her family to have a better quality of life and relief them from financial burdens.
Cheng Yan Yan, another recipient of the bursary said, "When I was a child, my dream was to become a teacher. I wanted to be as good as my teachers and teach the coming generations. When I grew up, my dream became simple. I just wanted to study hard and make money after I step into society to repay my parents and sister who raised me. I want to be the one who helps to relieve the burden, instead of being a part of the burden."
She thanked UTAR and JinBodhi for allowing her to obtain the bursary. "I will study hard and help those who need help in the future to reduce their burden," she said.
"When I completed my SPM, I was hesitant about the direction of my further studies. I wanted to finish my studies as quickly as possible and start working. After discussing with my parents, I chose UTAR because its Kampar Campus is closer to my hometown. It also offered courses at a relatively affordable price as compared with other universities. Its teaching quality and environment were also part of my consideration," said one of the recipients, Yeoh Min Fang.
Initially, Yeoh thought about studying on weekdays and working part-time on weekends to cover the tuition fees. She also studied hard to get good grades so that she would be eligible for scholarships.
"I know it is not easy for my parents to earn money, and my younger sister will be going to school in about a year. That will be another expense to cover," she said.
She added, "I learned about this bursary from UTAR. I was very happy when I got to know that my application was successful. This will not only reduce my burden but also keep me motivated to study hard all the time. I want to thank UTAR and JinBodhi for this bursary. I will cherish this and continue to work hard to improve my academic performance, and later try my best to return it to my family and society."
Another recipient was Tan Xiao Jun who came from a family of seven. His eldest sister is the main breadwinner of the family. His younger brother, who is a high school graduate, currently does a part-time job. Tan's father who had been recuperating at home for nearly five years due to an illness, died of heart failure last year. Tan's mother is a housewife, taking care of his 9-year-old sister who is currently in the third grade of elementary school.
Tan went to work for about two years after he graduated from high school, but he stopped working due to the Covid-19 pandemic. Those working experiences shaped his desire to pursue his dreams to further his education.
"Gaining knowledge enables us to see a further future and understand ourselves better. Education can improve one's destiny," said Tan. His dream is to pass on the accumulated knowledge and life experiences through education and help those in need.
Belinda Chin, one of the recipients who is currently enrolled in Bachelor of Finance said, "I come from a single-parent family. My parents got divorced when I was young. My sister and I stayed with our father. All the living expenses are supported by my elder sister. During the holidays, I'll take up part-time jobs to earn some extra money. With this bursary, I could reduce the burden of my family."
She added, "I am very grateful to JinBodhi for setting up this bursary, and also thank UTAR for providing me the means to apply for this bursary. In the future, I will redouble my efforts to achieve good results and acquire more professional knowledge. I hope to use what I have learned to help people in need and bring more contributions to society."
Banking and Finance student Frankie Wong was genuinely grateful to be one of the bursary recipients. "My parents passed away when I was in secondary school. It was my sister who supported my education fees. After completing Form Six, I worked for a while to earn some money so that I can continue my further studies." His savings, however, were insufficient for his tuition fees but the bursary brightened his path to continue his study.
"I would like to thank JinBodhi and UTAR for providing this bursary and for helping students like me to move forward towards our goal. This bursary is a motivation for me to work hard and prove myself worthy of your expectations. I believe that education can change my life and my destiny," he said.
Frankie Wong's goal was to make progress after graduation and become a bank manager. He wanted to help the disadvantaged groups to give back to society once he possess the capability.
He also extended his deep appreciation towards JinBodhi for providing people in need like him with caring packs during the pandemic, which saved him from extra expenses.
Won Xin Hui is one of the recipients who is receiving the bursary for the second time. "My father is a maintenance worker. As I was growing, I witnessed the hard work of my father. My parents told me they wanted me to have more choices in the future. They knew the importance of knowledge. I am very fortunate to learn about the bursary when I was enrolled in the Foundation course," she said.
Won said that the bursary allowed her to concentrate on her studies and put her feet on the path of true discovery. "I am grateful that I can benefit again from the bursary to continue my bachelor's study. I would like to sincerely thank Jinbodhi for lending a helping hand, especially during this difficult time. I hope that in the future, I can follow the example set by JinBodhi, where I can help and care for the disadvantaged groups and give back to society," she said.
A recipient from a single-parent family, Ooi Yee Hui said it was a privilege to receive the bursary once again.
"My parents divorced five years ago. My brother and I were raised by our mother. Before the pandemic, my mother used to work in a tuition centre every weekday and Saturday, and work part-time on Sundays and public holidays. The implementation of the MCO in March last year caused my mother to stop her full-time work and only earn a meagre income from part-time jobs," said Ooi. Presently, her family relies on government financial assistance and her mother's part-time income to cover their daily expenses.
"My mother always said that no matter how hard she worked, she hopes that I can continue to study. So I made up my mind to study hard because I know that as long as I succeed in my studies, I can change my current life," she said.
Ooi has been interested in numbers ever since she was a child. She set up her dream of becoming an accountant and hoped to use her abilities to help needy children in the future.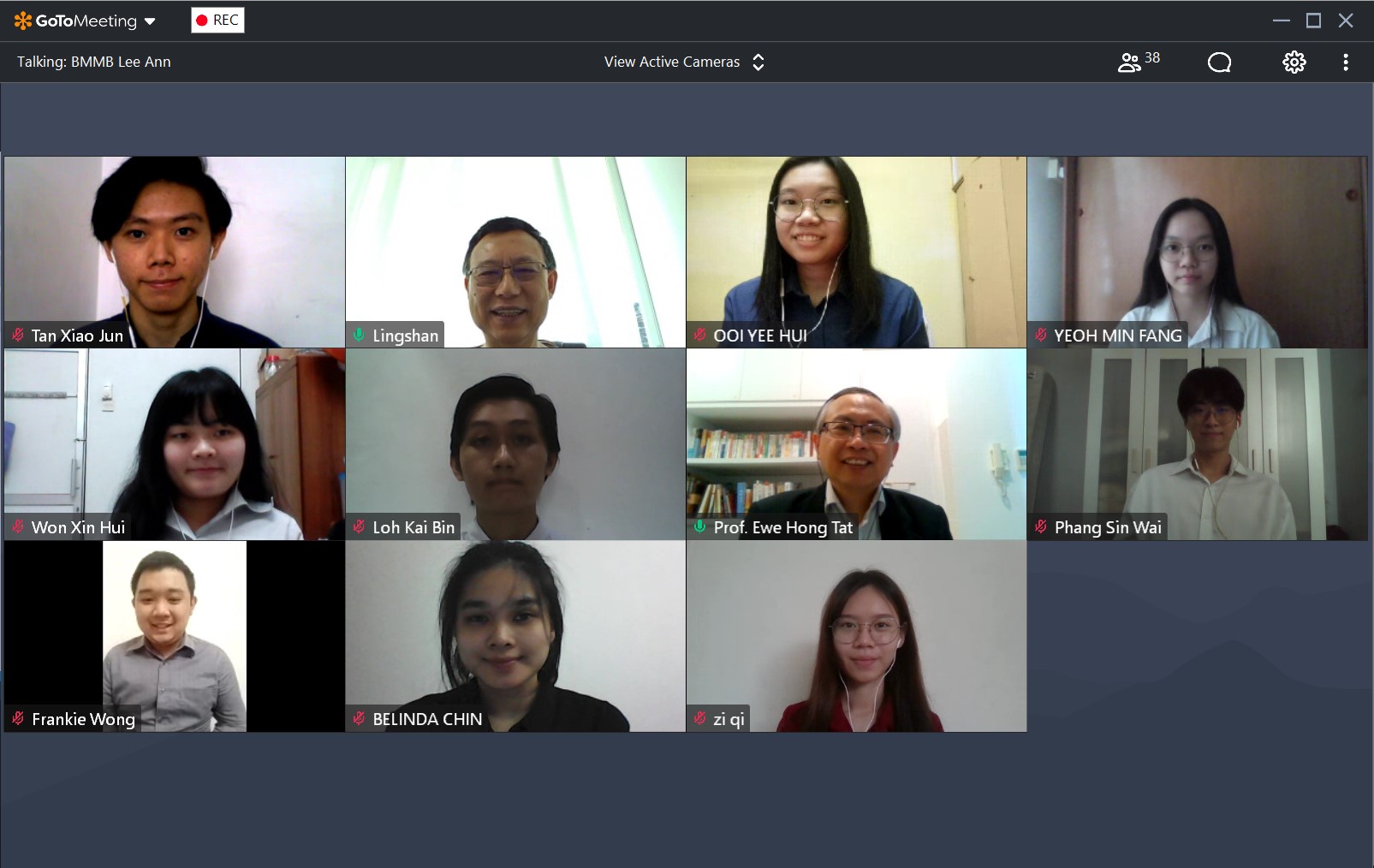 Teacher Ling Shan (second from top row) and Prof Ewe (third from second row) with the recipients
During the ceremony, UTAR President Ir Prof Dr Ewe Hong Tat also expressed his gratitude to Bodhi Meditation Malaysia Berhad (BMMB) for their continuous support. He said, "Deserving students with financial difficulties should not be excluded from the opportunity to further their pursuit of education. Education is the key to success. Your kind charity and your efforts in recognising the student's needs will not only empower them to reach their full potential but also support them on the path to their dreams. They are the next generation leaders and workforce who are the key parts of a society's growth and progress."
According to him, a total of 146 disbursements with an approximate amount of RM2.3million were awarded to UTAR students in financial assistance through the Jinbodhi Bursary. "This year BMMB supported us with a contribution of RM450,000 and again, I am honoured to join the ceremony today to witness another ten disbursements to UTAR students in need," he said.
He also shared some words to the recipients, "I hope that the bursary you receive will brighten your pathway ahead of you. Though the journey may be arduous, always remember that it is resilience and determination that propels you closer to success. I also hope that you are inspired by this generosity; in the future when you are capable, lend your hand to others in a time of need or advance them on their journey to success."
BMMB Chairman Teacher Ling Shan, on the other hand, said, "Over the years, BMMB has been adhering to its mission, helping needy students ranging from elementary school to university to afford their education, and committed to various education funds to ensure their educational journey is smooth. As of 2020, Bodhi Meditation Malaysia Charity Fund has allocated more than 98.9 million ringgit to various bursary programmes and social care programmes."
He added, "In such difficult times, the funds would be continuously offered to those needy students to pursue their educational dreams. At this time when many families are facing hardships, the bursary is still open to the needy students, with the hope to alleviate their pressure on tuition fees. We have noted that these students are from low-income families. Some are single-parent and some lost their parents; some parents were even diagnosed with cancer. This is even worse for families that are already suffering. So we have decided to allocate RM450,000 this year to UTAR to help students in need, support them to pursue their studies in the University, and help them achieve their dreams of further education. We firmly believe that education is the only way to change their destiny."
Also present at the event were BMMB Vice Chairman Brother Xu Te, UTAR Vice President for Student Development and Alumni Relations Prof Dr Choong Chee Keong, distinguished guests from BMMB, UTAR students and staff.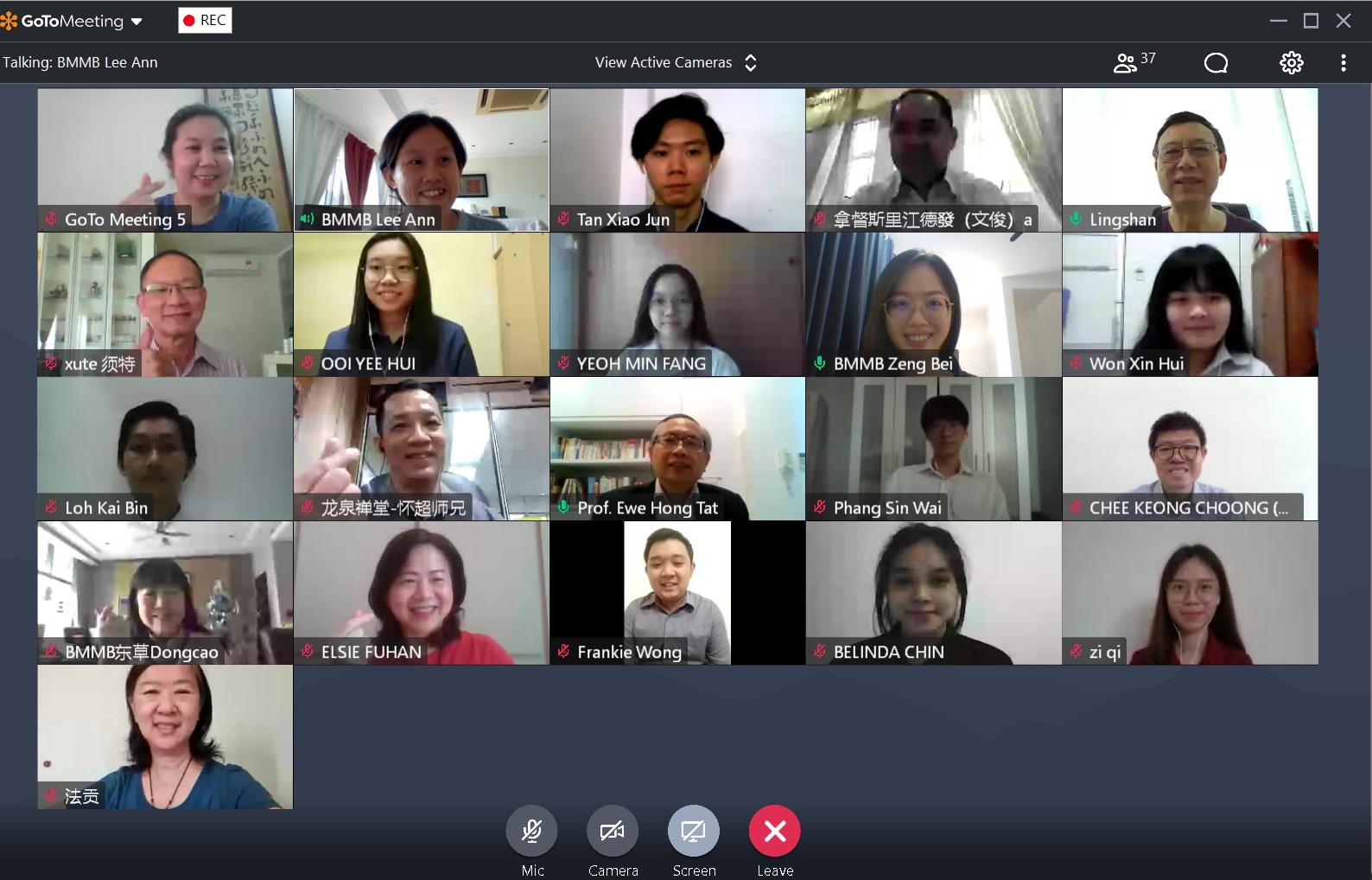 A group photo of the distinguished guests and recipients during the end of the ceremony