FCI students won four gold and two silver awards at INDIGO Design International Awards 2023
From left: Lavanyaa, Sheanne Chin, Tang, Hoe and Yeoh proudly displaying their award certificates
Five Faculty of Creative Industries (FCI) students from the Department of Multimedia Design and Animation (DMDA) won six awards at the INDIGO Design International Awards 2023 under the student category.
Hoh Sheng Yue, Tang Tze Ling, C. Lavanyaa and Sheanne Chin Seng Wei won the Gold award for Magazine & Newspaper Design under the Graphic Design category, while Yeoh Hui Qi won the Silver award for Magazine & Newspaper Design under the same category. In addition, Sheanne Chin and her teammates, Hoh and Yeoh, took home the Silver award for Integrated Graphic Design under the Graphic Design category.
Guided by FCI lecturer Lee Kin Keong, the students participated in the design competition as part of their final project under the UJMD1094 Fundamentals of Layout Design Course. One of the students participated on her own initiative.
Hoh's magazine 'Illustrated' desires to feed readers with stories and content through the illustration of words, visuals, and sounds. She believes stories from different people and different voices give readers different perceptions of life. Tang's magazine 'Music Alive' provides readers with the latest news and updates, music releases, and constructive knowledge and information in the musical field. Lavanyaa's magazine 'ISAI Magazine' is all about music from different cultures, races, genres and even styles. It holds a theme of heavy concept of bold colours with unorganised layouts but effective placements. Sheanne Chin's magazine 'The Art Review' hopes to aspire readers to build their own perspective on how they think art affects people and society while Yeoh's magazine 'Techtml' provides readers with the most recent technology news and reviews to inspire a new way of thinking.
Meanwhile, 'B-O-N-D' which was created by Sheanne Chin along with her teammates Hoh and Yeoh under the Graphic Design category, features ionic bonds and covalent bonds between three unique individuals.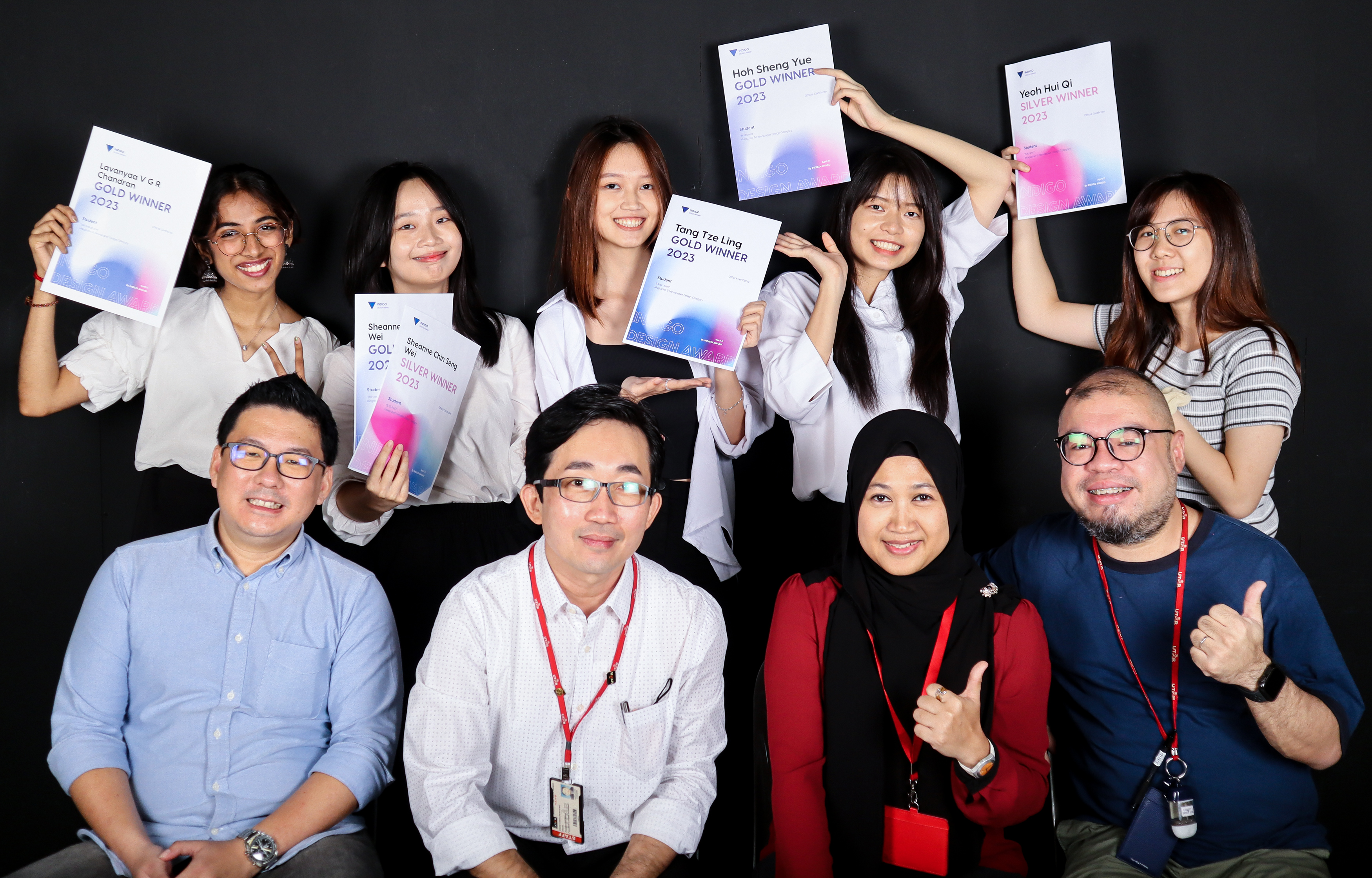 The winners (back row) with (front row, from left) Lee, FCI Dean Dr David Tneh Cheng Eng, DMDA Head Dr Wan Irma Sabrina binti Idris and FCI Deputy Dean Ts Ang Kok Yew
About Indigo Design Award
INDIGO exists to encourage and promote creativity. The award ceremony is usually held annually in the world's most fascinating and cutting-edge cities. Participants' works are judged by a jury handpicked for their innovative contributions in the digital design world. Just as the indigo orchid stands out from nature's palette with its rare and special beauty, the competition aims to look out for exceptional projects that shine with uncommon artistry.