Scholarships awarded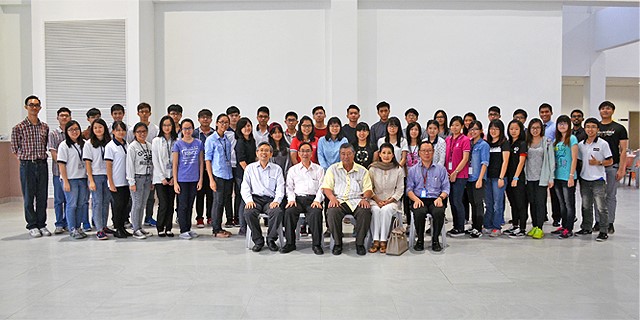 Front row, from left: UTAR Vice President of Internationalization & Academic Development Prof Ewe Hong Tat, UTAR President Ir Prof Academician Dato' Dr Chuah Hean Teik, Tun Ling, Toh Puan Ong Ee Nah, and UTAR Vice President of Student Development & Alumni Relations Dr Teh Chee Seng posing with the recipients
Forty-three UEC-UTAR Scholarship and UTAR Scholarship for Royal Military College (RMC) recipients met with UTAR Council Chairman Tun Dr Ling Liong Sik over tea at UTAR Sungai Long Campus on 6 November 2015.
"Today is a celebration of your achievements in school; you understand that education is the way forward in today's highly globalised world. UTAR is proud to reward you for your tireless effort, with hopes that you will contribute to society with the knowledge you gain here," said Tun Ling.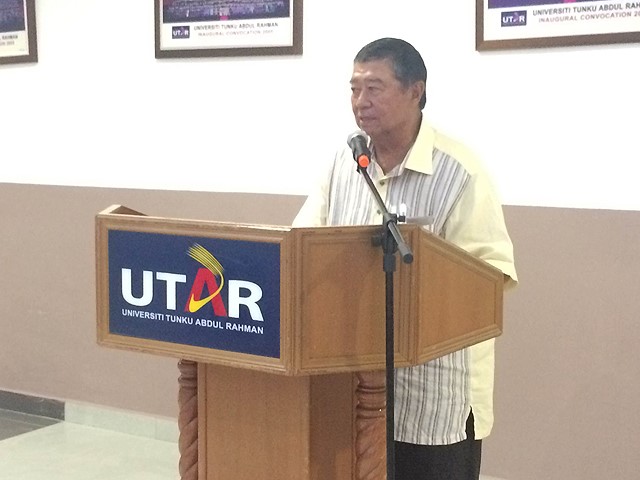 Tun Ling stressing the importance of education
The recipients are entitled to full waiver of tuition fees and a RM500 monthly allowance for living expenses throughout the tenure of the scholarship.
Bachelor of Accounting student Chua Yee Ling said the scholarship, introduced by her teacher at Kuen Cheng High School, Kuala Lumpur, helped to reduce her family's financial burden and brought her dream of becoming an accountant one-step closer.
"I'm glad UTAR recognised my Unified Examination Certificate (UEC) certificate; I felt appreciated by the university," she said with a smile.
RMC graduate Sathya Nagendran, said the scholarship given by UTAR is a recognition and celebration of his achievements at RMC. Nagendran, who is also pursuing his Bachelor of Accounting, added that UTAR's accounting programme is comprehensive and its recognition by various international professional bodies affirmed his decision to join the programme.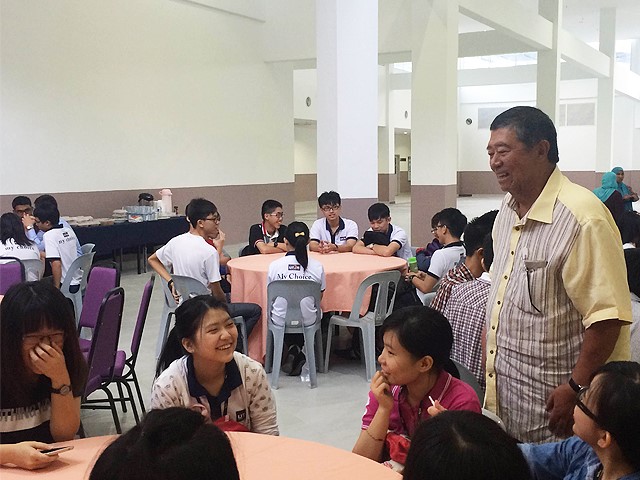 Tun Ling having a light moment with the recipients
This meeting is organised by the Office of Council Chairman and Division of Examinations, Awards, and Scholarships annually.