With the aim to cultivate a healthy competitive spirit and critical thinking among students while enhancing their public speaking skills and abilities, UTAR's Department of Soft Skills Competency (DSSC) of Kampar Campus in collaboration with the Faculty of Arts and Social Science's (FAS) Department of Language and Linguistics (DLL) successfully organised a public speaking competition titled "Speakers' Corner" at Kampar Campus on 17 November 2018.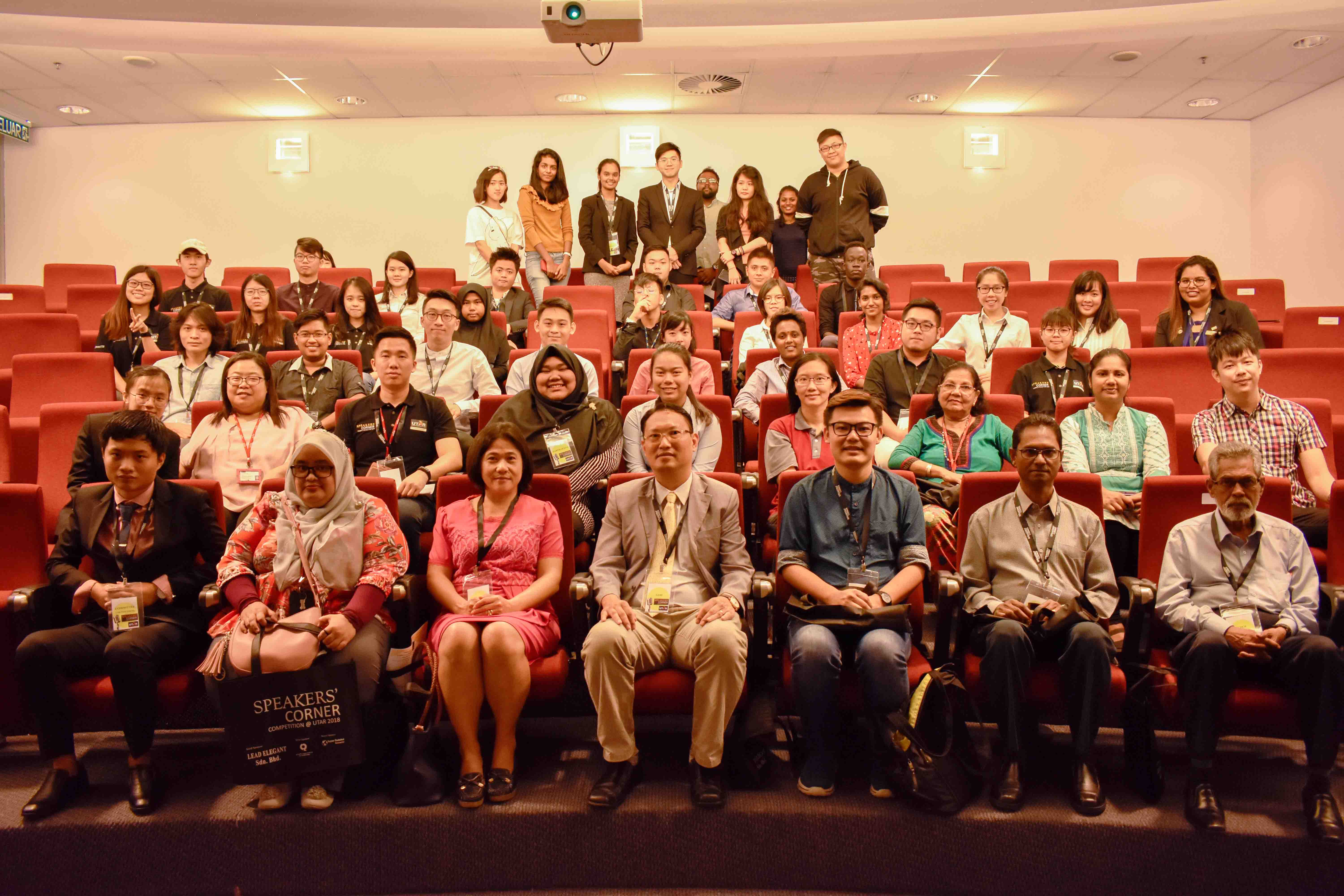 Front row, from left: Lim, Siti, Ngu, Dr Khor, Foong, Dr Gerard and Renu with contestants and staff
Besides cultivating a healthy competitive spirit, the competition also aimed at developing a dialogue culture which would help the students and participants to enhance their soft skills in the areas of oral presentation, listening, leading, constructive evaluation, critical thinking and communication skills.
Representing FAS Dean Dr Alia Azalea at the opening ceremony was FAS Deputy Dean for Academic Development and Undergraduate Programmes Dr Khor Kheng Kia, who attributed the success of the competition to the generous sponsorships by Lead Elegant Sdn Bhd, Quality Coils Group of Companies and Super Galaksi Enterprise. "The public speaking competition, initiated by DSSC and FAS's DLL, is a great platform for students to develop their critical thinking and communication skills. The competition also allows them to learn beyond the classrooms," he said.
Also present were FAS's Head of DLL Siti Ummaizah binti Meor Musa, FAS's Head of Programme for Bachelor of Arts (Hons) English Language Raphael Thoo Yi Xian, DSSC Head of Kampar Campus Hee Chwen Yee, Organising Chairperson of Speakers' Corner Lim Ooi Sheng, panel of judges-cum-FAS academics, namely Dr R. Gerard Sagaya Raj, Foong Soon Seng and K. Renu, Gold Sponsor (Lead Elegant Sdn Bhd) Ngu Ai Hoong, UTAR staff and students.
The competition was divided into two major rounds, namely Impromptu Speech and Prepared Speech. For the first round of impromptu speech, each participant was given five minutes to prepare his or her speech upon receiving the topic. The participants were not allowed to use any of their electronic devices or any sort of reference materials while preparing the speech. The participants were given four minutes to present their speeches. For round two that is prepared speech category, the students were allowed to select their own topics but issues deemed sensitive and controversial such as politics, religion, sex and race were restricted. Each individual was given four minutes to present his or her speech.
The competition saw a total of 23 participants presenting their impromptu and prepared speeches. The students, one after another, presented their knowledge, views and opinions on various topics.
Among the titles presented during the first round were "Real Learning Doesn't Occur in a Classroom", "Is it Ever Okay to Lie? Why or Why Not?", "Money Cannot Buy Happiness. Do You Agree?", "Are Exams Good Forms of Assessment?", "The Media Controls How and What We Think", "Share Something Unusual About Yourself", "We Communicate Less Nowadays. What Do You Think?", "If You Were Invisible for A Day", "Being an Adult and Being Mature are Two Different Things", "The One Piece of Advice I Would Give to Myself As a Child", "What Would You Do If You Could Travel Through Time?", "Three Reasons My Hometown Is the Best", "Your Preferred Way to Spend Your Free Time", "Three Things That Scare You Are", "What Are the Three Things You Cannot Live Without?", "The Most Successful Person You Know", "Children Should Not Be Allowed to Use Smartphones", "What Are the Characteristics That Characterise an Ideal Hero? Why?", "If You Were Granted Three Wishes, What Would They Be?", "If You Can Be The Opposite Sex for A Day, You Would", "Do You Think Secondary School Students Should Start Dating?", "What I Like/Dislike About My University?" and "The Most Difficult Thing You Have Ever Done Is".
The titles for round two were "Technology and Daily Use", "Confidence", "Too Busy Is Just A Myth", "Time Management", "How to Cat?", "Malaysian Millennials And The Importance of Saving Money", "Change", "Time", "Tips on How To Be Good Public Speaker", "Invest in Yourselves", "Happiness", "Influencer", "Overworked Culture", "The Thoughts", "Village Life in Kalasin", "Social Media Kills Face to Face Communication", "Pornography Usage Reduces Stress Among Youngsters. Fact or Fiction?", "Malaysia's Forgotten Refugee Community", "The Important List", "How to Avoid Circulated by Negativity?", "Accents", "The Competition" and "E-sport".
The list of winners is as follows:
Champion
M. Kusaaliny – Bachelor of Science (Hons) Actuarial Science
First Runner-up
Lee Ching Kai – Bachelor of Commerce (Hons) Accounting
Second Runner-up
R. Sharmilah – Bachelor of Social Science (Hons) Psychology
Consolations
John Bongiovi James – Bachelor of Arts (Hons) English Education
Julian Chin Chun Kit – Bachelor of Communication (Hons) Public Relations
Susanna Ooi Hui En – Bachelor of Marketing (Hons)
R. Thanusha – Bachelor of Social Science (Hons) Psychology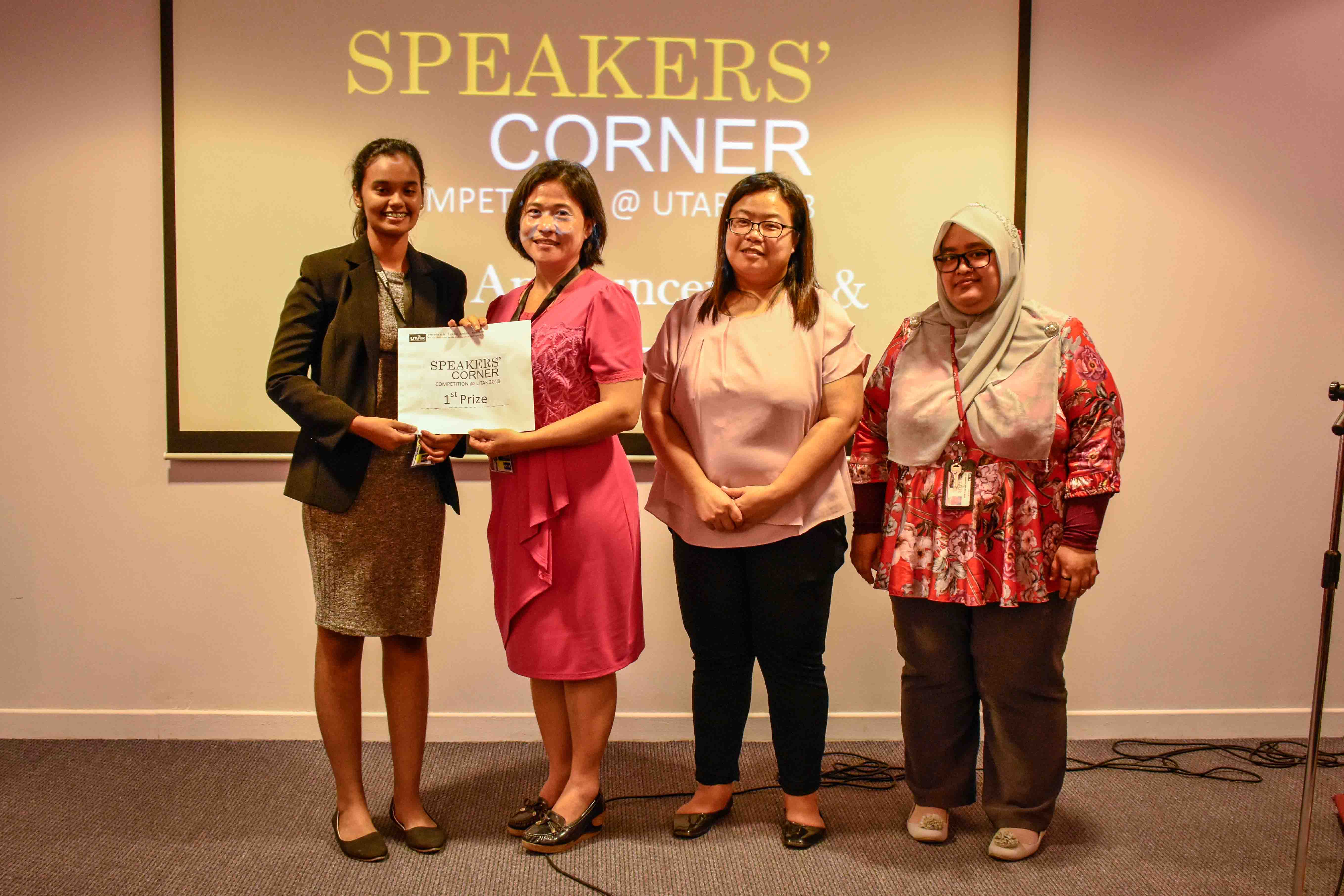 Proud champion Kusaaliny receiving the prize from Ngu while Hee (second from right) and Siti look on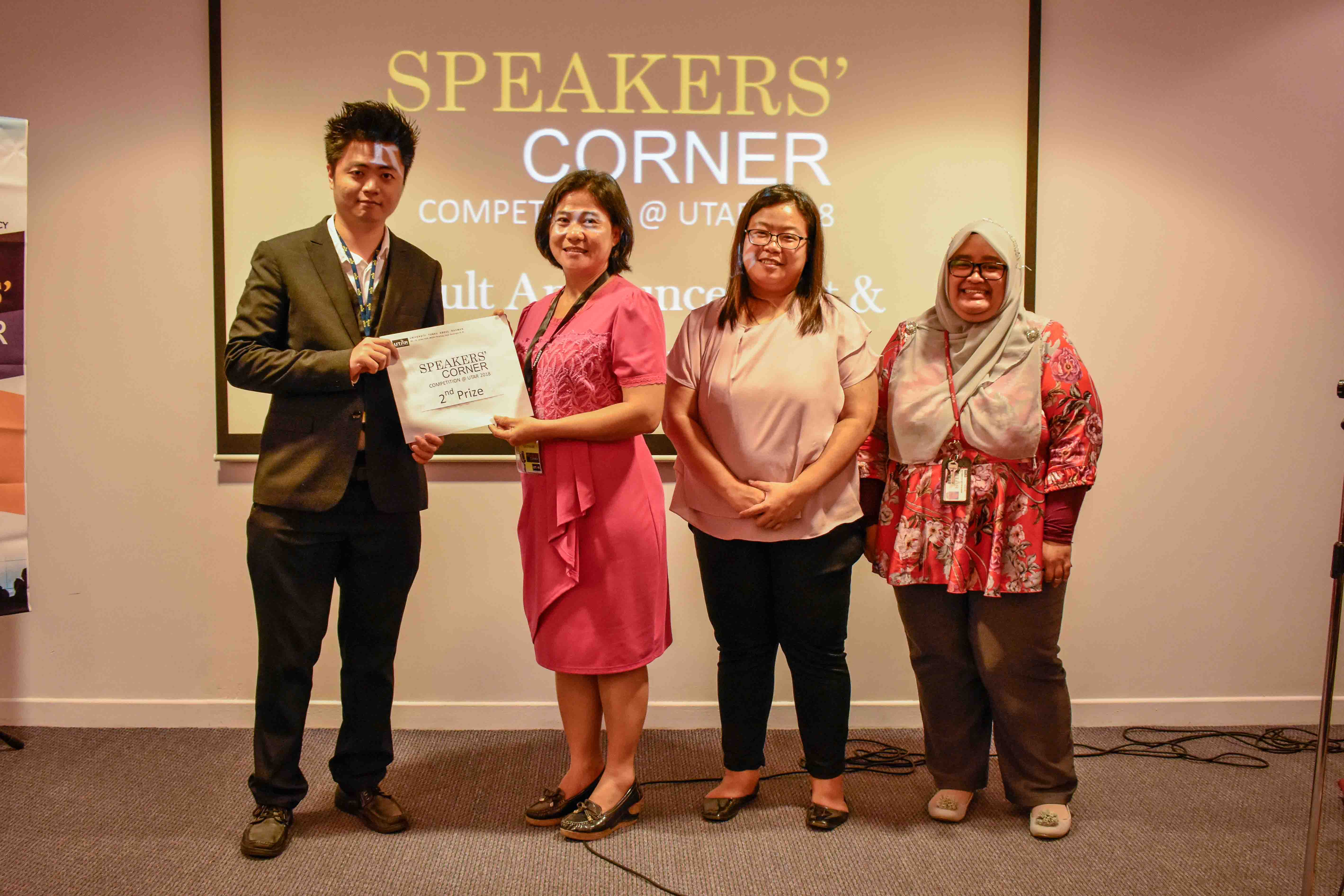 First runner-up Lee receiving his prize from Ngu while Hee (second from right) and Siti look on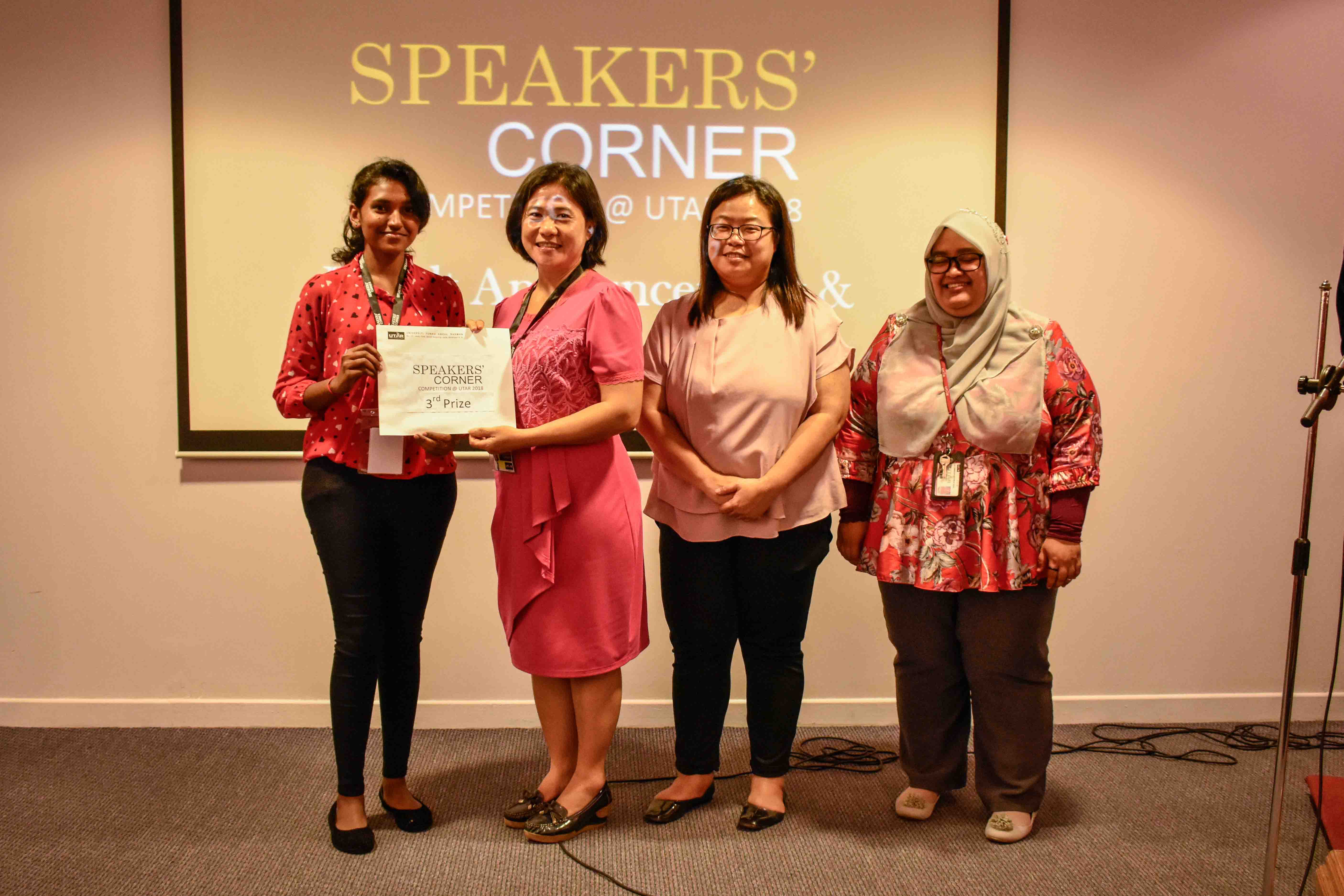 Sharmilah receiving her second runner-up prize from Ngu while Hee (second from right) and Siti look on
During the closing ceremony, the Organising Chairperson Lim concluded, "Speakers' Corner competition is a public speaking platform for UTAR students to express their views and opinions. It also serves as a platform to enhance public speaking and critical thinking skills among students. The competition allows the students to have more exposure together with students and participants from other faculties and schools. Hopefully, with the experience you gained from the competition, you will be able to march forward in life and flourish your public speaking skills." He also thanked the organising committee for their hard work in making the competition a success. He also extended his gratitude to sponsors for their generous contribution in making this competition a reality.
Champion of the competition, M. Kusaaliny enthused "I feel honoured to win this competition especially when I competed on a ground that consisted of people with equal talent. I think the competition is a platform to encourage young adults to be bold and be heard." The Actuarial Science student also added, "The topic given to me during my impromptu was extremely complicated. It was "Should dating be allowed in high school". Creating a stand for a topic that is against Asian taboo was not simple indeed. Academically, we will not be able to learn such as the ability to go up on a stage and express your opinions and this skill is vital for our living and career buildings."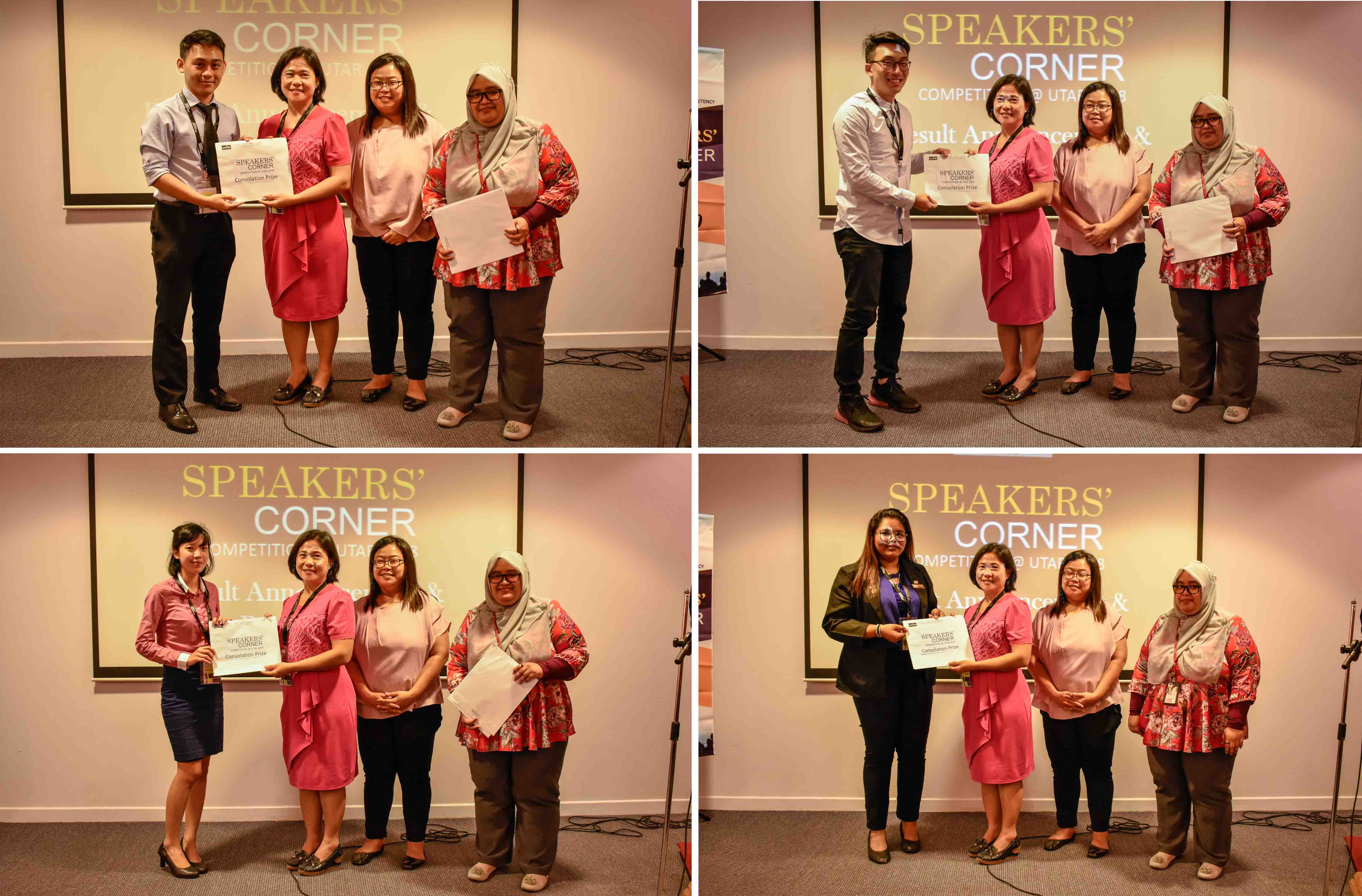 Consolation winners (clockwise, from top left): John, Chin, Thanusha and Ooi