Universiti Tunku Abdul Rahman (UTAR) is a university that encourages continuous lifelong learning. Thus, the university has been providing a platform where research and development activities can be conducted at ease with the aim to broaden and discover new knowledge about the world we are currently living in. These activities are further strengthened through cross-disciplinary research, diversification of research funding, publication and patent filing, commercialisation and consultancy, and international collaborations.
Since 2013, UTAR has been strengthening its pursuance of key milestones set in the UTAR 10-year Strategic Plan (2013-2022). There were few strategies formulated under the Research & Development Focused Area of the Strategic Plan including:
Cross-disciplinary research to solve real-world problems
Diversification of research funding sources
Publication and patent filing
Commercialisation and consultancy
International collaborations
While upholding the University's principle of "By the people, for the people", UTAR has been achieving a reputation which could be heard around the world. For instance, UTAR was ranked No. 14 in the Times Higher Education Young University Rankings 2017: Millennial Universities; Top 150 in the Times Higher Education Young University Rankings 2017, and awarded self-accreditation status by the Malaysian Qualifications Agency (MQA) in March 2017. UTAR was also awarded 5 Stars (Excellent) in the Emerging University category by the Rating System for Malaysian Higher Education Institutions 2017 (SETARA'17). At the Sin Chew Business Excellence Awards 2017, UTAR won the CSR Excellence Award 2017. To top it all, UTAR is ranked #99 in the Times Higher Education Asia University Rankings 2018 and #117 in the Times Higher Education (THE) Emerging Economies University Rankings 2019. UTAR is now ranked within the band of 501-600 in the Times Higher Education World University Rankings 2019 and ranked 188 in the Quacquarelli Symonds (QS) Asia University Rankings 2019.
In order to accomplish these achievements, much has been done throughout the year 2017 especially in terms of R&D. For example, cumulative internal and external research funds have been increased. Besides that, scholastic publications cited (cumulative) in Scopus and a cumulative number of citation of publications in Scopus have also shown an increase.
Asides from the achievement that the University achieved as a whole, there are certain staff and postgraduate students who are worthy to be mentioned. For example in 2017:
Two researchers, namely Lee Kong Chian Faculty of Engineering and Science (LKC FES) Prof Dr Chong Kok Keong and Master of Science student Esther Thou Mun Huieh of Department of Biomedical Science, Faculty of Science obtained the 2017 Science and Technology Award and the Malaysia Toray Science Foundation (MTSF) Science and Technology Research Grant (STRG) respectively.
Five Bachelor of Engineering (Hons) Petrochemical Engineering final year students won Silver and Bronze medals at the Novel Research & Innovation Competition (NRIC) 2017, for their research projects "Mimusops Elengi Seed Shell Powder as a New Bio-filler for Thermoplastic Composites" and "Form Stable Phase Change Material (FOSTPCM) for Photovoltaic Cooling" respectively. The students in the silver-medallist team were I.S Rajvinder Singh and Eng Boon Kiat; and the bronze-medallists were R. Nagarathanam, Yu Gen Qian and Ariff bin Abdul Latif.
Five researchers from UTAR's Faculty of Engineering and Green Technology (FEGT) and Faculty of Science (FSc), with their invention titled "Environmental Friendly Roofing Tiles", won gold in the 28th International Invention, Innovation and Technology Exhibition (ITEX) 2017. The UTAR team comprised of team leader FEGT Deputy Dean for Academic Development and Undergraduate Programmes Ir Dr Ng Choon Aun, UTAR Faculty of Science Lecturer Dr Chee Swee Yong, FEGT Master of Engineering Science students Humayun Nadeem, S. Suubitaa and Teoh Wei Ping.
UTAR researchers won a gold and two bronze medals at the International Conference and Exposition on Inventions by Institutions of Higher Learning (PECIPTA) 2017 for their inventions "Dense Array Ultra-High Concentrator Photovoltaic System", "Waste Vegetable Oil Based Environmental Friendly Roofing Tiles" for the industrial design, building engineering and architecture category and "EGGYPOLYFILL" for a research on environment and renewable energy respectively. The researchers were Prof Dr Chong Kok Keong and his team from the Lee Kong Chian Faculty of Engineering and Science; Ir Dr Ng Choon Aun and his team from the Faculty of Engineering and Green Technology (FEGT); and Assoc Prof Dr Yamuna Munusamy and her research team from FEGT.
Meanwhile, in 2018:
A team of researchers from UTAR FEGT won the Best Paper Award at the Institute of Electrical and Electronic Engineers (IEEE) 2018 2nd International Conference on BioSignal Analysis, Processing and Systems (ICBAPS 2018) held at Hilton Kuching Hotel, Sarawak from 24 to 26 July 2018. The team was comprised of Doctor of Philosophy (Engineering) student Rab Nawaz, FEGT Dean Assoc Prof Dr Yap Vooi Voon and FEGT Head of Master of Engineering (Electronic Systems) Programme Assoc Prof Dr Humaira Nisar.
D. Sinouvassane, an academic from the Department of Biomedical Science of UTAR's Faculty of Science (FSc) won the KSMCB Travel Grant Award at the International Conference: Korean Society for Molecular and Cellular Biology 2018 (KSMCB) held at COEX Centre, Seoul in Korea from 17 to 19 September 2018.
With the collaboration of UTAR FMHS Centre for Cancer Research Chairperson Prof Dr Lim Yang Mooi, UTAR FMHS Dean Emeritus Prof Dr Cheong Soon Keng, University of Manchester ResLife Advisor Ho Yu Siong and Royal Bird's Nest Sdn Bhd Group Executive Director and Chief Executive Officer Dato' Tan Chee Hong, UTAR received a gold medal at the 29th

International Invention & Innovation Exhibition (ITEX) 2018 for an invention named "Acid-extracted EBN extract" which involved the development of an acid extraction method with a customised heating device to extract edible bird's nest extract that has the capability to regenerate the degenerated neuronal cells.
UTAR also received another gold medal at the 29th

International Invention & Innovation Exhibition (ITEX) 2018 for "MYWOOD-ID", also known as mobile wood identification system which is a collaborative project of LKC FES Centre for Computing and Intelligent Systems Chairperson Assoc Prof Dr Tay Yong Haur, Master of Engineering Science student Tang Xin Jie and Forest Research Institute Malaysia (FRIM).
The collaboration between LKC FES Centre for Power Systems and Electricity Chairperson Prof Ir Dr Lim Yun Seng, LKC FES Dr Wong Jianhui and LKC FES Master student Ace Khaw Lin Yi saw UTAR receiving a silver medal at the 29th

International Invention & Innovation Exhibition (ITEX) 2018 for an invention named "Intelligent Energy Storage System" which was developed and installed on the power grids to reduce peak demands for utility companies, reduce maximum demand charges for customers and solve power quality issues.
With the effort of (FICT) Computer Science's students Bernard Lee Jian Wen, Benson Thew Thung Liang and Leonard How Xun Zhen, UTAR received Merit Award in the One-Belt-One-Road University Category ("一带一路"高校优胜奖) at the 9th China Students Service Outsourcing Innovation and Entrepreneurship Competition (CSSOIEC) (第九届中国大学生服务外包创新创业大赛) for a system named "Interactive augmented reality (AR) food ordering system" which allows users (customers of restaurant) to view the food and menu in the AR view by using their smartphone. The food and menu would appear in a 3D model.
Under a system developed by UTAR (FICT) Computer Science's student, Bernard Lee Jian Wen, "好吃 (Hao Chi) Augmented Reality System" received two awards, namely MSC Malaysia Asia Pacific ICT Alliance (APICTA) Awards 2018 and Merit Award in the International Asia Pacific ICT Alliance (APICTA) Awards 2018.
UTAR also took home the 1st

Prize under "Environmental/Wastewater Treatment/Biotechnology" category at the 4th International Biotechnology Competition and Exhibition 2018 (BCEX 18) with the project "Nanosized Quantum Dots for Water Remediation" which could offer a highly efficient and environmental friendly photocatalyst for sustainable environmental remediation in the near future as it has a high commercial potential. The project was developed by Bachelor of Engineering (Hons) Environmental Engineering students from FEGT, Khor Jia Min, Ng Jit Jang and Chew Choon Tong.
At the same time, UTAR has been embracing the 17 Sustainable Development Goals which were set by the United Nations General Assembly titled "Transforming our World: the 2030 Agenda for Sustainable Development" in September 2015 as an initiative to transform the world for people with disabilities.
With the dedication and commitment showcased by UTAR staff and postgraduate students in the R&D, UTAR strives to fulfil the goals mentioned above in order to make a change for the community and the world. All universities in the world would not be able to sustain without a strong R&D platform. A university should be a place where new information or knowledge is generated or formed. With the generation of new knowledge through R&D of universities, then only the industries can advance thus improving the economy of the country. Meanwhile, R&D on a bigger scale and impact sometimes would not only change the momentum of the country but also the shape of the world.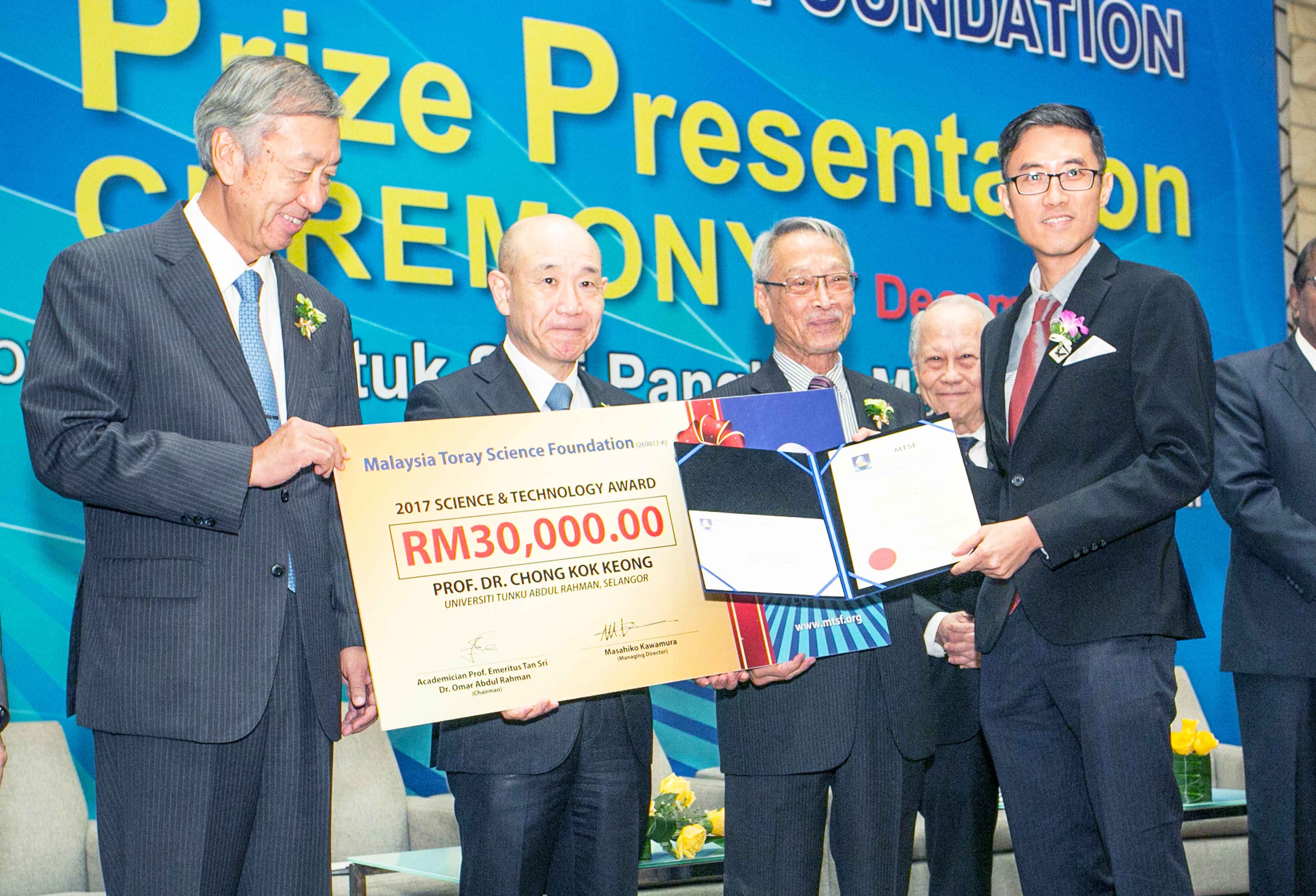 Prof Chong (far right) receiving his award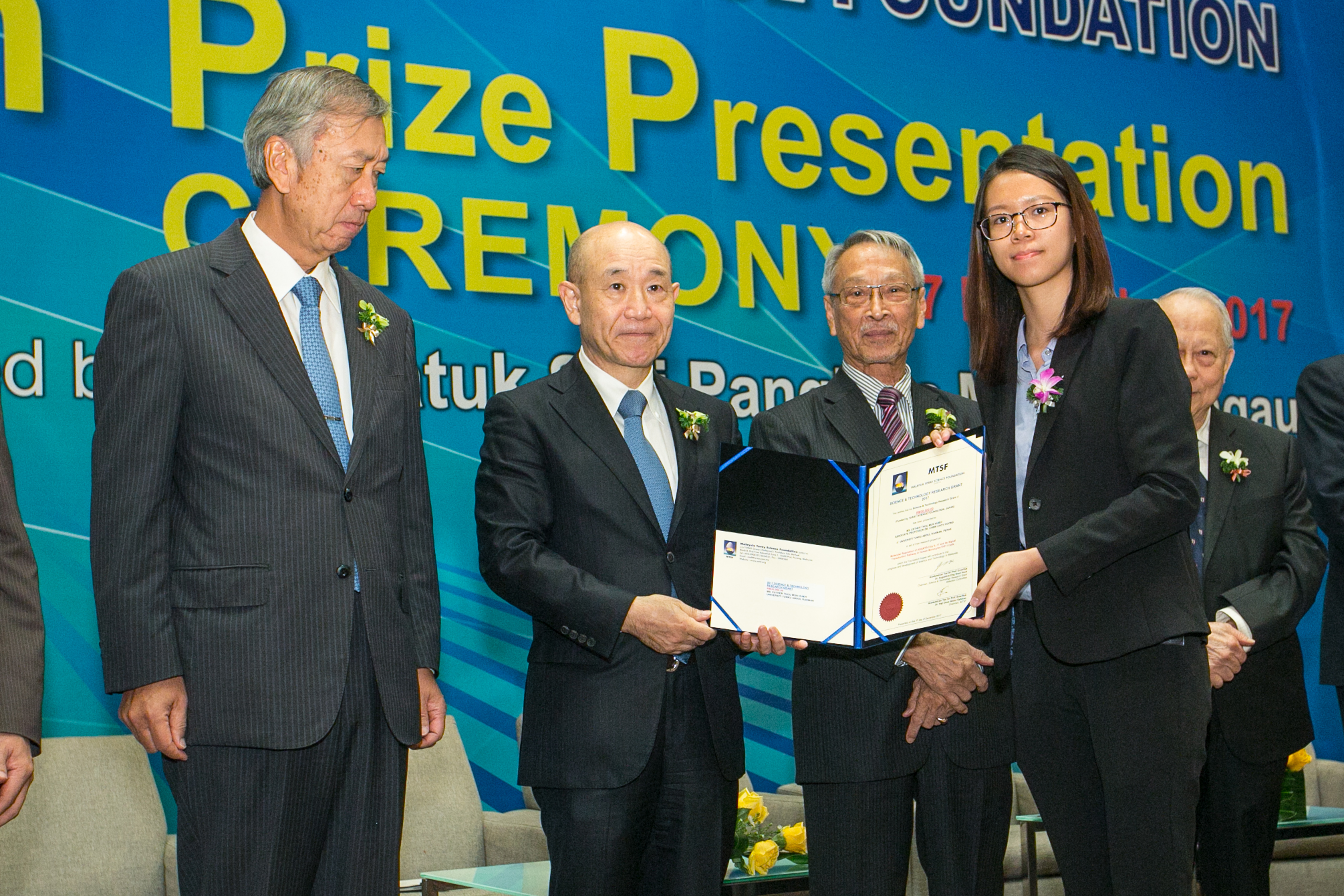 Thou (far right) receiving her grant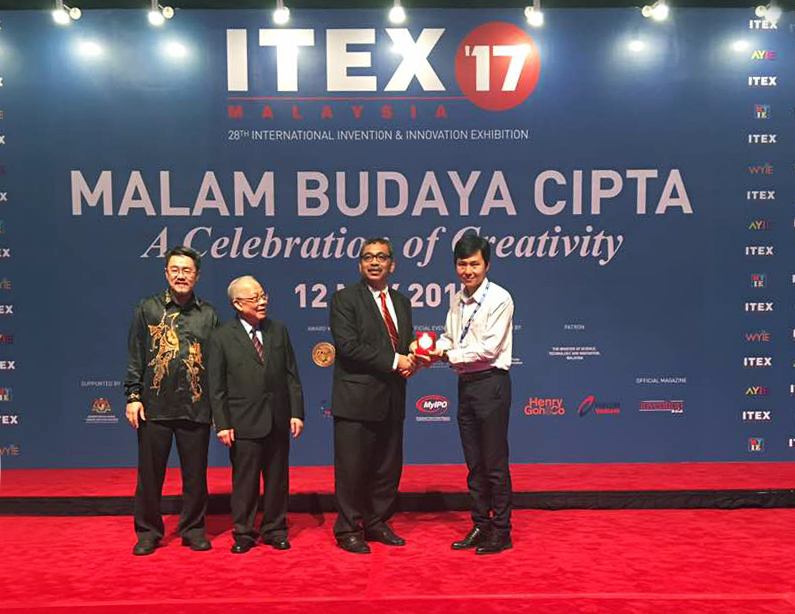 Dr Ng (far right) receiving the gold award from Datuk Abu Bakar; while (from left) Myocho Kan and Tan Sri Ong look on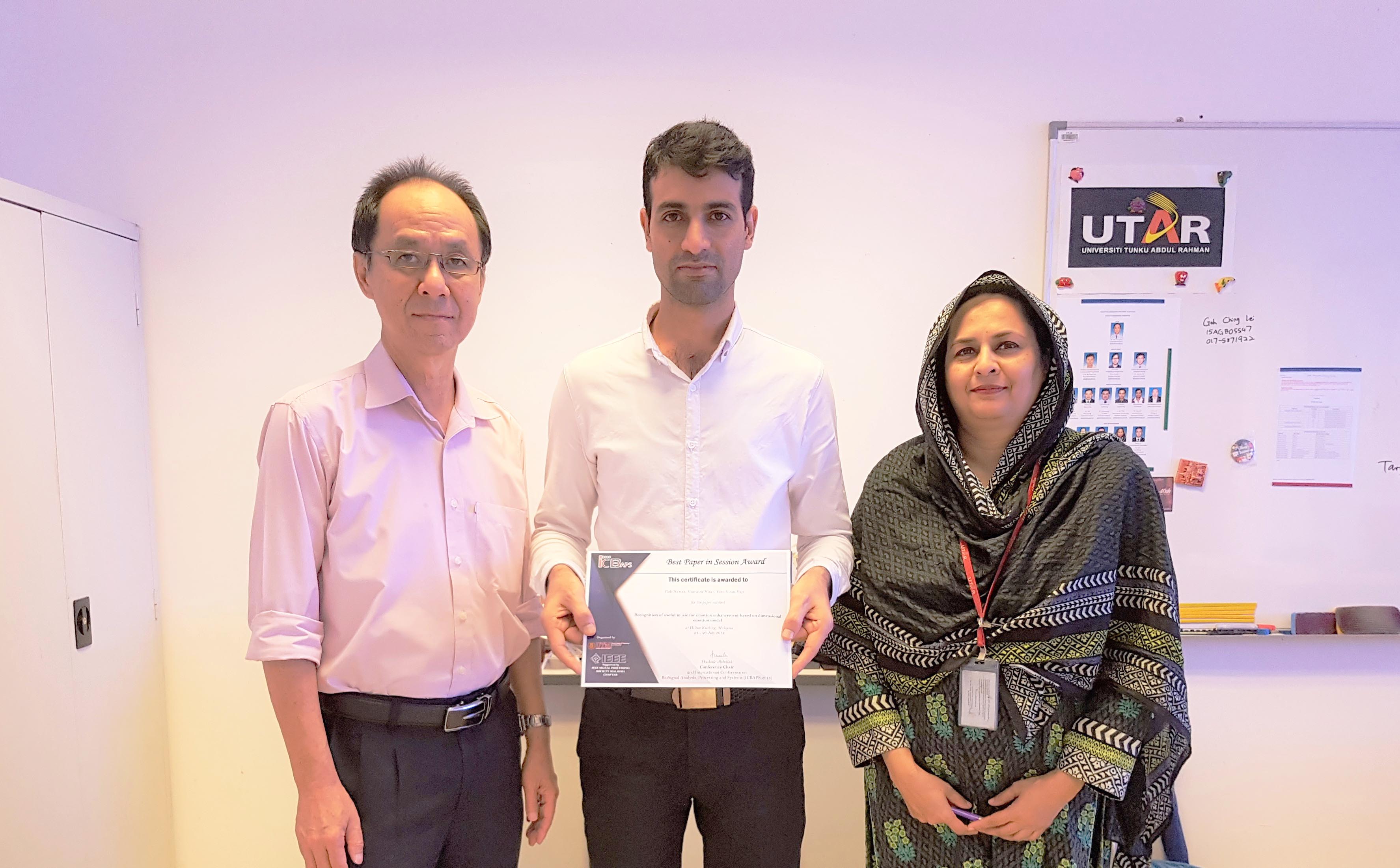 (From left) Dr Yap, Rab and Dr Humaira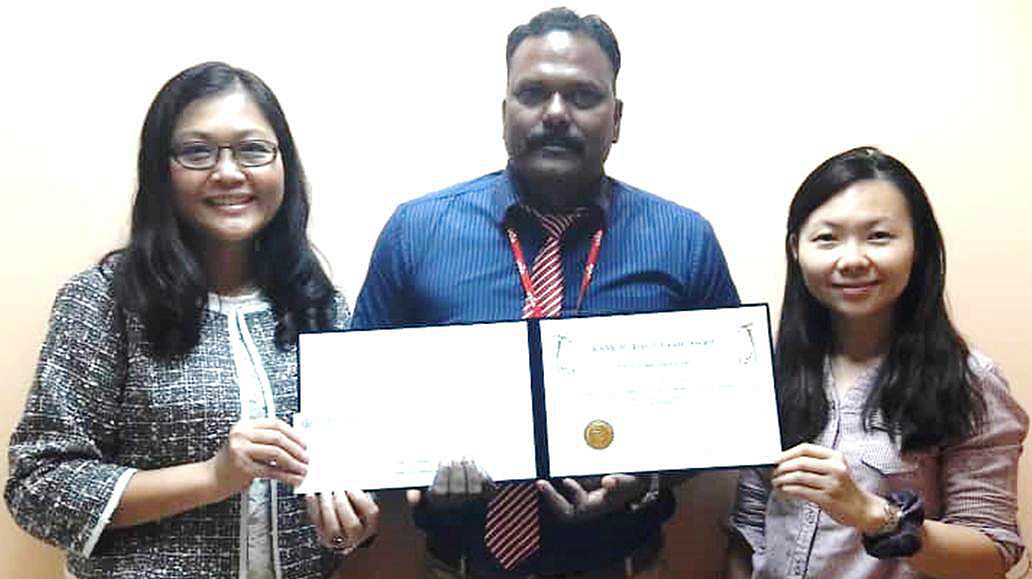 (From left) Prof Lim, Sinouvassane and Dr Lee with the Travel Grant Award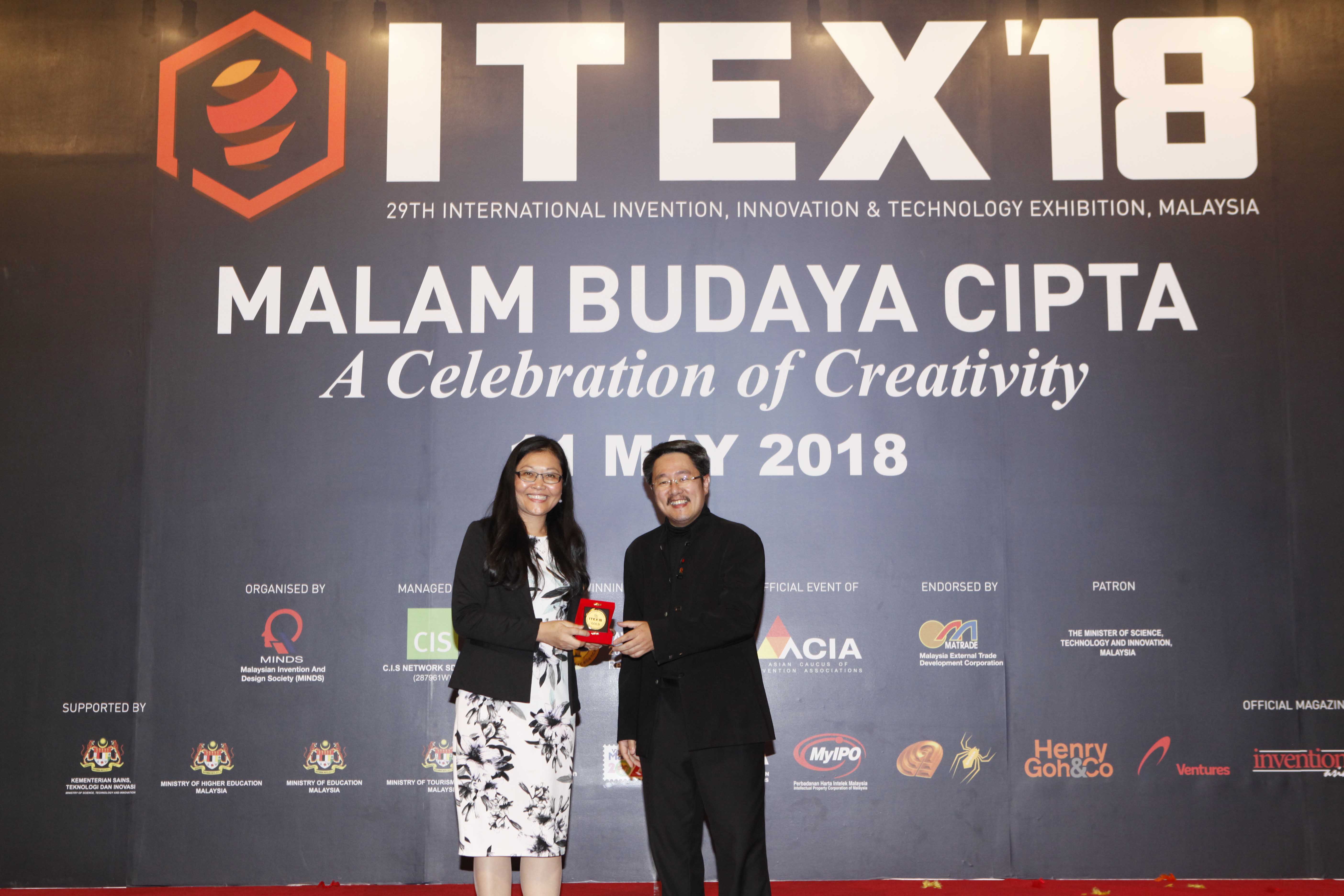 Dr Lim (left) receiving the gold award from Mr Myocho Kan (right)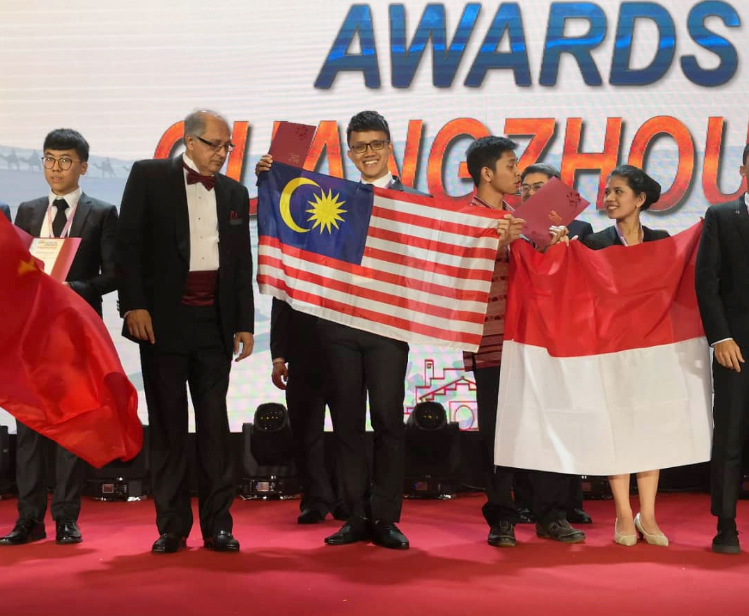 Proud Thew (middle) at the award ceremony with other winners and officials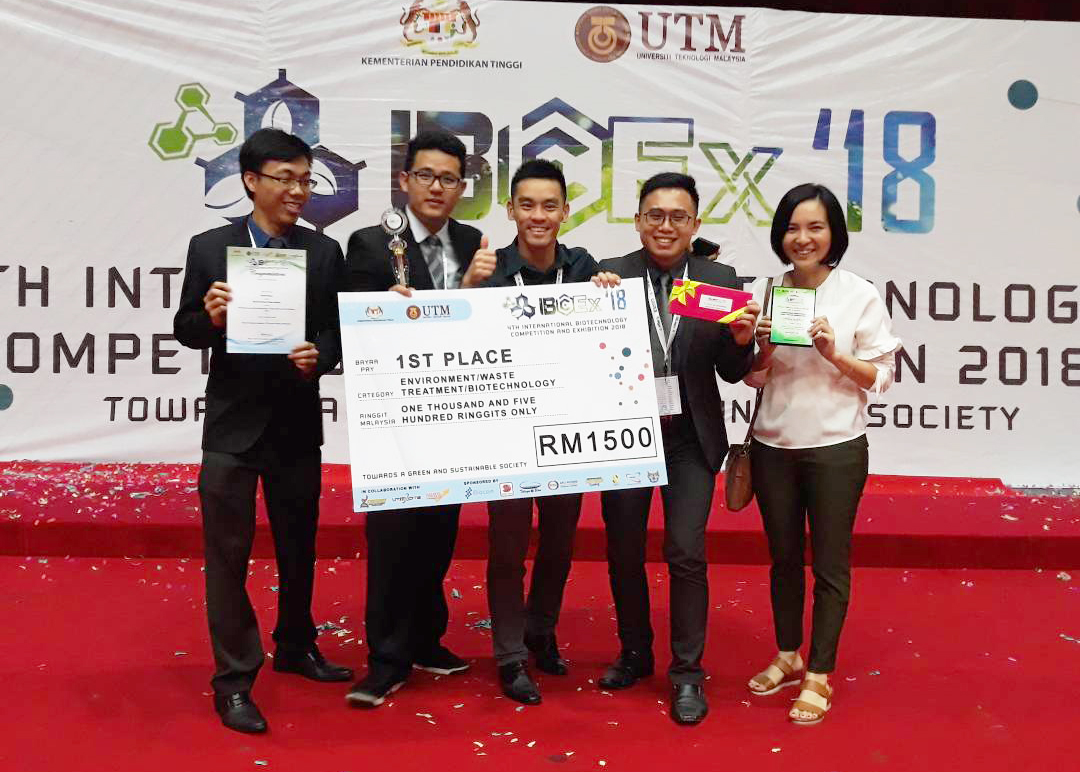 Chew (far left), Ng (second from left) and Khor (second from right) posing with their prizes along with Dr Leong (centre) and Dr Sim