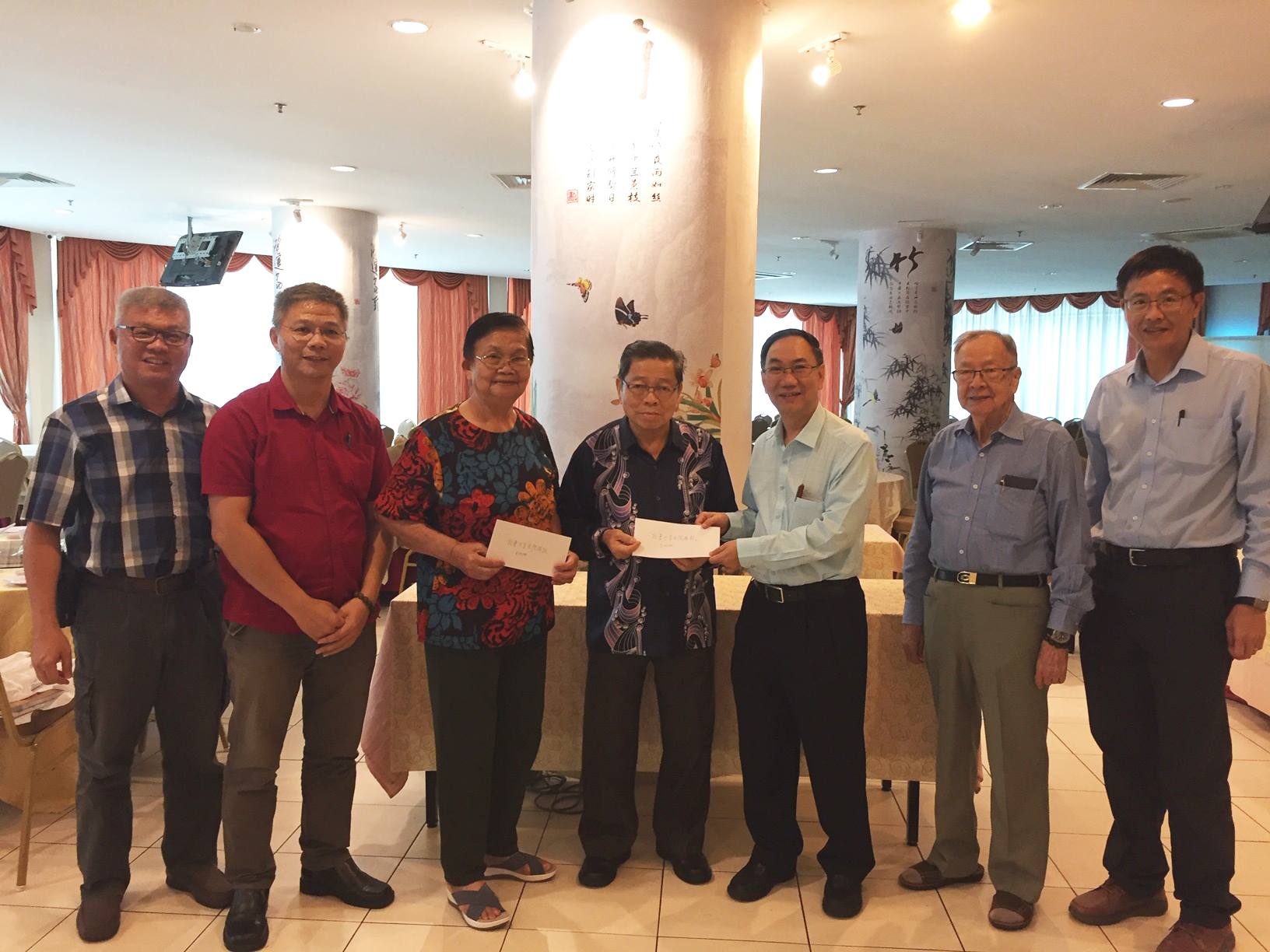 From left: Chin Lee, Chin Choon, Wang, Kim Whuat, Prof Chuah, Tan Sri Hew, and Hew
The UTAR Hospital Project received a donation of RM150,000 from the Goh family at Grand Kampar Hotel on 15 August 2019.
Representing UTAR was its President Ir Prof Academician Dato' Dr Chuah Hean Teik, who received the donation from Goh Kim Whuat and spouse Wang Pok Lan.
Other Goh family members present included sons Goh Chin Choon and Goh Chin Lee, daughter-in-law Toh Sooi Wah, as well as grandchildren. Also present were UTAR Planning and Development Committee Advisor Tan Sri Hew See Tong, Council Member Hew Fen Yee, Vice President for Student Development and Alumni Relations Prof Dr Choong Chee Keong, Faculty of Science Dean Assoc Prof Dr Lim Tuck Meng, Institute of Chinese Studies Deputy Dean for Academic Development and Undergraduate Programmes Assoc Prof Dr Wong Wun Bin, and Institute of Postgraduate Studies and Research Director Assoc Prof Dr Yong Thian Khok.
Thanking the Goh family for their philanthropic gesture, Prof Chuah introduced that one of the uniquenesses of the UTAR Hospital is the offering of Western Medicine as well as Traditional and Complementary Medicine including Traditional Chinese Medicine (TCM) and Ayurvedic Medicine services. He added that the initial phase of the hospital will see 250 beds for Western Medicine and 100 beds for the Traditional and Complementary Medicine. An additional of 250 beds or more will be added in the future phase.
"I learnt about UTAR's noble intention of building a not-for-profit hospital during a casual meet-up with former course mate Dr Wong last year and then with Dr Lim, who is a senior of mine, this year," explained Chin Choon, who hails from Kuantan, Pahang. According to him, the Goh family has a tradition of giving back to the society on an annual basis. Through the involvement and support of his parents and siblings, the Goh family has donated dialysis machines to the Pahang Buddhist Association and made contributions to other education projects. "We are very thankful to UTAR for giving us the opportunity to contribute for such a noble cause. Just as the building of this not-for-profit hospital is a beacon of hope to the underprivileged, it is also a cradle of budding medical professionals and specialists who have the community's welfare at heart," he added, further wishing UTAR and its Hospital Project plenty of success.
Located within the award-winning Kampar Campus, the UTAR Hospital is set to be a not-for-profit hospital. The hospital will eventually house 500 beds for Western Medicine and 100 beds for the Traditional and Complementary Medicine, further benefitting communities of the Kinta Valley as well as the country with its affordable services. Its first phase is scheduled to be completed by December 2021 and be fully operational in 2022 in conjunction with UTAR's 20th Anniversary.
Donations for the construction of the UTAR Hospital are welcomed and further information can be referred here.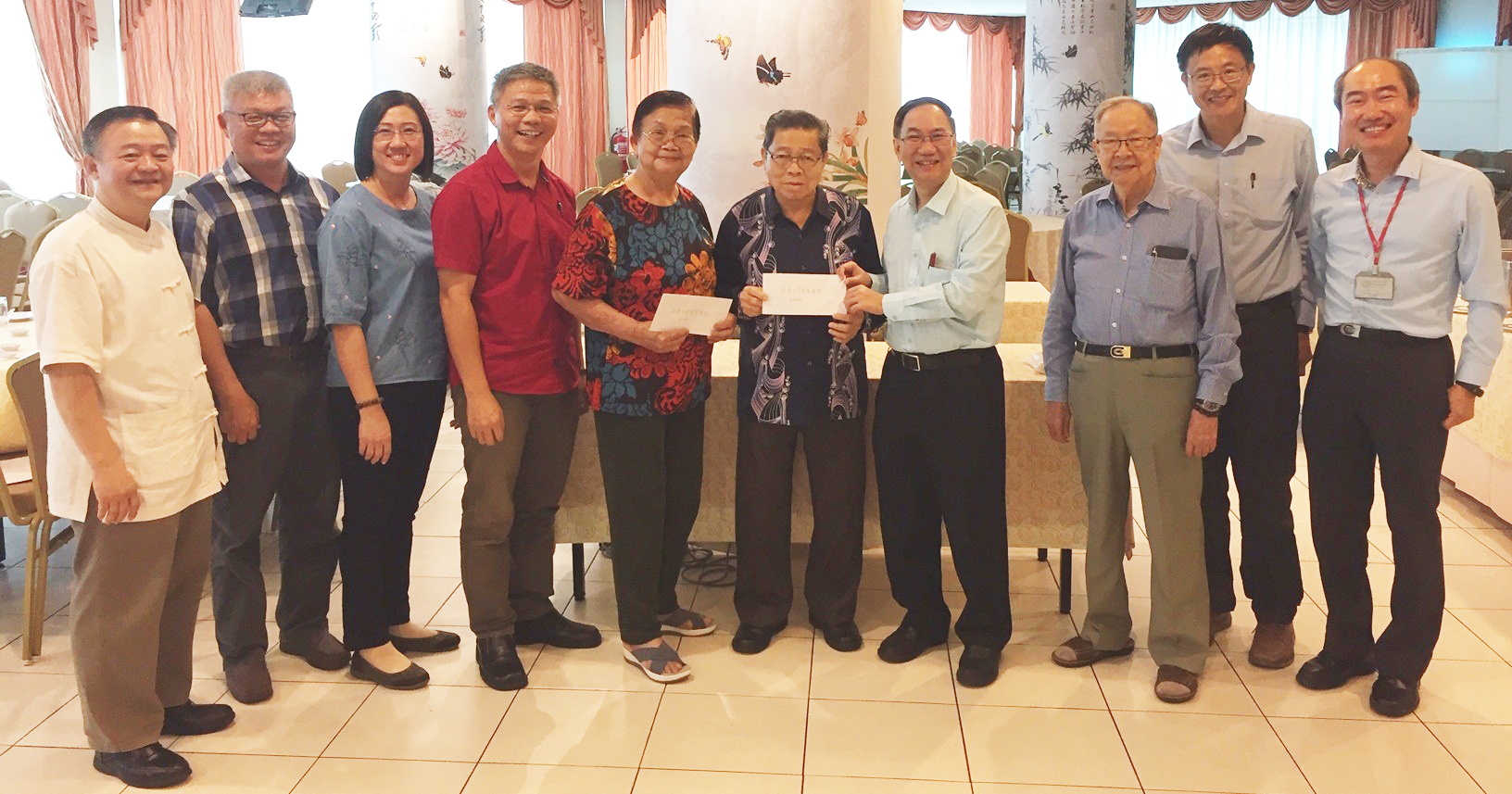 From left: Dr Wong, Chin Lee, Toh, Chin Choo, Wang, Kim Whuat, Prof Chuah, Tan Sri Hew, Hew, and Dr Lim