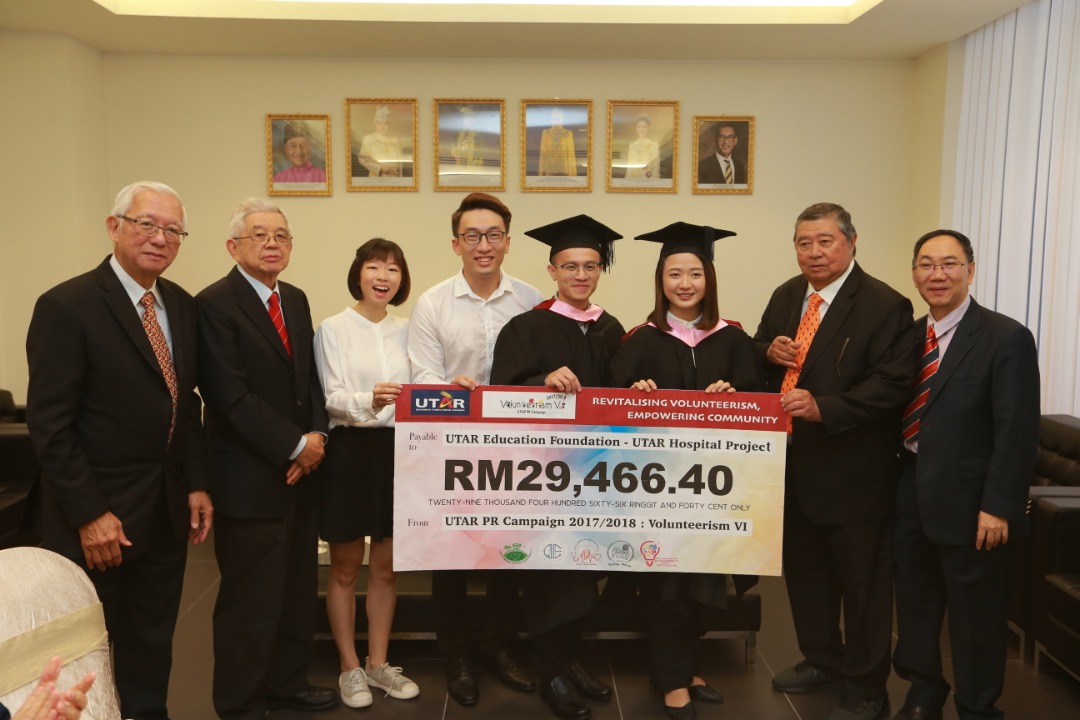 From left: Tan Sri Sak, Tan Sri Ting, Liew, Chin, Tan, Lim, Tun Ling and Prof Chuah
The UTAR Hospital Project received a financial boost of RM29,466.40 from former members of the UTAR Public Relations (PR) Campaign 2017/2018: Volunteerism VI at UTAR Kampar Campus on 16 August 2019 in conjunction with the University's 29th convocation.
Representing the 199 members in presenting the mock cheque to UTAR were the campaign's Main Director Julian Chin Chun Kit as well as Group Directors Cathryn Liew Yun Qi, Tan Woei Hern, and Lim Siew Sin.
The mock cheque was received by UTAR President Ir Prof Academician Dato' Dr Chuah Hean Teik. Witnessing the presentation ceremony were UTAR Chancellor Tun Dr Ling Liong Sik, UTAR Education Foundation Board of Trustees Chairman Tan Sri Dato' Dr Sak Cheng Lum, and UTAR Council Chairman Tan Sri Dato' Seri Dr Ting Chew Peh.
Heartened by the sincerity in contributing to the ongoing UTAR Hospital Project, Prof Chuah also took the opportunity to congratulate former members graduating in the 29th convocation and wished them a bright future ahead blessed with successful endeavours.
Believing that the spirit of volunteerism should not stop following the conclusion of the campaign in 2018, the members reached a consensus that the surplus from the campaign's various fundraising activities should be put to good use and also have far-reaching benefits to the community.
"We believe that our contribution to the UTAR Hospital Project is also in-line with the university's founding principle of 'by the people, for the people'. By giving back to our alma mater, UTAR can continue to make contributions to the community's well-being through the UTAR Hospital which will be known as a self-sustaining and not-for-profit hospital. We strongly believe it will provide affordable medical services to meet the social needs of the community," explained Liew, who is currently in her final year.
Concurring with Liew, Chin said, "We would like to give back to UTAR, which has provided us this platform to help us grow as a member of the society. We feel that this is the best way to express our gratitude to our University. Even though our donation may not be a huge sum but I feel it carries weight – the weight of our sincerity, hard work and effort that each and every one of us from Volunteerism VI have put in. We are happy and grateful that we can contribute to the UTAR Hospital." The final year PR student also urged fellow UTARians to not forget their roots and give back to the society whenever possible. "To UTAR, thank you for giving us this chance to carry out this campaign and become better people along the way. We hope that UTAR will continue bringing transformational societal impact by involving students, academics and staff in charitable activities," he concluded.
Initiated in 2011, the Volunteerism PR Campaign is a project which fulfils the requirements of the Bachelor of Communication (Hons) Public Relations programme's two compulsory subjects, namely UAMP2023 Event Planning and UAMP2033 Event Management. Themed 'Revitalizing Volunteerism, Empowering Community', this sixth edition of the volunteerism campaign not only encouraged the public to be actively involved in voluntary activities but also aimed to improve the surrounding community's quality of life through the recruitment of volunteers and addressing the community's unmet social needs. There were five sub-themes under PR Campaign 2017/2018: Volunteerism VI, namely Corporate Social Responsibility, Digital Economy, Health Services, Heritage Tourism and Social Welfare, with each sub-theme targeting a specific group of audience and championing a specific cause.
Read more about PR Campaign 2017/2018: Volunteerism VI here:
Located within the award-winning Kampar Campus, the UTAR Hospital is set to be a not-for-profit hospital offering services in Western Medicine as well as Traditional and Complementary Medicine including Traditional Chinese Medicine (TCM) and Ayurvedic Medicine. The hospital will eventually house 500 beds for Western Medicine and 100 beds for the Traditional and Complementary Medicine, further benefitting communities of the Kinta Valley as well as the country with its affordable services. Its first phase is scheduled to be completed by December 2021 and be fully operational in 2022 in conjunction with UTAR's 20th Anniversary.
Donations for the construction of the UTAR Hospital are welcomed and further information can be referred here.
Photo credit: Sin Chew Perak