UTAR Entrepreneurship Day: Pathway to becoming an entrepreneur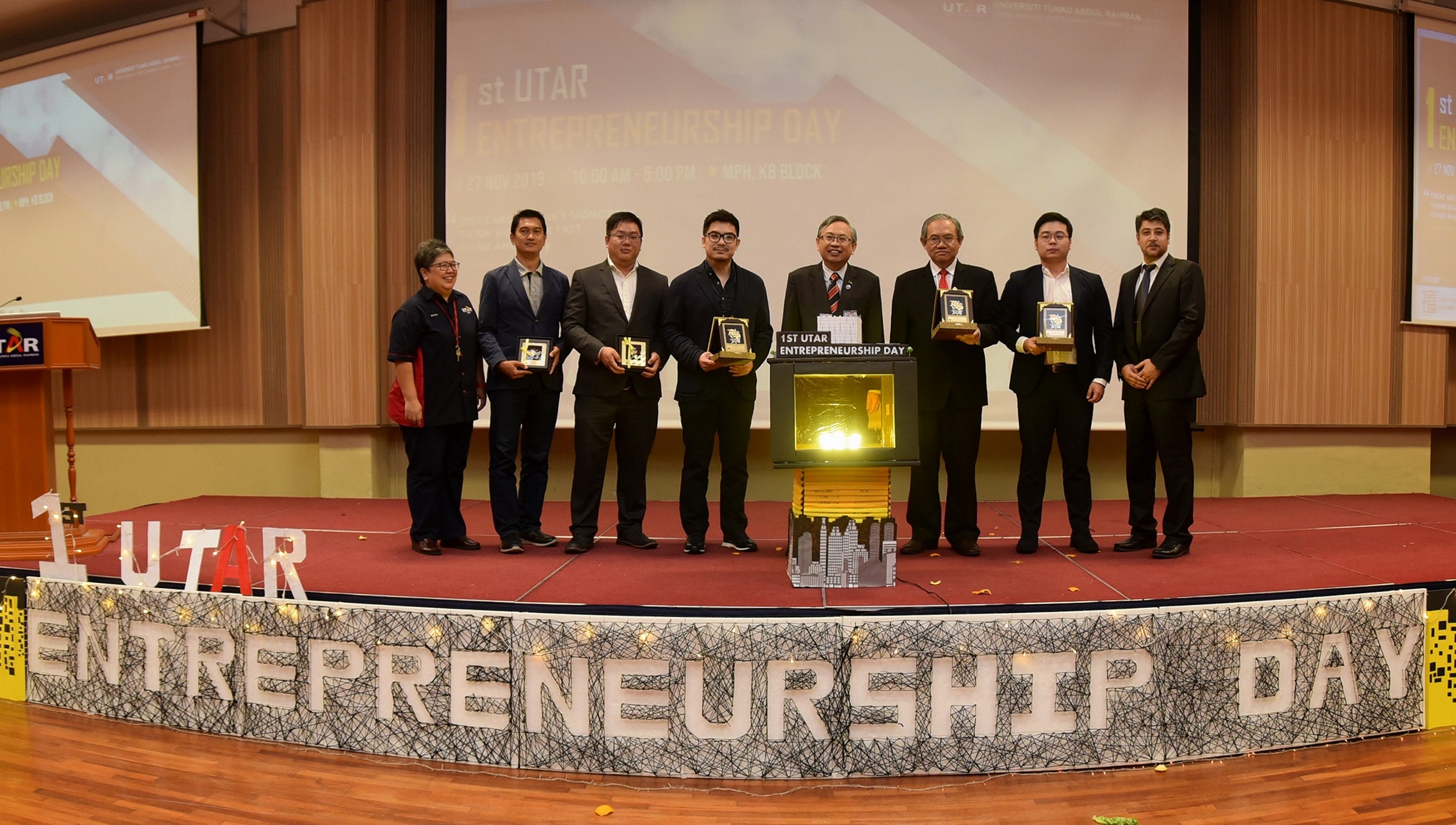 From left: Dr Sia, Saiful, Tan, Dan Then, Prof Ewe, Tan Sri Ghauth, Max Yong and Dr Falahat during the opening ceremony
About 400 participants showed up at the inaugural UTAR Entrepreneurship Day, an event organised by the Faculty of Accountancy and Management (FAM), Department of Consultancy and Commercialisation and Entrepreneurship and Management Club (EMC). It took place at Sungai Long Campus on 27 November 2019. The event was made possible with the generosity from M3EC Millennium Sdn Bhd.
Present at the opening ceremony were Universiti Putra Malaysia Board of Directors Chairman Tan Sri Dr Ghauth Jasmon, Malaysia Digital Economy Corporation (MDEC) Vice President-Talent Development and Digital Entrepreneurship Dr Sumitra Nair, UTAR President Ir Prof Dr Ewe Hong Tat, UTAR Vice President for R&D and Commercialisation Prof Ts Dr Faidz bin Abd Rahman, M3EC Millennium Sdn Bhd Finance Director Max Yong, FAM Dean Dr Sia Bee Chuan, Organising Chairperson Dr Mohammad Falahat Nejadmahani, panel judges, students and staff.
The event aimed to create awareness of entrepreneurship, innovation and leadership while providing a platform for students to showcase their unique and innovative ideas. The students were guided by FAM lecturers, namely Dr Falahat, Dr Wong Hong Chau, Cheah Lee Fong and Dr Yeong Wai Mun in preparing business plans and prepping them to become entrepreneurs.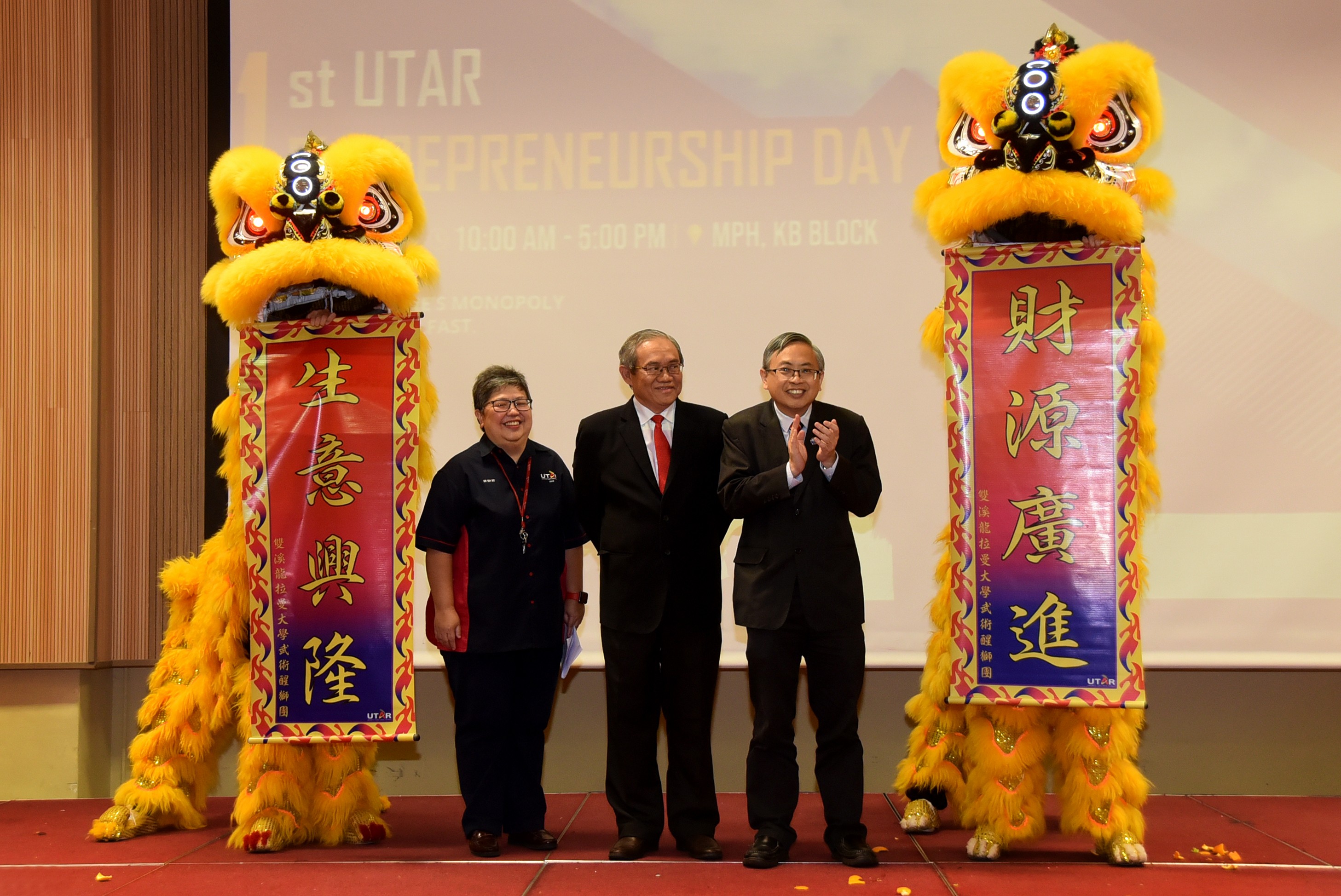 UTAR Wushu Club lion dance enlivened the atmosphere of 1st UTAR Entrepreneurship Day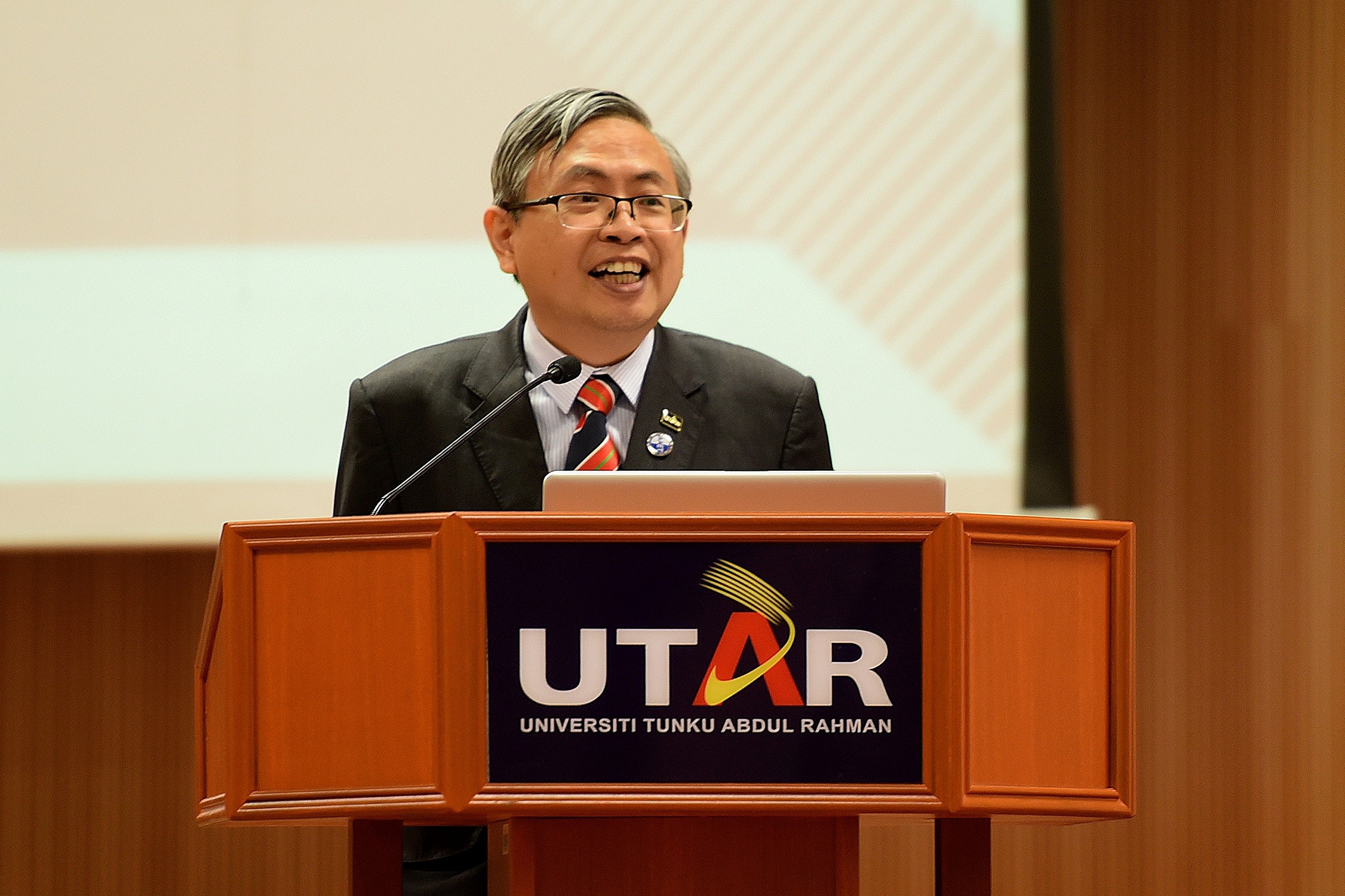 Prof Ewe speaking about the cultivation of entrepreneurial spirit among the community
Prof Ewe said in his welcome speech, "The objective of this event is to foster an entrepreneurial culture among UTAR students and staff. As an educational institution, it is our role to support the government's vision in building entrepreneurial nation. We believe that university does not only nurture future job seekers, but also future job creators, the entrepreneurs. It is time to change the general notion that schools are producing workers while entrepreneurs are naturally born."
He added, "Today is only our first UTAR Entrepreneurship Day and the second Business Plan Pitching Competition; our journey to be a successful entrepreneurial university has just started. We should continue to organise similar events to foster an entrepreneurial culture among students and staff. As we know, an entrepreneurial nation is going to benefit the development of the country in a broader sense."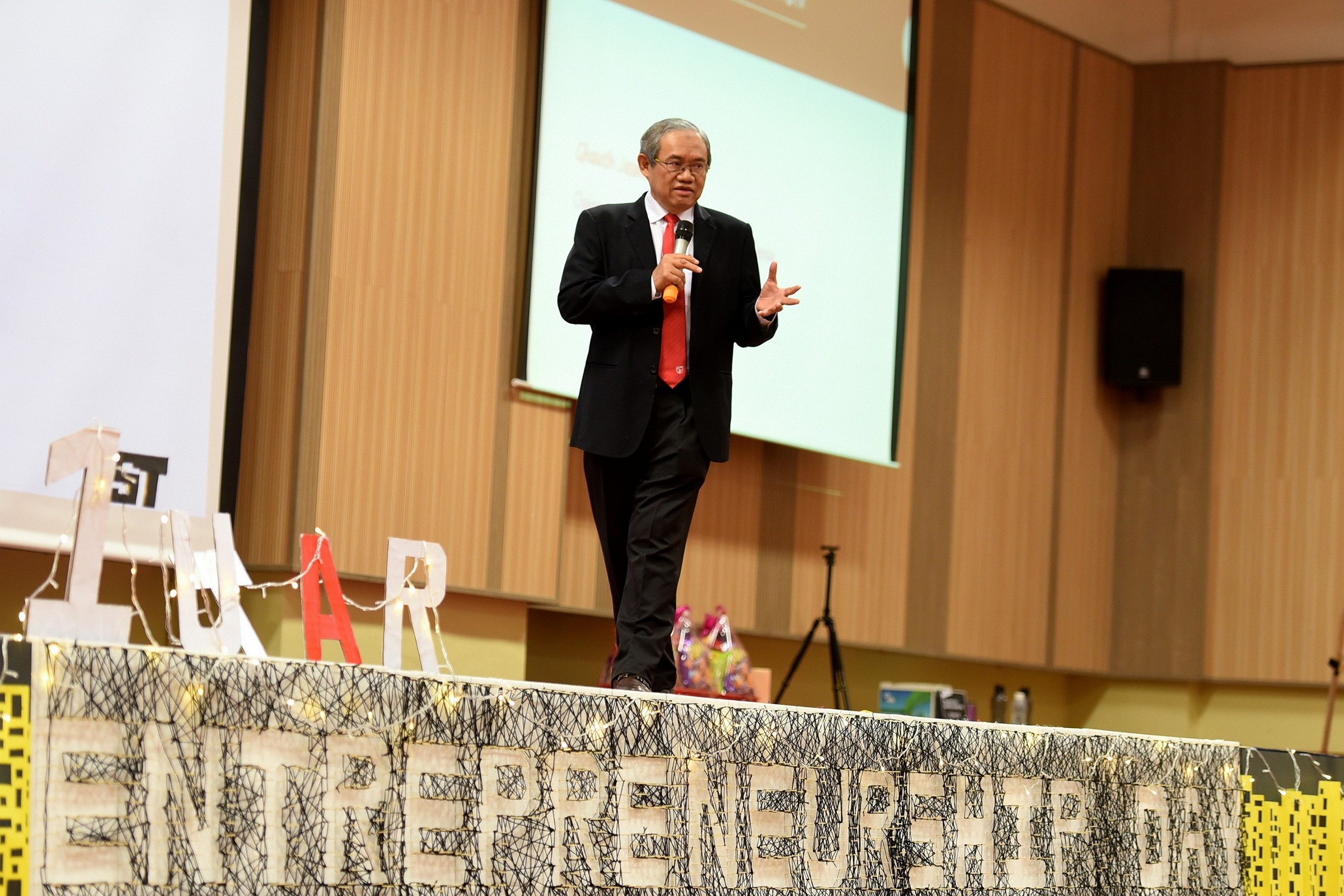 Tan Sri Ghauth urging students to think strategically in the entrepreneurial path
Tan Sri Ghauth presented the first entrepreneurial talk titled "Corporate Entrepreneurship in Higher Education". He shared the essential qualities of a corporate entrepreneur and linked the qualities to the experiences he encountered over the years. Aside from that, he also introduced a tool that could be used to predict the closure of a private institution. The tool uses qualitative and quantitative data to estimate how long before the net expenses of private colleges exceed their net assets.
Tan Sri Ghauth said, "Corporate entrepreneurship is a process used to develop new businesses, products, services or processes inside of an existing organisation to create value and generate new revenue growth through entrepreneurial thought and action. It sets the context for innovation and growth which provides a systematic view of the resources, processes and environment that are needed to support, motivate and engage the organisation in entrepreneurial thinking and action. The goal is to build capabilities that enable organisation to accelerate new business growth."
"The traditional corporate mindset has its focus on systems and processes, whereas the entrepreneurial style is more risk-oriented. Some of the qualities of a corporate entrepreneur involve clear vision for the organisation, strategic thinking, risk-taking, courage, integrity and determination," added Tan Sri Ghauth.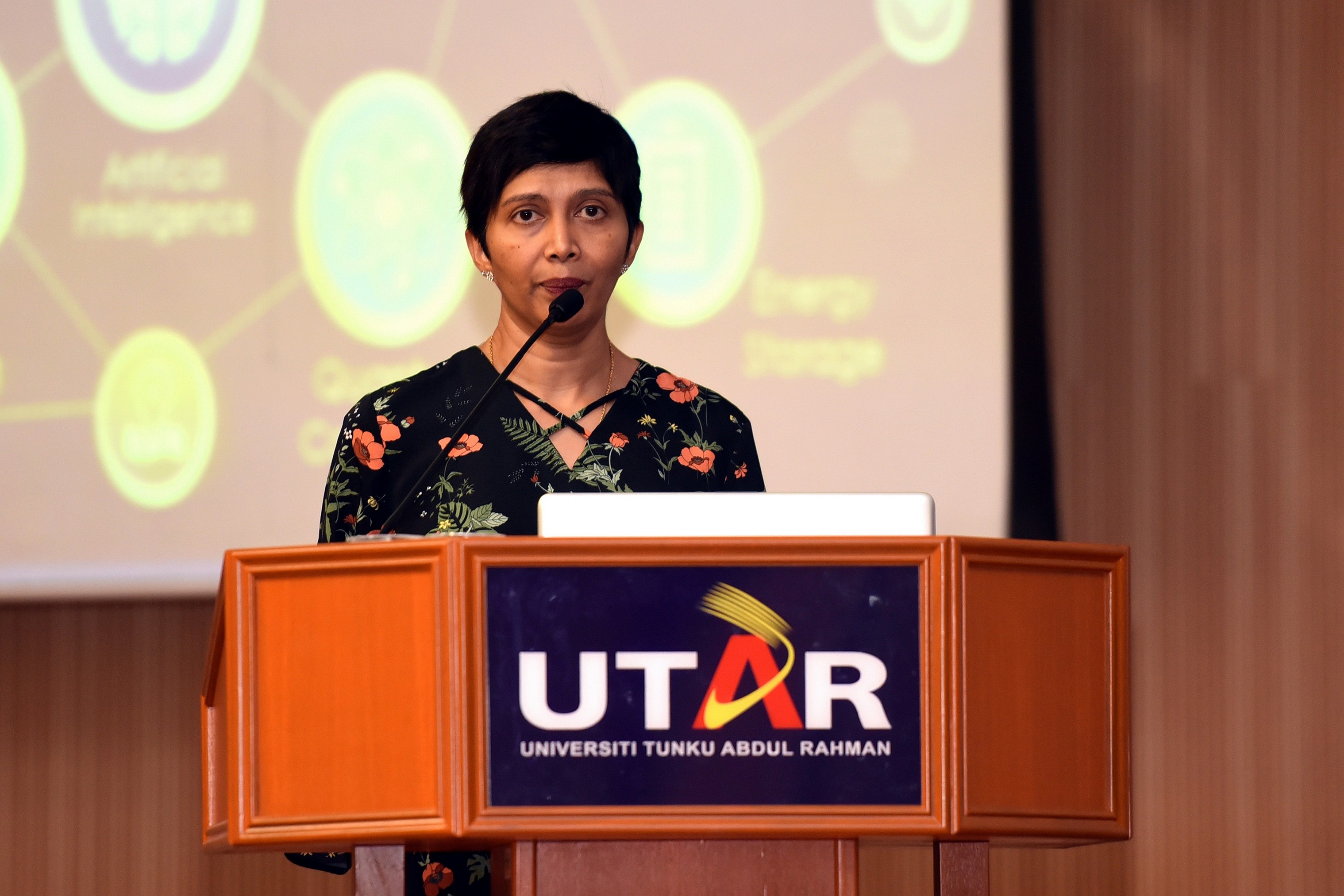 Dr Sumitra explaining the hyperconnected world
Dr Sumitra Nair gave the second talk titled, "Digital Entrepreneurship and its latest initiatives" where she presented the statistics of users in Malaysia over different platforms, the concept of adapt or disappear, Malaysian government's effort on propaganda digital adoption, youth and micro SMEs full advantage of online platforms, curriculum integration to equip young people for self-employment, and eUsahawan modules and stages.
She said, "The possibilities of billions of people connected by mobile devices with unprecedented processing power, storage capacity and access to knowledge are unlimited. These possibilities will be multiplied by emerging technology breakthroughs in a multitude of fields. You cannot ignore the fact that technology is changing the way we live. What we do today is to ensure people have an equal opportunity to learn and equip themselves with the current knowledge of technology to adapt to the change and compete in the future."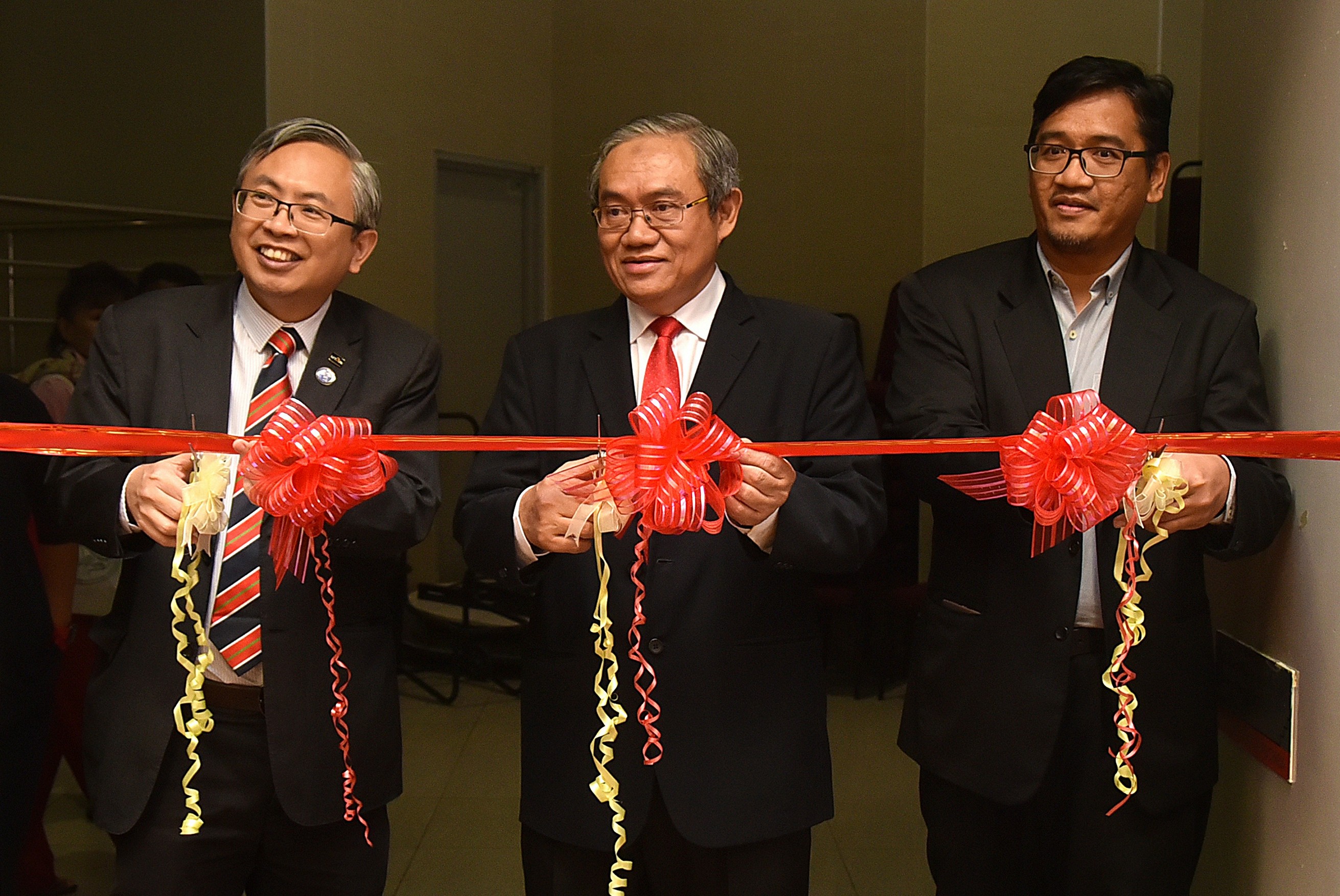 From left: Prof Ewe, Tan Sri Ghauth and Prof Faidz launching the exhibition booth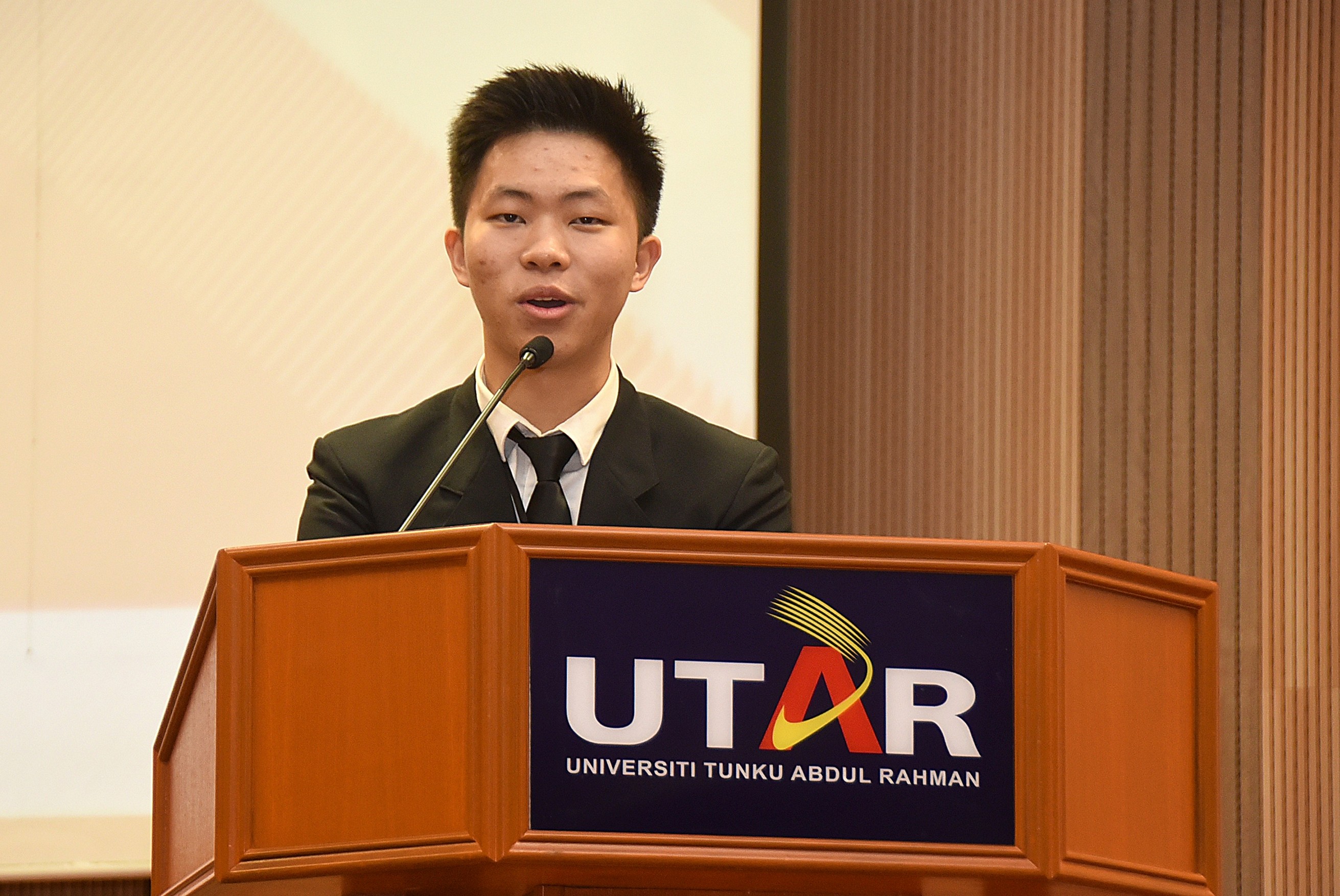 Wong expressing his sincere gratitude towards the organising committee
EMC Chairman Wong Li Ye said in his closing remark, "I would like to extend my sincere heartfelt thanks to the organising committee and sponsor for making the first UTAR entrepreneur day a success. Thank you all for your effort and the time you have spent for the sake of perfecting this event. It is undeniable that we have faced obstacles and difficulties along the way but now I am proud to say that we have opened a pathway for EMC. Lastly, congratulation to all the winners today and I'm glad that your hard work has brought a fruitful victory."
"The objective of this event is to provide a platform for the students to presenting their entrepreneurial idea. Many students have entrepreneurial ideas but they do not have a proper platform to present it. We also hope to inspire students to improve in their entrepreneurial skills. Our aims are to share insights on management consulting and entrepreneurial skills to students and to inspire students to become a social entrepreneur who can serve and bring value to the community," said EMC representative Tu Kah Zhen.
Dr Falahat said, "The objective of the 1st UTAR Entrepreneurship Day is to create awareness of entrepreneurship by providing a platform for students to showcase their unique and innovative ideas. It is not only to enable students to realise the opportunities but also inspire them to launch their business ideas to profitable solutions for modern-day issues. I would also like to take this opportunity to highlight that the UTAR Entrepreneurship Day Series is in line with UTAR's Entrepreneurship Ecosystem to develop and strengthen the entrepreneurial quality among students to become promising and capable business owners."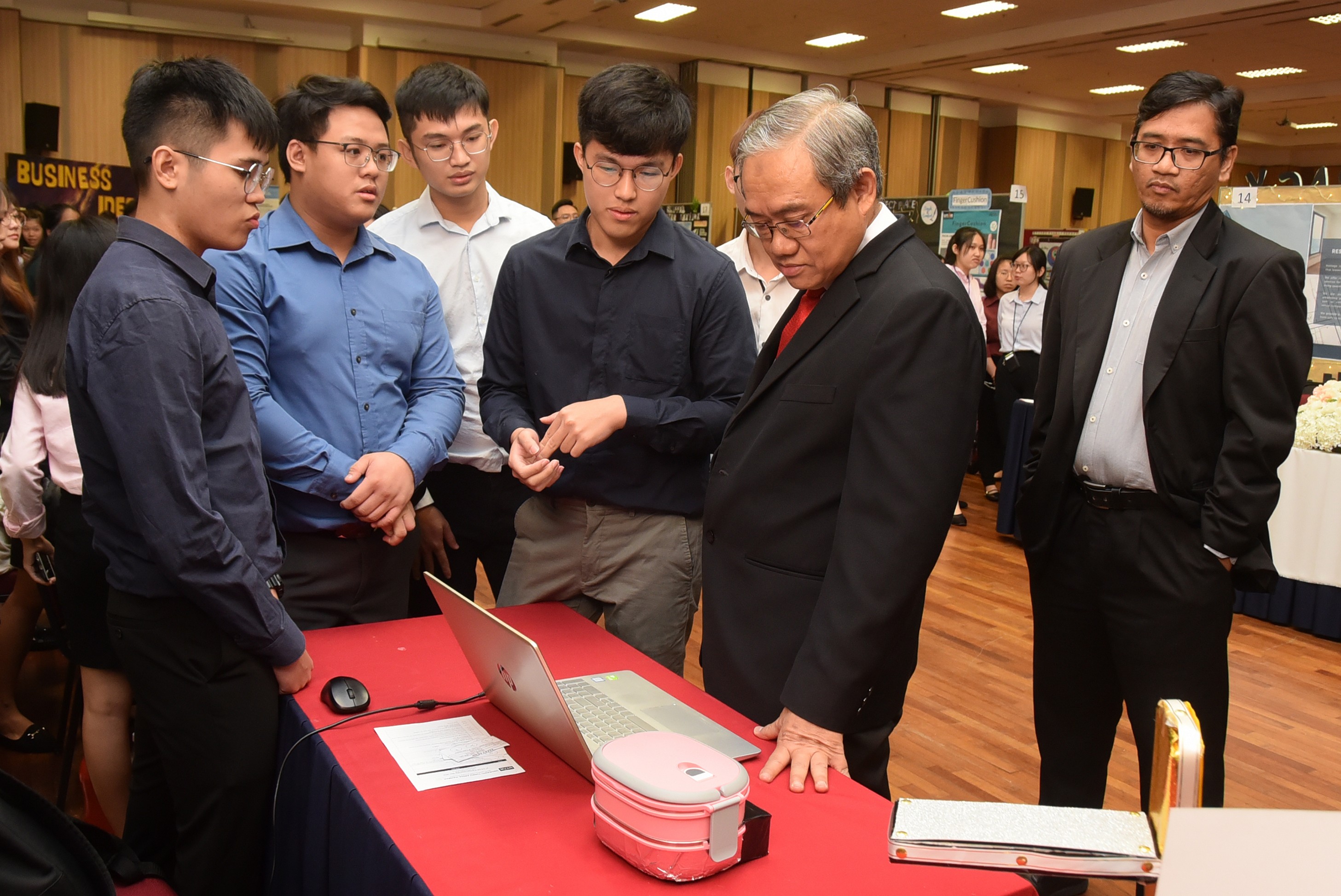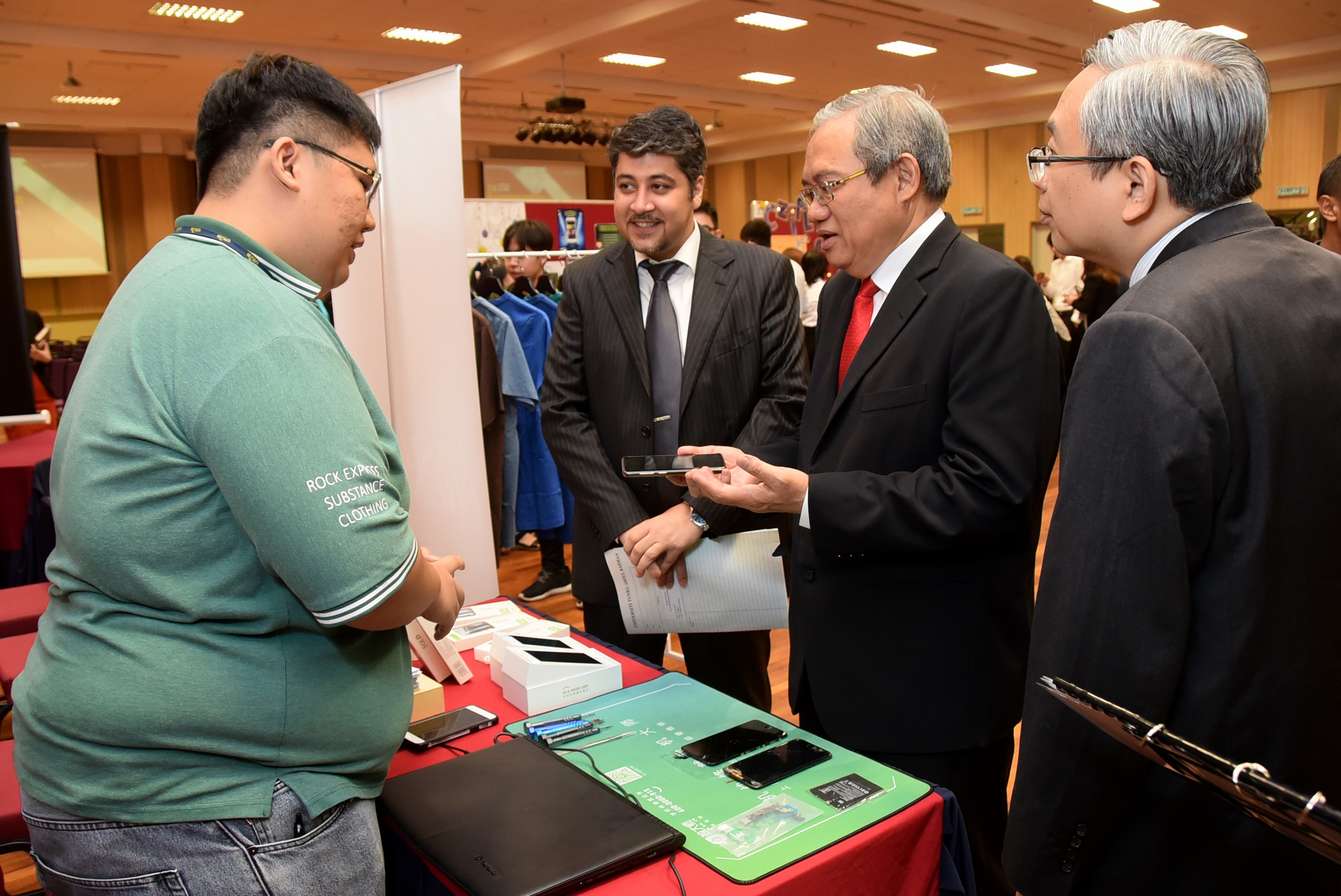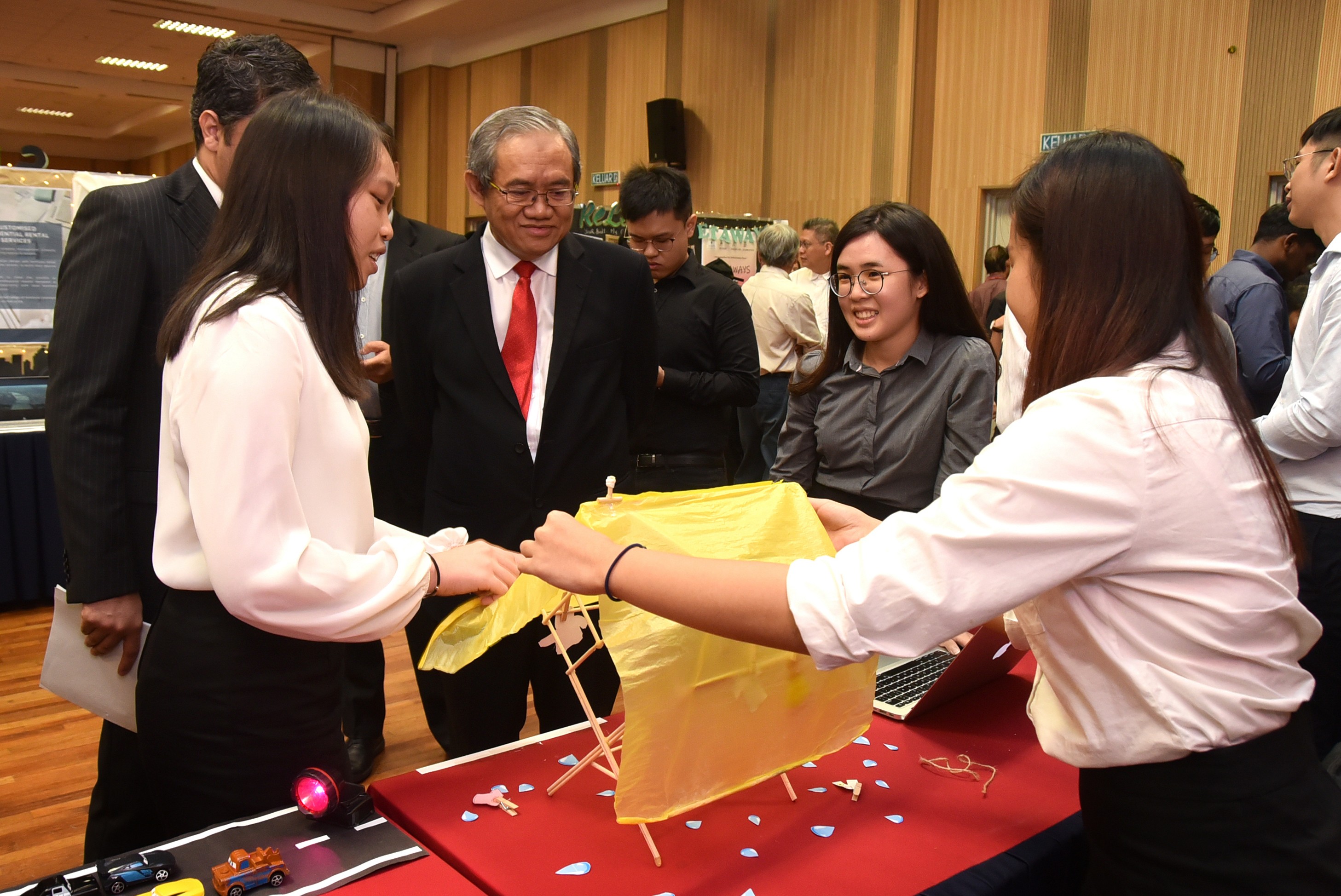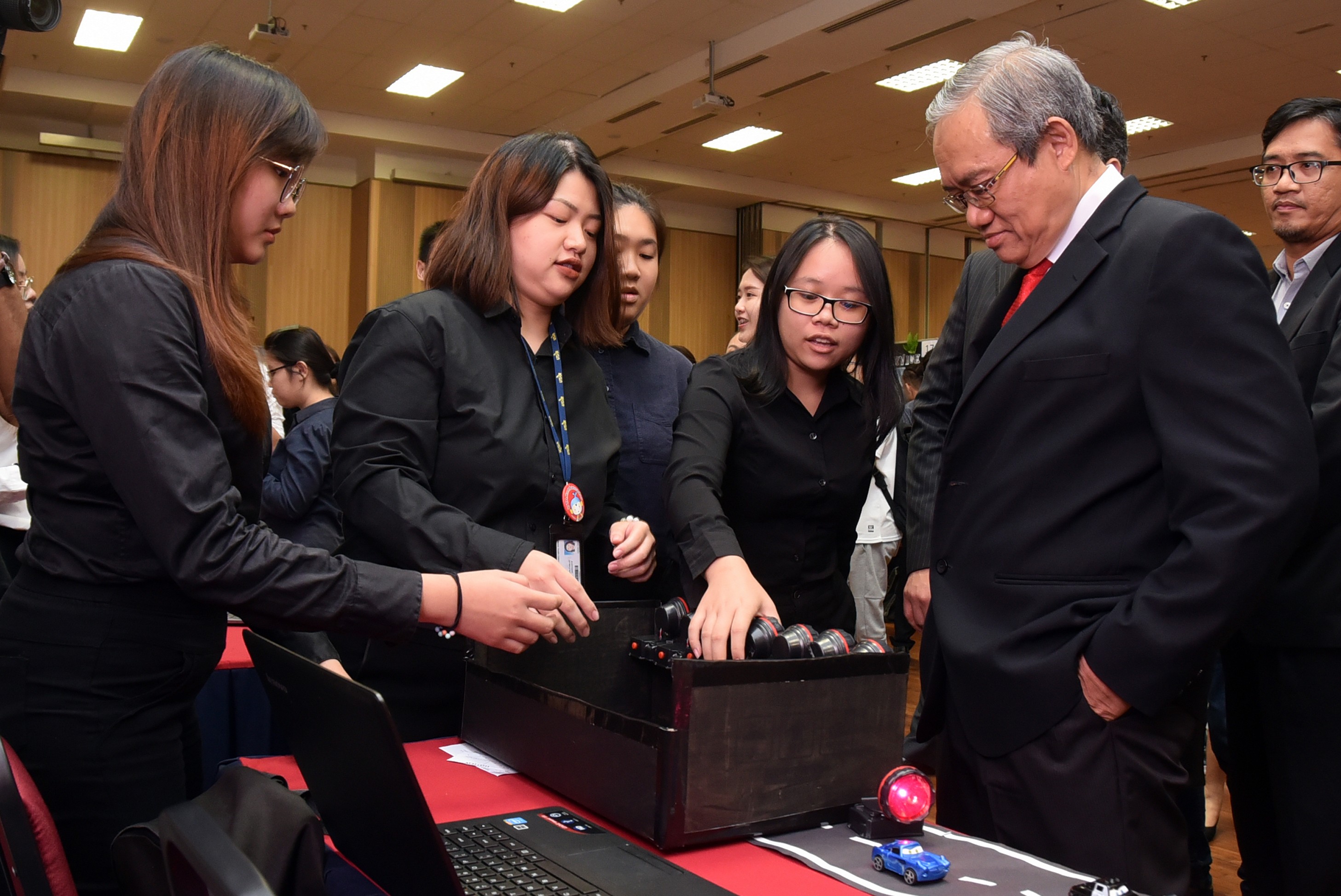 Touring of exhibition booths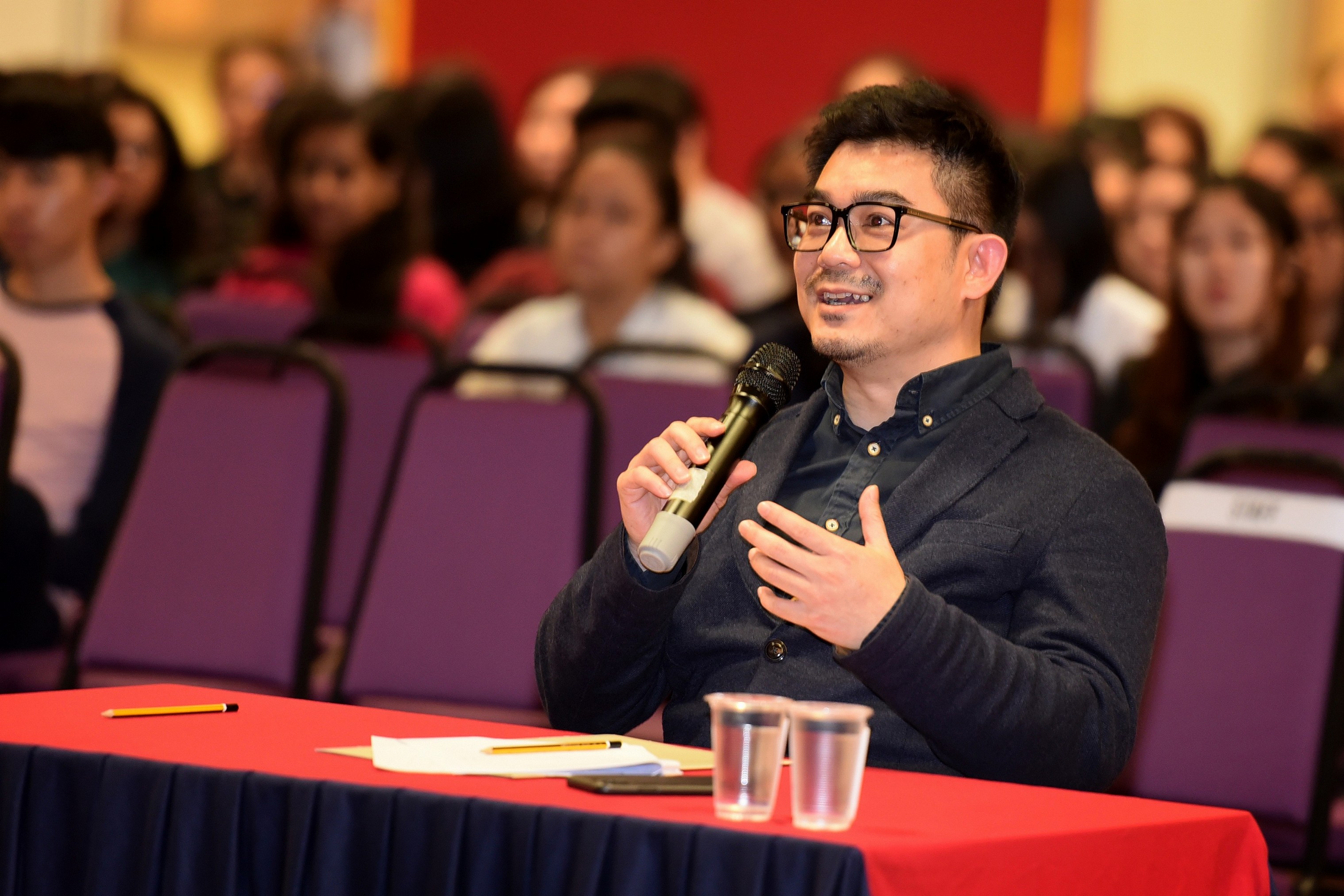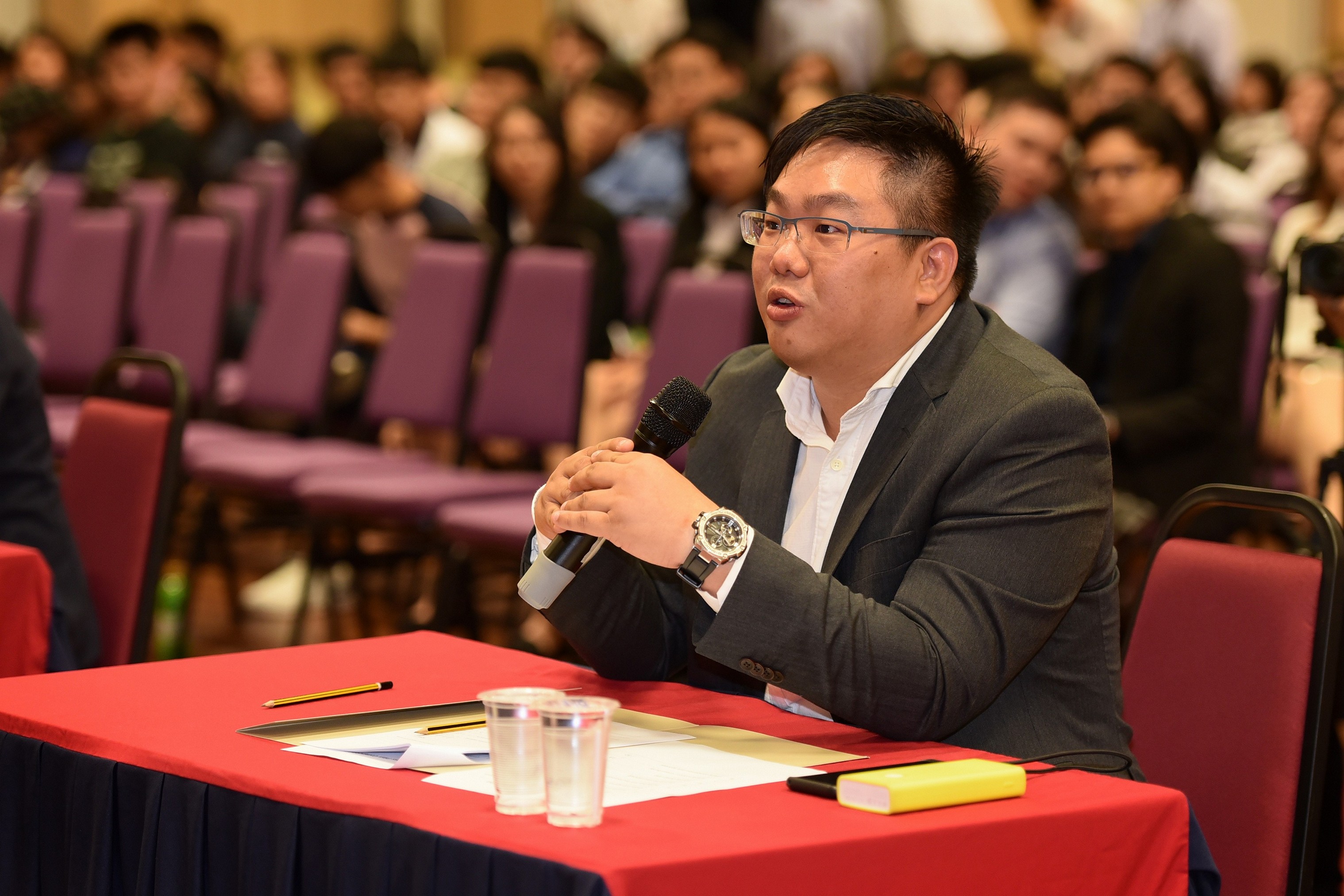 From left: Tan, Saiful and Dan Then judging the teams' business plans
In conjunction with the event, the 2nd Unovate Business Plan Competition made its presence again to provide students with the exposure towards becoming an entrepreneur by pitching their business ideas to potential investors. Thirty-seven groups competed against each other in the competition and eight finalists were chosen to present their business ideas to the judges. The competition was judged by MCM eCOM Global Venture Sdn Bd Chief Executive Officer Dan Then Ikh Choo, M3EC Millennium Sdn Bhd Business Development Director Tan Lay Huai and Wadhani Foundation Senior Manager Saiful Rizal. The first prize winners took home RM500 cash prize while the second prize winners won RM300 cash and the third prize winners walked away with RM200 cash. The winners for the best exhibition booth category took a hamper each.
The winners for the 2nd Business Plan Competition are:
First prize: CARE+ by Yap Wai Theng, Teng Ching, Loh Bao Ying, Soh Ming Ting and Tessa Mary Kate Tang Yi Theng
Second prize: Green Burial by Tan Wen Syn, Fong Shin Yee, M. Tharshini and Ong Kai Ni
Third prize: 3D Interior Design App by Leong Yien Yien, Chua Qin Xuan, Pua Lee Ying, Tan Yi Ting and Cand Yeap Mun Hoe
The winners for the Best Exhibition Booth category are:
First prize: Green Burial
Second prize: Getaways
Third prize: Food Recipe App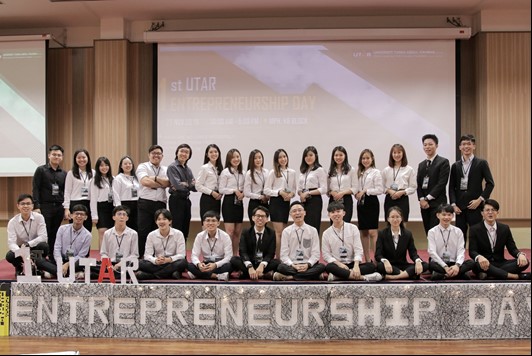 1st UTAR Entrepreneurship Day organising committee
The members of the organising committee were Tu Kah Zhen, Chiew Jie Xiang, Tang Pei Wen, Lim Chen Yen, Tung Wen Kai, Chan Chee Hong, Farrah Wee Yee Zhen, Wong Li Ye, Leong Zhi Lun, Liow Jing Wen, Liow Ke Qian, Tan Yi Wei, See Choon Ming, Si Yii Pi, Lim Jer Chin, Chong Han Shen, Lee Chia How, Vincent Then Wun Sen, Wong Sheng Ann, Ng Wu Wei, Loi Tick Ming, Wong Li Ye, Yin Hui Xin, Kong Kah Wai, Low Yi Yin, Chin Pei Yee, Esther Ng Si Wen, Hee See Cheng, Lim Jing Hui, Mah Yuen Yuan, Loh Wing Ann, Lee Xue Yi, Tsen Yee Li, Lim Ming Hui, Ng Jia Xuan, Beh Ze Xin, Chew Khai Li, Kong Chee Cheong and Koh Ling Xian.
For further reading on the students' project, click here.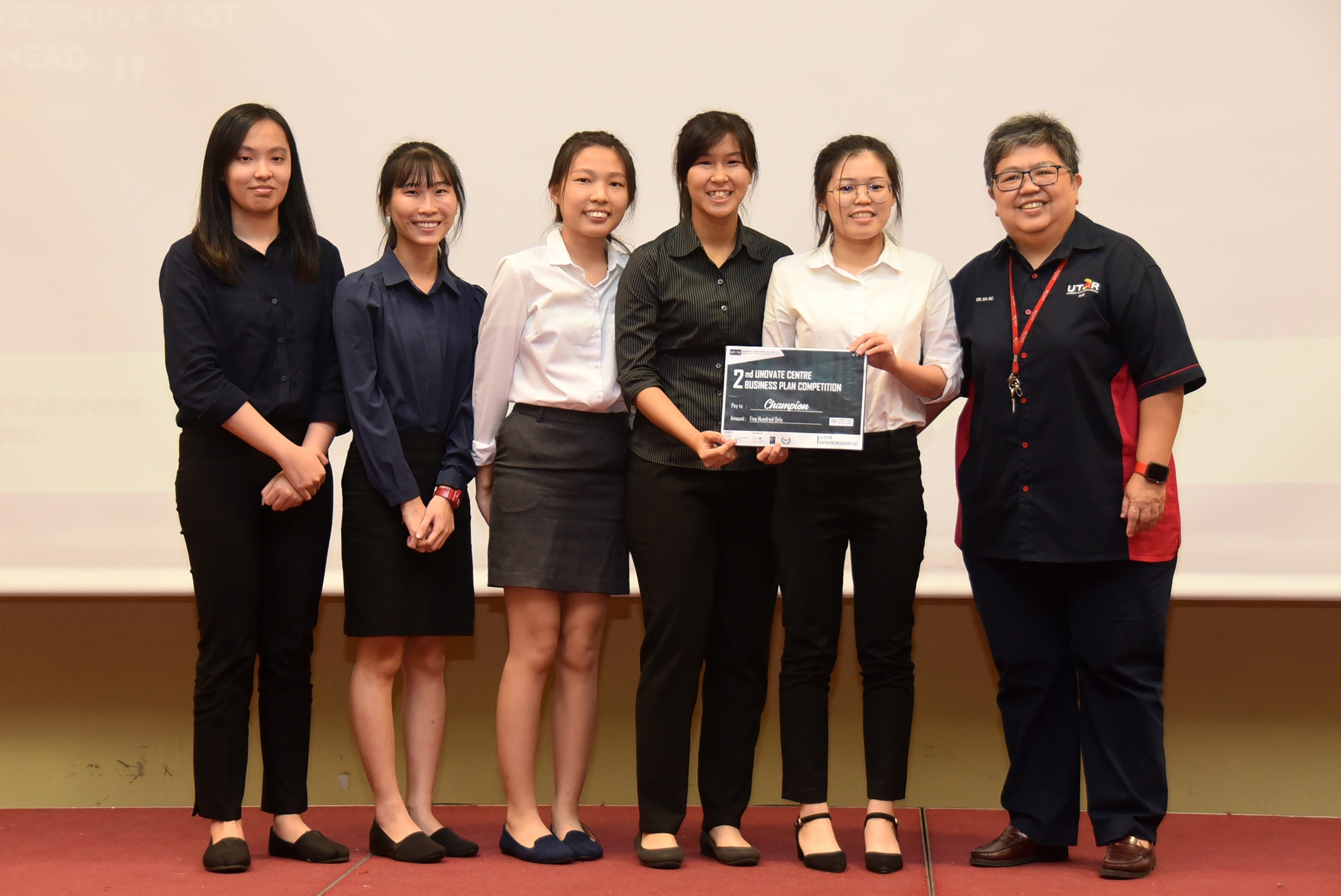 First prize winners, from left: Tessa Mary Kate Tang Yi Theng, Yap Wai Theng, Soh Ming Ting, Loh Bao Ying, Teng Ching and Dr Sia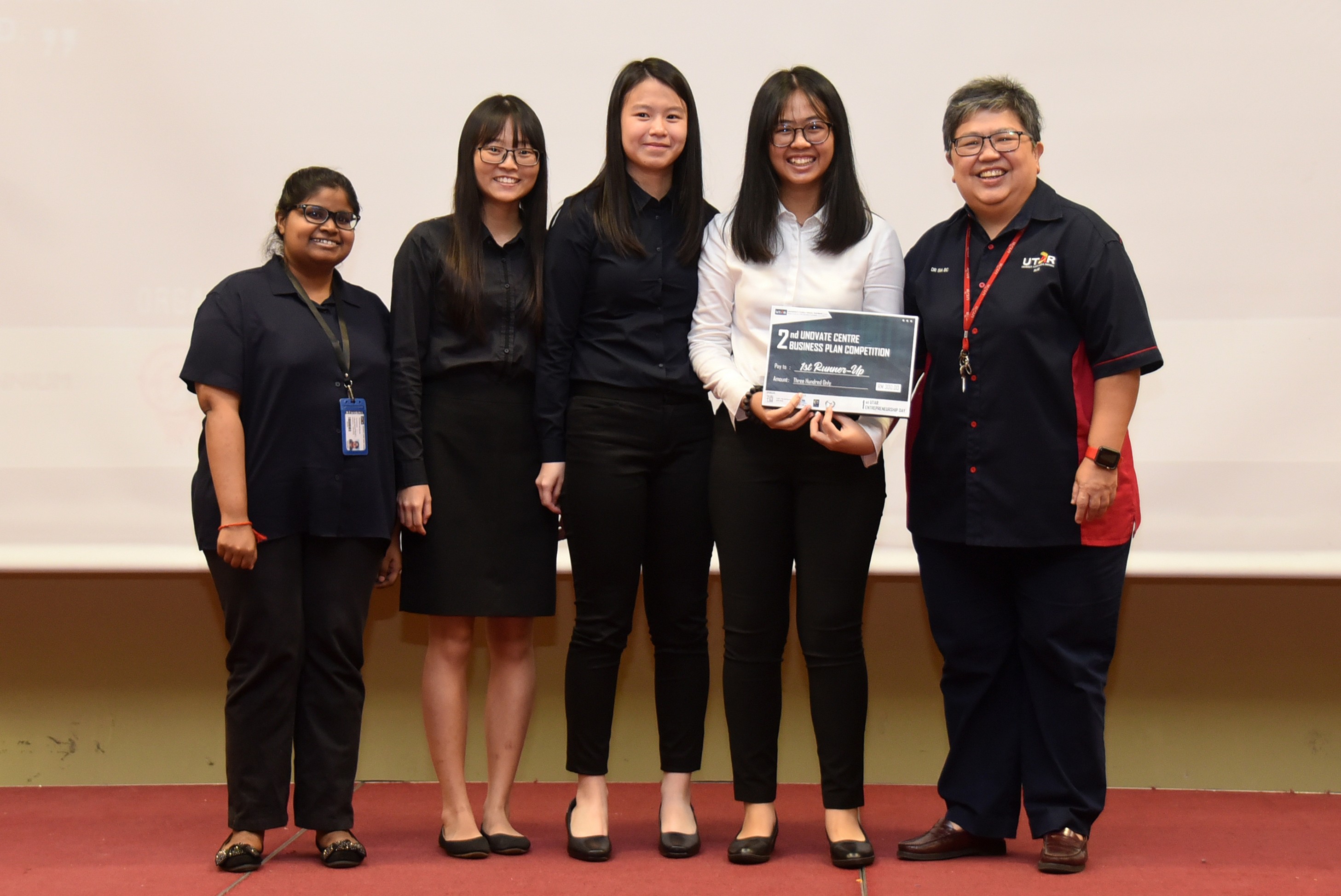 Second prize winners, from left: M. Tharshini, Tan Wen Syn, Ong Kai Ni, Fong Shin Yee and Dr Sia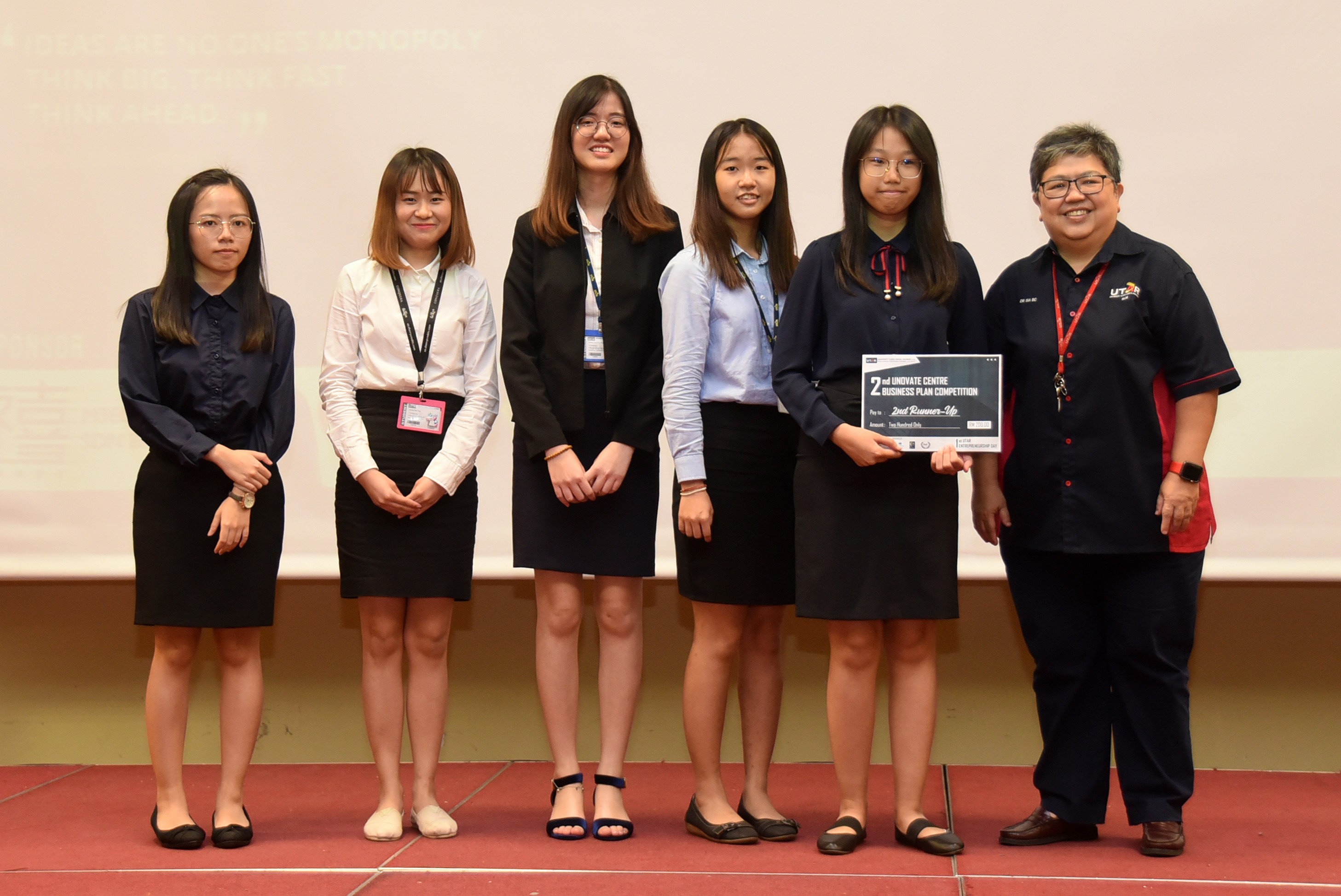 Third prize winners, from left: Pua Lee Ying, Leong Yien Yien, Candy Yeap Mun Hoe, Chua Qin Xuan, Tan Yi Ting and Dr Sia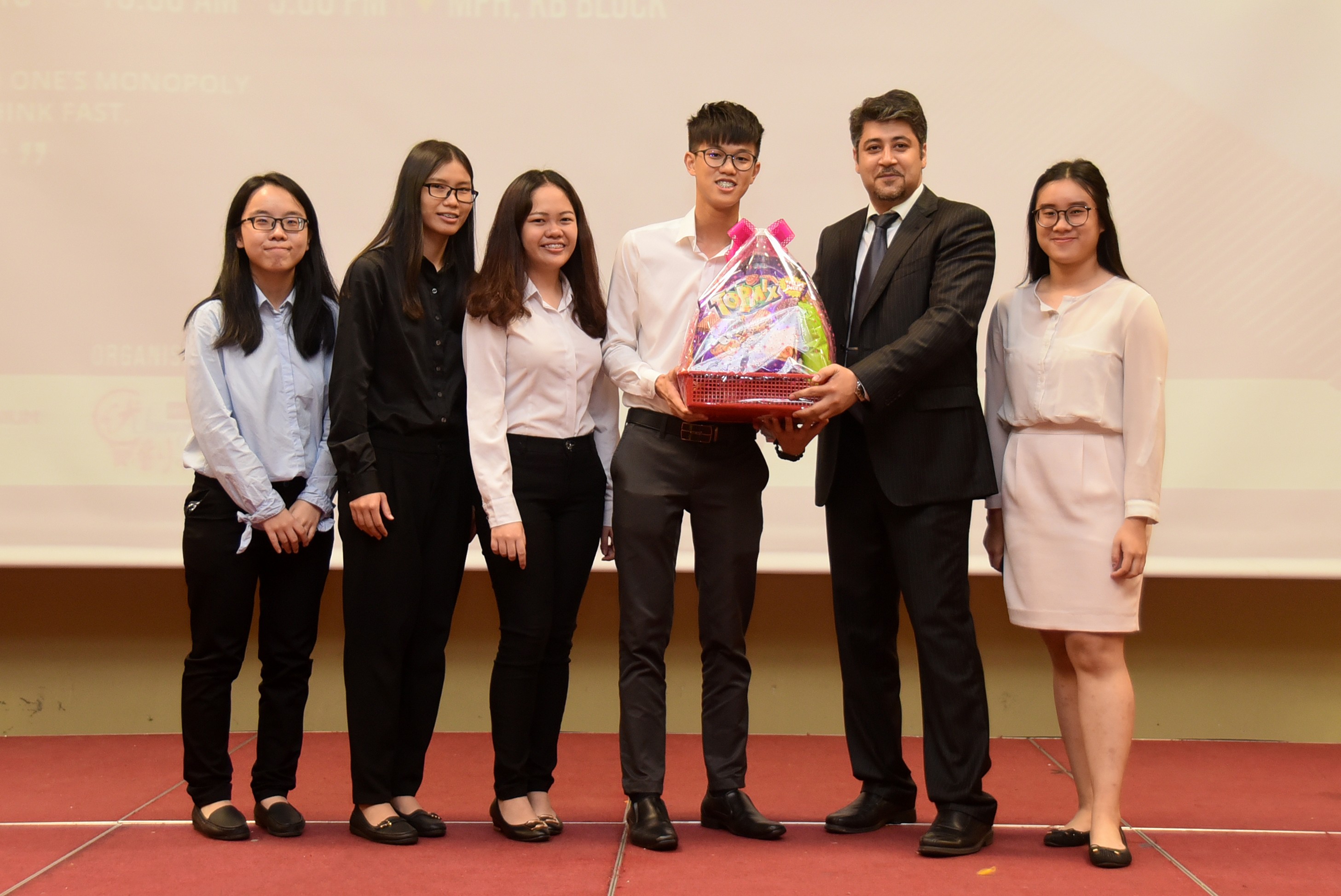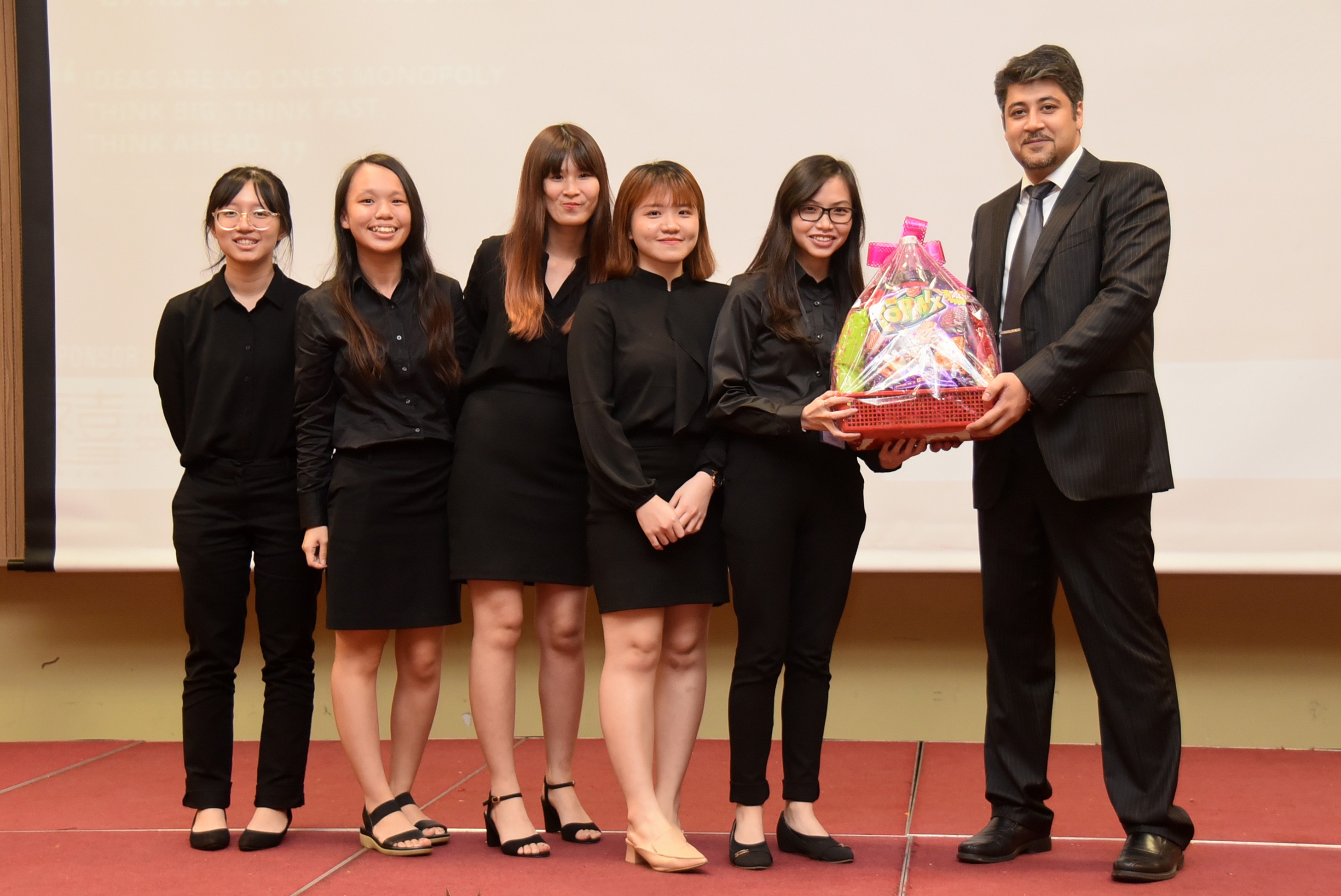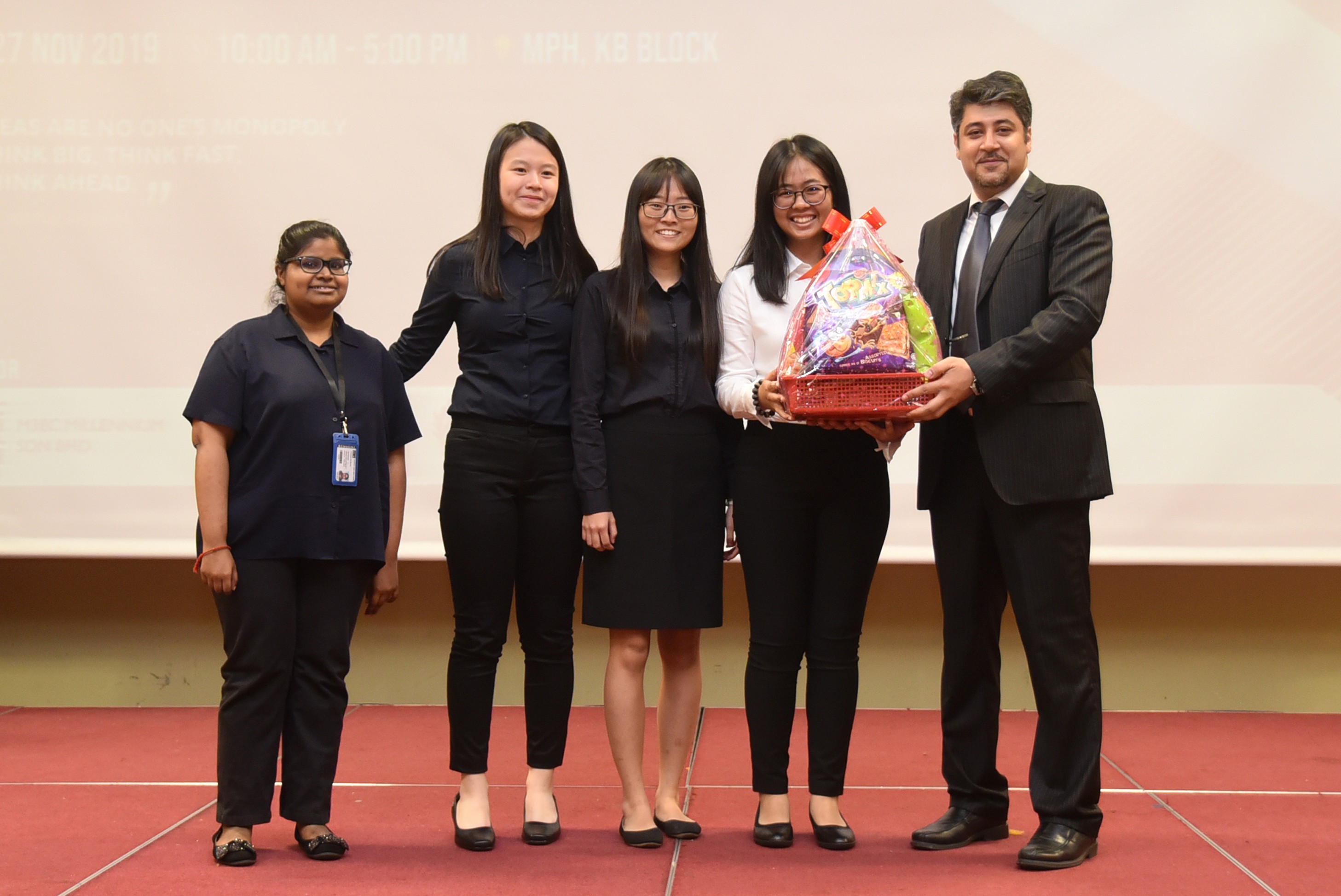 Best exhibition booth winners, clockwise from right: Food Recipe App, Team Green Burial and Getaways with Dr Falahat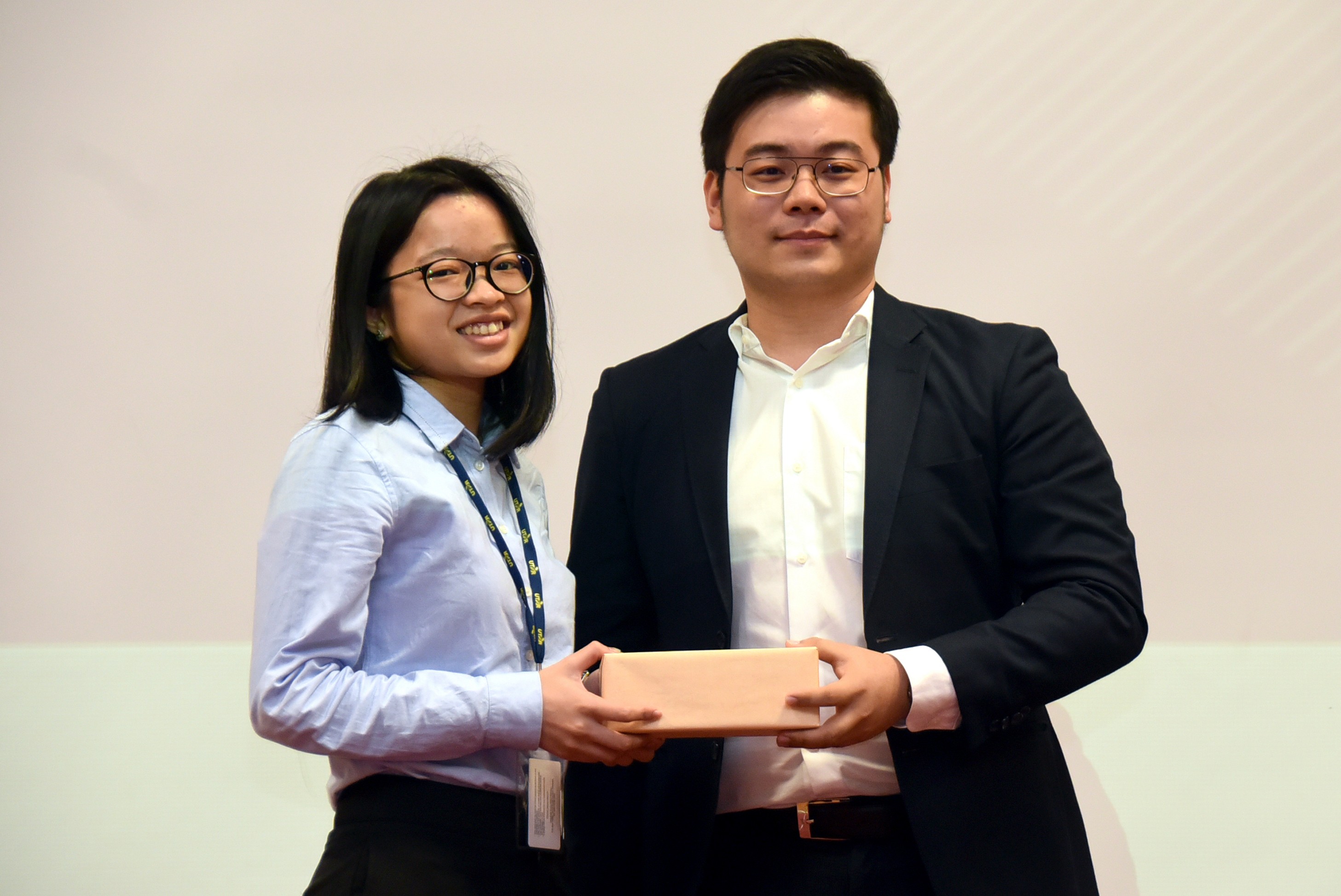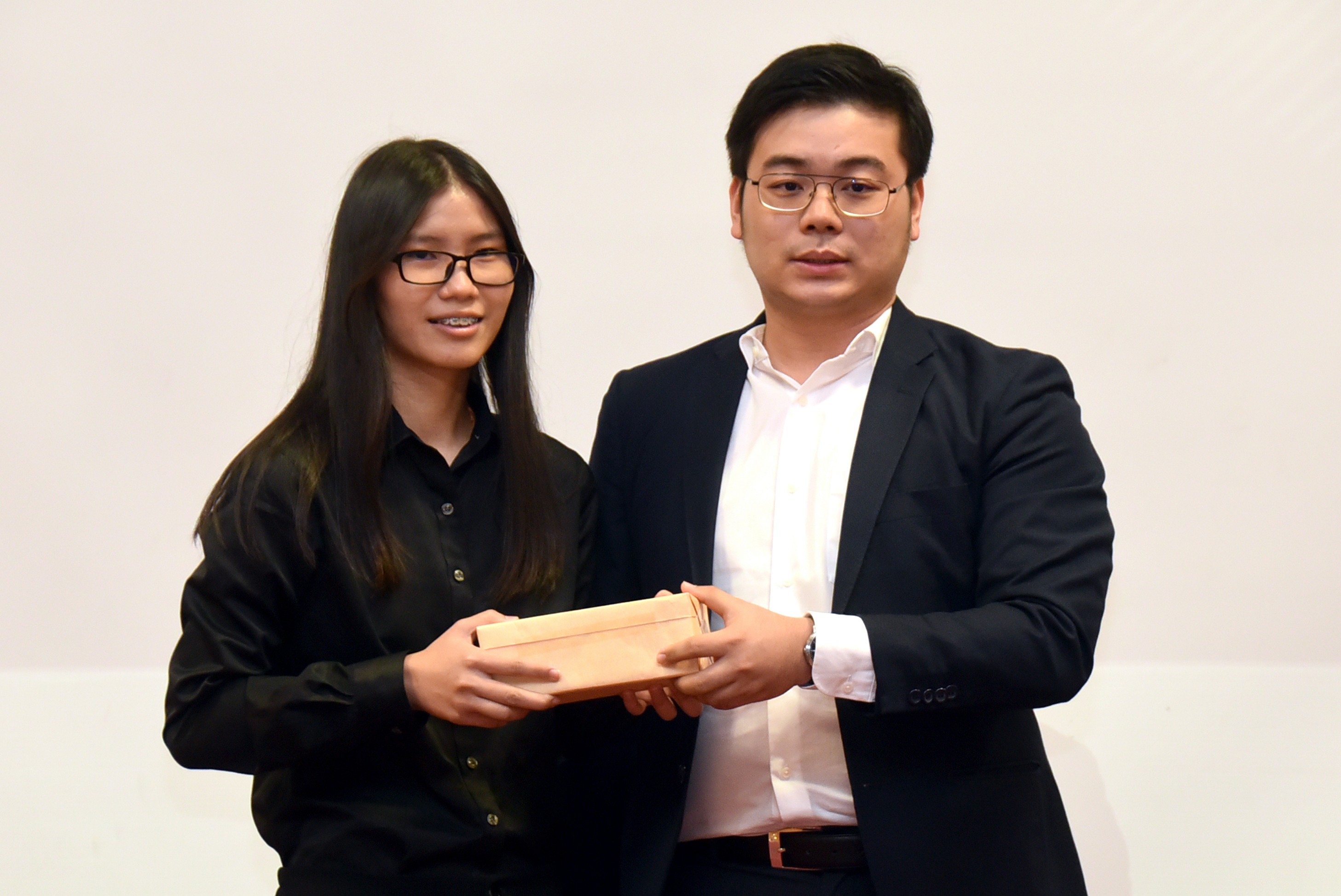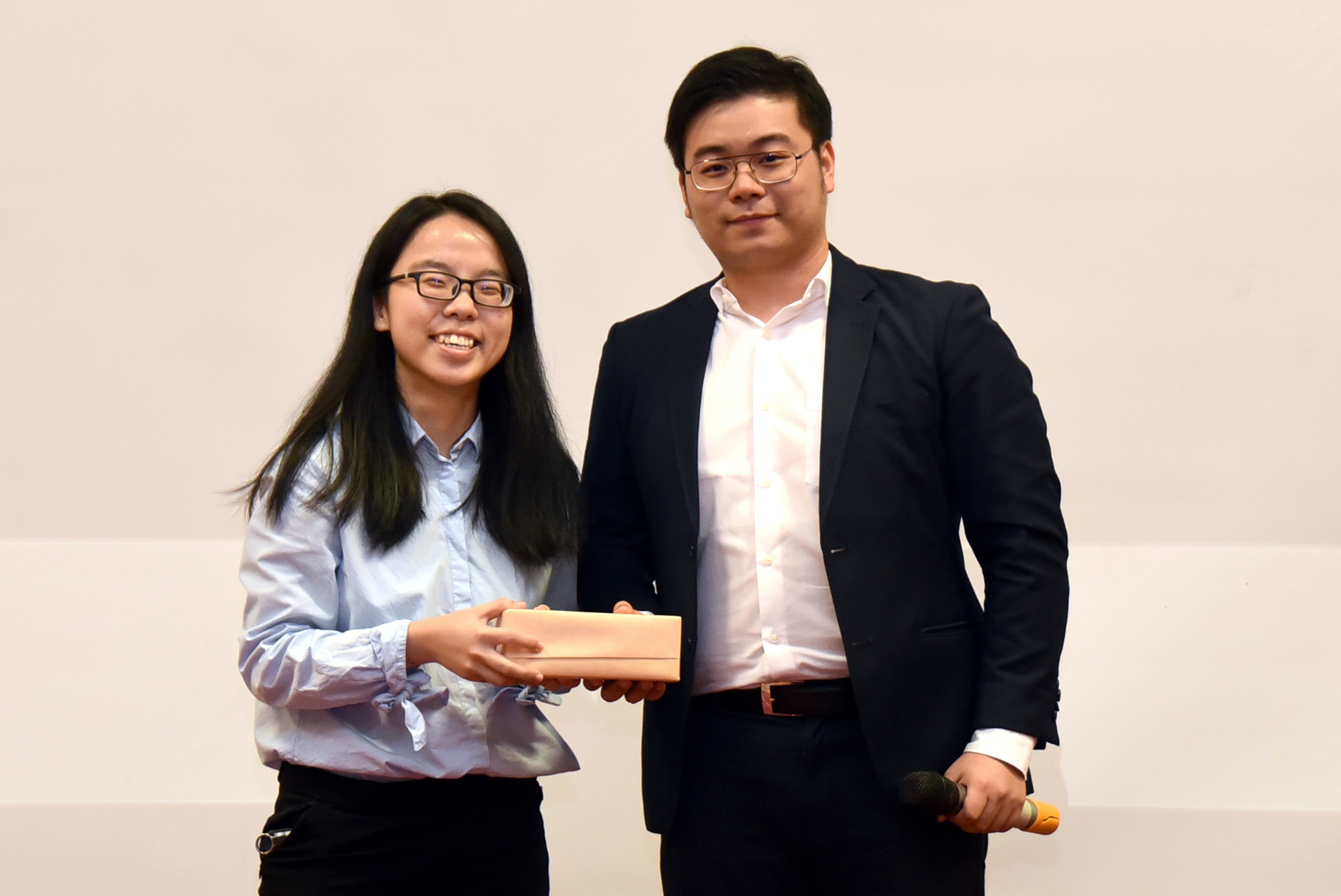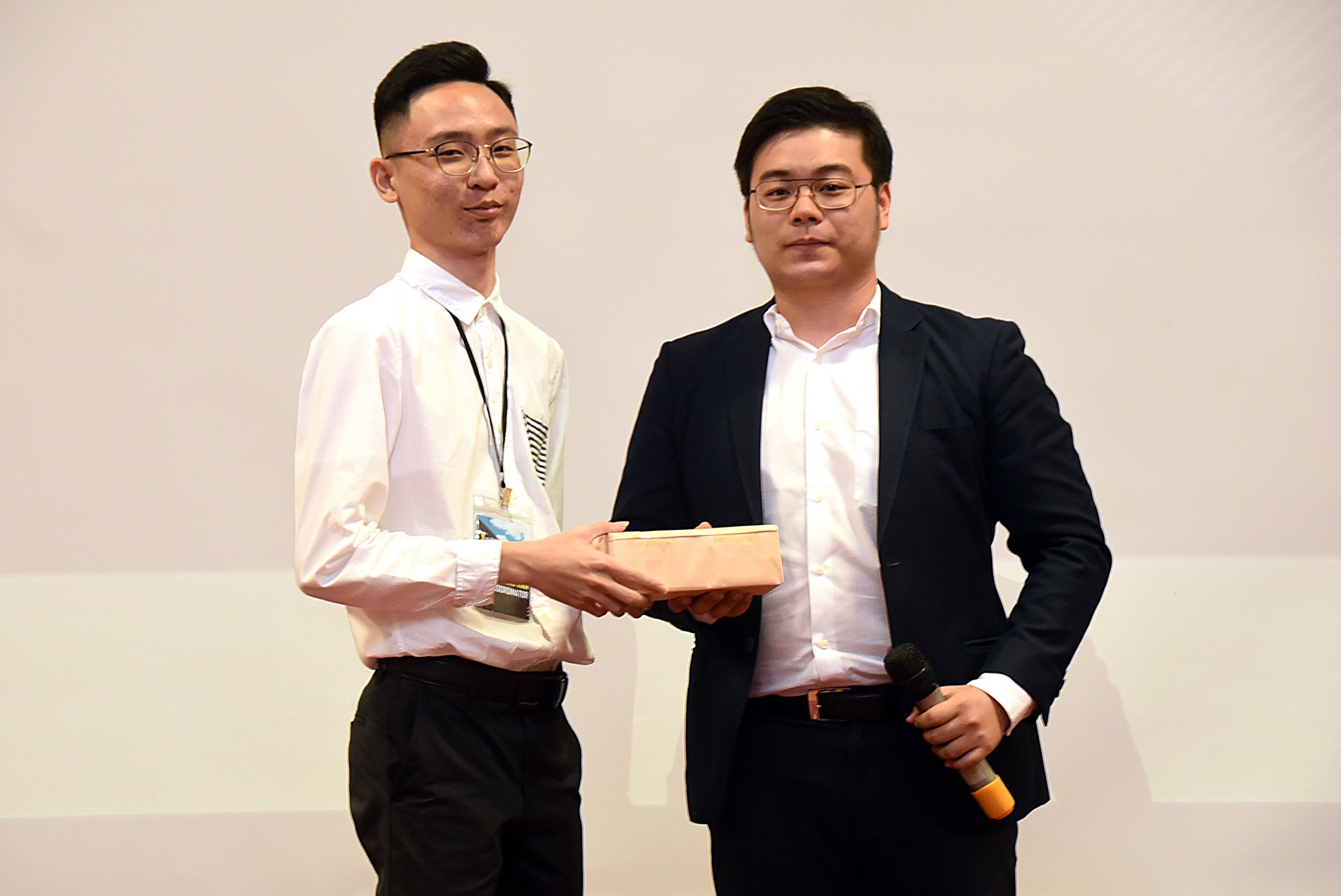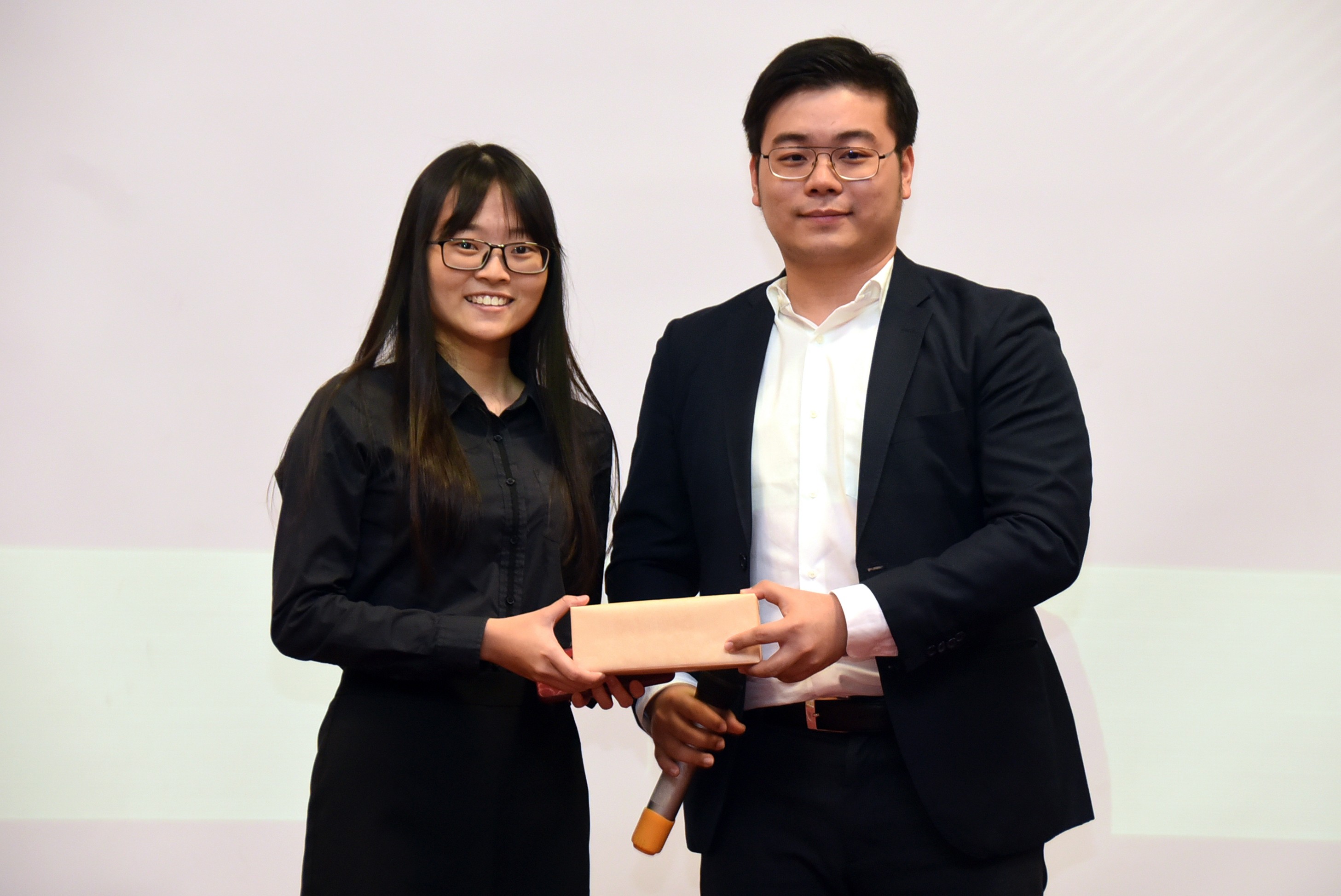 Max Yong (right) presenting the gifts to lucky draw winners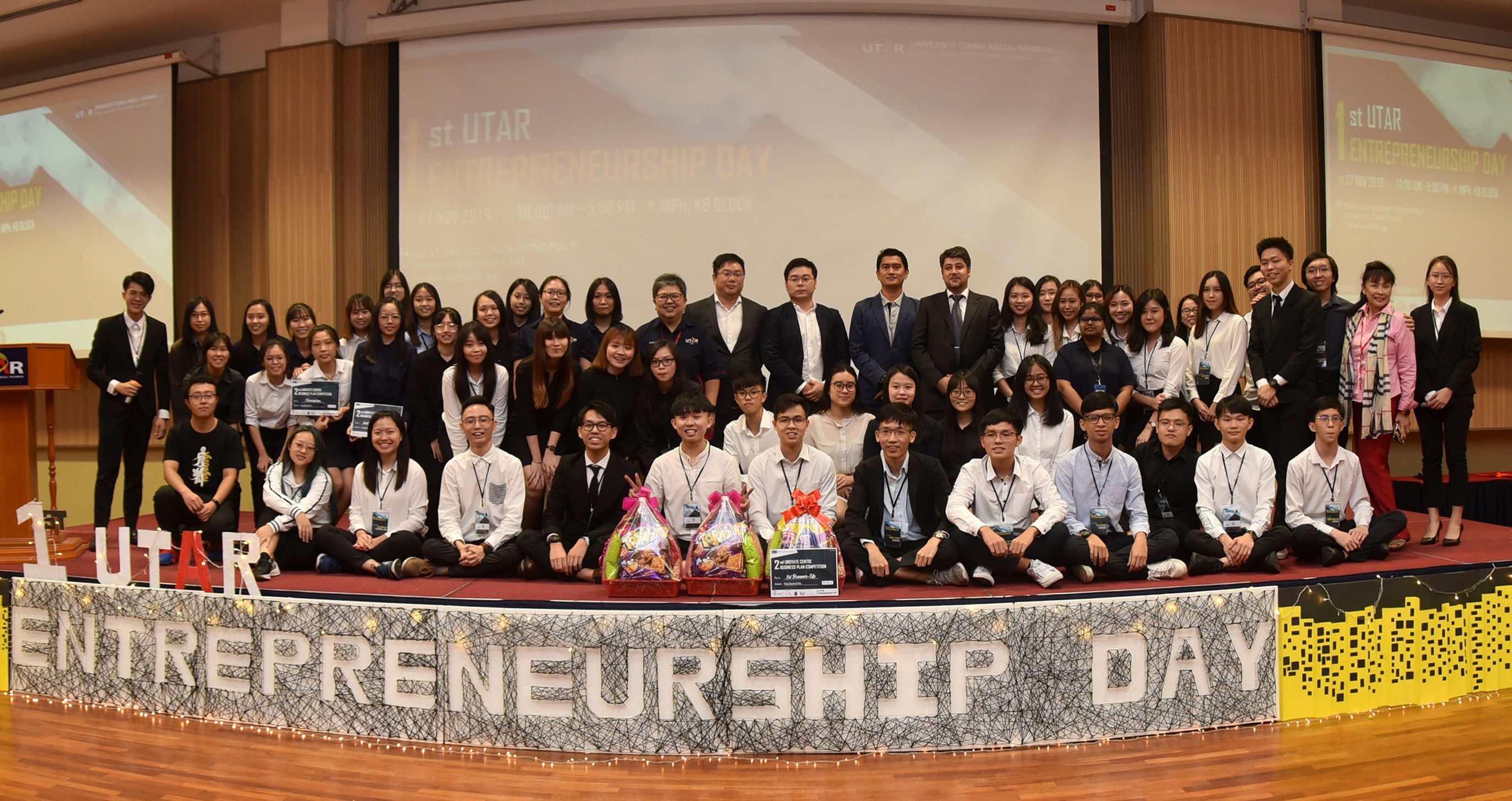 Group photography session among winners, organising committee, sponsor, judges and lecturers

Participants during the opening ceremony