Group photo of the VIPs, Organising Committee and participants at the Heritage Hall Building's Multipurpose Hall
Over 500 participants were given insights into contemporary Japanese culture and the daily life in the Land of the Rising Sun via the "Samurai Summer" event held at UTAR Kampar Campus on 26 January 2019.
Jointly organised by Kampar Campus's Department of Soft Skills Competency (DSSC), Department of International Student Services (DISS), and Division of Community and International Networking (DCInterNet), the cultural exposure event was also supported by the Consulate-General of Japan in Penang (CGJP).
Launching the event were CGJP Vice Consul-General Nakagawa Kosuke and UTAR Vice President for Student Development and Alumni Relations Prof Dr Choong Chee Keong. Donned in yukata, both of them were accompanied by Organising Chaiperson Kensuke Tachi and Centre for Foundation Studies (CFS) Kampar Campus Japanese Language lecturer-cum-UTAR Japanese Culture Club (JCC) advisor Yap Yuet Ngor, who were also clad in the casual summer kimono. Also present were DSSC Kampar Campus Head Hee Chwen Yee, DISS Kampar Campus assistant manager Choy Kar Yan representing Head of Department Ngan Mun Wai, Japanese exchange students of UTAR Kampar Campus as well as several Japanese residents in Kampar.
An exchange student from Japan's Kwansei Gakuin University (KGU) who is currently interning at DSSC Kampar Campus, Kensuke was touched by the large turnout and overwhelming support from the organising committee members. "Besides learning more about Japanese culture, I hope this 'Samurai Summer' event will also allow you to make friends with the Japanese exchange students here," the English Language student introduced.
Equally impressed by the encouraging turnout, Prof Choong thanked the organising committee for the hard work and also the schools nearby for participating in this half-day event. "To date, the University has over 41 Japanese exchange students. This time we are really excited to see some of them with the assistance of the departments as well as JCC organising this event. I hope all those who are present here today will learn more interesting facts about Japanese history and culture through the available workshops, movie screenings and many more," the Vice President added. He also recorded his special appreciation to CGJP for being a constant supporter of Japanese-related events at UTAR.
"UTAR is actually a university outside Penang which we visit most often for the past one year. We are always delighted to choose UTAR as a place to promote Japanese culture because the staff and students are constantly working very hard to organise events as such," said Nakagawa. Besides introducing his primary role in fostering close Japan-Malaysia ties, Nakagawa also thanked the organisers for their commitment in providing a platform where people of the two countries are able to bond through mutual interests and connect with each other culturally.

From left: Kensuke, Prof Choong and Nakagawa extending their warm welcome to the participants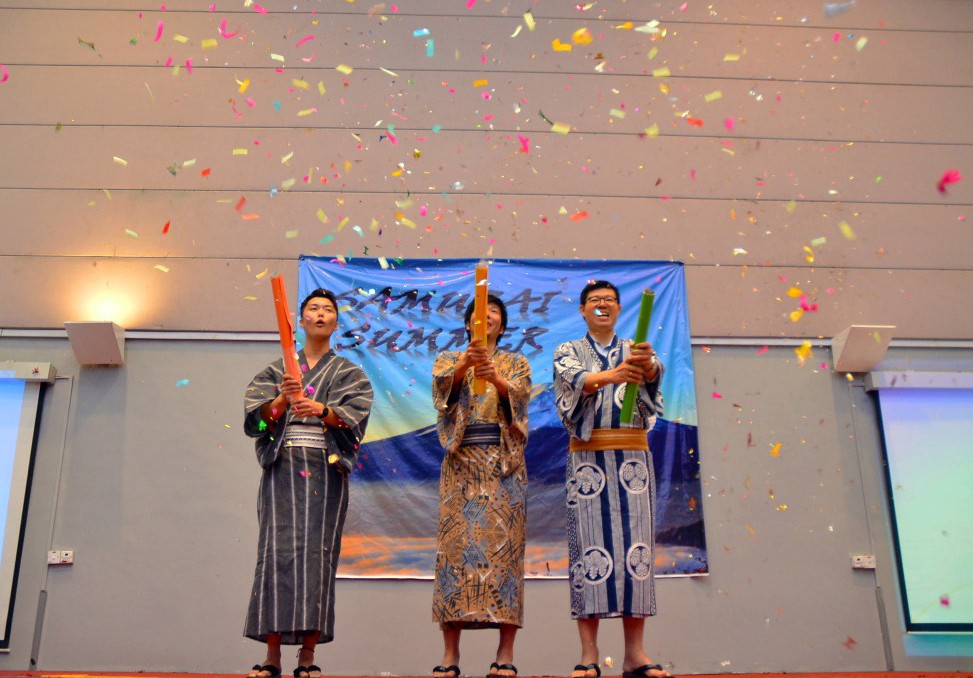 Official launch of "Samurai Summer" by (from left) Kensuke, Nakagawa, and Prof Choong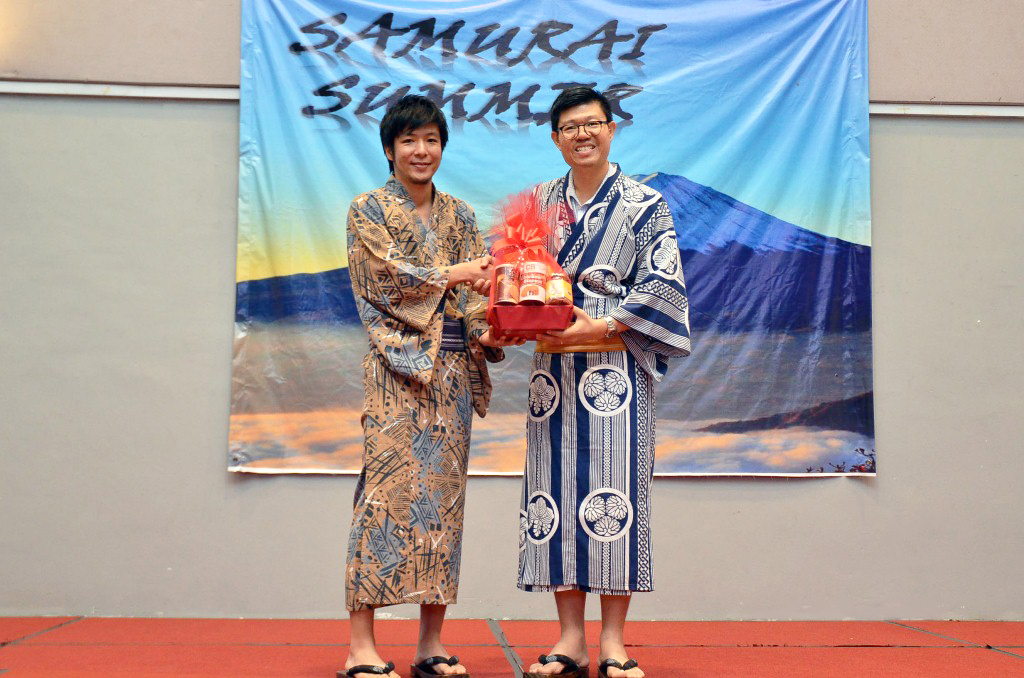 Prof Choong (right) presenting a token of appreciation consisting of exclusive New Village products to Nakagawa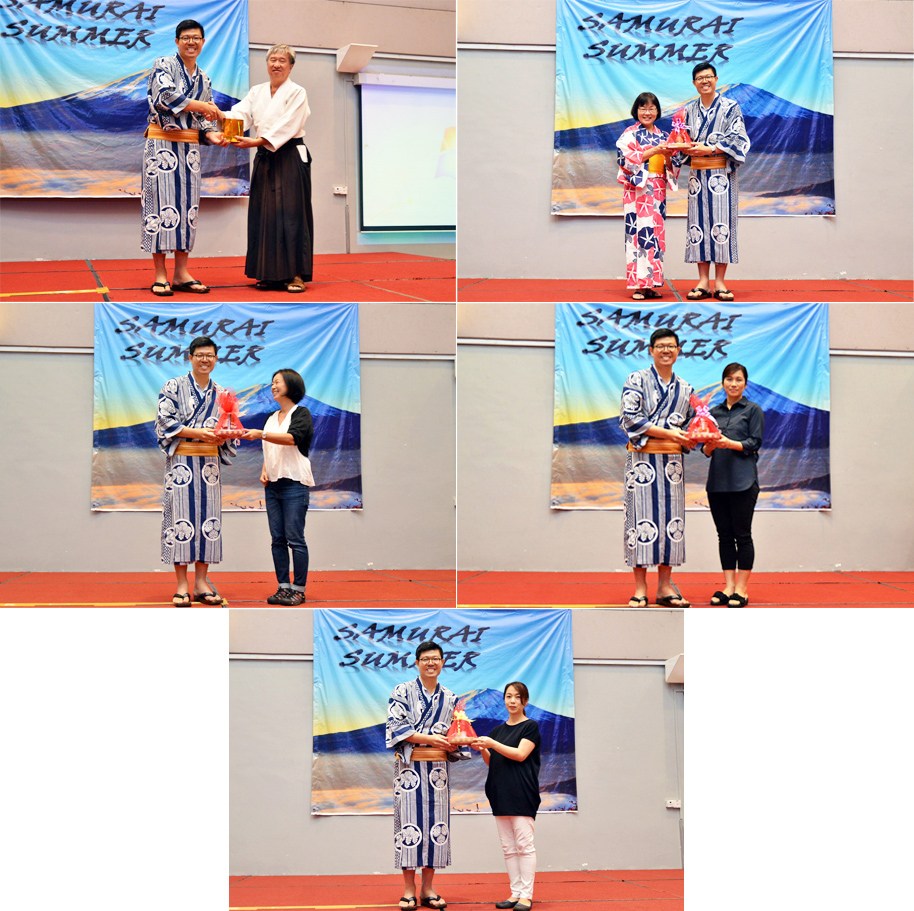 Prof Choong (left) presenting tokens of appreciation to (clockwise from top left) Daniel Wong of Aikido Akikai Ipoh Dojo, Yap, and Kampar's Japanese residents Yukiko Matsumoto, Yuko Yokoyama, and Kumiko Maeda to thank them for their contribution
Further adding vibrancy to the event were the Aikido demonstration by the UTAR Aikido Club as well as modern dance performances by a quartet formed by Japanese exchange students, namely Nano Yokoyama, Sae Nagai, Yurina Hara, and Ririka Mitani. To boost the participants' understanding on the day-to-day living in Japan, a creative forum shedding light on topics such as Japanese hospitality, education, working and living environment, and the much-anticipated 2020 Summer Olympics in Tokyo was also held. A twist from how conventional forums are run, Samurai Summer's version not only featured sketches and presentations by the quartet, Kensuke, and exchange student Yuto Hirabayashi, but also a Q&A session with Nakagawa and Yap, who had previously studied and worked in Japan for over a decade.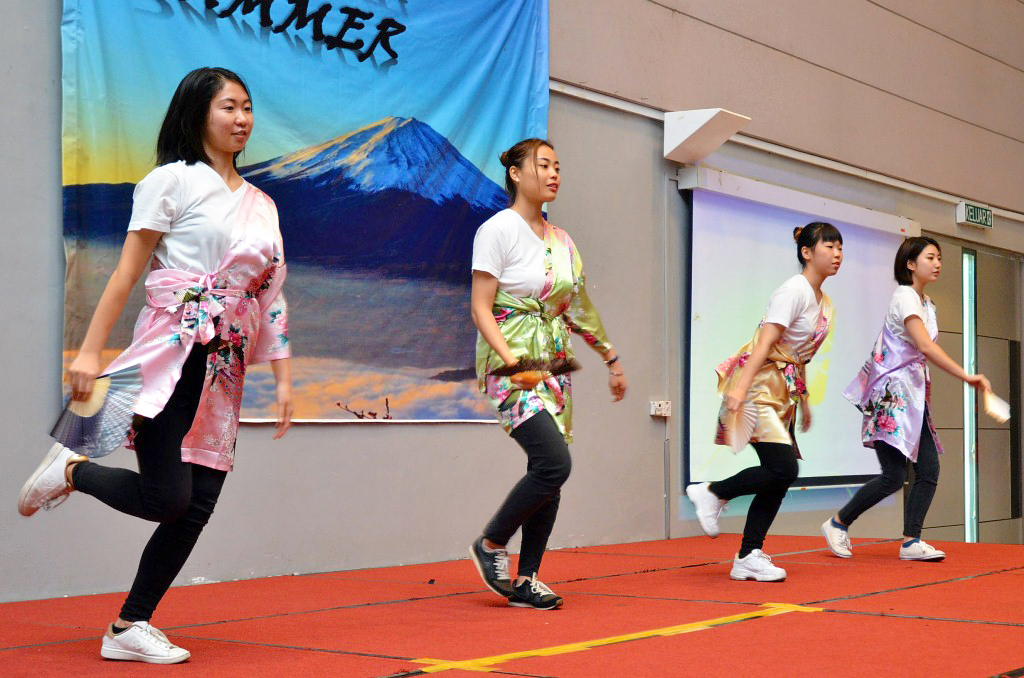 From left: Nano, Yurina, Ririka, and Sae gyrating to the Japanese pop music

Japanese martial arts demonstration by members of UTAR Aikido Club and Aikido Akikai Ipoh Dojo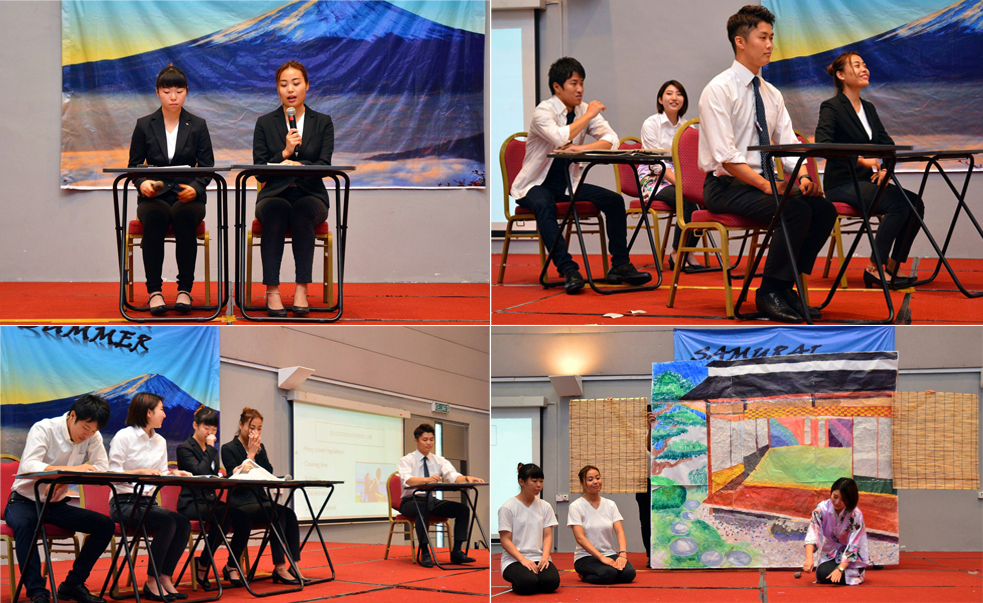 Forum with a twist by Kensuke, Nano, Yurina, Ririka, Sae, and Yuto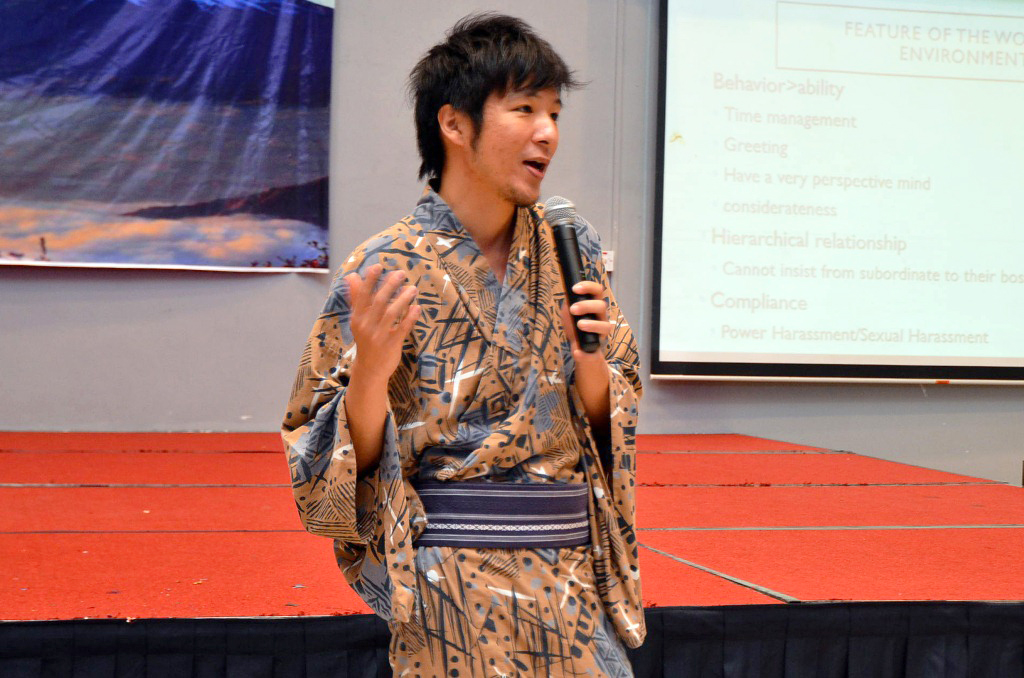 Nakagawa answering questions on the resilience shown by the Japanese in times of crisis and natural disasters
Other crowd-pullers of the day were the Japanese horror movie screening, the "Summer Special Haunted House" featuring Japanese legendary creatures, as well as booths displaying a variety of Japanese festival (matsuri) activities.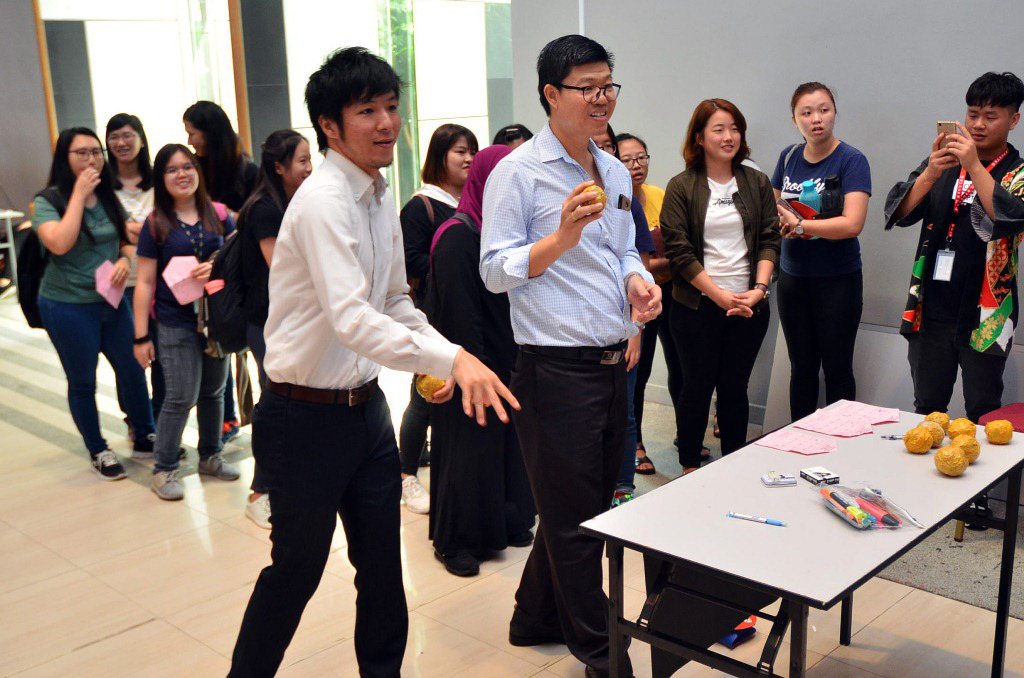 Nakagawa (left) and Prof Choong trying their hands on Japanese traditional game commonly played during summer Japanese festivals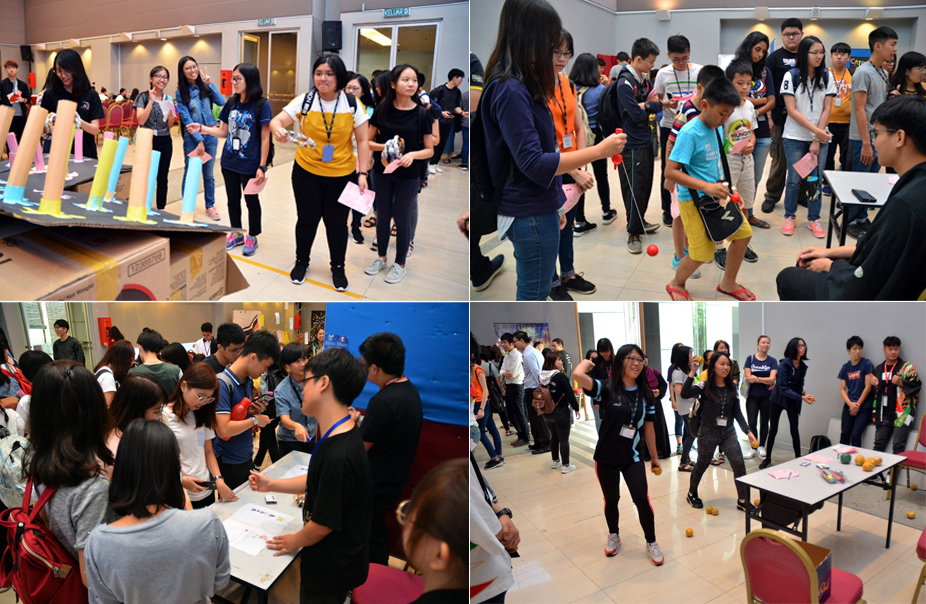 Participants experiencing the vibrancy and variety of activities available during Japanese festivals (matsuri) in summer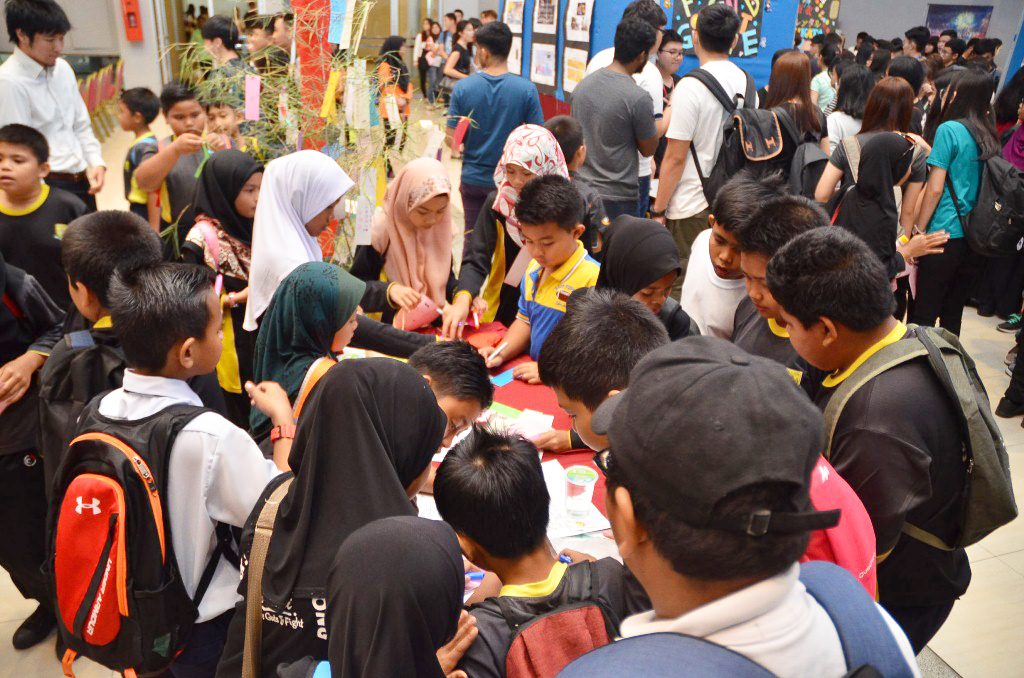 Primary schoolchildren writing their wishes on the wish cards available in different colours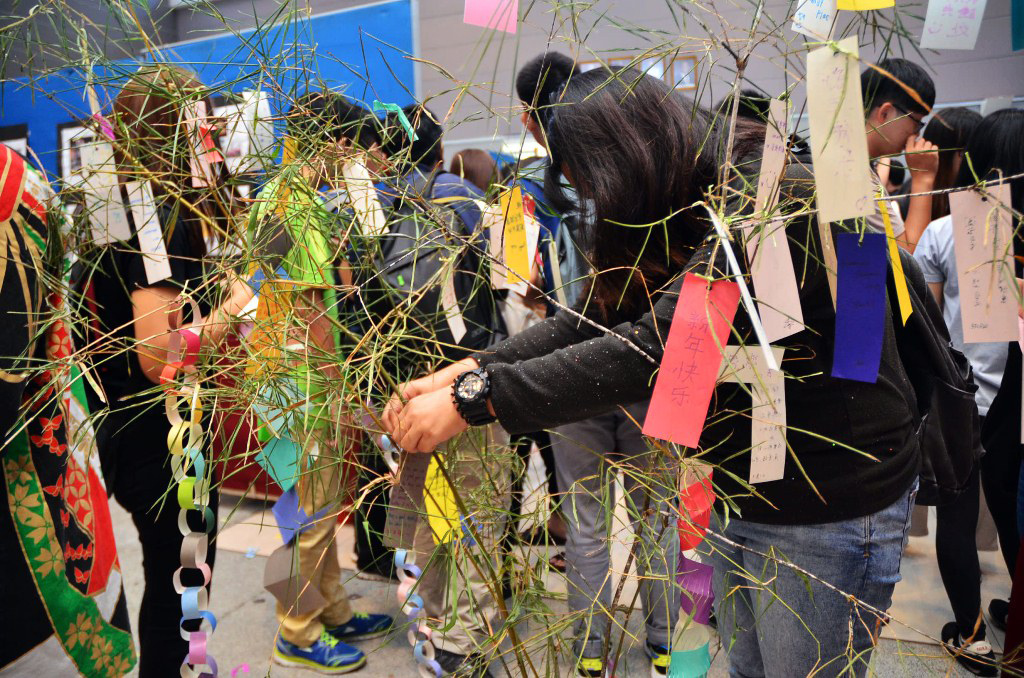 A participant tying her wish card to a bamboo branch

Participants solving mysteries in the "haunted house" station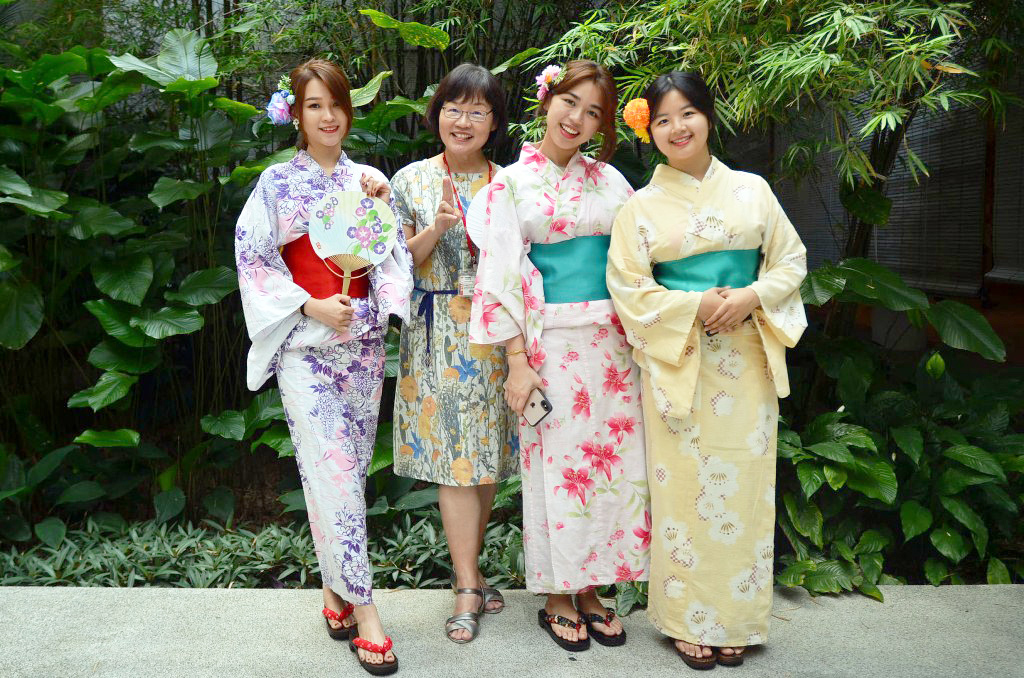 Yap (second from left) with yukata-clad female participants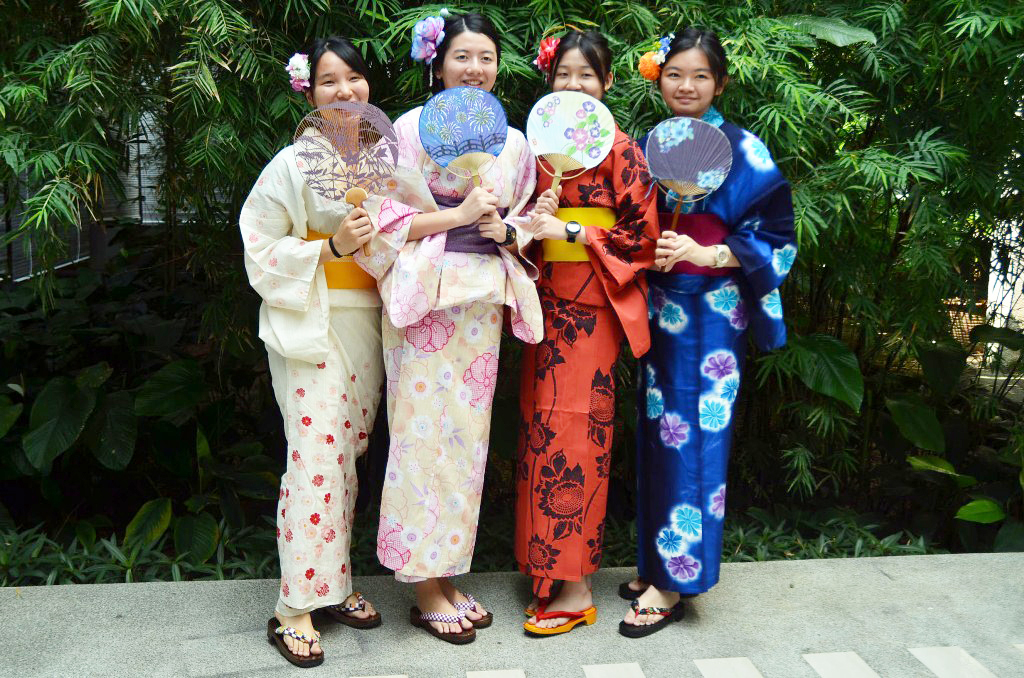 Participants enjoying a whale of a time donning the yukata
Foundation in Arts student Zafira binti Zohari's eagerness to understand more about Japan's unique culture led her to "Samurai Summer". "I knew about this cultural event from my friends and I'm also looking forward to making new Japanese friends here," the Kedah lass added.
Also having a fondness for Japanese culture and values, Construction Management student Kameeshwaren Muthiliyar s/o Kaneson said, "I will be joining all of the activities here as it's not always we have Japanese cultural activities organised locally by the Japanese themselves. I'm also very keen to learn from the forum about how the Japanese are so resilient even when their country is faced with natural disasters."
Schools which participated in "Samurai Summer" included SK Sungai Lesong, SK Tualang Sekah, SJK(C) Jeram, SJK(C) Pei Yuan, SMJK Pei Yuan, and SMK Seri Kampar.
A frontrunner in the promotional activities of Japanese culture and tradition, CGJP has been constantly lending their full support to UTAR in various events. Their assistance are well reflected in events such as CFS's Language Week, JCC's Japanese Fiesta 2018, and the Japanese Film Festival by CFS and JCC.