It was a night to remember for students and staff who attended the UTAR Ball 2019, organised by Student Representative Council (SRC) of Kampar Campus, from 22 to 23 June 2019 at The Light Hotel, Penang.
Present at the ball were UTAR President Ir Prof Academician Dato' Dr Chuah Hean Teik, Vice President for Internationalisation and Academic Development Prof Ir Dr Ewe Hong Tat, Vice President for Student Development and Alumni Relations Prof Dr Choong Chee Keong, Department of Student Affairs of Kampar Campus Head Chiang Jeng Fong, Department of Alumni Relations and Placement Head Foo Wai Wai, Chancellery Department Head Lim Swea Jen, Event Coordinator Ong Sheau Ling, SRC Sungai Long Campus Chairperson Ng Jia Wei, SRC Kampar Campus Chairperson Loh Jia Hui and Organising Chairperson Thanusha Ramanieswaran.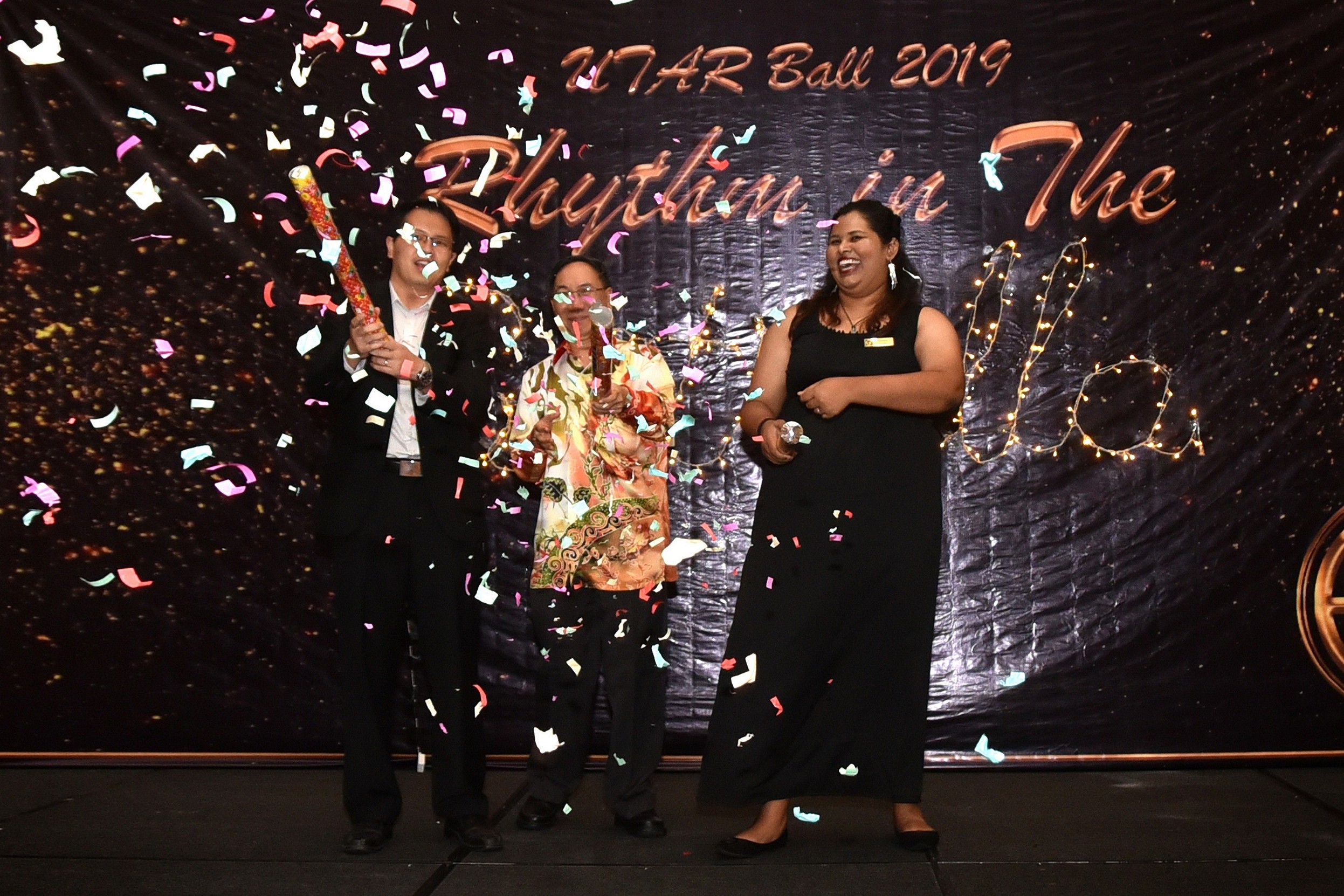 From left: Chiang, Prof Chuah and Thanusha officiating the opening ceremony
"As I entered the hall, all of you were unrecognisable because everyone is so well dressed. It is good to know how to present yourself for various occasions because that will be expected of you when you enter the working world. You will need to know when to dress professionally and appropriately because you will also be displaying your self-image. You want to display a positive self-image to other people. I would also like to congratulate the organising committee and the SRC for their hard work. I am glad that students take part in such curriculum activities because these activities will teach you many things that cannot be learnt in your lecture halls. Sometimes, learning takes place outdoors too. Earlier before the ball, I had a discussion with the SRC on increasing the number of participation. I suggested them to use the Grand Hall in Kampar Campus to organise this UTAR Ball. That way, the tradition can be maintained while more students are able to participate and make new friends," said Prof Chuah.
He continued, "I also extend my appreciation to the organising committee for their sincerity and heart to donate a portion of their profits to the hospital project. This not-for-profit hospital will provide affordable medical services to the people in southern Perak and will be a platform to train and nurture our medical students in order to mould them into the specialist the country needs. The project was initiated because we realised that medical services will continuously increase in price and we want to contribute to society. Like UTAR, the hospital will be an alternative choice for people to seek quality yet affordable treatment. Congratulations to the award recipients as well. I am very proud of our UTAR students because I always receive positive feedback about our students. I believe it is because our students are multilingual and have cultural intelligence, which makes our students more sensitive to other people's culture. With that, our students are also able to adapt to various culture more quickly and that is why many of our students are accepted in various parts of the world. I hope you will do the same like your seniors and continue to make UTAR proud and carry the UTAR flag high. I thank you all for your participation, as well as the sponsors for supporting the event."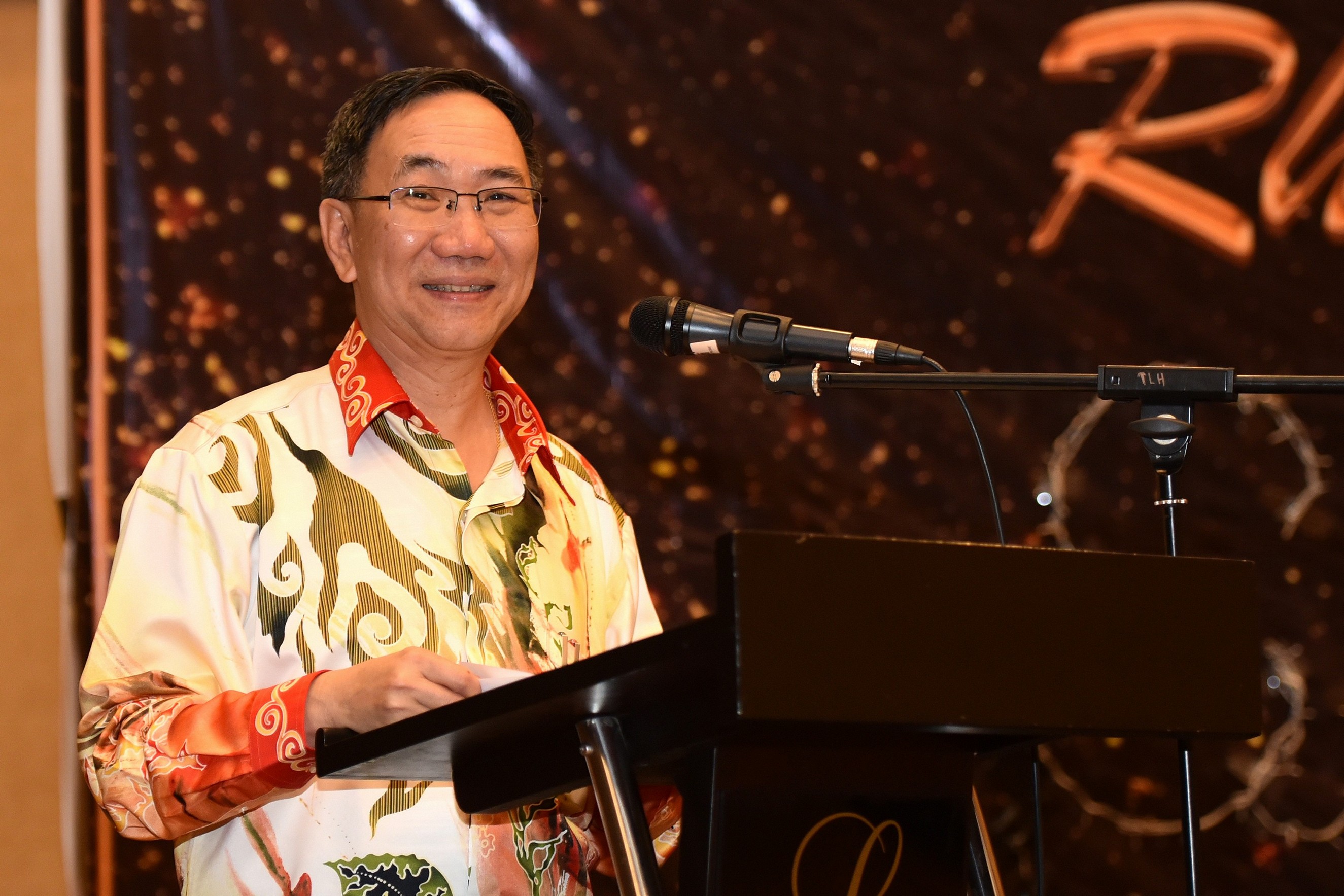 Prof Chuah delivering his speech
"The UTAR Ball 2019 celebrate the theme of Gatsby and is named Rhythm of Estrella. Estrella comes from the Spanish word which translates to 'star'. Thus, this time around, we would like to bring you on a night filled with rhythms, of course, in a broad beautiful sky full of stars. This year, we decided to have a one-night concept as well as a two-day-one-night concept which gave participants an opportunity to choose the concept they prefer. We believe tonight will also be a noble night as this ball aims to raise funds for the upcoming UTAR Hospital project. At the same time, tonight we also emphasise on togetherness as we aim to unite everyone, including staff, students, alumni, freshmen, and seniors," said Thanusha.
She added, "I would also like to thank all my committee members for organising this splendid event. Thank you for all the hard work and support throughout the 11 months of preparation. We would also like to thank our event coordinator Ms Ong, who have been our strongest backbone; giving us advice and motivation to complete what we have started."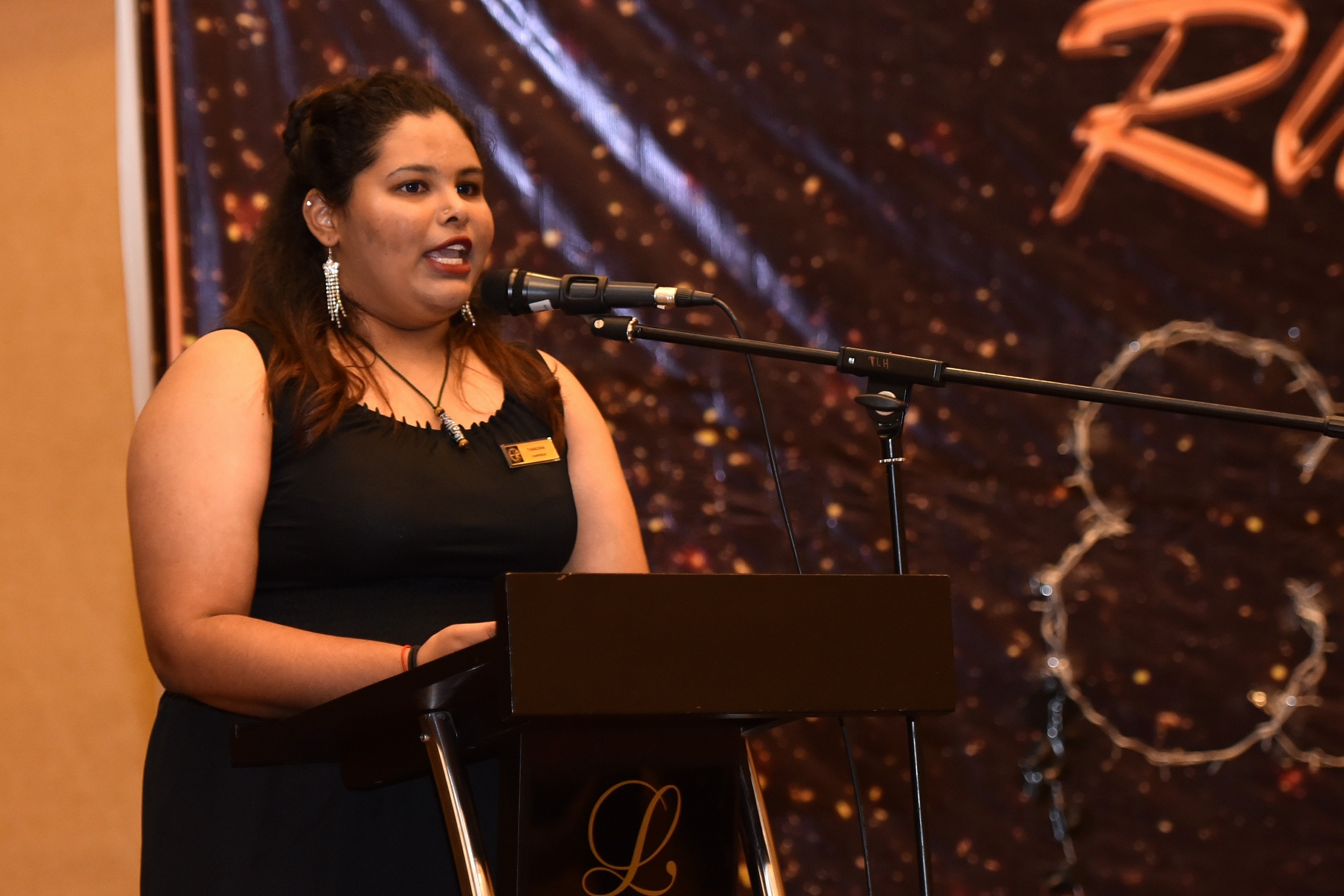 Thanusha delivering her speech
The joyous night progressed with various performances, including a fashion show by UTAR Models, award giving ceremony, fashion show by UNIQUEENS, a waltz session, band performances, and the crowning of the prom king and queen. The Prom King was Tang Wei Hean, and Prom Queen was Wong Sheue Ying. 

From left: Thanusha presenting the award to Prom King Tang and Prom Queen Wong
At the award presentation ceremony for outstanding students, the winners received a crystal trophy and a certificate each. The list of winners is as follows:
| | |
| --- | --- |
| Award | Winner |
| Best Student Leader | Kwa Eng Keat |
| Sportsperson of the Year | Eric Sew Ching Onn |
| Best Society (Course based) | Medical and Health Sciences Society |
| Best Society (Non-course based) | Wushu Club (Sungai Long Campus) |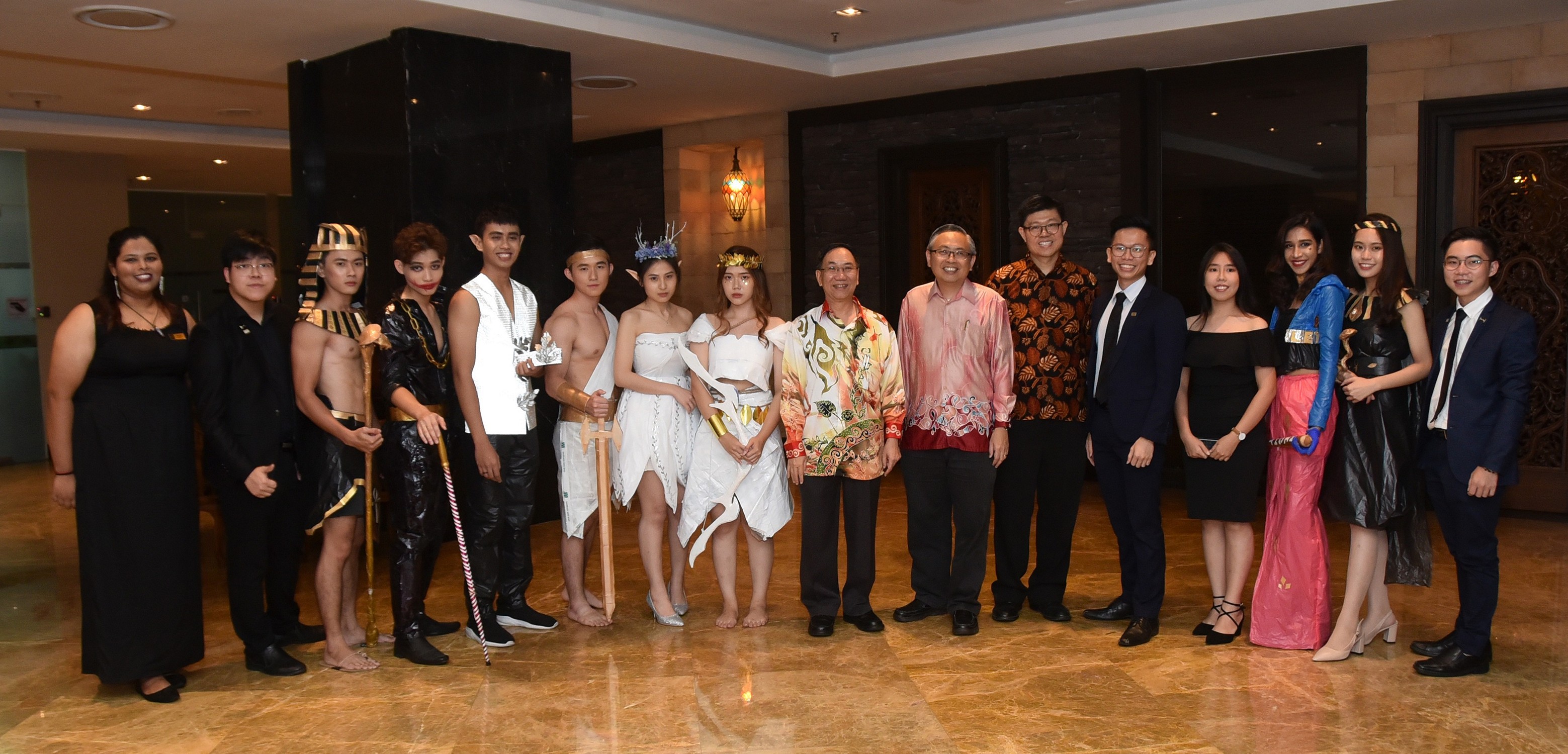 SRC members and UTAR Models posing with (ninth from left) Prof Chuah, Prof Ewe, and Prof Choong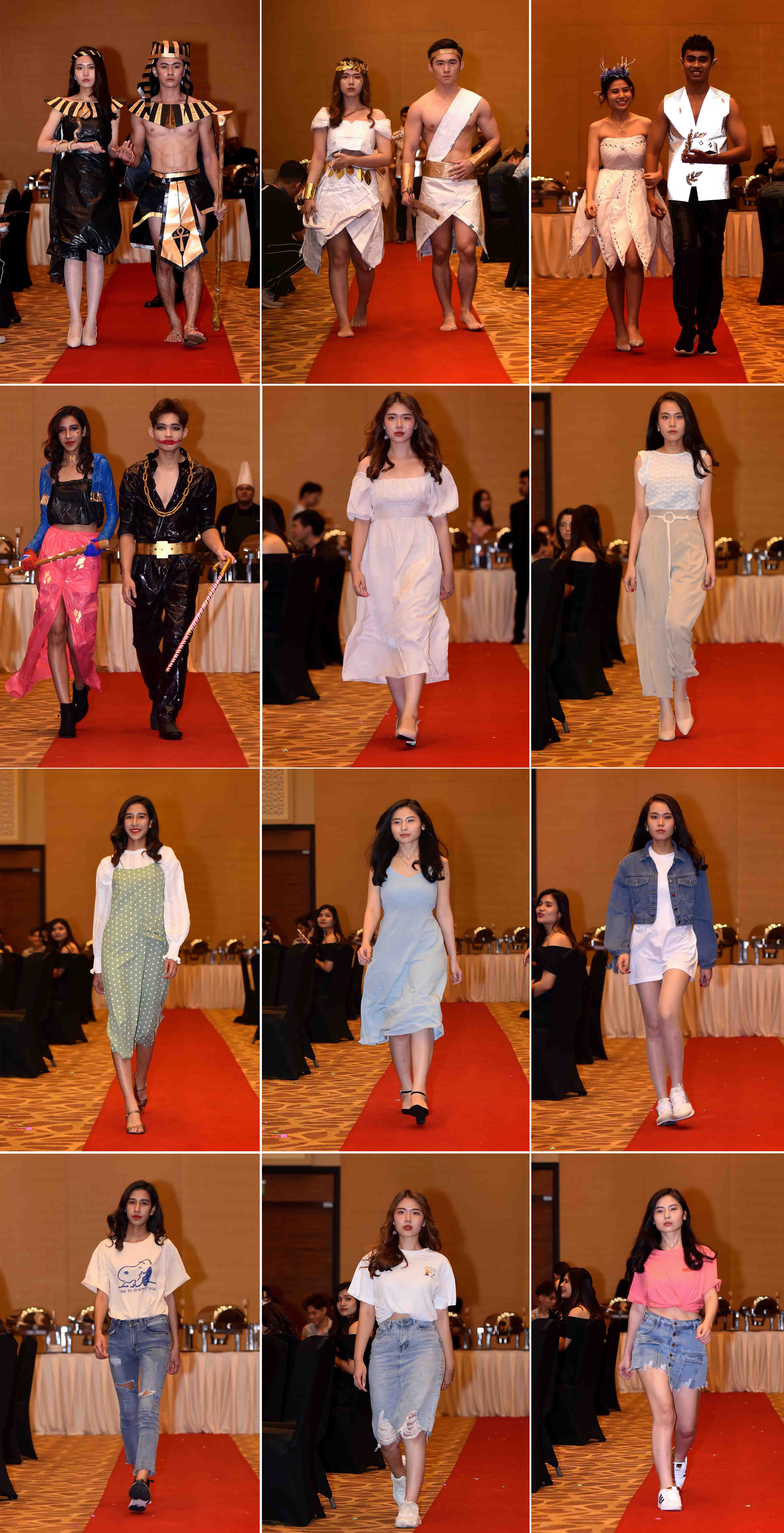 Catwalk by UTAR Models and UNIQUEENS  
Singing and dancing performances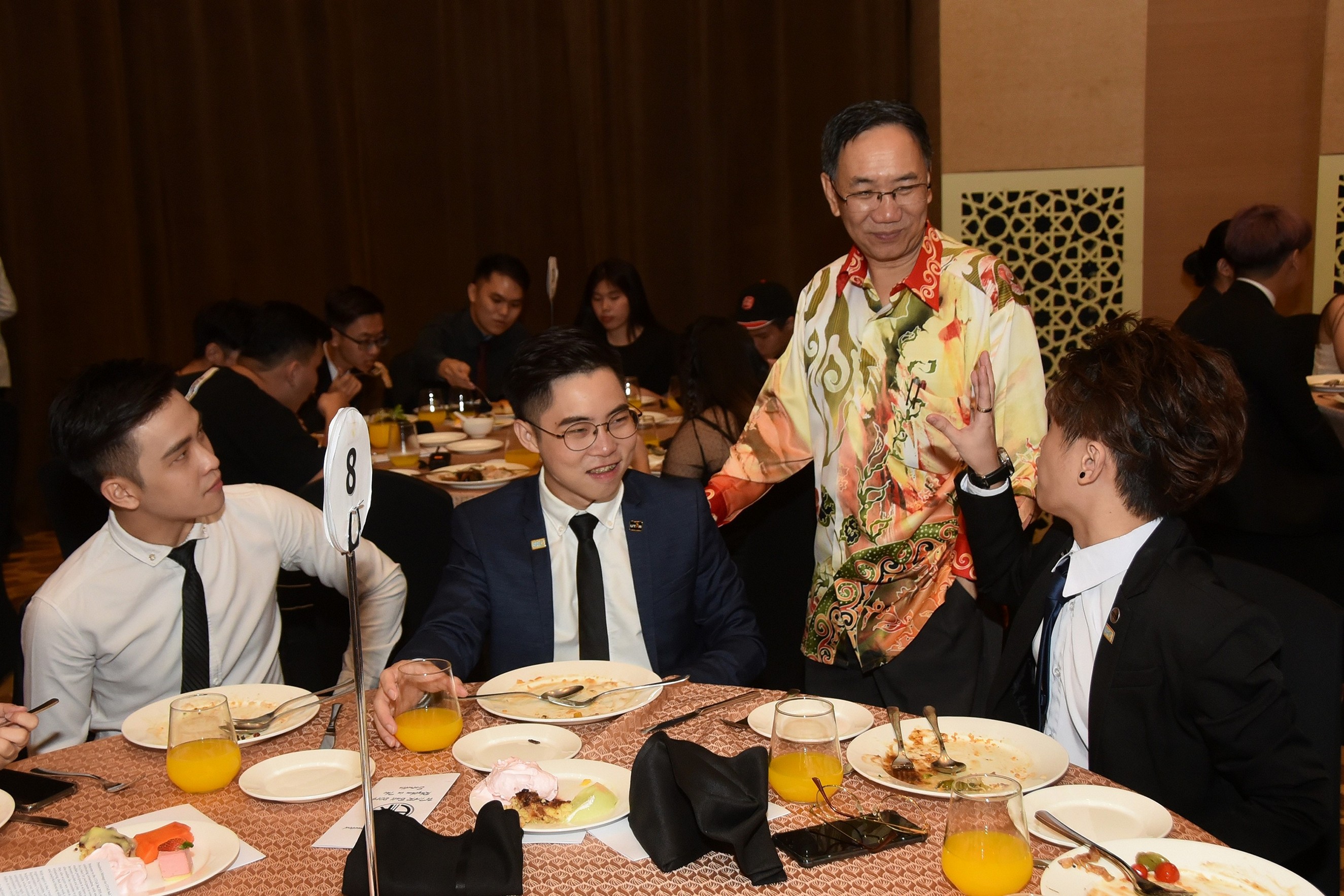 Prof Chuah interacting with participants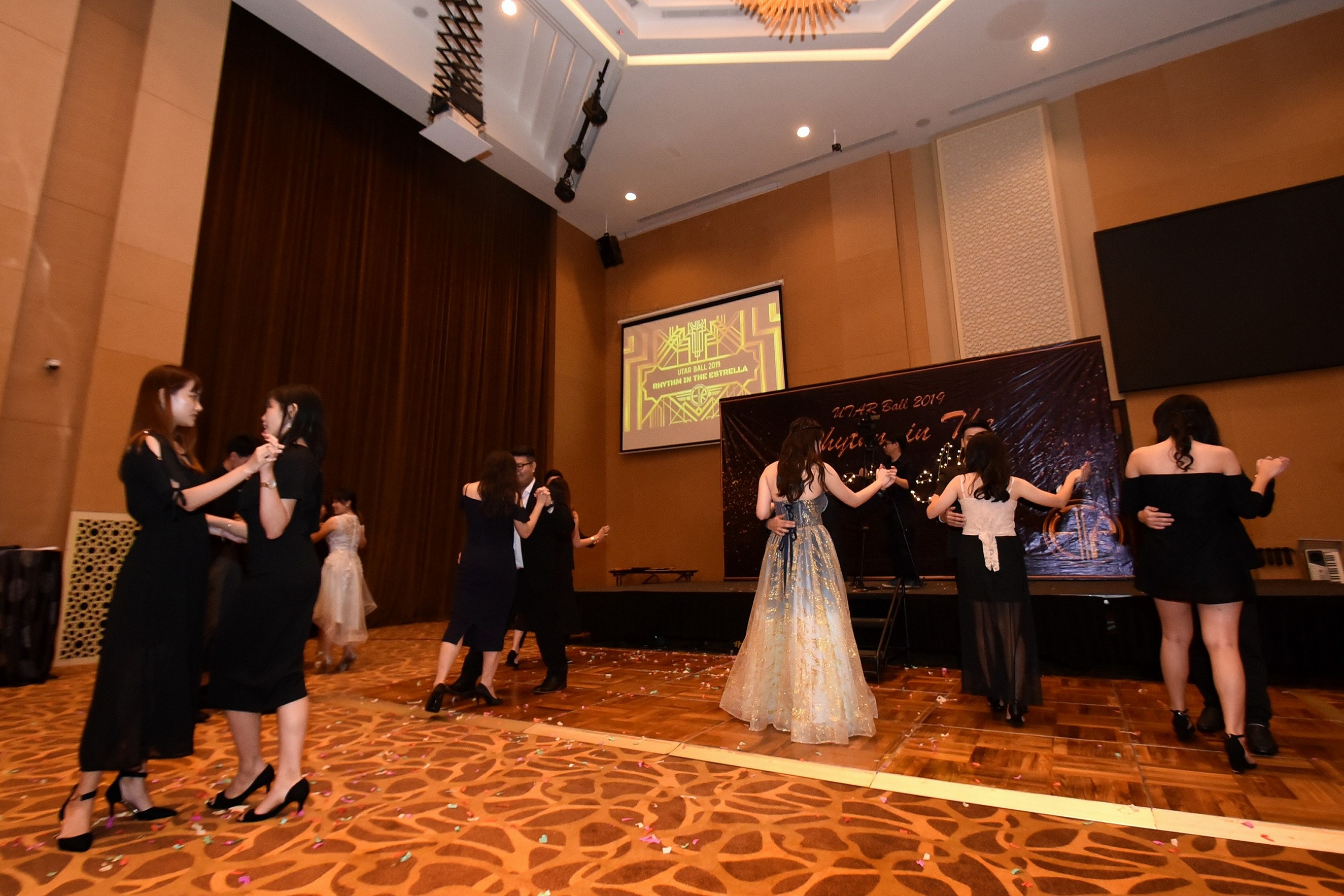 Participants enjoying their waltz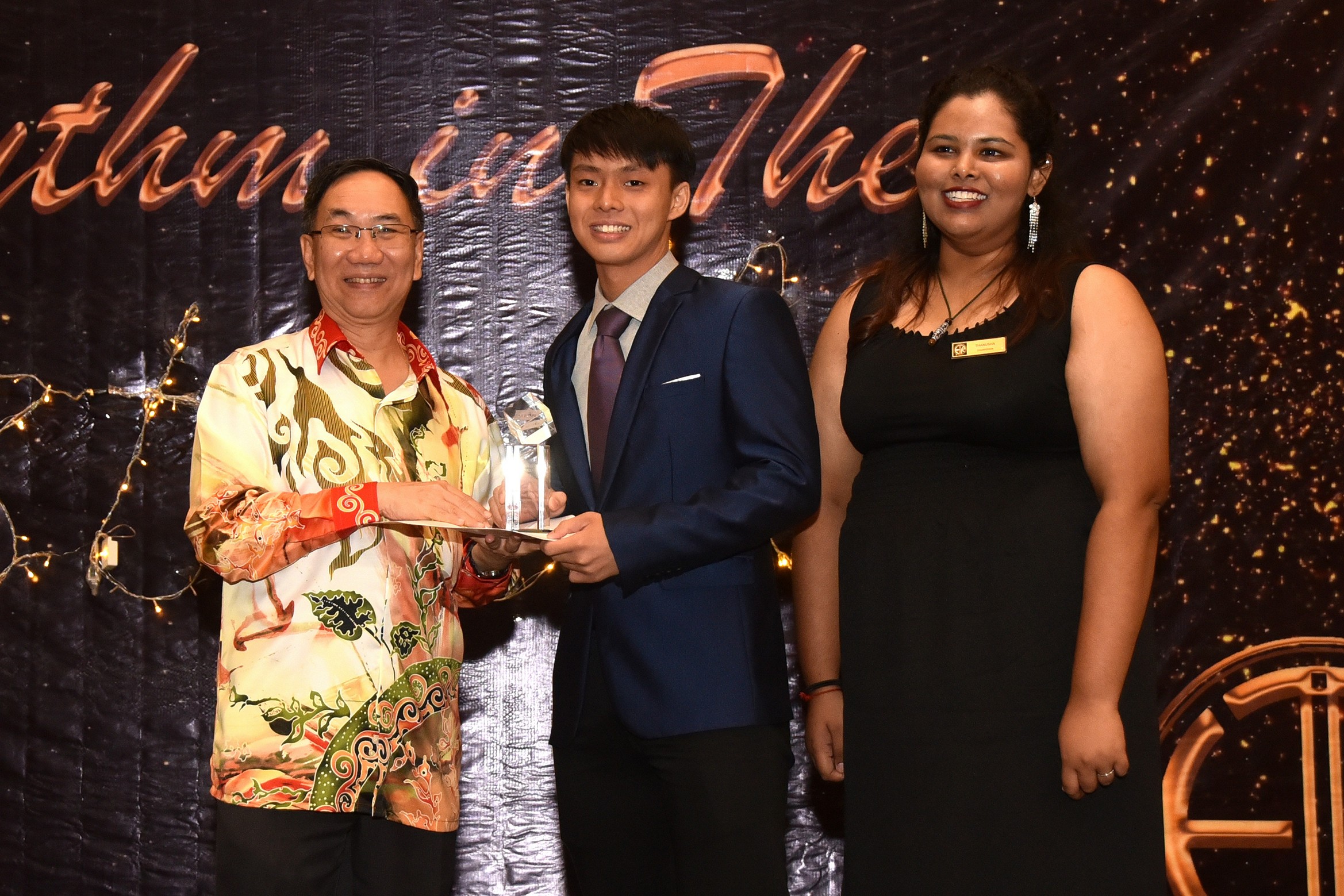 Prof Chuah presenting the "Sportsperson of the Year" Award to Sew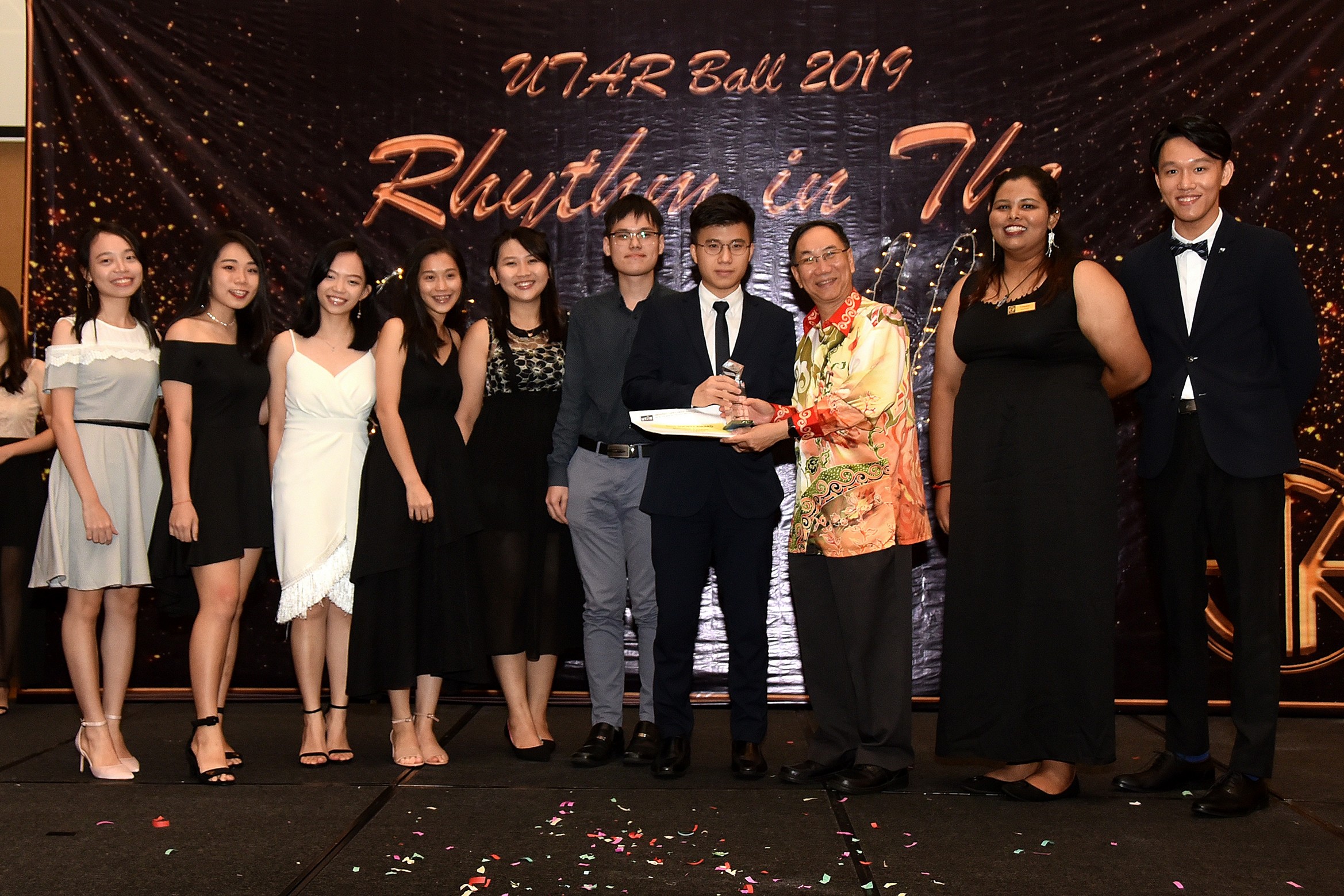 Prof Chuah presenting the "Best Society Award" (course based) to Medical and Health Science Society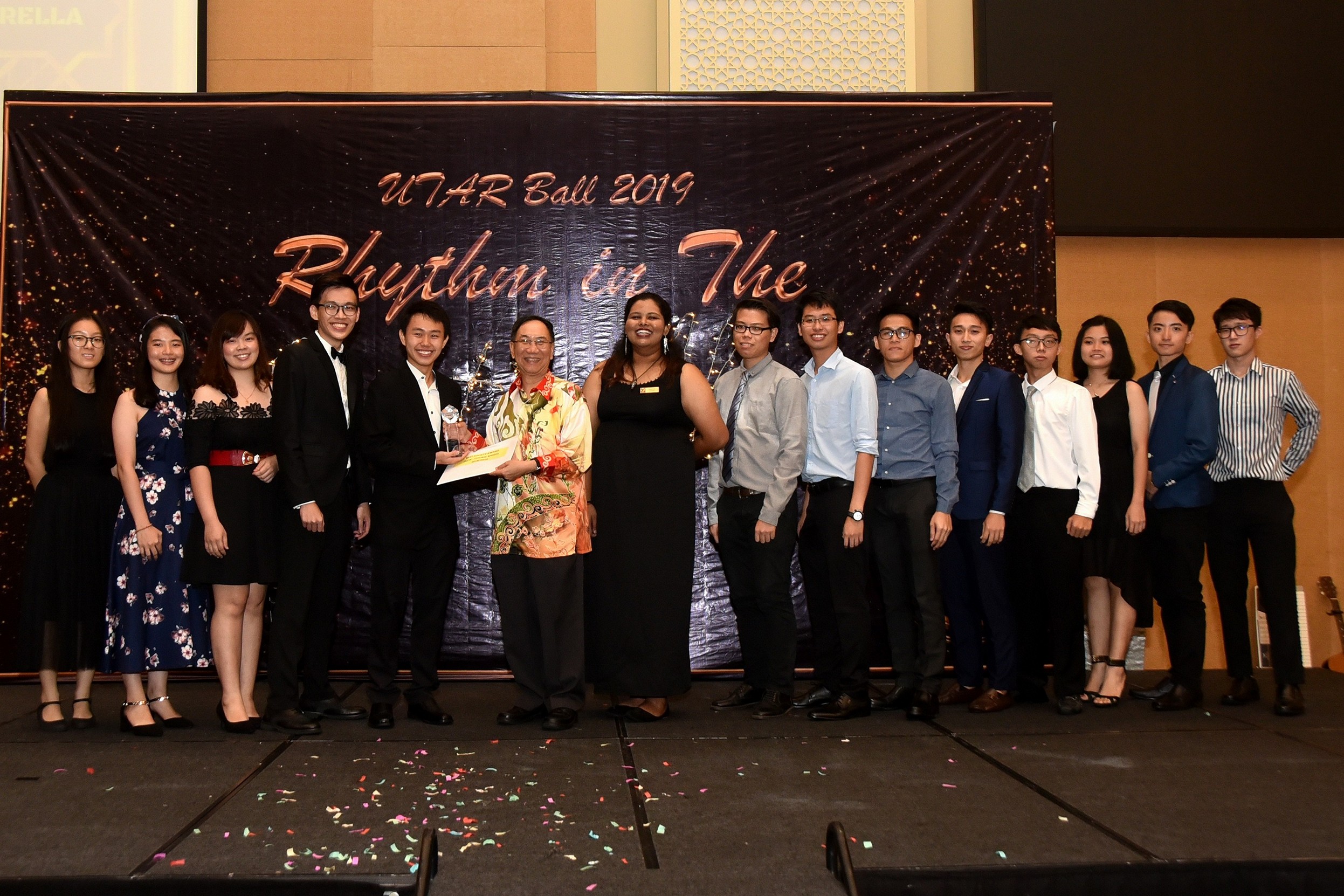 Prof Chuah presenting the "Best Society Award" (Non-course based) to Wushu Club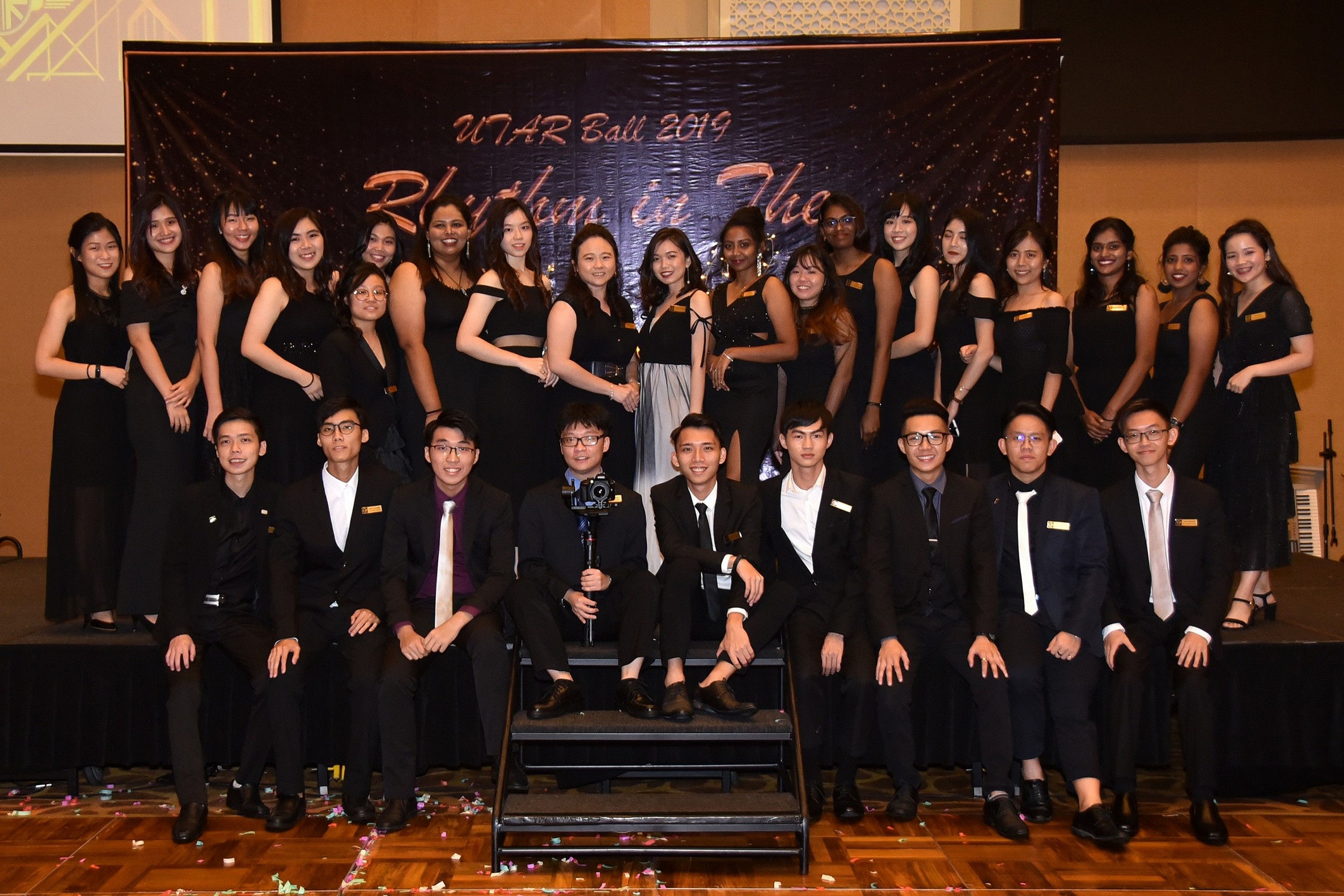 The organising committee
Click the link to read more about the previous UTAR Balls
UTAR Ball: Unveiling the Future 
UTAR Ball 2016: Black and White