The Monochromatic Impressions held at Commune of Sunway Velocity Mall on 22 and 23 June 2019, was an opportunity and a portal for 23 UTAR Department of Architecture and Sustainable Design students to represent themselves in the architecture realm.

The exhibition hall on the 5th Level of Commune, Sunway Velocity
Using "Point, Line, Plane and Volume" as the fundamental elements of the designs, the Architecture students expressed their sketches of buildings, structures, people and nature in greyscale. The mediums used for the sketches were "Artline" pens and pencils. The students were challenged on how to better depict the primary design elements in the drawings and elevate graphic communication.
Multiple sketching methods were used by students such as contouring, cross-hatching and stumping. The most common technique used was blending. Besides techniques, different types of graphite pencils were also used, namely F, HB, 2B, 4B and 8B pencils. The students also used Artline drawing fine-liner pen and Sakura Pigma Micron drawing pen to effectuate line widths from 0.15mm to 0.5mm for the sketches. All the sketches were done in a grey tone.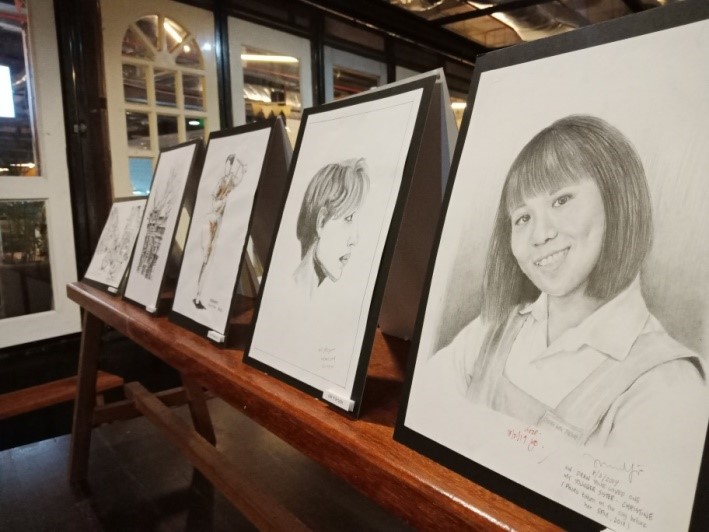 A row of portrait sketches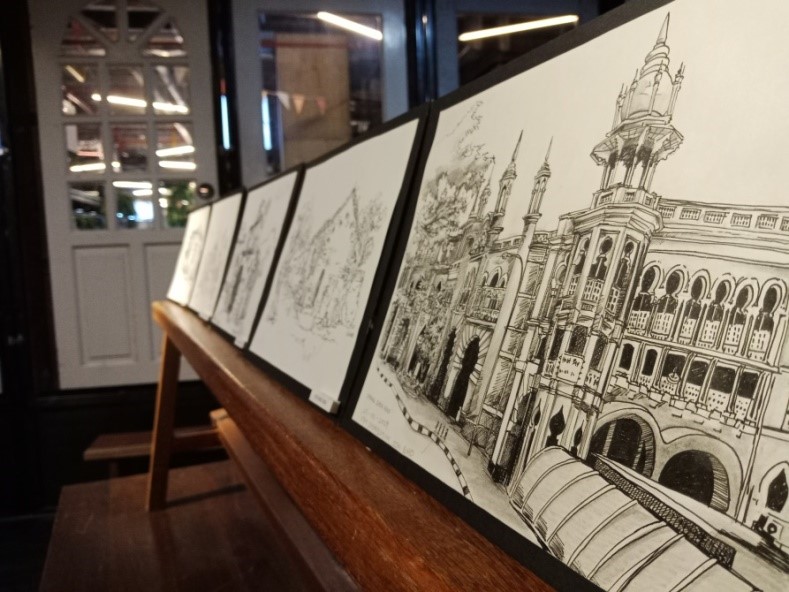 Sketches of architectural buildings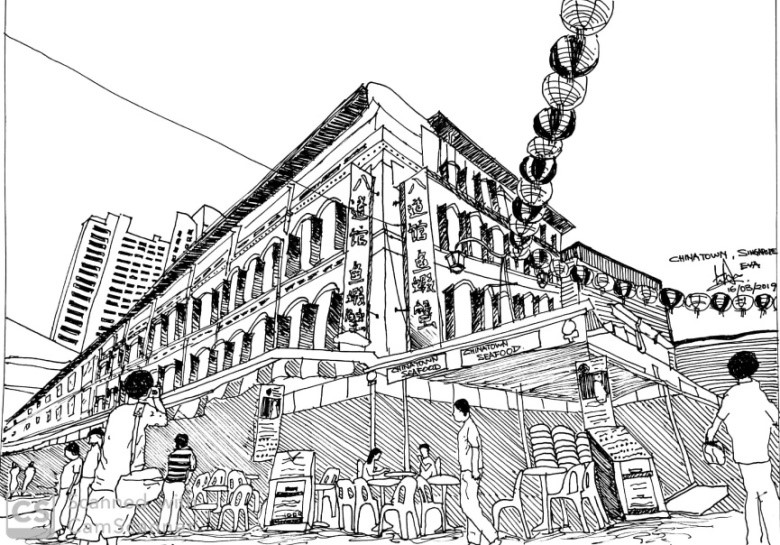 A sketch of Chinatown, Singapore in Sakura Pigma Micron drawing 0.1, 0.2, 0.5 and 0.6 pens by Kiew Si Ann
A monochromatic sketch is one created using a single colour or hue. As a tool, monochromatic sketches dramatise visual effects to convey compositional simplicity and unify peacefulness; express medium starkness and purity, or implicate any other interpretive psychological or symbolic meaning. Done as an exercise, sketches in monochrome educate students to work on shades, gradients, composition and line.
Sketching is one of the ways to further develop the cognitive ability to focus on heeding the subject matter. It is a skill that can be very useful in life and career. Sketching also develops hand-eye coordination so that undertaking everyday tasks can be effective and efficient. It also improves visual communication skills.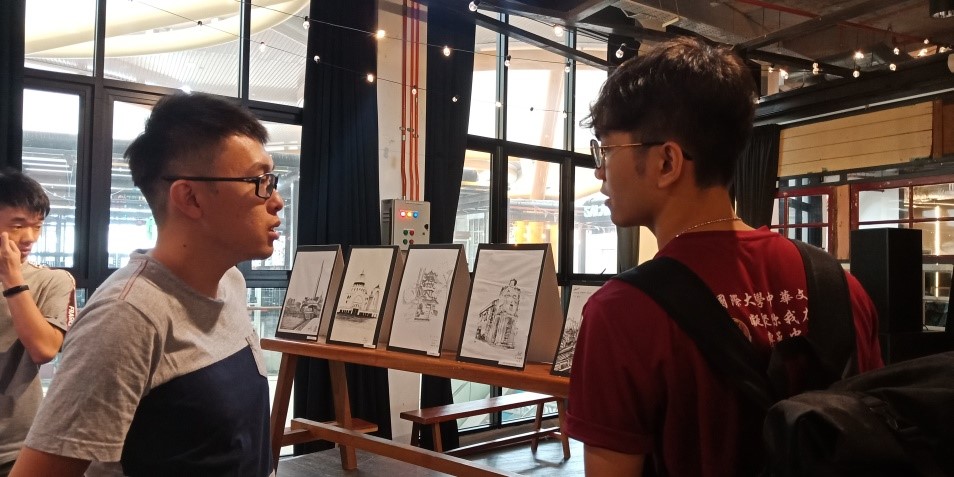 Alvin Tan Kai Woon (left) explaining the sketching techniques to one of the visitors during the exhibition
In the exhibition, sketches were displayed back to back on both sides of long timber stools; on top of timber tables which were arranged in a zigzag manner.
The participating students were Alvin Tan Kai Woon, Amelia Low Chuan Yin, Cheah Yi Theng, Chee Kai Meng, Cheong Li Bin, Chong Zhen Hao, Ho Song Sen, Jonathan See Yu Hoong, Keng Pei Ni, Kiew Si Ann, Lau Xin Yee, Lim Yi Syuen, Lu Yien Jun, Lum Yeong Kang, Muhammad Syihan Bin Che Sa'adon, Nelson Ding Kai Jie, Ng Kah May, Ow Su Jie, R. Rlivashini, Tai Si Wei, Tan Shin Jie, Tay Min Shean and Tey Li Sin.
Assisting the students were LKC FES Academics Leong Hung Sek, Beh Jing Han, Tew Bun Teck andDepartment of Architecture & Sustainable Design Head Ts Tan Kok Hong.
Nelson Ding said, "There are multiple ways to express contrast in a sketched object, such as through different tones of shading, texture and many more." Chong and Ho mentioned, "This exhibition emanates the introductory part of the learning process towards the path of becoming an architect in the future. We believe a good architect needs to be good in sketching to deliver envisioned idea or idealistic concept to their clients."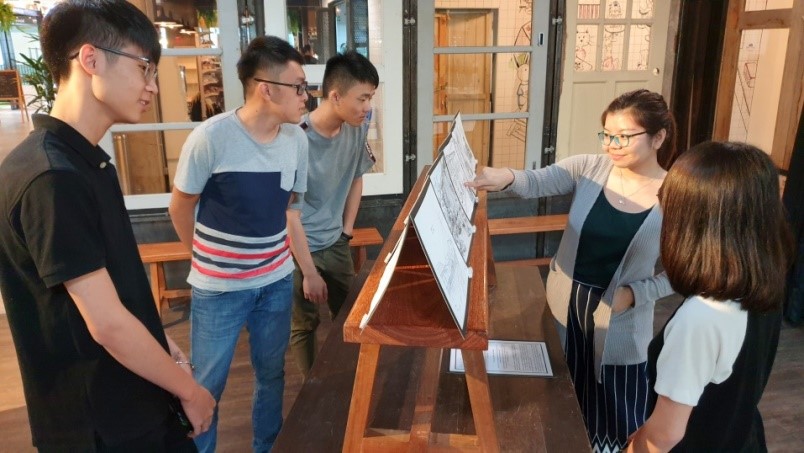 From left: Ben Lau, Alvin Tan, Chong, Eva Kiew and Anna Cheah admiring the artworks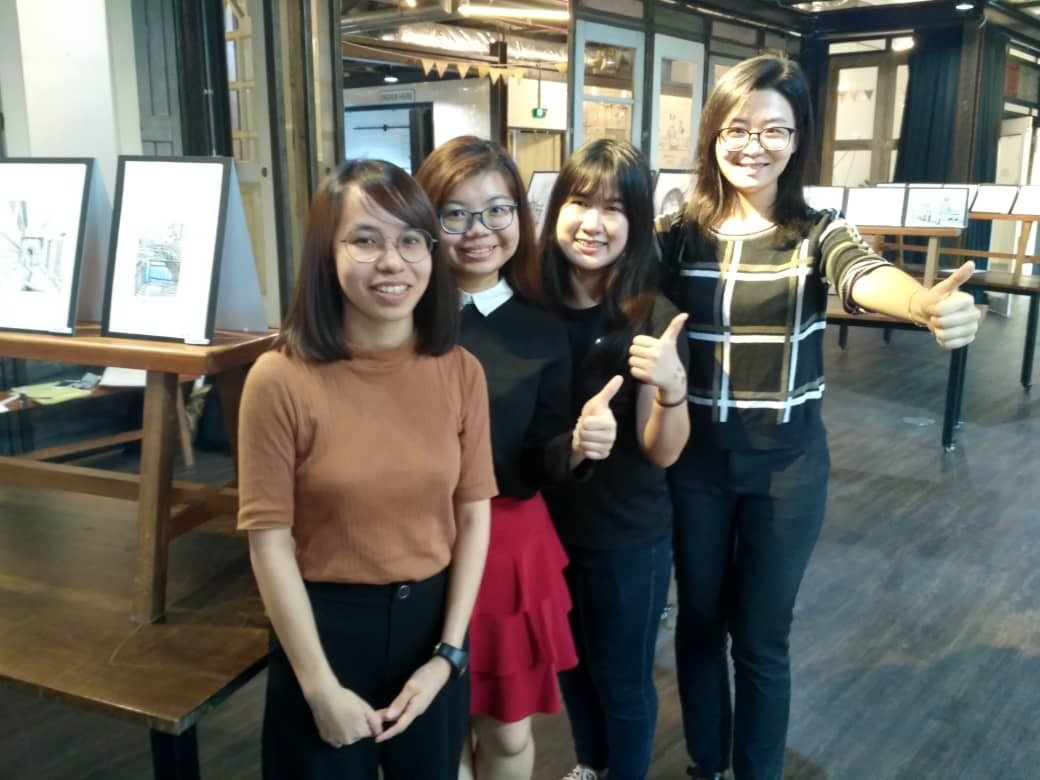 From left: Cheah, Kiew, Lim and Beh joyously taking pride over the exhibition outcome 
Visitors and a family (left) from Ipoh, Perak admiring the artworks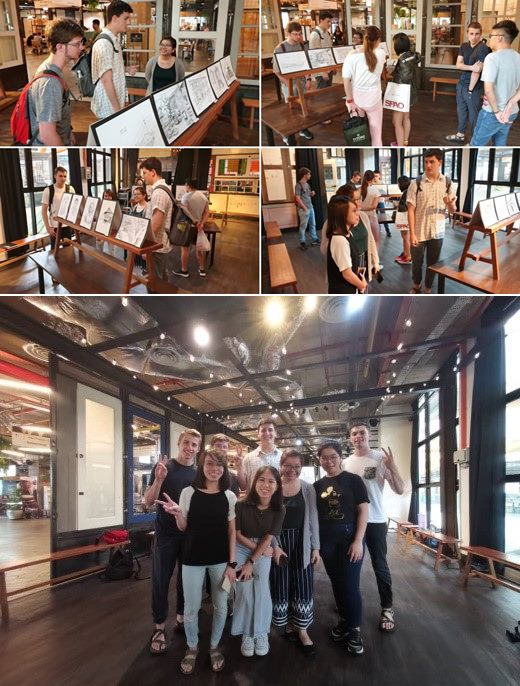 Students engaging with visitors from Iowa State University, USA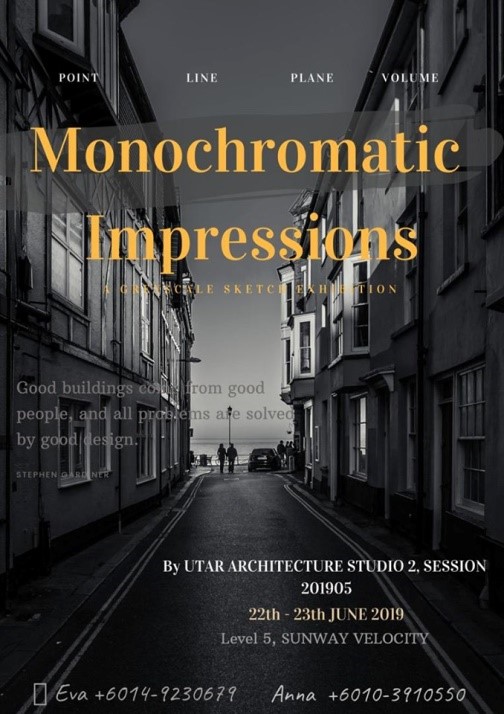 Monochromatic Impressions poster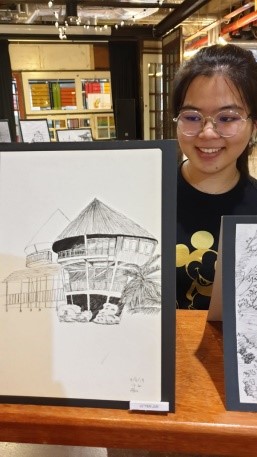 Lu Yien Jun presented her "Resort" in Faber Castell HB, 2B and 5B pencils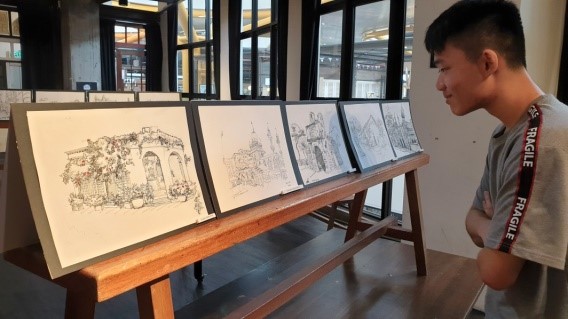 Chong presented his "A Famosa" in Artline drawing 0.2, 0.4, 0.5 fine-liner pens and Faber Castell 2B pencil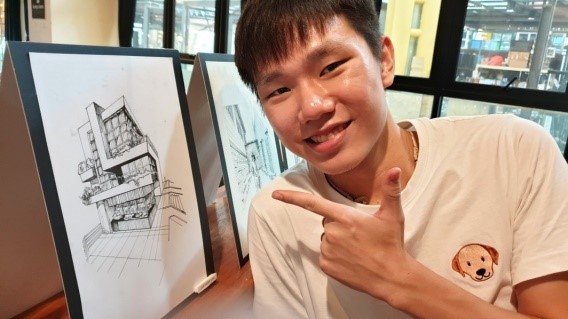 Lum Yeong Kang presented his modern house building in Artline drawing 0.05, 0.2, 0.4, 0.6 and 0.8 fine-liner pens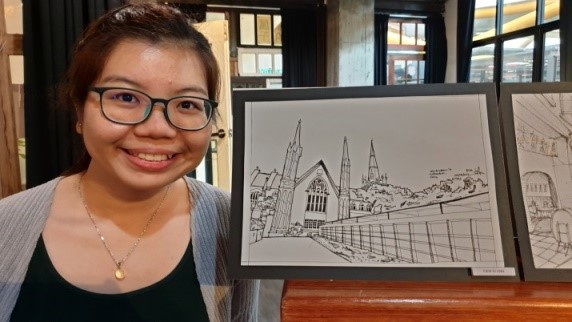 Kiew Si Ann presented her St Andrew's Cathedral, Singapore in Sakura Pigma Micron drawing 0.1, 0.3, 0.5 and 0.8 pens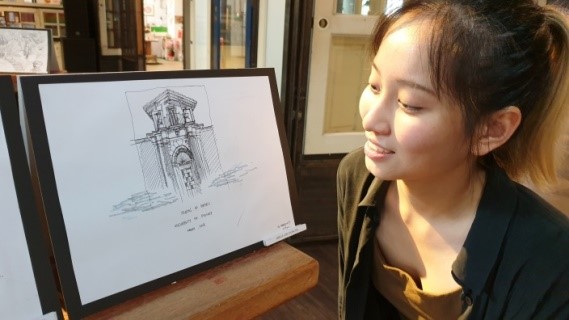 Amelia Low Chuan Yin presented her School of Physics, Sydney in Artline drawing 0.2 and 0.6 fine-liner pens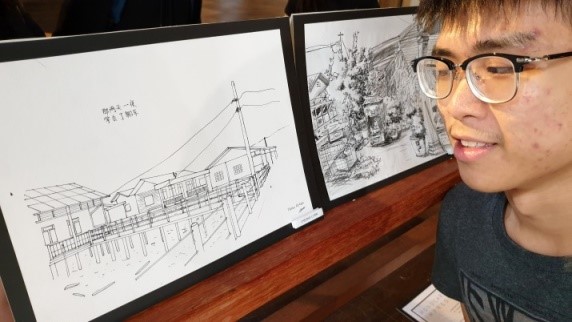 Cheong Li Bin presented his Pulau Ketam in Artline drawing 0.4 fine-liner pens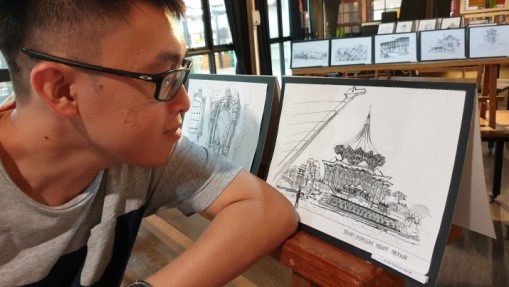 Alvin Tan Kai Woon presented Dewan Undangan, Sarawak in Artline drawing 0.05, 0.1, 0.3, 0.5 and 1.0 fine-liner pens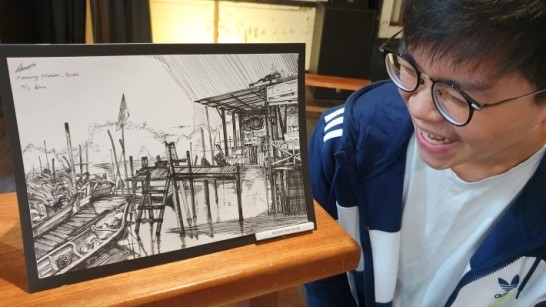 Nelson Ding presented his masterpiece— a fishing port in Artline drawing 0.3 and 0.6 fine-liner pens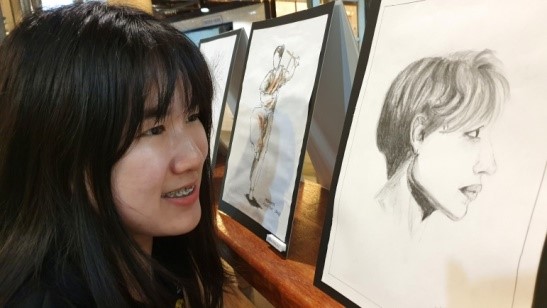 Lim Yi Syuen gazing at her idol in Artline drawing 3B and 2H fine-liner pens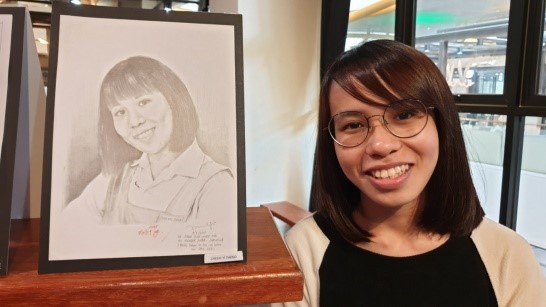 Anna Cheah Yi Theng posing with the portrait of her sister Cheah Wan Theng in Artline drawing 0.05, 0.2 and 0.4 fine-liner pens