The Faculty of Accountancy and Management (FAM) Department of International Business and Belt and Road Strategic Research Centre (BRSRC) jointly organised a research talk titled "Quirkos for Qualitative Analysis" on 18 July 2019 at UTAR Sungai Long Campus.
Present at the event were FAM Dean Dr Sia Bee Chuan, Institute of Management and Leadership Development (IMLD) Director-cum- Belt and Road Strategic Research Centre Chairperson Prof Cheng Ming Yu, Department of International Business Head Farah Waheeda binti Jalaludin, Head of PhD and MPhil Programmes Dr Cham Tat Huei, students and staff.
The speaker, Dr Daniel Turner, is the founder and director of Quirkos. He was inspired to create the Quirkos software after wanting to engage participants in the analysis process. The two-hour talk saw Dr Daniel introducing qualitative research and explaining how to make it interesting. He also introduced participants to the Quirkos software.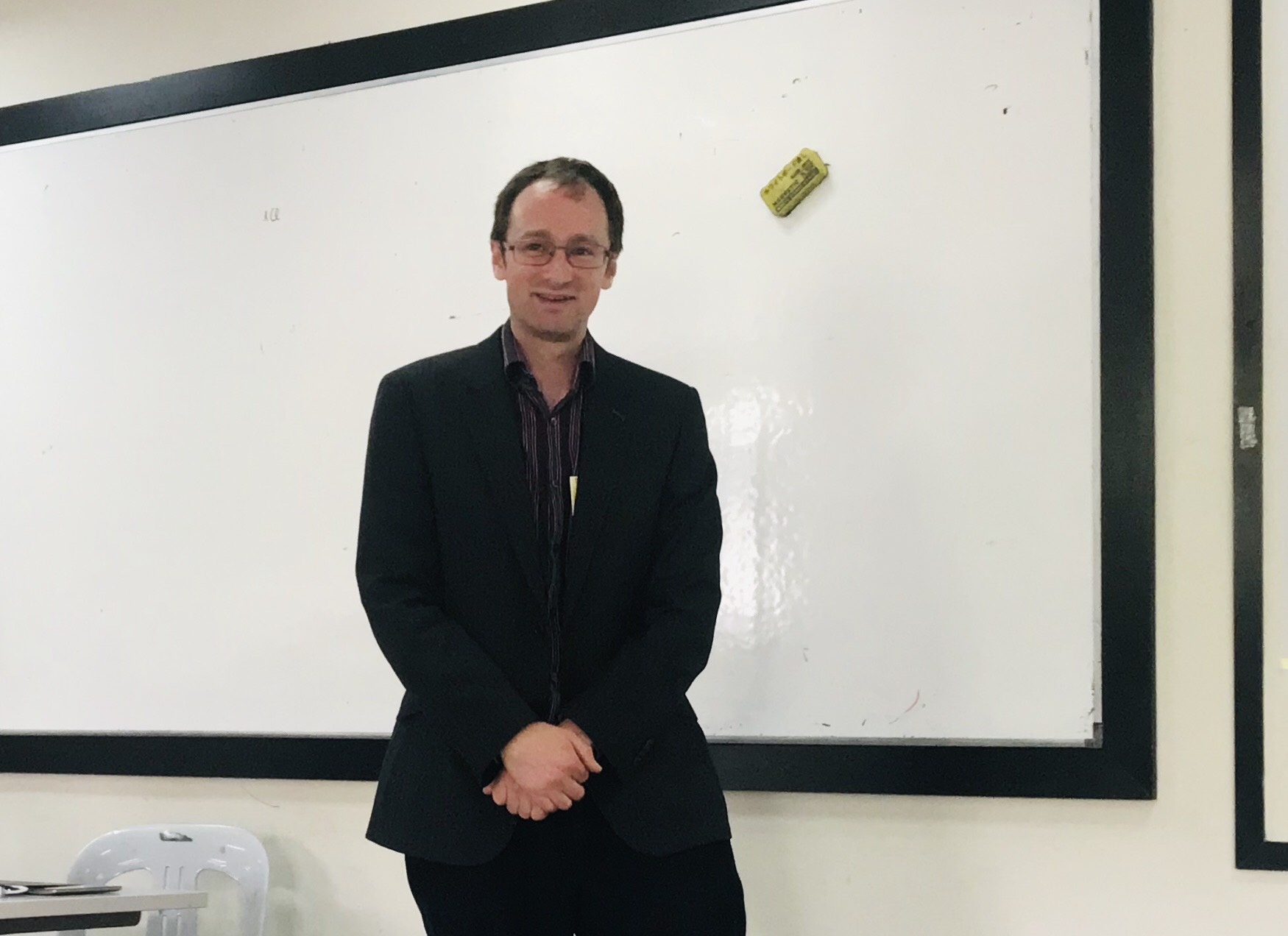 Dr Daniel delivering his talk
He started his talk by briefly explaining the qualitative research using the example of a study done on Vitamin D. He then said, "Anyone can become a qualitative researcher because all of us are qualitative researchers. We filter things from what we want to focus every day."
According to Dr Daniel, the qualitative methods are usually used when the answers are complex; for instance, when you need to know why, when you don't know the question and also when you need to explain and contextualise quantitative data. Dr Daniel explained that qualitative data can be analysed by thematic or content analysis, discourse analysis and narrative analysis. It can also be analysed by reading the data in new ways, developing a 'framework', topic, node list and by 'code' sections of data to one or more topics.
Besides, Dr Daniel also emphasised on the use of Computer Assisted Qualitative Data Analysis (CAQDAS). Also known as the database, the CAQDAS is used to manage many data sources. The CAQDAS is used because it has good memory, quick keyword search and quote retrieval, neat especially for corrections like undo and redo, and it can be shared with others. However, the CAQDAS is not automatic. Hence, it cannot perform analysis, write reports or draw conclusions.
According to Dr Daniel, Quirkos is a Greek word and it is a software used for coding and exploring texts. It focuses on the ease of use and graphical visualisations which is identical to Windows, Mac, Android and Linux. Quirkos is mainly used for qualitative analysis of transcriptions including literature and systematic reviews, policy or document analysis, qualitative or quantitative questionnaires, and essay marking.
In Quirkos, the nodes and topics are represented as bubbles which grow, giving live feedback. Moreover, the cluster views show connections between themes as they merge and export work as interactive reports, annotated Word files and graphics. The software supports manuals, both short and long, video guides (inc Bit Guides), monthly on-line workshops, email and skype or zoom project.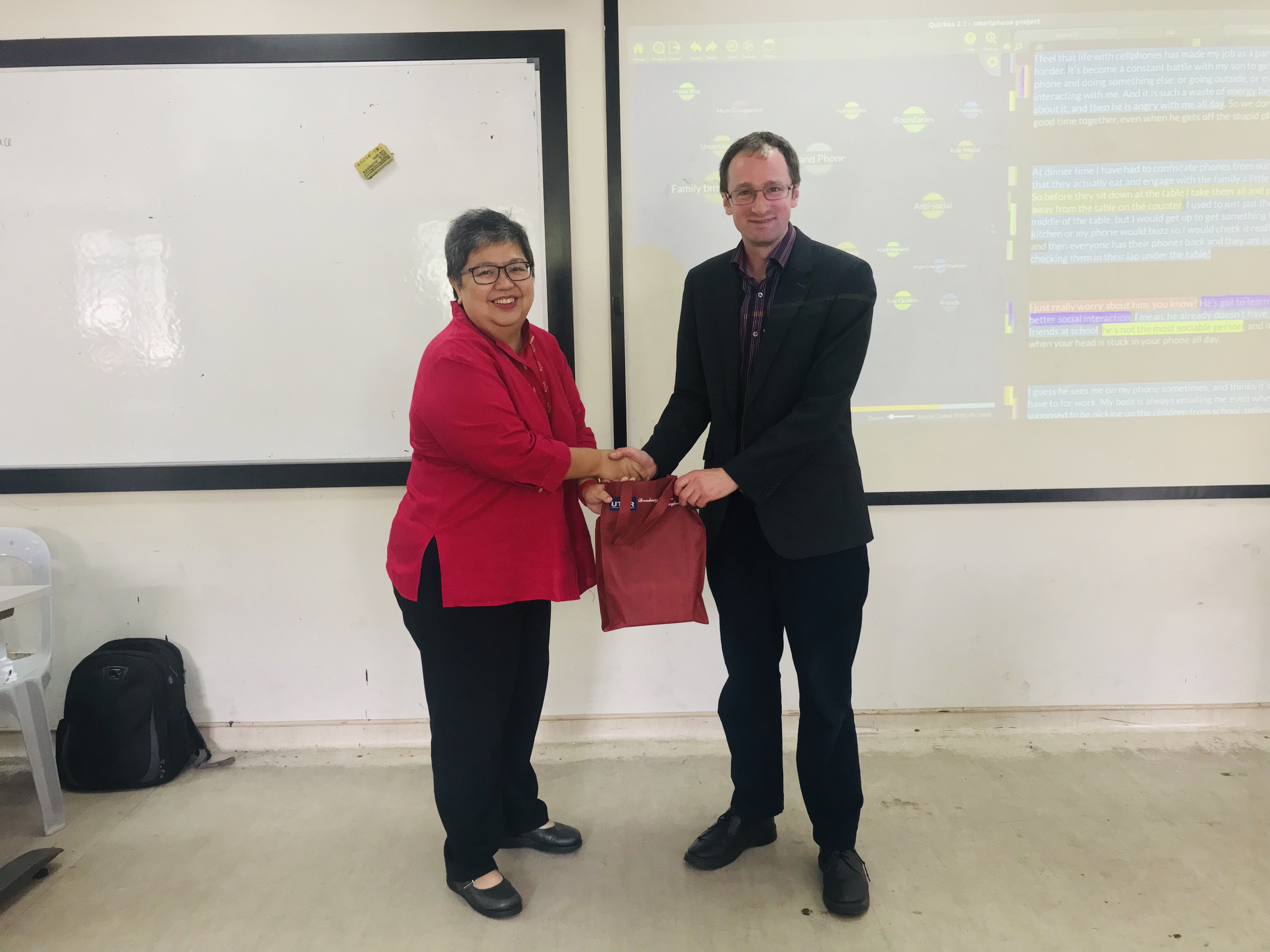 Dr Daniel receiving a souvenir from Dr Sia
After the talk, there was a demonstration of Quirkos software for the audience by Dr Daniel. The talk ensued with a Q&A session and ended with the presentation of souvenir from FAM Dean Dr Sia Bee Chuan to Dr Daniel.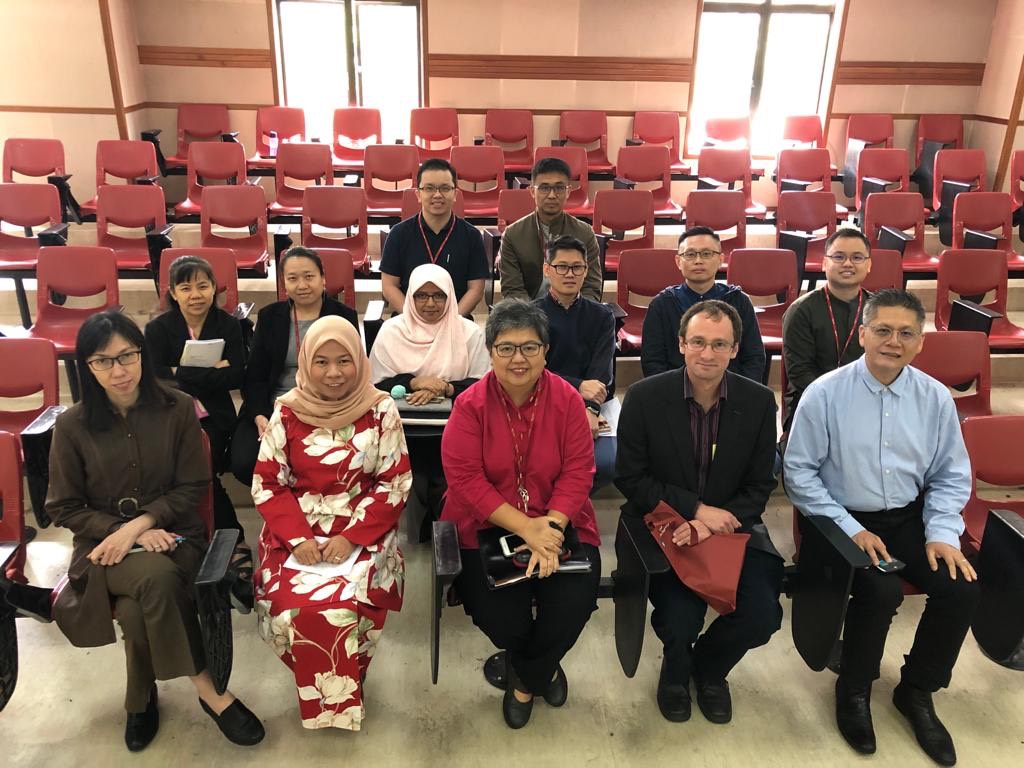 Second from right: Dr Daniel with FAM staff