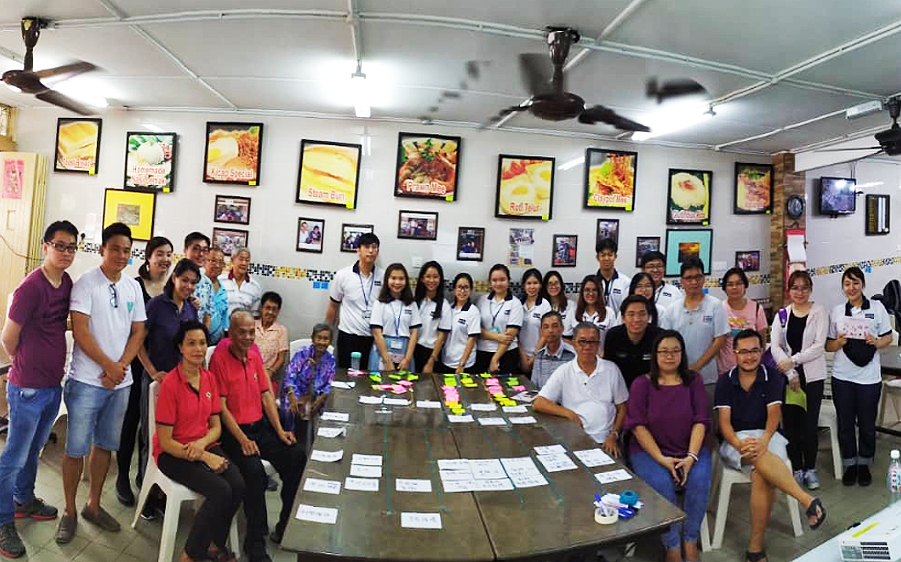 Participants of the cultural mapping workshop
On every 18 April of the year, the International Council on Monuments and Sites (ICOMOS) celebrates the International Day for Monuments and Sites. It was approved by the 22nd UNESCO General Conference in 1983.
The most recent International Day for Monuments and Sites was celebrated on 21 April 2019 with a workshop held in line with its theme 'Rural Landscape Heritage'. It was organised by People Ideas Culture of Malaysia, in collaboration with Contemplate Culture of Hong Kong. The supporting bodies of the event also included ICOMOS Malaysia, UTAR Department of Soft Skills Competency (DSSC) Kampar, and SJK(C) New Kopisan's Board of Director. The event took place at Kheng Bee 瓊美 Café, Kopisan Village, Gopeng, Perak.
Present at the event were Founder of People Ideas Culture Kenneth Wong, SJK(C) New Kopisan Board of Directors Chairman Chen Kong Hoy, DSSC Kampar Head Hee Chwen Yee, along with 20 Kopisan villagers and 20 UTAR students.
To deepen the people's appreciation and understanding towards monuments and cultural heritage, a workshop titled "Exploring rural assets – Cultural Mapping by Communities" was conducted by speakers from Contemplate Culture, namely Cultural Heritage Manager and Curator Anna Yau and Architectural Heritage Conservationist Candy Law. The speakers explained that cultural mapping has been identified by UNESCO as a useful tool to identify and record disappearing intangible values of a place and a community. The workshop covered aspects on understanding one's neighbour, mapping of common experience, and understanding the importance of cultural and social capitals for community resilience.
The participants of the workshop were guided to create a neighbourhood map, while they explored how culture and social capitals recorded in the map could be utilised and contributed to achieving sustainable development in the respective neighbourhoods.
"Kopisan New Village was approached and encouraged by DSSC to participate in the event as to strengthen the village's cause of transforming the village into an eco-tourism village. Over the years, DSSC has continuously worked with Kopisan New Village to organise various community projects that aimed to improve the lives of the villagers and its local economy," explained Hee, adding that the idea of cultural mapping by community as presented in the workshop saw a positive response from the participants of Kopisan New Village. "They saw the opportunity to use this cultural mapping tool to further develop the village," she pointed out.
The workshop also acted as a platform where UTAR students improved their social skills and volunteerism from the interaction with the local community. The interaction furnished the students with information such as stories, knowledge and experience. This essential information was then used to create cultural mapping for the village following which the villagers will be able to use that as a tool to showcase their village's assets to the public as well as the future generations.

Yau (left pic) and Law (right pic) highlighting the benefits of cultural mapping

UTAR students dialoguing with the villagers to their cultural mapping activity