UTAR creates and donates face shields for HUKM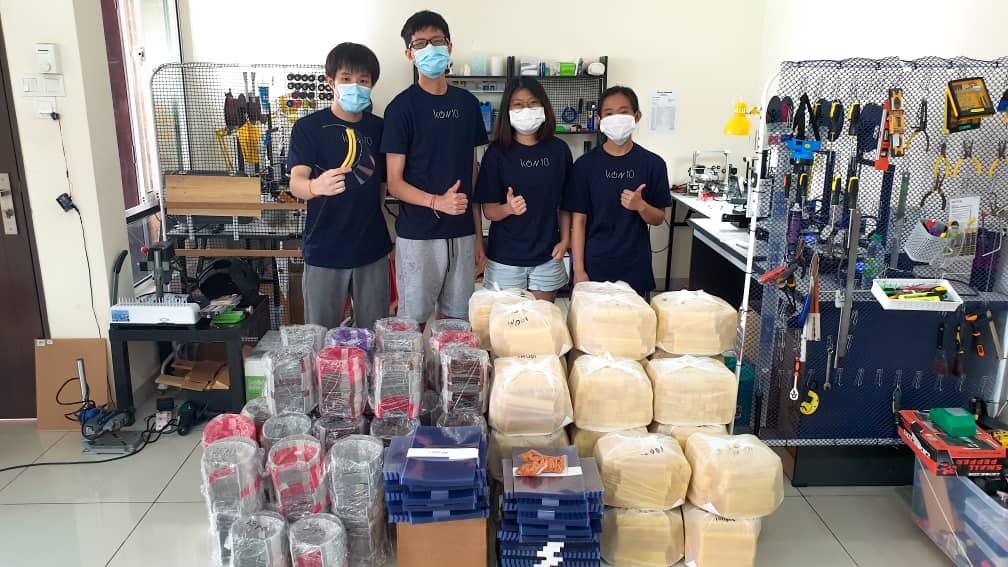 Face shield makers of Kon10Innovation and their finished products at UTAR Unovate Centre in Sungai Long Campus
From left: Lim Kai Wen, Lim Tyng Xian, Ooi Hsin Yein, and Sin Chia Ling
UTAR sponsored and donated 1000 face shields to Hospital Universiti Kebangsaan Malaysia (HUKM), also known as Hospital Canselor Tuanku Muhriz (HCTM), on 15 April 2020 for the hospital medical staff who have been in the frontline during this COVID-19 pandemic.
Puan Yasmin Rahimi, senior manager under the Director's Office of Hospital Canselor Tuanku Muhriz UKM, received the donation from UTAR for the hospital.
Puan Yasmin Rahimi (left) receiving the donated face shields from Kai Wen at HUKM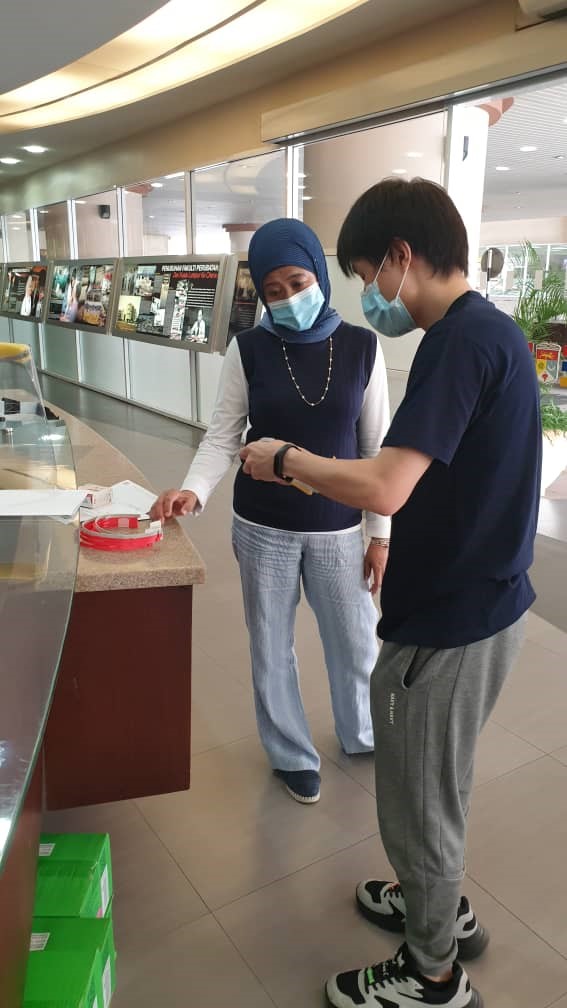 Kai Wen showing the face shield to Puan Yasmin
Sponsored by ECM Libra Foundation, a new batch of 1,500 face shields was produced by UTAR students on 17 April 2020. The face shields were received by the Board of Trustee of ECM Libra Foundation Lim Beng Choon. These face shields will be distributed to needy front-liners in Negeri Sembilan.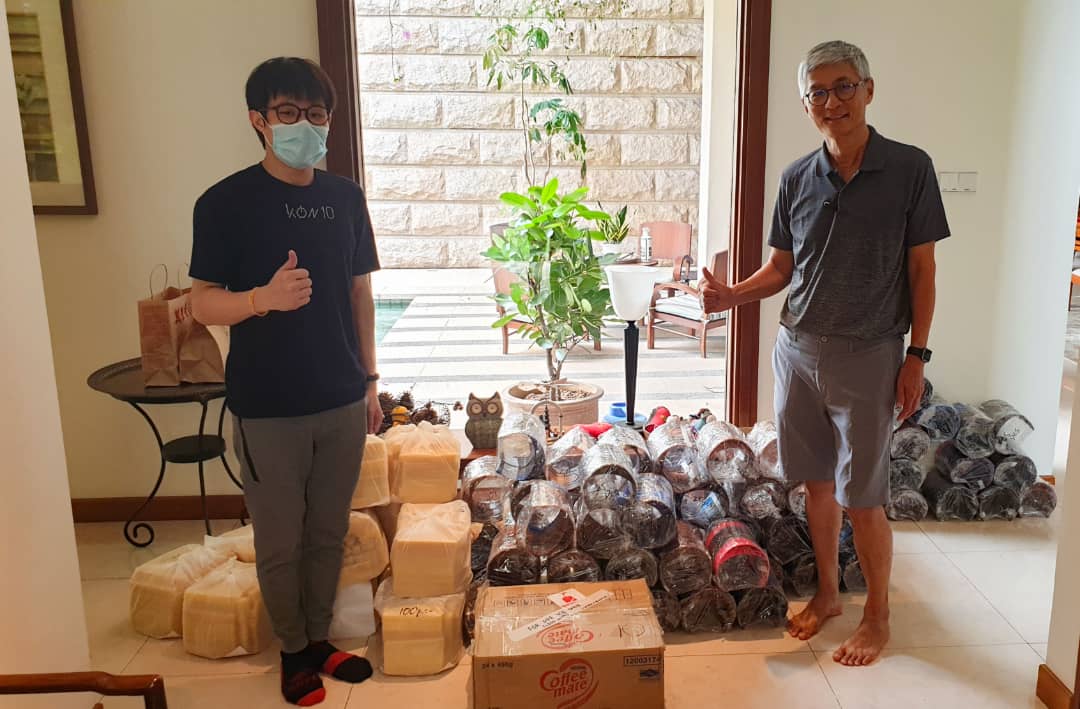 Lim Beng Choon (right) receiving the face shields
The face shields were created by four UTAR engineering students from the Lee Kong Chian Faculty of Engineering and Science who set up an enterprise called Kon10Innovation, under the UTAR Unovate Centre that was set up to promote student entrepreneurship.
Under the leadership of Kai Wen, Kon10Innovation created the 3D printed medical face shields using eight 3D printers which can produce 1000 face shields in one day. Lim Kai Wen has recently enhanced the hardware and made the production more automated that can produce up to 1,300 face shields in a day. The face shields created are of good grade materials that can withstand heat and can be reused after sanitisation. The sponge on the face shield can also be easily replaced after use.
Kai Wen and his team are committed to the task and said, "It is an eye-opening experience to produce face shields on this scale and within a short period of time. However, it is amazing what we are able to do and a humbling experience to be able to do this to help frontliners and safe lives."
UTAR, who funded the first batch of the 1000 face shields for HUKM, is proud to have its students engaged in the production of these protective face shields for the hospital healthcare workers in response to the country's efforts in fighting the COVID-19 pandemic.
UTAR is grateful that the students are really passionate to be part of this and get the production done to help make a difference and support the frontliners. At the moment the students are increasing their efforts to produce more face shields for the next donation to hospital, sponsored by Soon Soon Oilmills Sdn Bhd.
The University invites more sponsors to come forward and join its efforts to produce more face shields for hospitals and frontline workers during this time of crisis of the pandemic. Every contribution will make a difference in increasing the quantity for the hospital healthcare workers.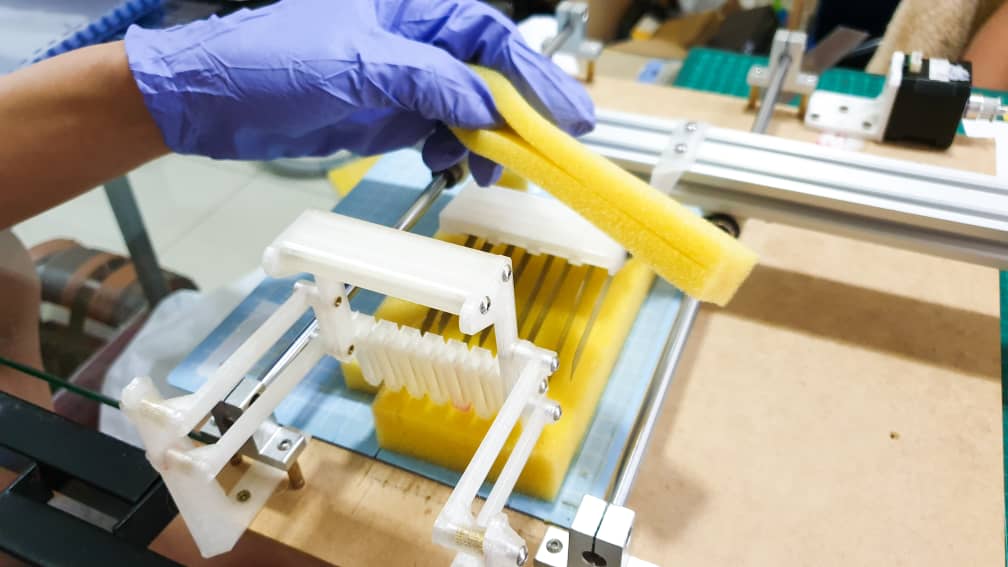 Cutting the sponge for the face shields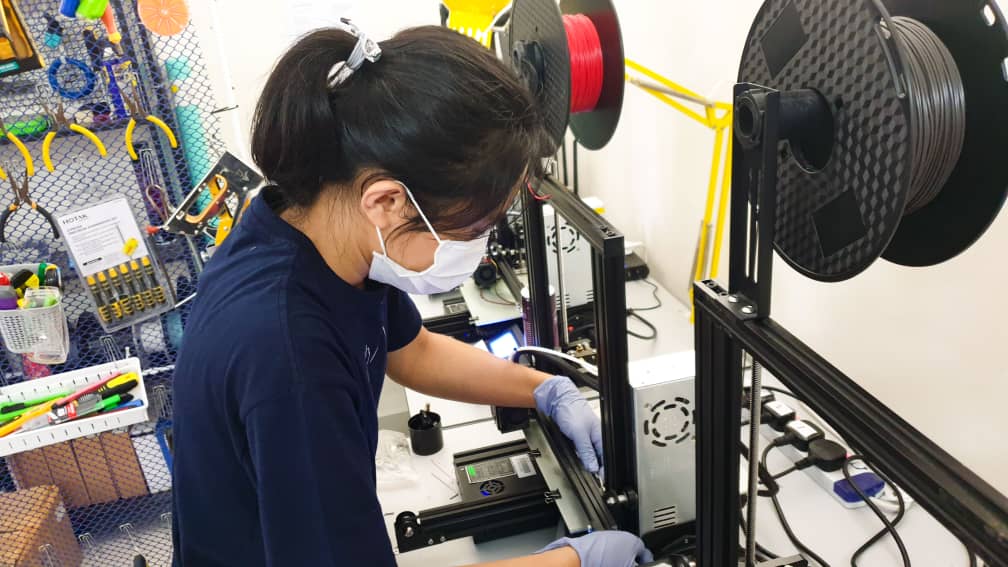 Sin getting the 3D printer ready