UTAR signs agreement with Ditrolic Energy Solution on solar energy project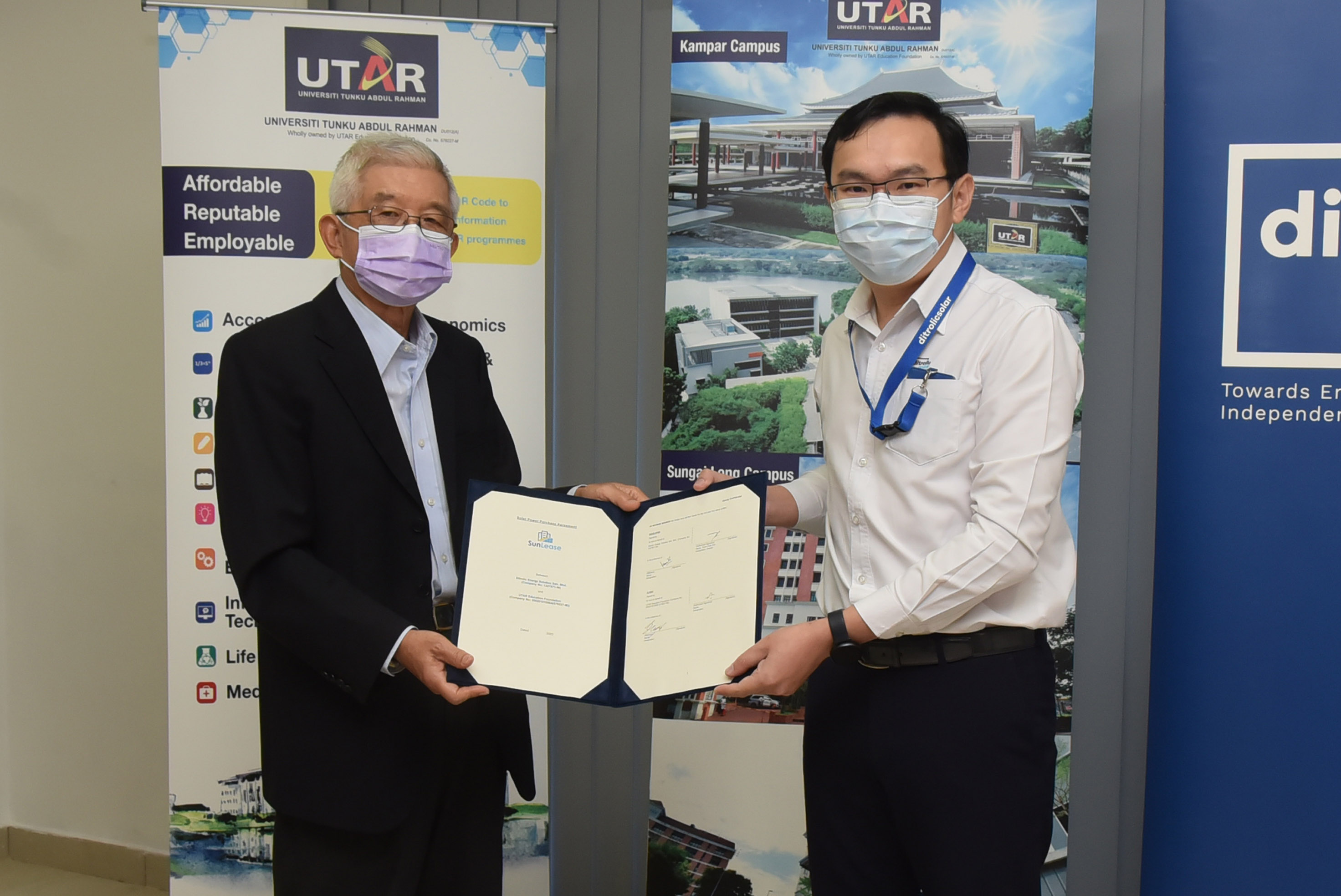 Tan Sri Ting (left) and Tham with the signed document
UTAR and Ditrolic Energy Solution Sdn Bhd signed an agreement on 28 December 2020 at UTAR Sungai Long Campus to deploy a 4.1 MWp on-site rooftop solar system at UTAR Kampar Campus buildings whereby approximately 9,000 pieces of solar modules would be installed to generate enough power for 75 percent of its peak power demand. Over its lifetime, the system will be able to generate about 108,142MWh of clean energy, enabling UTAR to avoid 75,699 tonnes of CO2 emissions.
Signing the agreement were UTAR Council Chairman Tan Sri Dato' Seri Dr Ting Chew Peh and Ditrolic Energy Solution Sdn Bhd Chief Executive Officer Tham Chee Aun while witnessing the signing agreement were Board of Trustees Datuk Lee Leck Cheng and Ditrolic Energy Solution Sdn Bhd Business Development Manager Raziah Hamdan.
Also present at the signing ceremony were UTAR Chancellor Tun Dr Ling Liong Sik, UTAR Board of Trustees Chairman Tan Sri Dato' Dr Sak Cheng Lum, Board of Trustees Datuk (Dr) Oh Chong Peng, Professor Dato' Dr Tan Chong Tin, UTAR President Ir Prof Dr Ewe Hong Tat, Education Foundation Secretary Ong Whee Tiong, Division of Community and International Networking Director Assoc Prof Dr Lai Soon Onn and Ditrolic Energy Solution Sdn Bhd Marketing Executive Angeline Pung.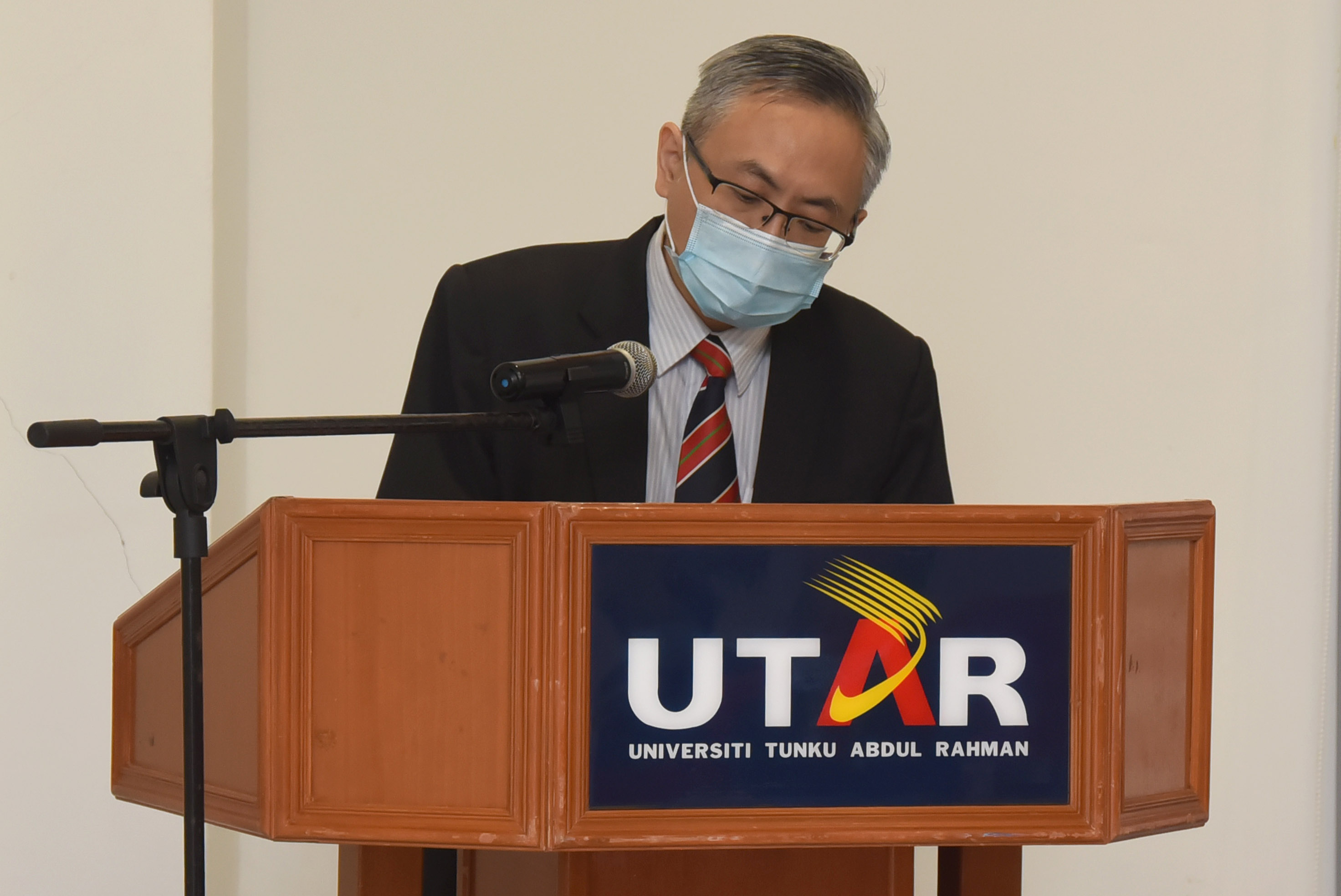 Tham (left) and Prof Ewe delivering their speech
Prof Ewe in his speech said, "We are indeed privileged and honoured in working together with Ditrolic Energy Solution Sdn Bhd, the biggest and experienced solar project developer in Malaysia that undertakes projects both at home and abroad, including Bangladesh, Singapore and Philippines. Ditrolic Energy Solution Sdn Bhd is also the first company in Malaysia to complete more than 100 MW of solar photovoltaic power plant installations worldwide."
Solar power is a great sustainable green energy choice, from reducing the greenhouse gases to improving our air quality and conserving our precious resources. He added, "Solar energy can also help to reduce our reliance on fossil fuels and lower energy prices for years to come. This collaboration aligns us with the United Nations' Sustainable Development Goals (UNSDG) No. 7 which is to promote affordable and clean energy. Recently, UTAR was ranked 106th World's Most Sustainable University in UI GreenMetric World University Rankings 2020. The inclusion of UTAR in this ranking demonstrates the university's commitment which supports the UNSDG that brings impact to the environment. We are thankful to have this chance to collaborate with Ditrolic which provides the capacity of no less than 4045.36kWp solar power to us to support and reduce the power consumption in UTAR. These will be placed at seven buildings and an open space at Kampar Campus. I am excited that this mutual agreement signing ceremony will promote our efforts towards a more sustainable future."
Apart from that, Ditrolic and UTAR would also collaborate on area of Research and Development by creating solar research systems at the campus to enable researchers and students to acquire and analyse real life data to enable the advancement of solar system design in the tropical region.
Tham mentioned, "I am grateful and honoured to be able to work together with a well-known educational institution, UTAR. UTAR has always been a reputable university which produces quality graduates. UTAR graduates are hardworking, honest and down to earth; which basically are fundamental values for future success. The move to look towards solar to power the campus is a pragmatic and forward-looking move. This move has enabled the university not only to save electricity bills but also to contribute significantly towards carbon reduction. Ditrolic is honoured to work with UTAR on this key initiative."
"Today marks the beginning of 20 years relationship between both parties. Therefore, this relationship should be a two-way relationship whereby Ditrolic will add value to UTAR. We've done many projects in different countries and sectors, however, this is the first collaboration with an education institution which we value a lot as we not only provide clean energy to business but also provide education for the future generation. I hope we can further collaborate in areas such as research and development, industry partnership and student placement. I wish us every success and may we have a sunny day ahead," added Tham.
The signing ceremony was followed by a souvenir exchange ceremony and a photography session.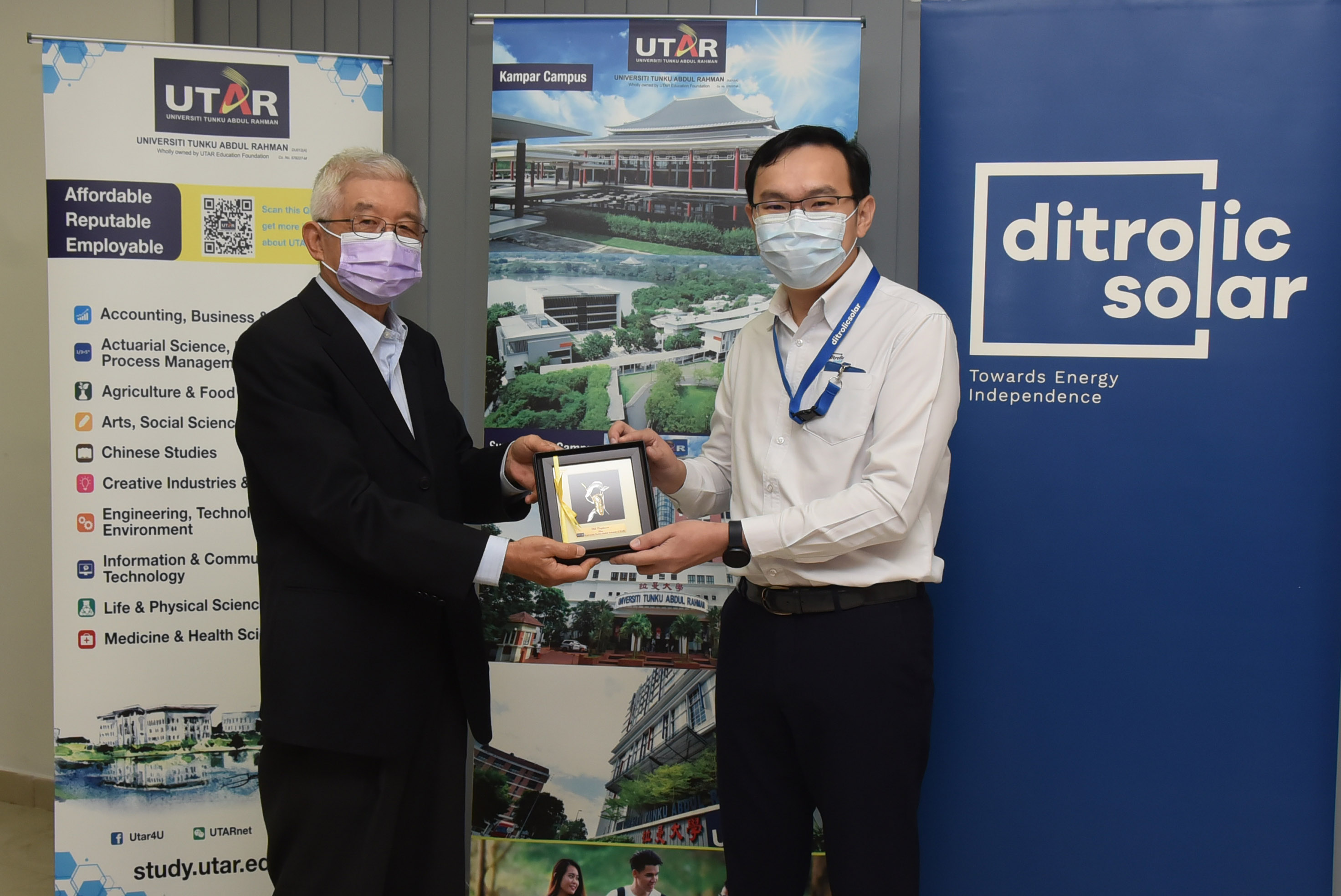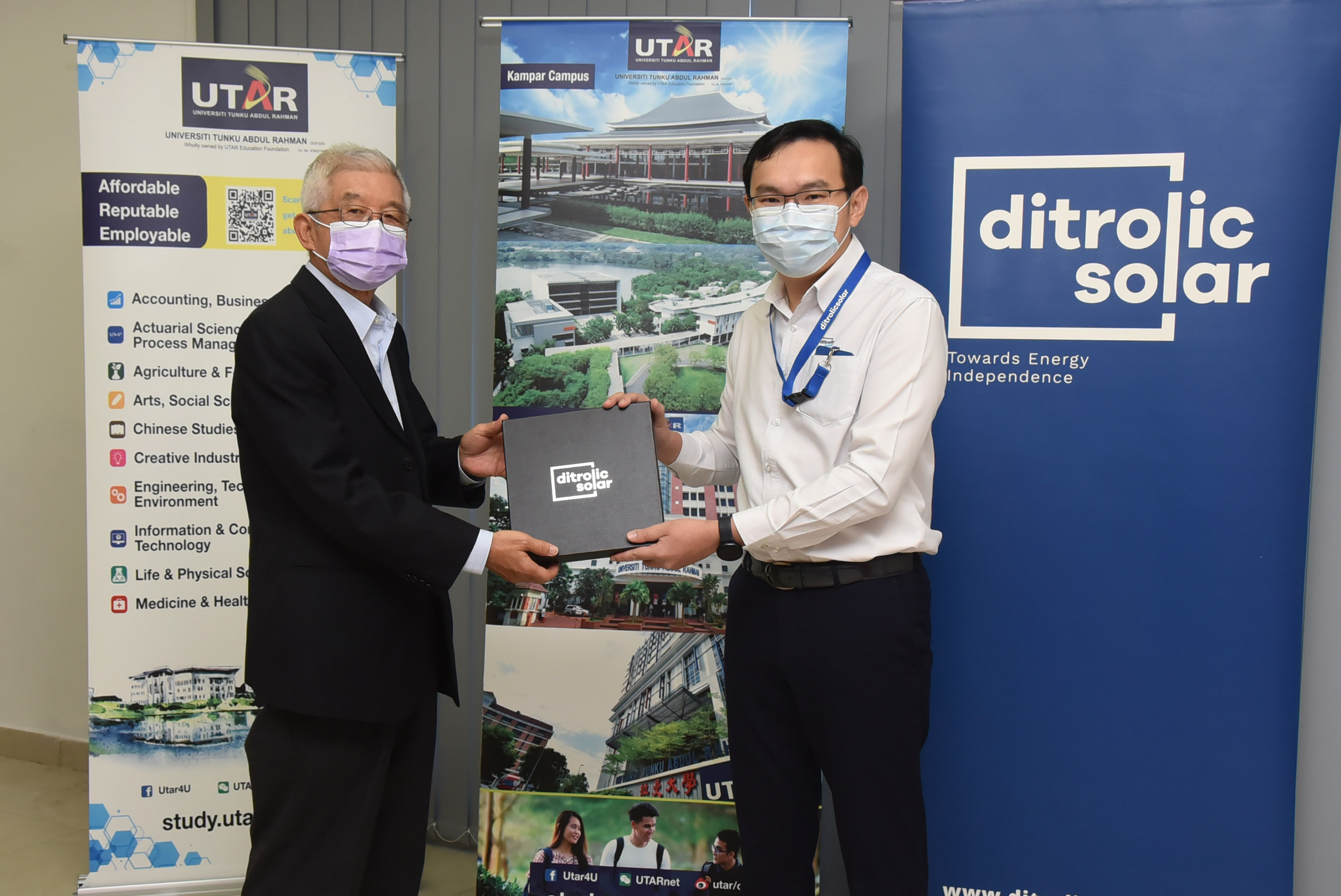 Tan Sri Ting (left) and Tham exchanging souvenirs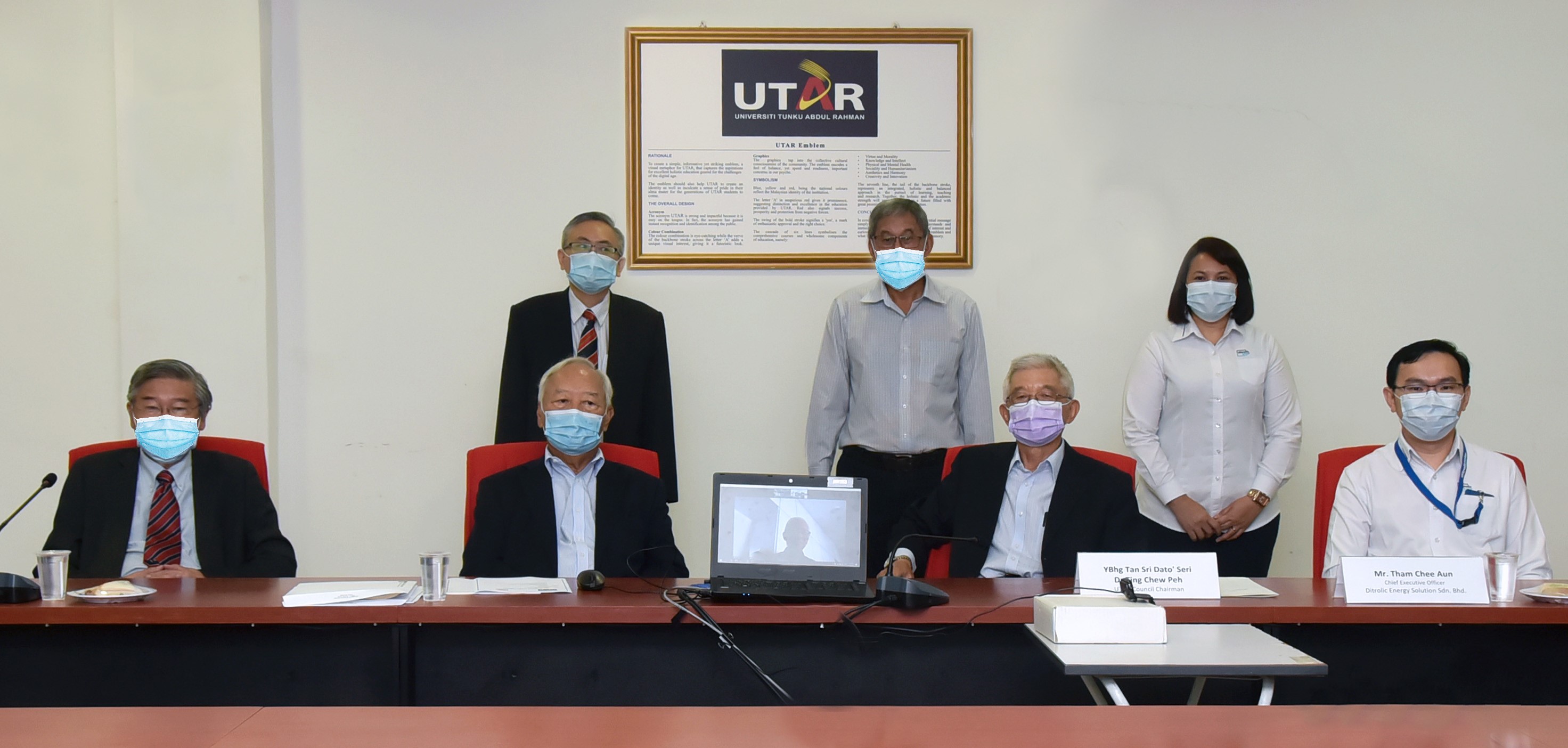 Seating from left: Prof Dato' Tan, Datuk (Dr) Oh, Tan Sri Ting and Tham
Standing from left: Prof Ewe, Datuk Lee and Raziah Hamdan