Academia - industry discussion between Vanke Malaysia and UTAR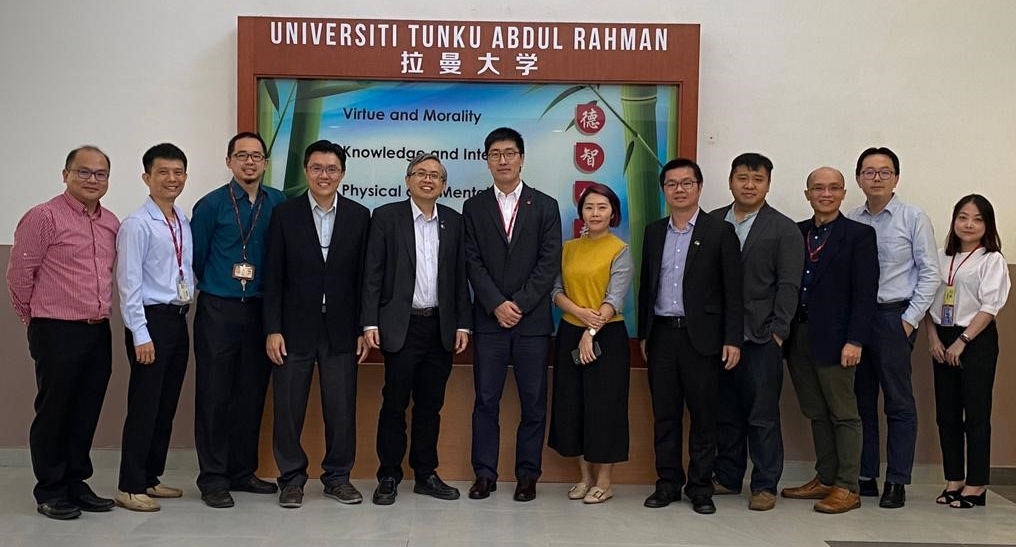 From left: Dr Yap, Dr Kwan, Dr Ng, Prof Goi, Prof Ewe, Li, Wee, Dr Lai, Dr Yap, Dr Ling, Dr Chang and Chong
A group of delegates from Vanke Malaysia visited UTAR Sungai Long Campus on 20 February 2020. Led by Chief Finance Officer of Vanke Malaysia Li Dapeng, the group consisted of Senior HR Manager Wendy Wee, Accountant Connie Chong and Christy Lim from InvestKL.
The delegates were welcomed by UTAR President Ir Prof Dr Ewe Hong Tat, Dean of Lee Kong Chian Faculty of Engineering and Science (LKC FES) Ir Prof Dr Goi Bok Min, Deputy Dean for R&D and Postgraduate Programmes Assoc Prof Ts Dr Yap Wun She, Director of Division of Community and International Networking Assoc Prof Dr Lai Soon Onn, Head of Mechatronics and BioMedical Engineering Department Dr Kwan Ban Hoe, Head of Civil Engineering Department Dr Ling Lloyd, Head of Electrical and Electronic Engineering Department Ir Dr Chang Yoong Choon, Chairperson of Centre for Artificial Intelligence and Computing Applications Dr Ng Oon-Ee and LKC FES lecturer Ir Dr Jeffrey Yap Boon Hui. Joining the meeting via video conference from Kampar Campus was Acting Dean of Faculty of Engineering and Green Technology Assoc Prof Ir Dr Ng Choon Aun and Head of Environmental Engineering Department Assoc Prof Dr Mohammed J K Bashir.
The discussion first began with Li giving an introduction about the Vanke Group, "Vanke Group was founded in the year 1984, with the vision to become a trusted and reliable property developer by creating living spaces that enrich and innovate lifestyles. The headquarter of Vanke Group, known as Vanke Center Shenzhen, is situated at Guangdong province. It is a leading urban and rural real estate developer and living service provider in China. Vanke Malaysia is now focusing on property development and management in Malaysia."
Li and his team informed that they have been hiring UTAR students as interns and employees since its opening in Kuala Lumpur, and were impressed by UTAR students' good attitude and effectiveness. He also expressed his passion and intention to collaborate with UTAR in the areas of internship, recruitment, research related to solar system, face recognition, waste management, green building standards, property management in Malaysia, and etc. Li added, "We are willing to share our know-how and experience pertaining to the construction industry with UTAR researchers and students. UTAR researchers and students are welcome to visit our research centre in China and Vanke Experiential Hall in Kuala Lumpur to better understand our technology and development."
Prof Ewe then gave a brief introduction about UTAR and shared the collaborative projects between UTAR and China universities and also the industries. An in-depth discussion was further carried out between the two parties. Prof Ewe suggested some potential areas of collaboration that would benefit both parties which included a knowledge transfer programme, students and staff exchange and training. UTAR researchers can conduct a short research attachment at Vanke China, meanwhile, Vanke China's guest researchers may come over to UTAR to share their knowledge with UTAR staff and students.
The meeting then ended with a souvenir exchange, followed by a group photo session.