Creating more contentpreneurs with Yayasan KRU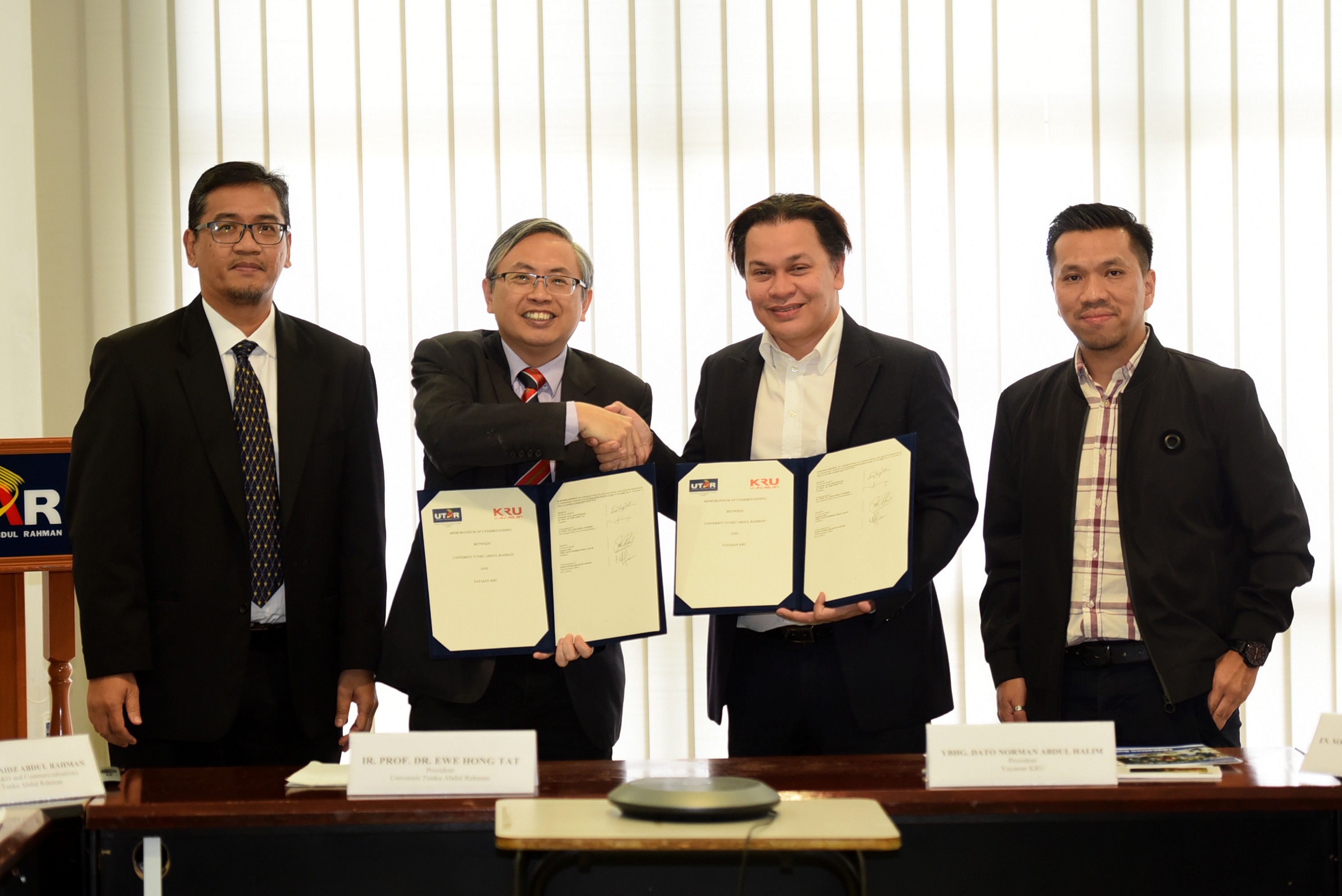 Exchanging the signed documents (from left): Prof Faidz, Prof Ewe, Dato' Norman and Hafeez
UTAR was proud to work together with Yayasan KRU to create more "contentpreneurs" in the creative industry via the signing of a memorandum of understanding (MoU) on 20 December 2019 at UTAR Sungai Long Campus.
The MoU was signed by UTAR President Ir Prof Dr Ewe Hong Tat on behalf of UTAR, while Yayasan KRU was represented by its president Dato' Norman Abdul Halim. Also present were Yayasan KRU General Manager Noor Hafeez Noor Hashim, Faculty of Creative Industries (FCI) Dean Dr David Tneh Cheng Eng, Division of Community and International Networking Director Assoc Prof Dr Lai Soon Onn, FCI Head of Department of Media Anthony Gandolfo Miranti Jr and staff.
"It is a pleasure for UTAR to work with Yayasan KRU as KRU Studio is one of the leading media and entertainment companies in Malaysia. I would like to offer my gratitude in advance for the scholarships and internships that Yayasan KRU may offer, visits to the industry to enhance students' learning experience as well as other possible collaborations that would benefit both parties," said Prof Ewe in his welcome speech.
In his speech, he also voiced out his concern on producing ethical talents in the industry, "As we create more talents in the entertainment, we should educate them to be more responsible creators to ensure that the outcome will not only serve its purpose as an entertainment but also contribute to the betterment of society and nation."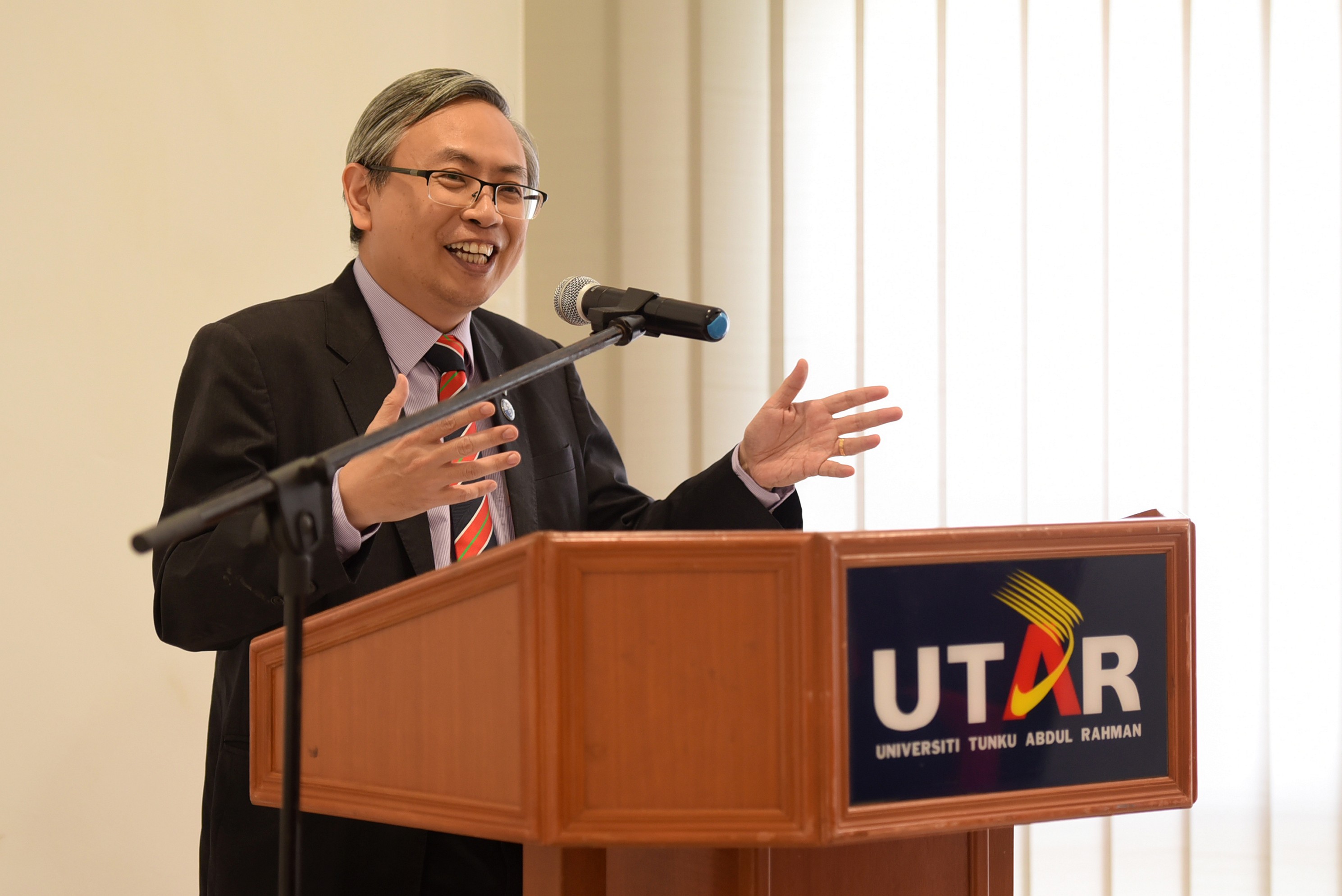 Prof Ewe sharing the success of UTAR alumni in the entertainment industry, namely JC Chee, Quek Shio Chuan, Wo Yi Shi and Kon Ke Yi
"Our key objectives are to enlarge the talent pool or "contentpreneurs" and capitalise in technological advances in the areas of Industrial Revolution 4.0 and Internet of Things (IoT). We also wish to enrich local intellectual properties and create a new income stream for the local talents. We are proud and happy to be here as we believe UTAR covers different segments of the creative industry altogether and we hope we can get the cream of the crop from the University to be united to address the future markets and work as a team," said Dato' Norman in his speech.
Yayasan KRU will soon welcome UTAR alumni and students to pitch their original intellectual property in the form of creative content to Yayasan KRU's panel of investors and business mentors to secure capital for various stages of funding required for development, production and commercialisation of creative content projects under Yayasan KRU's Contentpreneur Programme.
Dato' Norman also introduced Yayasan KRU and shared the opportunities that the foundation has to offer, "We provide seed funding for startup companies at its early stage with an allocated amount up to RM50,000. Meanwhile, the second level of funding will see them gaining access to other sources of funding from our investors and other institutions. We, from KRU Entertainment, will invest in the company as well. Through this initiative, we hope that we will be able to grow the number of creative industry talents in the future and see local products go beyond the Malaysian shore."
He also highlighted the "Up-Skilling" & "Re-Skilling" training programme offered by Yayasan KRU for fresh graduates. With the aim to hone fresh graduates with extra skills and make them more relevant to the market, the foundation offers training in creative industry and digital entrepreneurship in two programmes. The first one is a three-month "Up-Skilling" programme based on the programme that the students took in their study while "Re-skilling" programme is a six-month programme created for those who would like to try something new (that is different from the programme they took during their study).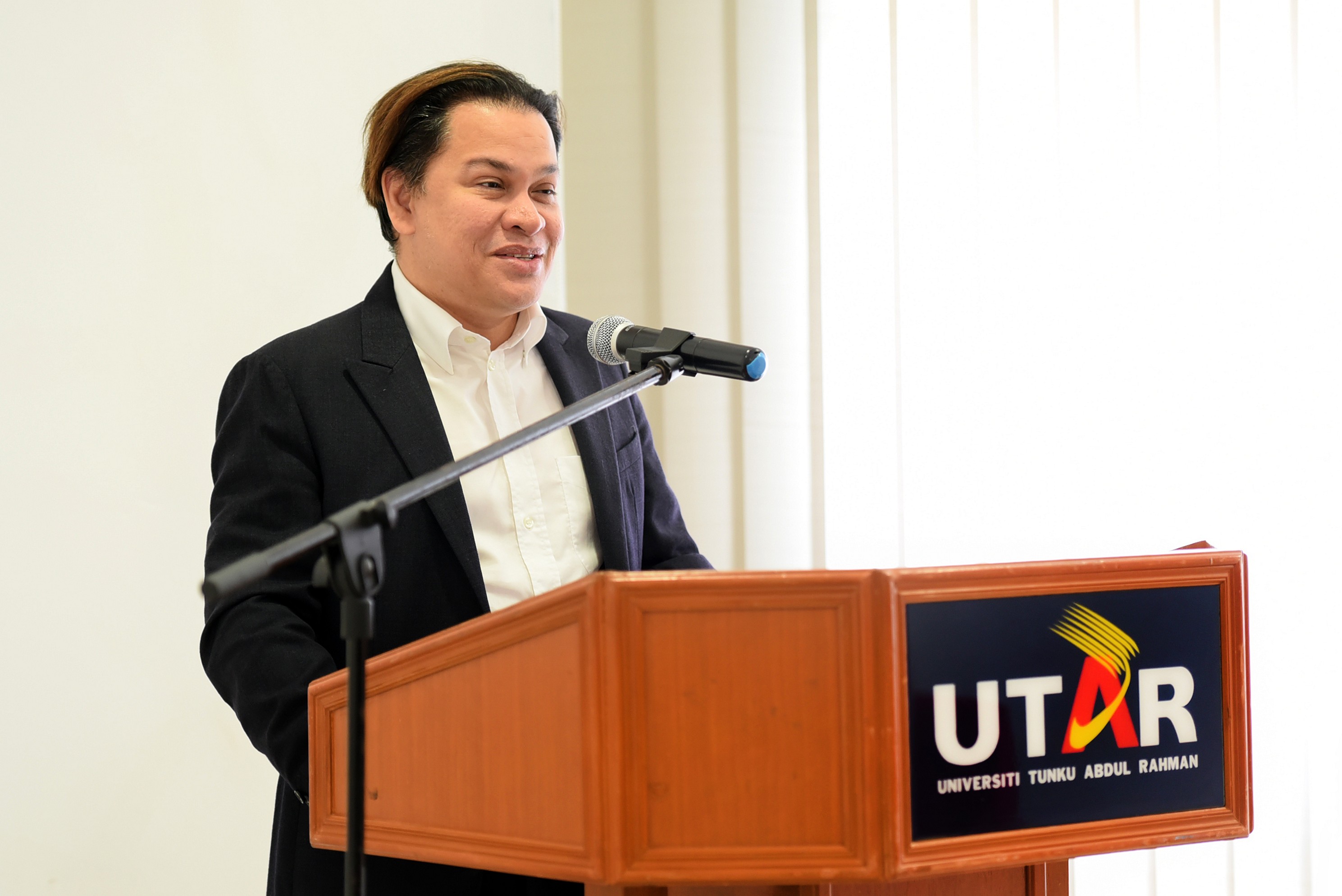 Dato' Norman hopes that the programme would help to bridge the gap between employers and fresh graduates
Yayasan KRU was established in September 2017 with the objective to support youth from B40 families to pursue skill-based tertiary education programmes related to the creative industry and digital entrepreneurship. Together with academia partners and government agencies, Yayasan KRU hopes to play a significant role in supporting the growth of the Malaysian creative industry, creating jobs and increasing gross national income (GNI) through the holistic programme from awareness and talent scouting to training, job placement and entrepreneur mentorship.
The MoU signing proceeded with a meeting to discuss possible collaborations in the near future.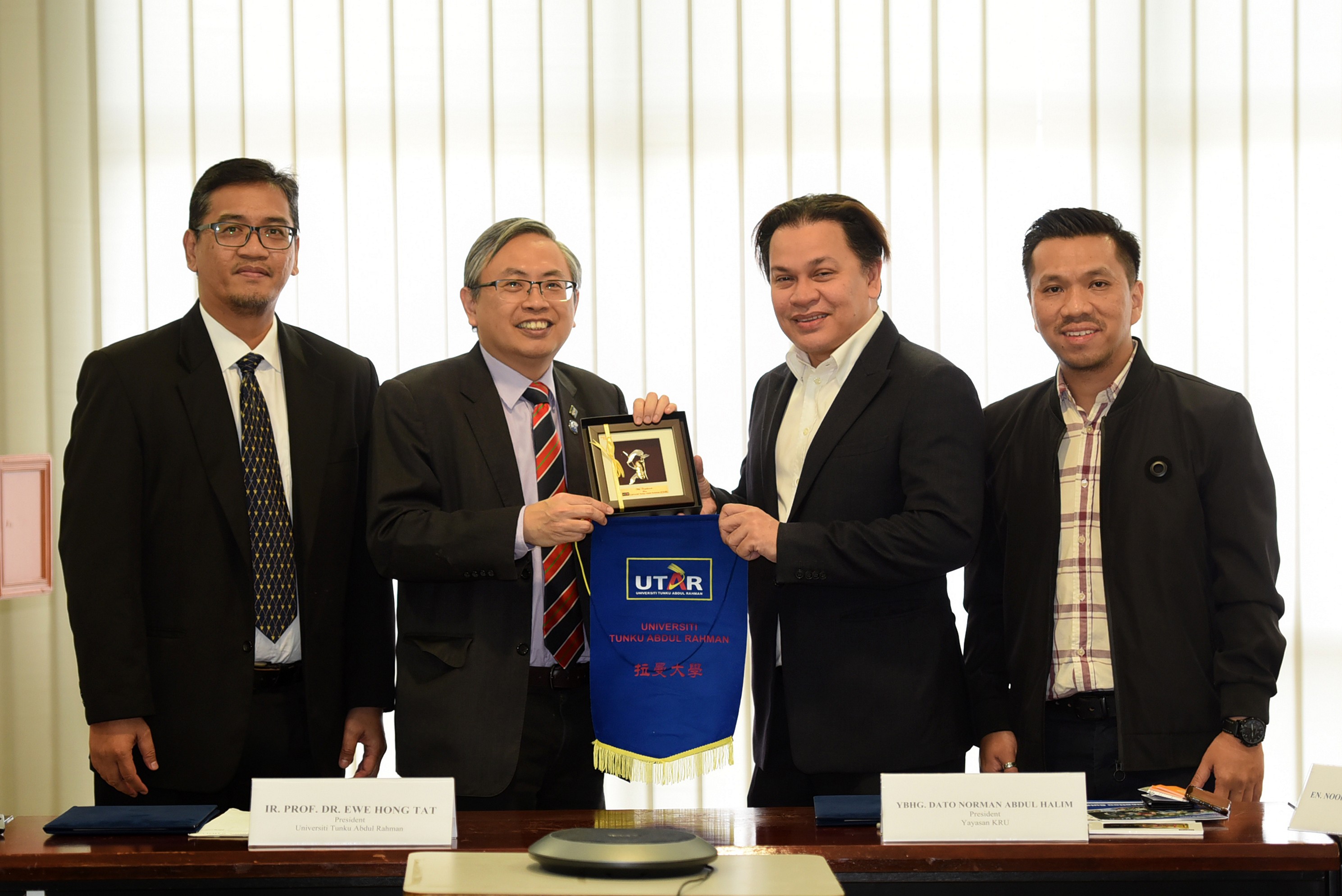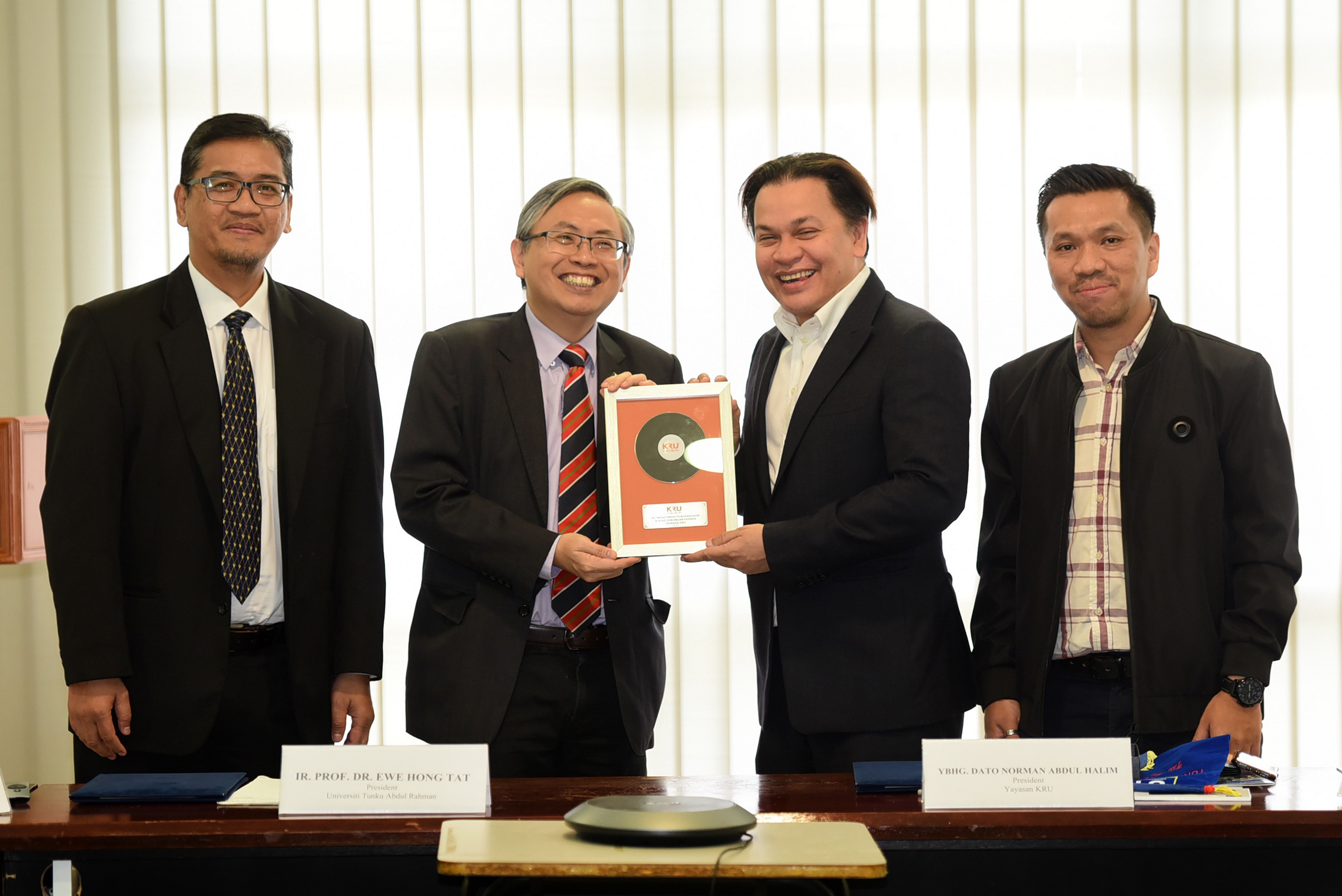 Prof Ewe (second from left) and Dato' Norman (third from left) exchanging gifts while Prof Faidz (most left) and Hafeez (most right) look on