Visit bridges international collaboration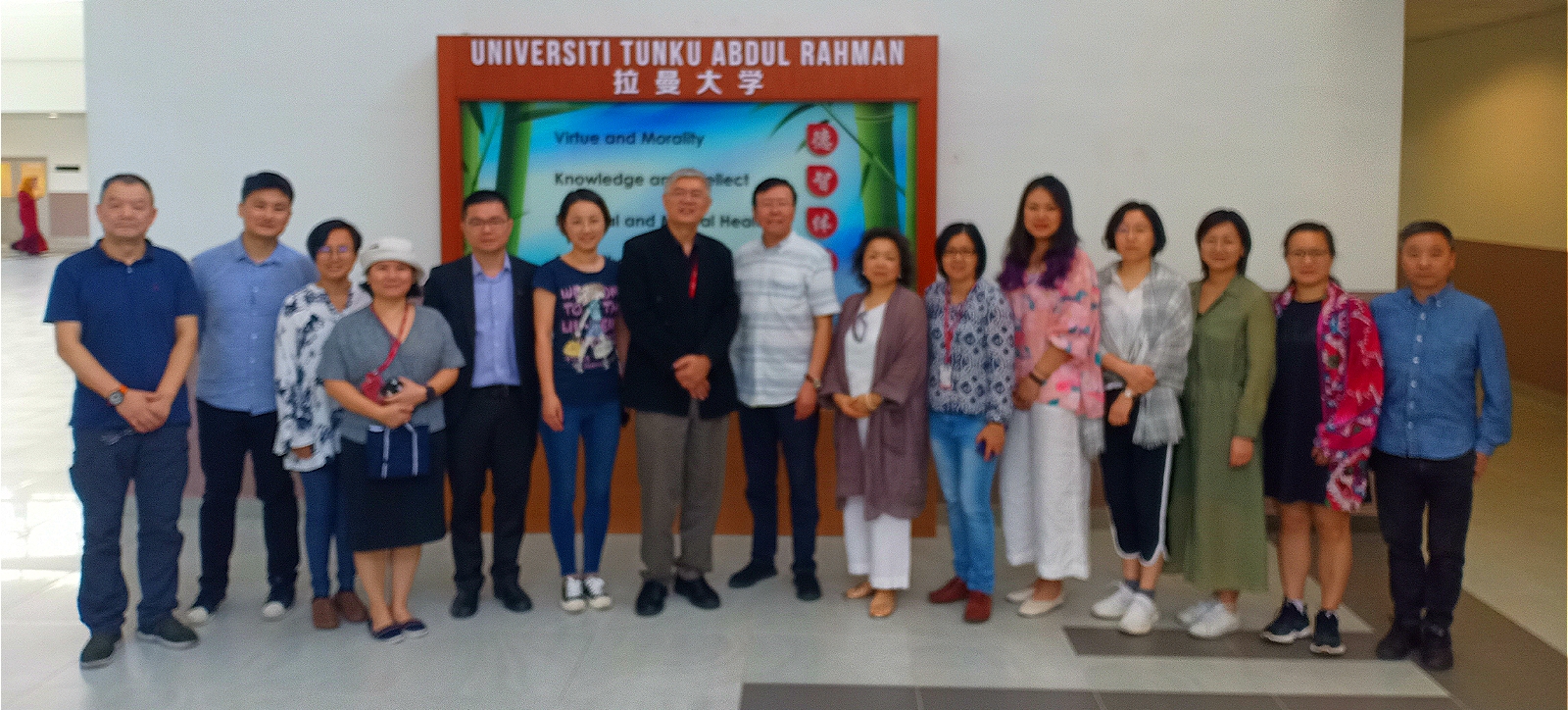 From left: Dai, Li, Yang, Yuen, Dr Lai, Pu, Prof Yow, Xu, Qiu, Lee, Tan, Wang, Mao, Long and Gong
A group of delegates from Shanghai Maritime University (SMU) Xu Beihong Art College visited UTAR Sungai Long Campus on 16 January 2020. The group, led by its Deputy Dean Xu ChengXing, consisted of Asst Dean Pu Lina, Prof Qiu Yuli, Industrial Design Studies Head Wang Kai, Visual Communication Design Studies Head Tan Lina, Chinese Painting Department Head Mao Yujia, Industrial Design Lecturer Long Haizhao and Li Lishi. Also present were East China Normal University School of Design Vice Dean Dai Yunting and Shanghai Institute of Visual Arts Jewellery Design Head Gong Shijun.
On behalf of UTAR, the delegates were welcomed by its Vice President for Internationalisation and Academic Development Ir Prof Dr Yow Ho Kwang, Faculty of Creative Industries (FCI) Deputy Dean for Student Development and Industrial Training Lee Lih Su, Division of Community and International Networking Director Assoc Prof Dr Lai Soon Onn, FCI Department of Multimedia Design and Animation Head Dr Yuen May Chan and lecturer Yang Suk Lan.
In the mid of the meeting
During the meeting, Prof Yow gave an overall introduction about UTAR in order to enhance the delegates' understanding of the University. He talked about international partnerships, sharing that the University has currently more than 400 partners from 28 economies and 70 of them were universities and corporations from China. He suggested several possible areas of collaboration and hoped to build a closer tie with SMU Xu Beihong Art College.
Xu, on the other hand, endorsed Prof Yow's statement and showed his interest in fostering a relationship with UTAR to expand and increase international collaboration. He highlighted the importance of communication as the optimal means of forming connections and he expressed his hope to improve teaching with global contexts.
The meeting ended with a souvenir presentation, followed by a group photography session.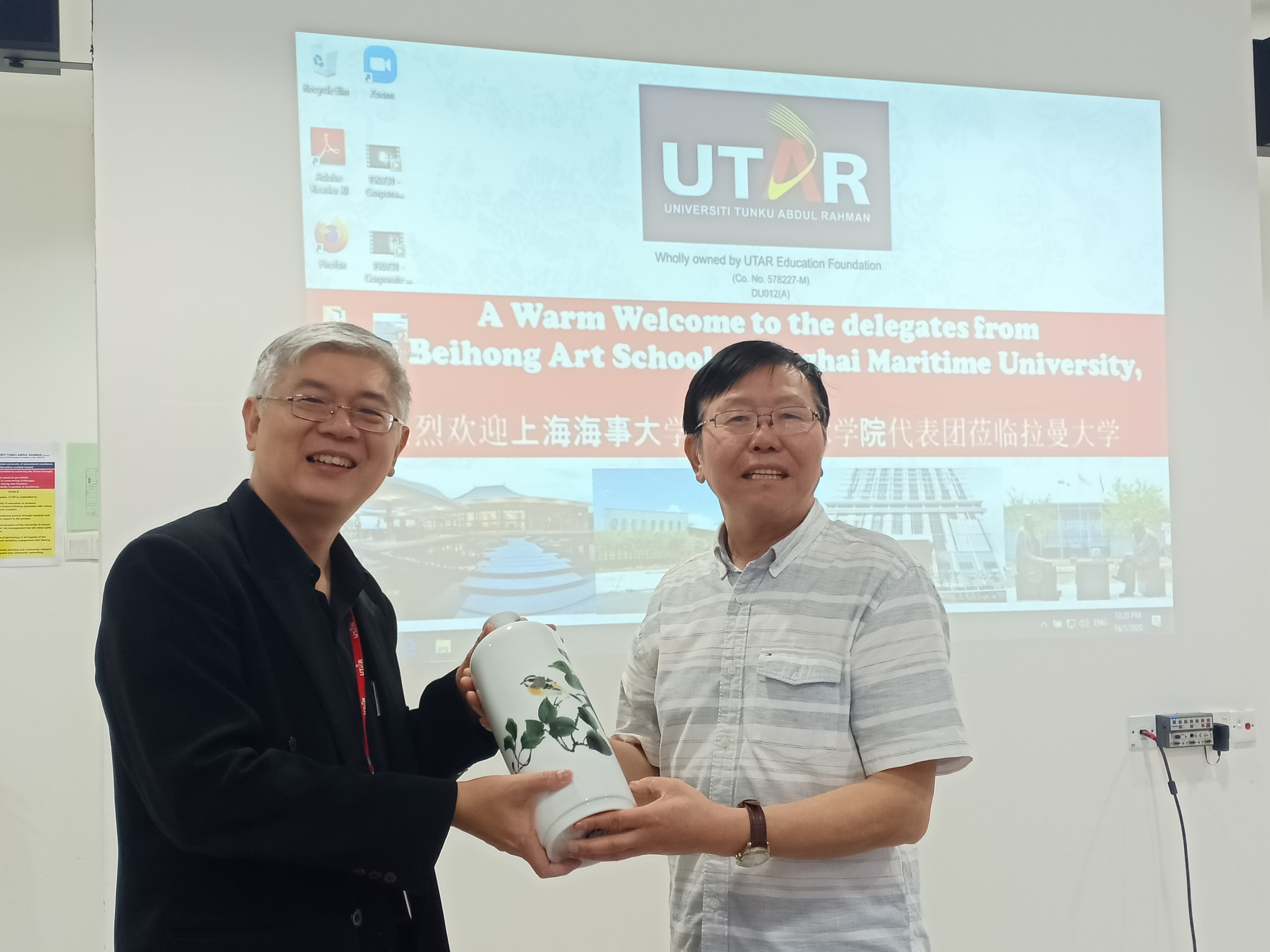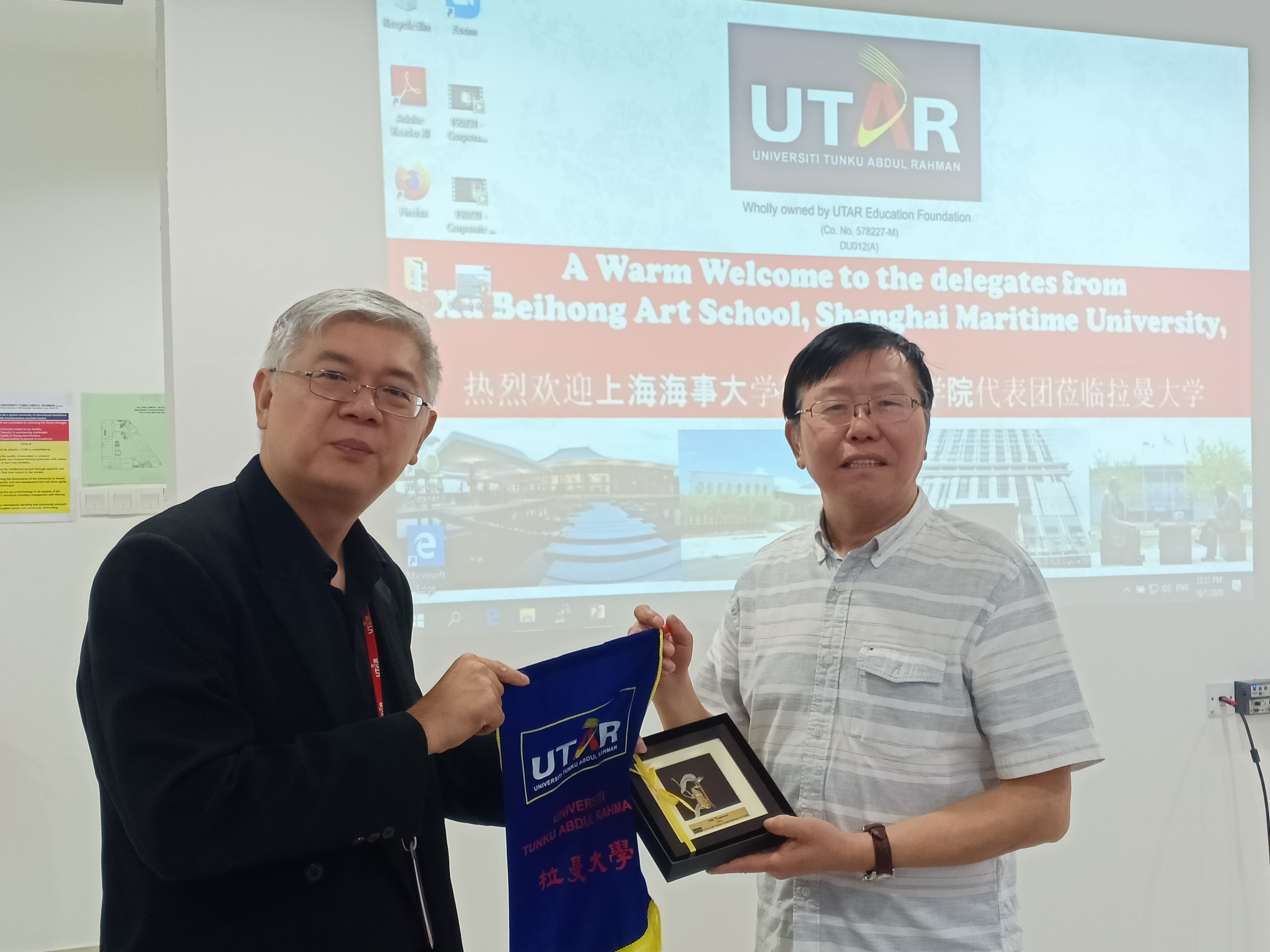 Souvenir exchange between Prof Yow (left) and Xu