CEO shares the success story of ViTrox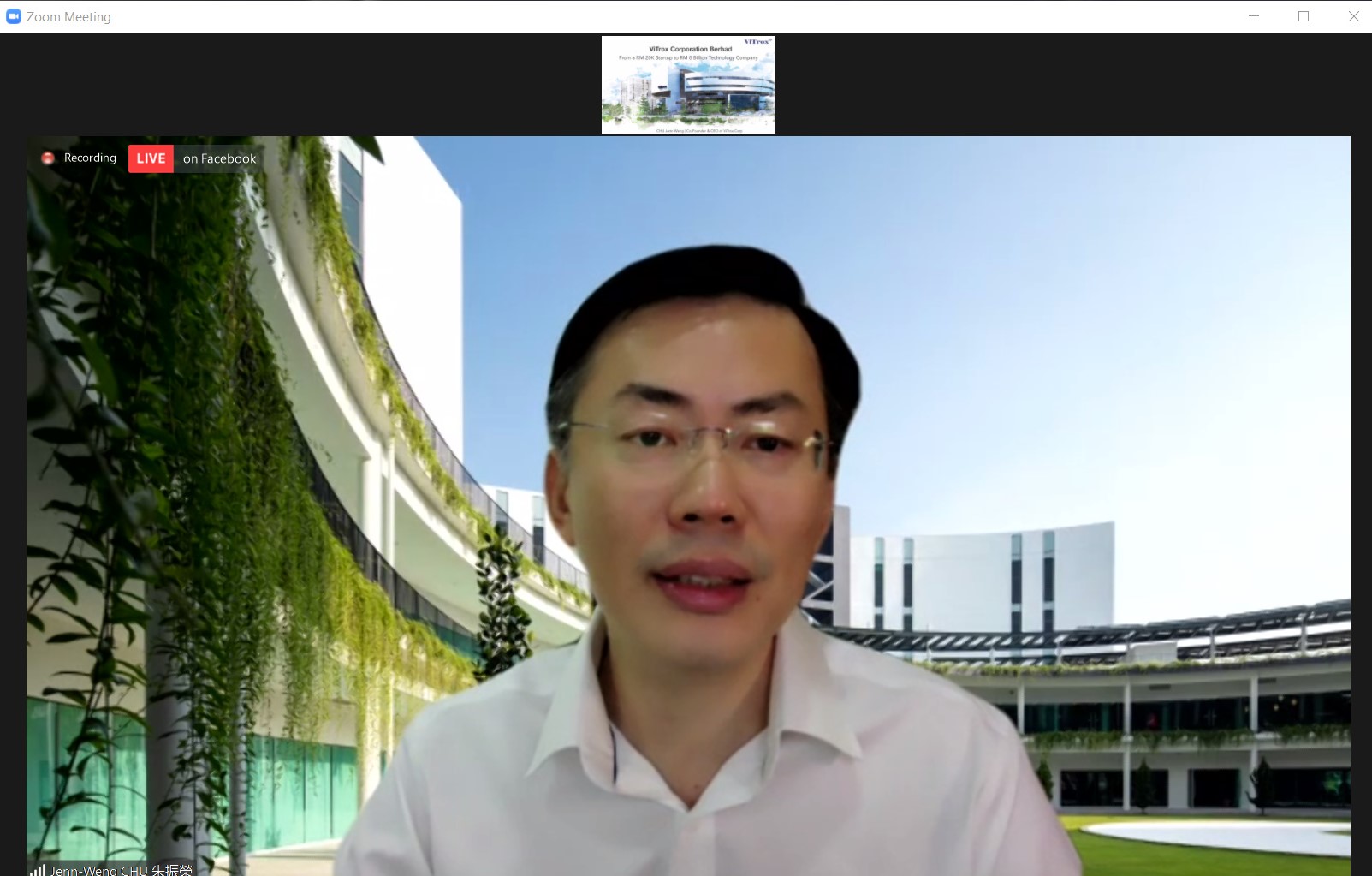 Chu sharing lessons that he learned over the last 30 years
The successful entrepreneur and technopreneur Chu Jenn Weng, who is the Co-founder, CEO and President of ViTrox, shared the story behind the success and the growth of ViTrox in the CEO talk series organised by UTAR Centre for Corporate and Community Development (CCCD), in collaboration with ViTrox and Unovate Centre.
The CEO talk series which was titled "ViTrox Story. From Startup to a Multi-Billion Dollar Tech Company" was conducted via Zoom on 26 March 2021.
Chu shared his story on how he was inspired by Datuk Ir Hong Lee Pee 36 years ago when Datuk Hong gave a speech in his secondary school—Chung Hwa High School, Seremban. "Datuk Hong shared his entrepreneurial journey in building Malaysia's first public listed construction company by the name of Pilecon Engineering back in 1983. As a civil engineer, graduated from University of Malaya, he invented a tripile that significantly shortened the piling process and the cost in the construction industry. Subsequently, his invention became successful and he became a self-made millionaire. Over the years, he also invented many other great products that helped to transform the construction industry," said Chu.
"I was truly inspired and convinced by what he shared on that day that engineers carry great responsibility to solve world complex problems and make the world a better place for everyone. In the process, we achieve financial freedom. So after his sharing, I made up my mind to take up the science stream in my upper secondary and subsequently enrolled in Universiti Sains Malaysia (USM) after I completed my STPM. I studied electrical and electronic engineering at USM. I sincerely thank him from the bottom of my heart for his valuable advice and for guiding me to choose the path that made me who I am today."
"Until today, Datuk Hong continues to devote his valuable time to inspire more people, especially the young generation to study STEM and make contributions to our society. He is our hero and a role model for the country," he added.
Chu said the first lesson he wanted to share was to spend more time attending talks or reading books about successful people around the world. "Sometimes you may be triggered or even inspired to make important decisions in your life. In other words, never stop learning," he said.
Chu also talked about how he and his team in ViTrox started their journey to build this technology company. "ViTrox was founded in 2000. ViTrox is a world-leading machine vision solutions provider that offers innovative and cost-effective solutions to customers. Our vision is to be the world's leading company in providing total machine vision solutions. Our mission is to provide the most innovative, advanced and cost-effective machine vision solutions of excellent quality to our customers through the integration of our technology, our people and our strategic alliances. We started in 2000, in a rented bedroom that was less than 100 square foot but today we operate our business in Campus 2.0 at Batu Kawan Industrial Park which is 450,000 square foot."
"ViTrox is unique in the sense that we founded the company with a very solid foundation, focused on simple yet a universal truth that is—before you learn to do things, you need to learn to be human with good character and attitude," he said.
He shared the core values of the company—I.A.C.T.G., namely Integrity (诚正信实), Accountability (承担), Courage (勇气), Trust and Respect (信任与尊严), and Gratitude and Care (感恩与关怀). "These are the core values of ViTrox which make us very different compared to many other companies that focus on profit and market share," he said.
He continued, "As you all know today, we face many solid wastes which are created every day either by consumers or by inspection in current manufacturing processes. In ViTrox, we have a mission to help our customers to eliminate waste through automated identification and detection of errors or defects at the source. We help the manufacturers and our customers to save many materials and all these materials are actually taken from our mother nature. By saving all these defects, we are able to effectively use the resources that are gifted by our mother nature. We can't actually stop customers from producing more but we can help them not to produce waste."
Chu also shared the ViTrox Share performance and the concept of the machine vision, as well as the story of how the company grew from a humble beginning to now a very successful company.
Pushing forward and staying positive, his advice to the participants was to always put themselves in a disadvantaged position and not to be calculative. "Being put at a disadvantage actually gives you advantages," he said.
He cited the success equation of Dr Kazuo Inamori, saying that the outcome of one's life or work is the product of three factors which are ability, effort and attitude.
"If we believe that we must succeed no matter what, eventually we will. But if we think maybe we can, maybe we can't, then we are likely to fail. So your mind determines your future. Every event around us is a reflection of our own minds. If we can take every event, good or bad, as a golden opportunity to learn something new, we will live a grateful and fulfilling life and be successful too."
Chu further explained the machine vision, and said, "ViTrox delivers a complete range of machine vision inspection solutions from Back-end Semiconductor, PCBA SMT, Final Assembly Inspection, integrated with Industry 4.0 smart solutions and system-on-chip embedded electronic solutions. Our products have been used in many sectors such as aerospace, computing, industrial, healthcare and telecommunications."
He added, "Today we already go beyond the backend semiconductor and electronics industry. By using our competence in machine vision, software development, artificial intelligence, we were actually able to go into many areas. For the next ten years, we are going to use core competencies together with our dedicated team to explore many other exciting industries."
He also said, "ViTrox is determined to reduce the global e-waste through machine vision and demonstrate ethical humanism value and practices as a role model for society. We want to create technologies for good and for a sustainable future."
He described Campus 2 as the second home for the team and he also introduced the environment and activities at the workplace.
"The future is now," Chu said. "Because of Industry 4.0 and COVID-19 pandemic, the whole world is moving fast forward two or three years ahead into the digital transformation. As everyone is working from home, the internet of things, 5G, big data are accelerating and this will create a huge demand for the semiconductor industry that will benefit ViTrox and companies like us." He further shared the next ten years plan of ViTrox and expressed his hope that Malaysia could strive ceaselessly to be more successful.