Petrochemical Engineering Adjunct Specialist discusses issues within petrochemical industry during and post Covid-19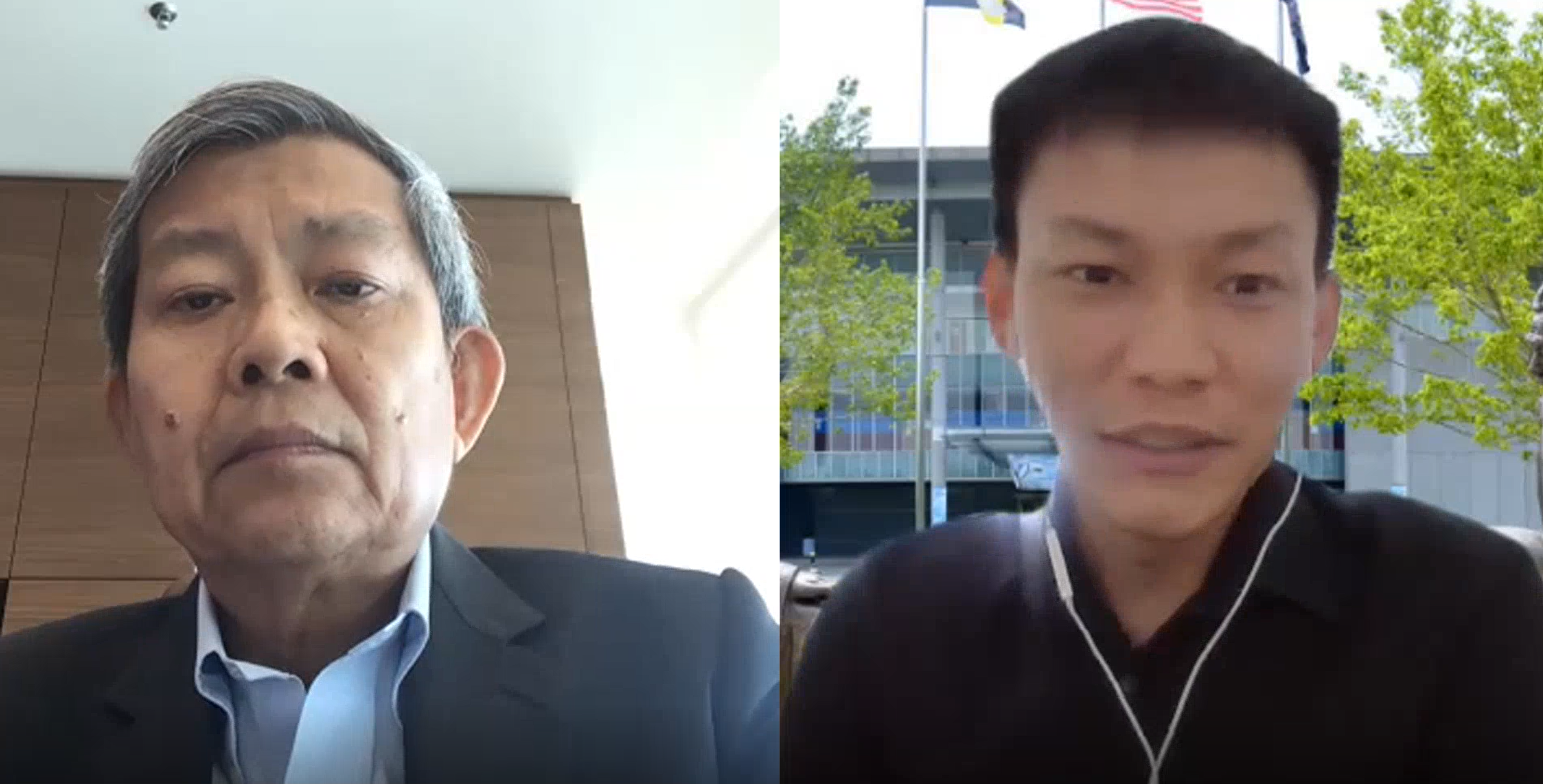 Ir Chan (left) and Dr Tan during the webinar
The Kuala Lumpur Engineering Science Fair (KLESF) organised a webinar titled "The Petrochemical Industry: Issues During and Post Covid-19 Pandemic" on 25 March 2021 via Microsoft Teams. The webinar, which saw about 60 participants, was presented by DIALOG Group Berhad Executive Deputy Chairman Ir Chan Yew Kai who is an adjunct specialist to Petrochemical Engineering. It was moderated by Faculty of Engineering and Green Technology Deputy Dean for Student Development and Industrial Training Dr Tan Kok Tat.
Ir Chan shared his knowledge on petrochemical industry, its trends and issues. He said, "Climate change is an issue faced throughout the world but more so is a big impact on the petrochemical industry. By 2050, 197 countries should work together to limit the global average temperature rise in this century to well below two degree Celsius, while pursuing efforts to limit the temperature rise to 1.5 degrees according to the Paris Agreement 2015."
"Many multinational companies such as Shell, Petronas and BP have set the target to achieve net-zero emissions by 2050. Nestle has targeted to reach carbon-neutral production by 2035 and is already operating a waste oil to fuel plants in Singapore. A lot of initiatives have already been set in motion, such as renewable energy, electrical vehicles, hydrogen-fuelled vehicles, green hydrogen as fuel, circular economy, renewable resources, etc. Other environmental movements include banning single-use plastics, using biodegradable plastics and increasing pressure on petrochemical companies to manage wastes," added Ir Chan.
He also spoke about the Covid-19 pandemic and its impact on our daily lives and the economy, demand destruction for fuels, increased demand for certain petrochemicals and supply chain disruptions as well as regulatory issues. "There is a boom in certain sectors such as delivery services and healthcare-focused activities."
He said, "According to the International Energy Agency report, global oil demand is expected to recover by 5.5 mb/d to 96.6 mb/d in 2021, following an unprecedented collapse of 8.8 mb/d in 2020. For now, a resurgence in Covid-19 cases is slowing the rebound, but a widespread vaccination effort and an acceleration in economic activity is expected to spur stronger growth in the second half of the year." He added, "In April 2020, the price of US oil turned negative for the first time in history. There was an increase in demand for certain petrochemicals such as propylene, butadiene acrylonitrile, isopropyl alcohol ethanol and polyvinyl chloride."
Ir Chan explained, "Petrochemicals are deeply embedded in our economies and everyday lives and there is difficulty in finding alternatives to petrochemical products for many applications. The demand for petrochemicals will continue to grow especially in developing countries and the demand for crude oil for petrochemicals will be affected as renewable resources contribute more and more to the feedstock supply."
He added, "Companies put a lot of effort in their research and development to fulfil initiatives such as recycling products, renewable energies, using digital technologies and monitoring real-time chemical assets. There is a growth in the industry but it is surrounded by uncertainty and challenges."