CEO shares his idea of transforming the new era of work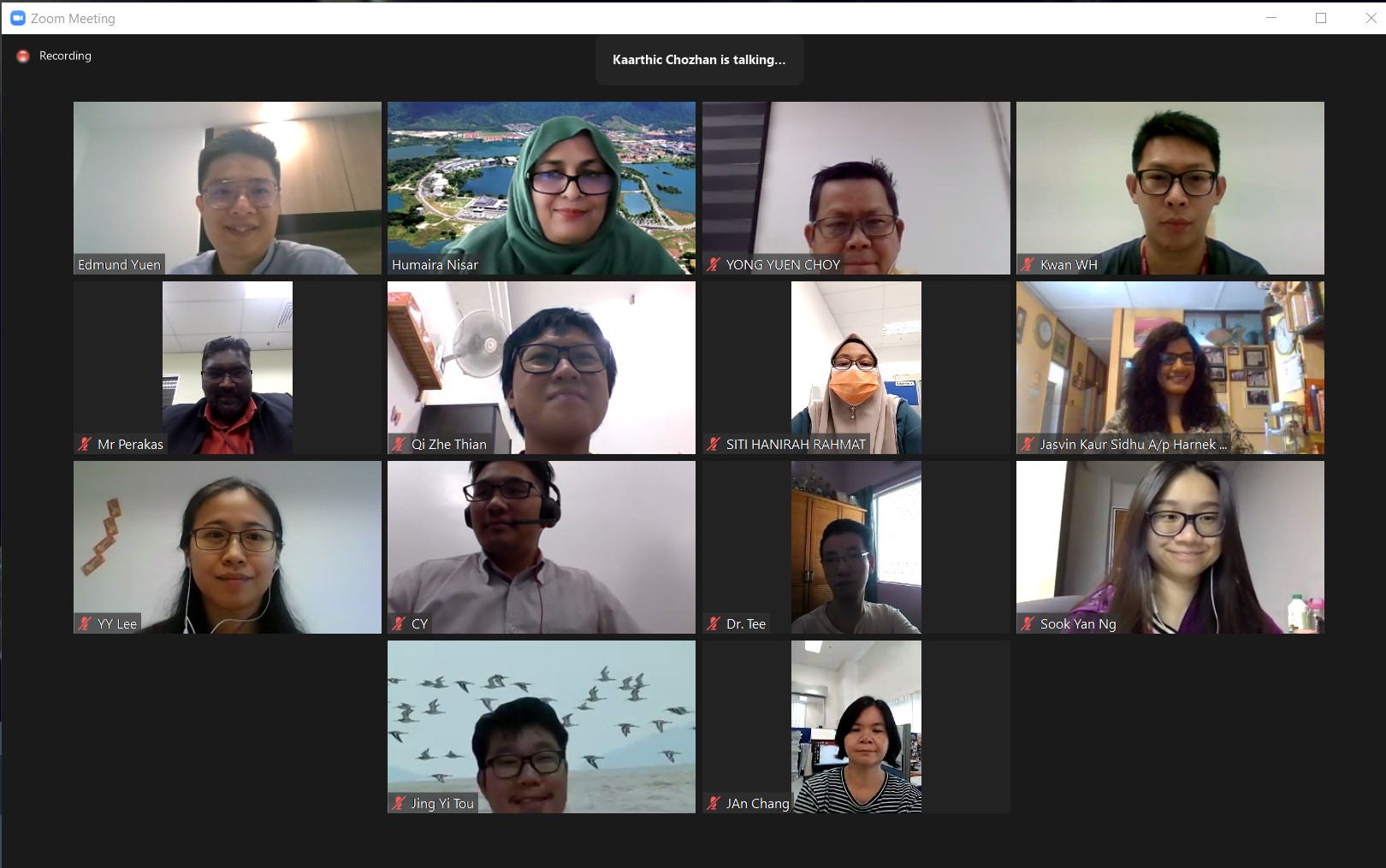 Edmund Yuen (top row, most left) with participants
UTAR Centre for Corporate and Community Development (CCCD), in collaboration with UTAR Unovate Centre and Ideal Vision Integration, organised "CEO Talk Series: Digital Office, an Idea of transforming the new era of work" via Zoom on 22 April 2021.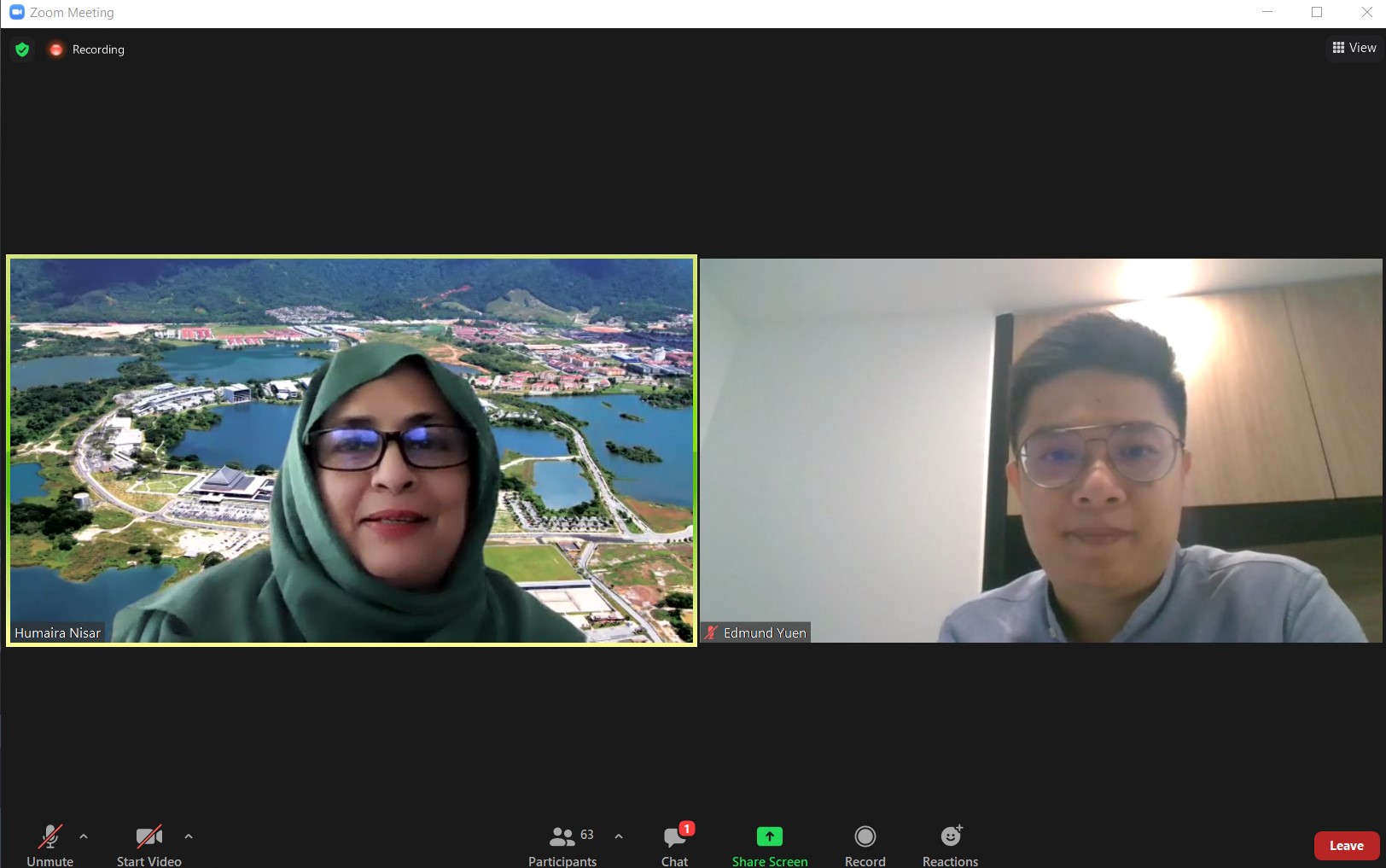 Edmund Yuen and Dr Humaira Nisar (left) during the webinar
The webinar was delivered by the Founder and CEO of Ideal Vision Integration Sdn Bhd Edmund Yuen under the moderation of Master of Engineering (Electronic Systems) Programme Head Assoc Prof Ts Dr Humaira Nisar. In his talk, Edmund Yuen introduced Ideal Vision Integration Sdn Bhd and shared the story of how he formed the company. "The company is currently based on Setia Spice Canopy, Penang. Throughout these few years, we've developed the core products—an automated vision inspection system for wire bond, wafer and others. We have a client base in Malaysia, China, the Philippines, Vietnam, Thailand, Singapore, United States and Europe. We serve clients from various industries, including semiconductor, electrical and electronics, medical, automotive and packaging. We help our clients to develop an inspection system that could accommodate their needs."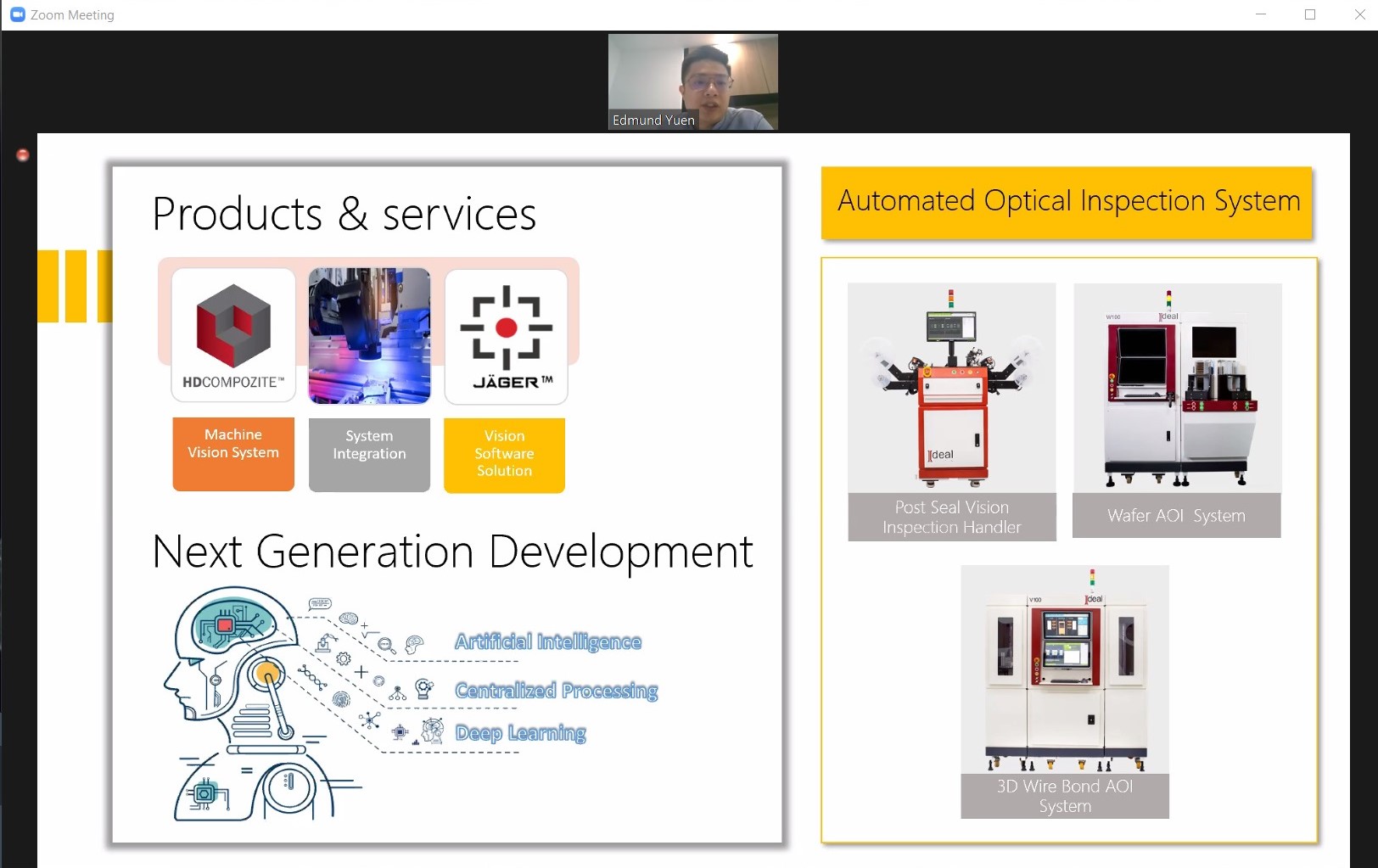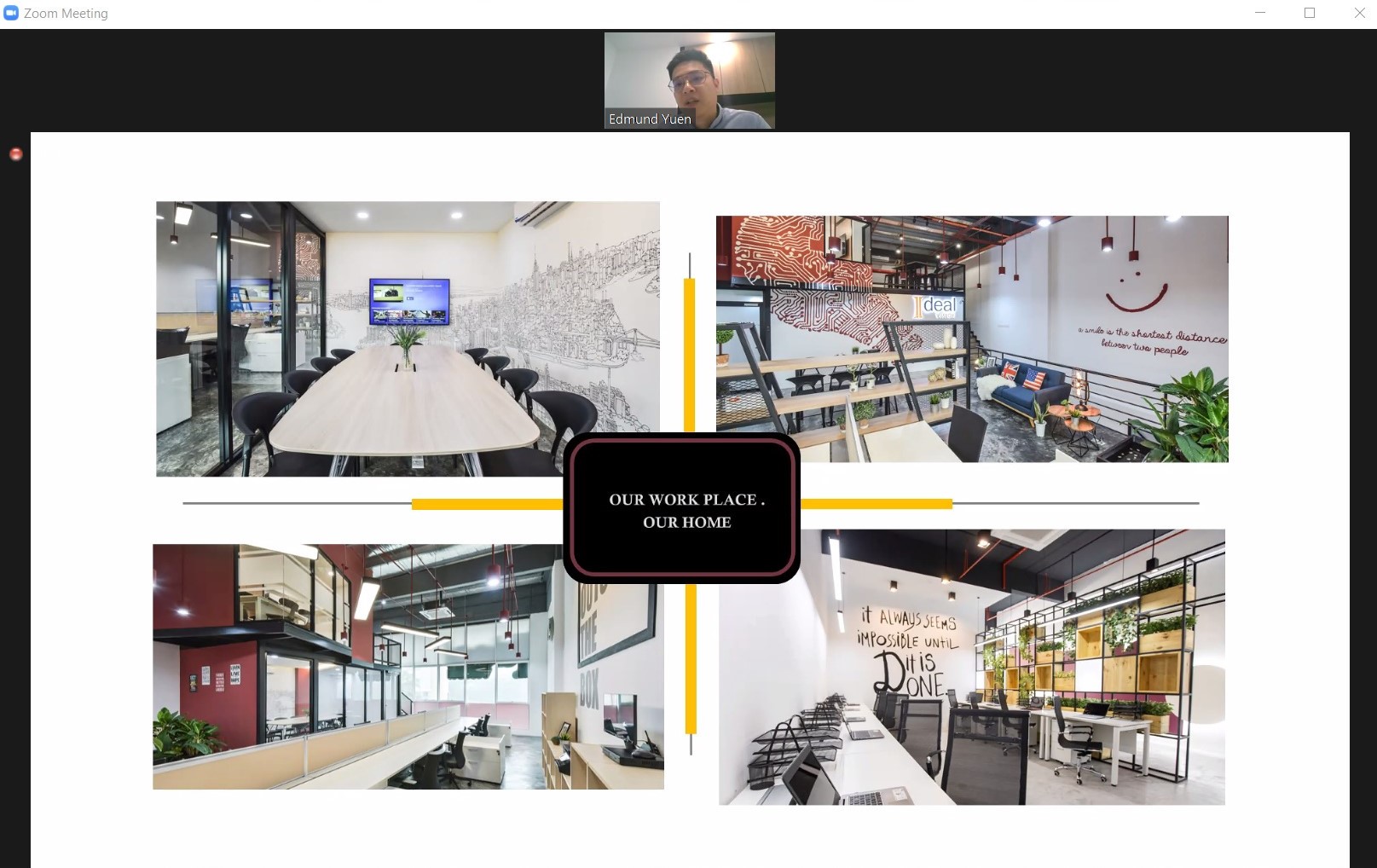 Edmund Yuen introducing the business units and the workplace of the company
He then discussed how the Covid-19 pandemic affected millions of people and said, "Many have made the abrupt shift to work from home. Companies were forced to distribute the workplace and implement a hybrid workplace; millions have also lost their jobs. People started to worry and became very uncertain of their future. They don't know when everything will be back to normal and what will be the future of the workplace."
He mentioned that social distancing policies that were implemented to contain the Covid-19 pandemic have transformed the global world of work. The pandemic has induced short-term requirements for work-from-home; some companies had no choice but to use video conferencing and other emerging digital technologies that have powered remote work. He further shared how the company faced difficulties during the tough times and how they utilised the available technologies and platforms to support remote work.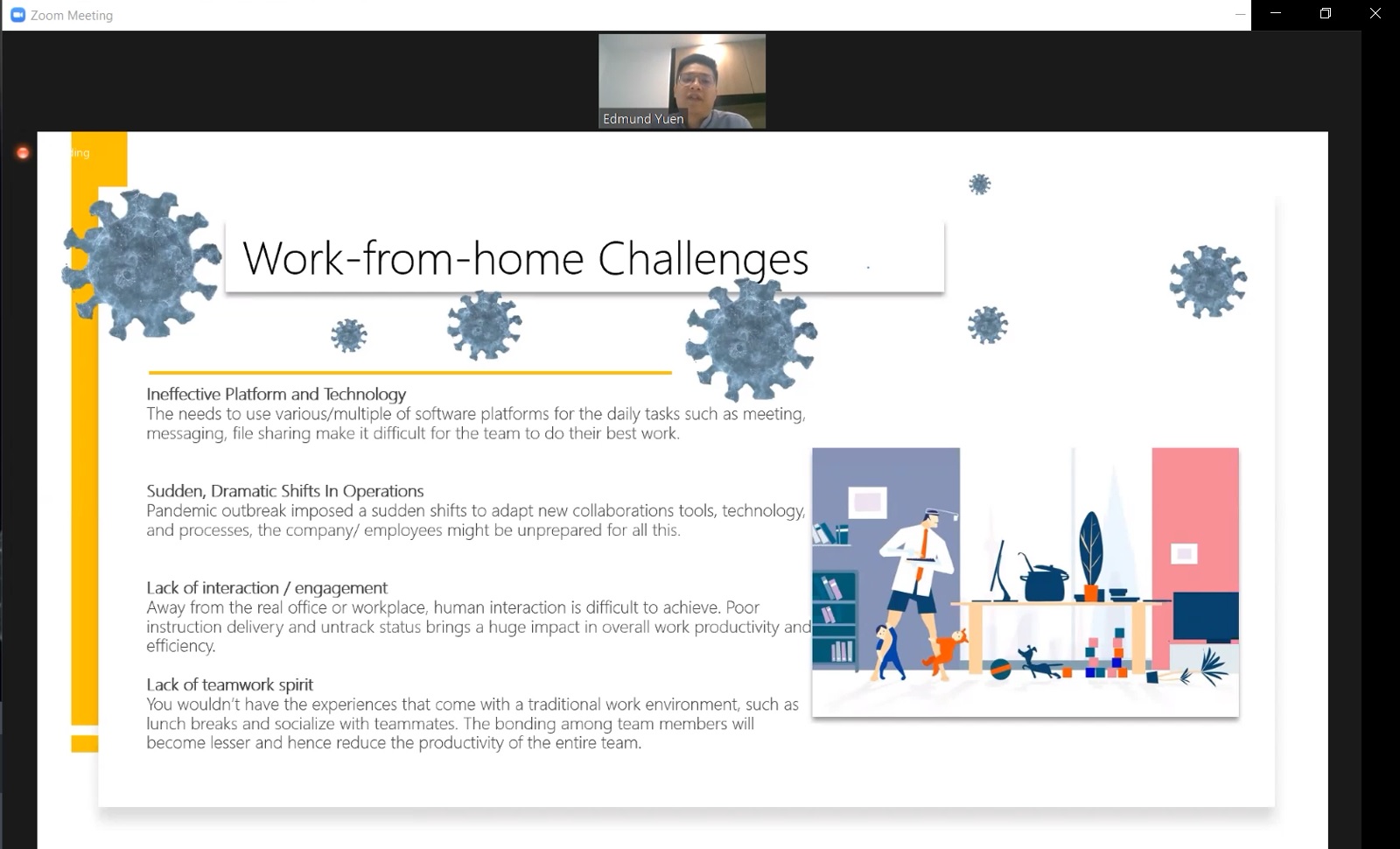 Edmund Yuen sharing the challenges of working from home
He stated that a digital office was an idea of transforming the new era of work. "We believe that there is a need for every company to digitise their office. A digital office transforms virtual space into a very real place, inspiring innovation and expanding the possibilities of working together. This will be an effective and centralised platform that replicates your physical workspace in online mode. At the same time, it also connects to offline mode," he said.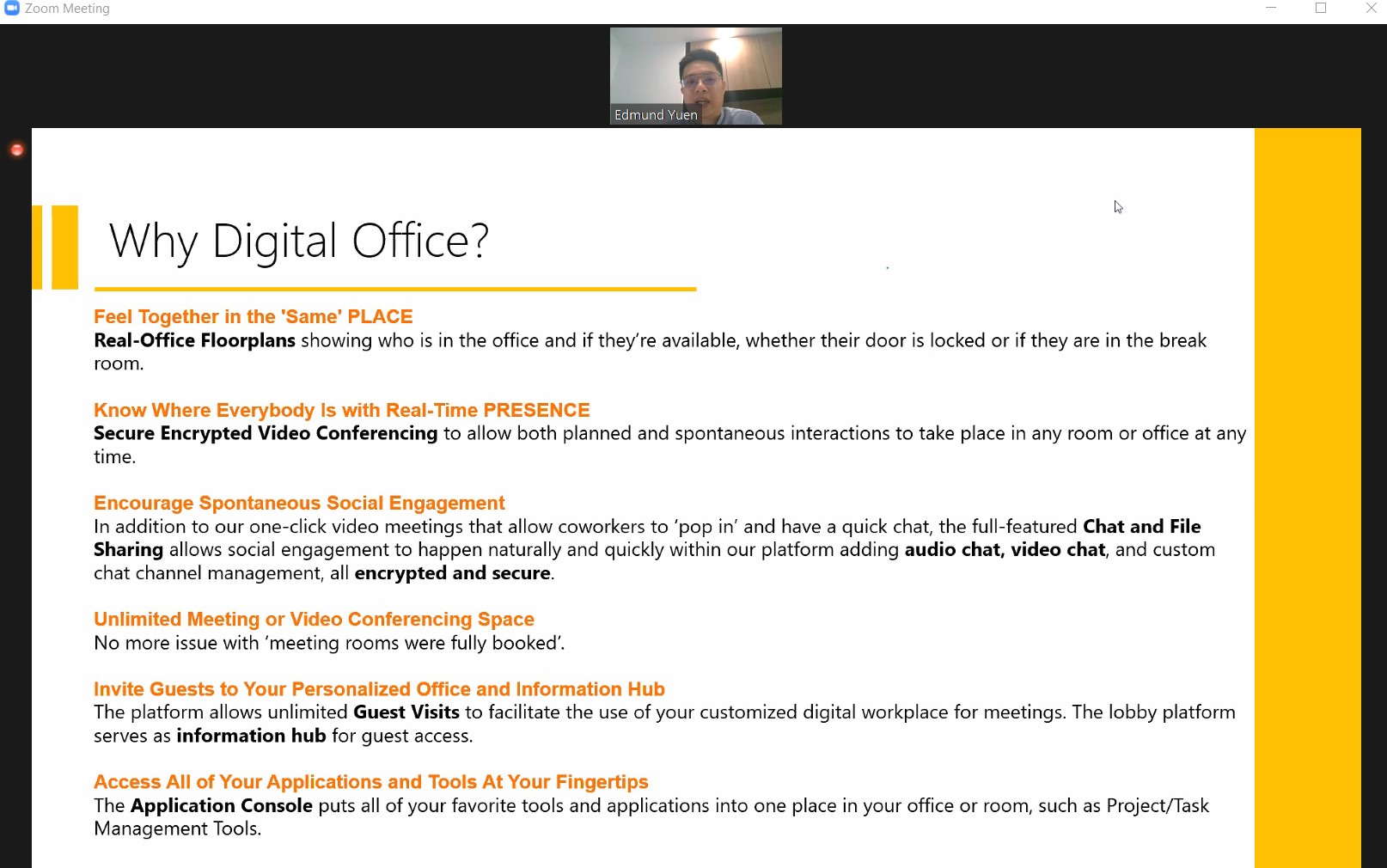 Edmund Yuen explaining why one should adopt a digital office
He believes that the future of work will evolve in the years to come and will become more virtual and automated. "Furthermore, the rise of 5G network and connected machines will further enable virtual on-the-go workstations. With AI invention, these virtual stations will provide employees with all the amenities of a digital workplace at the next level. Ultimately, businesses will need to create digital workplaces to make it easier for all kinds of employees to work in flexible environments while also living their lives," he said, adding that virtual reality would be introduced into the digital office in the future, where it could provide employees with real-world scenes and experiences. The webinar ended with a Q&A session, followed by a photography session.