ITS, Indonesia and UTAR combine efforts to instil SDG values among students
Directorate of Global Engagement of Institut Teknologi Sepuluh Nopember (ITS), Indonesia and UTAR Department of Soft Skills Competency (DSSC) jointly organised the "Virtual Mobility Programme: TEEN-IDEAS 2021" from 26 June to 21 August 2021.
The programme aimed to encourage participants to learn and explore the role of higher education students in understanding issues pertaining to Sustainable Development Goals (SDG) and its applications, while creating a group project aligned to SDG issues and learning soft skills such as communication, critical and creative thinking, problem-solving skills and decision-making by carrying out the group project.
TEEN-IDEAS was one of the collaboration programmes proposed by ITS in 2021. It was conducted in a parallel session via Zoom at both UTAR Kampar and Sungai Long Campuses. It focused on SDG8: Decent Work and Economic Growth, and SDG12: Responsible Consumption and Production respectively. The programme was comprised of lectures, workshops and student group projects, involving students, lecturers and staff from both universities for eight weeks. This programme is participated by UTAR students who are currently undertaking the MPU34052 Team Work and Collaborative Project subject.
The highlight of the programme, which was the opening ceremony of the Virtual Mobility Programme: TEEN-IDEAS 2021, kicked off on 26 June 2021. Delivering speeches at the opening ceremony were UTAR Vice President for Internationalisation and Academic Development Ir Prof Dr Yow Ho Kwang, ITS Vice Rector I for Academic and Student Affairs Prof Dr Ir Adi Soeprijanto and Director of ITS Global Engagement Assoc Prof Dr Maria Anityasari.
In the welcome speech, Prof Yow expressed his warm welcome to the distinguished guests, partners and participants, and said, "I believe that both UTAR and ITS share similar goals towards the development of the youths. Thus, this collaboration represents a significant stride in promoting mutual co-operation between the two countries and paving the way for further strategic alliances on a win-win basis. I am confident that the collaboration will continue to grow from strength to strength. At the same time, the university would also like to thank ITS for co-organising this programme with us to benefit the students. Sustainable and inclusive development have always been the key principles in the nation's development plan. This programme emphasises on SDG 8, the Decent Work and Economic Growth and SDG 12, the Responsible Consumption and Production."
"We hope that our students and guests will bring home a thing or two from this programme which will enlighten them in these social issues and encourage them to generate some ideas to contribute to the SDGs," he added.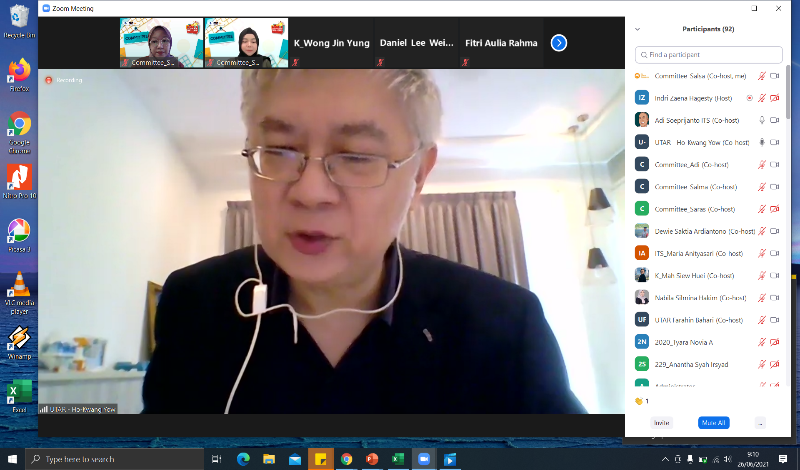 Prof Yow giving his opening remarks
The session continued with a welcome speech from Prof Adi, who also expressed his warm welcome to the distinguished guests, partners and participants. Prof Adi shared, "We are very happy because we have had a collaboration with UTAR since September 2020, and today we are extending our relationship by organising a virtual student mobility programme called TEEN-IDEAS. ITS has several excellent fields of studies concerning SDGs. ITS has also been involved in the programme related to SDG organised by the ministry. In ITS, we have one research centre on SDGs and we have trained many lecturers to enrich students on issues related to SDGs. We are having the right collaboration today. I hope we can encourage students to do their best in this programme. Please work hard and attend all the classes. Keep up with all the coursework. Do not let the pandemic stop you."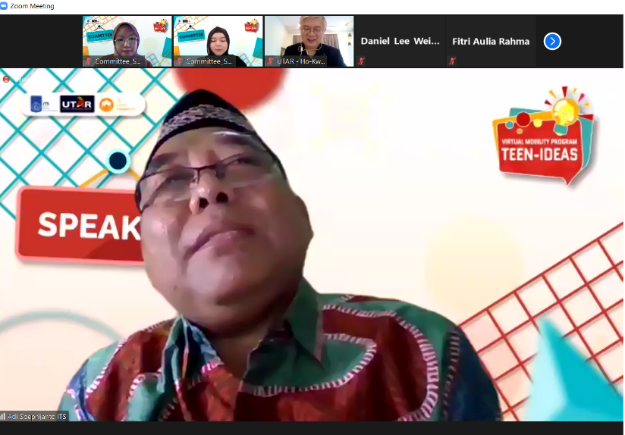 Prof Adi welcoming guests, lecturers and participants
The event then saw Dr Maria complimenting UTAR, specifically DSSC in its commitments towards SDGs which are reflected in the department's continuous activities. In her remarks, Dr Maria expressed her happiness on this second collaboration with UTAR, "Today, we are going to start our brand new programme and cooperation. UTAR's team, Ms Mah Siew Huei and Ms Nur Farahin binti Bahari were very cooperative in developing this programme and I am really looking forward to having achievable ideas from the students. I am also looking forward to receiving a visit from Prof Yow and UTAR students to ITS, Indonesia so that we can conduct a physical project together after the pandemic is over."
Dr Maria ended her speech by inviting all guests and students to turn on their microphones to do a cheer 'TEEN-IDEAS-Yes we can!' together to show off their enthusiasm.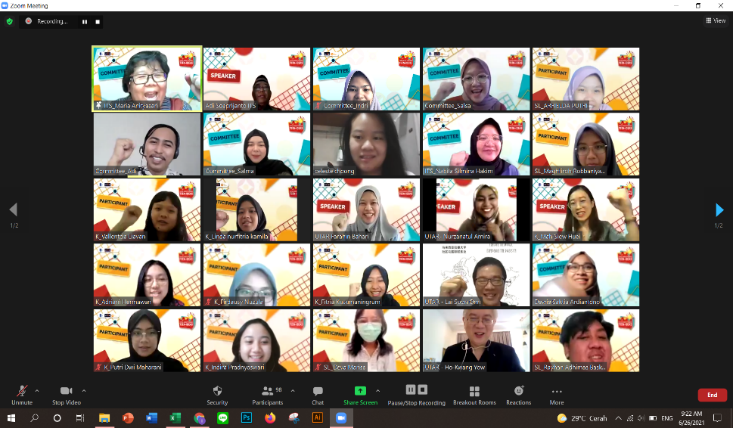 The cheer led by Dr Maria
The ceremony then continued with a programme overview by one of the committee members Yusuf Adiyatmoko from ITS. He explained the content of the programme to all participants including the dates and topics for all meeting sessions. He also introduced the list of speakers and reviewers who will be involved in the programme from both ITS and UTAR, including Mah Siew Huei, Nur Farahin binti Bahari and Nurzanatul Amira binti Azizan from UTAR DSSC and Assoc Prof Maria Anityasari, Dr Ir Janti Gunawan, Ms Nabila Silmina Hakim S.T., Dr Idaa Warmadewanthi, Dr Putu Dana Karningsih and Dewie Saktia A. from ITS.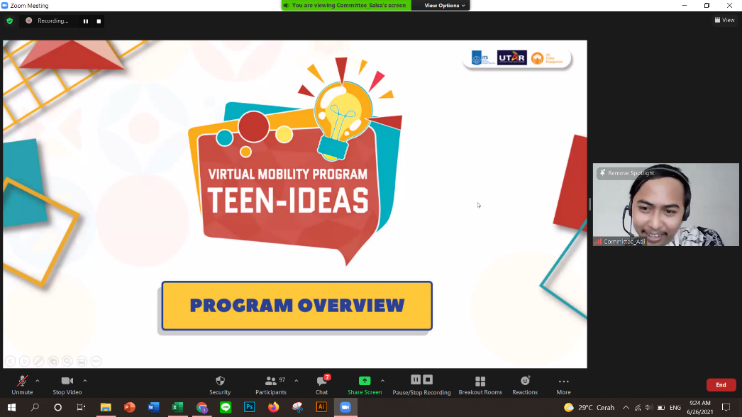 Yusuf explaining the programme overview
The ceremony concluded when the participants, speakers and committee members parted their ways according to campuses to continue with a workshop on Critical Thinking, Problem-Solving Skills, Communication & Teamwork Skills. The workshop was conducted in two separate Zoom meetings.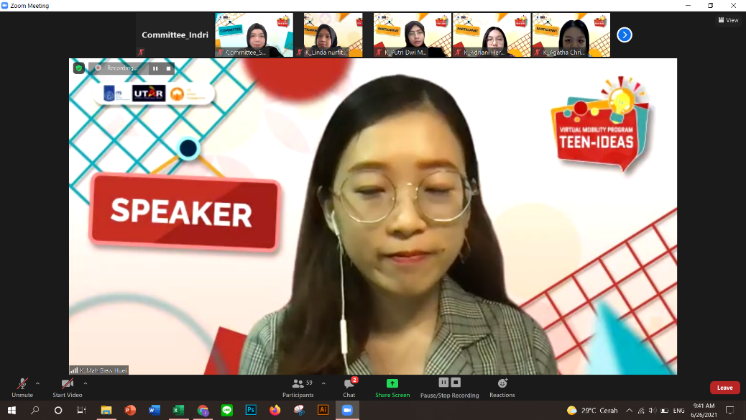 Mah leading the workshop session for Kampar Campus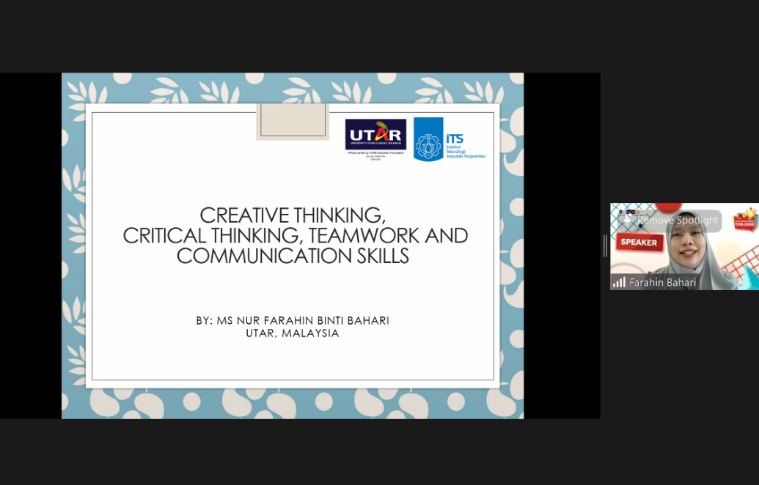 Farahin leading the workshop session for Sungai Long Campus