Global affairs talk series: The Case of Guangxi Zhuang Autonomous Region
UTAR Centre for International Studies (CIS) and Centre for Corporate and Community Development (CCCD) jointly organised a global affairs talk series titled "China's Multi-Layered Diplomacy towards ASEAN in Regional Economic Cooperation: The Case of Guangxi Zhuang Autonomous Region" on 10 November 2021 via Zoom and Facebook Live.
Invited to be the speaker was University of Malaya Faculty of Arts and Social Sciences (FASS) Institute of China Studies (ICS) senior lecturer Dr Lee Chee Leong.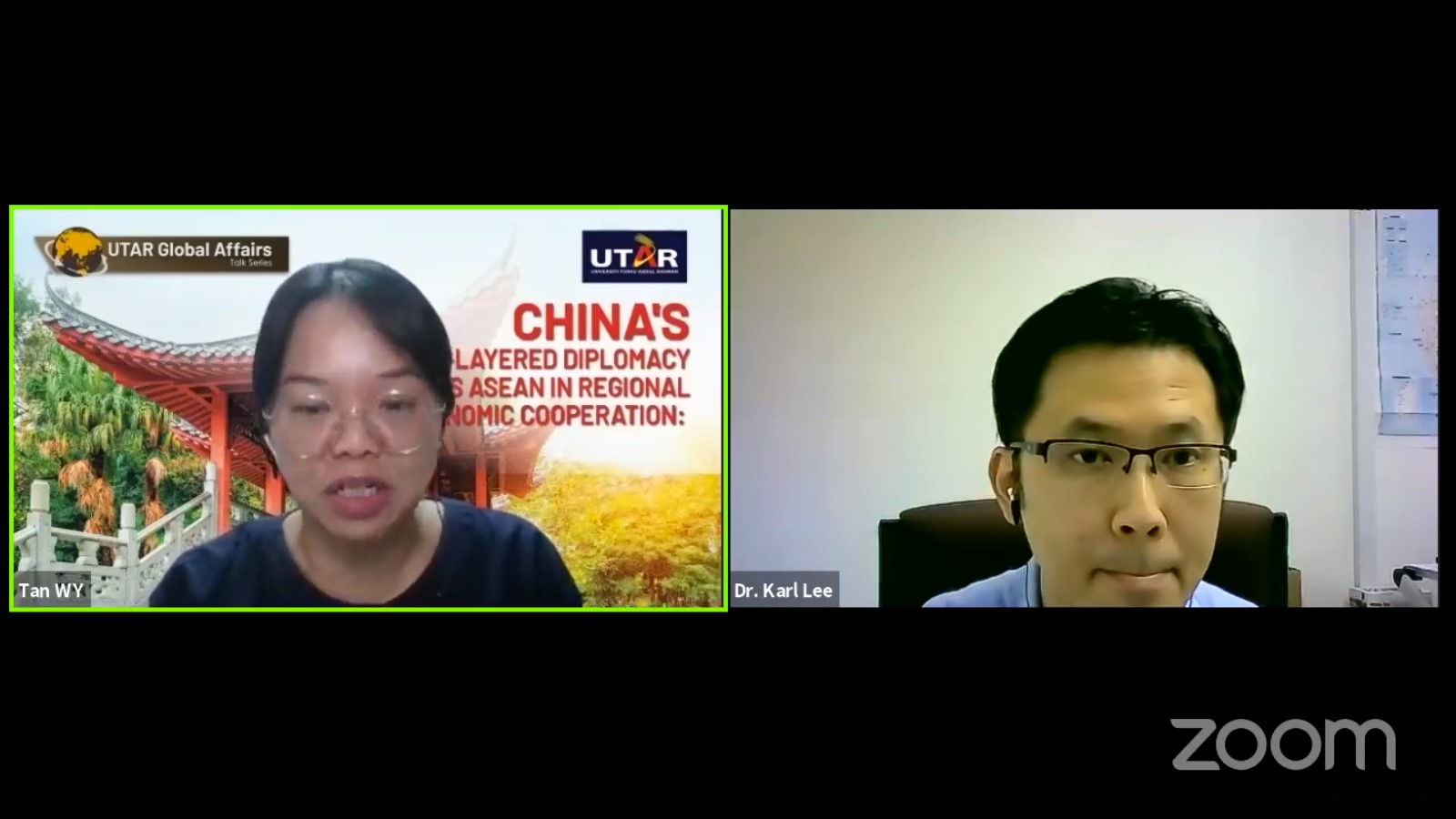 From left: CIS Chairperson Tan Wooi Yee (moderator) and Dr Lee
Sharing a brief context of his presentation, Dr Lee said, "In terms of China-ASEAN cooperation, Yunnan is the pioneer of all China-ASEAN cooperation in terms of provinces. Compared to Yunnan, Guangxi's international participation is unanticipated and expeditious. Guangxi is also proactively building its own influence just like Vietnam."
Dr Lee then shared his research puzzle, a brief literature review of the scholarship works that have been done recently regarding the Chinese sub-national diplomacy or sub-state international cooperation in a rough sense, the research gaps and questions, and the research methodology where he explained the theoretical methods that he used for his research which were Historical Institutionalism (HI) as a theoretical choice and Structure-Response-Outcomes relationship (Analytical Model). He also shared that Guangxi's border trade with Vietnam is excessively important for its massive Vietnam trade and Guangxi's border trade regime insulated it from external trade shocks, for example, the Asian Financial Crisis.
Dr Lee's research study examines the origin and the developments of Guangxi's regional participation as part of Beijing's multi-layered diplomacy in China-ASEAN economic cooperation. Through the application of HI theory, it establishes the evolutionary process that started from Guangxi's disinterest in international participation into one that enabled it to form its independent influence within China-ASEAN economic cooperation. The study concludes that it was the functional coalition-building between Guangxi and central decision-makers that allowed the former to participate and embed its influence within the economic cooperation framework.
Dr Lee concluded, "Overarching institution allows for the regularisation of Guangxi's roles in China-ASEAN economic cooperation. This is the institution in the Chinese state context that regularises Guangxi's regional roles. It is a conglomeration of formal rules and leadership practices. This is unlike European, Canadian and American federated systems where the national constitutions often formed part of institutions regularising their sub-national or sub-state diplomacy."
"Another conclusion I drew from my research is that Guangxi's regional participation is a typical case of China's multi-layered diplomacy. In other words, Guangxi's International participation in the China-ASEAN cooperation is an extension of China's cooperation agenda, a foreign economic policy with ASEAN. It needs central decision-maker's willingness and autonomous region leadership's proactivity, empowering Guangxi into international cooperation. It is crystal clear that Guangxi could not act alone to take international roles in China-ASEAN economic cooperation. This is despite the Chinese constitution allowing it to do so. Lastly, Guangxi has shown that it's not more than just an implementer as a host or passport channel under the guidance of Chinese central government but it is also an innovator of sub-regional cooperation through the PBG scheme," said Dr Lee.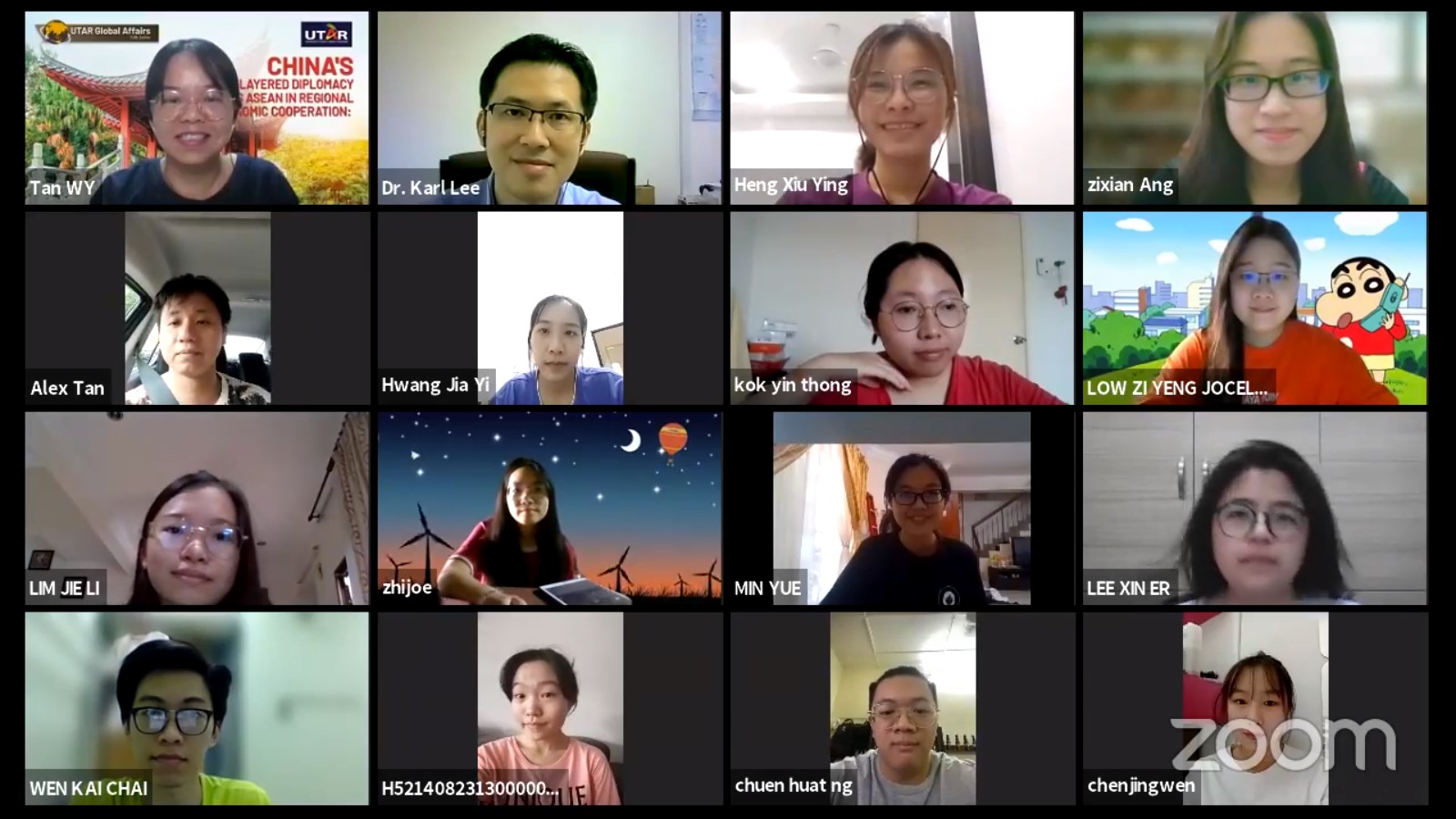 A group photo session marks the end of the insightful talk
Prior to his appointment in ICS, Dr Lee was a Taiwan Fellow at the Center for Southeast Asian Studies (CSEAS), National Chengchi University (NCCU) (January - December 2020), Chinese Government Scholar at the School of Politics and Public Administration, Guangxi University for Nationalities (GXUN) (September 2018 - July 2019) and Associate Fellow for ICS (July 2016 - June 2019). His primary interests are China's sub-national diplomacy in China-ASEAN economic cooperation and Taiwan's quasi-state diplomacy in Malaysia and Southeast Asia. Having worked with different think tanks for most of his research career, Dr Lee has been the author of numerous opinion pieces in East Asia Forum, Global Policy, The Diplomat, Taiwan Insight and other international media. His recent academic works include Malaysia's response to the Covid-19 and its impacts on Malaysia-China relations, A Malaysian perspective on Malaysia-China relations (1974 - 2020), Guangxi's international roles in China-ASEAN cooperation and Malaysia's political contestation in the Covid-19 era and their economic impacts ─ which will either be published in 2021 or expected to be published in 2022.
Click here to watch the talk.