Improve learning through mind skill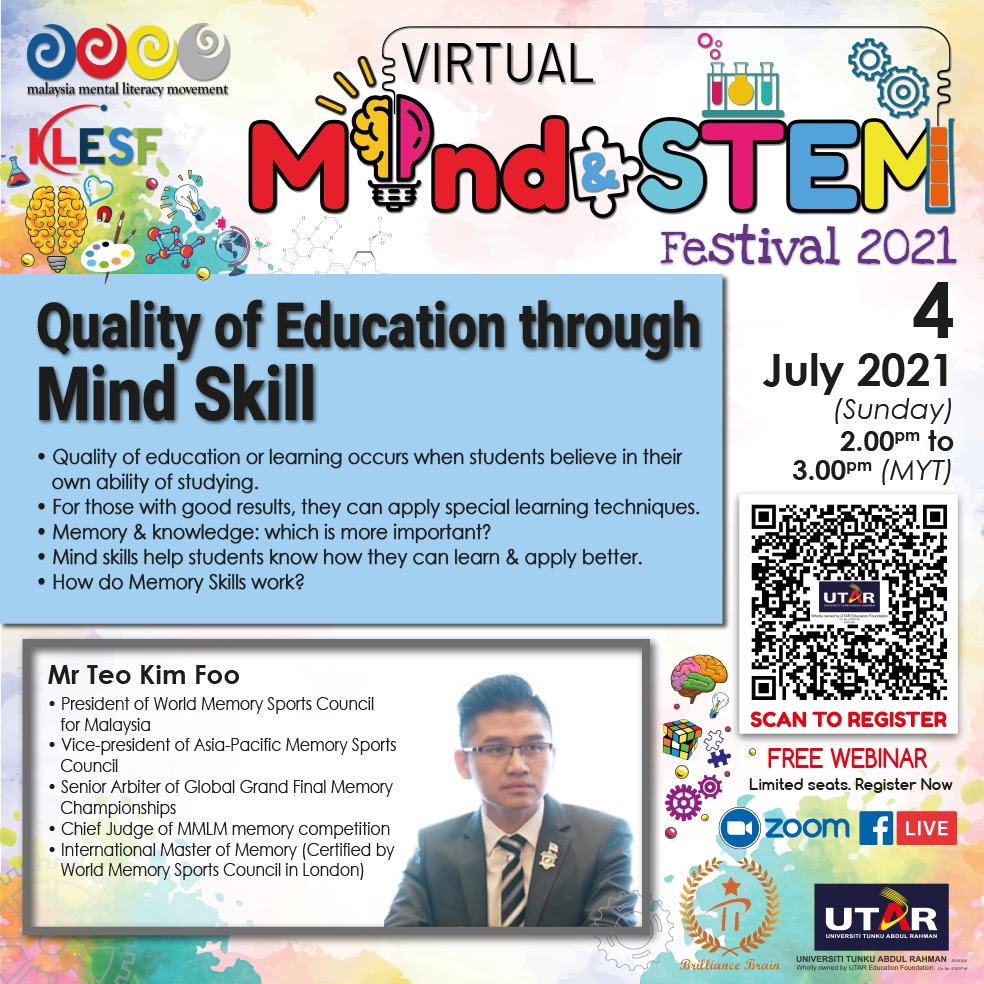 A webinar titled "Quality of Education through Mind Skill" was conducted on 4 July 2021 via Zoom. Held as a part of the Virtual Mind & STEM Festival 2021 programme, the webinar aimed to educate students on how they can learn better and apply it in their studies.
Present to deliver the webinar was International Master of Memory (IMM) Teo Kim Foo, the president of World Memory Sports Council for Malaysia and the vice president of Asia Pacific Memory Sports Council. Teo is also the first Malaysian to hold the title "International Master of Memory (IMM)", which was awarded to him in 2014.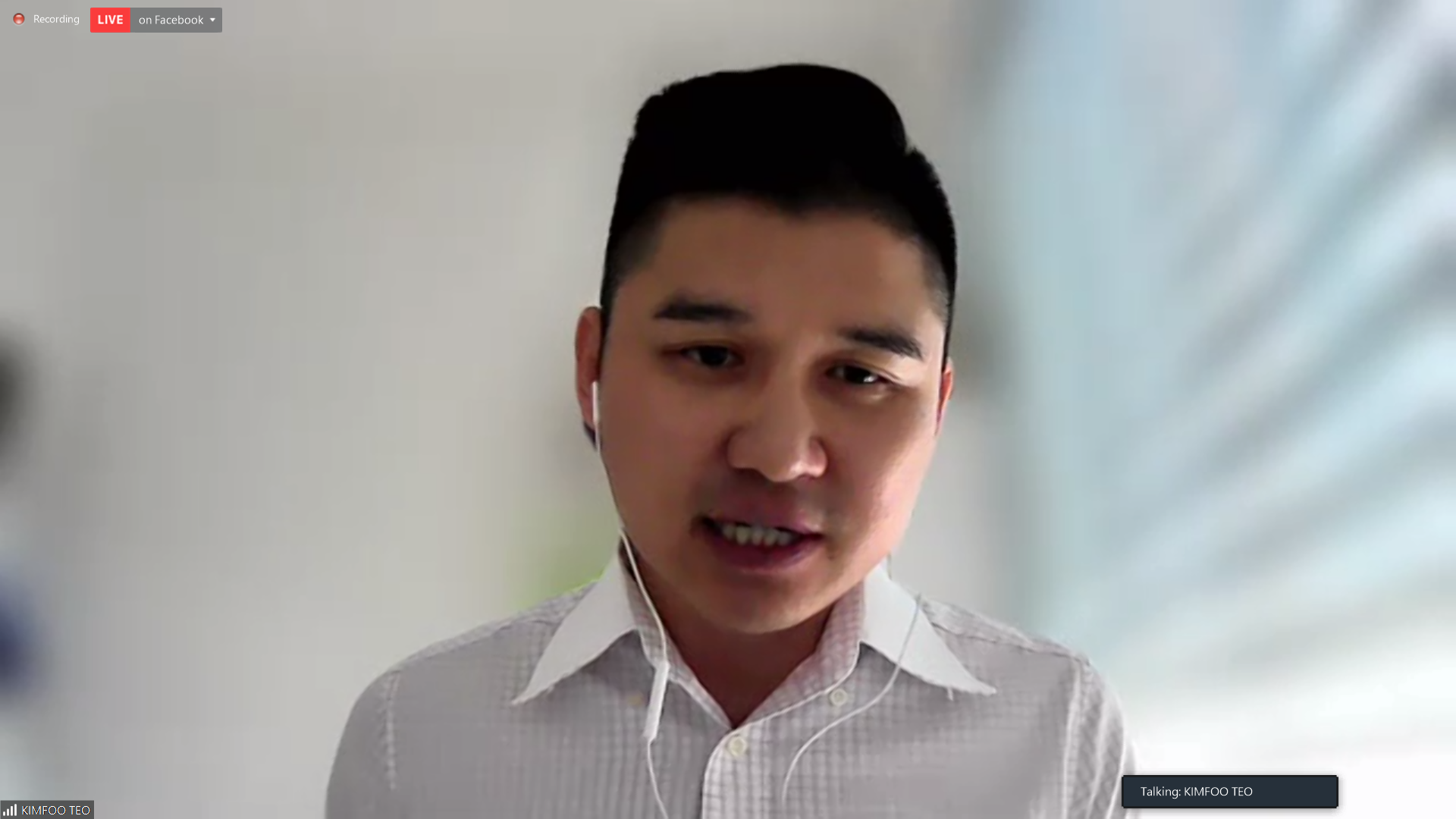 Teo sharing the memory techniques with the participants
Teo began his webinar by playing memory games with the participants to test their memory power. He said, "I used to be very forgetful. I was working in a tour agency and would forget people's names and even where I park my car. After I started to learn some memory techniques, I could remember clients' names, their cellphone numbers and even their date of birth."
He then shared the three stages of learning which are acquired knowledge; storage or memory; and retrieval or application. He said, "As a trainer, I believe that memory is the main key to unlock the door of learning."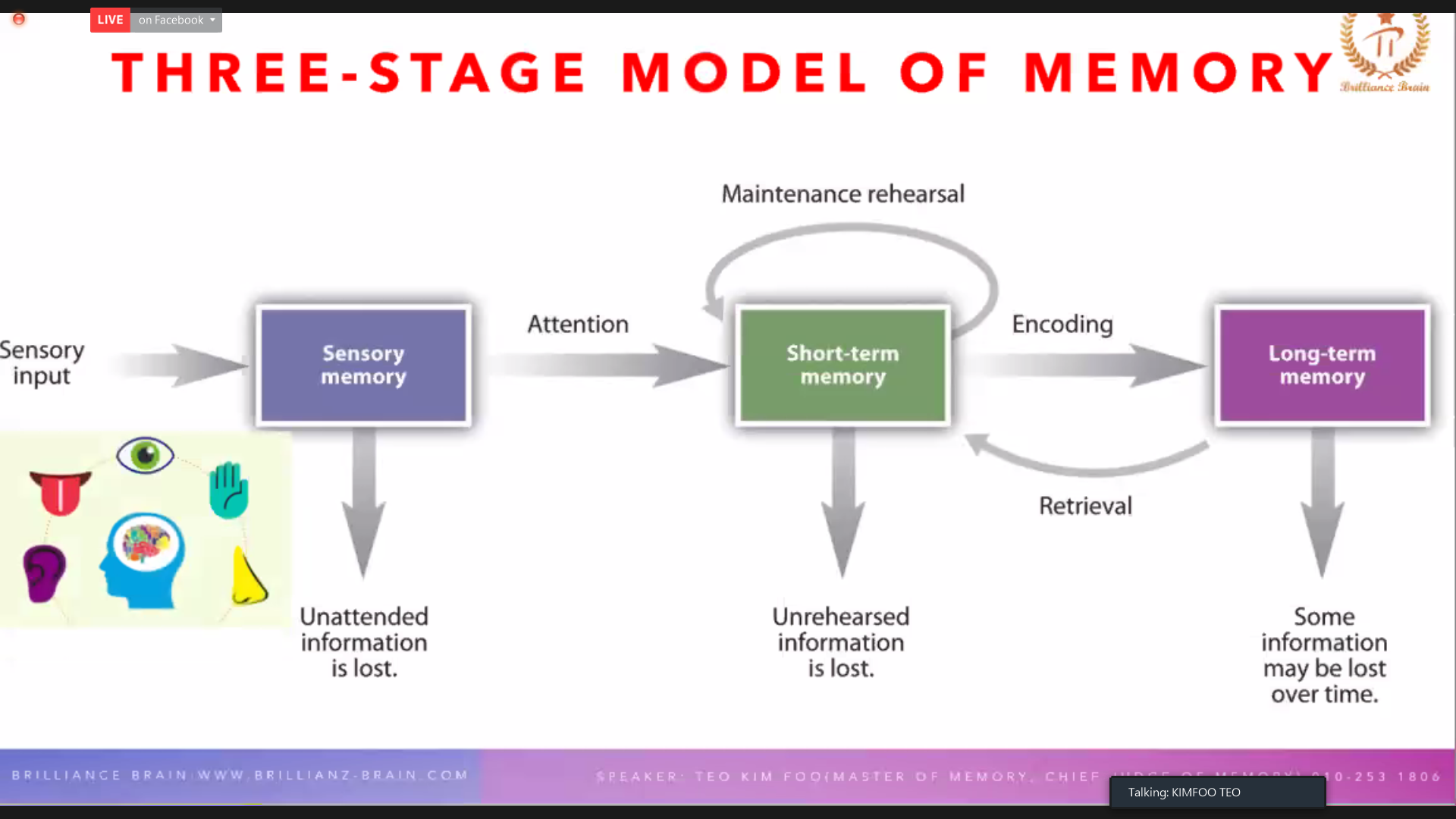 Teo showing participants the three-stage model of memory
Teo then moved on to discuss the difference between repetition and memory techniques, "The linkage system encourages one to create a story around the given words to remember them better. With the practice of memory techniques, the participants will find it easier to memorise and recall the words and can even answer all reversely."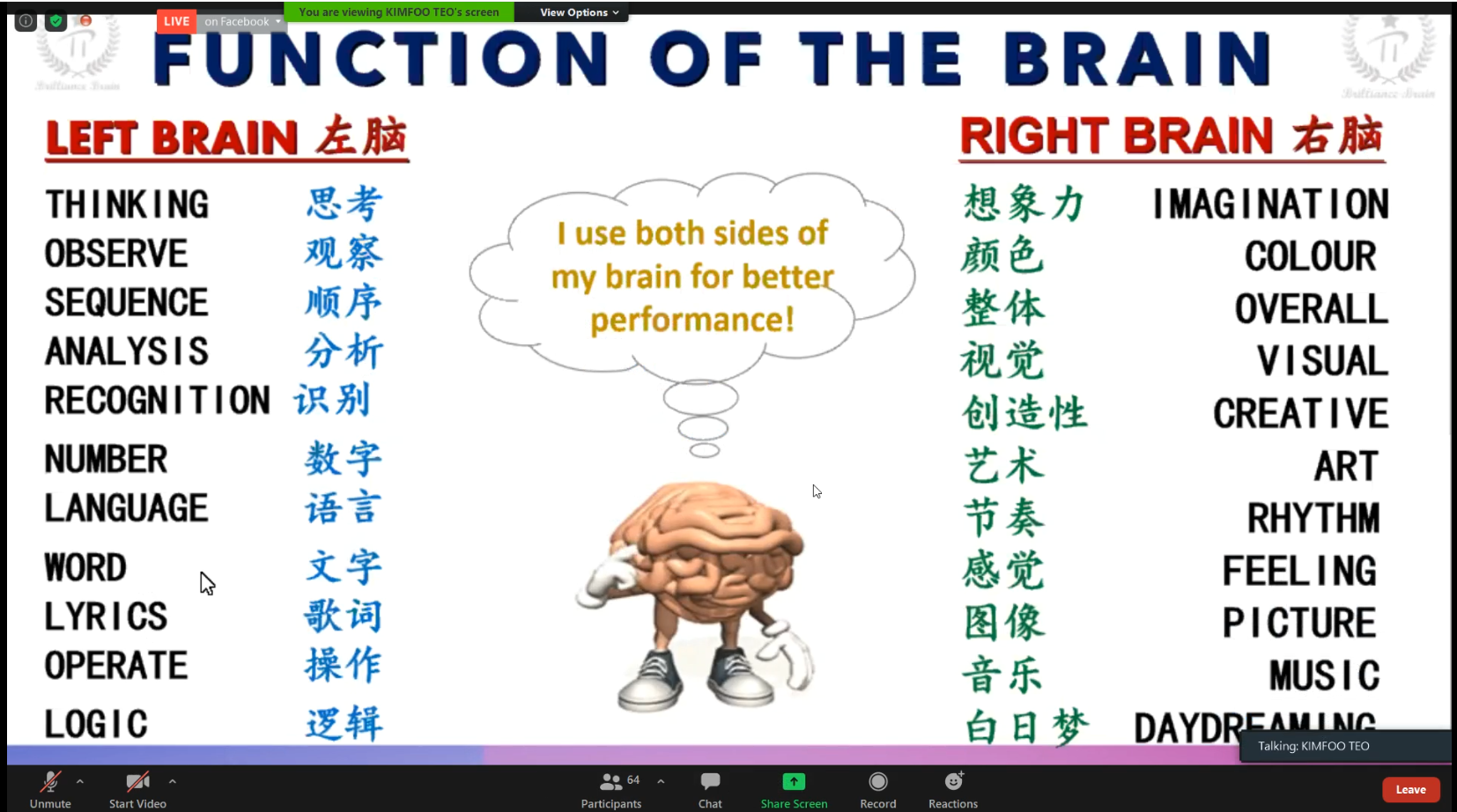 Teo explaining the function of the brain
He explained the function of the brain and said, "With the imagination technique, words or information will be easier to remember. The brain is more perceptive towards pictures, so it stores them for a longer time instead of words, thus, you should use your imagination and come out with a storyline to remember them easily."
Teo concluded, "Through this sharing session, I hope the participants will realise the potential of human brainpower and memory power. By understanding the techniques behind, they will be free from rote learning— a memorisation technique based on repetition; mechanical repetition and from there train themselves to become the master of the mind."
Throughout the entire webinar, Teo conducted live demonstrations on memorising words, numbers and paragraphs from the Sun Tzu's Art of War. He also taught the participants some tricks and tips to boost memory.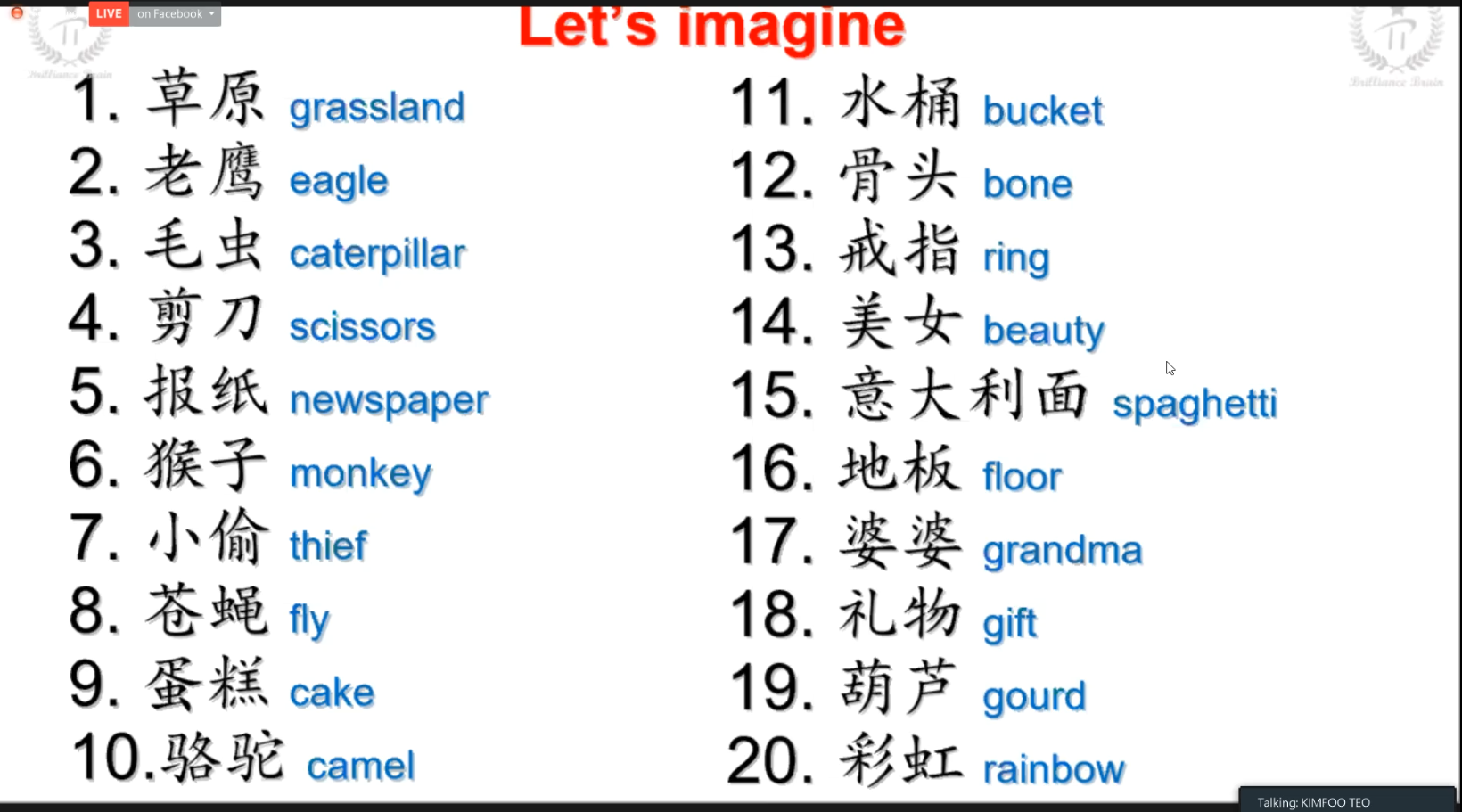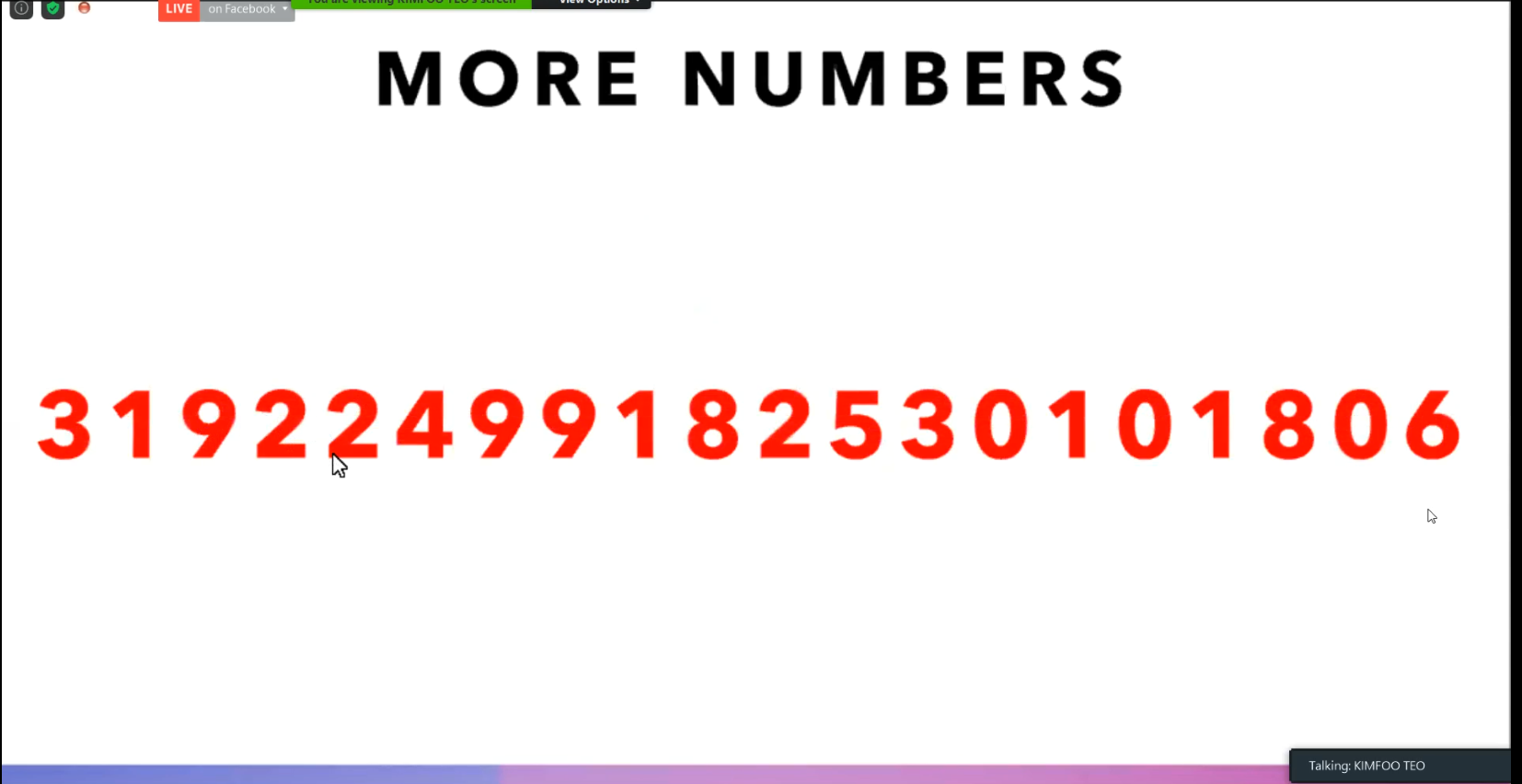 Some of the live demonstrations by Teo
The webinar then saw an active interaction between the speakers and the participants. The talk ended with an extensive yet insightful Q&A session.
To view the full video, click here.