Webinar highlights the recovery efforts of digital economy and design thinking in support of post-Covid-19
Poster of the webinar
A webinar titled "Digital Economy and Design Thinking in Support of Post-Covid 19 Recovery Efforts" was organised by the Centre for Entrepreneurial Sustainability (CENTS) on 23 April 2021. The webinar was hosted on Zoom with an attendance of 106 participants.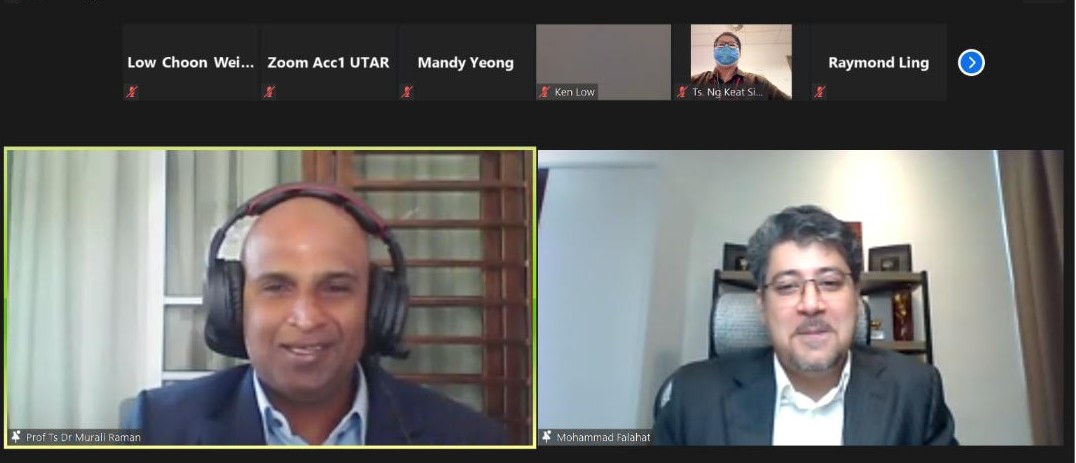 Prof Murali (left) with moderator Dr Falahat
The invited speaker for the webinar was Postgraduate & Continuing Education, Asia Pacific University and Innovation (APU) Director Prof Ts Dr Murali Raman. The webinar was moderated by CENTS Chairperson Dr Mohammad Falahat Nejadmahani.
Prof Murali started his webinar by highlighting the new norm of post-covid-19, "Things can't get back to the time where there was no Covid-19. Since last year, students and academics had been anticipating to get back to their normal lives such as going back to colleges or schools to undergo face-to-face teaching and learning. However, this new norm is a good learning process to ensure that we cope with it and change our perspective on how we deal with people during this pandemic period."
He added, "We always see the Covid-19 pandemic as a negative matter, but there are many positive things that we could focus on. During this pandemic period, we have evolved to become more agile; lifestyle and environment have changed and many innovative ideas have expanded."
During the webinar, Prof Murali shared five key points with the participant. The five key points focused on key lessons from historical events in the world, from VUCA to VUCA+D world; Digital Economy and Design Thinking – A response to Covid-19; fundamental design thinking (DT) concepts; understanding how design thinking can play a vital role in managing a pandemic and assist in post-Covid-19 recovery efforts and many more.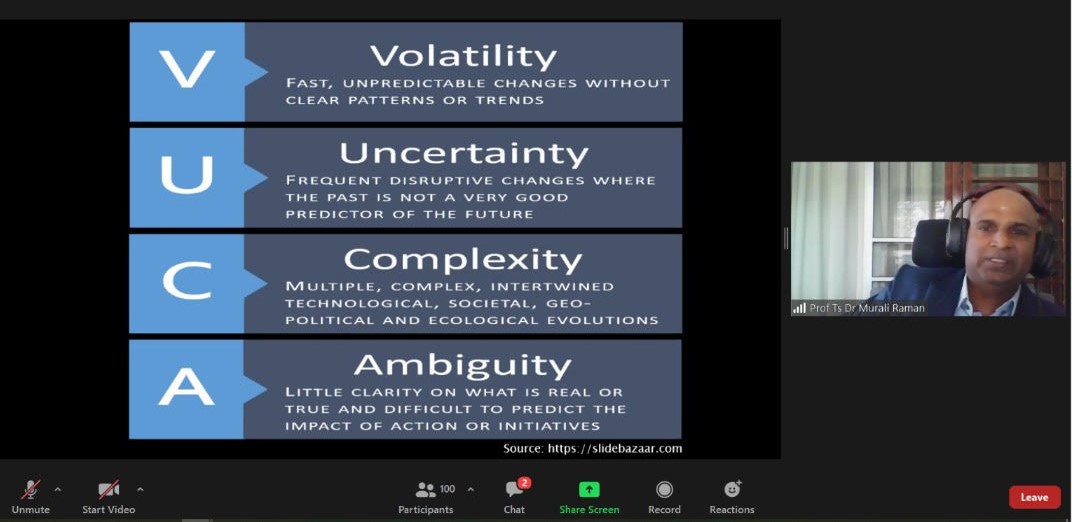 Prof Murali highlighting the components of VUCA
Prof Murali then moved on to discuss VUCA to VUCA+D world. He said, "VUCA carries the meaning Volatility, Uncertainty, Complexity and Ambiguity. The world before the pandemic was pretty much stable, very consistent and predictable. But due to the Covid-19 pandemic, the world today had skipped its beat, predictability and continuity. VUCA+D: digital disruption has added more topic to the VUCA discussion and has become one of the main concerns among corporate leaders around the world. Economy and climate changes are becoming uncertain."
Nearing the end of the webinar, Prof Murali shared five key points on the role of the digital economy in aiding pandemic recovery efforts. There were several changes in business modes such as pivoting to online; adopting digital platforms; linking e-hailing service providers by making them part of the supply chain and venturing into new opportunities. He also mentioned that design thinking was essential. It is a collaborative approach to foster innovative solutions for a given problem.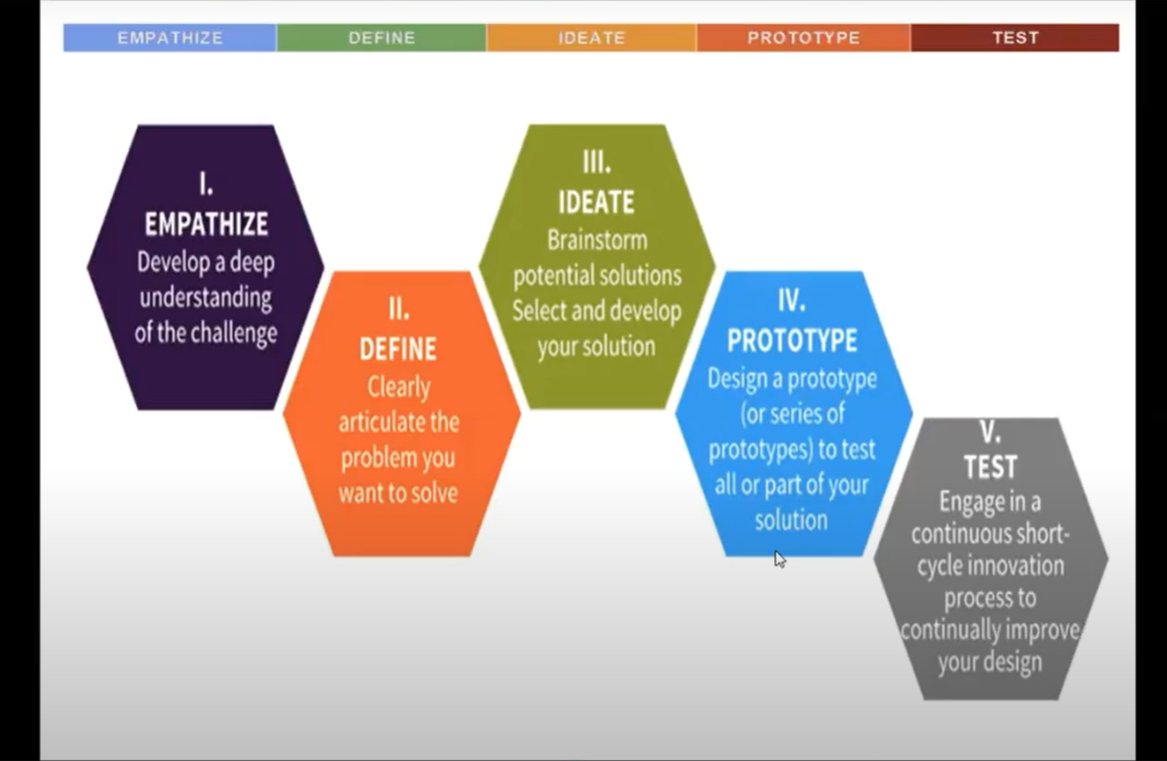 Prof Murali explaining five stages of design thinking process to participants
The webinar ended with a successful Q&A session and a group photograph session.
Prof Murali (top row, most left) with participants
Prof Murali is an experienced Professor with a history of working in the higher education industry. He is skilled in design thinking, digital leadership and mindset change. Besides being a trainer and coach for corporations in Malaysia, he is also a Certified NLP Practitioner. He has also been certified in Design Thinking by the Stanford School (USA). He has solid research achievements with numerous research accolades, e.g. World Innovation Award (Korea), National Outstanding Award for Education Leadership and Gold Medallist at PECIPTA 2013. He has published more than 85 papers in international journals and conferences.