Techkem Group donates to UTAR Hospital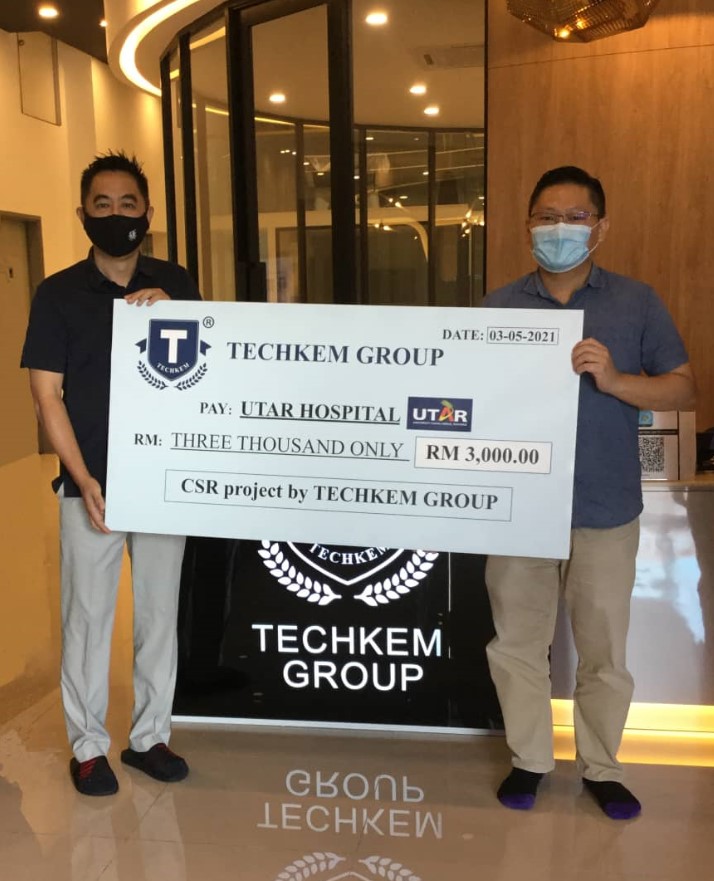 From left: David Ng and Dr Mah
Techkem Group donated RM3,000 to UTAR Hospital as part of their corporate social responsibility (CSR) project on 3 May 2021. The mock cheque was presented by Techkem Group Managing Director David Ng Kam Meng. He was accompanied by Techkem Group Operation Director Ir Dr Chew Chun Ming and Business Development Director Tengku Ahmad Jafni.
The cheque was received by Lee Kong Chian Faculty of Engineering and Science Department of Chemical Engineering Head Dr Mah Shee Keat. Accompanying him were PhD(Eng) and MEngSc Programmes Head Dr Ng Yee Sern and Dr Ng Law Yong.
The academics initially visited Techkem Group on 3 May 2021 to discuss collaboration opportunities. However, upon hearing about the initiation of UTAR Hospital, the representatives of Techkem Group expressed their intention to support this not-for-profit cause. Among other areas of collaboration discussed were research support, special technical course for industry working adults and corporate social responsibility programme.
Techkem Group is comprised of committed and dedicated professionals in the treatment of potable water, sewerage, industrial waste and process water recycling systems. They also offer a variety and comprehensive range of chemicals, products, systems and services to ensure total quality solution management. Currently based in Malaysia, Techkem renders its supports to various industries throughout Malaysia, Indonesia, Thailand and Myanmar.