Unleashing potential through divergent thinking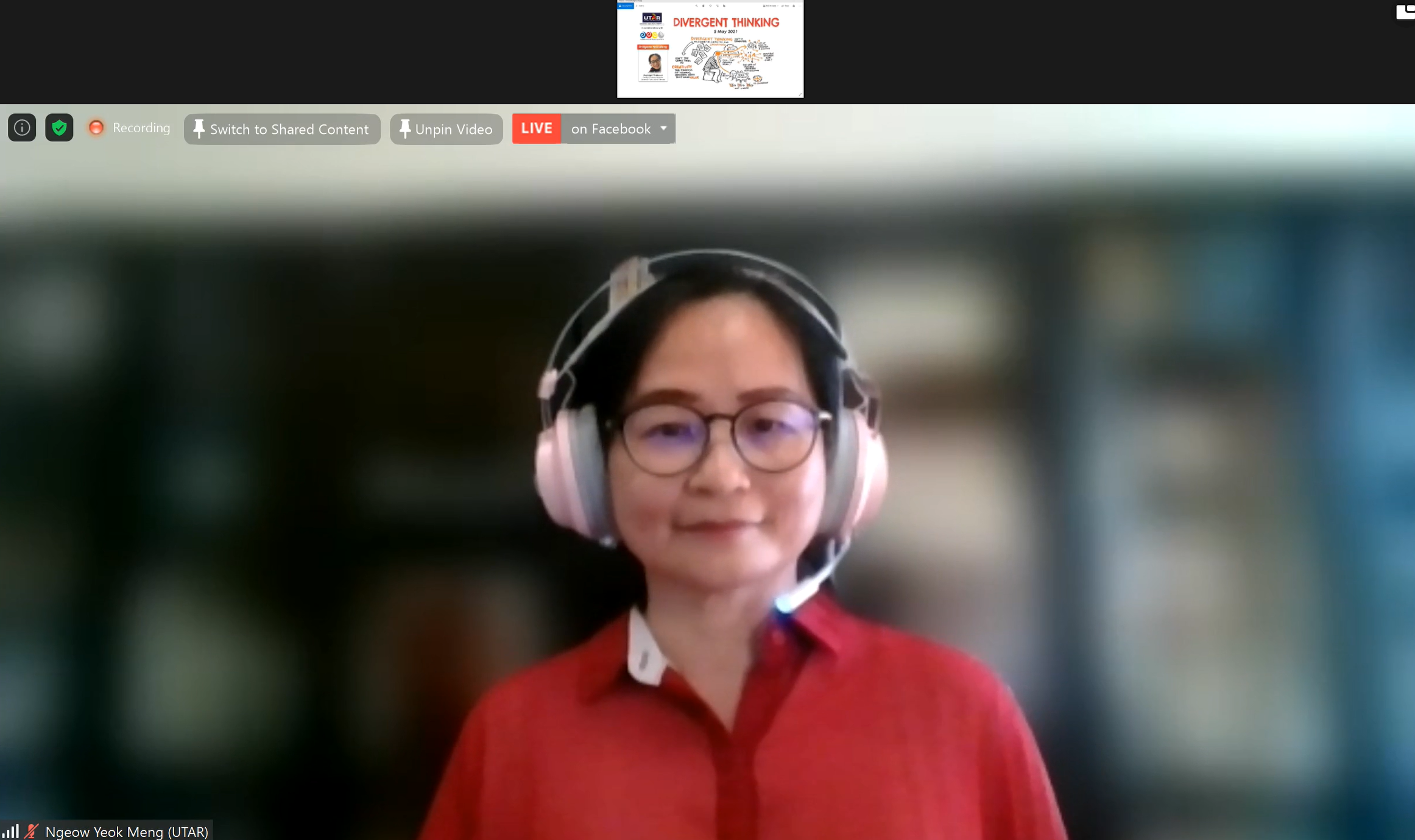 Dr Ngeow during the webinar
The Centre for Corporate and Community Development (CCCD) in collaboration with Malaysia Mental Literacy Movement (MMLM) organised a webinar titled "Divergent Thinking" on 5 May 2021 via Zoom. The webinar, which saw more than 100 participants, was presented by Faculty of Creative Industries lecturer-cum-Centre for Curriculum Development and Innovation Deputy Head Dr Ngeow Yeok Meng.
In the webinar, participants did a 'workout' using their mind by switching the way one habitually think, simultaneously think of multiple similar or contradicting concepts, and flex one's mind towards 'the other' views. Dr Ngeow spoke about identifying the characteristics of a divergent thinker, conducting a self-check of a divergent thinker, examples of how divergent thinking influences behaviour, alert on own pre-judgement and biases, , real-life examples of divergent thinking, application of the divergent thinking at work and study, and how to unleash one's potential.
Dr Ngeow was inspired by Sir Ken Robinson who is a British author, speaker and international advisor on education in the arts to government, non-profits, education and art bodies. In 1967, Guilford first introduced divergent thinking test that focuses on idea generation and the relationship between the processes, fluency and originality of the idea. "Our task is to educate their whole being so they can face the future. We may not see the future, but they will, and our job is to help them make something of it," added Dr Ngeow on Ken Robinson's quote.
"Divergent thinking it opens up for ways to invent, enhance and beautify something that has been conventionally difficult to handle or incomplete in life. It enables us to create something out of nothing and along the way, inspires us to take charge of our life events instead of just giving in to society's expectation all the time. Usually, divergent thinkers see beyond what others are not able to see or appreciate. Divergent thinkers see potential in everybody and each individual has many facets with multiple perspectives of the same issue. Aside from that, a divergent thinker can see multiple dimensions of a problem and have solutions to one question. It is not really about the more unconventional ways you can think up, the higher your level of divergent thinking," said Dr Ngeow.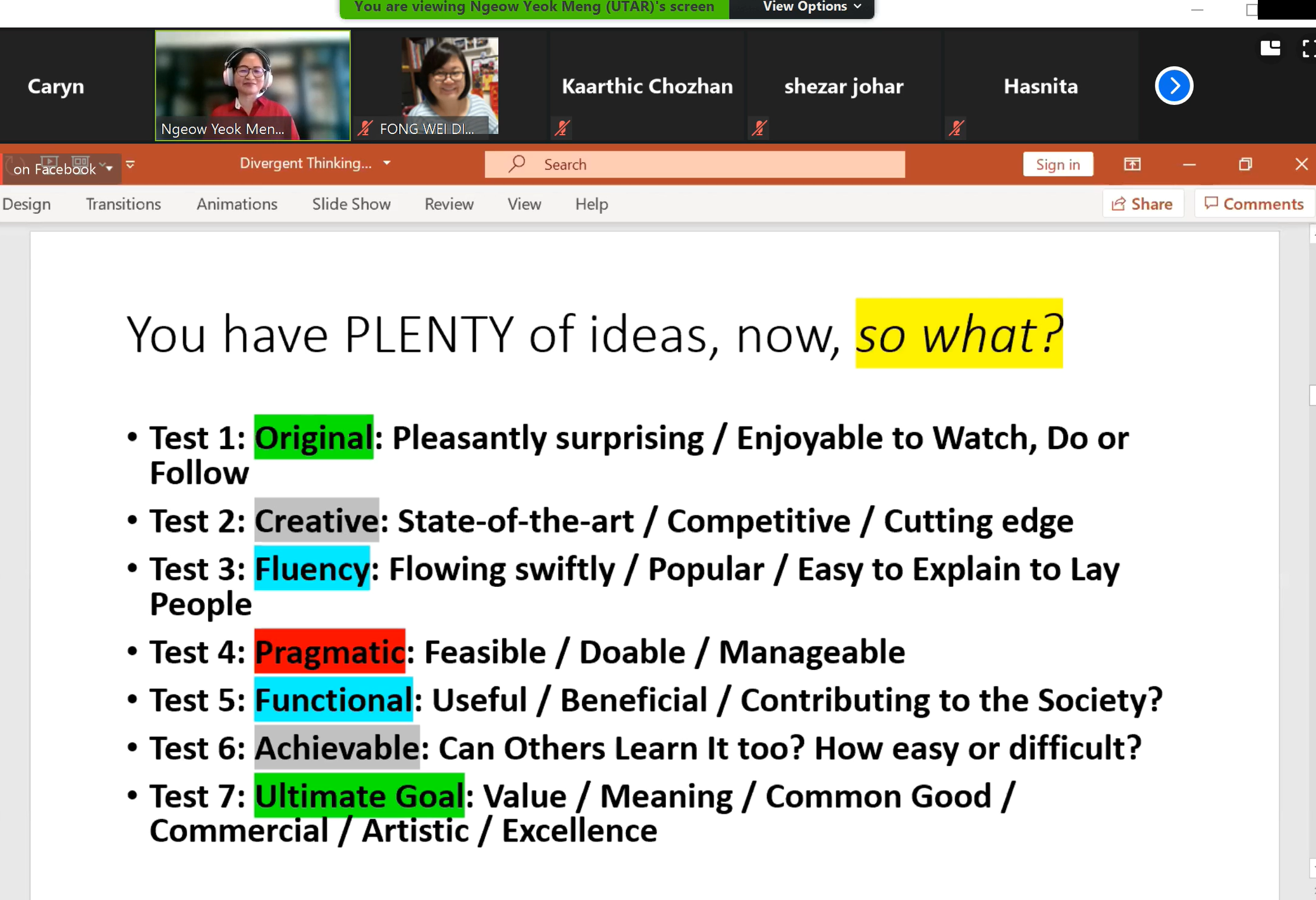 Dr Ngeow explaining ways to test one's idea
A test is carried out to know whether your idea is original, creative, fluent, pragmatic, functional or achievable and what is identify the ultimate goal from the idea. Dr Ngeow shared, "When facing different people, divergent thinking allows me to approach each individually in different ways as we are all different in many ways. When we appreciate the people around, everyone would be happier."
Dr Ngeow said, "Some ways to inspire divergent thinking in the classroom is to encourage people to speak up; be sensitive; incorporate play activity; embrace creative constraint; celebrate creative risk-taking and chase curiosity among the students. It is important to let them feel comfortable in the environment in order for students to share ideas."
In between the webinar, Dr Ngeow interacted with the participants through a mental workout with mind teasing games.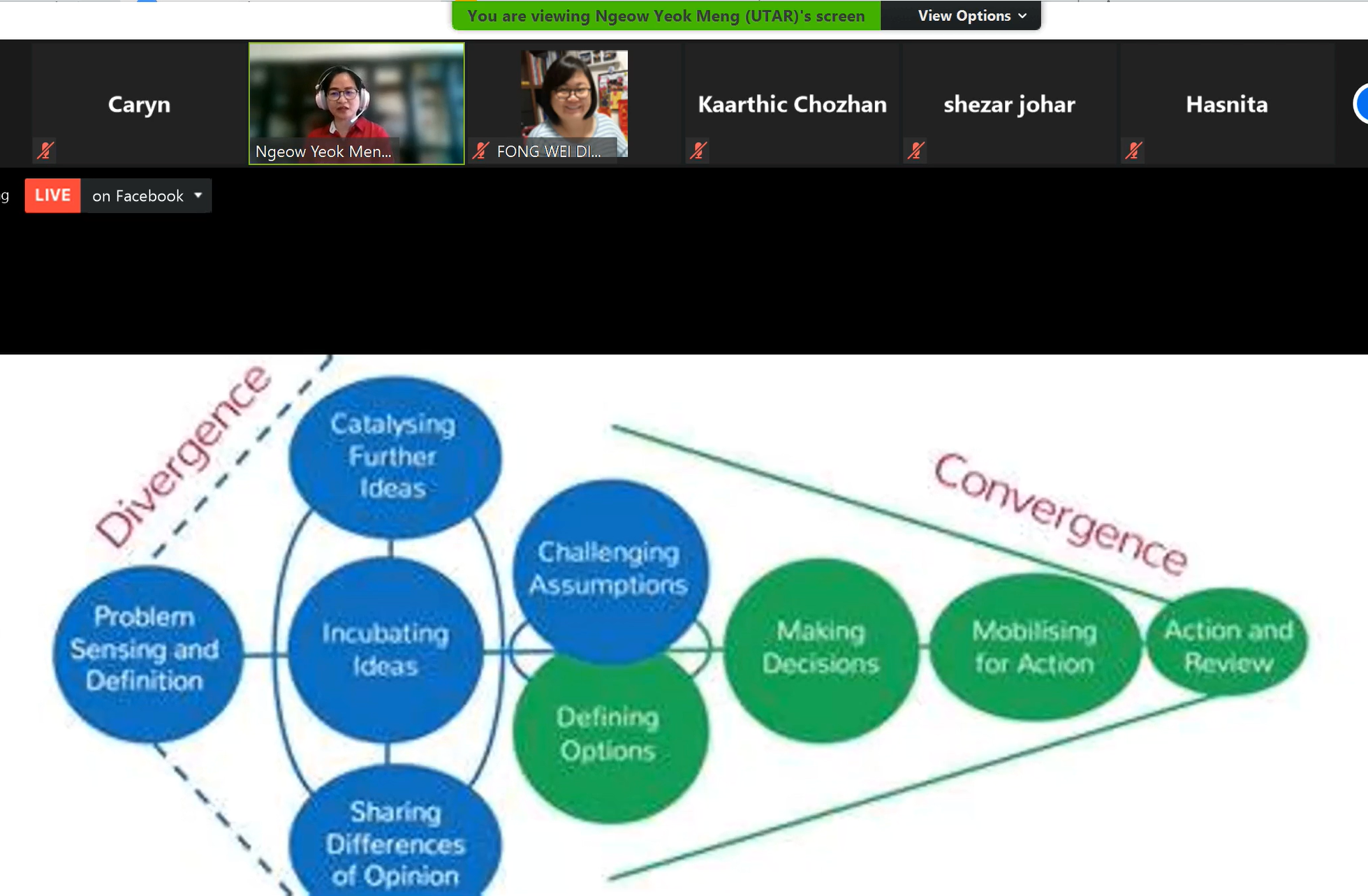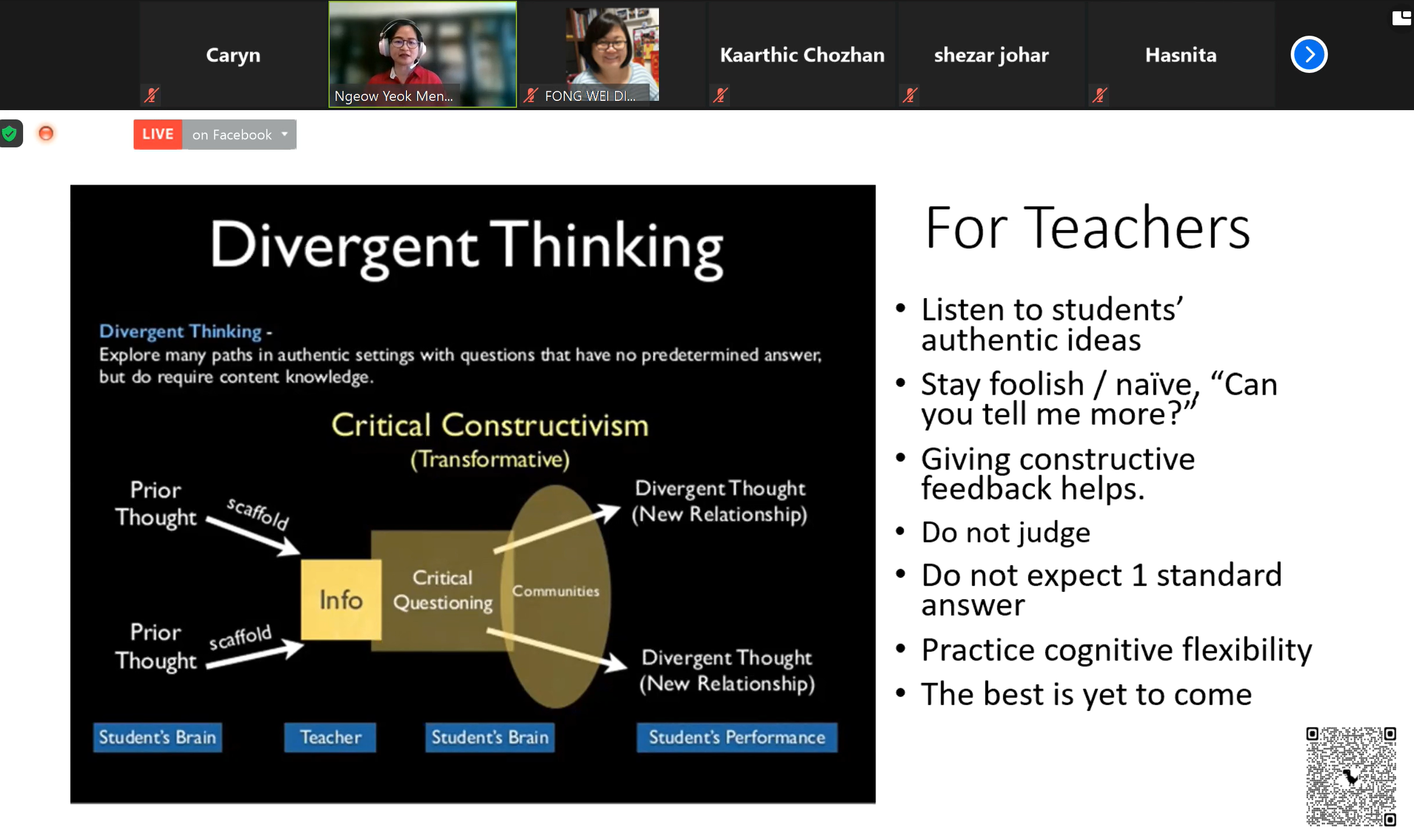 Slides from Dr Ngeow's webinar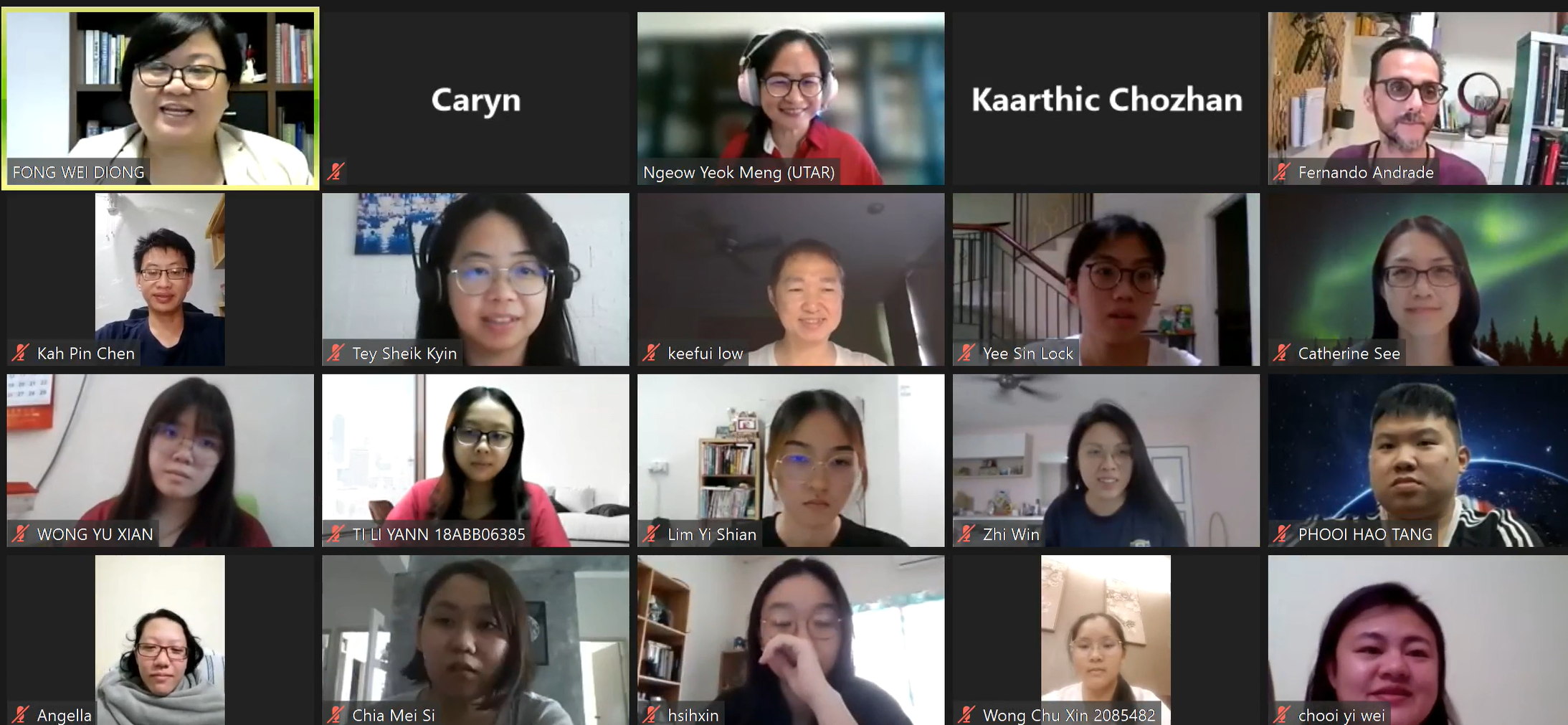 Group photography session