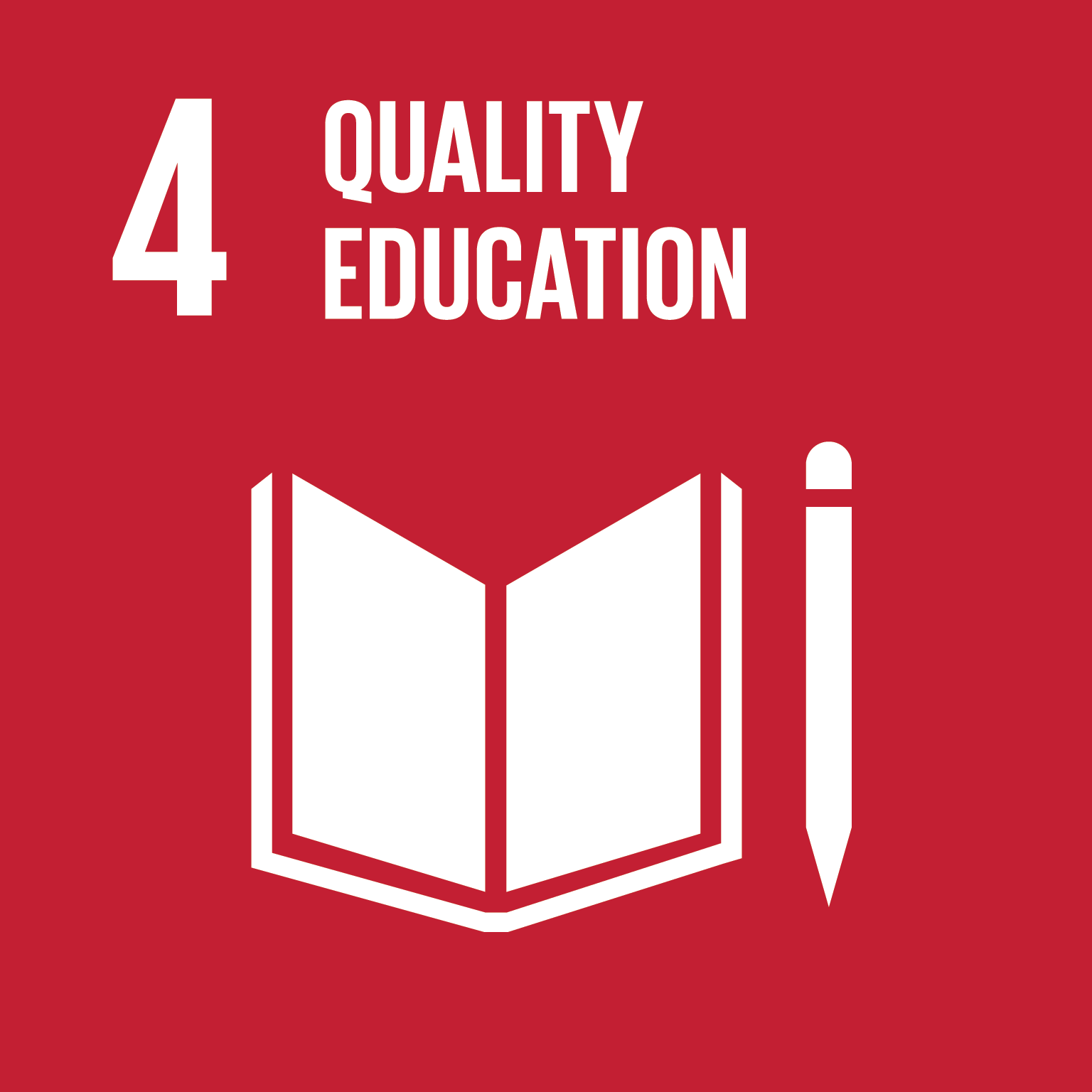 Unleash Your Creativity with MMLM Webinar
Creativity is one of the most sought-after skills in the 21st century by employers around the world. It is the differentiator that separates the average from the super-achievers. As such, to develop the students and the public's creativity, a webinar titled "Unleash Your Creative Genius" was organised by Malaysia Mental Literacy Movement (MMLM) in collaboration with UTAR Centre for Corporate and Community Development (CCCD) and Success Edge on 22 September 2021 via Zoom and Facebook Live.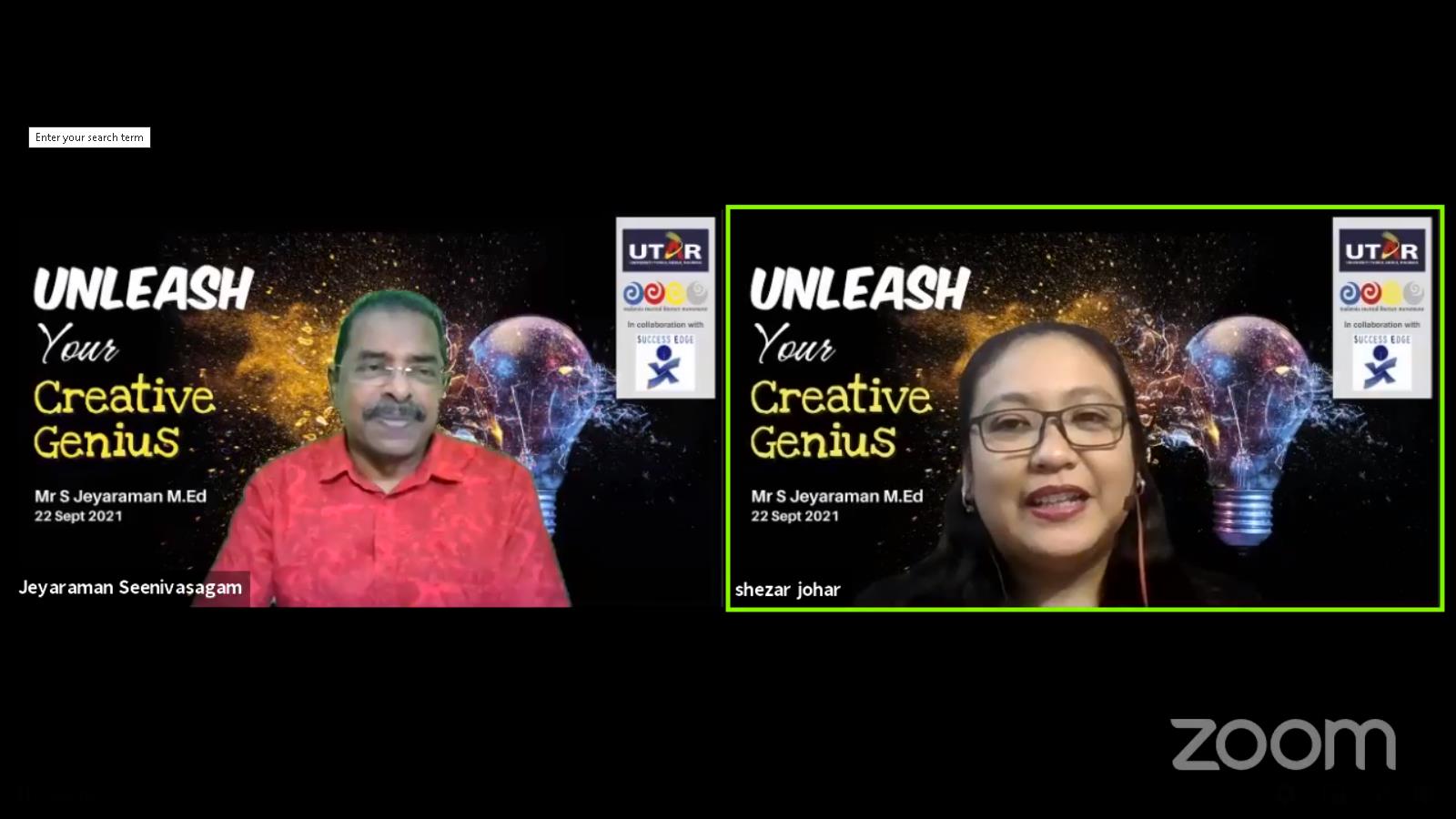 From left: Jeyaraman and CCCD Head of Corporate and Community Events Norshezar Siru binti Abdul Johar Siru (moderator)
Invited to be the speaker was Think Buzan Licensed Instructor Jeyaraman Seenivasagam M.Ed. A true enthusiast of memory systems and mind skills, Jeyaraman spent the last 25 years travelling around nine countries entertaining and training corporations, students and associations to adapt memory systems for their particular needs. He has trained more than 78,000 people ranging from students to top management on memory skills, public speaking, creative thinking, study skills, communication skills and sales. He gives his topics a fresh perspective with humour to keep his audience awake and attentive. Jeyaraman's audiences are of diverse creed, colour and age groups. He is also a certified PSMB Trainer.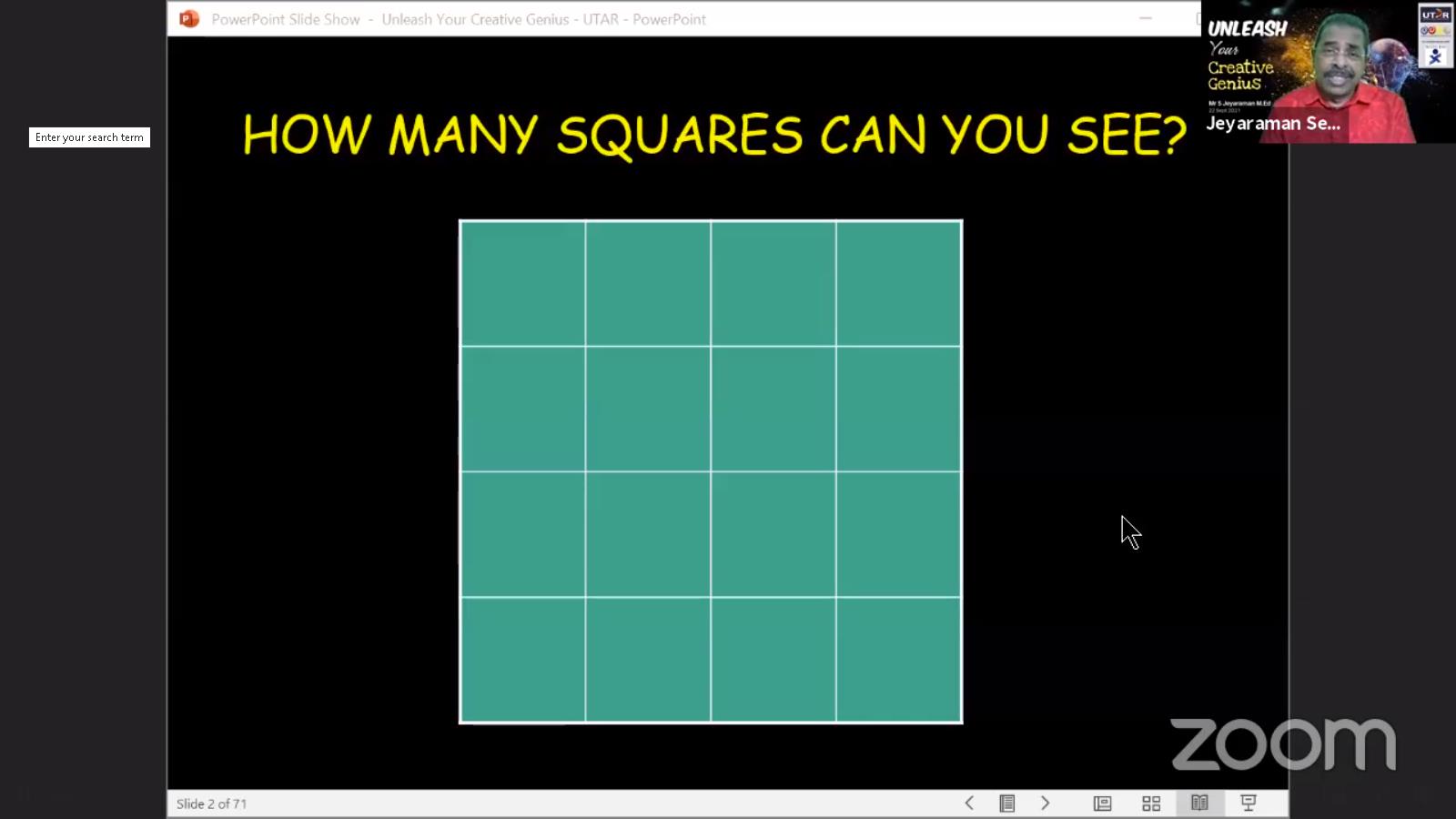 An interactive activity to test the participants at the beginning of the webinar
Sharing his reason for conducting the interactive activity, Jeyaraman said, "The reason I showed you this is because a lot of people are just living their life at a limited capacity. They don't go beyond what they are already doing right now." He then shared how he learned to become a better speaker although he came from an accounting background.
He said, "Excuses will keep us from growing. Many people live their lives within the square. They put a square around themselves and that is their life. People who are successful and happy are those who bring out their total potential. That's what I mean by genius. You can become a genius in anything. The choice is yours, not anybody else because your success is not in anyone's hands but yours. Don't ever blame anybody. Stop giving excuses and remember the words of Harvey McKay, 'The more you learn the more you earn' and the words of Tom Peters, 'There is no excuse for not being GREAT'."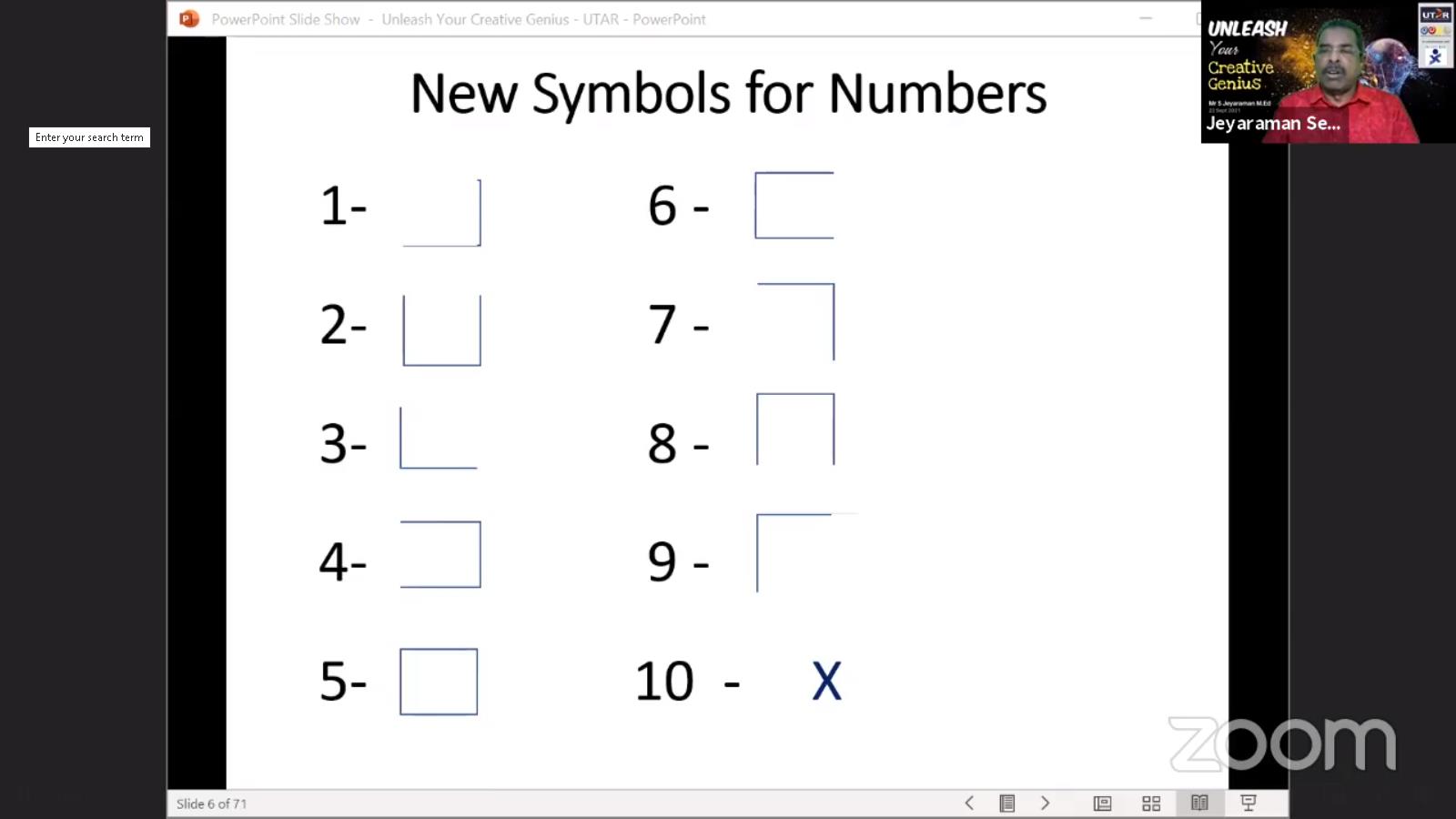 Another activity to test participants' creative genius and their ability to think out of the box
In his talk, Jeyaraman emphasised the need to learn faster, work smarter and be more creative in this informative age. He also mentioned a book he read titled, "See you at the top" by Zig Ziglar which has changed his life. He quoted the book, "Do the things that you fear and your fear will disappear".
As he elaborated further on what is creativity, he said, "Creativity is about making connections, variations and saying "yes" to impossibilities." He then proceeded with another interactive activity to share how our brains work. He said, "Sometimes when we look at the problem, we jump to a conclusion, which is wrong. When we see something, we cannot assume. It is about looking at the bigger picture. We have to look beyond."
As a strong believer in methods, he shared and illustrated how one can actually think out of the box by understanding 'what is a box?'. The box, according to him, is defined as A (Assumptions), B (Bias), C (Conformity or Comfort Zone) and D (Doubt). He said, "If all the people are inside the box and you are outside the box that will increase your chances of being happy, being more creative and living a more successful life."
He advised, "Always remember that you have amazing potential. It is just a matter of applying and looking for ways to bring that out. There is no limit to what you can achieve, it is just a matter of putting yourself out there, learning as much as you can. Apply some of those techniques I have shared with you today because it will help you tremendously in your life."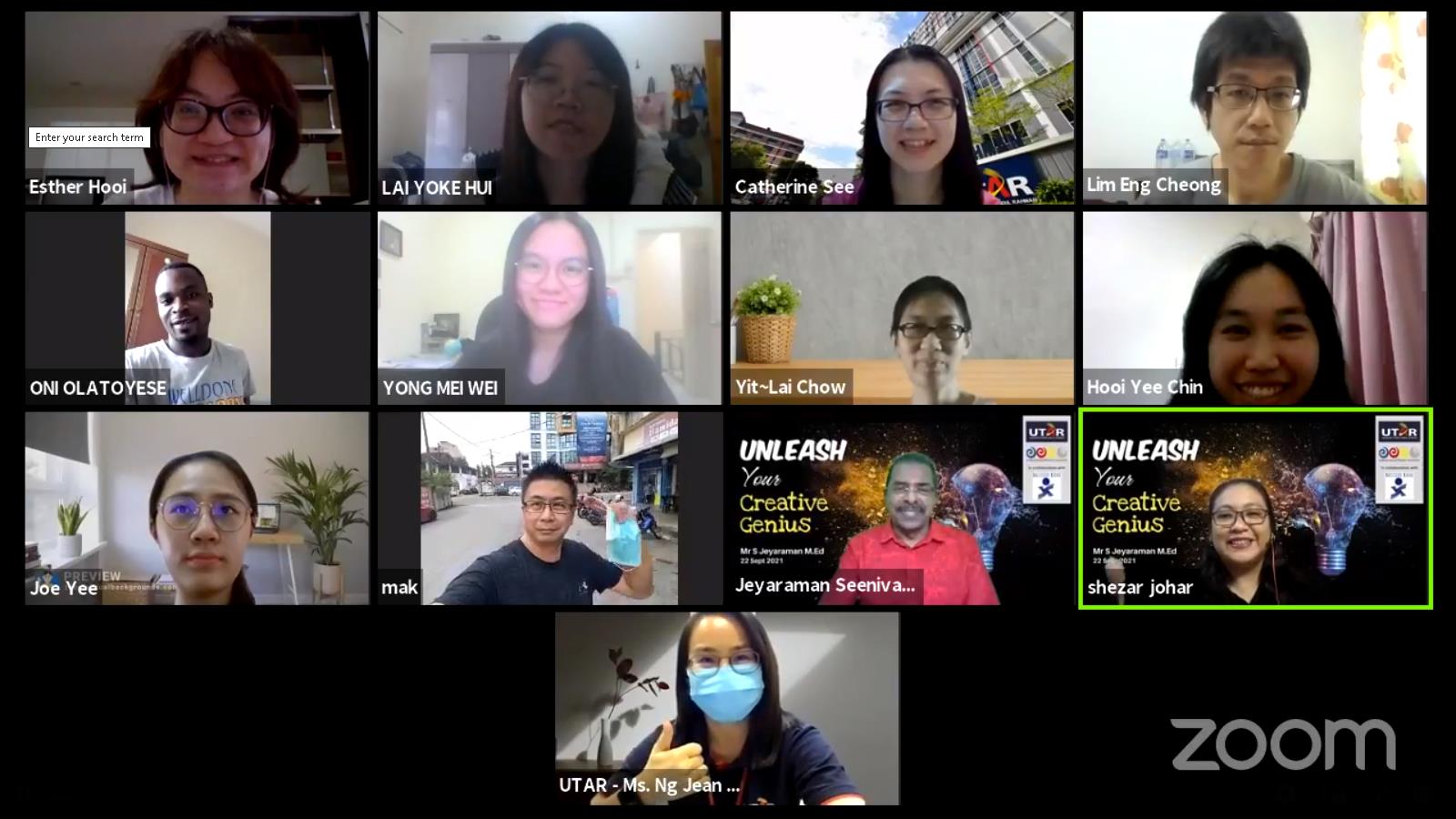 A group photo session to end the fun and interesting webinar
Click here to watch the full webinar.