The Ministry of Health, UTAR and Sri Sathya Sai Sanjeevani Hospital (SSSSH) in India successfully launched the Miracle Baby Programme (MBP) at the Auditorium of the Penang General Hospital (HPP) on 7 December 2022. This programme allows heart surgeries for children with congenital heart diseases to be conducted at minimal cost at the hospital while facilitating the transfer of knowledge, expertise and skills to train local medical specialists, doctors and nurses.
The Minster of Health Director-General Tan Sri Dato Seri Dr Noor Hisham Abdullah presented his speech via video and said that children born with congenital heart conditions that require surgical corrections often have to wait a long period for surgeries, especially those children staying outside of the Klang Valley. He said that the current waiting time for surgery in Penang Hospital is about 10 months. There are currently about 5000 babies born with congenital heart conditions in Malaysia and timely treatments are limited to the Klang Valley.
He elaborated that the current capacity of facilities can only accommodate 2,500 patients to be treated yearly while the remaining patients have to seek treatment elsewhere or wait for a long period to undergo surgery.
Tan Sri Dr Noor Hisham also said that, "This Miracle Baby Programme is a brilliant, out-of-the-box initiative. It was initially mooted way back in 2016, leading to a site visit in 2020, and eventually resulting in collaboration of our dedicated cardiothoracic surgeons in the Ministry of Health with UTAR and the team of doctors from SSSSH, which is a centre renowned for great congenital heart surgery work,"
He added that, with this collaboration, paediatric heart surgery services will be carried out at Penang General Hospital. He also added, "This strategic collaboration aims to provide quality heart surgery services to less fortunate children.
Tan Sri Dr Noor Hisham elaborated that through this programme, cardiologists and surgeons here will collaborate with the surgical team from SSSSH India to perform heart surgery, while UTAR will coordinate logistics with the help and support of the public. He welcomed this cooperation and hopes that this programme will continue so that heart surgeries for the less fortunate children can be provided at a larger scale. This will also support the Ministry's plan to provide more paediatric heart surgery services at the Hospital Seberang Jaya where expansion is expected to be completed next year.
Due to the success of this pilot Miracle Baby Programme, Tan Sri Dr Noor Hisham said that the Ministry will facilitate further cooperation with medical teams from India and UTAR.
The other dignitaries at the MBP launch were Penang Health Director Dato' Dr Ma'arof Bin Sudin, UTAR Education Foundation Board of Trustees Chairman Tan Sri Dato' Dr Sak Cheng Lum, Penang Hospital Director Dr Teo Gim Sian, Sri Sathya Sai Health and Education Trust Chairman Dr Sreenivas Chodagam, Trust Officer Mr Onkar Joshi. and Penang Hospital Department of Cardiothoracic Surgery Head Dato' Dr Basheer Ahamed.
Dr Sreenivas spoke on his role and mission as the Chairman of the Sri Sathya Sai Health and Education Trust and for SSSSH to save as many children as possible by making sure they have access to free heart surgery and the medical care they need. He explained that at SSSSH, everyone in the hospital is doing the same work; that is, contributing to alleviate someone's suffering. He said that the hospital is an embodiment of love and service to help those in pain and everyone has a role to play.
He also referred to his first meeting with Tun Ling at SSSSH in India. He added that he was moved and touched when an elderly man (Tun Ling) approached him and asked to work together for the betterment of the children in both countries and insisted on a collaboration where an MoU was signed during that first meeting.
Dr Sreenivas is grateful that SSSSH is part of this collaboration and thanks the Ministry of Health and UTAR for this wonderful collaboration to save children under the Miracle Baby Programme.
In his speech, Tan Sri Dr Sak Cheng Lum said that in 2016 when UTAR Chancellor, Tun Dr Ling Liong Sik first visited SSSSH, he was very impressed with the medical team there who performed heart surgeries for babies and children. An MoU was signed then so that collaborations could proceed to help babies with congenital heart diseases in Malaysia to receive treatment from the Indian medical team. It was at that point that the Miracle Baby Programme was born and now it is successfully implemented through the collaborative efforts of the Ministry of Health, UTAR and SSSSH. On behalf of UTAR, he thanked the Ministry of Health, the SSSSH team, the donors, and everyone for the miracle and the new lease of life given to the babies and children.
Dato' Dr Basheer, in his speech, praised the team from the Ministry of Health, medical and non-medical, who worked tirelessly, even on public holidays, to get the paediatric heart surgeries successfully implemented. He confessed that in his career so far with the Ministry of Health, he has not seen any clinical situation where teamwork is so crucial and is of absolute and mandatory necessity for the success of the programme. He said that at the time of the launch, they had successfully conducted 14 heart surgeries under the Miracle Baby Programme, and he thanked everyone for their dedication, commitment and united efforts for the success of this programme.
After the launch, the dignitaries proceeded to tour the ward where the Miracle Baby Programme patients were located. This was followed by a short meeting among the collaborative parties to discuss future collaborations.
On 9 December 2022, Dato' Dr Basheer hosted an appreciation dinner at Ascott Gurney Penang for the SSSSH team, UTAR and the medical team from Penang General Hospital. Tokens of appreciation were presented to the teams by UTAR President Ir Prof Dato' Dr Ewe Hong Tat. In the end, a total of 16 children had undergone heart surgery under the inaugural Miracle Baby Programme with surgeries conducted at Penang General Hospital by the SSSSH medical team in collaboration with the hospital cardiothoracic surgery medical staff.
The SSSSH team were in Penang for 2 weeks from 28 November 2022 to conduct the surgeries under the Miracle Baby Programme. Except for the hospital charges, these heart surgeries were carried out free for the children by the SSSSH team. The approvals, airfare, accommodation, meals, transportation and logistics of the SSSSH team were arranged by UTAR who sought donors to fund this Miracle Baby Programme.
Taking care of the SSSSH medical team for the duration of their stay Penang was Ms Mekala a/p Perumal from the Department of Nursing in the UTAR M. Kandiah Faculty of Medicine and Health Sciences. The lead coordinator from UTAR for this MBP was Prof Dr Ng Teck Han who is the Deputy Dean (Academic Development and Undergraduate Programmes) of the M. Kandiah Faculty of Medicine and Health Sciences. Assisting Prof Ng for the launch of the MBP was Division of Corporate Communication and Public Relations Director Ms Ong Soo Weon and her staff Caryn Ng, Adelene Neoh and Jes Yow.
The following are the members of the SSSSH medical team who were in Penang for the MBP heart surgeries
| | | |
| --- | --- | --- |
| | Name | Profile |
| 1 | | Paediatric Cardiac Surgeon |
| 2 | Dr Subramanian Chellappan | Paediatric Cardiac Anaesthetist |
| 3 | Dr Ravinder Kumar Dagar | ICU Resident Doctor |
| 4 | Ms Janet Abdon | Head Scrub Nurse |
| 5 | Mr Jogender | Surgical Assistant |
| 6 | Mr Yogesh | Anaesthesia Assistant |
| 7 | Mr Akash Edappattu Sathyan | Perfusionist |
| 8 | Mr Mehandar Singh | ICU Nurse |
| 9 | Mr Ravi Kumar Sharma | ICU Nurse |
| 10 | Mr Kuldeep | ICU Nurse |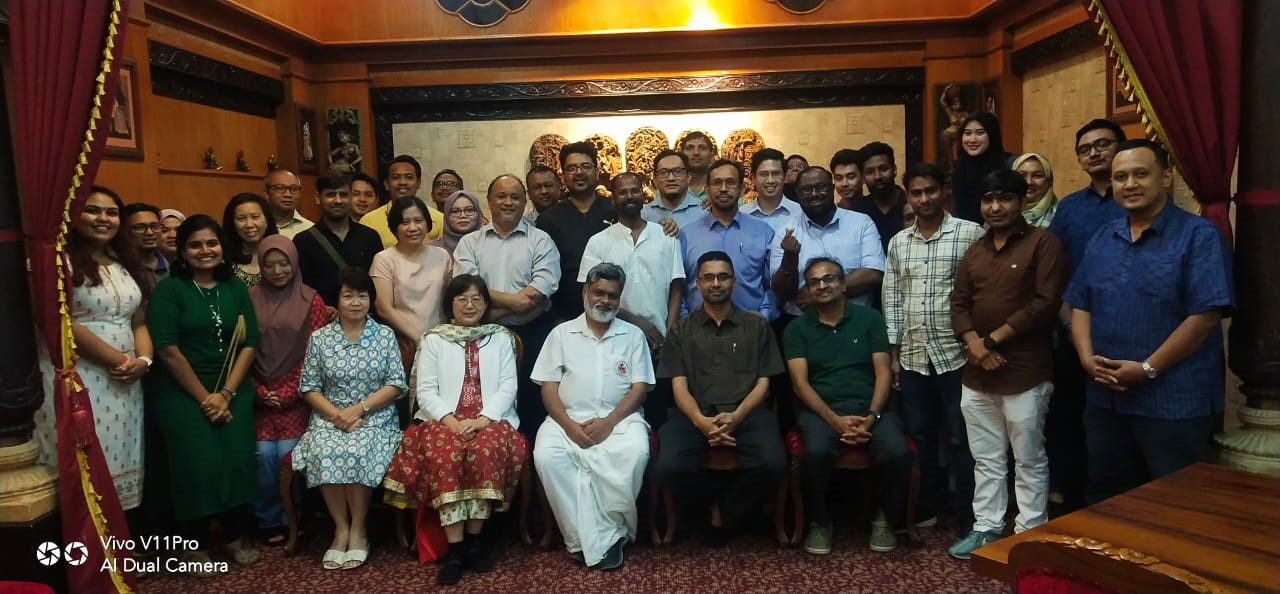 The full medical team under the Miracle Baby Programme with paediatric cardiac surgeon (seated third from left) Mr Krishna Manohar Soman Rema from SSSSH heading the surgeries.