Caring and Sharing Concert successfully raised funds for UTAR Hospital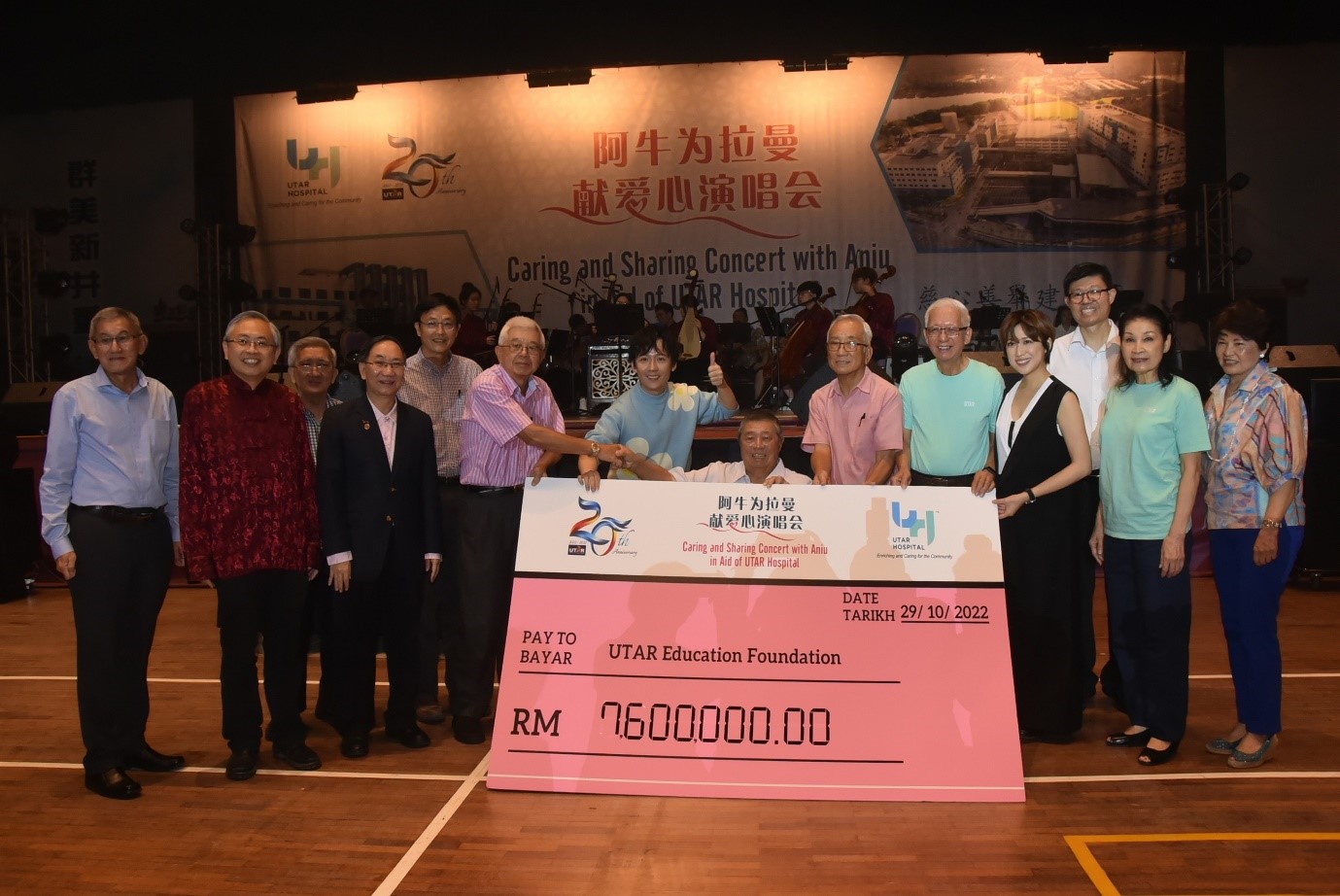 Tun Dr Ling (seventh from right) presenting the mock cheque to Tan Sri Ting (sixth from left). From Left: Datuk Lee, Prof Dato' Dr Ewe, Mr Ong, Tan Sri Chuah, Mr Hew, Aniu, Datuk Lim, Tan Sri Sak, Yise Loo, Prof Choong, Toh Puan Ena Ling and Tan Sri Ng
The UTAR "Caring and Sharing Concert with Aniu in Aid of UTAR Hospital" (阿牛为拉曼献爱心演唱会) successfully raised a total of RM7.6million for UTAR Hospital. The concert was held on 29 October 2022 at Dewan Tun Dr Ling Liong Sik, UTAR Kampar Campus. It saw an attendance of over 2,000 people in the audience.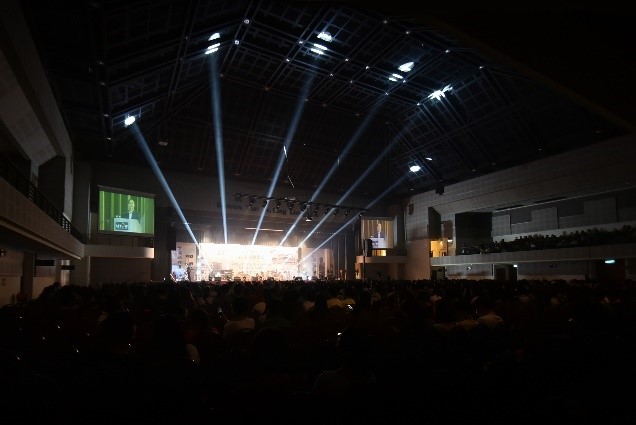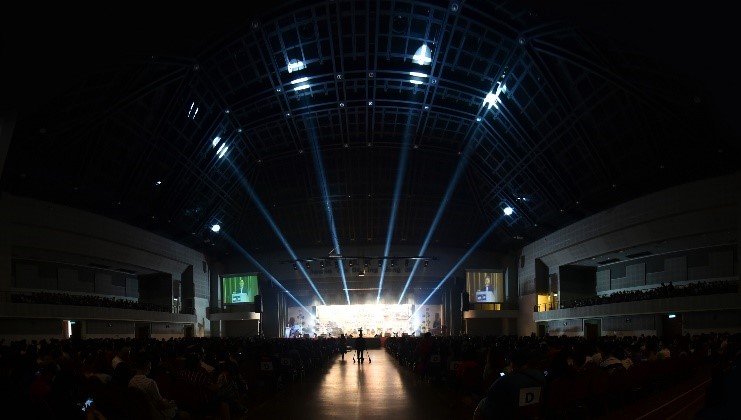 The audience eagerly waiting for the beginning of the show
With the main aim to raise funds for UTAR Hospital, the charity concert idea was initially mooted by the organising chairman UTAR Chancellor Tun Dr Ling and Toh Puan Ena Ling, supported by the UEF BOT Chairman Tan Sri Sak Cheng Lum, Hospital Board Chairman Tan Sri Chuah Hean Teik and UTAR President Prof Dato' Dr Ewe Hong Tat. From there, it took months of tedious planning and weeks of practices to get the concert up.
In addition, both Tun Dr Ling and Toh Puan Ena Ling, together with Tan Sri Sak, Datuk Lim Si Cheng, Tan Sri Ng Yen Yen, Datuk Lee and Mr Hew, sought and brought in major donors for the concert, while the ticket sales were managed by UTAR VP Prof Choong Chee Keong's staff under the Student Development and Alumni Relations. With the combined efforts of everyone, the amount raised for the Hospital was the biggest amount by far for a single event, and more than 2,000 people purchased tickets to watch the concert.
The Caring and Sharing Concert was jointly organised by UTAR Chancellor Tun Dr Ling Liong Sik, the Caring and Sharing Singers, and Malaysian Music Producer Chow Kam Leong (周金亮), in collaboration with Malaysian singer-songwriter-cum-Caring and Sharing Ambassador Tan Kheng Seong, better known as Aniu (阿牛); and Malaysian singer-songwriter-cum-UTAR Alumna Yise Loo (罗忆诗) as the special guest artiste.
The UTAR 24 Festive Drums Team, UTAR Music Club, UTAR Dance Club, UTAR Chinese Orchestra and UTAR Choir also joined the performing roster for the concert. UTAR is indeed grateful for their support and dedication towards the success of the concert. They put up an excellent show, making everyone proud of them as UTAR students. The concert was indeed an exemplary showcase of collaborative performances from UTAR top management to staff, students and the professional artistes. The combined entertainment outcome was fantastic.
Starting the concert, the sound of the spirited and rumbling drumbeats echoed through the hall as UTAR 24 Festive Drums Team made their presence known with a 24 Festive Drums performance.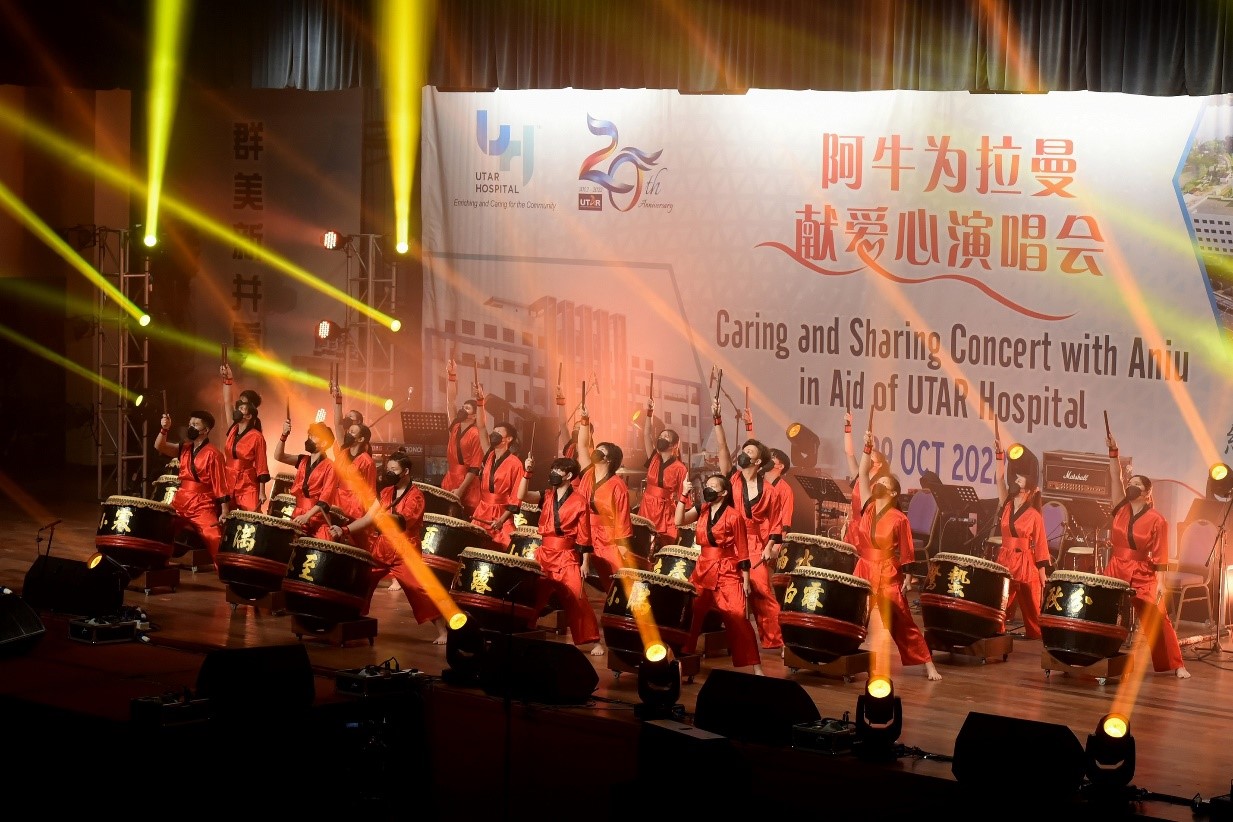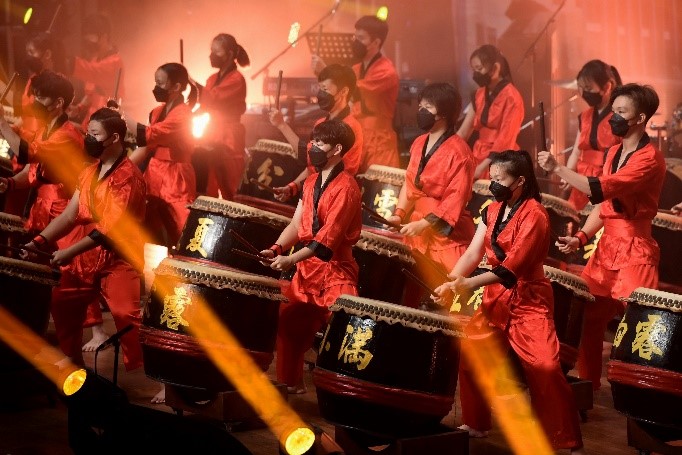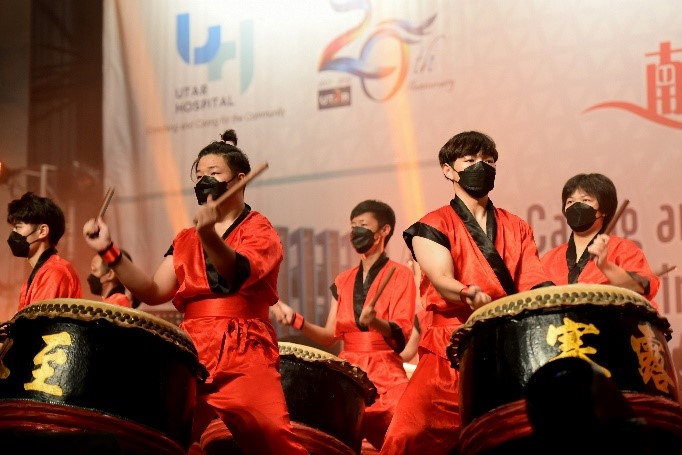 UTAR 24 Festive Drums Team signalling the start of the concert with spirited drumbeats
In his remarks, UTAR President Ir Prof Dato' Dr Ewe Hong Tat said, "UTAR Hospital is taking on a huge responsibility, and it will be committed to training highly competent students in the field of medical and health science, conducting medical and clinical research; and providing affordable medical and health services in Western Medicine, Traditional Chinese Medicine, Traditional Malay Medicine and Ayurvedic Medicine to the general public. Combining the elements of Chinese and Western Medicine, we hope to become an institution that provides professional medical services, research and training; and contribute to the health and well-being of Malaysians."
He added, "At present, the requests for appointments and consultations of Traditional Chinese Medicine and psychological counselling services at T&CM Centre still remains very active. It has treated more than 10,000 patients since the launch in April this year. The construction of UTAR Hospital is not a project that can be done in a short amount of time. It requires continuous support from many people. Thus, we hereby offer our sincere gratitude to every donor for the generous donations and supports. "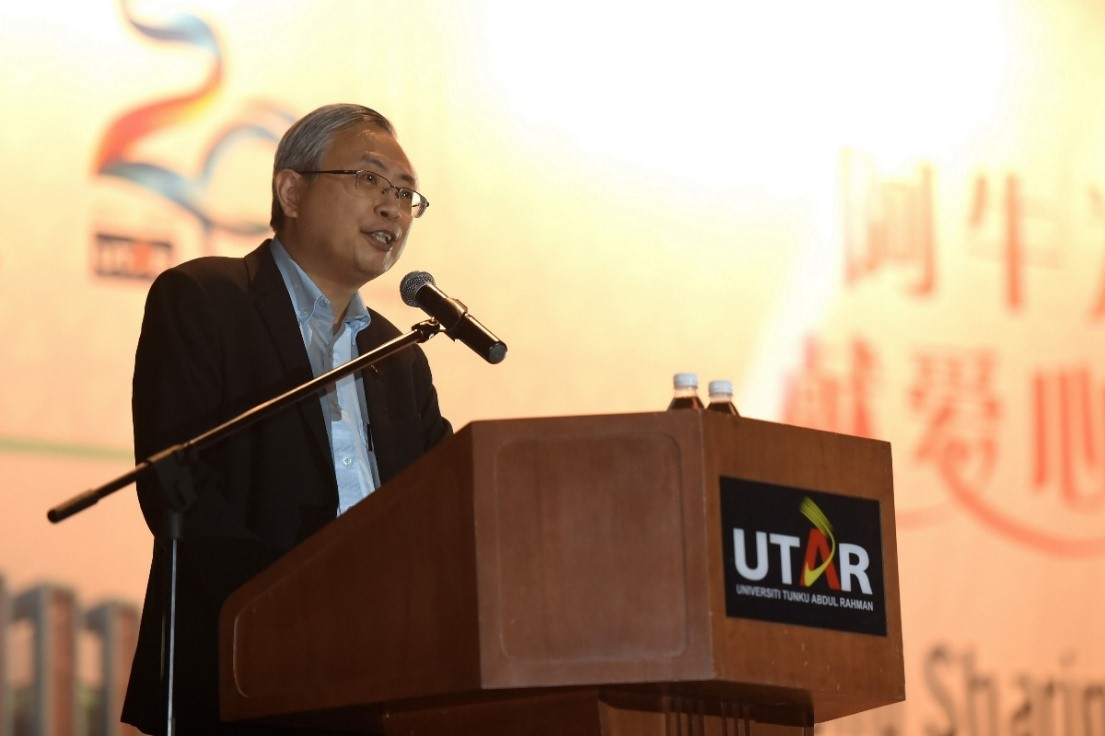 Prof Dato' Ewe speaking at the concert
UTAR Hospital Board Chairman and UTAR Council member Ir Academician Emeritus Prof Tan Sri Dato' Dr Chuah Hean Teik thanked the participants, saying, "On behalf of the UTAR Hospital Board, I would like to express my deepest gratitude to everyone present at this concert for your continuous support towards UTAR Hospital. We have been very prudent with our spending to ensure every cent donated by the general public to the Foundation is well spent." He also shared a touching story about the determined spirit of an Indian man who rode a bicycle to the construction site of UTAR Hospital to make donation.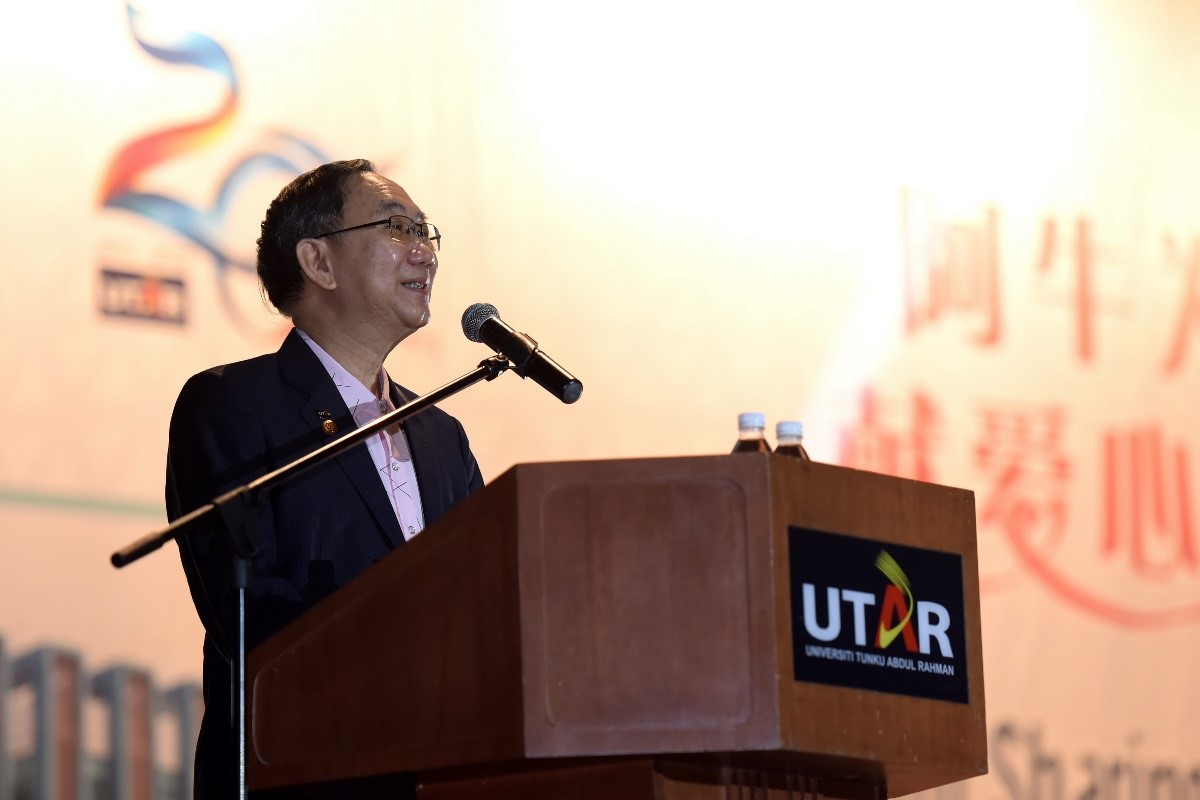 Tan Sri Chuah spoke at the concert
The Caring and Sharing Singers led by Toh Puan Ena Ling sang in harmony with the UTAR Choir to deliver the 20th anniversary song of UTAR, titled "20 Years of UTAR" (拉曼二十载) which was written by Chow Kam Leong. Mr Osamu Moroe played the role of the conductor in the choir performance.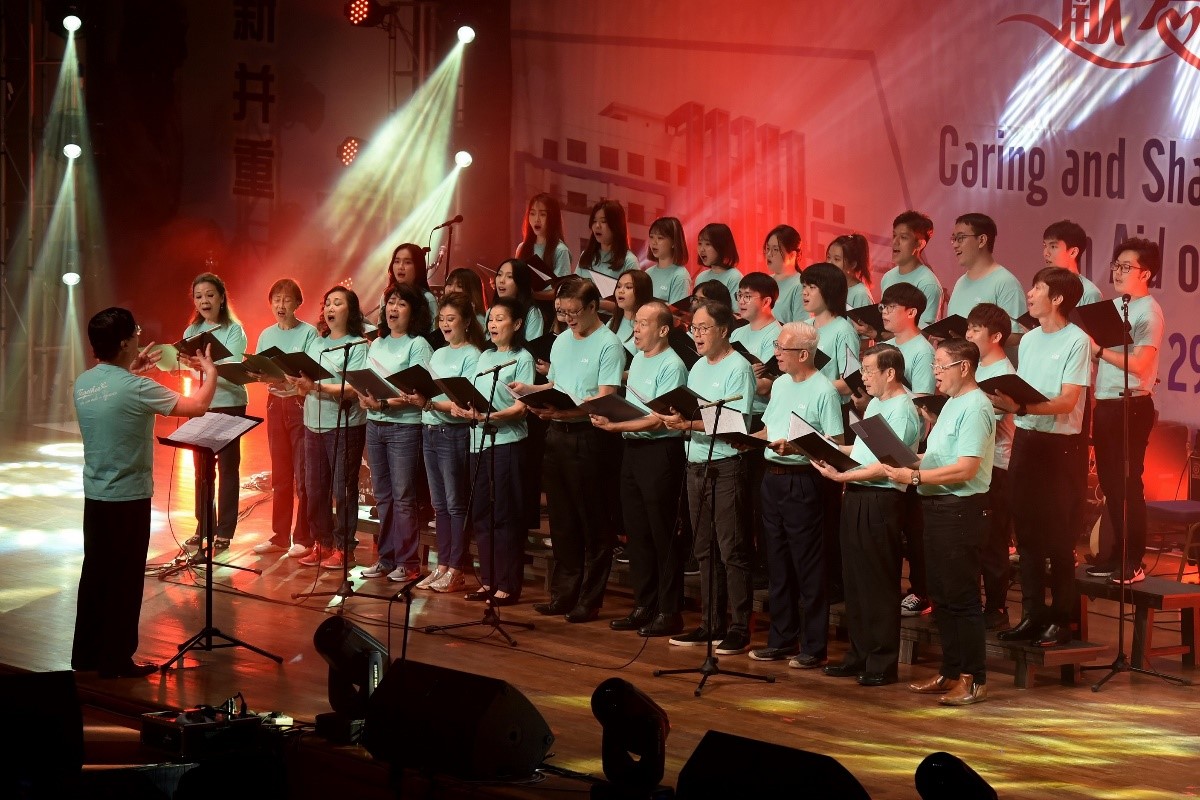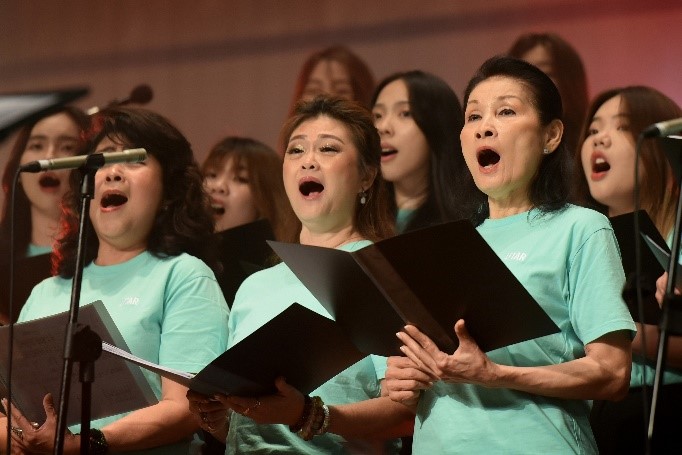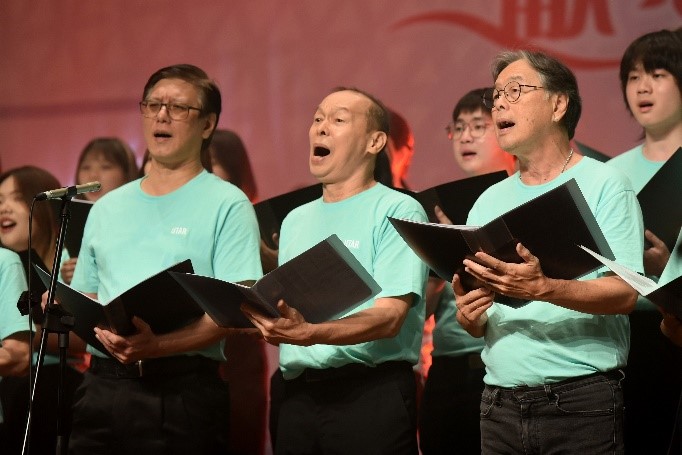 The Caring and Sharing Singers joining their voices with the UTAR Choir
The Caring and Sharing Singers comprises Toh Puan Ena Ling, UTAR Education Foundation Board of Trustees Chairman Tan Sri Dato' Dr Sak Cheng Lum, Chow Kam Leong, Datuk Lum Kim Soong, Datuk Lim Cheng Hai, Datuk Tan Swee Lai, Chong Peng Sia, Ho Ah Hock, Choong Cheong Vong, Lee Yee Wei, Tan Kai Rong, Chen Nian and Bao Ming.
UTAR Alumna Yise Loo shone in the spotlight on stage with a song written by Prof Dato' Dr Ewe and composed by herself titled "Mountain" (山). She ended her performance with another two songs "Lai Bu Ji" (来不及) and "Serra Feilla", but not before calling out to her fellow juniors and sharing her fond memories in UTAR.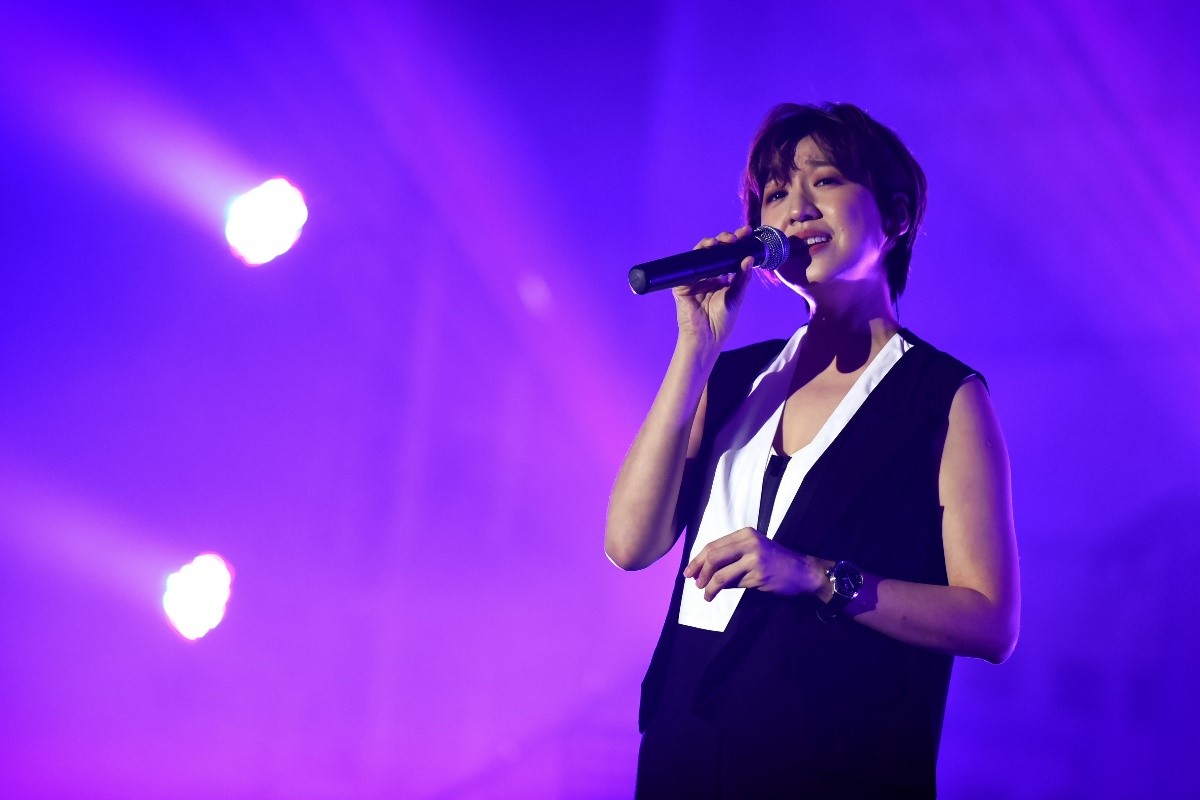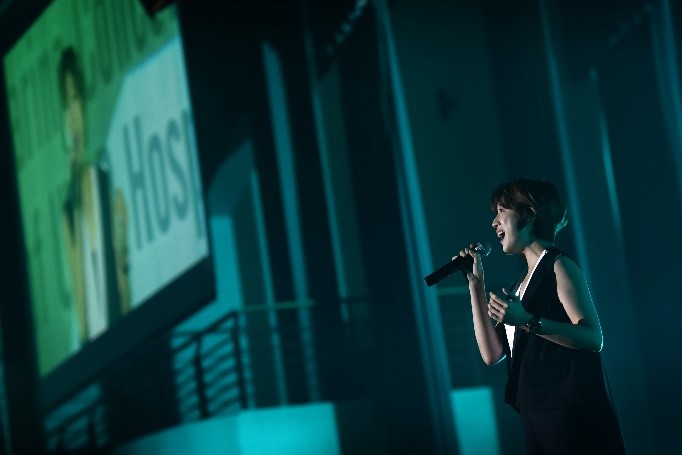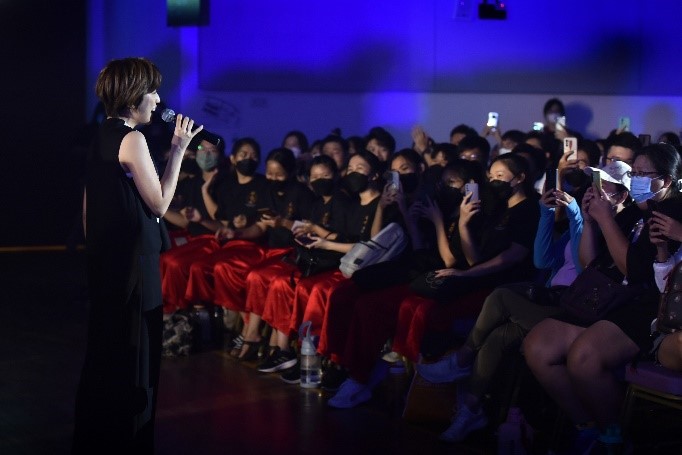 Yise Loo put on a marvellous performance for her juniors and mentors from UTAR
The CVS Trio, which consists of Tan Sri Sak Cheng Lum, Chow Kam Leong and Choong Cheong Vong, made an appearance in the concert. The beginning lyrics of the trio's performance, "Hello UTAR, my old friend…", stirred the excitement of the participants with the familiar rhythm as the voice resonated through the hall. The song was based on another song "Sound of the Silence", which seen some minor changes by the trio. A series of classics was performed by the trio, including "Qi Qi Chang Shou Ge" (齐齐唱首歌) and "Friend of Mine" (朋友).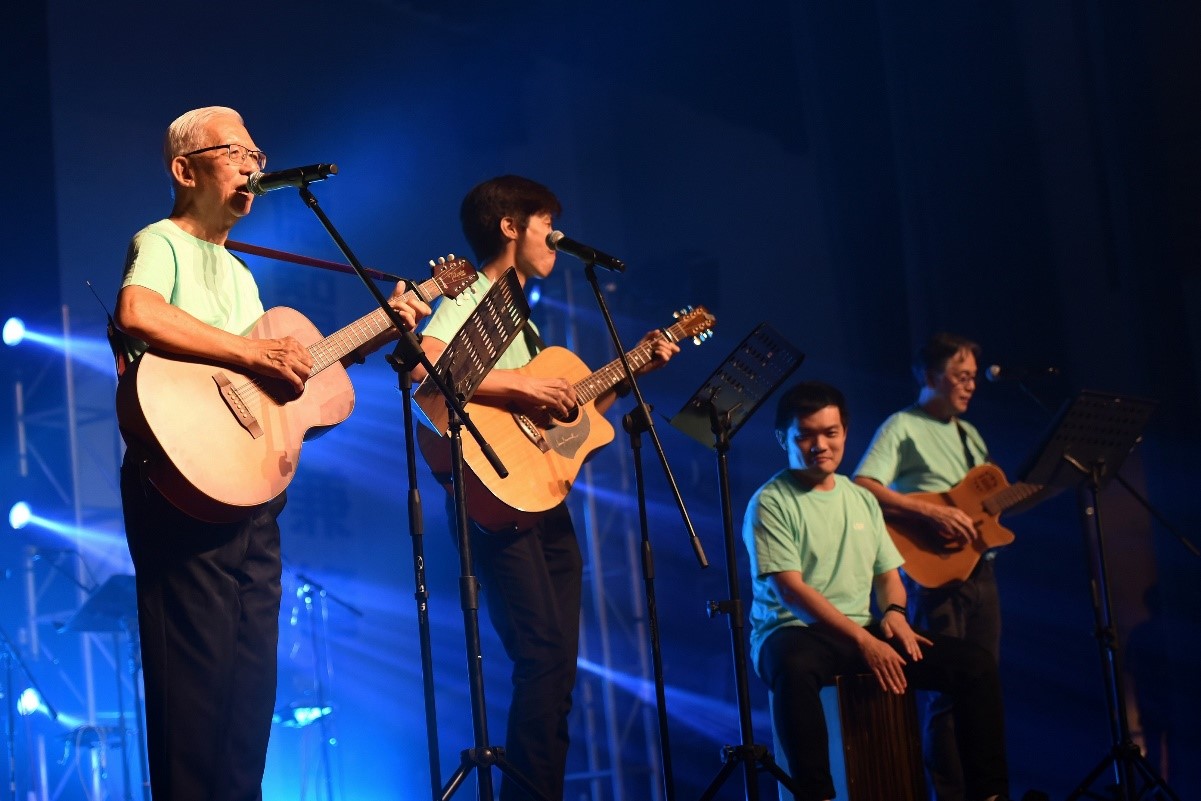 CVS Trio returns with their jolly performance
From left: Tan Sri Sak, Choong, volunteer percussionist Jimmy and Chow
In the mid-session of the trio's performance, Tan Sri Sak invited the rest of the Caring and Sharing Singers to the stage to jointly perform yet another series of songs such as "Grandma's Penghu Bay" (外婆的澎湖湾), "Sway" and "Ke Ai De Mei Gui Hua" (可爱的玫瑰花).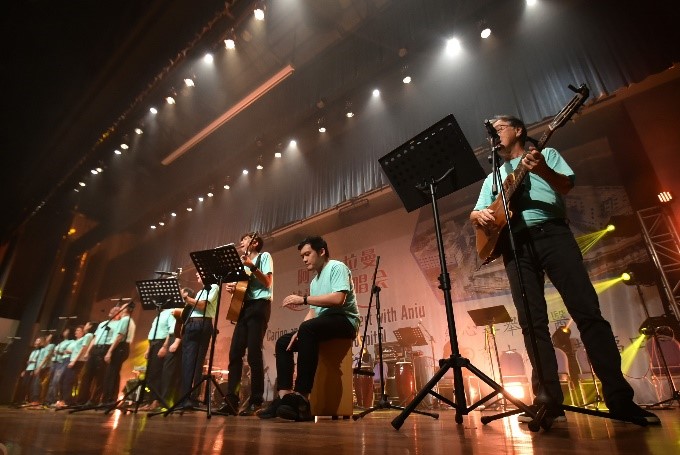 The Caring and Sharing Singers performing a series of nostalgic songs
The most anticipated moment came when Tan Sri Sak guided Aniu to the stage where Aniu performed his song "Dui Mian De Nuu Hai Kan Guo Lai" (对面的女孩看过来) with the Caring and Sharing Singers, UTAR students and the music crew. Before continuing, he shared his thoughts on the construction of UTAR Hospital, saying, "I'm very happy to be able to contribute even just a little to the cause, because the hospital will greatly benefit the people by providing them with quality medical education and services."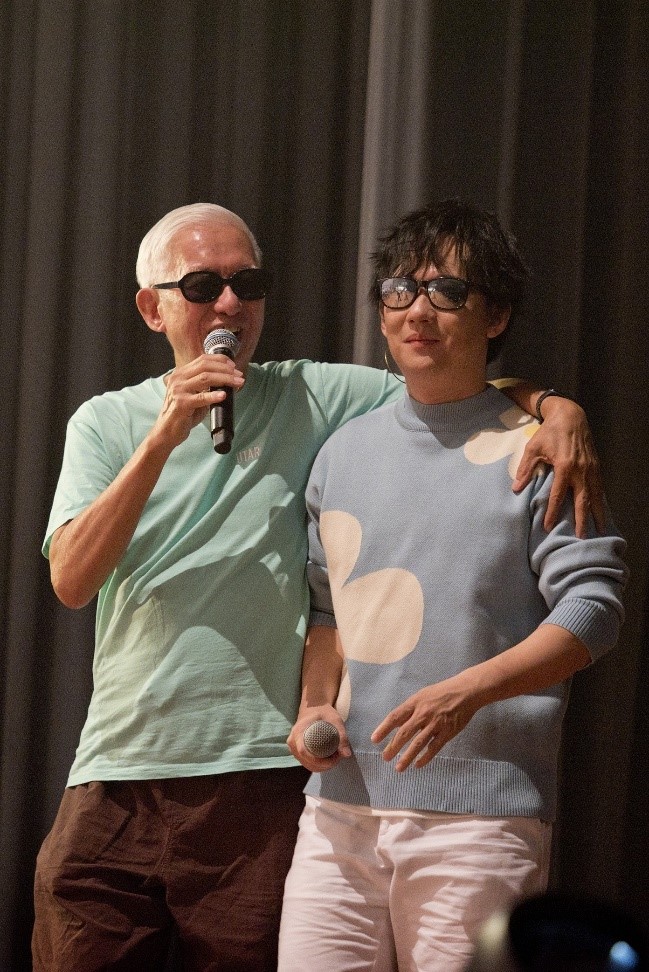 Tan Sri Sak (left) accompanying his "little brother" Aniu (right) to the stage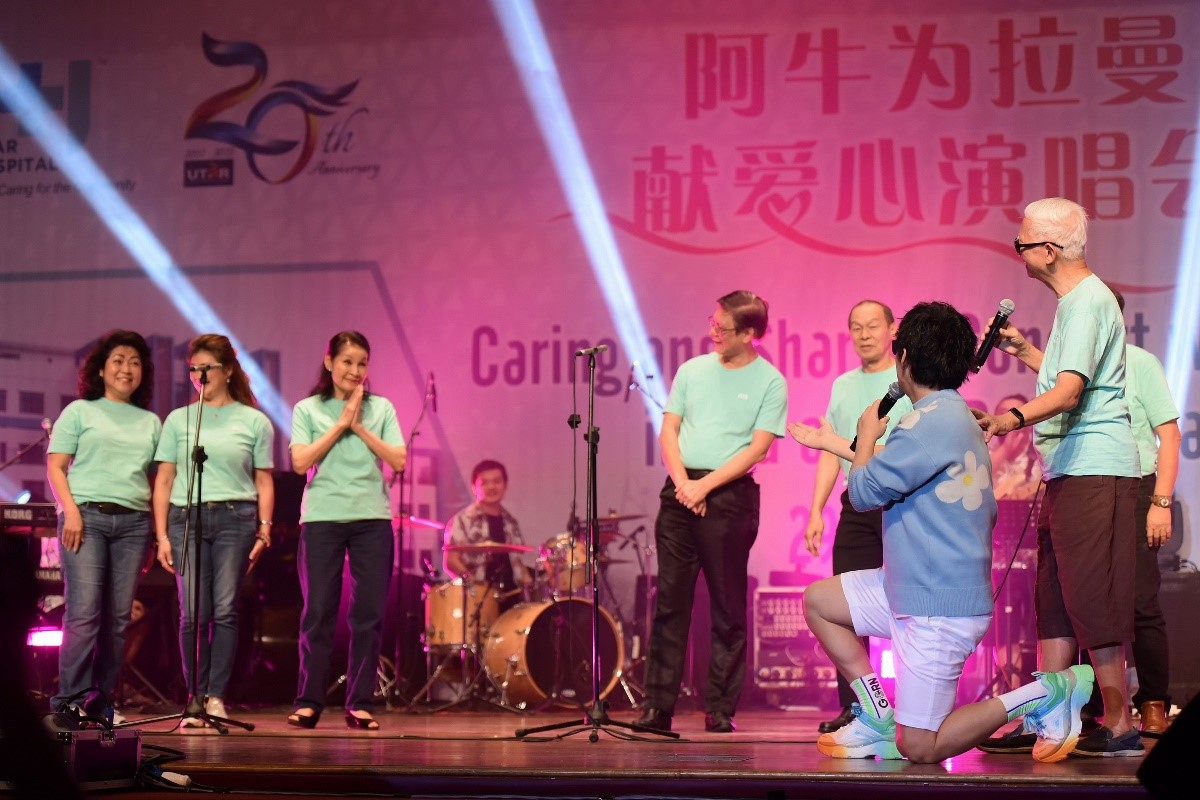 Aniu (front row, second from right) "serenading" Toh Puan Ena Ling (third from left) and her friends while kneeling down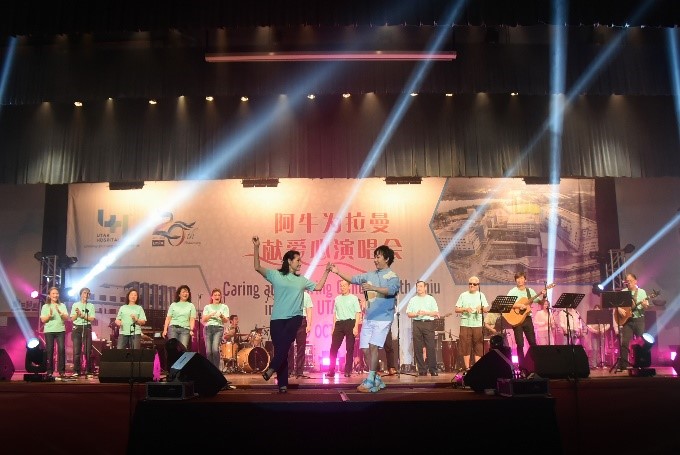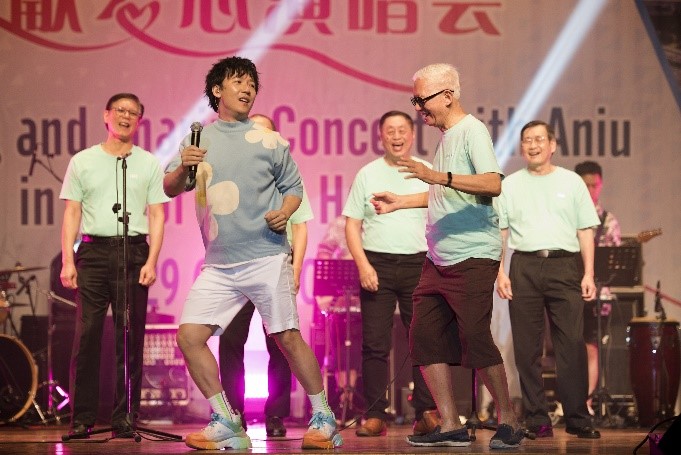 Aniu dancing to the song with Toh Puan Ena Ling (left) and Tan Sri Sak (right)
"I learned something from Tun Dr Ling and Toh Puan Ena Ling, that is to never back down even when faced with adversity. They never view this hospital project as a hardship, rather, they view it as a cause that will greatly help the people," mentioned Aniu. He dedicated a song titled "Shuai Dai Le Ni" (帅呆了你) with UTAR Music Club to Tun Dr Ling and Toh Puan Ena Ling who were present at the concert; and all the UTAR staff as appreciation for their dedication to the people's welfare.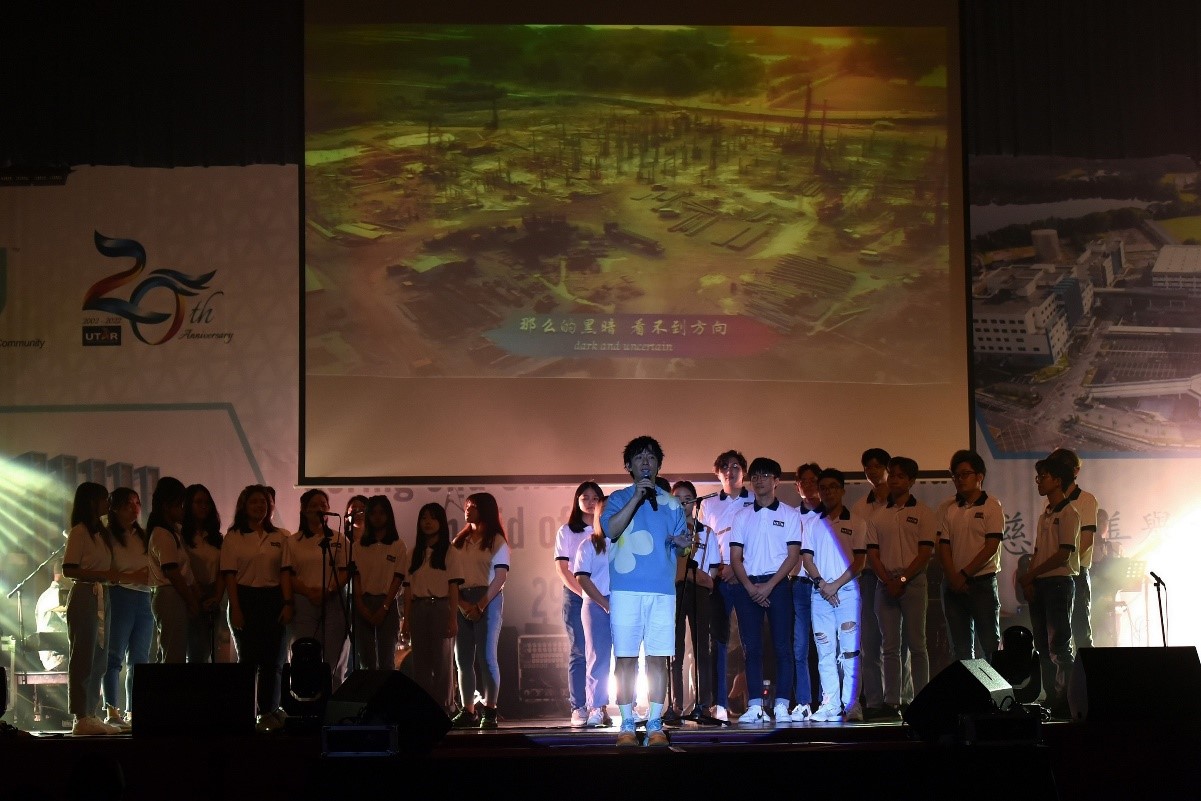 Aniu (front row, centre) and UTAR Music Club dedicating the song to Tun Dr Ling, Toh Puan Ena Ling and UTAR staff with "Shuai Dai Le Ni" (帅呆了你)
There was a pleasant surprise when UTAR President Prof Dato' Ewe graced the stage with erhu in his hands. Together with Aniu and the UTAR Chinese Orchestra, they performed the song "Tao Hua Duo Duo Kai" (桃花朵朵开).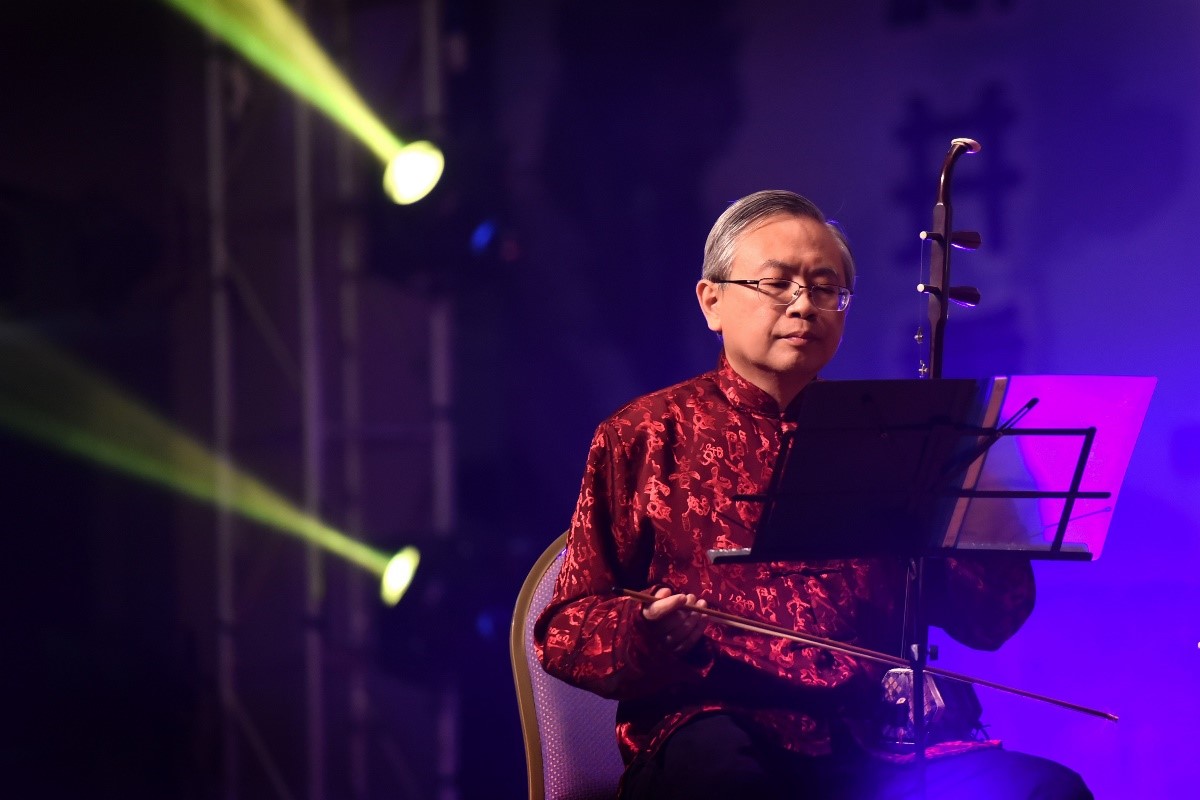 Prof Dato' Ewe playing the erhu on stage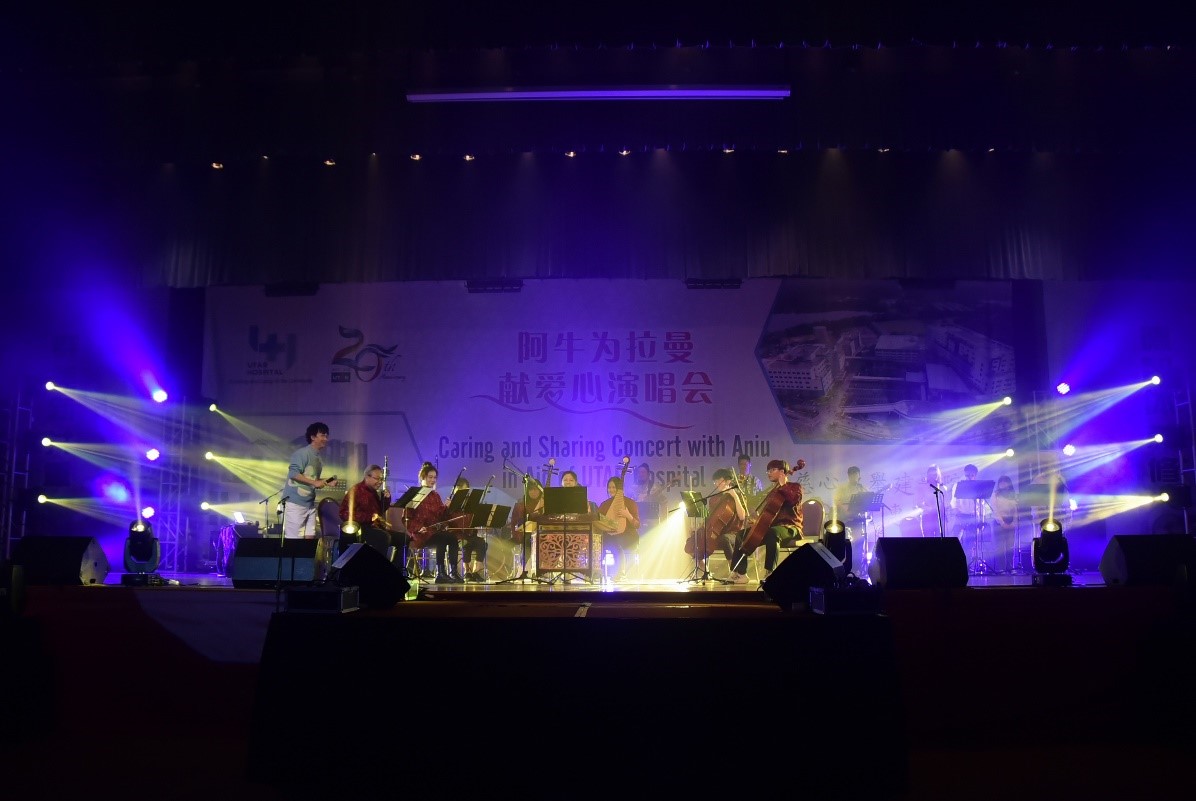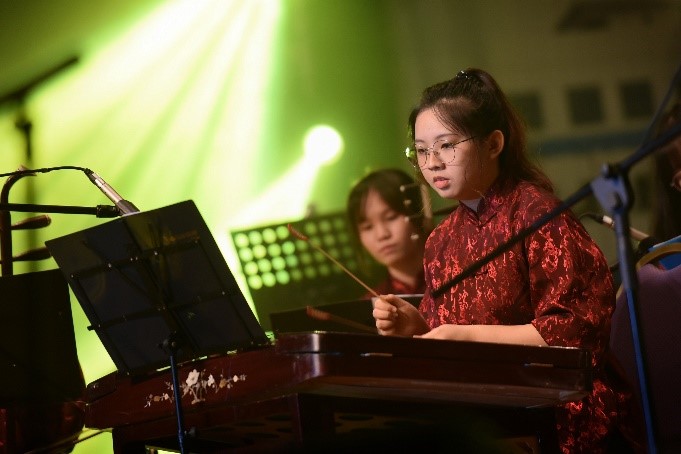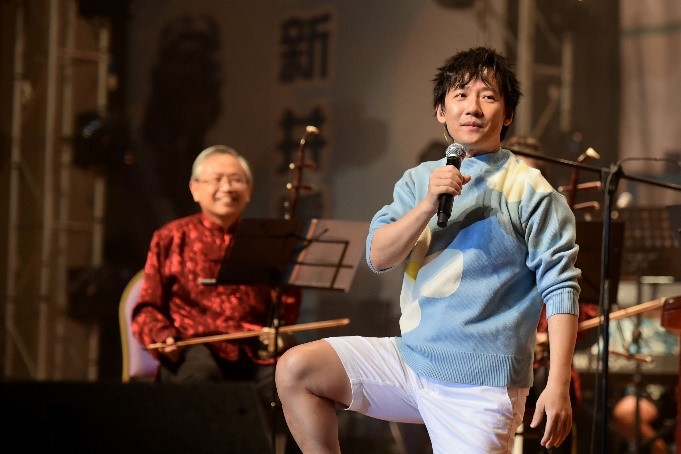 UTAR Chinese Orchestra and Aniu performing "Tao Hua Duo Duo Kai" (桃花朵朵开)
In the midst of performances, Aniu also surprised the audience when he doffed his blue sweater, revealing an orange sportswear underneath the sweater. True to his promise made during the press conference on 14 October 2022 at Sungai Long Campus, Aniu exerted himself by showcasing his new dance moves together with UTAR Dance Club while singing "Wo Yao Tan Lian Ai" (我要谈恋爱).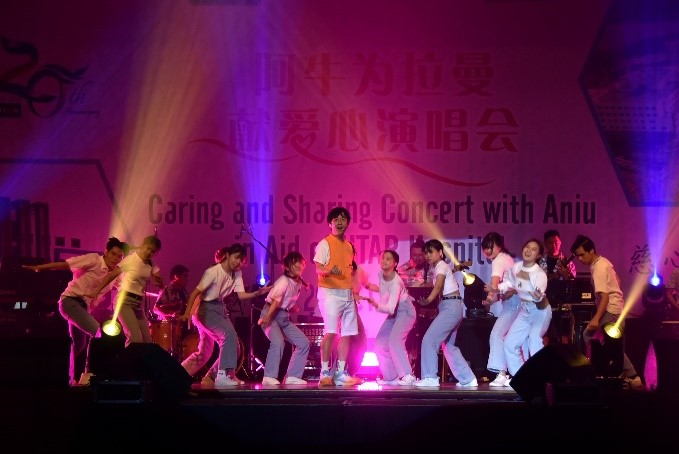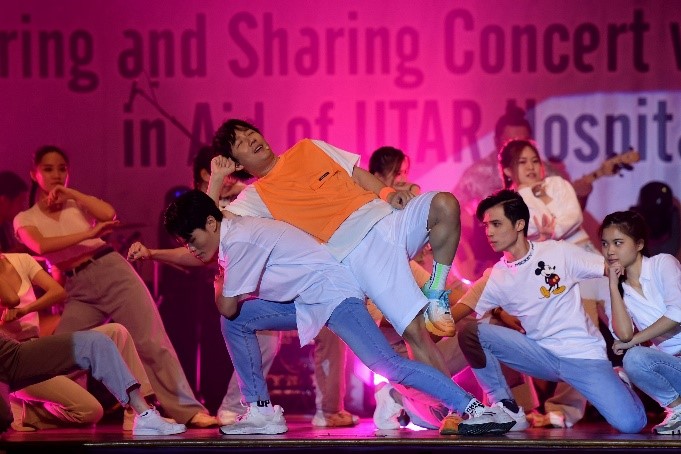 Aniu dancing with the UTAR Dance Club students
Aniu also joined hands with UTAR students, UTAR Music Club and UTAR Dance Club in performing various songs, namely "Chun Wen Yi Lian Ai" (纯文艺恋爱), "Kita Punya", "Lang Hua Yi Duo Duo" (浪花一朵朵), "Rasa Sayang" and "Say I Love You Using Malaysian Weather" (用马来西亚的天气来说爱你).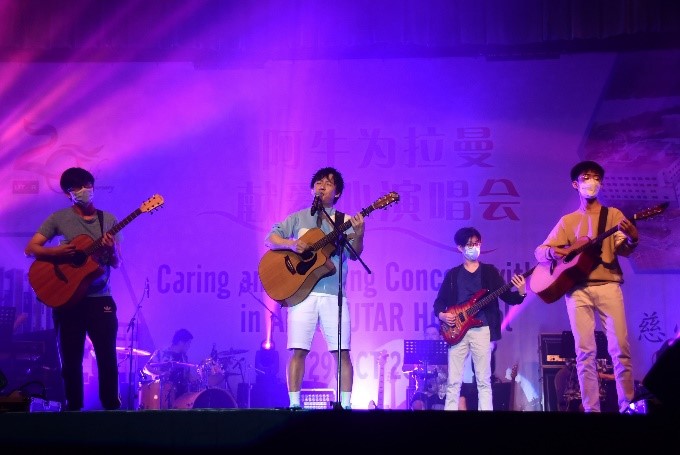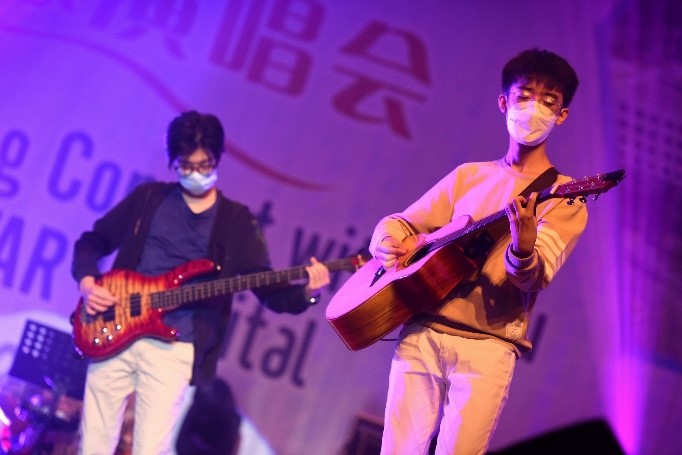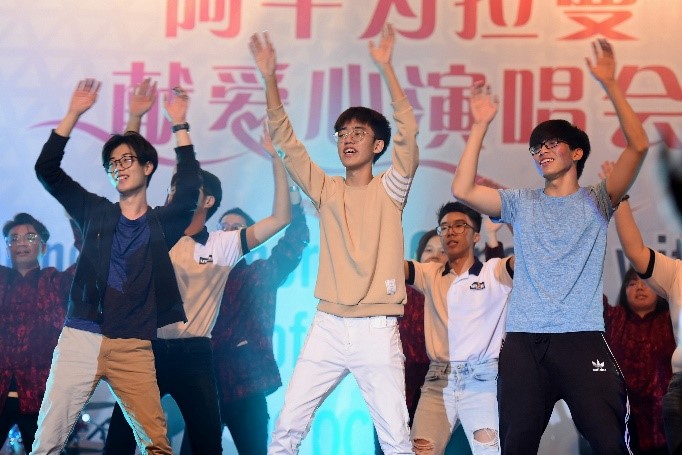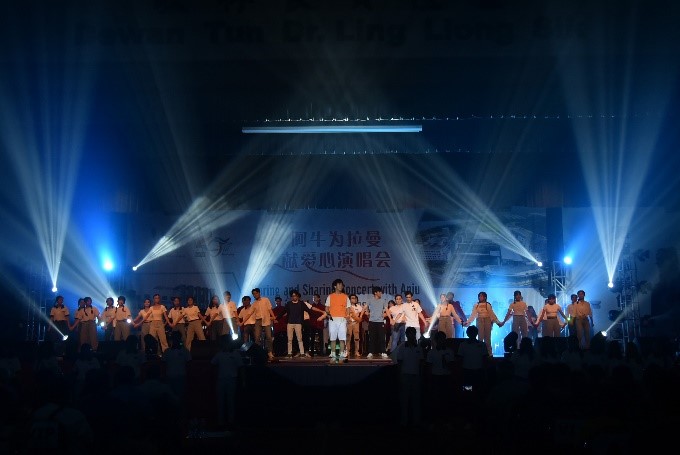 Spectacular performances by Aniu and UTAR students
Also present at the concert to show their support were Tan Sri Sak's spouse Puan Sri Dr Irene Sak, UTAR Council Chairman Tan Sri Dato' Seri Dr Ting Chew Peh, UTAR Education Foundation Board of Trustees member Datuk Lee Leck Cheng, UTAR Council Members Datuk Lim Si Cheng and Hew Fen Yee; UTAR Education Foundation secretary Ong Whee Tiong, Tan Sri Dato' Sri Dr Ng Yen Yen, UTAR Vice President for Student Development and Alumni Relations Prof Dr Choong Chee Keong, UTAR staff and students.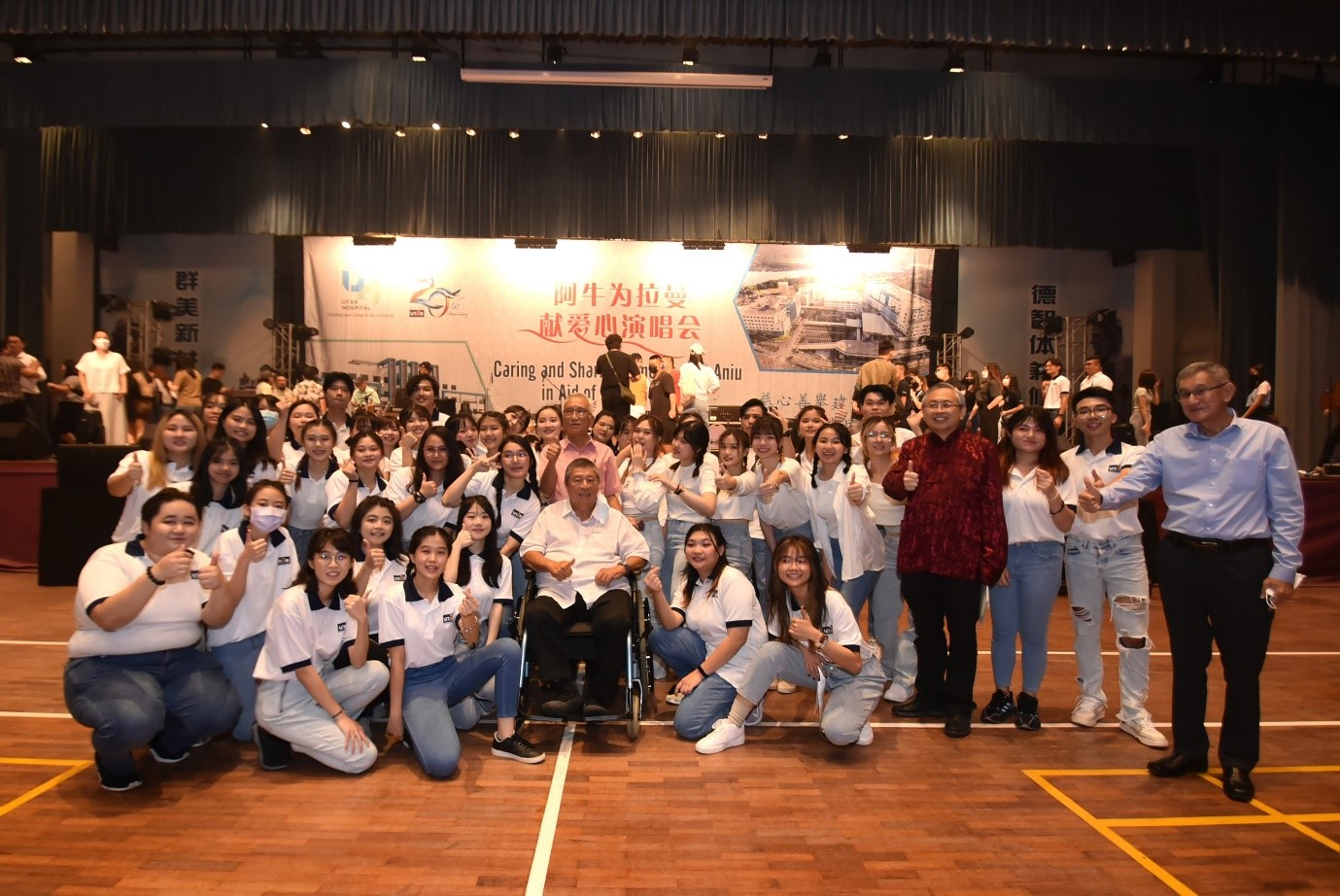 Tun Dr Ling (front row, centre), Datuk Lim (second row, centre), Prof Dato's Ewe (fourth from right), Datuk Lee (far right) and UTAR students smile for a photograph at the end of the concert
UTAR Hospital is a non-profit hospital that will not only provide medical and health services to the community but also provide practical training for the University's medical students in the Faculty of Medicine and Health Sciences. The establishment of UTAR Hospital will also benefit Kampar and the surrounding communities with increased socio-economic activities and better access to quality medical services.
For more information on UTAR Hospital and donations to the hospital, please go to the following website: https://utarhospital.org.my/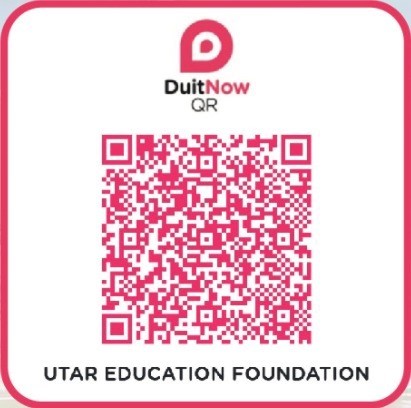 DuitNow QR payment for donation to UTAR Hospital