Career Day at Sungai Long Campus
The crowd during the exhibition
UTAR students and alumni were given a chance to obtain information about their dream jobs at the 2023 Career Day at Sungai Long Campus, organised by the Department of Alumni Relations and Placement (DARP) on 14 February 2023 at Multipurpose Hall of Sungai Long Campus. Numerous companies were present to carry out interviews and discussions among students and alumni.
The career day provided an opportunity for students and alumni to gain more knowledge about the current state of the job market as well as information on job openings. This made it easier for students and alumni to find out their best interests and the path that suits them the most.
This exhibition brought together more than 80 companies, which included 1 Utama Shopping Centre, 360 Consulting Group (HQ) Sdn Bhd, ABERS Group of Companies, Advancecon Infra Sdn Bhd, Aemulus Corporation Sdn Bhd, Agensi Pekerjaan Hey Rocket Sdn Bhd, Alloy Advertising Sdn Bhd, AmLeisure Media Sdn Bhd, Apeq Process Sdn Bhd, ARTIVO School of Creativity, ASCENT - Global Fund Administrator, Averis Sdn Bhd, Baosteel Can Making (Malaysia) Sdn Bhd, Besi APac Sdn Bhd, Bispoint Group of Accountants, BreadTalk Pte Ltd, Carlsberg Brewery Malaysia Berhad, Cheng Hua Group, Chronos Process Integration Sdn Bhd, Cims Tech Sdn Bhd, CIS IT Solutions Sdn Bhd, CrimsonLogic Malaysia Sdn Bhd, Din Tai Fung, EAS Consultancy, Edra Power Holdings Sdn Bhd, Eunoia CX Sdn Bhd, Excinno Sdn Bhd, Extreme Broadband Sdn Bhd, FINPRENEUR CONSULTANCY, G LIFE Group Sdn Bhd, GamerSecret, GET Technologies Sdn Bhd, Great Dream Builder Sdn Bhd, Hirose Electric (M) Sdn Bhd, HLB Ler Lum Chew PLT, HML PLT, Homevest, Infinity Cooling Expert Sdn Bhd, Infinity PG Management, IQI Concept Sdn Bhd, Jp Centurion & Partners PLT, KAIFA TECHNOLOGY MALAYSIA SDN BHD, KFC, Kuala Lumpur Kepong Berhad, LBS Bina Group Bhd, Lion Group, LONGi Malaysia Sdn Bhd, Mahajaya Bhd, Malayan Flour Mills Bhd, MasterwealthFA Advisory Sdn Bhd, Michael Page Malaysia, Mins Studio Sdn Bhd, NCT Alliance Bhd, OCBC Bank, Petron Malaysia Bhd, Polygon Properties Sdn Bhd, Public Bank Bhd, Respack, Rowy Hardware Sdn Bhd, Steven Lim & Associates, TSMC Limited, Tan Chong Management Services Corporation Sdn Bhd, TaskUs Malaysia, TCC Corporate Services Sdn Bhd, The Great Haus, Tricor Malaysia, VGRO (XUEDA) Education, Vision Diagnostic Sdn Bhd, Vital Healthcare Sdn Bhd, Warisan TC Holdings Bhd, WORK IN JAPAN, WYNKIDS, Yummi House, Bosch Malaysia and Welltech Construction Pte Ltd.
Wong Wei Jun, a final-year Mechatronics Engineering student, stated that the exhibition was worthwhile as many of the offers made by the companies were completely relevant to his current field of studies. "I hope exhibitions like this can be carried out more often in the future. I'm looking forward to it," said Wong. He also suggested holding the exhibition in a bigger venue in the future so that more students could walk in.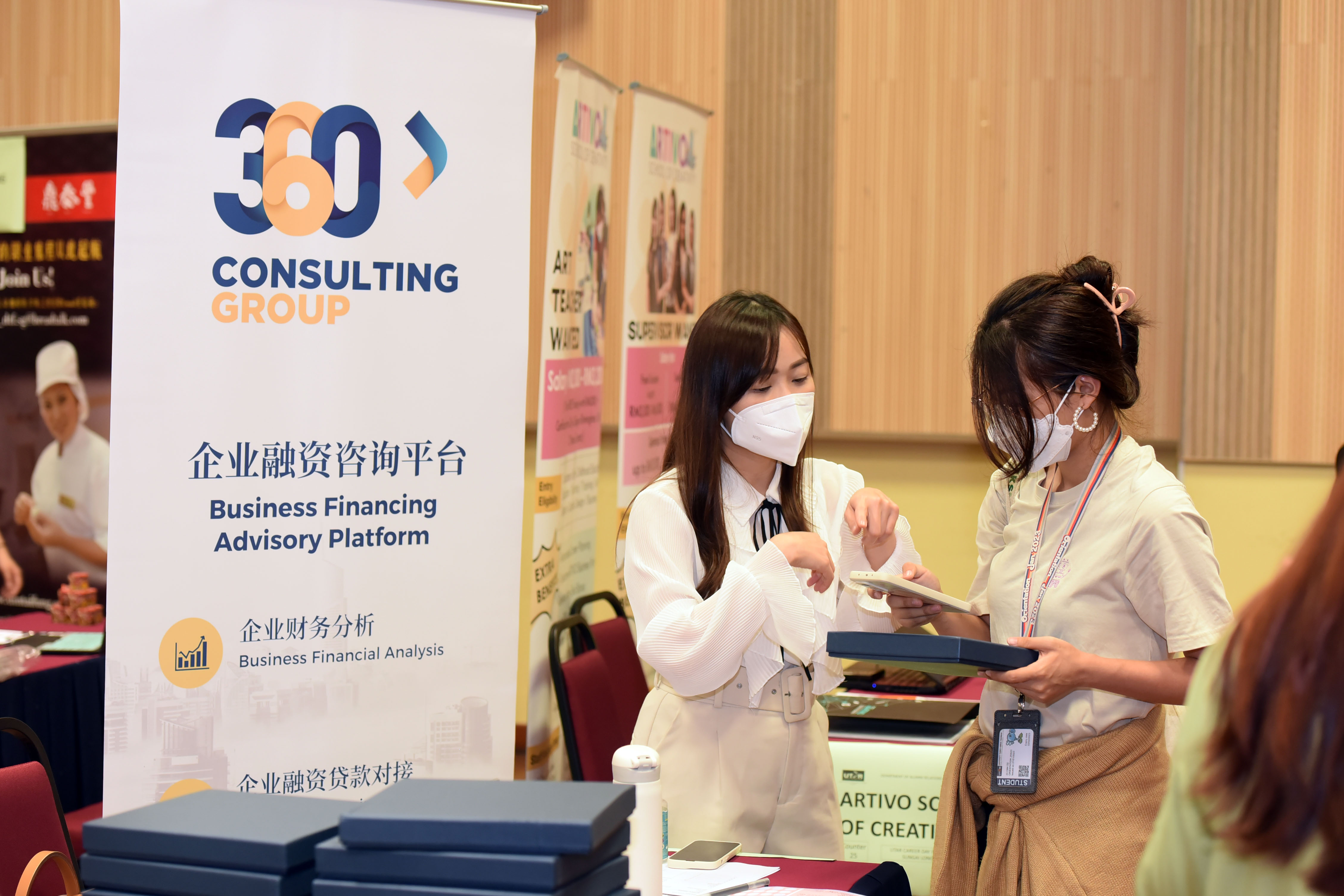 One of the recruiters giving out contact details to a student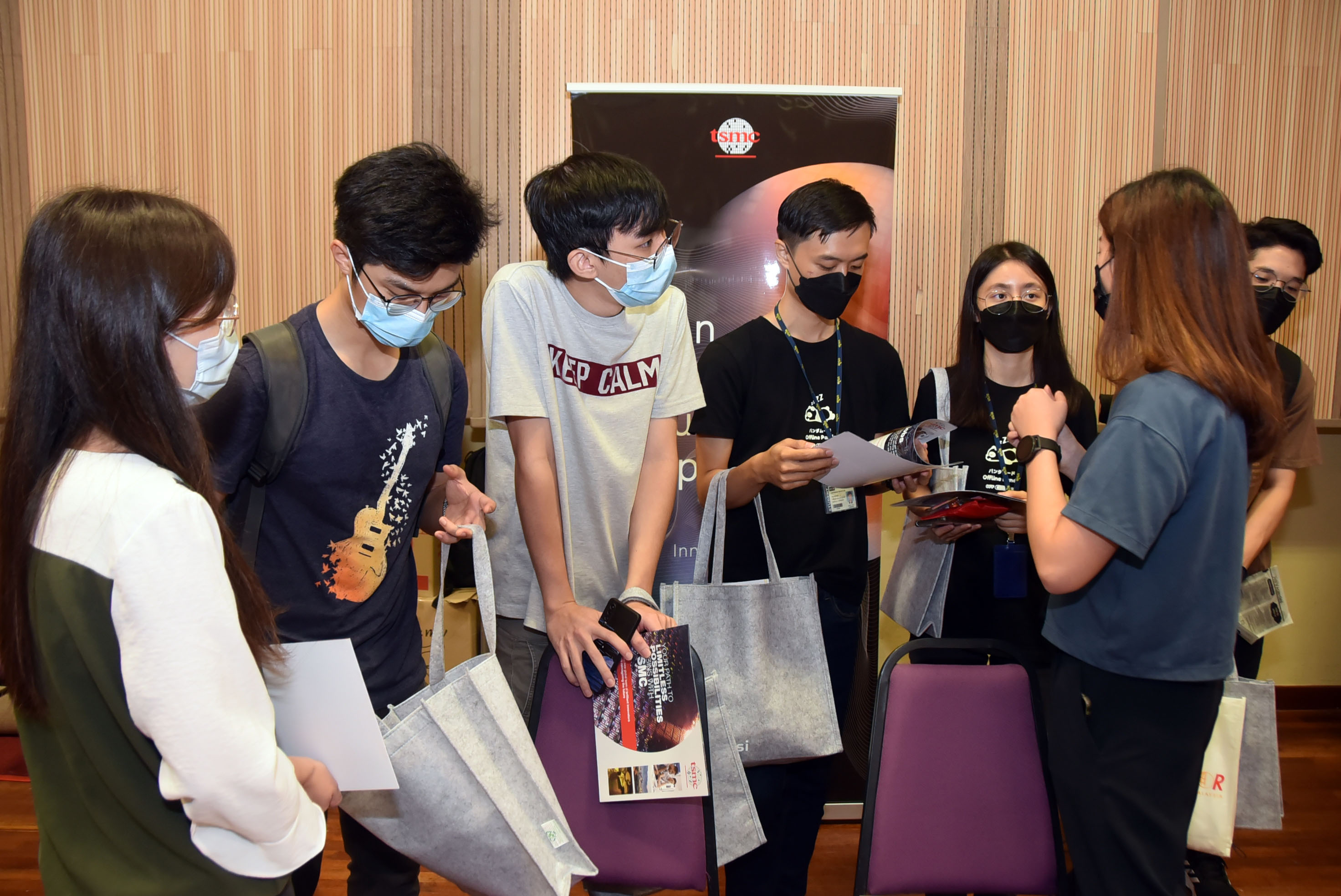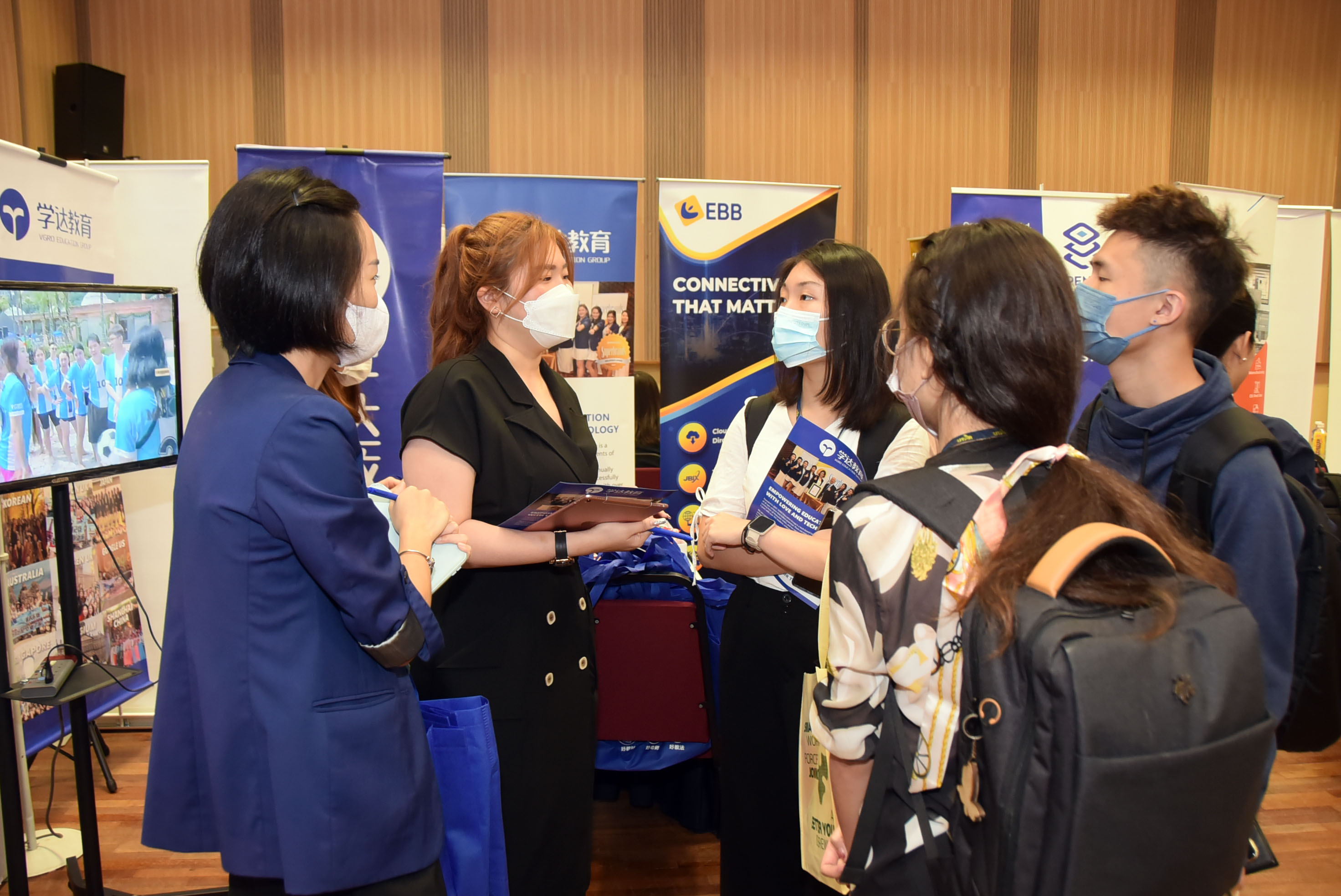 Students and the participating companies at the event