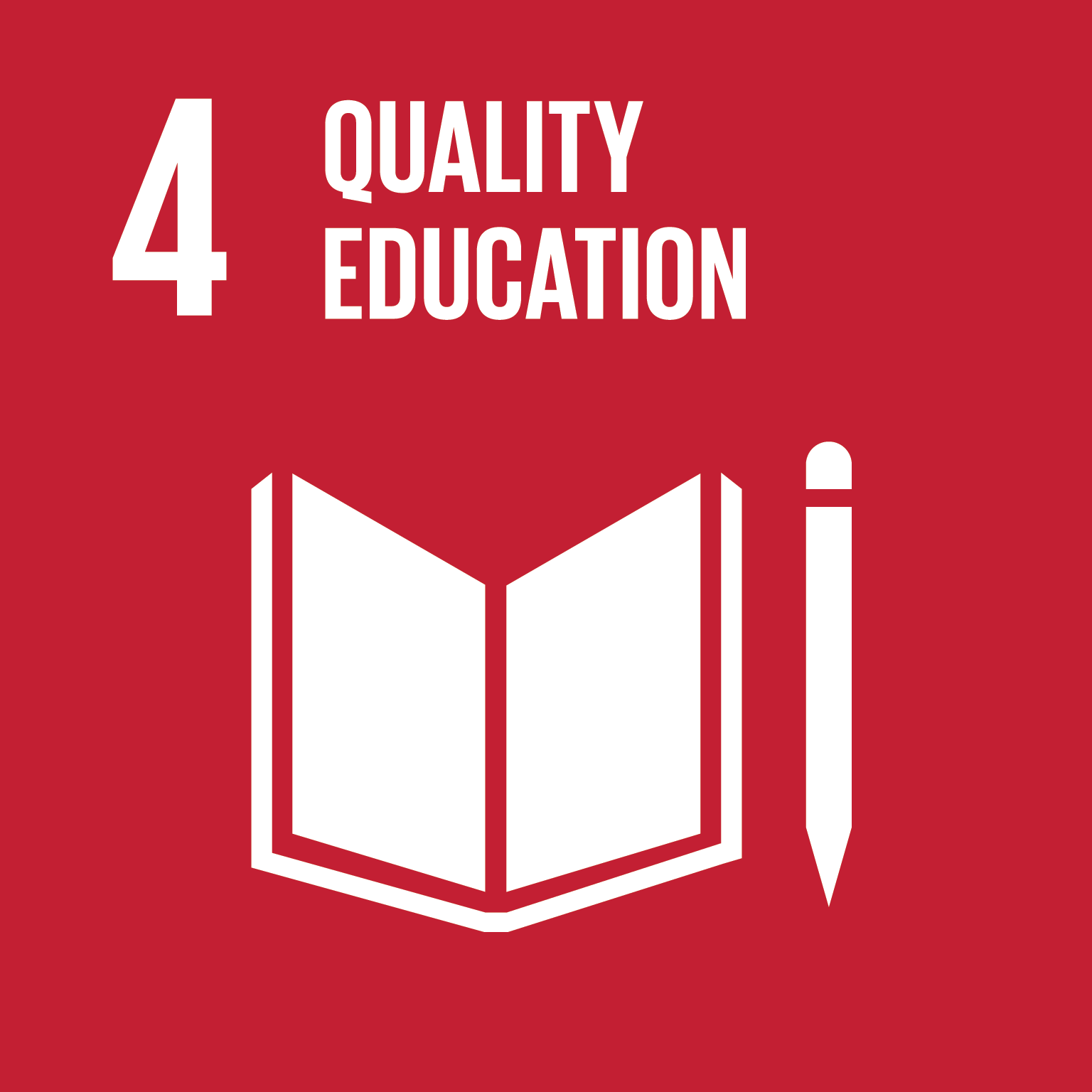 Jointly building BRI for high-quality cooperation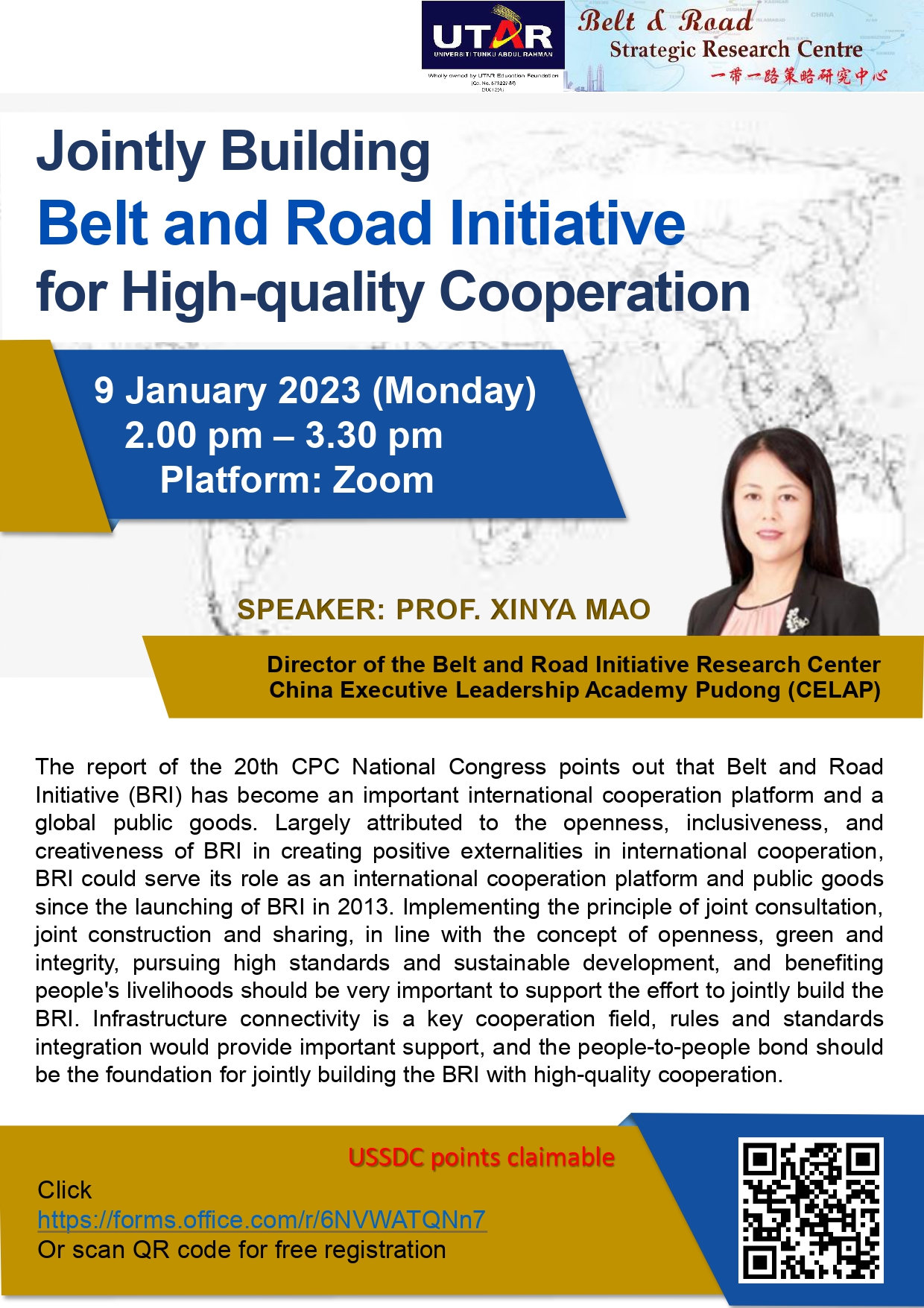 The poster
A virtual talk titled "Jointly building Belt and Road Initiative for high-quality cooperation" was held via Zoom on 9 January 2023.
The virtual talk, which was organised by UTAR Belt and Road Strategic Research Centre (BRSRC), aimed to discuss the building of the Belt and Road Initiative (BRI) for high-quality cooperation and update the development of BRI after the pandemic.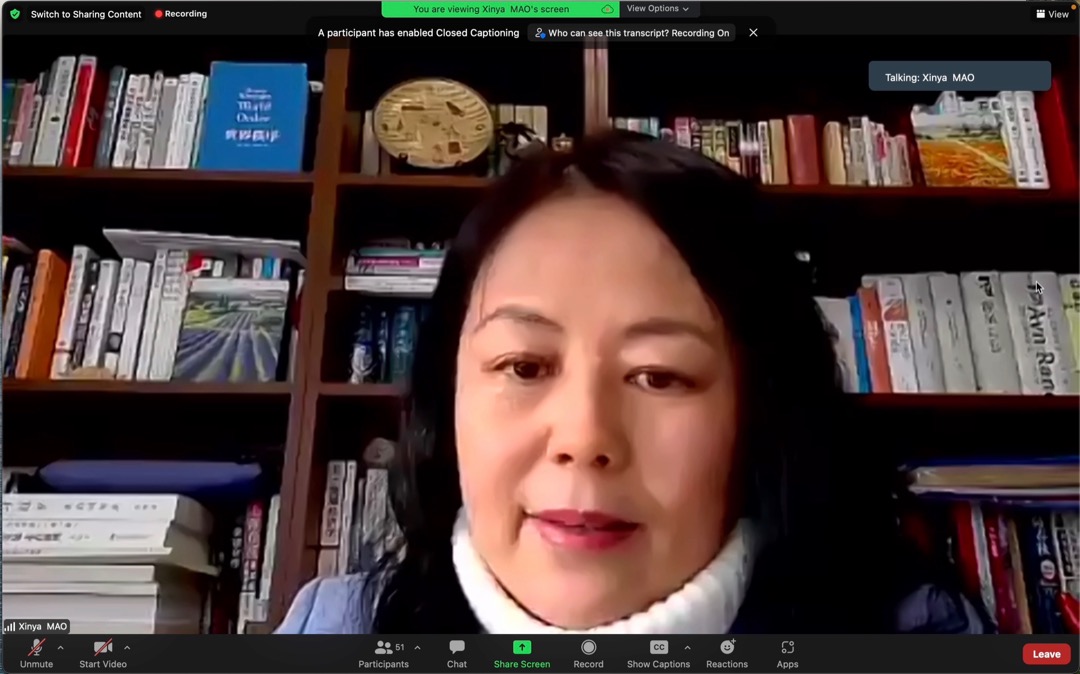 Prof Mao
Invited to speak was China Executive Leadership Academy Pudong (CELAP) Director for Belt and Road Initiative Research Center Prof Xinya Mao. The virtual talk was moderated by BRSRC Chairperson Prof Dr Cheng Ming Yu.
Prof Mao first introduced BRI and said, "The report of the 20th National Congress of the Communist Party of China (CPC) National Congress points out that BRI has become an important international cooperation platform and a global public good."
She added, "BRI has served its role as an international cooperation platform and a public good since its launch in 2013. Implementing the principle of joint consultation, joint construction and sharing in line with the concept of openness, green and integrity, pursuing high standards and sustainable development, and benefiting people's livelihoods is very important to support the effort to jointly build the BRI. Infrastructure connectivity is a key cooperation field; rules and standards integration would provide important support; and the people-to-people bond should be the foundation for jointly building the BRI with high-quality cooperation."
Prof Mao categorised her sharing into two sessions. The first session addressed "Why BRI can be an international cooperation platform and a global public good?" while the second session tackled "How to realize high-quality cooperation under the framework of BRI?".
She explained, "All stakeholders of BRI can benefit from this initiative. BRI creates positive externalities for regional and world economies. Based on the evaluation of the world bank (2018 and 2019), BRI transport projects have a significant effect on saving time and costs in international trade. BRI is also a global public good largely attributed to its characteristics of openness and inclusiveness. To date, there are 151 economies and 32 international organisations that have signed the cooperation MoUs with the Chinese government to jointly construct BRI."
She also said, "During the Belt and Road Forum for International Cooperation, governments heads of 29 economies and more than 1,600 representatives from over 140 economies and 80 international organisations attended the forum in 2017. In 2019, the government heads of 39 economies and more than 6,000 representatives from over 150 economies and 92 international organisations attended the forum."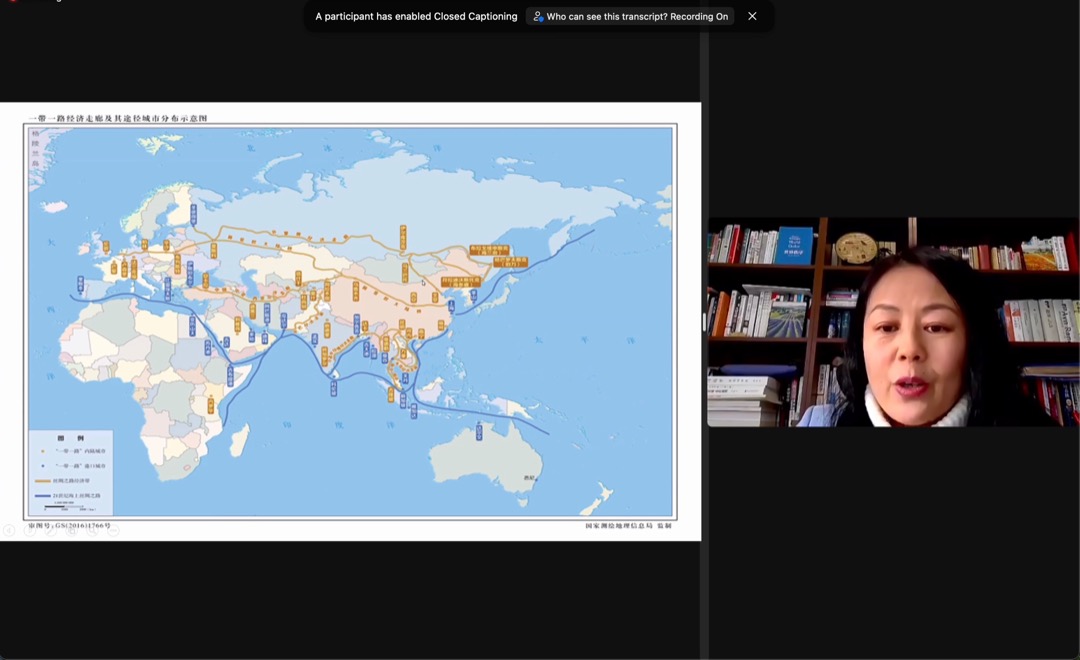 Prof Mao explaining the six economic corridors under BRI: China-Mongolia-Russia Economic Corridor, New Eurasian Land Bridge Economic Corridor, China-Central Asia-West Asia Economic Corridor, China-Indochina Peninsula Economic Corridor, China-Pakistan Economic Corridor and Bangladesh-China-India-Myanmar Economic Corridor
Prof Mao shared, "China made full use of the G20, APEC, SCO, China-ASEAN (10+1), Lanchang-Mekong Cooperation, Greater Tumen Initiative, China-Africa Cooperation Forum, China-Arab Cooperation Forum, World Economic Forum, Boao Forum for Asia, etc mechanisms to tighten its cooperative relationship with the economies." She then continued the talk by giving participants some examples of international cooperations such as Mombasa-Nairobi Standard Gauge Railway (SGR), Kenya, Karot Hydropower Station in Pakistan and many more.
The virtual talk adjourned with an interactive Q&A session and a group photography session.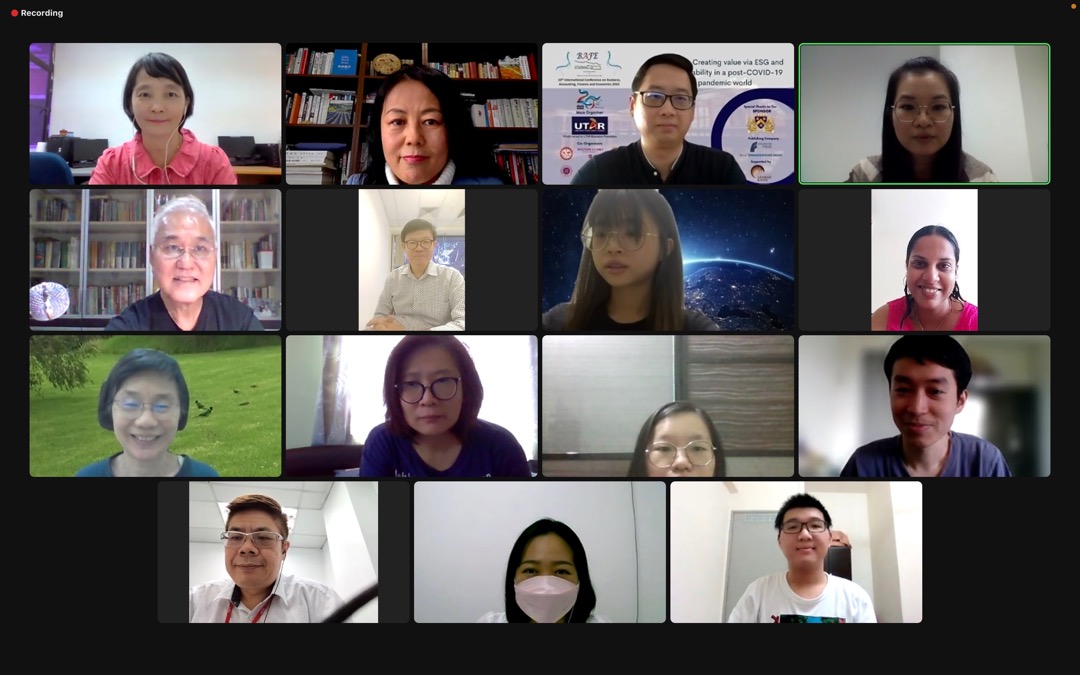 Prof Mao (top row, second from left) with participants