Visit by Yunnan Academy Social Sciences, China
UTAR received visitors from Yunnan Academy of Social Science (YASS), China on 15 May 2023 at Sungai Long Campus.
Among the YASS representatives were Vice President of Chinese Academy (Kunming) of South and Southeast Asian Studies Prof Dr Hou Sheng, Deputy Director of International Collaboration Office Prof Dr Zhao Shulan, Assistant Research Fellow and Deputy Director of General Office Deng Honglin, Foreign Affairs Section Chief of General Office Wang Yanting, Assistant Research Fellow of Institute of Ethnological Studies Dr Yang Shao and Assistant Research Fellow of International Collaboration Office Dong Qingqing.
They were welcomed by UTAR President Ir Prof Dato' Dr Ewe Hong Tat, Director of Institute of Management and Leadership Development Prof Dr Cheng Ming Yu, Dean of Department of Chinese Studies Assoc Prof Dr Chong Siou Wei, Chairperson of Tun Tan Cheng Lock Centre for Social and Policy Studies Assoc Prof Dr Chin Yee Mun, Deputy Dean of Academic Development and Undergraduate Programmes Assoc Prof Dr Ng Kar Yee, Faculty of Accountancy and Management academics Dr Goh Hong Lip, Dr Tun Yin Li and Dr Fok Kuk Fai; Lee Kong Chian Faculty of Engineering and Science academic Ts Dr Tan Ooi Kuan and Division of Community and International Networking (DCInterNet) Director Assoc Prof Dr Lai Soon Onn.
The discussion kicked off with the presentation of the UTAR corporate video to enhance the delegates' understanding of the overall development of the University. Prof Dato' Ewe then shared a brief introduction about the University and expressed his intention to have further cooperation with YASS in social science. Prof Hou, on the other hand, thanked UTAR for the warm welcome and praised it for its good learning environment.
During the discussion, both parties reached a consensus on carrying out various collaborations, including online webinars, Halal Industry Cooperation, green technology research, academic exchange, MoU signing, internships, belt and road project developments, collaborative projects on culture and history and many other research projects.
The visit ended with a group photo session.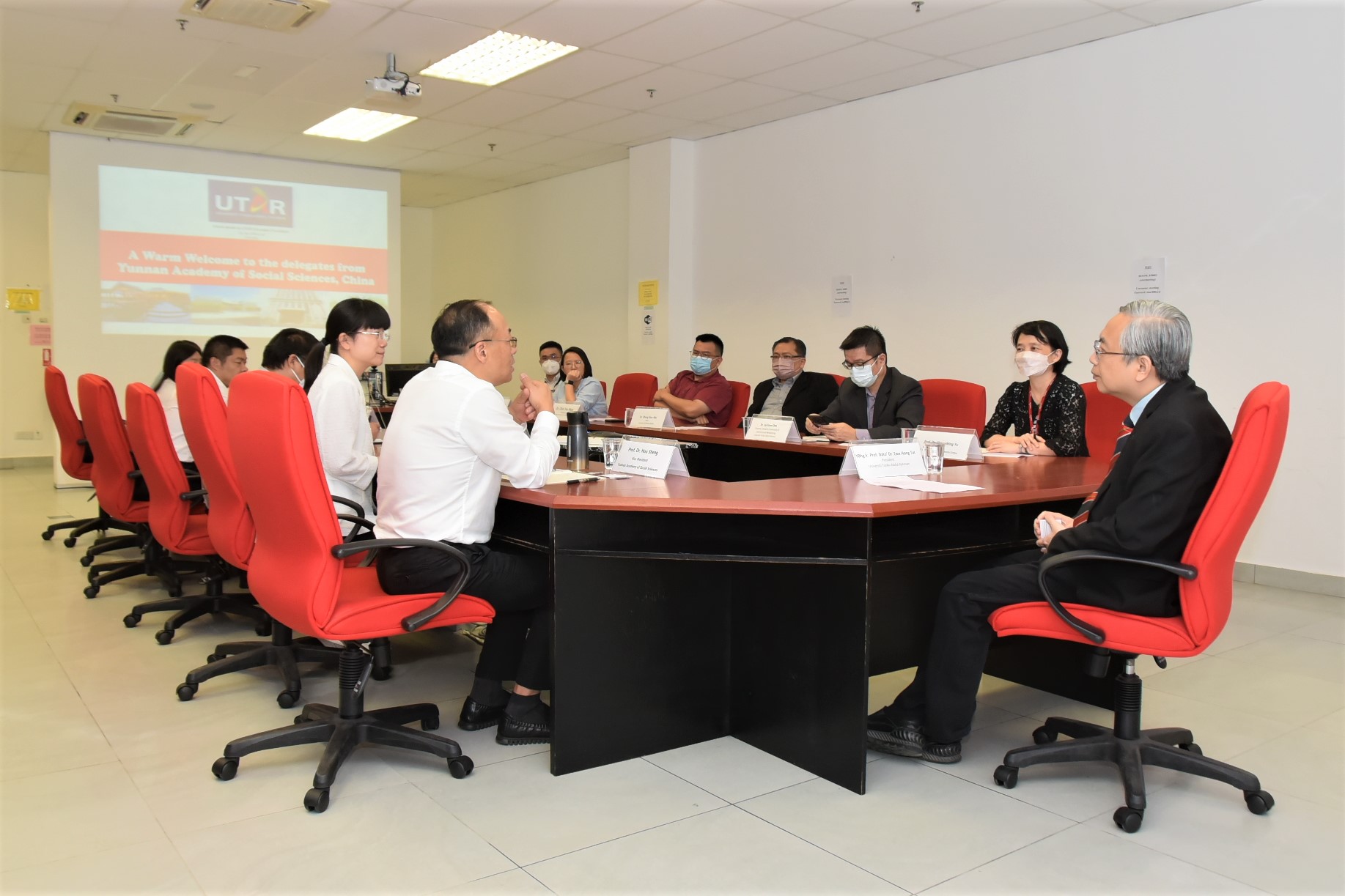 Meeting in progress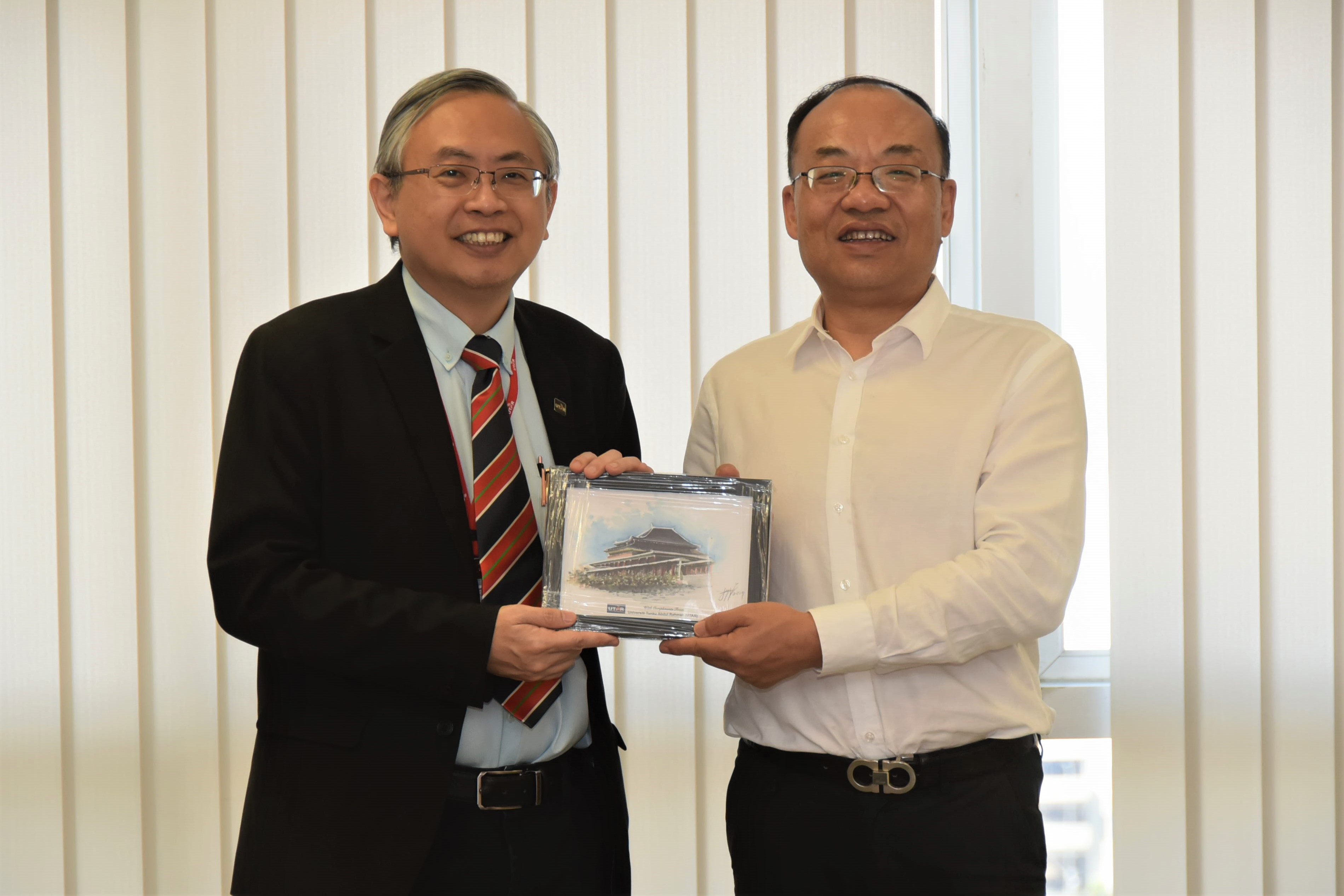 From left: Prof Dato' Ewe and Prof Hou exchanging souvenirs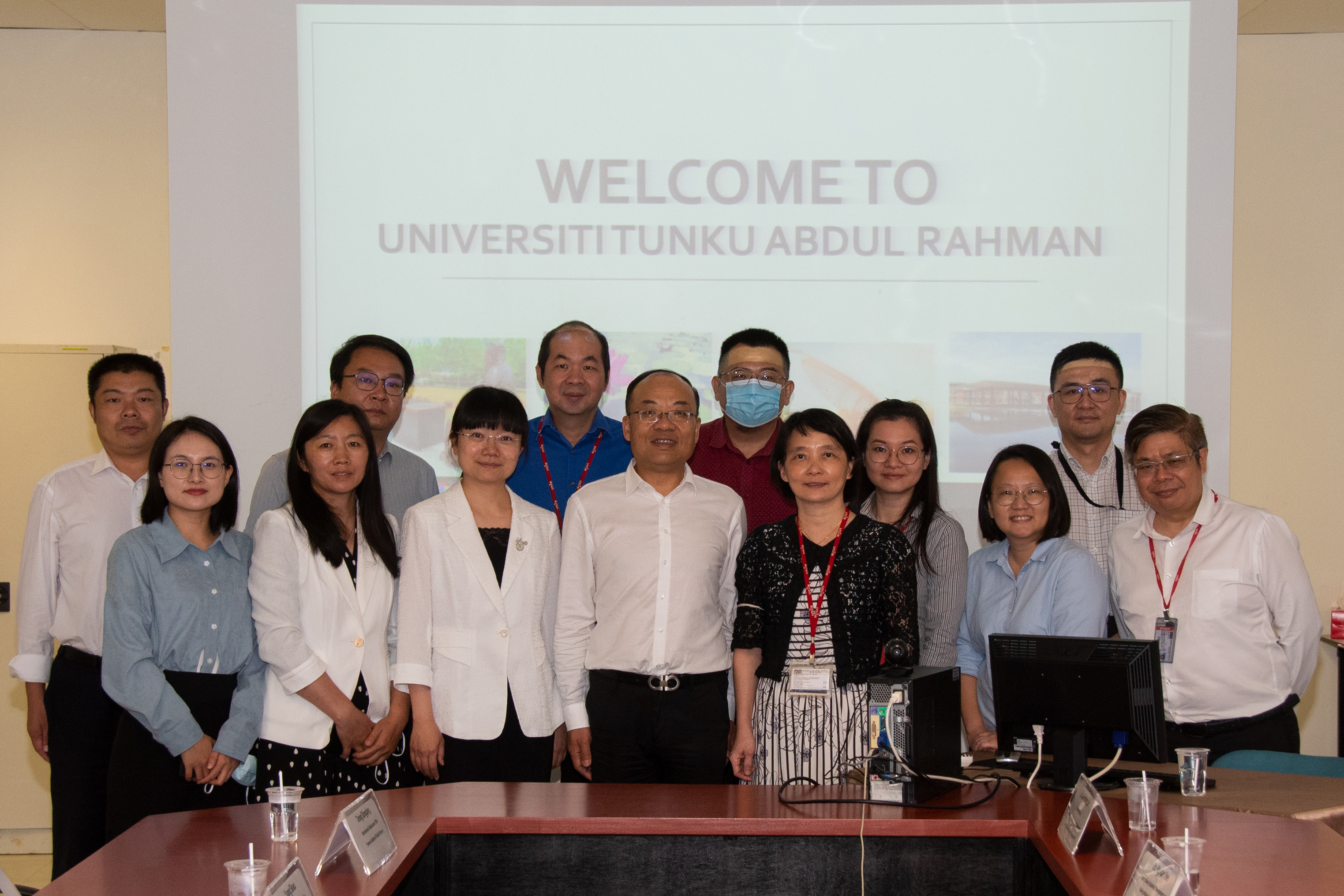 Front row, from left: Dong, Dr Yang, Prof Zhao, Prof Hou, Prof Cheng, Dr Tun, Dr Ng and Dr Fok
Back row, from left: Wang, Deng, Dr Tan, Dr Chin and Dr Goh