MFM visits UTAR for R&D collaboration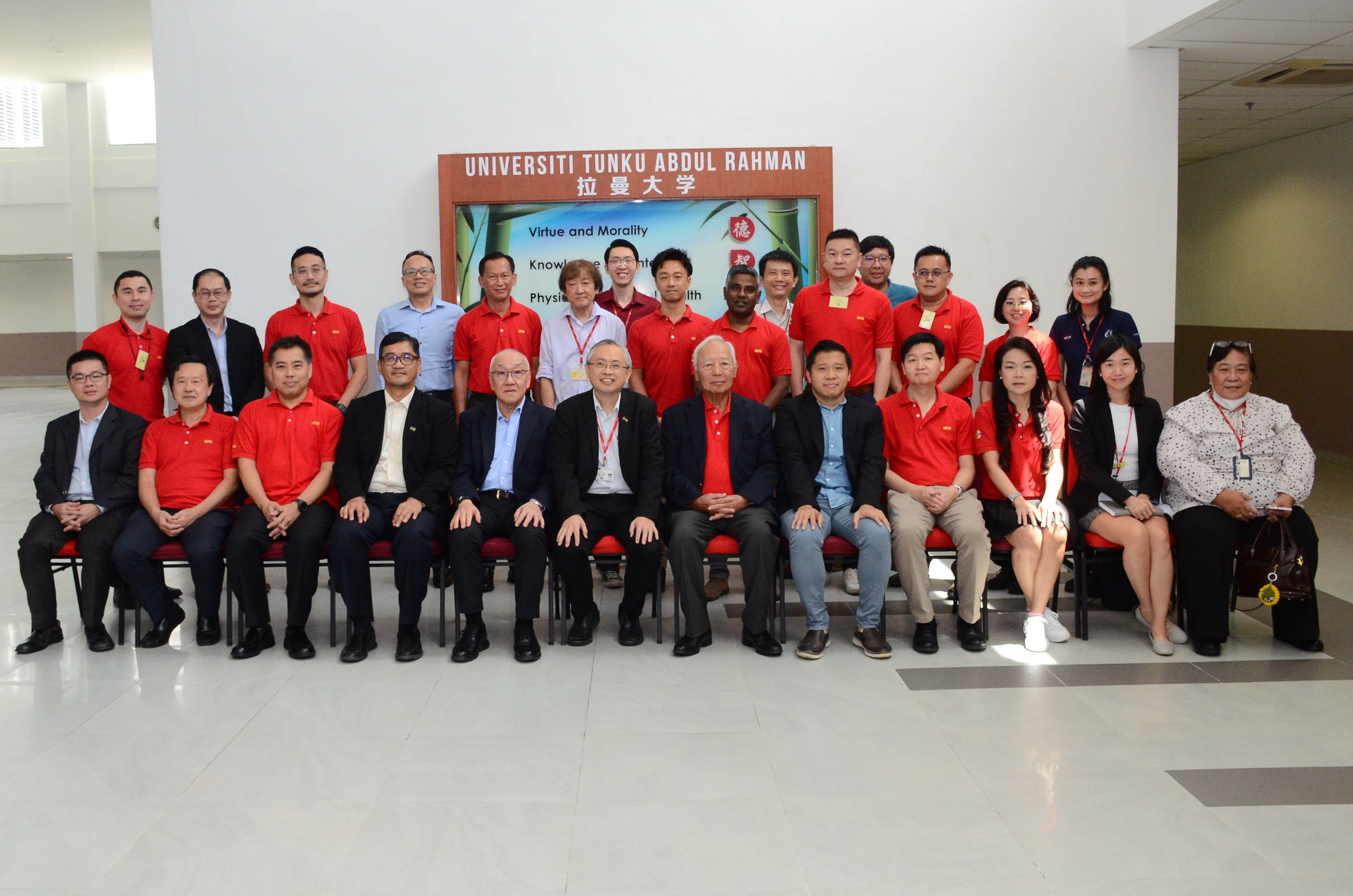 Front row, from left: Mr Teh (fifth), Prof Dato' Ewe (sixth) and Datuk Oh (seventh) with MFM delegates and UTAR staff
A group of delegates from Malayan Flour Mills Berhad (MFM) visited UTAR Sungai Long Campus on 2 May 2023.
MFM Chairman Datuk Oh Chong Peng and Executive Deputy Chairman cum Managing Director Mr Teh Wee Chye led a team of 14 MFM senior management staff consisting of general managers and deputy general managers to discuss possible R&D project collaborations with UTAR staff and students.
The delegates from MFM included:
| | |
| --- | --- |
| Name | Title |
| Wong Kok Wai | Executive Director, Dindings Tyson |
| Alan Yau | Chief Financial Officer |
| Carol Chan | General Manager, Corporate Affairs |
| Beh Men Huat | General Manager, Group Engineering Services & Projects |
| Lee Low | General Manager, Aquaculture |
| Ong Chai Kin | General Manager, Plant Operations |
| Yong Yee Wan | Deputy General Manager, Production Management (Flour) |
| Yastika Putu | General Manager, Poultry Integration |
| Chandra Segaran | General Manager, Supply Chain |
| Hideki Oya | General Manager, Upstream Commercial |
| Anne Koay | Deputy General Manager, MIS |
| Tan Woon Chai | Deputy General Manager, Commercial |
| Samuel Lum | Deputy General Manager, Group Human Resources |
| Ashley Liew | Personal Assistant |
UTAR President Ir Prof Dato' Dr Ewe Hong Tat and UTAR Vice President for R&D and Commercialisation Prof Ts Dr Faidz bin Abd Rahman led the discussion with MFM along with 12 other UTAR staff. Among the staff were Lee Kong Chian Faculty of Engineering and Science Dean Assoc Prof Ts Dr Yap Wun She, Faculty of Accountancy and Management Deputy Dean for R&D and Postgraduate Programmes Dr Liew Ping Xin, Department of Mechatronics and BioMedical Engineering Head Dr Goh Choon Hian, Division of Community and International Networking (DCInterNet) Director Assoc Prof Dr Lai Soon Onn, Institute of Postgraduate Studies and Research Director Assoc Prof Dr Yong Thian Khok, academics and administrative staff.
Meanwhile, Faculty of Information and Communication Technology Dean Prof Ts Dr Liew Soung Yue, Faculty of Business and Finance Deputy Dean for R&D and Postgraduate Programmes Assoc Prof Dr Choong Yuen Onn, Department of Computer and Communication Technology Head Ts Dr Chang Jing Jing, academics and administrative staff from Kampar Campus joined via video conferencing.
The discussion kicked off with the presentation of the UTAR corporate video to enhance the delegates' understanding of the overall development of the University. Prof Dato' Ewe, in his welcome remarks, gave a warm welcome to the delegates and shared a brief introduction about UTAR. He also mentioned that the meeting will open up new avenues for UTAR and MFM to work together on research projects that can benefit the community.
On the other hand, Mr Teh thanked UTAR for the opportunity given to strengthen the communication on topics such as research grants, which will enable them to explore the means to collaborate synergistically to reach their goals, given the challenges in producing sufficient foods (e.g. flour, chicken and aqua products) of consistent quality at affordable prices as the world population exceeds 7 billion with uncertainties caused by climate change, geo-political issues, supply chain disruption and diseases, such as African Swine Fever and High Pathogenic Avian Influenza.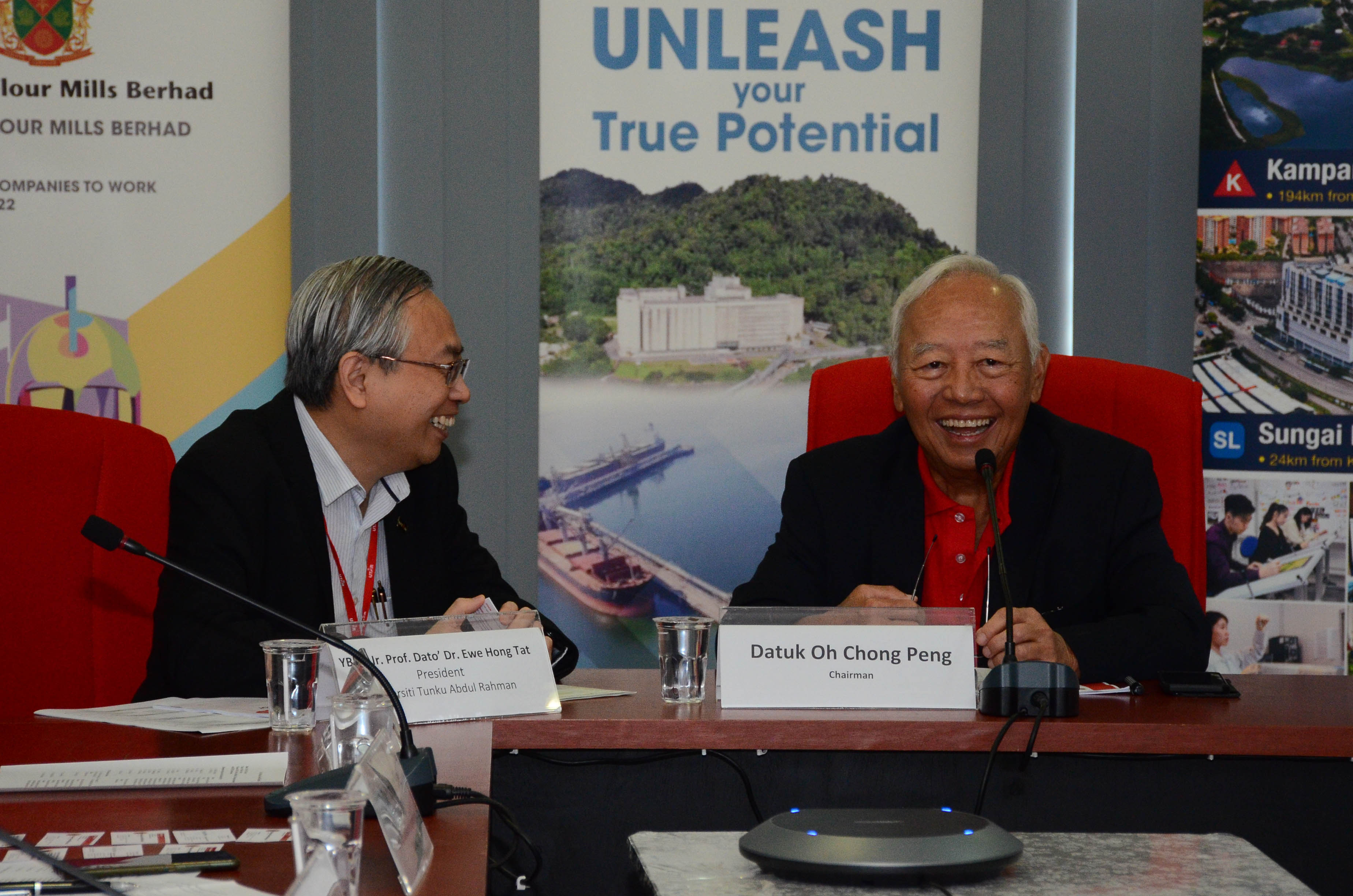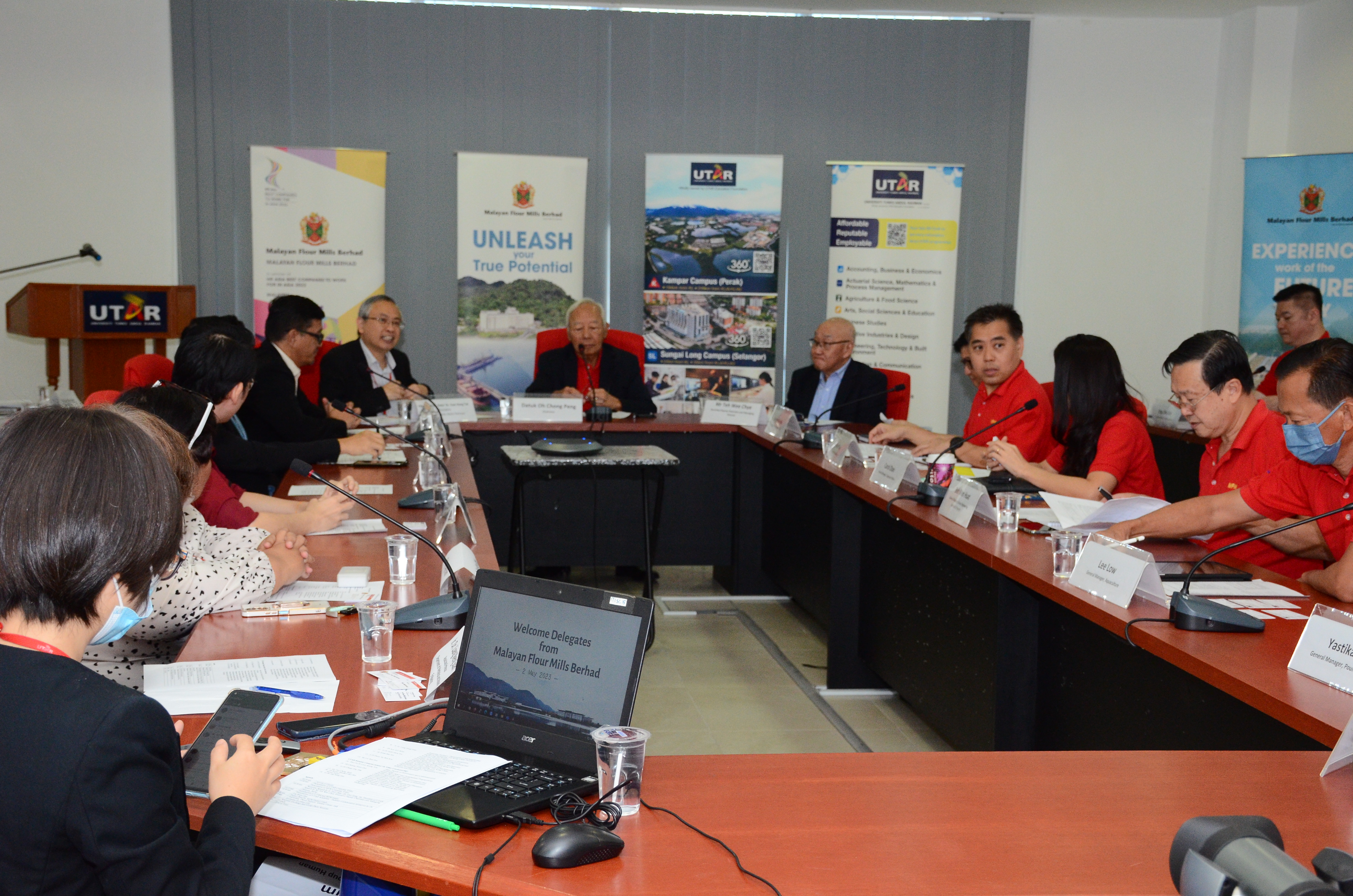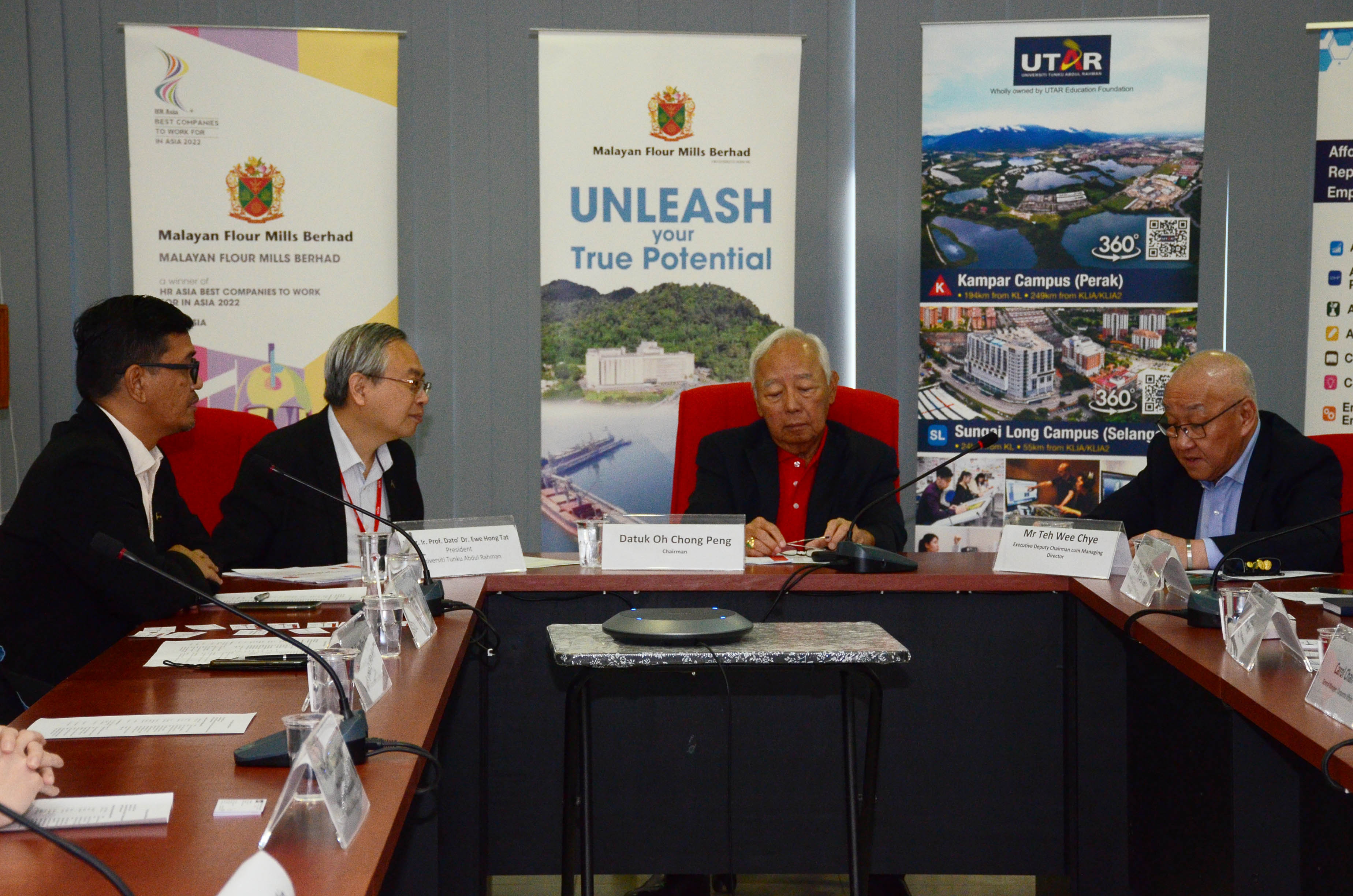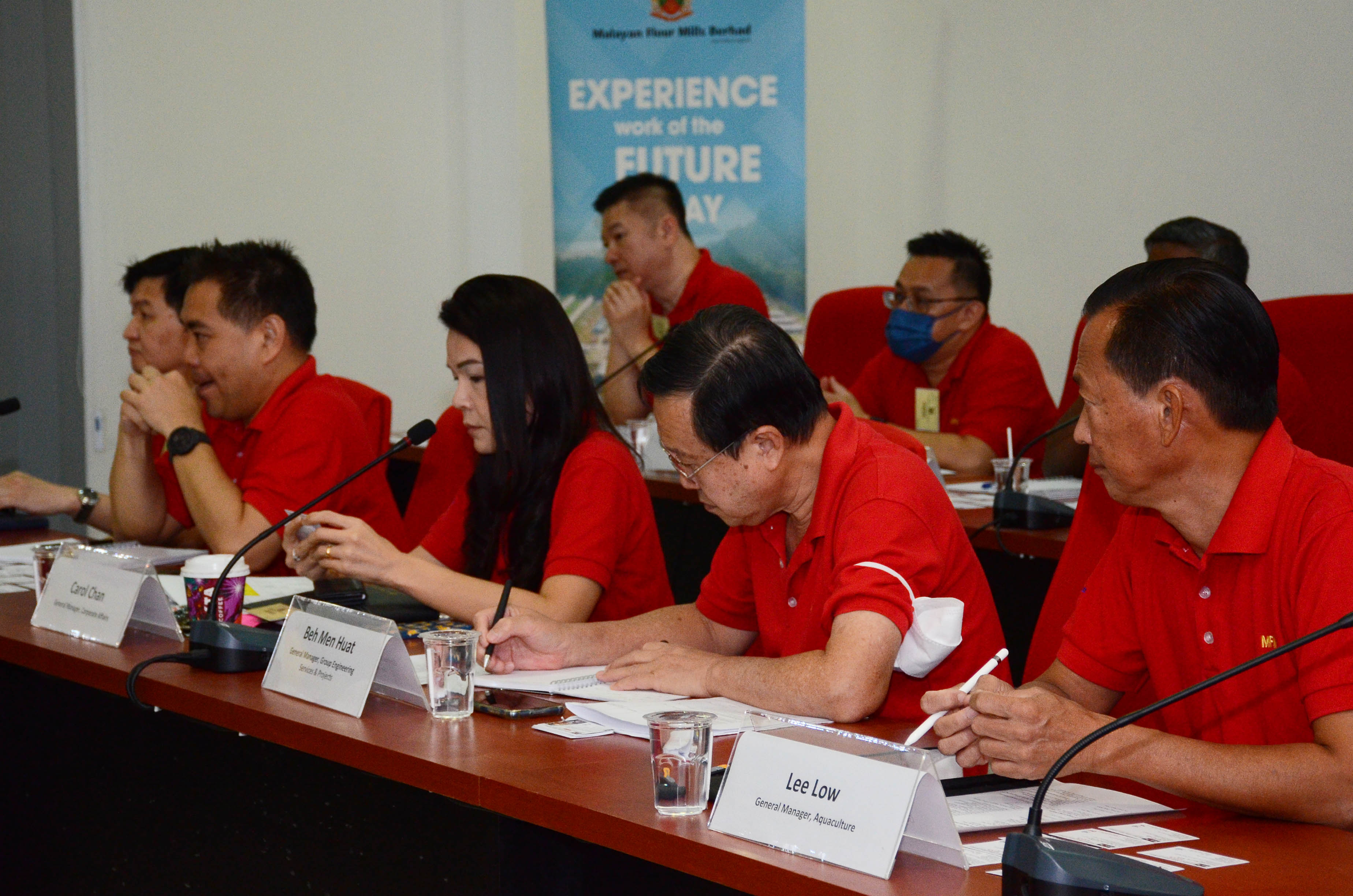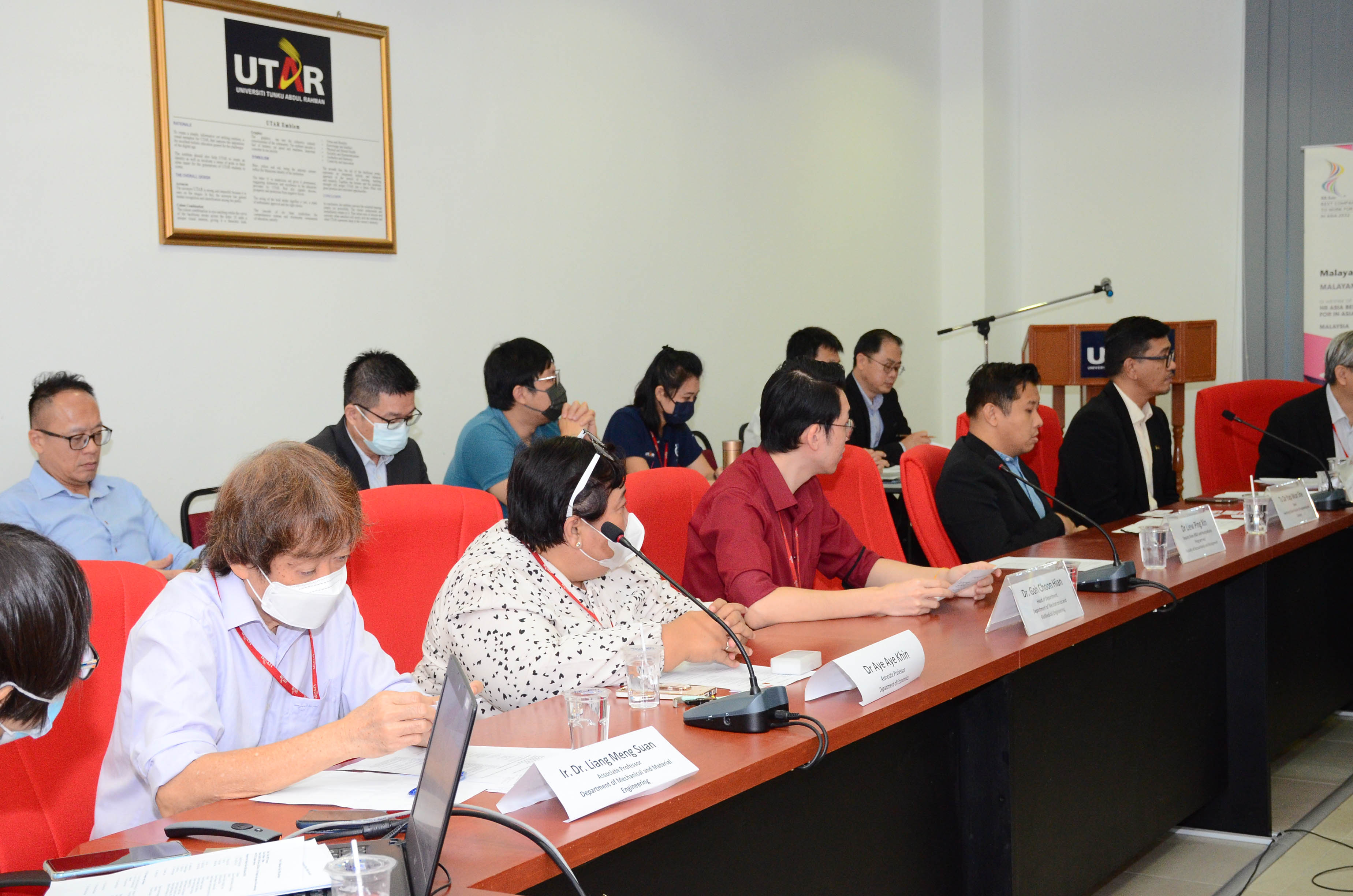 UTAR and MFM having discussion
An in-depth discussion and information exchange session was carried out between both parties, focusing on a total of 11 areas which could be undertaken jointly as research projects by UTAR and MFM. The 11 areas included commercial, aquaculture, finance, poultry farms, poultry processing, raw material/commodity procurement, flour production, food safety quality assurance, integrated quality management system, engineering and supply chain. The discussion also included topics such as staff and student exchanges, academic development exchanges, study tours, industrial placement, thesis projects, joint events/programs in high schools at Perak state, etc.
The discussion between MFM and UTAR was productive as both organisations expressed their commitment to work together and acknowledged that collaboration between industry and academia is crucial for research, growth and development of Malaysia's economy.
The visit ended with a souvenir exchange and group photography session.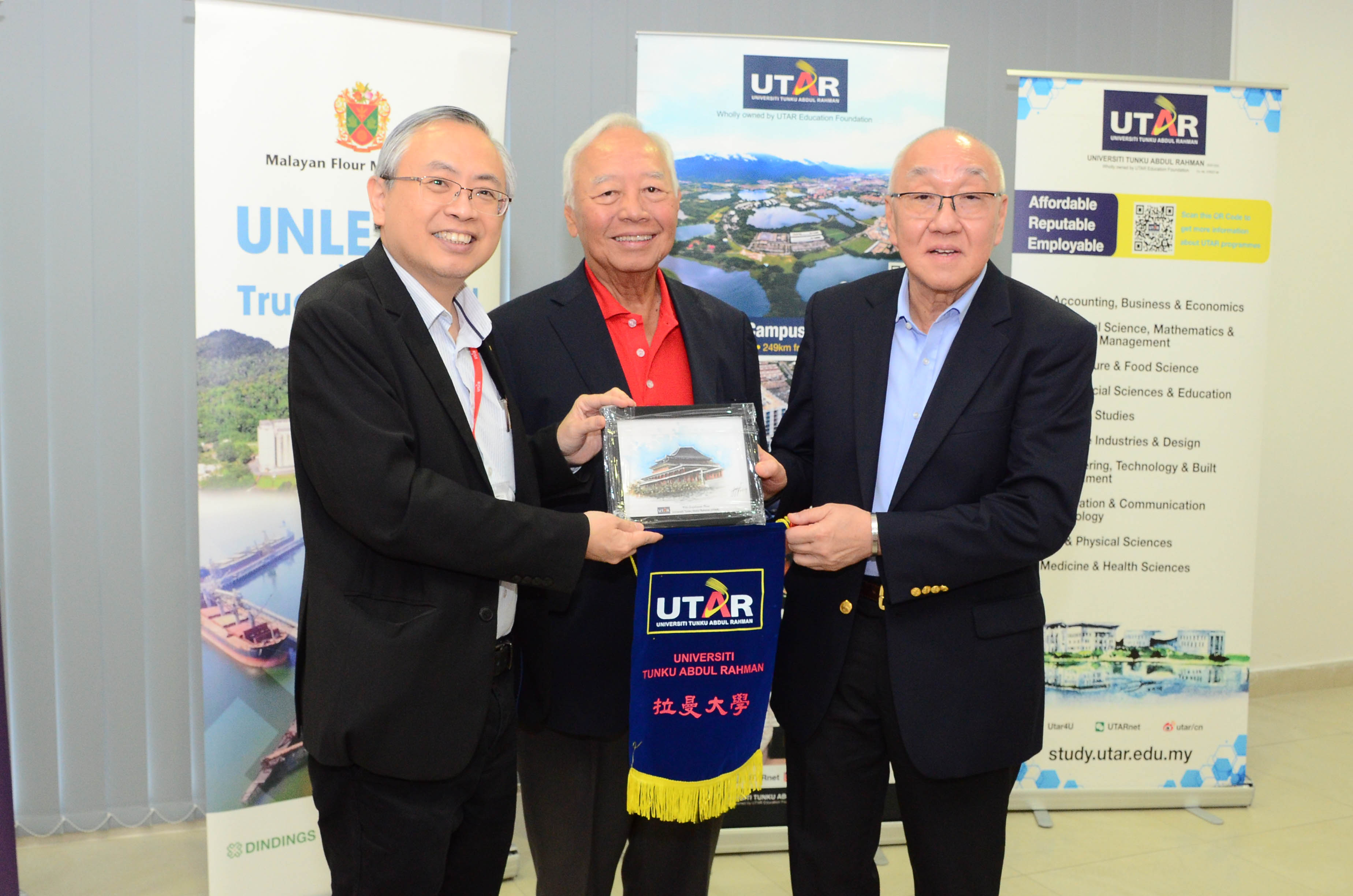 Prof Dato' Ewe (most left) exchanging souvenirs with Datuk Oh (middle) and Mr Teh